The Nevada Broadcasters Association held its 16th Annual Nevada Broadcasters Association Hall of Fame Gala at the Red Rock Resort. The gala recognized individuals who have excelled in Nevada's radio and television industry. The NBA Hall of Fame was created in 1996 to bring added acknowledgement, recognition and respect to members of the radio and television industry in Nevada.

The evening's theme, "Where Eagles Soar ~ The Miracle of Broadcast" was a tribute to the extraordinary life of Jerry Lewis who was there in person to receive the highest honor NBA bestows upon a Nevada broadcaster - the

NBA LIFETIME ACHIEVEMENT AWARD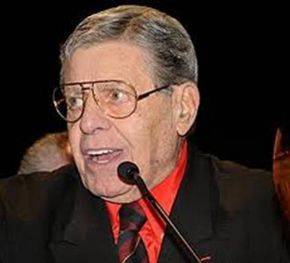 Other honors went to the NEVADA ARMY NATIONAL GUARD with The NBA COMMUNITY ACHIEVEMENT AWARD for its contributions to homeland security and preserving freedom around the world.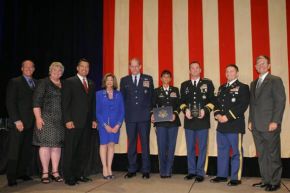 JERRY LEWIS was honored for his extraordinary commitment to radio and television, the art of comedy, stage and screen, directing, producing and screen writing, education and philanthropy. His philanthropic work is unparalleled -- estimated to have raised over 2 billion dollars! For his dedication to the fight against Muscular Dystrophy since 1949, Lewis had been inducted into the French Legion of Honor, awarded the Department of Defense Medal for Distinguished Public Service, nominated for the Nobel Peace Prize and received numerous industry and humanitarian recognitions. To list all Jerry Lewis' achievements would fill this entire article. In agreeing to accept the NBA award, Mr. Lewis indicated it would be one of his most meaningful recognitions because it would be presented by Nevadans to a Nevadan.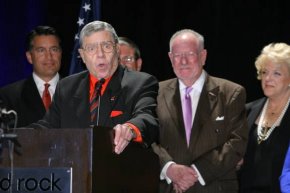 The gala was extremely well attended despite the economic crisis that has Las Vegas in turmoil. The gala evening included a cocktail reception and dinner in addition to the award ceremony and was affordably priced at $75. This affordable price was made possible by generous donations and corporate sponsorships. The evening started at 5:30 p.m. with a Cocktail Reception and Silent Auction.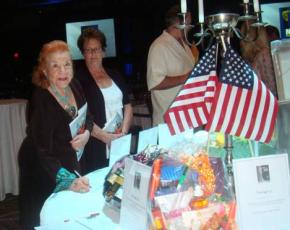 Angie Wallin and friend signing in at silent auction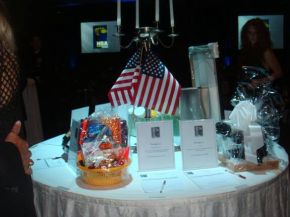 Afterwards guests were seated and the award ceremony began prior to dinner. Dinner was served quite late, after 8 p.m. because of the Lifetime Award being presented to legendary star, Jerry Lewis. Jerry joked that at age 85 he doesn't stay out late, and I guess he meant it, as he received his award early in the evening and then left. Although Jerry Lewis was only at the event for a short time, his presence was notably received.
M.C.'s Anchor Tricia Kean of Channel 13 TV and Lori Gilbert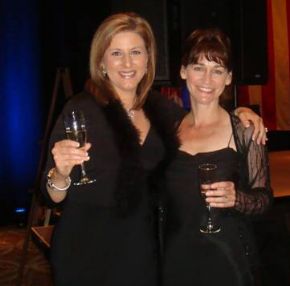 introduced Nevada Broadcasters Association President, Bob Fisher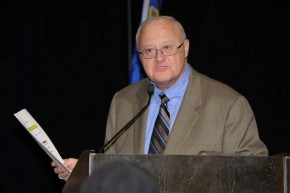 NBA President Bob Fisher with Dr. Adele (Z.Z.) Zorn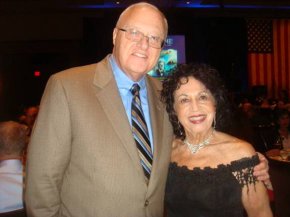 Bob Fisher introduced Lorraine Hunt-Bono and Dennis Bono, who sang "Smile" as a memoriam to those in the industry who had passed away.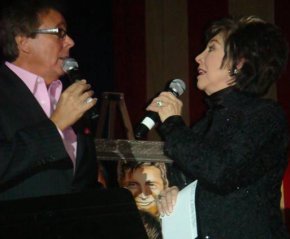 Video tributes of those in the industry who had passed away were shown. The evening was dedicated to late broadcaster, Ted Quillin.
Video of Ted Quillin.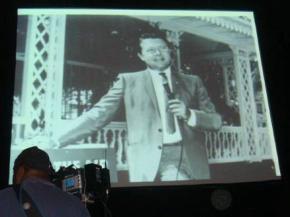 Also remembered were: Mark Smith, Scotty O'Neil, Mike Culotta and Paul Dymon.
Dignitaries, including Gov. Brian Sandoval, Congresswoman Shelley Berkley, Congressman Joe Heck, State Treasurer Kate Marshall, Entertainer Clint Holmes, Las Vegas Mayor Carolyn Goodman and former Mayor Oscar Goodman were called onstage to present awards to the honorees.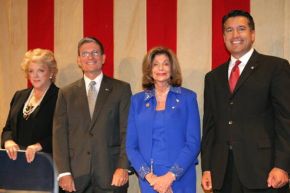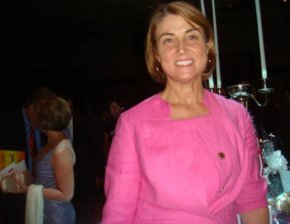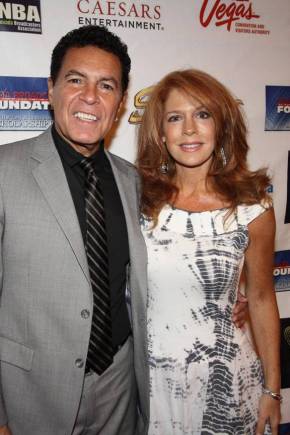 Las Vegas Mayor Carolyn Goodman and former Mayor Oscar Goodman were the first to speak about Jerry Lewis and proclaimed the day as "JERRY LEWIS DAY."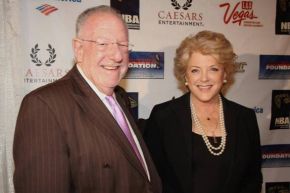 Mayor Caroline Goodman presented a leather bound proclamation to Jerry Lewis saying she would outdo Shelley Berkley by doing that. Afterwards, quick-witted Shelley Berkley, when presenting the Congressional proclamation to Jerry Lewis jokingly came back at her, saying that because of the financial crisis the country is going through, Congress wouldn't waste taxpayer's money on leather.
Each dignitary humbly voiced their admiration for Jerry Lewis' brilliant talent and humanity.
When Jerry was introduced by Mayor Caroline Goodman, the audience stood up for a standing ovation and remained standing during the entire time Jerry was onstage.
Jerry didn't disappoint and he regaled the audience with laughter as he told some jokes, drank water and spurted it out in a stream and also put on a clown nose.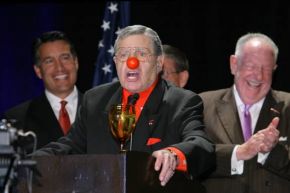 However, he was very serious about his thankful feelings of being given the LIFETIME ACHIEVEMENT AWARD and being inducted into the NBA HALL of FAME, and said he will treasure it always.

A wonderful painting of three faces of Jerry Lewis by Kathy Kubik was presented to JERRY along with a beautiful cake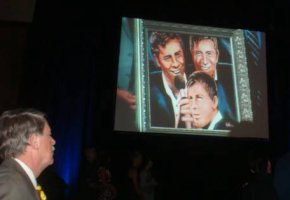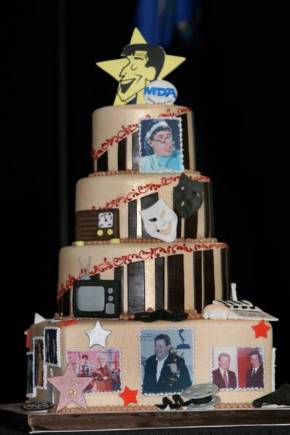 Next, the NEVADA NATIONAL GUARD was presented with the COMMUNITY ACHIEVEMENT AWARD. Brig. Gen. William Burks, Adjutant General of the State of Nevada, and Julie Muir, U.S. Army National Guard accepted the award along with COL Maria Powers, CPT Gene Dieters and SF James Fricano.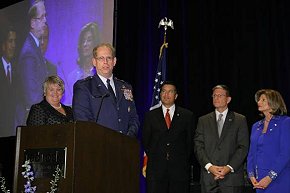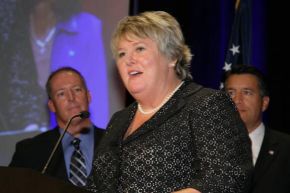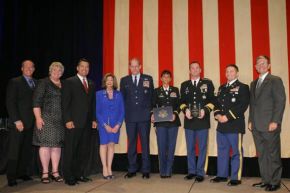 The Silent and Live auction brought in much needed funds and the proceeds will be used to fund scholarships in the name of LINDA and TONY BONNICI for students attending college studying broadcasting.
Linda and Tony Bonnici
Scholarships were awarded to Adrienne Lefebvre, Alexandria Cannito, Rachel Johnson and Sedinam Kakrada.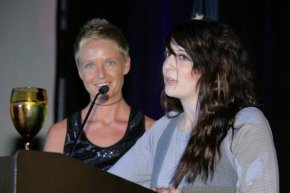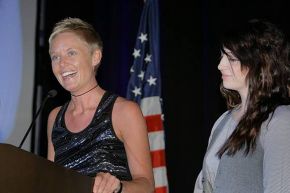 Each recipient receives one full year's tuition to the Nevada College or University of their choice and the opportunity to experience an internship at a Nevada radio or television station. Scholarship recipients may be eligible to continue receiving full tuition and the internship each year for a maximum of four years of higher education.
During the live auction, Governor Brian Sandoval donated the Governor's Mansion with a dinner for 10. This brought in a final offer of $3,000.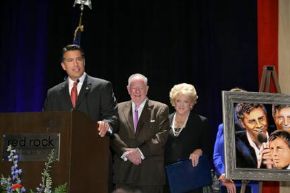 By this time a hungry audience was definitely ready for dinner, and I don't know if it was the exceptionally delicious cuisine, or that people were starved, but they very much enjoyed:
Iceberg wedge with smoked bacon and blue cheese vinaigrette
Tenderloin of beef with cabernet reduction and roasted garlic potatoes and
Deconstructed apple pie with caramel sauce and vanilla bean ice cream.
Between courses and after dinner, the NBA also honored many men and women who have worked tirelessly in the Broadcast industry.
The Induction of the Class of 2011: Bob Fisher, Adam Sandler, Earlene Lefler and Gary Campbell called each of the 27 NBA HALL of FAME INDUCTEES onstage.
Below, Monica Jackson HALL OF FAME INDUCTEE.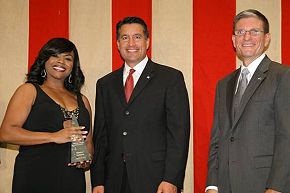 THE NBA HALL of FAME INDUCTEES were: Eric Aegerter, Barbara A. Kusak, Chad Hardy, Danny G. Camacho, Dave Cokin, Dave Dalton, Erin Meehan Breen, Dave Garrity, Jackie Whiteman, Jim Dallas, John Finn, John Shaffer, Juliet Stern, Ken Wolt, Les Krifaton, Mary MacDonald, Mark Fierro, Dave McCann, Mike Alger, Mark Mutchler, Patrick Fisher, Ralph J. Carlson, Rocky Gordon, Sharon Tutrone, Troy Kinch, Monica Jackson and Steve Weber.
Although the evening was long, everyone enjoyed the festivities and remained throughout.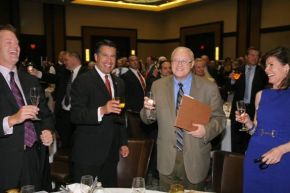 CONGRATULATIONS TO ALL.
Some guests at the event: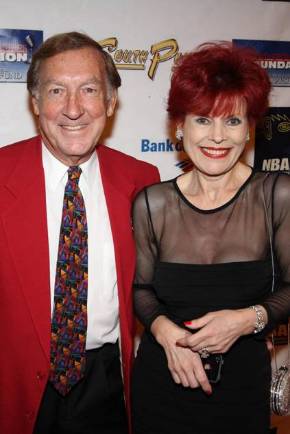 Denny Weddle and Vera Goulet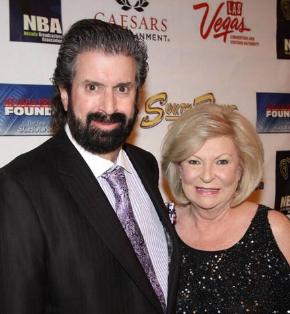 Dr. Morton Hyson and Mrs. Hyson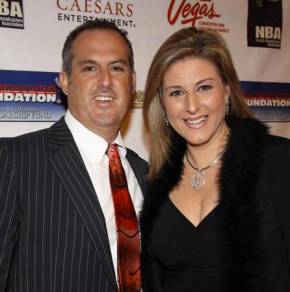 Tricia Kean and Husband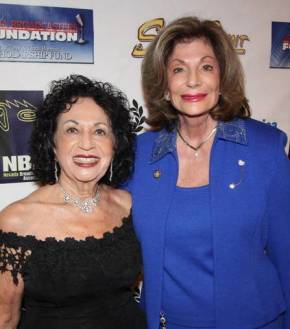 Congresswoman Shelley Berkley and Dr. Adele Zorn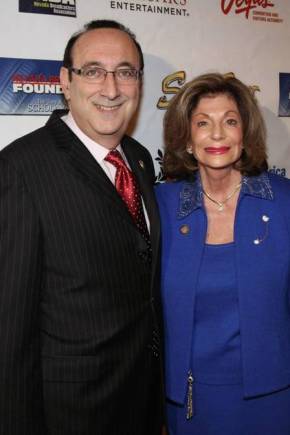 Congresswoman Shelley Berkley and Husband Dr. Larry Lehrner
Many more guests: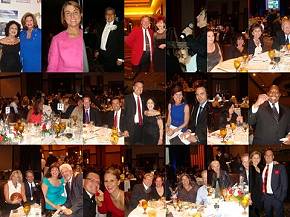 Musical entertainment was by FLERY AND FRIENDS.

CONTINUE ON TO...:
>Las Vegas News - "Heard Around Town"
>Las Vegas Leisure Guide<