"Name That Tune," one of America's most beloved game shows of all time, makes its live debut at IMPERIAL PALACE beginning Thursday, August 18. An up-to-date, fast-paced version of the iconic daytime game show, Name That Tune Live! will give 100 participants per show the chance to win thousands of dollars in cash and prizes. With a live DJ, a musical catalog ranging from country to rock n' roll to Broadway show tunes to Lady Gaga and an amazing set by Emmy Award-winning designer Andy Walmsley, ("American Idol," "So You Think You Can Dance," and "The Sing Off," among others), Name That Tune Live! will be an interactive experience unlike any other.
Talented duo and Las Vegas favorites, Chris Phillips and Marley Taylor of Zowie Bowie, will guide the contestants along a musical escapade, including many of the famous games and several new twists to the old format. Since moving to Las Vegas from Arizona in 2006, Zowie Bowie has established itself as one of the city's favorite bands.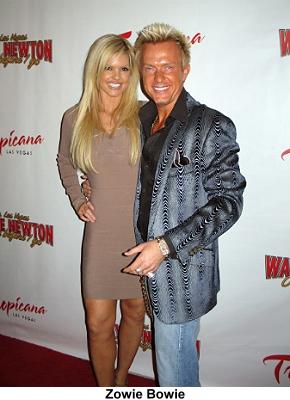 M&M hosts LOVE 2 DANCE an intimate and original look inside the lives and loves of dancers. Some of the Strip's top dance performers and choreographers perform in this funny, touching and passionate new show about the movers and shakers, gliders, fliers and hoofers who have sacrificed everything to step out for your entertainment. Featuring 18 dancers and choreographers from Jersey Boys, Phantom, Jubilee, Alvin Ailey, Radio City Music Hall, Lido de Paris, Lion King and more!
The show is based on material gleaned from hours of on camera interviews with dancers about their lives, their triumphs, their struggles, and their love of dancing. The dance styles range from Ballroom to Broadway, Ballet to Breakdancing, Contemporary, Tap, Modern, Showgirls and Hip Hop. Music is from, Stevie Wonder, Tim McGraw, Cy Coleman, Smokey Robinson, Irving Berlin, Cole Porter Diana Ross & the Supremes and original music by Keith Thompson, conductor of Jersey Boys. Performance is on Friday, August 19, 7:30 p.m. SOUTH POINT CASINO (tickets $20, $25, $30)
Wes Winters' extremely popular show in the Grandview Lounge at SOUTH POINT CASINO has been extended. Wes Winters' unique 'One-Man-Lounge-Show' built around his acclaimed vocals, award winning piano and unique showmanship is moving to the more popular Friday and Saturday evenings from 6pm until 9pm.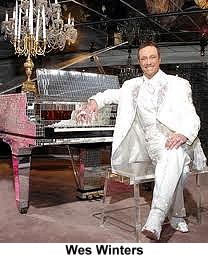 The Grandview Lounge at SOUTH POINT is a 150 seat lounge featuring dance floors and a raised stage. Wes' nine-foot mirrored concert grand piano is center stage and his fans enjoy two spacious dance floors to 'kick up their heels'. There is NO cover charge. Wes Winters relocated to Las Vegas in February 2003. With an extensive background in musical theater including a one-man cabaret show, Winters has been entertaining professionally for more than 25 years.
VEGAS! THE SHOW has been one of my favorite shows this year. VEGAS! THE SHOW at the Saxe Theater in the Miracle Mile Mall at Planet Hollywood just celebrated their 1 year anniversary and the show is even better than the original. One of the fabulous thrilling acts in the show The Sandou Trio Russian Bar Act has made it to the semi-finals of "America's Got Talent" on NBC.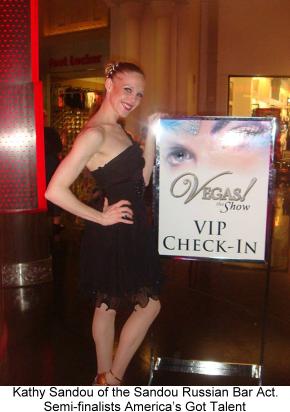 I have recommended this show to many people and they all had glowing reports. HAPPY BIRTHDAY and Congratulations to prolific producer David Saxe, the cast and crew, and just keep on glowing.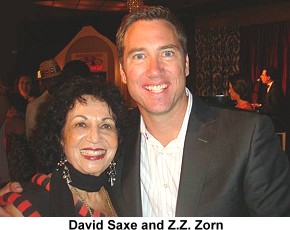 It's getting even hotter this summer at CHIPPENDALES at the RIO thanks to special Musical Guest Star and Emcee, former 98 Degrees star, Jeff Timmons. The pop star has been breaking box office records and due to this enormous audience and critical acclaim, CHIPPENDALES has announced that Timmons will continue to heat up the stage through Labor Day weekend.
If you haven't been to WET REPUBLIC at MGM GRAND some great things are happening there. They are getting ready to give away $100,000.00 to the champs of this year's SpyOnVegas Hot 100 Contest, Jersey Shore's Snooki will be there on August 20th, and then Kendra Wilkinson August 27. The Labor Day Weekend lineup will feature superstar DJs.Boris and Oscar G. Tiësto, Avicii and Above and Beyond. Check tickets/bottle service pricing at www.angelpromo.com/ldw11
"Club Nikki at TROPICANA is honored to welcome the celebration for Dennis Rodman's induction into the Basketball Hall of Fame on Saturday, August 20. Dennis Rodman's induction into the Naismith Memorial Basketball Hall of Fame as a member of the Class of 2011 will cap the stellar career of the one of the greatest defenders in NBA basketball history. Rodman is the first NBA player to win five championships with two different teams, the Detroit Pistons (1989, 1990) and the Chicago Bulls (1996, 1997, 1998). Rodman was a two-time NBA Defensive Player of the Year who led the league in rebounding per game for seven straight years. During his 14 year career he played for the Detroit Pistons, San Antonio Spurs, Chicago Bulls, Los Angeles Lakers and Dallas Mavericks. Since his retirement, Rodman has become one of the most recognized figures in sports and popular culture after finding success as a New York Times bestselling author, actor and media personality.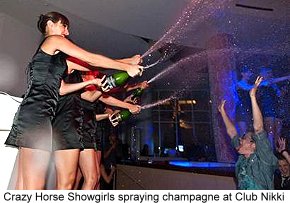 Every Wednesday is Industry Night at Club Nikki and Sex Panther is the new resident DJ. Casts from production shows have been invited to attend and participate in the Sex Panther performance. MGM's Crazy Horse Paris show ladies were there, dancing, having fun and sprayed Champagne during the performance.
Dennis Rodman was also in Las Vegas celebrating his 50th birthday and the launch of new WB Brand Cigar line at Chateau Nightclub & Gardens at Paris Las Vegas.
Las Vegas' hottest DJs will fight to the finish in McFadden's eight-week "Prism DJ Battle." The restaurant & saloon at the RIO will host the disc jockey spin-off with cash prizes and more every Thursday night until September 22. The rowdy Irish pub will turn up the party as the Las Vegas "spinsters" battle each other. Up to four DJs will compete each week with a chance to win $2,000 cash, their very own disc jockey unit and a weekly DJ spot at McFadden's. All DJs will drink for free as they give it their best. Plus, their friends and family will enjoy free cover, $5 pitchers and $20 endless Coors drafts as they cheer on their comrade. The winner will be selected based on crowd applause and guest attendance.
The Las Vegas Film Festival did draw large amount of attendees at The Hilton. My friend Jeremy Settles of Gotfilms (www.gotfilms.com) was all over the place filming what was going on such as a panel of real former gangsters, who were portrayed in the film Casino. Because there were so many films nominated from the vast amount submitted, many including the winners could not be shown. However, of those shown, and those I viewed, I don't think any will make it into mainstream theaters.
The best part of the festival for me was the Indie Icon Award and Q&A with actor Michael Masden that showed the compassionate side of the actor who usually plays tough guys.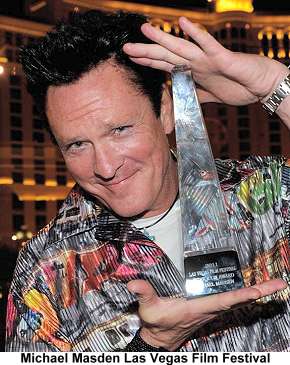 Sandy Hackett's Rat Pack is back at its new home at the Las Vegas Hilton in the Shimmer Cabaret called "Rat Pack Tuesdays." Regular Tuesday night performances start on August 16 with shows at 6:45 p.m. and 8:30 p.m.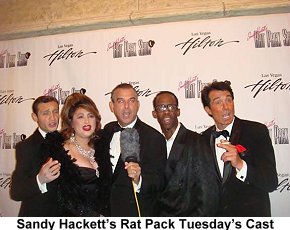 A touring version of the show was performed May 24 at the Queens Theatre in the Park's Gala 2011 in Queens, New York. Beginning this fall, "Sandy Hackett's Rat Pack Show" will hit the road with over 70 tour dates (so far) throughout the rest of 2011 and into 2012. A new website has recently been launched with information and updates about the tour: www.sandysratpackontour.com.
FLAVOR FLAV, from public enemy to reality TV the iconic star tells all in his no-holds barred memoir new book "Flavor Flav: The Icon The Memoir." Flavor Flav is now acknowledged as the greatest hype man ever – inventing the role as a member of the ground-breaking rap group Public Enemy. Known for his unique persona and flamboyant style, Flav has created slangs, sayings and styles in music that makes him one of the most well-known celebrities in America. His television series have shattered records for viewers of reality television, especially Flavor of Love, a spinoff of The Bachelor.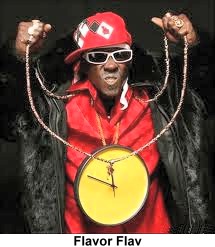 Adorned with his signature clock, glasses, hats, and gold-rimmed teeth, Flavor Flav is one of the most recognized faces in America today. This media magnet attracts fans from around the world in every age group – from his older Public Enemy following in the late 80's to early 90's, to his millions of younger fans who know him from his appearances on The Surreal Life, Strange Love and Flavor of Love.
"Flavor Flav: The Icon The Memoir" takes readers on a journey into the truth behind his larger-than-life image – revealing all and sparing no one. Flav exposes the tensions within Public Enemy, his bitterness over his treatment by Def Jam Records, his struggles with addiction and the many visits to both rehab and jail, before re-inventing himself in reality television as VH1's most eligible – and most watched – bachelor. Told with the gritty, compassionate and often hilarious style that has made him a legend, his memoir is a ride from the heights of stardom to the depths of despair and back again. Fans get to share not only Flav's unique perspective on music and reality TV, but will learn more about the man himself; an accomplished musician proficient in fifteen instruments, an experienced chef, an avid bowler, and a deeply spiritual human being. A book signing took place at the HILTON and fans had an opportunity to see him and have him autograph his book.
The word is out that THE LAS VEGAS HILTON will no longer be named the HILTON after the first of the year. Originally it was THE INTERNATIONAL and became the Las Vegas HILTON when the Hilton Corporation took over. Wonder what the new name will be?
BINGO is becoming quite popular. The RIVIERA and M Resort are opening new BINGO rooms and Blingo Bingo is as The SILVERTON. The RIVIERA's new bingo room, the only one on the Las Vegas Strip, will be managed by Bobby Taylor, who has over 28 years of experience and will provide a state-of-the-art 6,000-square-foot bingo room, featuring handheld and fixed-based units. There are six sessions daily: 11am, 1pm, 3pm, 5pm, 7pm and 9pm. Every session features Progressive Double Action, Progressive Bonus Double Action and Progressive Cash Ball games. The RIVIERA bingo room will also be holding a $200,000 bingo tournament with Superstar Bingo on October 17 and 18. The game will feature a $25,000 coverall each day along with 28 games per day. Buy-in for both days is $150. Reservations are being taken at this time by calling 702-794-9527 or 800-637-5687.
RHUMBAR, the stylish cocktail and cigar lounge at THE MIRAGE, will host WEEKEND PARTIES ON THE PATIO this summer and fall. DJs Larry Lynx and Enrie will take over and spin a mix of contemporary hits Friday, Saturday and Sunday from 2p.m until 6 p.m. creating the perfect place for partiers to spend their day. Patrons will enjoy cocktails on the luxurious Strip-side patio while they kick-back and relax or dance the afternoon away. Partygoers will also enjoy happy hour specials every day from noon until 5 p.m. The lounge and patio are open from 11 a.m. until midnight Sunday through Wednesday, and 11 a.m. until 2 a.m. Thursday through Saturday.
It's hard to think that Labor Day will soon be here. With that in mind RHUMBAR, will celebrate Labor Day weekend with Las Vegas' sexiest women and plenty of pigskin. The ladies of Luxor's steamy adult revue, FANTASY, will fulfill football fans biggest fantasy this holiday weekend with cold cocktails, sexy giveaways and an abundance of football. The beautiful women of FANTASY will heat up the RHUMBAR patio Saturday, September 3 from 4 p.m. until 6p.m. autographing FANTASY calendars, T-shirts and giving away tickets to their sexy show. Guests will enjoy the company of Las Vegas' loveliest ladies while sipping on "Tease" cocktails and watching all of the college football action with four big screen televisions on the 3,000-square-foot patio and two inside the cocktail lounge.
And, on Labor Day weekend, Multi-talented entertainer and showman Earl Turner returns to the SUNCOAST Showroom, September 3 and 4 at 7:30 p.m. Turner is a renowned Las Vegas performer, having appeared at numerous resorts and showrooms on and off the Las Vegas Strip. In 2004, Harrah's New Orleans transformed their Mansion Ballroom into The Earl Turner Theatre, where he performed for 2 years.
So much excitement is growing for the SMITH CENTER FOR THE PERFORMING ARTS opening. Now a new addition of a partnership with the Culinary Academy of Las Vegas (formerly the Culinary Training Academy), will provide food and beverage service to patrons of the SMITH CENTER. Recently, "Today" show host Al Roker visited the Las Vegas-based Culinary Academy and awarded $1.5 million in cash and in-kind donations as a part of the show's "Lend a Hand" program. And now, support for the Culinary Academy grows as a partnership is forged with The Smith Center.
While The Smith Center is slated to be the cultural centerpiece of downtown Las Vegas, the campus has also been designed to suit the needs of private groups, both large and small. The SMITH CENTER's many venues – Reynolds Hall, the Grand Lobby, the Mezzanine Lounge, conference rooms, Dee and Don Snyder Founder's Room, Cabaret-Jazz Theater, Studio Theater and the courtyard at Boman Pavilion – are available for rental. Guests will be provided with catering support by Culinary Arts Catering. Patrons will not only get hot food, but also a warm feeling, as well as the knowledge that they are putting local people to work."
For the fifth year, Las Vegas Restaurant Week will provide locals and tourists the unique opportunity to dine at many of the city's best restaurants at affordable prix fixe prices while helping to support Three Square Food Bank. Three Square was established to end hunger by providing wholesome, nutritious food to non-profit organizations that serve a wide range of Southern Nevadans in need. Las Vegas Restaurant Week 2011 will be held August 29 through September 11, with more than 80 restaurants throughout the Valley participating.
Taking part in Las Vegas Restaurant Week 2011 is simple. Diners can visit any participating restaurant during the specified timeframe and enjoy a multi-course, prix fixe menu specially created for Las Vegas Restaurant Week. Each restaurant will create their own delicious menu offering at one of the following price points: $20.11, $30.11 or $50.11 with a fixed portion of the proceeds benefiting Three Square and the fight against hunger in Southern Nevada.
Diners will have the opportunity to enjoy some of Las Vegas' finest restaurants at amazing prices for two weeks. The Capital Grille at Fashion Show Mall, Rick Moonen's rm seafood at Mandalay Bay, Comme Ça at The Cosmopolitan of Las Vegas, TAO at The Venetian, Panevino located off strip and Diego Mexican Cuisine at MGM Grand are a few fine examples of the more than 80 restaurants participating in this year's restaurant week festivities. Offerings range from succulent steaks and seafood to French cuisine, decadent desserts and more. For a complete list of Restaurant Week participants and menu details visit www.helpoutdineoutlv.org; the new site allows diners to search by type of cuisine, restaurant location or donation amount.
Three Square is a community collaborative partnership with the gaming industry, businesses, non-profit agencies, food distributors, higher education institutions, the CCSD, governmental entities, the media and thousands of volunteers to efficiently and effectively serve hope to those in our community struggling with hunger. Three Square currently provides more than 22 million pounds of food and grocery product – the equivalent of nearly 16 million meals – per year to more than 600 Program Partners including non-profit and faith-based organizations, schools and feeding sites throughout Southern Nevada.