VEGAS! The Show at the SAXE THEATER in the Miracle Mile Shoppes at PLANET HOLLYWOOD continues its ongoing support of gay rights by offering FREE show tickets to same-sex married couples throughout the month of July. The offer is in response to New York becoming the sixth state to legalize same-sex marriage, joining Connecticut, Iowa, Massachusetts, New Hampshire, Vermont and the District of Columbia. LGBT married couples who show proof of their union at the SAXE THEATER box office will receive two free tickets to the show. Theater owner, David Saxe, hopes this gesture will inspire other business owners across the nation to throw their support behind the movement. The New York state Senate vote was a huge milestone, affording gay and lesbian couples the rights, dignity and respect that come with marriage. No matter how you look at it, this is a 'human' rights victory and it deserves to be commemorated.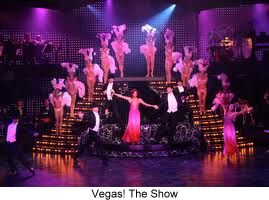 VEGAS! The Show takes the stage, twice nightly, at the SAXE THEATER inside Miracle Mile Shops at PLANET HOLLYWOOD. Featuring a cast of more than 40 singers, dancers, showgirls and a live big band orchestra, this large-scale production takes the audience on a journey through the "glory days" of Las Vegas when The Rat Pack ruled, glamorous showgirls filled the stage and Elvis was the king of Vegas.
This show is for everyone. I've seen it twice and critique it as one of the best shows in Las Vegas.
Phantom – The Las Vegas Spectacular just celebrated its fifth anniversary at THE VENETIAN. The Las Vegas production of the worldwide favorite is enjoying enduring success that few other Las Vegas productions have achieved and proves that "Broadway" can and does flourish in Las Vegas.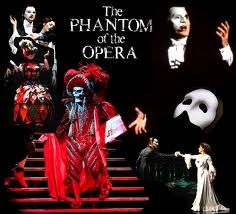 More than 150 cast and crew members work together each night to put on a dazzling experience for the audience. The fifth anniversary performance of Phantom—The Las Vegas Spectacular marked 2190 performances at The Venetian. To date, this production has executed more than 500,000 special effects, 11,000 romantic kisses have been shared on stage and the $5 million chandelier has "crashed" a distance equal to five times the height of Mt. Everest.
Phantom—The Las Vegas Spectacular will continue to celebrate its fifth anniversary throughout the duration of the summer with a special offer for its fans. For a limited time, guests can enjoy a 2 for $99 ticket offer. This offer can be redeemed by using the code 99PAIR when ordering tickets. The offer is valid through September 4. The lavish production of Phantom—The Las Vegas Spectacular thrills audiences eight times a week at THE VENETIAN. From the moment you enter the magnificent custom-built theatre you are immersed in the storied Paris Opera House and become part of The Phantom's world. I just saw it again and it truly is an overall 'spectacular` experience.
The LAS VEGAS HILTON was the setting for the DAYTIME AWARDS and the place lit up with top-notch celebrities including Oprah. No real surprises, except for the elimination of the long running Soap Operas in favor of so-called reality shows.
This weekend, THE LAS VEGAS FILM FESTIVAL will try to revive a film festival once again now that there is no longer a CineVegas Film Festival. This will be held at the HILTON. Hopefully this one will be better than the one that attempted a downtown Film Festival at Neonopolis a few years ago that was a flagrant disaster.
THE HILTON also boasts the following entertainment:
Steve Wyrick Ultra Magician has opened - Nightly at 7:30
Ethan Bortnick July 22 – 23 - 10-YEAR-OLD MUSICAL SENSATION
Hippiefest August 7
SHIMMER CABARET:
Nunsense - "The King" starring Trent Carlini -Greg London Impressions That Rock! -
Mike Tricarichi Presents Icons of Comedy Series
Andrew Norelli July 20 – 24
Body & Soul Starring Rick Faugno (Frankie Vallie in Jersey Boys) July 25 –Aug. 1
Mike Tricarichi Presents Icons of Comedy Series
Hal Sparks July 27 – 31 August 3 – 7, 24 – 28

TEMPO LOUNGE Jazz Weekly -Tempo Lounge Fri. & Sat, 8pm – 1 a.m. -FREE
THE OASIS (SpaceQuest Casino & Lounge) Celebrity Thursdays - open mic for professionals 9 p.m. - 1 a.m.
The Smith Center for The Performing Arts announced that the wait is over for those wanting tickets to the Broadway Las Vegas Series featuring THE COLOR PURPLE, MARY POPPINS, MILLION DOLLAR QUARTET and MEMPHIS. Broadway Las Vegas Series tickets will go on sale at 10:00 a.m. Tuesday, July 26 at THE SMITH CENTER for the PERFORMING ARTS by calling (702) 982-7805 or by visiting www.thesmithcenter.com. The series is priced at $99, $139, $229 and $309 for all four shows, depending on seating preference.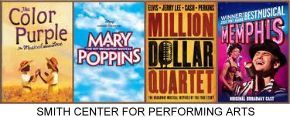 THE SMITH CENTER for the PERFORMING ARTS is a public/private partnership that will become the centerpiece of cultural life in Las Vegas, offering a blend of performances by resident companies, as well as first-run touring attractions. The 5-acre cultural campus will feature three performance spaces: The 2,050-seat main performance area in Reynolds Hall; Boman Pavilion's 258-seat Cabaret-Jazz theater and the 250-seat Studio Theater. The campus will also be home to the Discovery Children's Museum. The SMITH CENTER for the PERFORMING ARTS is located in downtown's 61-acre urban development, SYMPHONY PARK.
Mark O'Toole, appearing at the M RESORT launched his new CD "The Crooner" at a star studded event. The crowd loved O'Toole's powerful voice that is ideally suited for the songs of the Great American Songs that are in "The Crooner." "The Crooner" was produced by Grammy winner Keith Olsen, who has had success with such artists as Fleetwood Mac, Emerson, Lake & Palmer, Kim Carnes, Eddie Money to name a few. Les Brown Jr., Band of Renown provided the instrumental backing for the album and the event.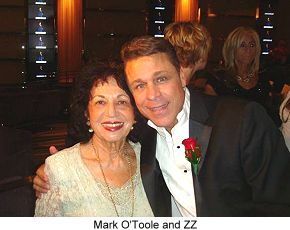 Mark is a longtime talented performer whose life changed forever in July 2007 when he was diagnosed with Stage IV cancer and told he had only weeks to live. After months of intense chemotherapy treatments, he beat cancer and is in full remission. While undergoing treatment, he decided that when he got back on his feet he would immerse himself in the standards, songs that made use of his God-given talents as a vocalist and entertainer. And so he has, and audiences are given the chance to enjoy this marvelous talent along with his interactive charisma at the M Resort in the Ravello Lounge on Wednesdays 6:30-8:30 and Saturday and Sunday 3:30-7:30. His new CD "The Crooner" is also available for purchase.
"Club Nikki" continues to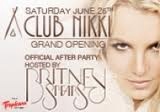 provide an unrivaled nightlife experience by attracting some of the top names in music. Stars have been flocking to "Club Nikki" at the TROPICANA. BRITNEY SPEARS was there to help christen "Club Nikki" as the hottest nightclub in Las Vegas. Then RIHANNA was there hosting the Official "LOUD" Tour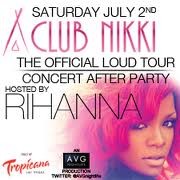 Concert After Party. Club Nikki is also known for attracting internationally-renowned DJs who represent a diverse array of musical styles. Musicians and energy dancers often accompany the DJs to set the mood and provide guests with an evening of unforgettable entertainment.
The new Club Nikki lives up to its reputation as "The Sexiest Place on Earth" with personalized European best-in-class service, elegant all-white color scheme, organically designed décor and thrilling theatrical entertainment.
I was invited to see multi-talented actress, producer and recording artist Connie Stevens at the RIVIERA who performed along with accomplished actor and comedian John Byner.
Although Connie Steven's career in the entertainment industry spans over 50 years, she looks great and as good as she did years ago. Connie put on an enjoyable show with a great band and backup singers that included her daughter and son-in-law. She was extremely interactive with the audience who loved her as she spoofed about aging. Connie's musical career began when she first sang in a group called The Three Debs at the age of 16. She then proceeded to record as a solo artist with the Warner Brothers label and recorded major hits in the 1960s. Videos of the massive amounts of movies, television, USA tours and many of the work she did were shown. Connie has been busy with her skin care line and for the past two years she has been making a movie that will be out in September. Connie Stevens is quite a gal with amazing energy and charisma.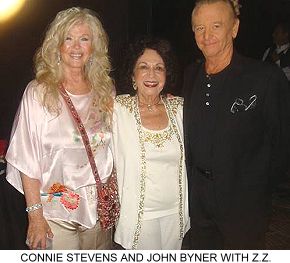 The opening act was John Byner who has been hailed as a "Man of a Thousand Impressions," Byner's stand-up comedy career began in New York's Greenwich Village. He then went on to open for some of the finest jazz greats and followed with opening and headlining stints across the country including Basin Street East, Copa Cabana, The Rainbow Room and at Las Vegas showrooms such as Harrah's, The Sahara, The Sands as well as Riviera's Comedy Club.
Too bad this entertaining duo was only appearing for a short engagement, but perhaps they will be coming back to entertain us in the future.
In the meantime, the RIVIERA will have Gary Lewis & The Playboys with special guest Dennis Tufano, the original lead singer of The Buckinghams hitting the stage in the Starlite Theatre July 20 through July 31.
Gary Lewis like his father, comedian Jerry Lewis, skyrocketed to fame at a young age. While playing in their first job at Disneyland, Gary Lewis and The Playboys were discovered in the summer of 1964 by producer Snuff Garret. Soon after, they produced their first hit single "This Diamond Ring" and several more Top 10 hits continued.
Shows will run nightly Wednesday through Sunday at 7:30pm in the Starlite Theatre. Tickets are $39.95 for preferred seating and $59.95 for VIP seating. As a special offer, locals receive 50 percent off tickets. Call 702-794-9433.About Riviera Hotel & Casino
Ongoing entertainment at the "RIV" are: "Crazy Girls," "Sandy Hackett's Rat Pack Show" and "Dr. Scott Lewis: Outrageous Comedy Hypnotist."
Gamers are invited to take part in "Fuel Frenzy," one of the newest gaming promotions at SILVERTON CASINO during the month of July. "Fuel Frenzy" will take place throughout July and give gamers the chance to beat those high gas prices and fuel up their cars. If players win 500 points in one day they can pull a ticket out of the Silverton gas can and win free slot play or a gas card worth up to $100.
HERITAGE MUSEUM: Inside the Historic Railroad Pass Hotel/Casino, the oldest continuously operated licensed casino in the United States, is celebrating 80 years on August 1. The museum is open 24/7, and displays photos and memorabilia dating back to its construction in 1931. Entrance to the Museum is free to the public. Railroad Pass Hotel/Casino is located at 2800 S. Boulder Highway in Henderson.
TOP OF NEXT COLUMN
"An Evening At La Cage" is re-emerging and brings its glitz and glamour to the FOUR QUEENS HOTEL starring Jimmy Emerson. The show has been on hiatus from LasVegas since it closed at the RIVIERA two years ago and is now refreshed and ready to take its place again as the premier show of its kind. An "Evening At La Cage" features the most amazing female impersonators, celebrity look-alikes and tribute artists alive today in a top-notch performance of nonstop music, dance and comedy.
"La Cage" stars Jimmy Emerson, the internationally known comedian and impressionist who was the comedy lead and backup host for the show's previous Las Vegas incarnation. He is famed for outrageous characters, including his wicked Wynonna Judd and the Queen of country-western trailer-trash,Tammy Spraynette. The astonishing impersonations in the show run the gamut from Barbra Streisand to Lady Gaga, with a host of other exquisite stars, including Carrie Underwood, Madonna, Reba McEntire, Jennifer Lopez and Michael Jackson. Cast members are Brent Allen, Ryan Zink, Andrew Ryan, Carlos Rodriguez, Alondro Garibay and Lane Lassiter. Rounding out the cast are the extraordinary La Cage dancers, complete with eye-popping costumes that showcase astounding configurations of feathers and rhinestones adorning brilliant headdresses. Show times are 9 pm, Wednesday through Sunday.
LAS VEGAS WALK OF STARS HONORS Engelbert Humperdinck
International Recording Super Star, Engelbert Humperdinck, will be honored by the Las Vegas Walk of Stars in the 55th Star dedication ceremony on "Hump Day", Wednesday July 20. For more than four decades, international icon Engelbert Humperdinck has shared a legacy of love with fans of every age, on every continent. With four Grammy nominations, a Golden Globe for "Entertainer of the Year", 63 gold and 24 platinum records and a star on the HOLLYWOOD WALK of FAME, Humperdinck has joined an elite group of musical artists, such as Tony Bennett and Burt Bacharach who have crossed over successfully to strike a new chord with a younger generation while continuing to entertain their core audience.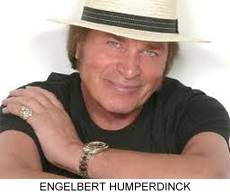 Several of the major forces in the world of rock n' roll, including Jimi Hendrix and The Carpenters started out as opening acts for Humperdinck in the late 60's, 70's and '80's. He even stopped the Beatles from having their 13 consecutive number 1 single when his version of `Release Me' stalled the Beatles "Penny Lane /Strawberry Fields Forever" single from taking the top spot.
His remarkable voice and extraordinary talent has endeared him to millions of fans around the globe with the MTV generation having just "discovered" what a magnificent musician the rest of the world has celebrated for decades.
Engelbert is happily married to his wife of 45 years Patricia. The couple have 4 children and 9 grandchildren. Congratulations, Engelbert!
You can catch Engelbert Humperdinck when he brings his signature act to the PARIS HOTEL July 21-24.
The NEVADA BROADCASTERS ASSOCIATION (NBA) will have its 16th Annual NBA Scholarship Gala, August 20 at the Red Rock Casino – recognizing and showcasing excellence in Nevada's radio and television industry. Legendary Las Vegan "King of Comedy" Jerry Lewis will be awarded the NBA Prestigious Lifetime ACHIEVEMENT AWARD. Also honored will be the Nevada Army National Guard.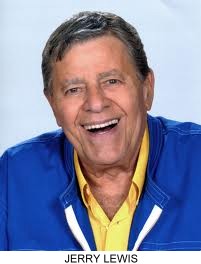 Jerry Lewis, the iconic star, comedian, actor, author, producer, director and recording artist, and 60-year host of the MDA Telethon, is one of the most successful performers in show business history and one of the greatest comedians of the 20th Century.
The evening's theme, "Where Eagles Soar ~ The Miracle of Broadcast," will pay tribute to the extraordinary life of Mr. Lewis, as well as honor the Nevada Army National Guard with the NBA Community Achievement Award for its contributions to homeland security and preserving freedom around the world.
Proceeds from event will benefit the Nevada Broadcasters Foundation and will fund scholarships, in the name of Linda and Tony Bonnici, for passionate students who attend or are about to enter college/ university and will study in the field of Broadcasting. The NBA Hall of Fame was created in 1996 to bring added acknowledgement, recognition and respect to members of the radio and television industry in Nevada.
There is a guy in our town of Las Vegas that seems to have it all. Eighty-seven year old DAN HOROWITZ has led an incredible life – he lives in a beautiful home in a gated community, has a new Rolls Royce and Jag convertible sitting in the garage, owns a Racehorse, and has even invested in a piece of land on the Las Vegas Strip.
Dan has now written his memoirs in a book called "Pillow Talk" and digs down-and-earthy in his sizzling new book as he brings a hidden past to life. Horowitz reveals his own sexual secrets of conquest, how he made and lost tons of money in business, had breath-taking psychic experiences, relived former lives, turned the tables on Las Vegas as a successful gambler, traveled the world over and made love to scores of beautiful women.
Part memoir, part self-help guide, "The Pillow Treatment" is the inspirational, motivational saga of a guy who, with determination, persistence and firmly held principles, has accomplished things most people only dream of. Packed with the wisdom of more than 80 years of living, "The Pillow Treatment" serves up lessons and secrets that anyone can use to enjoy the best that life has to offer – including a revolutionary sexual technique that is guaranteed to please every woman every time.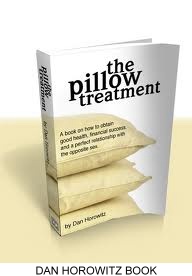 "The Pillow Treatment" is published by Hardway Press. It retails for $14.95 (paperback) and $7.95 (Kindle) and is available on amazon.com.
The LAS VEGAS FOLLIES is a dazzling production show with a fusion of music, song and dance. It is the creation of Rich Rizzo, known for his direction and choreography of the world famous Lido de Paris in Paris, France and Jubilee, currently running at Bally's. Rich Rizzo has gathered an impressive group of senior showgirls and dancers who light up the stage. The show also features internationally acclaimed impersonators Frankie Kein and Manuel Arte and their special friends Marilyn, Liza and Joel. Special Guest Star for this show is the fabulous entertainer Wes Winters and his piano.
The show will be presented at the STARBRIGHT THEATRE Theatre in SUMMERLIN on July 23rd at 7 PM and on July 24th at 2 PM. Tickets are $15 - $17 and may be purchased at the box office at the STARBRIGHT THEATRE. Call 240-1301 for more information.
Multiple award-winning hit maker, songwriter, producer and recording artist Kenny "Babyface" Edmonds returns following a popular engagement last November to THE ORLEANS July 30 and 31 at 8 p.m. A 10-time Grammy Award winner, with 11 solo albums to his name, Edmonds has produced and performed multiple chart-toppers, including "When Can I See You," "Tender Lover," and "Love Makes Things Happen."
Piano! Las Vegas is now offering a Summer Special at the V Theater inside Miracle Mile Shoppes at PLANET HOLLYWOOD. All children ages 18 and under will get in FREE. The show provides a unique combination of comedy-magic and live music, backed by six of Las Vegas' finest musicians. Piano! features an extraordinary display of piano music including red hot rock 'n' roll, international hits, show tunes, Flight of the Bumblebee Boogie and Ahern's own award-winning Boogie Woogie, as well as a rotating cast of comedy-magicians
Piano! Las Vegas performs Mondays – Thursdays and Saturdays at 2:30 p.m. Tickets start at $29.99 for general admission, $39.99 for VIP seating. Las Vegas locals receive a 50% discount. Call the V Theater Box Office at (866) 932-1818.
SAM's TOWN Hotel and Gambling Hall presents An Evening of Pop and Doo Wop inside the 750 seat Sam's Town Live! venue on Saturday, July 30 at 8 p.m. The evening of music stars Sonny Turner, former lead singer of The Platters; Terry Johnson's Flamingos and Danny and The Juniors.
Guests gathered at THE VENETIAN pool grounds to join in celebrating the heroic actions of nine-year-old, Tristin Saghin. The son of 12-year Venetian founding team member, Chris Saghin, Tristin rescued his two-year-old sister, Brooke, from their family's backyard pool. After learning CPR from his all-time favorite movie "Black Hawk Down," Tristin revived Brooke and performed CPR until paramedics arrived.
John Caparella, president and chief operating officer of THE VENETIAN, THE PALAZZO and SANDS EXPO, was on hand to award Tristin with a plaque dubbing him an honorary lifeguard. Lifeguards of THE VENETIAN presented Tristin with an honorary t-shirt, whistle and buoy before he climbed into the lifeguard stand overlooking the pools.
The Orleans Arena hosts the finals for the World Hip Hop Dance Championship—an event commemorating

the first 10 years of Hip Hop International and celebrating the 10th World Hip Hop Dance Championship. More than 2,000 of the world's top street dancers will come together for the finals. Defending World Champions from Japan and New Zealand will return for a chance to retain the title, gold medals and $25,000 in cash and prizes.
At this event, "America's Best Dance Crew" Executive Producer RANDY JACKSON will receive the Living Legend of Hip Hop Award.Las Vegas radio and television personality Chet Buchanan will serve as emcee. Reserved seating priced at $25, $39.50 and $59.50. Tickets available online www.orleansarena.com, or call 702.284.7777.
Once again GOLDEN RAINBOW's spectacular RIBBON OF LIFE was spectacular. This year GOLDEN RAINBOW celebrated 25 years of "Ribbon of Life" at the PARIS Hotel. "Ribbon of Life" is the only ticket in town that allows the audience to see performers from almost every show on the Strip in one show. Each production is original and can only be seen at Golden Rainbow's benefit.
Performance from Las Vegas' major headlining shows included THE LION KING, Human Nature, PEEPSHOW, Fantasy, Jubilee! and more, Clint Holmes captured the crowd's hearts with his rendition of "West Side Story," and George Wallace's quirky humor gave the show a refreshing comedic spin. Even the little ones got in on the action, charming "Ribbon of Life" attendees with a cute superhero number.
All participating performers donated their time to Golden Rainbow's cause and 100 percent of ticket sales will directly benefit southern Nevadans affected by HIV/AIDS. Despite the looming cliché of tough economic times, "Ribbon of Life" drew a record-setting crowd with 1,158 people in attendance and raised more than $151,000.