THE ULTIMATE ELVIS PRESLEY TRIBUTE ARTIST CONTEST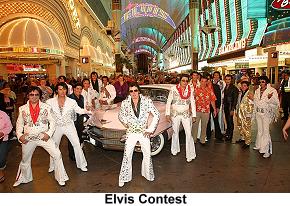 The FREMONT STREET EXPERIENCE hosted the preliminary round of the Ultimate Elvis Tribute Artist Contest. The 21 competitors from across the country participated in the Ultimate Elvis Tribute Artist Contest with guest judges determining the 'best representation of the Elvis legacy.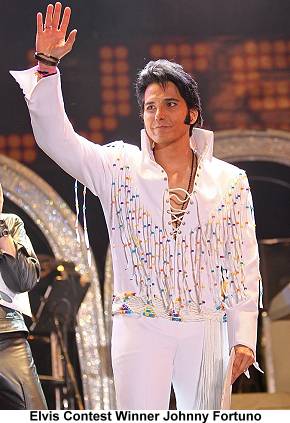 After the field was narrowed to 10, a champion was crowned 'King.' Johnny Fortuno a resident of Las Vegas (originally from Honolulu, HI) won $2,500 cash, a Graceland Getaway prize package and most importantly, qualifies to compete in the 2011 Ultimate Elvis Tribute Artist Contest in Memphis, Tenn., during Elvis Week to be held Aug. 10-16.
Nevada Ballet Theatre and Cirque du Soleil 4th annual collaboration
A Choreographers' Showcase, A Project Designed to Stimulate and Encourage Artistic Growth. The Showcase will be presented May 15 and May 22 at 1 pm at the new Viva ELVIS Theatre at ARIA. A Choreographers' Showcase began as a premiere collaboration between Nevada Ballet Theatre and Cirque du Soleil in 2007 at the TREASURE ISLAND and has created an avenue of growth for local artists while providing Las Vegas with a dynamic and completely organic dance experience. Over the last few years, A Choreographers' Showcase has garnered rave reviews and sold-out houses in addition to significant media attention including the LA Times and LIFE Magazine.
The Choreographers' Showcase allows artists from both NBT and Cirque du Soleil the freedom to develop their own choreographic skills through creating new work in a variety of dance styles. This 90 minute production features an array of contemporary artists from the various resident Cirque du Soleil shows performing with the classical ballet dancers of Nevada Ballet Theatre. A Choreographers' Showcase will include ten original choreographed pieces, five from Nevada Ballet Theatre dancers and five from Cirque du Soleil artists.
In addition, a school-time matinee for Clark County students, as well as those in NBT's Education and Outreach program, Future Dance, will take place on Friday, May 20 at Noon. Proceeds from the sale of the May 15 and May 22 public performance subsidize this special student-only performance. During the last three years, 3,000 local students have received the opportunity to witness this one-of-a-kind production bridging artists from diverse backgrounds and dance styles.
Tickets: $20 and $40 call the Viva ELVIS box office at (702) 531-3800 or via online at www.nevadaballet.org. All proceeds from the collaboration benefit Nevada Ballet Theatre's professional company productions, dance training and education and outreach.
A new show, `The Viper Vixens' brings their dangerous weapons and hot curves to the showroom at O'Sheas Casino. Vegas' hottest dancers and specialty artists compose this cast of beautiful and multi-talented women that are `The Viper Vixens.' Taking a twist on the traditional erotic show, `The Viper Vixens' include dangerous weapons in their sultry act – where whips and chains never hurt so good.
This unique and one-of-a-kind production includes the crossbow act of Mr. and Mrs. G, who have made numerous celebrity performances with their death-defying act, including an appearance on "The Tonight Show with Conan O'Brien" and working with Britney Spears for the opening video of her "Circus" tour.
Mr. G, otherwise known as Ottavio Gesmundo, director and choreographer of `The Viper Vixens' was celebrated for his stunt direction and choreography for the 2002-2003 touring spectacular "Spider-Man Live," which played sold-out performances at Radio City Music Hall. Multi-talented singer Deena Cary adds live vocals to the show while showcasing her sexy moves at the same time. Cary has several credits to her name, including touring the country for two years as lead singer of "Purrfect Angelz" where she opened for artists like Big & Rich, Trace Adkins and Earth, Wind & Fire. She was also one of the top 20 women selected to compose what is now the international pop group "The Pussycat Dolls." This topless show at 9 p.m. in the intimate O'Sheas Theater is for guests 18 years or older. Tickets are $45 plus tax and fees.
Rub, Sizzle and Grill at The Orleans USA Barbecue Championships
More than 100 of the world's top-ranked professional grilling teams vie for their piece of the largest barbecue purse totaling $125,000 in prizes at THE ORLEANS USA Barbecue Championships and food festival, May 21 and 22. Professional teams representing 43 states including six from Canada and one from Tokyo will compete in four categories: Brisket, Chicken, Ribs and Pork Butt. Las Vegas Valley local expert barbecue teams such as Trailhound Smoker BBQ, Sin City Smokers and The Smokin' B.A.R. are hoping to win the top $25,000 prize.
The Orleans USA Barbecue Championships and festival will feature professional and amateur barbecue cook-offs and 40 to 50 of the world's best barbecue vendors, a barbecue expo, live music sponsored by Clear Channel and Budweiser as well as a kid play zone. The "UNLV 'Ribba Ramma' Amateur Rib Cook-Off" will also be held on the event grounds and for a $10 donation attendees will have the opportunity to sample ribs from five of the amateur competitors, with all donations supporting UNLV Athletics through the Rebel Athletic Fund. The festival is free and open to the public from 11 a.m. to 10 p.m. on May 21 and 10 a.m. to 7 p.m. on May 22
Something new is coming to town. "$TRIP The Play" is the first and only play to ever combine live acting, beautiful actresses stripping to pasties and pole dancing. "$TRIP" has a successful run in Los Angeles and now it is coming to Sin City to the newly renovated Aruba Hotel & Spa 1215 South Las Vegas Blvd. Based on true stories, the play is about a fictional Las Vegas strip club called "The Sunset Lounge." Buck, the owner, has been murdered and now there's a crime to solve. That's when, Amanda Cole, a file clerk with Las Vegas Metro Police, goes undercover as "America" the stripper. "$TRIP" plays Wednesday nights at 9 p.m. – May 18 through July 13, 2011 Tickets: $25 plus tax and - Two Drink minimum includes "Aruba Comedy Show" (stand-up comedy) after "$TRIP The Play."
SOUTH POINT ARENA will transform into an indoor aquatic playground as Grindco Entertainment's H2Xbrings the world's top jet ski racers and freestyle riders to Las Vegas for two days of intense race and acrobatic performances on May 20 and 21 at 8 p.m. More than 600,000 gallons of reclaimable water will create the World's Largest Portable Indoor Pool for the water sport competition and thrill show featuring daring stunt athletes on wakeboards, waterskis, wakeskates and modified watercrafts. The jaw-dropping acts are the first of their kind and are staged in the astonishing 3.5 ft deep pool, spanning 125 ft by 200 ft. This is one of the first arenas in the world to host this new extreme indoor water sports show. H2X is the perfect event for families, extreme sport enthusiasts and Las Vegans looking for an out of the ordinary entertainment option.
H2X events include:
Watercross racing featuring head-to-head "supercross" style
Jet ski freestylers performing back flips, barrel rolls, submarine dives and other unbelievable water stunts on their modified watercraft
Wakeboarders, wakeskaters and waterskiers flipping, spinning and jumping off towering ramps
Costumed acrobatics performing bold fire acts and barefoot waterskiing
H2X is nonstop action at the SOUTH POINT ARENA. On May 21, ticket stub holders will also have free admission to the H2X after party featuring a post-apocalyptic themed masquerade and music live concert by Tony Grinder and the band, `Means to an End.' Ticket prices range from $10 to $60 at the South Point Box Office, online at www.southpointeventscenter.com or by calling (702) 797-8055.
HEAVEN CAN WAIT ANIMAL SOCIETY presents Gimme Shelter's third annual event on May 28, featuring live music and activities within the picturesque VILLAGE LAKE LAS VEGAS. The live outdoor concert fundraiser features Grammy award-winner Skip Martin, best known as former lead singer of Kool & the Gang who will be performing his hits and more. The evening kicks off with a special performance by U2 tribute Band, Arms of America at 6 p.m. Headliner Skip Martin performs at 7 p.m. A great night of live music in the beautiful lakeside village makes it an affordable, fun and entertaining night for the whole family. General admission tickets are available for $20. VIP Lounge tickets are available for $40 and include access to a private bar.
SOUTHERN NEVADA CHILDREN FIRST (SNCF), hosted their 2nd annual `Artfully Sweet' event at a beautiful exclusive residence. About 150 guests enjoyed `Artfully Sweet' desserts and pastries from a premium pastry chef, artwork from local artists, a silent auction, and a variety of amazing live performances.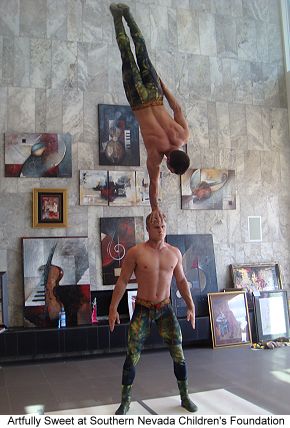 SNCF has vowed to address the needs of homeless, pregnant and parenting youth throughout Southern Nevada and uses a strength-based holistic approach to developing these youth's qualities and competencies. SNCF efforts are achieved by providing various programs and services and concerns itself primarily with the provision of safe environments, in which youth are supported through mentoring, advocacy, education, counseling and intensive case management. In addition, these youths benefit from a host of activities designed to foster positive youth engagement. At the event, appreciative testimonials from individuals whose lives have been turned around for the better because of help by SNCF were heartwarming.
Just in time for the spring and summer wedding rush, ASTON MONTELAGO VILLAGE RESORT at Lake Las Vegas offers brides- and grooms-to-be a fantastic deal. Known as one of the most stunning locations for nuptials in Southern Nevada, Lake Las Vegas provides a feeling of being a world away, but is a mere 20 minutes from the Las Vegas Strip. ASTON MonteLago Village Resort, in conjunction with sister properties Aston Waikiki Beach Hotel in Oahu and Aston Kaanapali Shores in Maui, is offering a free honeymoon for the new couple when the wedding package and minimum guest accommodations are booked at ASTON MonteLago Village Resort at Lake Las Vegas. The couple will receive a free five-night stay at the beautiful Aston Waikiki Beach Hotel in Oahu or at Aston Kaanapali Shores in Maui. The free Hawaiian honeymoon offer ends December 21, 2011. For more information on wedding packages and this special offer, call 866-399-2747 or 702-564-4700.
SCOOP: Now that the SAHARA is closed, headliner magician Rick Thomas will be opening in the main showroom at the RIVIERA when renovations of that showroom are completed. The newly renovated showroom will be named THE RICK THOMAS SHOWROOM.