What: Las Vegas Rock Reunion Hall of Fame Induction Ceremony and Concert
Where: The Henderson Pavilion
When: May 1, 2011 11:00 AM to 8:00 PM
Why: A Benefit for Safe Nest and Clark County USD Coral Academy of Science, Charter School Music Scholarships


The Las Vegas Rock Reunion Hall of Fame Induction Ceremony & Concert will feature an all-day music festival highlighting twenty local 1960's and 1970's Rock Bands.

"There has never been a concert and induction ceremony quite like this, anywhere", said Michael P. Selinsky, Event Producer, a 1968 Las Vegas High School Graduate and band leader. "Many of the performing bands will be reuniting for the first time in years, reflecting a time that was a thriving hotbed of musical talent on the rock and roll scene in Las Vegas. The event will induct local Las Vegas Rock and Roll bands across a twenty year span, 1960-1979, from The Teenbeats to Belladonna, who played multiple local venues and were not strictly lounge or showroom acts"

Concert Promoters who produced Rock and Roll shows at the Las Vegas Convention Center, Ice Palace and UNLV, will also be honored as inductees, including: Michael Tell, Hal Miller, Steve Miller, Keith Austin, Michael Schivo, Gary Naseef, and Bob Eubanks.

Event hosts/ MC's are: Lark Williams, Freddie Woods, Dennis Hunt, and Lanny Irwin.

Stan Irwin, Concert Promoter Emeritus, will be paid tribute and inducted for bringing The Beatles to Las Vegas in 1964.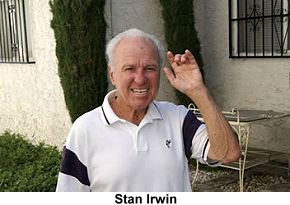 Stan Irwin was Sahara Hotel Entertainment Director from the 1950's through the 1960's. He will receive Concert Promoter Emeritus Recognition for presenting The Beatles at the Las Vegas Convention Center in August 1964. He is 91 years of age, and will be presented his induction certificate by his son, and Valley High School graduate, Lanny W. Irwin.
Performing Inductee Bands are: The Teenbeats • Sidro's Armada • Jerry Lopez & Santa Fe • Batdorf & Rodney • The Present Tense • Pork & Beans • Joshua Sage • Shadowfax/Tuneswith • Census • Sailon • Belladonna • Stealer • Roadhouse • Who's the Father • The Crossfires • Bill 'Scatter Blues' Rosevear • Free Circus • John Kaye & Friends • Joni James & Friends
Marking their 50th Anniversary since their first concert promotions, Teenbeats Club owners, Steve Miller and Keith Austin will be attending the Las Vegas Rock Reunion Hall of Fame Induction Ceremony and Concert and will be inducted as pioneering Las Vegas Rock Concert Promoters.
The Teenbeats, of LVHS and Rancho HS, 50th Anniversary Reunion in Concert, with Teenbeat Club owners Keith Austin and Steve Miller will be reuniting and performing at this historic event.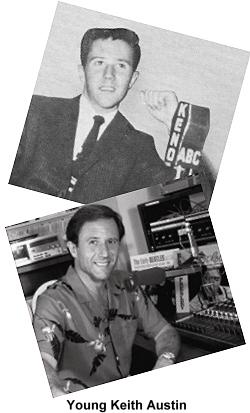 I was just thirteen when my love affair with Rock n Roll began," says Keith, who recounts meeting Elvis Presley in 1957. "After shaking hands with Elvis, I went home and played "Heartbreak Hotel" a hundred times. From that afternoon on, I've felt, lived and loved Rock n Roll. "Not long after that memorable day, Keith began hosting a radio show on KLAS, and later on KENO. as well as producing a weekly televsion program for teens.
In 1962, Keith and fellow partner Steve Miller formed "Teen Beat Las Vegas," a popular Saturday Television program featuring live music from the Teen Beat Nightclub in Las Vegas. Teen Beat became the rave of Las Vegas, and Keith Austin introduced artists like The Beach Boys, Bobby Vinton, The Surfaries and Bobby Rydell to the music scene. From 1962 to 1968, if it was Rock n Roll in Las Vegas, Keith Austin was right there in the middle of all the action.
Joe Guercio, Concert Conductor, will be honored and inducted as Elvis Presley's Orchestra Conductor at the International/Hilton Hotel in the late-1960s to mid-1970's.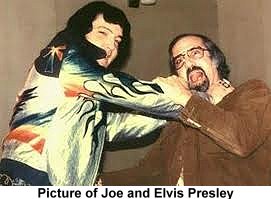 Joe Guercio, Orchestra Conductor at the International/Hilton Hotel in the 1960s and 1970s for Elvis Presley, Barbara Streisand and many others. Joe Guercio receives Orchestra Conductor Emeritus Mentor Recognition Award. Now in his 80's, he will be presented his induction certificate by his son, Inductee Jim Guercio, Census drummer, who will also be performing.
Sue Penny, Performer and Recording Artist, and LV RR HOF Mentor ('Norman', 'Sad Movies'), now in her 80s, will be attending the Induction Ceremony and Concert. She will be presented her induction award by her son, Inductee Greg Penny, who will also be recognized and inducted in the Recording Engineer Recognition category.

Sidro's Armada, first Las Vegas appearance was in 1963 (as The Sneakers) and they are still going strong; In the 1970's Sidro's Armada performed at many Las Vegas nightclubs including Bogies, Mr. G's and TheTroubadour.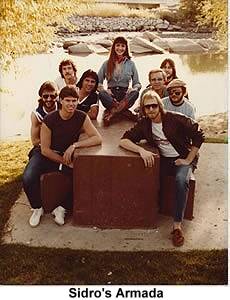 Adam Dunn Shendale, Valley High School graduate is presently Gordie Brown's drummer. He was so promising, Buddy Rich gave him a drum set when Adam was twelve years old. In high school he was in the local band Odyssey.
John Kaye & Friends: A Valley High School graduate, John comes from a rich Hawaiian musical heritage. His grandfather was the legendary Hawaiian performer and recording artist, Johnny Ka'aiua, "Johnny Ukelele". John's father is Norman Kaye and his aunt was Mary Kaye, members of The Mary Kaye Trio, with Frank Ross. They are credited with .creating the 'Las Vegas Lounge Act' at the Hotel Last Frontier in 1948. Fender's 'Mary Kaye Stratocaster', is named in her honor. John Kaye continues to perform with John Kaye & The Overlords Band.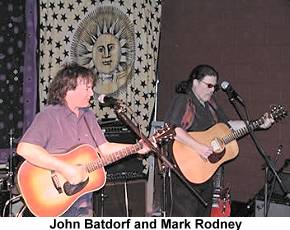 John Batdorf and Mark Rodney will be celebrating their fortieth anniversary together at the May 1 concert. Acoustic guitarists and songwriters, Batdorf & Rodney are considered by many to have influenced the sound of America, Seals & Crofts and Dan Fogleberg. They began their careers at UNLV 'Kitchen', in 1970s. The were signed by Atlantic Records in early 1971 and eventually released three albums in that decade. John Batdorf and Mark Rodney, recording artists on Atlantic, Asylum, and Arista Records toured with many groups including Bread, The Youngbloods, Loggins and Messina, Three Dog Night, Dan Fogelberg, Chicago, Seals and Crofts.
The John Sterling All Star Band will feature John Sterling , Kim Kesterson, and Terry Ryan, a group which recorded the LP "Stop" and performed with The Eric Burdon Band, in the early and mid 1970's, after getting their start in Las Vegas. Sterling has also performed with Robbie Kreiger of The Doors. Sterling and Kesterson toured with Arthur Lee and Love in the mid 1970's.
Jerry Lopez & Santa Fe's first Las Vegas performance was in 1975. They have been performing consistently since that time. Early local venues at which they performed included Duffy's Tavern, One Step Beyond, and The Troubadour. Jerry has collaborated frequently with Chicago's keyboardist, guitarist and vocalist, Bill Champlin, on-stage and on CD recordings. Jerry Lopez' Santa Fe & The Fat City Horns perform Monday nights at THE PALMS Hotel and Casino.
Free Circus formed in 1968 and continued through 1969. The original band members featured Roby Bennett, Guitar; Larry Gann, Bass; Bob Bjornsen, Drums, and Dan Barnett, Keyboards. Free Circus emerged during early college days at UNLV from the love of modern music and the pursuit of artistic ideas, with a style of heavily modified and extended jam covers blended with original compositions. Still, they were lacking the edge and variety brought to the band by its final addition--songstress Jessica Kluger, a young, shining vocalist and daughter of drummer and jazz great, Irv Kluger; she was still attending Valley High School. First venues Free Circus performed included The Teenbeat Club and Aware House. From 1968 to 1969, Free Circus was the opening band for Boyce & Hart at UNLV; and Cream, Sweetwater, Grateful Dead, and Santana at the Ice Palace. From 1968 through 1969, they also performed at the Lake Tahoe Summer Concerts sharing bills with Iron Butterfly, Santana Blues Band, It's a Beautiful Day, Chambers Brothers, Steppenwolf and Pablo Cruise.
In 1969, Dan Barnett was drafted into the US military and Jessica Kluger joined the Hollywood production of Hair; and Roby Bennett entered medical school, ending the incredible two-year run of Free Circus.
The Crossfires formed in 1959 featuring LVHS and Rancho High students, Leo Apollon, Ron Gouge', Cliff Fields, Bobby Wright, and Elliott Lieb. At the time they formed they were among the top Rock & Roll dance bands in town. The Crossfires performed at many of the early Las Vegas Rock & Roll venues including Knights of Columbus, National Guard Armory and Las Vegas Convention Center. They also performed frequently at LVHS and Rancho HS dances, which at the time, were the only two high schools in Las Vegas.
Safe Nest, which provides counseling services to families throughout the Vegas Valley and Henderson has been selected as the LV RR HOS beneficiary. Coral Academy of Science a Clark County Charter School will also be receiving music scholarship funds. "This historic concert will be filmed for a feature length documentary tentatively scheduled for release in fall 2011.
Tickets are now on Sale: www.HendersonLive.com/tickets/. $15, $25 and $30.