GREG LONDON is now performing at the LAS VEGAS HILTON. Now here's a performer! Greg outdid himself at a media night at his new gig at the LAS VEGAS HILTON'S SHIMMER CABARET. What a repertoire this guy has! Using wigs, character eyeglasses and very few costume changes he's got you believing you are seeing the real performer. When he did use costumes, his Ozzy Osborne, Elvis, Rod Stuart and Steven Tyler, were over the top.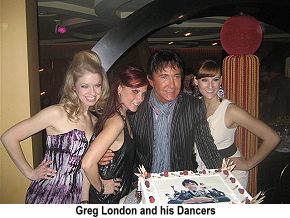 The musician's backing him are supurb and the dancers absolutely gorgeous and talented. What more can I say, except that I did see his show at the RIVIERA and it was good. But this show far exceeds his show there. Do yourself a favor and enjoy this exceptionally talented guy for a great evening out

Singing sensation CLINT HOLMES brings his powerful voice and magnetic stage presence back to the SUNCOAST SHOWROOM March 19 and 20 at 7:30p.m.

Among Clint's many recordings is the Top 10 smash hit "Playground In My Mind (My Name Is Michael). Clint is well-known for his six-year run at HARRAH's, but Holmes' fans know him as more than just a singer. His 1996 critically acclaimed musical Comfortable Shoes, which opened in New Jersey, was a poignant and uplifting journey into Holmes' interracial family's struggle to find its identity. In 2002, an updated version of the musical opened at The Royal George Theatre in Chicago.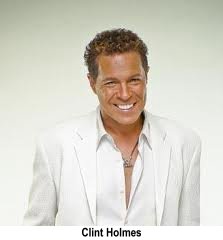 In a career that began with an invitation from Joan Rivers to be her sidekick and announcer on The Late Show, Clint Holmes has proven himself as a well-respected performer, even earning the honor of being the featured performer at the Democratic National Convention on the evening of Bill Clinton's 1992 presidential nomination. Tickets from $19.95, call Box Office at 702.636.7075

ST. PATRICK'S DAY, March 17 is always a special day for me, because my son was born on that day. It is also special for:
HASH HOUSE A Go Go, country station KWNR and Certified Angus Beef as they are hosting the third annual corned beef eating contest in honor of St. Patrick's Day on Thursday, March 17. Contestants can enter the contest at the Hash House A Go Go Sahara location. Up to eight participants will vie to be the first to finish 1.5 pounds of cooked corned beef and a quarter head of cabbage. After 15 minutes, if none of the contestants have finished, the competitor who has eaten the most will be crowned the winner.
The grand prize is $100 cash and breakfast once a week at Hash House A Go Go for a year. Second place will receive a $75 Hash House A Go Go gift certificate and a Certified Angus Beef gift box and third place will receive a $50 Hash House A Go Go gift certificate and a Certified Angus Beef gift box. All participants will receive a Hash House A Go Go t-shirt to wear during the competition and additional prizes from KWNR. Happy hour at the Sahara location will take place from 2 p.m. to 6 p.m. featuring $2 green beer and complimentary mini Hash House corned beef sandwiches and homemade potato chips. The first 50 people to arrive for happy hour will receive their first beer free. For reservations or inquiries, please call the Sahara location at 702-804-4646

And not to be outdone, McCormick & Schmick's Seafood Restaurant will be hosting its 12th annual St. Paddy's Day party on March 17. The celebration will bring out the inner Irish in all attendees with special Irish-themed menu items including corned beef and cabbage, corned beef sandwiches, lamb stew, Guinness shrimp and corned beef sliders, in addition to the famous $1.95 bar menu.
To get in the spirit of the holiday, the restaurant will again feature "Kiss a Stranger at McCormick and Schmick's," where patrons collect "I got kissed at M&S" stickers each time they kiss a fellow patron. Guests have a chance to win a variety of prizes, including gift certificates and promotional items.
ST. PATRICK's DAY also kicks off the biggest basketball weekend of the year with round one of March Madness; and will be shown on all of RHUMBAR's big screens. The green beer will flow with $5 16-ounce cans of Miller Light and Party-goers will enjoy $8 burritos made of green eggs and ham. Even after the b-ball games are done, DJ Pony P. will keep the RHUMBAR patio fun.
Legendary comedian DON RICKLES, who has starred in Las Vegas theaters longer than any other performer in the history of the gaming mecca, has signed for a fourth consecutive year of performances with THE ORLEANS. The much-honored comedian will launch his 52nd consecutive year as a Las Vegas headliner when he brings his one-of-a-kind humor to The Orleans Showroom March 19 and 20at 8 p.m.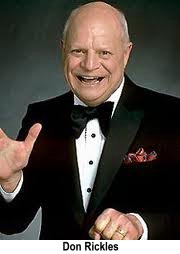 RICKLES took his first step toward national fame in 1957 when Frank Sinatra wandered into the small Hollywood nightclub where Rickles was performing. The still-unknown Rickles eyed Sinatra and said, "I just saw your movie, The Pride and the Passion, and I want to tell you, the cannon's acting was great. And, make yourself at home, Frank. Hit somebody." Sinatra doubled up laughing and became one of Rickles' biggest boosters among Hollywood celebrities. Rickles soon became the "in" comic among Hollywood stars, who flocked to his nightclub engagements to become the targets of his insults. Since then, his unparalleled career has never missed a beat. While making his mark in movies, television, theater and recordings, Rickles has remained a master of nightclub comedy with a continuing love affair with live audiences.
David Saxe, who owns the V THEATER inside Planet Hollywood's Miracle Mile, has just added two new stage productions to his extensive entertainment roster.
Aussie Improv Comedy Explosion is "off-the-cuff comedy at its best!" There are no scripts, no canned jokes. These hilarious performers use volunteers from the audience and create the comedy as they go. It's 100% improvised and no two shows are alike.
Piano! Las Vegas.
I was at the grand opening of Piano! Las Vegas, and I must say, RYAN AHERN is a spectacular pianist. What an entertaining show he puts on backed by six of Las Vegas' finest musicians. Although Ryan Ahern grew up in Las Vegas, he is an International recording artist and world-champion pianist. Playing music genres from Broadway to Rock n' Roll to Boogie Woogie, Ahern amazes audiences with his diverse arrangements and mesmerizing hand speed. You can see his hands flying on the piano on screens on either side of the stage. This virtuoso pianist also sings, plays harmonica, drums and has a very personable charisma. The show plays Saturdays –Thursdays at 2:30 p.m. at V Theater inside Miracle Mile Shops at Planet Hollywood.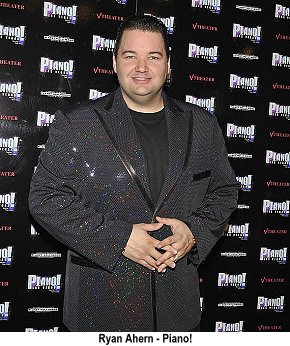 CELINE DION is back for her triumphant return to her home at The Colosseum at CAESARS PALACE for a three year residency. She will be performing March 15 – April 17. Celine has always been a pioneer when it comes to creating groundbreaking concert performances and this next adventure promises to be the best ever! Featuring 31 musicians, consisting of orchestra and band, Celine's new show will include her biggest hits performed with stunning visual presentations.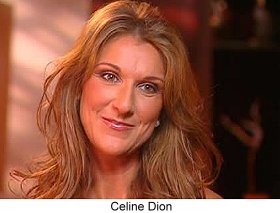 Looking for "MISS KNOCKOUT." MGM GRAND is on the prowl for Las Vegas' sexiest ladies to compete for the chance to become an official ring girl at all 2011 MGM Grand boxing events and win $5,000 in prizes. Every Thursday in March, legendary STUDIO 54 will host preliminary rounds to lead up to the "main event" March 31 where three lucky ladies will be awarded the title of "Miss Knockout." They will begin their reign at the highly anticipated title fight featuring the main event between Erik Morales and Marcos Maidana Saturday, April 9 in the MGM Grand Garden Arena.
To win one of the coveted Miss Knockout titles, Sin City's sexiest ladies are invited to strut their stuff at Studio 54 each week to prove they have the rock-hard bodies and knockout personalities fit for a ring girl. During each prelim, Studio 54 will be transformed into a high-energy, boxing-themed atmosphere. Special guest judges and party-goers in the audience will help select five new winners each Thursday who will have the exclusive opportunity to compete at the March 31 "main event."
Las Vegas ladies can enter the Miss Knockout competition by logging on to Mgm.com/ringgirl. Contestants for the preliminary rounds will be pre-selected by MGM Grand.
In celebration of her birthday, EVA LONGORIA will extend a special offer to Las Vegas locals at her celebrated BESO STEAKHOUSE and EVE NIGHTCLUB, available throughout the month of March. Las Vegas locals that dine at Longoria's Beso Steakhouse will receive 20% off their entire bill all-month long in addition to complimentary admission to her opulent Eve Nightclub. For nightlife connoisseurs, local guys will receive a reduced admission for just $10 at Eve Nightclub; while local ladies enjoy complimentary admission and free champagne nightly until 1a.m. Residents also will receive preferred reservations and VIP bottle service. For more information call 702.227.3838.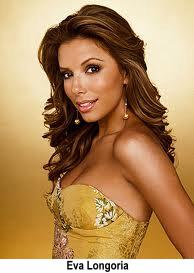 HANDS ACROSS the ARTS (HATA) was established by (CSN) COLLEGE of SOUTHERN NEVADA PERFORMING ARTS CENTER and THE IRA ALDRIDGE THEATRE COMPANY to provide greater access to the arts for underserved population in our community. HATA presented their 3rd benefit performance at the Nicholas J. Horn Theatre on CSN's Cheyenne Campus. The evening started with a VIP reception. Afterwards, an Awards presentation honored STEVE SCHORR, vice president of Cox Communications with a "Lifetime Community Service Award." for his tireless and lengthy involvement in the Las Vegas community.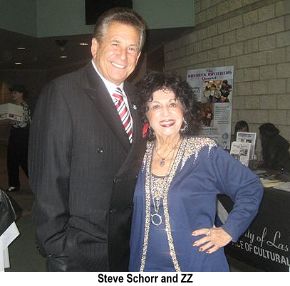 Prior to the evening's show, a poignant part of the event was from a group called LIFE LONG DREAMS. Special performances by two young men with disabilities had the audience standing in appreciation when two attendants held the wheelchaired performer to stand as his emotional song said so.
The evening's entertainment performance was the live 16 piece JIMMY WILKINS NEW LIFE ORCHESTRA that featured some of the best musicians in Las Vegas. The orchestra played a musical tribute called "Duke Ellington Meets the Music of Count Basie. The show was produced and directed by Walter Mason.
It was so good to hear big band music once again. Most shows nowadays only have syncopated music, or if live music, only a small group of musicians. Singers, dancers, and specialty performances of soloists in the orchestra added to the very entertaining event. It was hard to sit still and not get up and dance to this great music that still lives on. The event also celebrated Black History Month and raised much needed funding for performing arts students
The 10th annual MICHAEL JORDAN CELEBRITY INVITATIONAL (MJCI) comes to Las Vegas for the first time March 31 to April 3. The premier celebrity golf event will make its Las Vegas debut giving fans the opportunity to watch four days of competition with some of the biggest names in sports and entertainment. This also marks the first time that SHADOW CREEK – one of the country's most celebrated golf courses – will open its doors to the public.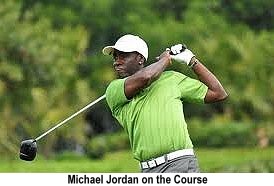 Founded in 2001, the MJCI is one of celebrity golf's most popular events and has raised more than $5 million for charity. The four-day tournament and celebration, which boasts incredible parties, A-list entertainment and competitive golf, is recognized as one of the best events of its kind, having attracted sports legends including Wayne Gretzky, Charles Barkley, Mario Lemieux and Julius "Dr. J" Erving and entertainment personalities such as Mark Wahlberg, Samuel L. Jackson, Kurt Russell and Don Cheadle in years past.
This year's event beneficiaries include the Make-A-Wish Foundation, the James R. Jordan Foundation, Cats Care, Nevada Cancer Institute and the participating celebrities'charities of choice.
Fans who wish to experience this exclusive event can purchase daily or weekly general admission tickets., Discounted tickets of 25% are available for military service members with valid identification, and Senior Citizens 65 years of age or older with valid ID. Additionally, the tournament has created a special "Bring the Kids for Free" general admission ticket offer, which provides access to SHADOW CREEK for youth 16 years of age and younger when accompanied by a general admission ticketed adult (up to two children per paid adult). For more information about the MJCI at ARIA at CityCenter, visit www.arialasvegas.com or call (877) 253-5847.
SOUTHERN NEVADA CHILDREN FIRST (SNCF), will be hosting their 2nd Annual "Artfully Sweet" event in Las Vegas on April 2 at an exclusive residence at the RIDGES IN SUMMERLIN, "Artfully Sweet" will include desserts and pastries from some of Las Vegas' premium pastry chefs, artwork from local artists, a silent auction with fascinating items and a variety of amazing live performances.
SNCF is a local non-profit organization, that provides long- term transitional living and life skills training to homeless pregnant and parenting teens and young adults, ages 16-22. In 2010 over 270 mothers and children have been assisted. All proceeds from this fundraiser will be used to fund SNCF's work. Tickets for the event will be $35 and due to the exclusivity of the location all tickets need to be purchased in advance. For further information contact: Monique Harris, MSW, LSW Founder and Executive Director, Southern Nevada Children First (702) 487.5665
The JEWISH REPERTORY THEATRE of NEVADA in collaboration with The Neil Simon Festival in Cedar City is presenting an all star celebrity cast from television, motion pictures and Broadway in Neil Simon's "Rumors" at the Theatre in The Adelson Educational Campus in Summerlin March 26th-31st.
Doors slam, hilarity prevails, confusion and miscommunication mount as the play spins into a classical farce in a posh townhouse of a deputy New York Mayor and his wife celebrating their 10th anniversary. This show "has nothing on its mind except making the audience laugh. For tickets call 702 243-6950 or to order online at www.simonfest.org
EXTREME THING ACTION SPORTS and MUSIC FESTIVAL announced performers for this year's festival taking place from 11 a.m. to 10 p.m. Saturday, March 26 at Desert Breeze Park, 8275 Spring Mountain Road near Durango Drive. Last year, the festival debut a fourth stage, and due to popular demand, it's back, bringing the national bands to 21. Also returning is the Professional Wrestling Exhibition, Ricardo Laguna's Pro BMX Dirt Jump Challenge, large band merchandising area and plenty of food and beverage options. Tickets are $17 in advance and $20 on the day of the show. A limited VIP Package is also available for $30 and includes a general admission ticket, commemorative event T-shirt and event poster.
Bands set to perform are Hollywood Undead, Sum 41, P.O.D., Sage Francis, Senses Fail, Suicide Silence and Winds of Plague on the main stage with Attack! Attack! Asking Alexandria, Emmure, Chiodos, Miss May I, Evergreen Terrace and Across the Sun performing on the Atticus Clothing Stage. Black Veil Brides, Destroy Rebuild Until God Shows, I See Stars, Versa and Conditions will rock the Alternative Press Stage. The XPOZ ZONE, a smoke-free zone featuring local bands.
The tribute to the late BRECK HALL was amazing and the amount and caliber of people who attended this tribute says so much about this man who brought so much laughter to an appreciative public. Remarking about their associations with Breck were: Senator Harry Reid, who had the audience stand to give Breck his last standing ovation; Mayor Oscar Goodman and wife, Carolyn, Kenny Kerr, Minnie Madden, Ken Prescott, Breck's high school classmate, Billie Duncan, poetess, Geechy guy, Tony from Tony & Lloyd, Wes Winters and others. Video tributes shown for Breck from those unable to attend were from: Joan Rivers. George Wallace, Martin Nivera. Clips from some of Bottoms Up were shown and the many castmenbers attending were asked to stand and were applauded.
Always the joker, Breck was my good friend, and I was privy to receiving his annual Xmas cards, which were like no other Xmas Cards ever seen. What a shame, his sharp mind was obliterated by Alzheimer's disease. However, this tribute honored him as he was and it brought together several generations of participants who lived in the zany world he created.
Unfortunately, the same day, I had to go to a memorial for my good friend and well-known talented magician, STEVE DACRI.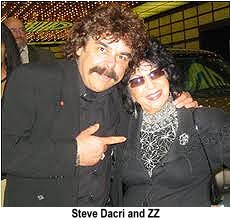 I was quite shocked at his passing as I had spoken to him recently and didn't know he had been ill for some time. This was how this guy lived. Ever the joker and hilarious, as his last blog was when he was so ill shows. Steve Dacri was to open again at the Las Vegas Hilton, but never made it. The world lost a great entertainer and a great guy.
Hard to believe; Winter is over, Spring is almost here and now the first sign of Summer is set to open March 17. LIQUID Pool Lounge, ARIA's adult-only pool club, opens Thursday, March 17th for the 2011 season. And, celebrating its fifth season, BARE Pool Lounge at The Mirage opens Monday, March 14th . BARE POOL remains one of Las Vegas' premiere European-style adult-only pool lounges. BARE features resident DJ's providing poolside entertainment daily, and has been a known sunbathing oasis for Las Vegas locals and celebrity guests such as Britney Spears, Avril Lavigne, David Spade and rocker Slash among others. Bare Pool is open Thursday – Monday 11am – 6pm and will be open seven days a week beginning May 1st, 11am – 7pm.