Debbie Flores-Narvaez "A Celebration of Life" in the RIO'S Crown Theater & Nightclub was a very special night in honor of the murdered Luxor's Fantasy dancer that benefitted her family and The Shade Tree. ALL proceeds over funeral costs went to the Shade Tree Foundation as to her family wishes.
The benefit was a celebration of Debbie's life and her love for entertainment and the dance community. Entertainers from Las Vegas and Los Angeles all contributed their time to put on a show of dance, music and art that lasted over 3 hours. This was one way entertainers had a chance to pay tribute to a life that was taken too soon, and to help the family of a fellow entertainer.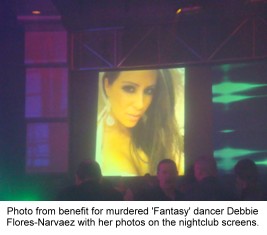 The event was open to the public and tickets were only $5.00 and drew a very large crowd even though the event started at a very late hour. Raffles were sold for prizes and many people made donations. Organized by Genevieve and Nick Langlois, the benefit featured performers and industry notables including host John Padon from Sin City Comedy; performers from the casts of Fantasy, Thunder From Down Under, Crazy Horse Paris, Striptease The Show, choreographers JJ Villar,(who also produced the show), Matt Guerrero, Fantasy singer Lorena Peril and many others. The event also featured a live band, a DJ and dancers performing throughout the evening. Jon D. Fondy was the associate producer of the show. Large pictures of Debbie were shown throughout the evening on the rotund screens that surround the large Crown Theater Nightclub. Debbie Florez-Narvaez was quite a performer as many of the tributes expressed and she will be missed. It was certainly a night to remember.
Speaking of Nightclubs, that is one of the most popular happenings to go to here in Las Vegas. And, there are so many, Las Vegas should be called Nightclub City. However, here comes a new luxury nightlife destination called, Chateau Nightclub & Gardens that will open March 5 at PARIS LAS VEGAS. It is said it will set a higher standard for nightclub entertainment on the Strip. Spanning more than 45,000-square-feet and sprawled across two-stories with breathtaking terraces and lavish decor. Chateau's outdoor Parisian Gardens will showcase magnificent, open-air views for a nightlife experience unlike any other.
Chateau Nightclub & Gardens Grand Opening will ignite the Vegas nightlife scene with a very special guest, six-time Grammy nominee and Platinum Selling Recording Artist, Drake. Special guest DJ Samantha Ronson will kick-off her Las Vegas residency with a blend of Top 40, hip-hop and eclectic mash-ups. Also spinning, and making her Las Vegas debut, will be DJ Havana Brown, best known for opening for pop icon, Britney Spears. The main focal point of Chateau is a 10-foot-tall marble mantel fireplace that will contain the elevated DJ booth showcasing renowned DJs from high above the crowds as they spin an eclectic blend of house, dance, hip-hop and mainstream music. Behind the DJ booth, a magnificent LED screen spanning the length of the wall, will stream exciting audio/visuals as partygoers dance the night away.
Who hasn't been amazed at the antics and amazing skill of the Harlem Globetrotters. Even if you are not a sport fan, you've got to love them. They will bring suave and style to the ORLEANS ARENA Wednesday, February 23 at 7 p.m. The always innovative Harlem Globetrotters will implement the first-ever 4-point shot as part of its games on the team's 2011 "4 Times the Fun" American tour. The Globetrotters have been at the forefront of basketball's evolution throughout the sport's history from the alley-oop to the slam dunk to the behind-the-back pass. At this game at the ORLEANS ARENA, the Harlem Globetrotters will take on the Washington Generals.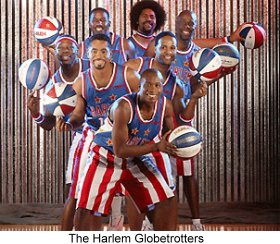 The Original Harlem Globetrotters continue a world famous tradition of ball handling wizardry, basketball artistry and one-of-a-kind family entertainment that continues to thrill fans of all ages. Seating is reserved and tickets are priced at $21, $26, $29, $39, $59 and $115.
We all know Nick Cannon from America's Got Talent and about his marriage to the beautiful singer, Mariah Carey. But Nick Cannon, at age 30, is also a successful, multi-faceted entertainer, film star, comedian, musician, writer and executive producer.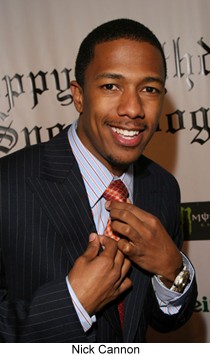 Nick Cannon will be appearing at The Pearl at the PALMS for two back-to-back shows: 8 p.m. and 11 p.m. on Saturday, March 5. Get your tickets now!
Phantom – The Las Vegas Spectacular at THE VENETIAN hit another milestone as the show just celebrated its 2000th performance. The Las Vegas production of the worldwide favorite is enjoying enduring success that few other Las Vegas productions have achieved. After four and a half years of haunting THE VENETIAN, Phantom – The Las Vegas Spectacular continues to prove it is an audience favorite among locals and tourists alike.
Bobby Slayton opened at Hooters, and he is hilarious. Another comedian Robert Dushane got the audience in the mood for Bobby and then Bobby came on and all hell broke loose. David Brenner, Sammy Shore and Porn Star Sunset Thomas cheered him on. It was a fun night. Be sure to see Bobby if you enjoy X-rated humor.
Then on the following Sunday, Sammy Shore and Bobby Slayton were co-hosts for Sammy's annual FUNNY BONES show at the PALMS. (Did you know Sammy Shore was founder of LA's famed Comedy Store and opening act for Elvis Presley?) This show is a fundraising effort for rescuing animals. The place was packed and the show, with so many celebrities performing, went on for over three hours.
This show too, was not for the prudish, but was terrific and raised a large amount of needed funds for a great cause. Some of the many celebrities performing were: Gilbert Gottfried, George Wallace, Vinnie Favorito, Pauly Shore (Sammy's son), Louie Anderson, Kenny Kerr, Robert Dushane, Doug Starks, Dennis Blair, Cathryn Hickland, hypnotist (soap star and formerly married to David Hasselhoff), Goochy Guy, James P. Conolly and others. DJ was Ben Harris of the Terry Fator show. Great raffle prizes were given out. George Wallace offered all the attendees a complimentary ticket to his show all February by showing their ticket from the FUNNY BONES show.
Did you know that there is now an X Burlesque University in our town? Ladies did you ever wonder how a showgirl gets her eyelashes to glimmer, or how they can skillfully sashay in high heels. Wonder no more, you can learn the subtle and sexy art of burlesque at XBU – X Burlesque University. Taught by the talented and beautiful girls featured in the "X" Burlesque show at FLAMINGO Las Vegas you will learn artful showgirl choreography right on stage, as well as how to effectively apply showgirl make up. Classes are offered Thursday – Saturday at 3:00 p.m. inside BUGSY's CABARET at FLAMINGO Las Vegas. Upon completion of the 75-minute class in the sexy art of burlesque, XBU students will receive a complimentary make-up kit, professional souvenir photo and official XBU diploma to proudly display. The cost per class is $34.95.
The actual "X" Burlesque show performs nightly in Bugsy's Cabaret at 10:00 p.m. Tickets are $44.95 General Admission and $55.95 VIP (plus tax and fees).
On February 20, friends and Castmates of Breck Wall will gather to pay tribute to the life and humor of the late noted entertainer, BRECK WALL. Breck was one of a kind. His Bottoms Up show lasted for decades, always campy, rather naughty and you never knew what to expect, no matter how many times you would see Bottoms Up. In addition to Bottoms Up, his love of live theatre, especially the revue format, had him directing and producing shows in Dallas, Texas before coming to Las Vegas.
Breck's life reads like a storybook. He was good friends with Jack Ruby, who shot President Kennedy's killer Lee Harvey Oswald on live television. Because of his friendship with Ruby, he had to testify before the Warren Commission and was accused of being part of a conspiracy to kill Kennedy by Louisiana DA Jim Garrison.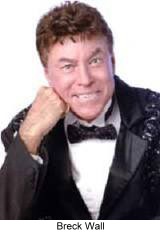 Breck moved to Las Vegas where Bottoms Up became one of the funniest and longest-running revues in entertainment history. Always the joker, Breck was my good friend and I was privy to receiving his annual Xmas cards, which were like no others ever seen. What a shame, his sharp mind was obliterated by Alzheimer's disease. However, this tribute will honor him as he was and it will bring together several generations of participants who lived in the zany world he created.
If you ever visited the now closed Ritz-Carlton Hotel at Lake Las Vegas in Henderson, you know how beautiful a resort it was. Good news - Destination Henderson welcomes DOLCE Hotels & Resorts as new owners of the former Ritz-Carlton at Lake Las Vegas. The hotelier introduced the Las Vegas property with the re-opening of the resort as RAVELLA at Lake Las Vegas on February 11. Dolce Hotels and Resorts currently operate 27 upscale hotels, resorts and conference hotels in North America and Europe.
I recently had visitors from Arizona and we went to see VEGAS! THE SHOW at the SAXE THEATER inside Planet Hollywood's Miracle Mile. I had seen the show when it originally opened and liked it very much. But, my guests didn't only like it, they absolutely LOVED it. It really is a great show with great performers telling about the performers who made Las Vegas great. My visitors said this should be a touring show rather than only being seen in Las Vegas. I must tell the very prolific and creative producer, David Saxe about this.
By the way, David Saxe, who also owns the V THEATER inside Planet Hollywood's Miracle Mile, has just added two new stage productions to his extensive entertainment roster. Aussie Improv Comedy Explosion and Piano! Las Vegas...
M Resort Spa Casino Introduces 50 Plus Senior Rewards
The new "50 Plus Senior Rewards" program offers guests aged 50 and over new benefits and discounts throughout the property every Wednesday, beginning Wednesday, Feb. 16. All guests need to do to take advantage of the many benefits is to be a member of the iMagine Rewards Club.
I was invited to the INVESTITURE CEREMONY and RECEPTION for five newly elected District Court Judges: Gloria Sturman, Dept. 26, Nancy Alf, Dept. 27. Ronald Israel, Dept. 28, Susan Scann, Dept. 29 and Jerry Wiese 11, Dept. 30.
It was a most gratifying event. All the Supreme Court Judges wearing their robes were onstage as were many robed judges in the audience. The tributes and roast remarks from family and colleagues was very revealing and heartwarming. The oath of office and the robing of each of the new Judges was very moving. Each Judge had the opportunity to express their views and commitment to their new office. Congratulations to each of them and to our Las Vegas system of judiciary for electing these very competent and caring judges
And, the food at the reception was very good too!
CONTINUE ON TO...:
>Las Vegas News - "Heard Around Town"
>Las Vegas Leisure Guide<