NORM CROSBY, renowned funnyman and Master of the Malaprop with a knack for intelligent wordplay, brings his trademark act to THE ORLEANS Showroom, February 4 and 5 at 8 p.m. I have met Norm Crosby many times and there is no nicer guy. Some years ago, he was quite ill and I am thrilled that he is now healthy and doing what he does best.
Norm Crosby is known for his ability to substitute words for similar sounding words to create a phrase that ultimately makes little sense, but is typically funny. His use of malapropisms and quick wit became lucrative as he began a stand-up career in the 50s as part of a comedy act with Ethan Eichrodt. Following a smash run as part of this duo in Las Vegas, Crosby found success going solo. Norm became a staple on the talk, variety and game show circuit in every decade since the 60s. Crosby has performed or been a guest on multiple occasions on legendary television shows such as, The Merv Griffin Show, The Ed Sullivan Show, The Dean Martin Comedy Hour and The Tonight Show Starring Johnny Carson, among countless others. Crosby is among the multiple celebrities who have co-hosted and contributed to the Jerry Lewis MDA Telethon.
Domenick Allen returns to the SUNCOAST Showroom. Following a sold-out engagement earlier this year, rock and roll legend and Las Vegas' own Domenick Allen returns to the Suncoast Showroom with It's All About The Music, January 29 and 30. In It's All About The Music, audiences will experience the high-energy impact of the diverse music career of Domenick Allen. Backed by a nine-piece band, Allen will showcase several genres of music with his soaring vocals and virtuosity on a variety of musical instruments, including swing clarinet, jazz saxophone and guitar for an electrifying classic rock grand finale. Showtime is 7:30 p.m.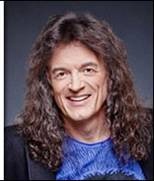 Allen is perhaps most associated as a former member of the multi-platinum rock group Foreigner, known best for such hits as "I Want To Know What Love Is," "Double Vision" and "Cold As Ice." In addition to Foreigner, he recorded and performed with the legendary Buddy Rich Big Band. Allen is also a professional actor, singer and musician, and toured the world for four years with the famed pianist Liberace and has appeared on London's West End in several productions. On Broadway, Allen co-starred with Helen Reddy in the musical Blood Brothers. Daytime audiences will recognize Allen for his long run as the evil Simon Prescott on NBC's Days of Our Lives. Domenick Allen continues to partner with long-time friends Clint Holmes, Susan Anton and Martin Nievera in Vocal Soup—a showcase of solo performances, duets and group numbers. Vocal Soup has performed multiple engagements at The Orleans and Suncoast Showrooms.
In honor of Neil Diamond's 70th birthday The Club at the CANNERY will feature Rob Garrett the "King of Diamonds," a Neil Diamond Tribute artist on Saturday, January 22 at 8 p.m. Admission is $10 at the door.
Rob Garrett has always idolized Neil Diamond and his music. He had his dream come true when he was cast as the Neil Diamond impersonator in the "Legends in Concert" show in Honolulu, Hawaii. There Rob Garrett only expected to appear as Neil Diamond for two months but ended up performing for three years. Since his gig in Hawaii he has traveled all over the world appearing as Neil Diamond and developed the name "King of Diamonds." Rob has become one of North America's most popular Neil Diamond tribute artists
RITA RUDNER has a new home at THE VENETIAN's spectacular 742-seat showroom where she now performs her acclaimed offbeat humor. Multi-award-winning comedian, actress, writer and bestselling author Rita Rudner was welcomed to her new home as the newest headliner at THE VENETIAN in grandiose style with a red carpet arrival covered with pink rose petals.Wearing a red Valentino dress and pink and purple fur coat, Rita emerged from her limo to a scene of singing gondoliers, Streetmosphere performers and cheering onlookers. Rita jumped on the bell cart with her bags in tow and was wheeled onto the red carpet and into the lobby for more surprises. A butler waited with a glass of champagne while James Beard Award Winning Chef Luciano Pelligrini from Valentino and Executive Chefs Mark Hopper from Bouchon and Juan Pentes and Daniel Marquez from Taqueria Cañonita had delicious bites for her to taste, including pink cookies, Rita's favorite color!" Rita hammed it up for the cameras, tucking a napkin into her couture dress so she could enjoy the food and even waded into the fountain in the lobby. Show times are at 8:30 p.m. on Mondays and Wednesdays and 6 p.m. on Saturdays.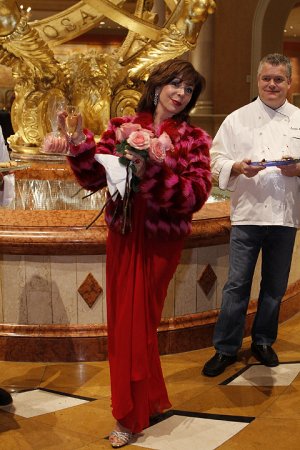 GREG LONDON, a Multi-Talented Showman will debut his show at the Las Vegas HILTON's Shimmer Cabaret on January 31. I was very impressed with Greg London when he was performing at the RIVIERA and I am sure he will astound audiences as he impersonates dozens of musical and pop culture icons in his fast-paced and energetic show Impressions That Rock! nightly at 8:30 p.m. Saturday – Wednesday,
Winner of Nevada Magazine's 2009 "Entertainer of the Year"award, GREG LONDON is a dynamic (handsome) performer who has received critical acclaim for his spot-on impressions of Ozzy Osbourne,Ray Charles, Johnny Cash, Jim Morrison, Elvis, Billy Gibbons of ZZ Top (I was Z.Z. before them, my stage name when I was an actress) and even Tina Turner! Add dozens more to the list and you will see (and hear) why he broke records during his two-and-a-half year engagement at Harrah's Reno and appeared in London, England's famous West End. A talented singer and musician in his own right, London will be backed by a rockin' live band and three striking female dancers. London cleverly uses music from decades past and Present with some of his career history interwoven in the mix to deliver almost 50 celebrities.
Are you ready for Bobby Slayton "The Pit Bull of Comedy" who will headline in the Night Owl Showroom at HOOTERS beginning January, 27 through April 2. If you are prudish, stay away, but if not you won't stop laughing at his hilarious 80-minute stand-up act. Bobby Slayton will take on every stereotype under the sun with his quick-witted, acid-tongued style. From the state of your marriage to the state of the union, Slayton dissects it all with his signature politically incorrect manner that has sold out comedy clubs across the country and has most recently been featured in his own Showtime stand-up special "Born to be Bobby". Needless to say, Slayton will have audiences laughing at things they shouldn't. The show will also feature comedian Robert Duchaine as an opening act. Guests must be 21 or older. By the way, Bobby Slayton was the original opening act when the Night Owl Showroom opened five years ago.
NEVADA BALLET THEATRE will honor celebrated actor, producer and author Priscilla Presley as the 2011 Woman of the Year at its annual Black & White Ball on Saturday, January 29 at Aria Resort & Casino, CityCenter Las Vegas in the Pinyon Ballroom.
Though she might be known as the wife of Elvis Presley, one of the most famous entertainers and performers of all time, Priscilla Presley has established a successful and diverse career in television, film and publishing – making her one of the most accomplished and admired women today.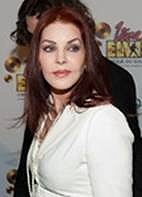 From starring as a leading lady in one of Television's most famous series, CBS' Dallas, to her comic role in the Naked Gun movies, she is also the author of the New York Times best-selling book, "Elvis and Me." Pricilla Presley has been recognized by the prestigious Rhodes College for her extraordinary achievements as an actress, producer, author, businesswoman, mother and role model. For the last three years, she has been the Ambassador of the Dream Foundation, whose mission is to fulfill the dreams of adults battling terminal illnesses. In addition to most recently appearing in Dancing with the Stars, where she was paired with Louis Van Amstel, Presley has made her mark as an entrepreneur as well, having created and launched a successful line of fragrances and fine bed linens.
If you haven't seen the fabulous the new hit show SINATRA Dance With Me at Wynn's Encore Theater as yet, you are in luck. The show, originally set to close the end of January, will be extended through April 2 in response to overwhelming audience demand.
The world class dancers of SINATRA Dance With Me bring the lyrics of Frank Sinatra's most alluring love songs to life on stage. Conceived, choreographed and directed by dance legend Twyla Tharp, the spectacle blends the electrifying energy of a live, 17-piece big band and the sultry sound of Sinatra's vocals to sweep audiences off their feet. By special arrangement with Frank Sinatra Enterprises and The Sinatra Family, SINATRA Dance With Me features original recorded masters of Frank Sinatra's from the Sinatra catalog and archives along with signature Sinatra arrangements (Nelson Riddle, Billy May, Quincy Jones) and new orchestrations created exclusively for this innovative show.
Ticket prices are $69 and $89, plus tax and service charge. Additionally, Wynn is now offering the SINATRA Dine and Dance With Me package, which includes classic Italian fare from acclaimed Chef Theo Schoenegger at Sinatra restaurant and a ticket to SINATRA Dance With Me for $145 per person (inclusive of tax and gratuity). SINATRA Dance With Me plays at 7:30 p.m. nightly To reserve tickets call 888-320-7110 or 702-770-9966.
FOOTBALL FANS The Biggest Complimentary Football Party In Vegas is at the LAS VEGAS HILTON'S FOOTBALL CENTRAL with complimentary admission every Sunday. Enjoy enormous viewing on 11 huge HD screens with theater quality sound great food and drink specials and convenient remote betting stations! All this in a smoke-free atmosphere with over 1,500 seats! Doors open at 9am in the Hilton Theater.
CABO WABO CANTINA, Sammy Hagar's hard rockin' dining and live music venue, will host the UFC 126 viewing party Saturday, February 5, featuring the highly anticipated match between reigning middleweight champion Anderson Silva and former light heavyweight champion Vitor Belfort. The fights will be shown on multiple high definition television screens throughout the restaurant and bar, including two digital projector screens located on the upper level. Doors open at 6 p.m. and include the showing of all matches leading up to the main event. Guests can watch the fights while enjoying killer margaritas and tasty Mexican fare. Admission is $20. For more information or to reserve your seat, contact Cabo Wabo Cantina at 702.385.2226.
Also at Sammy Hagar's CABO WABO CANTINA on SUPER SUNDAY, February 6, there will be Playmates and plenty of football fun for Football fanatics at the hottest Big Game party. Play-by-play action and delicious football food from kickoff until the final touchdown during the biggest sports day of the year will be hosted by two of Playboy's hottest Playmates, Playmate of the Year, Sara Underwood, and 2010 Miss February, Heather Rae, CABO WABO's Super Sunday party will feature all-you-can-eat and drink packages starting at $50 per person. Guests may enjoy Cabo Wabo's all-you-can-eat buffet including wings, hot dogs and build-your-own nacho and taco bars for $50. For $150 per person, patrons can enjoy the buffet as well as all-you-can-drink wells and domestic drafts. Ice cold buckets of Coors Light will also be available to thirsty partygoers for $20 and Coors Light giveaways will be awarded each quarter.To make a reservation, please contact Cabo Wabo at 702.385.2226.
George Maloof and Michael Morton announced that they have reached an amicable and mutually beneficial settlement of their pending litigation. Under the terms of their settlement, George Maloof will take over the management of NM Ventures, the entity that owns and operates N9NE Steakhouse, Ghostbar, Rain Nightclub, Nove Italiano, the Playboy Club, Moon Nightclub and the Stuff store, all in the Palms Casino Resort in Las Vegas. Michael Morton has sold his interest in the venture and will turn his attention to his wine bar restaurant "La Cave" at the Wynn Resort, along with other business interests. The parties have wished each other well in their future business endeavors.