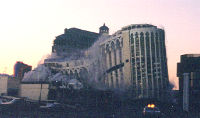 The last time we saw the Aladdin it was in no condition for guests...

Archived January 2001. Some information may have changed.
The newest "Jewel of the Desert" opened its doors Friday, August 18th, 2000. Actress Barbara Eden, of "I Dream of Genie" television show fame,

dressed in a traditional genie costume like those worn by many of the Aladdin Resort employees, crossed her arms, nodded her head and signaled the long anticipated opening of the new Aladdin Las Vegas and the incredible one-of-a-kind dining / shopping mecca Desert Passage. Also among the opening festivities were a camel race along Las Vegas Blvd in front of the Aladdin Hotel (which was intended to finish with the victor riding INTO the casino) a christening of the

Merchant Harbor ship by Miss Las Vegas followed by the debut public performance of the Desert Passage's unique indoor rain storm, and performances by Lou Rawls and Nancy Wilson at the Blue Note Jazz Club. Fireworks and the Grand Opening of the hotel and casino were postponed until the following nights.

The hotel design is unique for the Las Vegas Strip. Each floor is designed so that no guest room is more than seven doors from an elevator. Obviously built to get visitors to the casino floor, dining venues and shopping areas in a quick fashion. Room sizes ranges from the 563 sq ft Resort Room to the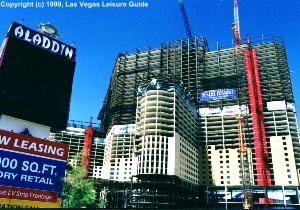 Construction mid-completion in 1999.

1,255 sq ft Bedroom Suite, all with marble bathrooms and private soaking tubs. The sixth floor terrace is for the sun-seekers, with two outdoor pools and a full service spa.

For those looking for some gambling action, the "1,001 Arabian Nights" themed casino is where you can find it. Gaming tables are nestled among old world mystical tailed figures like winged horses, a magic golden lamp and a nest of the giant roc bird. A special entertainment lounge overlooks the casino floor for visitors who prefer to watch rather than play. There is also an exclusive casino within the casino called the London Club. Here you'll find European-style gaming with high-limit tables, a private entrance and lobby as well as a gourmet restaurant.

An Aladdin Suite.
But just when you think you've seen it all...enter the Desert Passage. Designed to take the guest on a journey traveled by merchants along ancient trade routes, you'll find yourself transported to the coast of Spain, across Northern Africa and on to the coastline of the Arabian Sea. A large freighter ship moored in the foggy harbor with a threat of thunder and lightening on the ceiling overhead will entice you to duck into one of the many fine shopping or dining establishments. Over 15 resturants are found in the Desert Passage, among them are the famous Blue Note Jazz Club of New York and Commander's Palace from New Orleans. Don't miss Beluga Bar, a turn-of-the-century wharf bar offering raw oysters, clams, crab, shrimp, lobster and the ultimate consummate collection of the world's finest caviar. Although some of the restaurants are not yet completed for the August 17th opening, they are all expected to be entertaining guests by mid-October. After satisfying your taste buds, stroll through some of the 130 retail shops, including Clinque's first free-standing boutique, Manrico Cashmere or designer Swiss chocolates at Teuscher Chocolates.

Artists concept of completed hotel