Tis' the season to deck the halls of Bellagio's Conservatory and Botanical Gardens. Festive ornaments, a family of arctic animals and glistening snowflakes will charm guests in a winter wonderland, now through January 3, 2016. Upon entering the East Garden guests will be in "awe" of the 14-foot-tall snow tunnel framed with bright red Poinsettias and white Silver Tip Fir trees. Backlit silhouettes and snowflakes encourage guests to get lost in the holiday season as they walk through the elaborately designed tunnel. Located prominently in the center bed, the display's focal point is a 42-foot White Fir holiday tree, adorned with 7,000 twinkling white lights and 2,500 colorful ornaments. Standing guard at each corner of the garden are four animated toy soldiers robotically moving in unison. New, but a staple of the season, four 10-foot stockings stuffed with trinkets hang from the ceiling, while a 12-foot Jack-in-the-box, surrounded by gifts and golden ribbon, sways back and forth.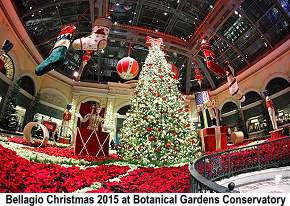 The North Garden transports guests to the Arctic with a mother Polar Bear made of 12,000 white carnations and a pair of twin cubs that play among the icebergs. Joining the polar bears is an inquisitive family of penguins poking out of their igloos. A live camera mounted to a mechanical toy train travels through the bed capturing special moments shared between family and friends, which are displayed on a nearby monitor. Suspended high above the Conservatory and surrounded by snowflakes, an illuminated moon keeps watch over the polar bears and penguins day in and day out.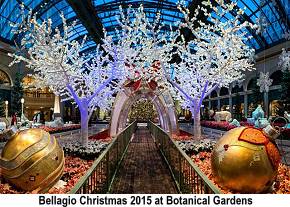 In the South Bed, visitors will find two 12-foot snow globes, each showcasing a classic winter scene. In one globe, two ice skaters glide across a frozen pond with only the light of a lamppost, and in the other, carolers rejoice and sing around a gleaming holiday tree. To complete the classic holiday theme, a gently rocking wooden horse rests at the center among two snow flocked trees and Poinsettias.
Holiday Display Facts: Total flowers on display: 34,000 - Total plants and shrubs on display: 750 - Total trees on display: 25 - Number of ornaments: 2,500.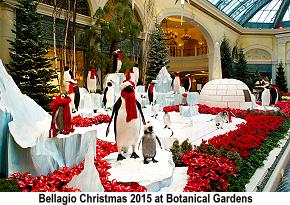 Bellagio's Conservatory and Botanical Gardens is complimentary to the public and open 24 hours a day, seven days a week.
A delightful Human Nature Xmas, Motown and More holiday celebration show is being presented at The Venetian's Sands Showroom until Dec. 22. These Aussie guys are extremely talented and, as well as performing singing, dancing and comedy, they include the audience and also have a story line along with videos. Human Nature Xmas, Motown and More has a fantastic 11piece band and string section and has added a beautiful female singer Ruby Lewis. Human Nature performs 14 Holiday classics from their new Christmas Album including: Please Come Home for Christmas, Sleigh Ride, Silent Night - O Holy Night, Winter Wonderland and a selection of Motown's greatest hits which Human Nature have become famous for. The music, and beloved songs invite the audience to sing along. Human Nature Xmas, Motown and More is the ultimate Christmas show for everyone.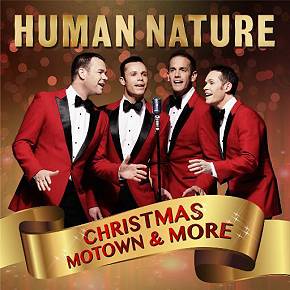 For more than three decades, Legends in Concert has entertained more than 6.6 million Las Vegas visitors and residents, produced over 18,500 performances on the Las Vegas Strip and performed to more than 30 million fans worldwide. The stars of Legends in Concert, Las Vegas' longest-running live tribute show, will be shining this spring as an all new cast brightens the stage at Flamingo Las Vegas. The stellar opening lineup will include the exciting debut of tributes to Adele, Prince, and the return of the always popular Blues Brothers, along with Frank Sinatra, beginning on Saturday, Feb. 13. Legends in Concert welcomes its first ever Adele tribute artist, J.C. Brando. Brando will be performing chart-toppers including "Rolling in the Deep," "Skyfall," and the recent smash hit, "Hello." Eric Martin and Carmen Romano perform tribute to the Blues Brothers. Performances will include hits such as "Soul Man," "Can't Turn You Loose" and "Raw Hide" and Frank Moore pays tribute to the multi-talented legend, Prince. Moore will include performances of "Purple Rain" and "Let's Go Crazy." Brian Duprey will make his return paying tribute as Rat Pack legend, Frank Sinatra performing fan favorites including "Come Fly with Me" and "Witchcraft." In honor of Ol' Blue Eyes' return, audience members can still "Be the Producer," with Legends' new interactive feature that allows the choosing of Duprey's closing song via a mobile device. Tickets for the 10 show times per week on sale at all Caesars Entertainment box offices or by calling 702-777-2782.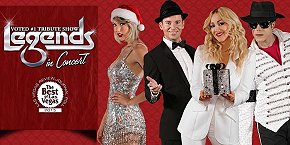 New Years Eve celebrations are popping up all over Las Vegas and my entire column could just be about them, so just a few below that might be of interest.
The World Famous Stoney's Rockin' Country, where country lives in Las Vegas, is ringing in the New Year with a special performance by Kane Brown on Thursday, December 31. Tickets are priced at $65 and include one free drink and party favors. At midnight there will be a free champagne toast and a balloon drop with up to $500 in cash. Guests will receive a VIP table and bottle with the purchase of four tickets together (while supplies last). This event takes place on Stoney's Rockin' Country's World Famous Ladies Night where all cowgirls drink for $1. Doors open at 7 p.m., dance lessons begin at 7:30 p.m. and the show starts at 10:30 p.m. Tickets can be purchased at http://bit.ly/kanebrown
House of Blues Las Vegas Foundation Room: With the best views of the city, New Year's Eve has the ultimate party 63 floors over the Las Vegas Strip 'Where Good Karma Lives.' The party goes all night with DJs Mark Mac and Sam I Am spinning tunes into the New Year. Lounge packages: $150 general admission; $300 VIP general admission. Both options include Open Bar.
Dinner packages: 6 p.m. seating $175 6 p.m.; 9 p.m. seating $350 Five course menu featuring Sweet Potato Ravioli, Corn & Goat Cheese Soup, Endive Salad, Sea Bass, Wagyu Strip and Orange Crème Brulee. Other items such as entry into Foundation Room lounge are also included with the packages. 21+; Dress code enforced. For details or reservations: 702-632-7631 or reservations@FoundationRoomLV.com.
House of Blues Las Vegas Crossroads: Everyone is an artist on New Year's Eve as Crossroads invites all professional party-goers to Paint the Town Gold with their end of year bash. No cover; all ages - Full dinner menu available, plus NYE special menu items. All-you-can-drink packages available for $60 (all inclusive) per person with purchase of an entrée; $90.
Lasso a Blue Ribbon New Year at Gilley's featuring a performance by country music favorite Scotty Alexander. Gilley's Saloon, Dance Hall & Bar-B-Que at Treasure Island will ring in the New Year with a three hour open bar, party favors and unmatched views of the revelers and fireworks show on the Las Vegas Strip. Admission includes: Open bar from 9 p.m. to midnight, $5 mechanical bull rides, New Year's Eve party favors and Premium views & access to Las Vegas Strip fireworks show. Doors open at 9 p.m. Guests must be 21 years of age or older.
Award-winning Gilley's bar-b-que will be available for purchase throughout the evening and a cash bar will be offered from midnight to 4 a.m.
$89.95* per person (limited time offer) $119.95* per person (at the door) Tickets can be purchased by calling 702.894.7722. *Prices do not include taxes or fees.
---
Mondays Dark with Mark Shunock celebrated its Two Year Anniversary Show at Hard Rock Hotel & Casino. Touted as the "philanthropic event of the year," all 11 featured charities from this past year were celebrated and the 11 featured charities for 2016 were announced, bringing together 22 local charities under one roof. Mark Shunock assembled an all star lineup for the anniversary celebration and promised to take Mondays Dark to a new level. The Mondays Dark show is usually held at Vinyl, however, the two year anniversary show was held in The Joint a much larger room that was filled to capacity. What a show it was! Usually 90 minutes, this show ran almost 3 hours then an Afterparty with food and drink continued at Vinyl.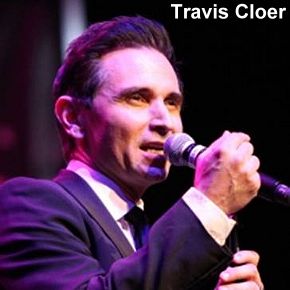 Many great performers and musicians included Louie Anderson, Gordie Brown, Travis Cloer (Jersey Boys), Paul Shortino (Raiding the Rock Vault), Andrew Ryan (Divas-What Makes A Man), Miss Exotic World, Human Nature and Ruby Lewis, Rock of Ages performers, Dave Amato (REO Speedwagon guitar legend), The Baron (world's strongest nipples), Debbie Gibson, Zowie Bowie, and many, many more. A Star Wars Helmet and A Frank Sinatra Painting done onstage by artist, James Mulligan were auctioned off at $2000.00 each, and a car was won by 200 raffles at $50 each ($10,000.00).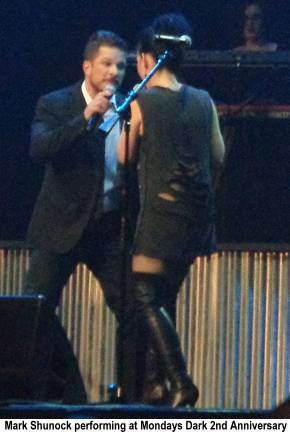 Since Mondays Dark began in November of 2013, they have raised nearly $250,000 for local Las Vegas Charities. Once a month from January to November, Shunock gathers an eclectic cast of stars from Hollywood, the Strip, musical acts, athletes and celebrity chefs for 90-minutes of entertainment, song and a lot of laughs at Vinyl inside the Hard Rock. Each month, a different Las Vegas-based nonprofit is selected and 100% of all ticket and silent auction proceeds stay with that organization. An average of $10,000 is raised each month.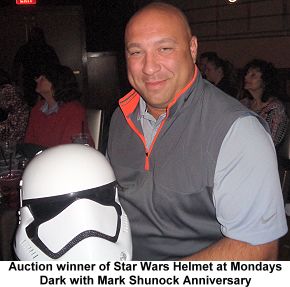 The 2015 featured charities are: The Center; Blind Center of Nevada; Dress for Success Southern Nevada; Olive Crest; Keep Memory Alive; ORION Cancer Foundation; United Way of Southern Nevada; Three Square Food Bank; Las Vegas Labrador Rescue;Project 150 and Home Aid Southern Nevada. Elected officials gave Mark Proclamations for this. Next Mondays Dark with Mark Shunock is January 25 at Vinyl. Happy Anniversary!
---
Singer, writer and entertainer Mary Wilson from the legendary Motown trio, The Supremes, returns to the Suncoast Showroom Jan. 16-17. While growing up in Detroit's Brewster Projects, Wilson befriended Florence Ballard, Betty McGlown and Diana Ross when she was 13. The quartet later formed a singing group, The Primettes. Wilson, Ballard and Ross were later signed to Motown Records and became known as The Supremes. Between her solo efforts, Mary Wilson released her autobiography "Dreamgirl... My Life As A Supreme" in 1986. The book has sold more than 250,000 copies and became one of the best-selling rock 'n' roll autobiographies of all time. The show begins at 7:30 p.m. Tickets start at $20 by calling 702.284.777 or visiting www.suncoastcasino.com.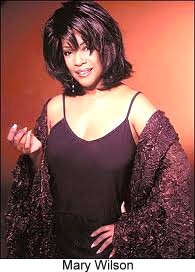 Big Bad Voodoo Daddy Swings Into The Orleans Showroom Dec. 29-30. Swing revival group, Big Bad Voodoo Daddy, brings its trademark sound following the paths of big band leaders like Glenn Miller, Benny Goodman and Duke Ellington. Big Bad Voodoo Daddy's brassy, upbeat sound has been embraced by fans nostalgic for the music of their youth, as well as legions of new fans enamored by the elegance and sophistication of the Big Band era. Big Bad Voodoo Daddy arrived on the music scene in 1993 with its legendary residency at the Brown Derby Nightclub in Los Angeles. In 1996, the band rocketed to fame after performing "You & Me and the Bottle Makes Three (Tonight)" and "Go Daddy-O" in the hit movie "Swingers" starring Vince Vaughn. Since then, Big Bad Voodoo Daddy's music has been featured in countless films and television shows.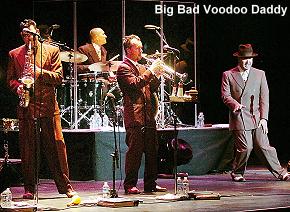 Big Bad Voodoo Daddy's nine-man group is comprised of Scotty Morris, lead vocals and guitar; Kurt Sodergren, percussion; Dirk Shumaker, double bass and vocals; Andy Rowley, baritone saxophone and vocals; Glen Marhevka, trumpet; Karl Hunter, saxophone and clarinet; Joshua Levy, piano and arranger; Anthony Bonsera, Jr., lead trumpet; and Alex Henderson, trombone.
TOP OF NEXT COLUMN
Win-Win Headliners Bash 2015 was an example of what is the best in people. Jeff Civillico's "Headliners Bash" highlighted the generosity of Las Vegas Performers, Sponsors and Volunteers.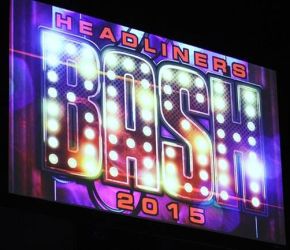 With wonderful entertainment and showing what they do is exemplary, Rio Las Vegas was the setting for the 2015 "Headliners Bash" to benefit local nonprofit Win-Win Entertainment, an organization dedicated to connecting great causes with Las Vegas entertainers.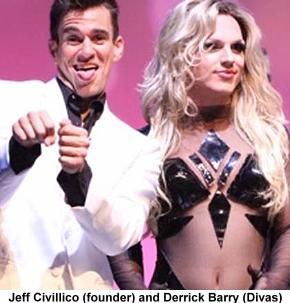 Win-Win Entertainment was started by Jeff Civillico, star of Comedy in Action now at Flamingo where Civillico's comedy-juggling show recently re-located from the Linq Hotel & Casino. At the Rio's, Penn & Teller Theater, Las Vegas entertainers performed to help raise funds for Win-Win Entertainment. Many deserved awards were also given out to wonderful sponsors and volunteers who were recognized in both the audience, onstage and in videos that showed the wonderful work being done by Win-Win Entertainment.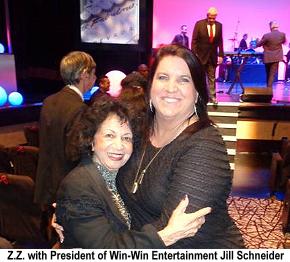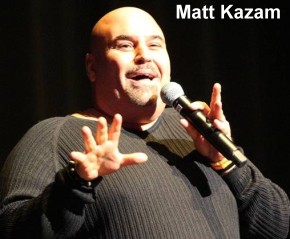 The "Headliners Bash" included an appearance by Penn & Teller, performances by Martin Kaye of "Million Dollar Quartet" (Kaye portrays Jerry Lee Lewis) at Harrah's, Travis Cloer of "Jersey Boys" at Paris, Britney Spears female impersonator, Derrick Barry of "Divas Las Vegas" at the Linq, and magician Mat Franco, also at the Linq, and Comic Matt Kazam ("40 is NOT the NEW 20" most recently performed at the now-closed Riviera, but announced he'll soon be at Treasure Island), and the cast of "The Rat Pack Is Back" tribute groups at Tuscany. Excalibur's Australian Bee Gees were honorees and performed as they closed out the show, and everyone was on their feet, dancing to their hits.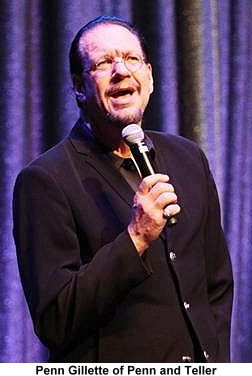 The Win-Win "Headliners Bash" was a wonderful reminder that Las Vegas truly has a big heart. These entertainers and volunteers devote countless hours to worthy nonprofits. I am totally in awe about the good works that this organization does.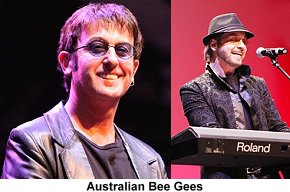 More than 9,000 Kris Kringle look-alikes joined local Las Vegas celebrities and Opportunity Village for the 11th annual Las Vegas Great Santa Run to kick off the holiday season. The Las Vegas community rallied together for the city's merriest fun run, which included special appearances by Honorary Chair of the Santa Run Committee Wayne Newton; Jabbawockeez, winners of "America's Best Dance Crew"; cast members of JERSEY BOYS Las Vegas; Vegas' acclaimed male revue stars The Chippendales; Miss Nevada USA, Emelina Adams and Miss Teen Nevada USA, Carissa Morrow; Jaime Lynch and the girls of FANTASY; Senior Executive Vice President of Opportunity Village Linda Smith; Opportunity Village CEO Ed Guthrie; Mayor Carolyn Goodman and husband Oscar Goodman; and Congresswoman Dina Titus. Donned in full Santa suits, 5K runners and Kris Kringle Jingle walkers were treated to an energetic performance by Las Vegas Strip headliners Jabbawockeez, along with a tribute to Elvis Presley's greatest hits from Opportunity Village's dance troupe the OV Elvi and percussion line, Roaring Thunder. Additionally, Travis Cloer, "Frankie Valli" in JERSEY BOYS at Paris Las Vegas, serenaded the crowd with a rendition of "Sleigh Ride,"and showgirl / entertainer Gabriella Versace from SEXXY got everyone in a jolly spirit with "Run Run Rudolph."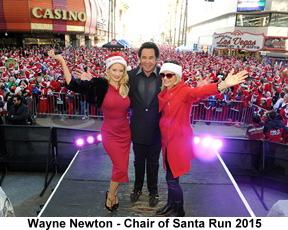 Following a high-energy Zumba warm up, the cast of JERSEY BOYS Las Vegas, The Chippendales and the Spring Valley High School Marching Band led the crowd to the start line for the 5K and one-mile Kris Kringle Jingle walk. After a traditional countdown and confetti showers, thousands of Santas were off as they made their way through Downtown Las Vegas. Celebrations commenced after the race as runners and walkers were given commemorative medals and participants gathered at Park on Fremont for post-race festivities. Both Fremont Street Experience and SlotZilla, Downtown Las Vegas' zipline attraction, donated 100 percent of proceeds from Saturday's flights to Opportunity Village. The Las Vegas Great Santa Run is Opportunity Village's largest annual fundraiser and has raised millions of dollars toward the charity's support of nearly 3,000 individuals with intellectual disabilities. in the Las Vegas Valley.
---
Chaos & Confetti Show presented by Recycled Percussion is now at The Saxe Theater in Planet Hollywood. This is an entertaining, high energy and funny show that includes the audience from start to finish. I had seen Recycled Percussion Vegas in other venues, but they have never been as incredible as they are now. These guys are Percussionists extraordinary, who drum on items so unusual, you would never think could be instruments, ie: their bodies.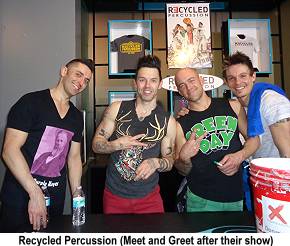 Audience members are given pots, pans and drumsticks of their choice upon entering the showroom and immediately excitement starts and so does the interaction. You never know what is coming next. Hilarious skits, great music with danceable beats, fun, fun, costumes and so much is involved to make a great evening of entertainment for all ages. David Saxe is once again to be commended as he is producing the show.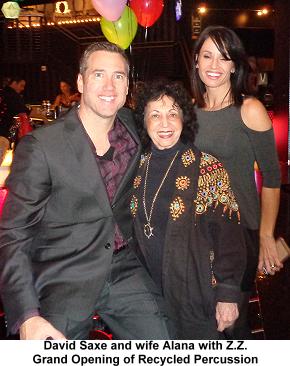 Shawn Lane of Cheyenne Marketing is adding a new concept to her longtime marketing company resume. Shawn is now in the bar, food and entertainment industry by purchasing the No Regrets Bar (formerly The Green Room) at 8349 West Sunset Road. The opening night crowd was having a great fun time with Michael Wheels Parise who has been in the business 30 years and has been opening for Andrew Dice Clay for over 20 years. Wheels introduced quite a few more comics who performed. Then Shawn Eiferman musician, who has been performing and writing music and performed all over the world, played and invigorated the crowd. Wheels will be at the No Regrets Bar on Saturdays each week with more comics. The food, comradery, fun and ambiance will be the new place to be seen and heard about.
---
Award winning, Italian icon and actress Sophia Loren will grace the stage at The Venetian Theatre inside The Venetian on Saturday, March 26. Sophia Loren will treat fans to an unforgettable night of firsthand, personal accounts including such topics as her life in Italy, film career and private memories. Guests will also have the opportunity to ask questions for the actress through a moderator and to be answered by Loren herself on stage.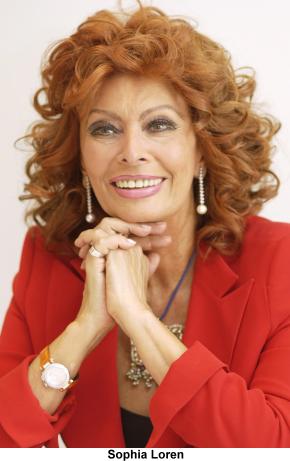 Sophia Loren has won a Grammy Award, five special Golden Globes, a BAFTA Award, a Laurel Award and the Honorary Academy Award in 1991. In 1995, she received the Cecil B. DeMille Award for lifetime achievements. Tickets start at $69.95 (plus applicable fees) and a VIP meet and greet is available. Tickets are on sale at: www.venetian.com/sophialoren or by calling (702) 414-9000 or (866) 641-7469.
---
The Las Vegas Entertainers Hall of Fame honored the best of the best. The Las Vegas Entertainers Hall of Fame inducted six of the talented performers who put Las Vegas on the map: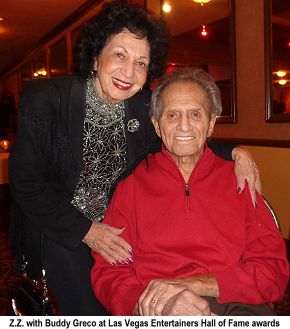 Buddy Greco, Rich Little, Bob Anderson, Pete Barbutti, Jonas Vece and Joe Darro. The Las Vegas Entertainers Hall of Fame honors entertainers in all areas of Las Vegas entertainment, and not just the headliners. It was a great time with DJ Miguel, the Red Carpet with Tiffany T, Showgirls, and Elvis and Michael Jackson tribute artists along with a great band. Carme Pitrello, veterans of more than 9,000 performances on Las Vegas stages, performed and hosted presenting the awards. Carme sang a beautiful touching song he wrote lyrics for the great Buddy Greco including words about Buddy's wife, singer Leslie Anders show, Fever.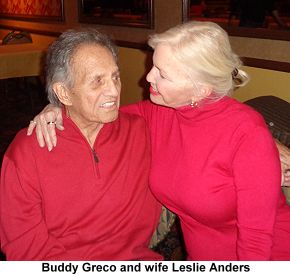 The 17th Annual Canon Customer Appreciation Red Carpet Reception/National Center for Missing & Exploited Children (NCMEC) Benefit Fundraiser and NCMEC Celebrity Golf Tournament will be held in Las Vegas January 7 and 8 to raise funds and awareness for child safety. Founded by John Walsh, NCMEC is the leading private nonprofit 501(c) (3) organization in the US working with law enforcement, families and professionals on issues related to missing/sexually exploited children.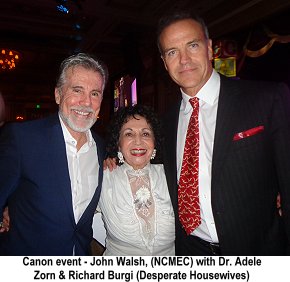 Actor Richard Burgi (Desperate Housewives) will emcee the Canon U.S.A., and the NCMEC Benefit Fundraiser. Celebrities, elected officials and patrons of NCMEC are anticipated to attend, including special guest John Walsh of "The Hunt with John Walsh," a weekly investigative/documentary TV series aired on CNN. Also attending will be more than 50 celebrities, including the music icon Alice Cooper; actor Michael Pena (Gangster Squad, American Hustle, Crash); actor John O'Hurley (Spamalot, Seinfeld); pitching star Roger Clemens "The Rocket" (Baseball All-Star & World Series Champion); actor Chris McDonald (The Good Wife, The Squeeze); actor Danny Masterson (Men at Work) and more.
---
As this is my last column in 2015, I wish Happy Holidays and a very Happy, Healthy, Prosperous and Peaceful New Year 2016 to all my readers.
CONTINUE ON TO...:

> Entertainment Tidbits Archives
>Las Vegas News "Heard Around Town"
>Las Vegas Leisure Guide<