The Holiday Season has brought about wonderful Christmas Productions that can still be seen. Two that I have seen, Terry Fator: A Country Christmas Live at the Mirage and Legends in Concert Xmas Show at the Flamingo are exceptional. Too bad there was only one night for the outstanding FaLaLa Las Vegas Philharmonic with the Las Vegas Master Singers at the Smith Center.
The two shows I raved about are:
Terry Fator: A Country Christmas boasts a brilliant cast fronted by Terry Fator and his wife Taylor Makakoa in addition to pre-show opener Ben Harris and Fator's loveable characters Winston, the Impersonating Turtle, Vikki "The Cougar," country legend Walter T. Airdale, Duggie Scott Walker, Julius, Emma Taylor, the world's greatest Elvis impersonator Maynard Tompkins, Berry Fabulous and a duet by Bing Crosby and Garth Brooks. Terry Fator is a magnificent puppeteer with an unbelievable range of voices. He also treated the audience by singing in his own voice that is outstanding. Settings, great band and everything about this show is perfection in the Terry Fator Theater at the Mirage.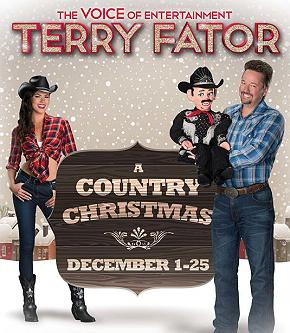 Legends in Concert Christmas Show has tribute recreations performed live, not lip-sync performances of legendary musical superstars Michael Jackson (Jason Jarrett), Barbra Streisand (Sharon Owens), Bobby Darin (Art Vargas), Britney Spears (Katie Murdock) and Elvis (Bill Cherry). You'll do a double-take as their voices, mannerisms, costumes and looks are unbelievable exactness. Backed by singers and dancers, a great band and beautiful holiday sets, you can enjoy this show in the Donny and Marie Showroom at Flamingo.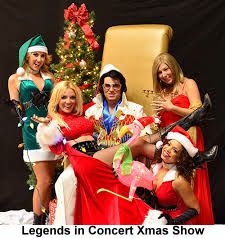 The holiday spirit is also alive and well in Las Vegas with the community excelling with so much that they want to do to bring about happiness and joy.
Two terrific shows that do this were Toys for Tots produced by L.J. Harness, Jonathan Scott and Mary Shriver and Tony Sacca's 29th Annual Merry Christmas Show that will air locally and nationally on December 29. Kudos to all the many benefit productions that helped to bring Xmas to children and those in need.
Along with Christmas Time comes thought of the New Year. There are so many New Year's Eve Celebrations in Las Vegas that are too numerous and impossible to list. However, here are some that are interesting to make note of:
Mandalay Bay Resort and Casino invites guests to "Paint the Town Gold" for the second consecutive year at the one-of-a-kind holiday celebration. The mega party, which is open to the public, will begin at 5 p.m. Wednesday, Dec. 31 when the resort transforms into a golden wonderland, complete with elaborate gold-themed accents, fun party favors, lavish culinary selections and more.

Unforgettable experiences at restaurants, bars, lounges and Spa Mandalay will provide an exhilarating evening. Throughout the resort, themed models will enhance the masquerade-style atmosphere, encouraging guests to welcome 2015 in an exuberant environment. The complimentary event will offer guests an unparalleled experience on one of the most exciting nights of the year.
To experience Paint the Town Gold New Year's Eve Packages, including tickets to Maroon 5, a Gold Dust Massage at Spa Mandalay and entry to the Foundation Room, call Mandalay Bay Concierge at 877-305-3136. To book a room reservation, visit Mandalay Bay online or call Room Reservations at 877-632-7800 with room code P4NYEPR.
---
Rock 'n' Roll into the new year during the Downtown Countdown New Year's Eve 2015 Celebration taking place Wednesday, Dec. 31 from 6 p.m. to 3:30 a.m. at Fremont Street Experience in fabulous downtown Las Vegas. This year the ultimate New Year's Eve street party is themed TributePalooza and features 13 of the world's greatest tribute bands. These tribute bands include: Fan Halen (Van Halen), Queen Nation (Queen), Led Zepagain (Led Zeppelin), Rio (Duran Duran), Generation Idol (Billy Idol), No Duh (No Doubt), Red Not Chili Peppers (Red Hot Chili Peppers), Doobies Inc. (The Doobie Brothers), Jumping Jack Flash (Rolling Stones), Aeromyth (Aerosmith), Crimes of Passion (Pat Benatar), Don't Look Back (Boston) and Bonfire (AC/DC).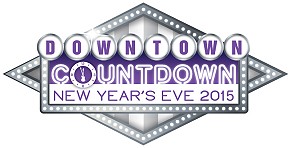 What is incredible about these acts is they are not just live cover bands. They have the look and stage show emulating the bands they are paying tribute to and the audience knows every hit song. The result will be one fantastic street party of 13 bands playing on three stages for nine hours. All of this for only $40.
The TributePalooza celebration kicks off with a Dec. 30 pre-party, featuring six tribute bands under the FSE (Fremont Street Experience) Canopy. The headliner event is Dec. 31, with all 13 bands featured. Then seven bands will continue the five-day party on Jan. 1-3. The concerts will begin at 6:15 p.m. on New Year's Eve and at 5 p.m. on the other nights.
On New Year's Eve, just before midnight, revelers will say goodbye to 2014 with a year-in-review retrospective on the Viva Vision screen and a midnight countdown led by Las Vegas Mayor Carolyn G. Goodman. Immediately following will be an epic live Fireworks by Grucci produced show synchronized with virtual fireworks on Viva Vision as part of the citywide celebration, "America's Party: Las Vegas New Year's 2015."
Admission to Downtown Countdown is $30 per person when purchased online by Dec. 26. Beginning Dec. 27 tickets will be $40 per person and can be purchased online, in-person at any of the Fremont Street Experience member hotel-casinos, or at the event gates on Dec. 31. New Year's Eve is the only night of the year when Fremont Street Experience has paid, ticketed admission. New Year's Eve admission is restricted to persons 21 and over. To purchase tickets in advance go to www.VegasExperience.com/NYE.
Crazy Horse III will welcome 2015 with a naughty New Year's Eve Celebration that will treat revelers to an all-night New Year's Eve bash with exclusive VIP and open bar packages, as well as hundreds of gorgeous entertainers on Wednesday, Dec. 31. The famed gentlemen's club will also feature a countdown to midnight and champagne toast.
Partiers are encouraged to purchase pre-sale tickets to the event, starting at $50 with limited quantities available, by calling 702.673.1700 or visiting the Crazy Horse III website. Tickets will also be sold at the door the evening of the event, priced at $80. Additional table and bottle packages will be available for all guests.
Guests can arrive to this sexy New Year's Eve celebration using Crazy Horse III's complimentary limo service, pending availability, by calling 702-673-1700. Crazy Horse III is located on Russell Road, just a few blocks west of I-15.
---
Station Casinos entertains with a number of new weekly acts and shows at several of its properties in addition to its trademark bands that the city has grown to love. Entrance is free unless otherwise noted. Guests can enjoy incredible entertainment including: Sunday Night Football at Sunset Station and Texas Station; Monday Night Football at Santa Fe Station, Sunset Station and Palace Station; New Year's Eve entertainment across all properties on Wednesday, Dec. 31; Thursday Night Football at Sunset Station; Darrin Michaels at Texas Station on Thursday, Dec. 25; Lon Bronson All-Star Band at Sunset Station on Fridays.
---
Pia Zadora is back at Pia's Place inside Piero's! In recovery from a recent accident, Pia Zadora was anxious to return to Pia's Place and, in the spirit of the holiday season, has added some of her favorite classic holiday songs into her repertoire during her shows. Zadora, her musical director Vincent Falcone and her band, put their twist on traditional favorites - and even Santa himself stops by each night for a little Jingle Bell Rock! No cover; must be 21 with valid I.D.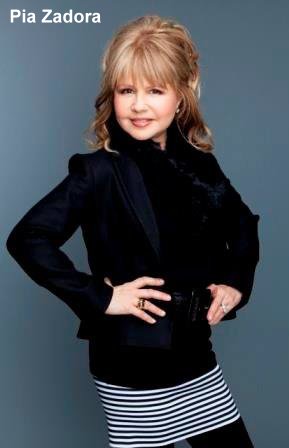 Pia will perform on Friday and Saturday evenings, beginning at 9 p.m. on Dec 19 and 20 - and a special New Year's Eve show!
Golden Globe winner, GRAMMY Award® nominee, ShoWest winner, accomplished singer, film and Broadway star all describe Pia Zadora. Performing since the age of six, for those who have seen her in concert, what comes to mind first and describes this multi-talented performer is simply this: Pia Zadora is the complete entertainer..
Piero's Italian Cuisine (355 Convention Center Drive) opened in 1982 and today, some 31 years later, remains one of Las Vegas' most notable restaurants favored by the city's influencers, celebrities and founding families. Piero's is Old School Vegas and Hip all at once.
---
Dirk Arthur is a Vegas mainstay who has thrilled audiences with his spectacular illusions and amazing tigers in many of Las Vegas' top hotel/casinos. Now you can see his marvelous show Dirk Arthur Wild Illusions at the Riviera's Starlite Theatre at 7 p.m. and an added 4 p.m. matinee performance during the holidays. This fast-paced show with breathtaking big cat magic is interwoven with comedy, beautiful dancers and large-scale effects. In addition, Dirk Arthur increases awareness for preserving wildlife and the environment. All proceeds of all show merchandise goes to preserving animals.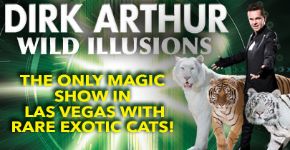 The Riviera also has other great shows worth mentioning. You must see the hilarious 40 is not 20 show and get ready for minute to minute laughter. And, of course, the world famous Crazy Girls and the Riviera Comedy Club.
The Riviera Hotel & Casino is setting a new precedent on the Las Vegas Strip. Beginning Thursday, January 1, 2015, the Riviera Hotel & Casino will become the first resort on the Las Vegas Strip to offer guaranteed room type preferences at no extra charge. A common practice throughout Las Vegas, room type requests are typically categorized as "preferences" and are not guaranteed without additional fees. The Riviera is breaking this practice by guaranteeing the preferred room type for all direct bookings on www.rivierahotel.com. The Riviera reservation team will review all room requests to ensure that even last-minute direct bookings are guaranteed their room type.
---
Most people love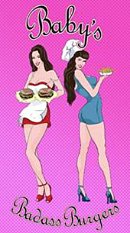 Burgers, right? So, now you can enjoy bombastic and badass burgers at Downtown Las Vegas' Baby's Badass Burgers - a new food truck experience at Beauty Bar Las Vegas 517 E. Fremont (in the alley). Enjoy Baby's popular burgers served by the infamous food truck babes.
---
Eric Jordan Young, Shakin' at the Sin City Theatre inside Planet Hollywood Resort & Casino will end its successful run on December 27. The 90-day engagement showcased Young as a triple threat who has transformed into a staple of Las Vegas talent. Showgoers won't want to miss the final performances of Shakin' at Sin City Theatre. The concluding performance dates are December 15-17, 20, 22-24 and 27. The closing performance of Shakin' on December 27 will be a very special day for Young, as it will mark the end of his first headlining production and is also his birthday.
TOP OF NEXT COLUMN
Caesars Palace turns the Las Vegas Strip into an ice skaters' paradise once again with a real ice skating rink this holiday season. Guests are able to ice skate over the iconic Caesars Palace fountain, the Strip-facing promenade that overlooks the Las Vegas Boulevard through Jan. 11. Caesars Chalet offers a traditional real ice skating rink with an infusion of entertainment and special activities that evokes the holiday season. Ninety-minute skating sessions are available daily from 11 a.m. to 11:30 p.m. Skate rentals are available for $5 per session; each 90-minute session costs $20 per person. All Access Pass: $35 Unlimited public skating on day of purchase and complimentary skate rental. This year, guests can also purchase an extended pass and/or rent the entire rink for a private party or event.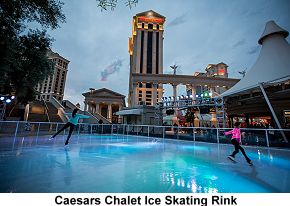 Guests can also indulge in warm decadent seasonal food and beverage offerings from Moet and Patron. Festive funnel cakes will be available in flavors such as Caramel Apple, Red Velvet and the traditional favorite dusted with powdered sugar. Signature cocktails will include: Miracle on the Blvd., Inner Elf, Naughty & Nice, Ugly Red Sweater and Red Roller. Bottle service with Adirondack seating will be available nightly.
For more dining options, guests can also visit Serendipity 3 adjacent to Caesars Chalet for sweet treats like the famous Frrrrozen Hot Chocolate and Colossal Brownie Sundae or enjoy savory dishes such as The One & Only Las Vegas Strip Steak Sandwich or hand breaded chicken strips.
---
Disney On Ice presents Let's Celebrate! is bringing a colossal party on ice to Las Vegas from Jan. 14 - 18, 2015 for eight performances at Thomas & Mack Center. Disney On Ice presents Let's Celebrate! features more than 50 characters from 16 Disney stories live on ice, including Tiana from Walt Disney Pictures' The Princess and the Frog. Audiences are invited to make an ordinary day extraordinary and enjoy some of the world's most popular festivities, including a winter wonderland with Mickey Mouse and Minnie Mouse, a Halloween haunt with the Disney Villains, a Hawaiian luau with Lilo and Stitch, a Royal Ball with the Disney Princesses, a Very Merry Unbirthday Party and more in one action-packed and positively unforgettable celebration!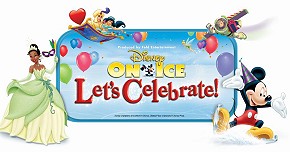 If you haven't seen Menopause the Musical make sure to see this terrific show at the Luxor. And, if you have seen it, see it again, I did and loved it. The hilarious celebration of women and what they go thru with "The Change" has a terrific cast whose acting, singing, dancing, costuming and everything else is absolutely first-class. Menopause the Musical lyrics and humor are so witty, you will laugh every minute. Men love this show too!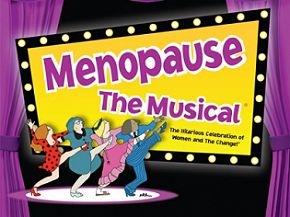 You can't keep a great magician down. Yeah! After two years at the Tropicana, Murray (you know the guy with the spiked blonde hair) has a new venue. Murray 'Celebrity Magician', his gorgeous wife Chloe and Lefty his sidekick magician/comedian are now opening at the Planet Hollywood's Sin City Theatre doing what they do best in a 4 p.m. show. Congrats!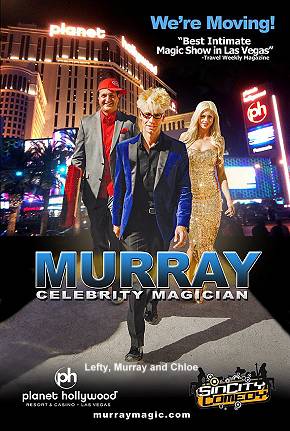 Nevada Ballet Theatre (NBT) will honor dancer, choreographer, actress, producer, director and author Debbie Allen as Woman of the Year for the 31st Annual Black & White Ball. The recipient of numerous awards, including a Tony Award, Golden Globe and three Emmy Awards among others, Allen's many contributions to the performing arts and entertainment industry will be celebrated on Saturday, January 24, 2015 at ARIA Resort & Casino, CityCenter.
The Black & White Ball is the 43 year-old ballet company's largest annual fundraiser. As one of the most anticipated charitable affairs and highly attended black-tie society events in Las Vegas, it hosts an array of local celebrities, dignitaries, VIP's and arts supporters.
---
Win-Win Entertainment Annual Fundraiser Headliners Bash 2014 was the Entertainment Show of the year. Quad Headliner Jeff Civillico, founder and Chairman of non-profit Win-Win Entertainment hosted this event along with President, Jill Schneider and Partnering Diamond Sponsor, John C. Kish Foundation. Held prior to the holidays at the Penn & Teller Theater at the RIO dozens of headlining entertainers came together for this special night to perform in a show that will never be duplicated. The list of Entertainers is so long it would take up this entire article, but think of the top best headliners from across the Las Vegas Strip, and you will be right. Win-Win Entertainment works with Nevada non-profits to provide entertainment solutions for charity events. The group also hooks up entertainers with good causes such as performing shows in Children's Hospitals and Burn Units. By the end of 2014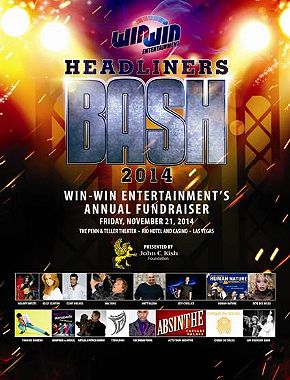 Win-Win Entertainment will have arranged a total of 63 events for 2014.
---
Comedy-Magician Mac King was awarded "Entertainer of the Year" at the Win-Win event. "The Mac King Comedy Magic Show" has been extended for four more years at Harrah's Las Vegas. King's contract extends through 2019, which will give him 19 years at the hotel. In January, he celebrates a historic 15 years at Harrah's, making him the longest running magician working at the same hotel. Now in his 15th year of headlining afternoons at Harrah's, comedy-magician Mac King captivates audiences as he casts out a fishing line over their heads and catches live goldfish out of mid-air, performs amazing sleight-of-hand, makes his head completely disappear in a paper bag, and renders himself invisible, all while remaining unbelievably funny. Because of his quick wit and extensive audience interaction, no two shows are alike.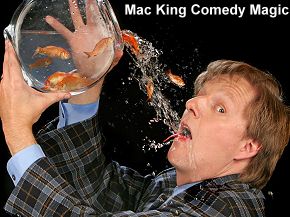 "True American Legend" Mary Wilson of The Supremes will perform at the Suncoast Showroom January 17-18. Mary Wilson is a singer, writer, author, entertainer and Founder of The Supremes. While growing up in Detroit's Brewster Projects, Wilson befriended Florence Ballard, Betty McGlown and Diana Ross at age 13. The quartet later formed a singing group, The Primettes. Wilson, Ballard and Ross were signed to Motown Records and became known as The Supremes. And, the rest is history. Mary Wilson is also a Las Vegas resident.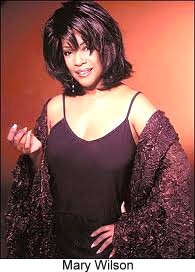 Popular '70s rock band Grand Funk Railroad will celebrate more than 45 years of "Grand Funk" when they bring their hits to The Orleans Showroom January 10 and 11. In 1969, the band released its first two albums, "On Time," and "Grand Funk" (also know as "The Red Album"). In 1970, the group sold more albums than any other American band and became a major concert attraction. The following year, they broke The Beatles' attendance record at New York's Shea Stadium, selling out a concert in just 72 hours.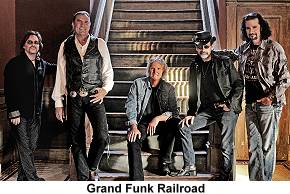 In 1998, Grand Funk performed at the Rock and Roll Hall of Fame and Museum in Cleveland,Ohio highlighting a donation of memorabilia to be included in a Grand Funk display at the Hall of Fame. Throughout their career, the band has sold more than 25 million albums worldwide, performed in front of sold-out stadium and arena crowds on several continents and released nine Top 40 singles. Current members of Grand Funk Railroad are: Don Brewer, Mel Schacher, Max Carl, Bruce Kulick and Tim Cashion.
---
The D Las Vegas will host Hawaii Appreciation Week Jan. 10 - 17, 2015. The Downtown casino/hotel invites Hawaii residents and all guests to embrace the laidback vibe of the islands with a weeklong celebration featuring comedy, gaming, music, food and fun. Every day from 10 a.m.-2 p.m. guests can test their luck in the $10,000 Holoholo Slot Tournament. Entry is free with valid Hawaii I.D.
Laugh The Night Away: Some of the biggest names in comedy and entertainment from Hawaii and beyond will take the stage Jan. 15 - 17 in the D's intimate, state-of-the-art showroom. Guests can continue the party with open karaoke from 9:30 - 11 p.m. after the shows. Tickets for each night are $30 and include one drink. Hawaii residents will receive a $10 discount with valid I.D.
Joey Guila and Kaleo Pilanca - Jan. 15 & 16. Mel Cabang - Jan. 17. Kento will open the show with his signature stand-up routine.
Party at DLVEC: Unique food trucks, vendors and live music will transform the neighboring DLVEC (Downtown Las Vegas Events Center) with the tastes, sights and sounds of Hawaii each evening from 5:30 - 11 p.m. Guests can party under the stars at the new events center by sampling local cuisine and enjoying bands. Honolulu's renowned Leonard's Bakery - an island institution since 1952 - will treat the crowd to their famous "ono" malasadas, delicious Portuguese-style doughnuts that have earned a devoted following among locals and visitors.
Dine: "Local-Style" at D Grill. Guests can select from the special 'Island Favorites' menu served at the D's contemporary, casual restaurant D Grill.
---
A decade in the making, BPONG.COM brings a celebration of beer pong greatness at the 10th Annual World Series of Beer Pong. Held at the Riviera, the annual event will take place Thursday, January 1, 2015 through Monday, January 5, 2015.
Held for the first time inside the spacious Riviera Hotel & Casino Convention Center, the 10th Annual World Series of Beer Pong will feature thousands of beer pong enthusiasts from around the world, where players, young and old, will lay it all on the line as they compete for the $50,000 grand prize and ultimate bragging rights as the World Beer Pong Champion.
Tournament play at the 10th Annual World Series of Beer Pong follows the official WSOBP rules, but in short, the game is one of skillful hand-eye coordination. During play, two-person teams stand at opposite ends of an eight-foot-long table, where ten 16-ounce cups, filled with water, are placed in bowling pin formation. Each team takes turns tossing beer pong balls (similar to table tennis balls) at their opponent's cup formation. If the ball goes in a cup, that cup is removed from the game. The first team to eliminate all of its opponent's cups wins.
Players interested in participating in the 10th Annual World Series of Beer Pong can register at BPONG.COM/WSOBP. Registration begins at $500 per player and includes a four-night stay at Riviera Hotel & Casino and a minimum of 12 games of play in the tournament. All participants must be 21 years or older with a valid ID.
---
May the Holiday Season bring Peace, Joy and Happiness to all my readers.
CONTINUE ON TO...:

> Entertainment Tidbits Archives
>Las Vegas News "Heard Around Town"
>Las Vegas Leisure Guide<