"Raiding the Rock Vault" has moved from the WESTGATE and celebrated its debut at The New Tropicana Las Vegas with a star-studded red carpet event, where Las Vegas celebrities joined rock legends for a special kick-off party. The sold-out show, which pays homage to rock's greatest hits from the '60s, '70s and '80s, was met with standing ovations by the enthusiastic audience who welcomed the show to its new home at the massive Tropicana Theater. Among the guests in attendance at the Red Carpet event were: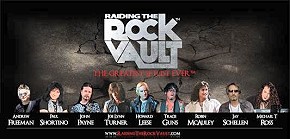 Jan Rouven, Eric Jordan Young ("Shakin'"), Murray Sawchuck, Chloe Crawford ("FANTASY"), screenwriter Mylo Carbia, Ricardo Laguna, fashion designer Remo Tulliani, Jarrett & Raja, fashion designer Tatyana Khomyakova, cast members from "Counting Cars," comedian Lenny Windsor, singers Ben Stone and Jasmine Trias, and many more.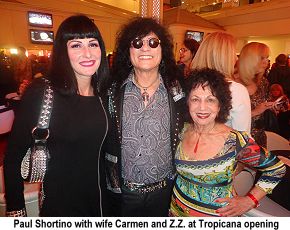 The "Raiding the Rock Vault" show's all-star lineup includes Rock and Roll Hall of Fame member Howard Leese [Guitar] (Heart), Robin McAuley [Lead Vocals] (MSG, Survivor), Doug Aldrich [Guitar] (Whitesnake, Dio), Paul Shortino (who happens to be my neighbor) [Lead Vocals] (Rough Cutt, Quiet Riot), Jay Schellen [Drums] (Badfinger, Asia), Andrew Freeman [Lead Vocals and Guitars] (Lynch Mob, The Offspring), Michael T. Ross [Keyboards] (Lita Ford, Hardline), Hugh McDonald [Bass] (Bon Jovi), and outstanding female vocalists Carol-Lyn Liddle (Masters of Rock) and Stephanie Calvert (Starship). "Raiding the Rock Vault" brings the history of rock 'n' roll to life, featuring classic anthems by the biggest acts in music, including The Rolling Stones, The Who, The Doors, Jimi Hendrix, Led Zeppelin, Deep Purple, Free, Eagles, Fleetwood Mac, Queen, Boston, Kansas, U2, Aerosmith, Van Halen, AC/DC, Pat Benatar, Foreigner, Heart, Journey, Bon Jovi, Whitesnake, Supertramp and many more. "Raiding the Rock Vault" performs Friday-Wednesday at 9 p.m., with tickets ranging from $59-$99 plus taxes and fees. A Rock Star Package is also available for $135 plus taxes and fees, which includes VIP tickets, a VIP Pass, a meet and greet with the rock stars prior to the show, and a two-CD set and concert program.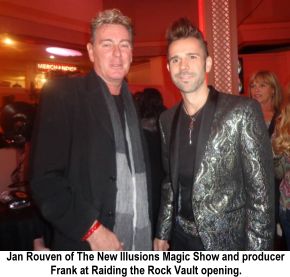 Now here is a real talent: Eric Jordan Young is bringing a little piece of Broadway to Sin City with his new production, Shakin' at Planet Hollywood's 'Sin City Theatre.'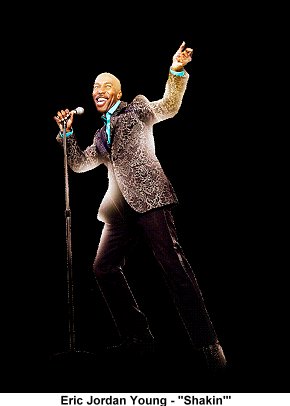 Shakin' features the award winning multitalented "triple threat" Eric Jordan Young, with dazzling choreography along with the Shakin' dancers who have starred in numerous high-profile production shows and a live band. Young transforms a collection of quintessential pop, rock, funk, R&B and jazz songs, resulting in a fresh, current spin on some of the most recognizable and influential tunes along with comical vignettes and audience interaction.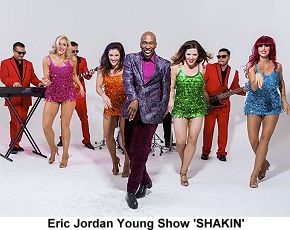 With inspiration from legendary Vegas performers including Sammy Davis Jr., Flip Wilson and Red Foxx, and the modern flair of stars like Justin Timberlake and Bruno Mars, Young fuses an incredible repertoire that reinvigorates the great American songbook with contemporary arrangements, unforgettable characters and groove-inspired dance. Shakin' takes the stage nightly, dark (Thursday and Friday) at 5:30 p.m. General admission tickets are priced at $44.95 and VIP tickets are $54.95 plus taxes and fees. You will love this show - I did!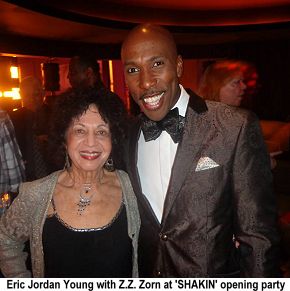 Congrats to producer Anita Mann and The gorgeous ladies of FANTASY., The sexy adult revue at Luxor had a lot to celebrate as they introduced their sultry 2015 'Fulfilling Fantasies' for their 15 Years' calendar and celebrated the show's fifteenth anniversary.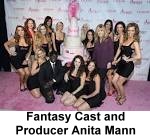 The gorgeous 2015 calendar features stunning photos of the ladies adorned in sexy swimwear, jewelry, animal print body paint and more. It was a star-studded event as Jabbawockeez, Thunder From Down Under, Raiding the Rock Vault, Tournament of Kings, Menopause the Musical, Frederic da Silva and Magician Murray SawChuck walked the Red Carpet. To add to the glamorous affair, former FANTASY singers and dancers from the past 15 years attended to celebrate the monumental anniversary. Onstage, Renee West, Luxor CEO introduced Anita Mann who gave a heartfelt speech about FANTASY 15th anniversary having done over 5000 shows and as this was Veteran's Day a portion of this day's sales was going to the troops. Anita Mann also introduced someone in the audience who had seen FANTASY 78 times. That is how great a show it is.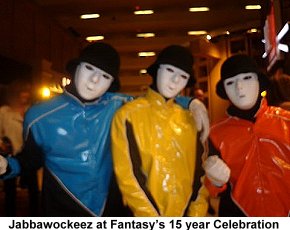 FANTASY performs in the Atrium Showroom and has now introduced new numbers including, "Bang Bang." Lead singer, Jaime Lynch, impresses the audience with her A-List beauty and powerhouse vocals, while Sean E. Cooper, who is fantastic and has been with FANTASY for 13 years, makes sure there is no shortage of laughter. Great for singles and couples alike, the sexy production showcases 14 high-energy numbers set to a variety of today's top music genres. While the gorgeous dancers lure guests into their wildest fantasies, comic relief, Sean E. Cooper keeps audiences on its toes with his spot-on impressions of some of pop culture's most recognizable personalities. FANTASY performs nightly at 10:30 p.m. Tickets start at $39, plus taxes and handling fees. Guests must be 18 years of age or older.
Can't believe I am writing about this, but the countdown is on for Frankie Moreno's last shows at the Frankie Moreno Theatre at Stratosphere. Frankie will finish his run with the Stratosphere on Dec 20th ending at 599 shows. This amazing talent will certainly emerge successfully in everything that will be coming his way once he leaves The Stratosphere, but I personally believe it will be the Stratosphere's loss. You still have time to see his show until then. Frankie has put out a long list of thanks to everyone who has been with him since his inception at the Stratosphere and even before. Not only is Frankie a great talent, but he is also a great gentleman.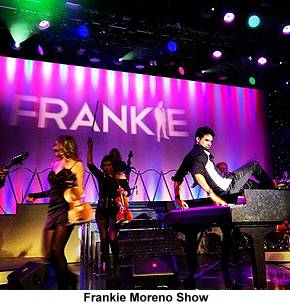 Award-winning comedian Matt Kazam is proud to give back to United States military members with an invitation to attend his show for free.
All active and retired military members with a valid military ID will receive two tickets to 40 Is Not The New 20 at the Riviera Hotel & Casino. Military Appreciation Tuesdays will take place every Tuesday from November 11, 2014 through November 10, 2015. "I'm honored to have the opportunity to give back to those who have sacrificed so much in fighting for our freedom," said comedian Matt Kazam. "It has always been a priority for me to help and support our military members. Whether it has been performing on bases or at the Walter Reed and Bethesda Naval Hospital, it has always been important to me to show how much I appreciate their service, and Military Appreciation Tuesdays is an extension of that."
Starring 25-year comedy veteran Matt Kazam in a hysterically funny, 70-minute, one-man stand-up comedy production, 40 Is Not The New 20 explores how much the world has changed in the past 40-plus years. If you remember the boom box, "Pac Man," the Rubik's Cube and when there were only three stations on television, this show is for you. It puts the notion that 40 is the new 20 on trial and breaks down the concept into categories such as technology, the media, politics, relationships, our priorities and even how our bodies have changed over the years. Everyday topics like marriage, parenting, work, commuting, bills and exercise, just to name a few, will be compared and contrasted though the eyes of a 40-year-old.
40 Is Not The New 20 is performed Monday through Saturday at 10 p.m. inside the Riviera Comedy Club (dark on Sundays). Beginning Monday, December 1. 40 Is Not The New 20 will be performed at 7 p.m. Monday through Thursday and at 7 p.m. and 10 p.m. on Fridays and Saturdays. Tickets are $40 plus tax and applicable fees and can be purchased in-person at the Riviera Box Office or through Ticketmaster at (800) 745-3000 or www.ticketmaster.com. Guests must be 18 years or older. I've seen this show and it was hilarious with minute to minute laughter.
---
Legends in Concert, Las Vegas' longest-running live tribute show at Flamingo Las Vegas, will greet the winter season with the debut of its Holiday Show on Sunday, Nov. 30. Guests will enjoy holiday tunes performed by both classic and modern legends, alike. Bobby Darin, portrayed by Art Vargas, will rock the house with "Jingle Bell Rock";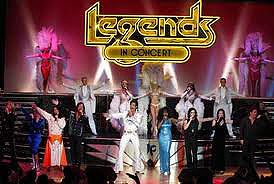 Michael Jackson, portrayed by Jason Jarrett, will bring holiday cheer with "I Saw Mommy Kissing Santa Claus"; Britney Spears, portrayed by Katie Murdock-Gunther, will entice the audience with "Santa Baby"; Barbra Streisand, portrayed by Sharon Owens, will make the masses merry with "Jingle Bells"; and Elvis, portrayed by Bill Cherry, will warm the showroom with "Blue Christmas." Local youth choirs and performing arts groups have also been invited to perform in the holiday production, providing young talent an opportunity to perform on the historic stage in the Donny and Marie showroom. For a very merry finale, the full cast will perform "The Most Wonderful Time of the Year" and the Legends Band will perform a stunning tribute to the Trans-Siberian Orchestra's "Christmas Eve in Sarajevo" ("Carol of the Bells") that brings the magic of the season to Las Vegas.
For more than three decades, Legends in Concert has proudly entertained more than 6.6 million Las Vegas visitors and residents, produced over 18,500 performances on the Las Vegas Strip and performed to more than 30 million fans worldwide.
---
The Las Vegas Philharmonic performs its annual holiday POPS concert called 'Fa La La Las Vegas!' on Saturday, December 6th in Reynolds Hall at The Smith Center with two performances, a 2:00 p.m. matinee and a 7:30 p.m. evening show. Maestro Cabrera will lead the orchestra in his second concert as Music Director for the Las Vegas Philharmonic. The men and women of the Las Vegas Master Singers will accompany the Las Vegas Philharmonic in this popular holiday program. In addition, Tod Fitzpatrick, baritone and Associate Professor of Music for the University of Nevada, Las Vegas, will sing selections in the program including Clurman's Songs of Freedom: A Celebration of Chanukah and Fantasia on Christmas Carols. The Las Vegas Master Singers, directed by Jocelyn Jensen, have performed in the Las Vegas Philharmonic's holiday concerts for the past nine years. The choral group represents almost 100 individuals in the Southern Nevada community, many who have degrees in music and have worked professionally in the industry. In addition, Las Vegas Academy Choir, directed by Rossana M. Cota, and Clark County Children's Choir, directed by Holly Steed, will perform in Reynolds Hall lobby before the 2 p.m. and 7:30 p.m. performances, respectively.
Berger & Son Fine Jewelers, a premier destination for one-of-a-kind fine jewelry and watches is now a leading local retailer inside Fashion Show Mall on the Las Vegas Strip. Stuart Berger, owner and designer, celebrated with a certificate from Mayor Carolyn G. Goodman proclaiming Berger & Son Fine Jewelers Day. Family owned and operated since 1970, Berger & Son Fine Jewelers has made and sold pieces to top celebrities in music, film and sports from all over the world. For more than 30 years, Berger & Son carries trendsetting fine jewelry and watches from renowned international brands, and well as original and custom designs. Stuart Berger, travels near and far to be the top trendsetter in the industry and showcases the latest trends in fine jewelry. He works with vendors to find the most exquisite diamonds and gemstones for his clientele.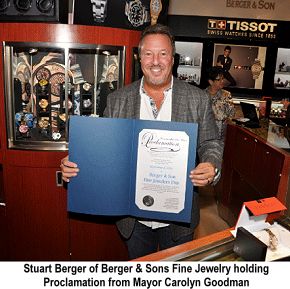 ---
FIZZ, the lavish new Champagne Lounge and Bar in Caesars Palace, has introduced live acoustic music sessions every Thursday from 8 to 11 p.m., as well as Fridays and Saturdays from 7 to 10 p.m. Guests will enjoy their evening on a high note with classic tunes and today's hits performed by various artists. Peter Love, known for his soulful renditions of classics that span the decades, will perform Thursdays nights; Phil Stendeck, who serenades audiences with a compellation of original songs in rock, reggae, and funk genres, will perform every Friday; and Shawn Eiferman, recognized for complementing his classic rock vocals with his guitar skills, takes the stage on Saturday nights. Additional entertainers include Le Grand Barr and Ryan Maloney from NBC's "The Voice." While indulging in the soulful sounds, enjoy "Bottomless Bubbles," including endless champagne refills from 5 to 7 p.m. or 7 to 9 p.m. at $36.
FIZZ, the upscale champagne lounge located between The Colosseum and Forum Shops at Caesars Palace, is open nightly from 5 p.m. FIZZ offers a wide selection of high-end champagnes by the glass and carefully curated spirits, along with exquisite choices of caviar, charcuterie and small plates. Designed by Las Vegas-based designer Todd-Avery Lenahan, FIZZ was recently named the winner of the "Nightclub, Bar and Lounge" category at the 10th Annual Hospitality Design Magazine Awards.
TOP OF NEXT COLUMN
Pia Zadora is back atPia's Place inside Piero's! (355 Convention Center Drive) In recovery from a recent accident, Zadora was anxious to return to Pia's Place and, in the spirit of the holiday season, has added some of her favorite classic holiday songs into her repertoire during her shows. Zadora, her musical director Vincent Falcone and her band, put their twist on traditional favorites - and even Santa himself stops by each night for a little Jingle Bell Rock! No cover; must be 21 with valid I.D.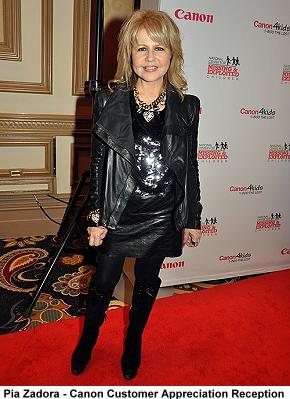 Pia Zadora is a Golden Globe winner, GRAMMY Award nominee, ShoWest winner, accomplished singer, film and Broadway star. Performing since the age of six, for those who have seen her in concert, what comes to mind first and describes this multi-talented performer is simply this: Pia Zadora is the complete entertainer. Pia will perform on the following Friday and Saturday evenings, beginning at 9 p.m. for the remainder of the year: Nov 21 and 22; Dec 5 and 6; Dec 12 and 13; Dec 19 and 20 - and a special New Year's Eve show! Pia is a dear friend and I am so happy for her recovery and that she is back and able to be doing what she does best.
---
Boxing, "Friday Night Fights" will be held at the Orleans on Friday, November 21. The main event will feature two former female World Champions: Layla "Amazing" McCarter of Las Vegas will square off against Miami's Melissa "Huracan" Hernandez. Next on the card is Roy Jones, Jr. Boxing's own undefeated prospect, Eric "Baby Face" Johnson, of Baton Rouge, La. taking on Kenton Sippio-Cook of Austin. In addition to these high-octane fights, the 1984 Olympic Boxing Team will be honored at the event in celebration of the 30th Anniversary of the Olympic Games when they brought home an unprecedented 11 Olympic Boxing Medals (9 Gold, 1 Silver and 1 Bronze).
---
Chippendales celebrated 35 years as The #1 Male Revue In The World at The Rio. Approximately 100 Chippendales former cast members from almost four decades 1979 - 2014 attended, including three cast members from the original Los Angeles Chippendales. In addition, six former Chippendales were incorporated into various numbers of the current Rio show The Men of Chippendales for this one night only celebration.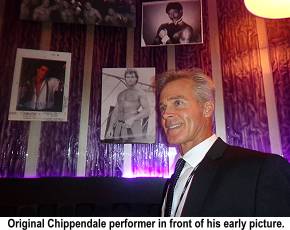 Named after the Chippendales-style classic furniture that adorned the original club in Los Angeles, the brand quickly became a pop-culture phenomenon in the late '70s and early '80s. The success of the Los Angeles club spawned a New York club as well as other permanent locations and touring troupes that traveled the world, producing shows across Europe, the UK, Australia and Asia. Over the last 35 years of Chippendales, the men have performed for more than 100 million women in over 100 countries, have traveled more thank 6.7 million miles while touring, have torn away over 1.2 million tank tops, worn 56,000 bowties and cuffs and have been photographed more than 70 million times.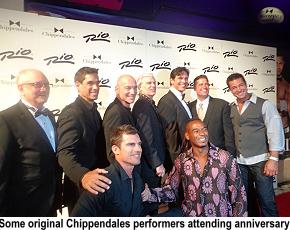 The Men of Chippendales perform nightly at the Rio.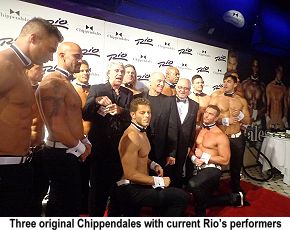 It was a night to remember at the Downtown Inspire Theatre when Emmy award winning Andy Walmsley who had produced the Showbiz Roasts presented the first in a series of intimate evenings with the people that made Las Vegas the entertainment capital of the world. Called ENTSpeaks, Andy invited six entertainers to walk individually on the empty stage for 15 minutes and speak frankly about their lives and experiences. They were: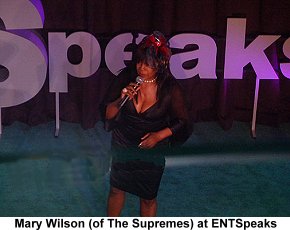 Mary Wilson - Founding member of The Supremes who has been in show business for 56 years and was absolutely sexy, funny and charming. Mary Wilson had been inducted along with Diana Ross and Florence Ballard as members of the Supremes into the Rock and Roll Hall of Fame in 1988.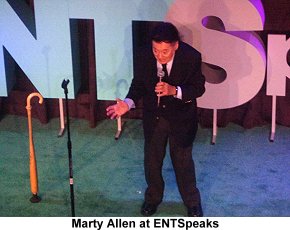 Marty Allen - Best known for his comedy partnership with Steve Rossi under the name Allen and Rossi. Marty is still great at age 93 and performs with his wife Karon Kate Blackwell. He just wrote a book "Hello Dere."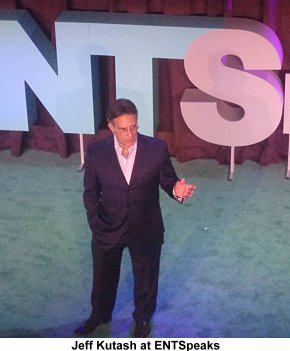 Jeff Kutash - Created Las Vegas's first water show 'Splash' at the Riviera, which was one of the longest running and most award winning shows in the history of Las Vegas.
Jeff was a former dancer and he choreographed John Travolta in "Saturday Night Live."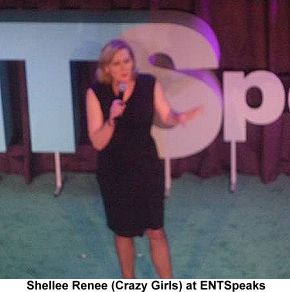 Shellee Renee - Starred in the Crazy Girls show 1990-1996 at the Riviera Hotel. Her rear-end is part of a famous Billboard and Bronze sculpture.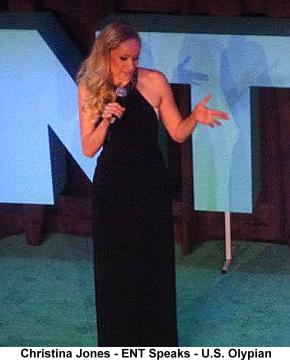 Christina Jones - Competed in Beijing as U.S.Olympian for synchronized swimming. Currently a synchronized swimmer in Cirque du Soleil's "O."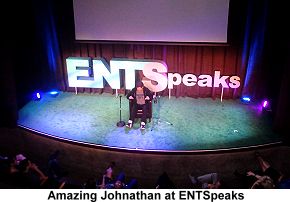 Amazing Johnathan - A Wild and Crazy stand-up Comedian/Magician known as the "Freddy Krueger of Comedy," has been a Las Vegas headliner since 2001. He started with his shtick, but shocked the audience that night by tearfully stating that he is dying and has a short time to live.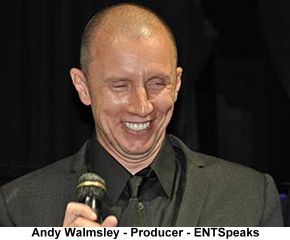 The evening ended with a Q and A. It was a late night show and many Las Vegas performers arrived late and stayed on until the wee hours at an After Party on the INSPIRE rooftop. Everyone echoed they can't wait until the next ENTSpeaks.
---
Sam's Town Live! on Saturday, November 22 will bring together a bevy of local performers including magicians, singers and more to benefit Life Long Dreams, a local performance and visual arts visual arts non-profit organization that helps children and young adults with disabilities learn to express themselves and their dreams through arts. Original artwork created by the Life Long Dreams students and abstract expressionist
artist Jole' will also be on display for viewing and purchase. Performers include Mark Bennick and Pip, magicians of America's Got Talent and Australia's Got Talent fame; Genevieve Dew, a locally renowned singer who has shared the stage with Clint Holmes and the Scintas; former Las Vegas Tenors member Mark Giovi; the Las Vegas Mass Choir; pianist Ned Mills and more.
Showtime is 2 p.m. Tickets are available for $50 for reserved seating and $20 for general admission, plus taxes and convenience fees.
---
Once again crowds of people and children gathered to watch the Holiday Lighting Ceremony and marveled at the nearly 300 species of plants, cactuses and flowers at the Botanical Cactus Gardens by Ethel M Chocolates.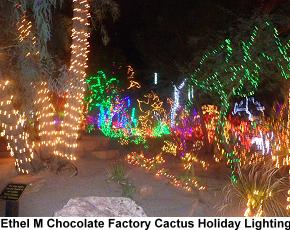 There was Santa, face painting, animal balloon shaping, going inside to see how the chocolates are made, former Mayor Oscar Goodman and entertainment. A fun and beautiful time for all. You can still see these wonderful Holiday Lights and see how the chocolates are made throughout the holiday season at ETHEL M CHOCOLATE FACTORY.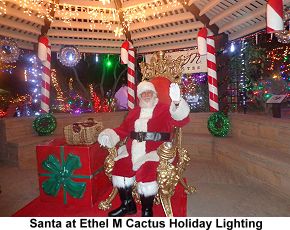 The South Pacific Islands meet the excitement of the Las Vegas Strip at Kahunaville's new Showroom inside Treasure Island. 'Island Heat LuWow' brings the dinner show back to the Strip; combining the excitement of Polynesian dance with a Las Vegas twist. Featuring an Elvis' Blue Hawaii tribute and a Tahitian tribal drum performance to the Black Eyed Peas, this high energy show is pure excitement and fun for all ages. The shows' dinner menu offers traditional Hawaiian flavors and non-native dishes presented by Chef Lira including white chocolate macadamia bread (paola), Big Island Lua'ai (salad) and the choice of Macadamia Crusted Mahi Mahi, Teriyaki Flank Steak, Ahi Tuna or Pina Colada Chicken for an entrée. Dinner Show tickets are $59.99, plus taxes and fees, and can be purchased at kahunaville.com or by calling 702-894-7350. Show only tickets are available at $39.99, plus taxes and fees. Two shows daily - Wednesday through Monday at 6:00 and 8:00 p.m.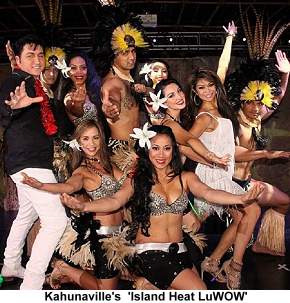 Celebrating National Finals Rodeo, the new Downtown Las Vegas Events Center (DLV) invites fans to kick up their boots and let loose under the stars on Friday, Dec. 5 with a special concert featuring seven-time GRAMMY award-winning group Lady Antebellum, hit solo artist David Nail and breakout female duo Maddie & Tae. Lady Antebellum recently tipped the charts with their white-hot single "Bartender," taking the No. one spot on both Billboard Country Airplay and Mediabase radio. Solo crooner David Nail will kick of the night when he opens the stage for Lady Antebellum. The Downtown Las Vegas Events Center is located at the corner of Third St. and Carson Ave.
---
Although it is early, tickets are now on sale for The Brian Setzer Orchestra 11th annual Christmas Rocks! Extravaganza at Pearl Concert Theater inside Palms Casino on December 20 at 8 p.m. The tour features music from the group's three best-selling Holiday Albums, as well as original material from Brian Setzer, and has become one of the most exciting annual rockin' Christmas events on the planet. Tickets start at $43, plus any additional service fees. Three-time GRAMMY Award-winner Setzer is a "musician's musician," credited with consistently taking chances with innovative and daring musical styles, while single-handedly resurrecting two forgotten genres of music - rockabilly in the '80s and swing in the '90s. Along the way he has scored chart-topping hits throughout his decorated career as founder and leader of the Stray Cats, his 18-piece Brian Setzer Orchestra, and as a solo artist. To purchase tickets, visit the Pearl Box Office, call 702-944-3200, or visit any Ticketmaster location,
Other scheduled performances at the Pearl Theater: Nov. 14 - Judas Priest; Tickets start at $69, Nov. 22 - Culture Club; Tickets start at $63. (Oh! Just got word that Culture Club had to cancel, as Boy George has a medical issue. We wish him well, and hopefully, they will perform at a later date) Alice Cooper; Tickets start at $50, Nov. 28 - Chrissie Hynde; Tickets start at $43, Dec. 6 and John Prine; Tickets start at $39.
CONTINUE ON TO...:

> Entertainment Tidbits Archives
>Las Vegas News "Heard Around Town"
>Las Vegas Leisure Guide<