THE VENETIAN / PALAZZO has literally brought a magical WINTER WONDERLAND celebration to the Las Vegas Strip featuring holiday festivities. From now until January 8, 2012, The VENETIAN and THE PALAZZO are bringing a true celebration of the winter season to the Las Vegas Strip with WINTER IN VENICE. Colorful characters are all around spreading good cheer. There is the largest ice skating rink on the Strip, surrounded by string lights, brilliantly lit trees and warm music. You'll enjoy seasonal treats, like eggnog cupcakes, warm apple cider and delicious hot chocolate. And, as the sun sets you are dazzled by a Nightly Holiday Spectacular Light show and Thrilling Performances. There are all kinds of festive surprises in store, so be sure to visit WINTER IN VENICE.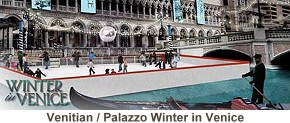 So many spectacular parties are going on here in Las Vegas for Christmas and New Years Eve that it would be impossible to list them all. However, here is one that is always spectacular and is happening for the 4th consecutive year.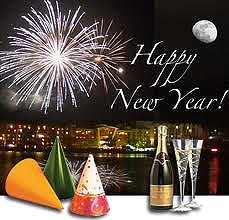 Celebrate New Year's Eve with the 4th Annual TributePalooza at Fremont Street Experience Ultimate Street Party. And, rock in the New Year with Concerts all Weekend. The Ultimate Street Party with nonstop entertainment has been set for New Year's Eve celebration from 6 p.m. – 2 a.m. The spectacular New Year's Eve bash will showcase two featured bands, Steel Panther and Rock Sugar, plus great music from 10 incredible and authentic tribute bands performing throughout the evening.
TributePalooza will also include a 2011 year-in-review retrospective on the Viva Vision screen; a midnight countdown led by Las Vegas Mayor Carolyn Goodman, and an epic Fireworks by Grucci produced fireworks show synchronized with virtual fireworks on Viva Vision that is part of the citywide celebration, "America's Party: Las Vegas New Year 2012." Additionally, the celebration will happen all weekend long with free concerts by tribute bands on both Friday, Dec. 30 and Sunday, Jan. 1.
On New Year's Eve, admission to TributePalooza is $30 per person and marks the only time of year when the FREMONT STREET EXPERIENCE has paid, ticketed admission. FREMONT STREET EXPERIENCE is restricted to persons 21 and over on New Year's Eve only and up to 30,000 celebrants are expected. Advance tickets are on sale by calling 702-386-8100 or online at www.vegasexperience.com/newyearseve. Will call for these tickets will be available at the Golden Nugget -- Dec. 29 & 30 at the box office and Dec. 31 at the Carson Tower front desk.
FREE, FREE, FREE – If you are looking for fun, free entertainment to celebrate the New Year, you can get down and shake your groove as disco era cover band Boogie Knights takes over THE LOUNGE inside the PALM CASINO for two free performances New Year's Eve weekend on Friday, Dec. 30 and Saturday, Dec. 31 at 11:15 p.m.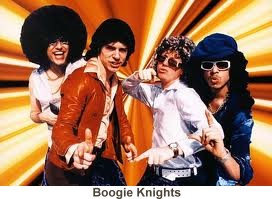 Boogie Knights will perform two special shows New Year's Eve weekend in the PALMS intimate venue, THE LOUNGE. With the curtains pulled back at THE LOUNGE, guests can stop in and hit the dance floor during this celebratory weekend. Fans can expect to hear all the hits of the disco era from artists including, KC and The Sunshine Band, Sister Sledge, Donna Summer, Gloria Gaynor and more.
You still have time to enjoy the cherished holiday tradition of NEVADA BALLET's production of THE NUTCRACKER at PARIS LAS VEGAS!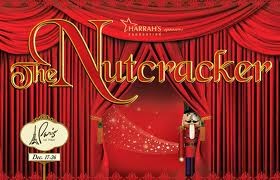 Performances: Sunday, December 18 at 1 and 5pm (The featured dancer in VEGAS! The Show, fabulous, Tara Palsha, will host "The Nutcracker" 5pm. show)
Sugar Plum Party at Sugar Factory American Brasserie 3-5 pm.
Tuesday, December 20 at 7pm, Wednesday, December 21 at 7pm
Thursday, December 22 at 7pm, Friday, December 23 at 7pm
Saturday, December 24 at 1 and 5pm
Call:tickets/information (702) 946-4567.

This year the legendary STUDIO 54 in the MGM GRAND

will host its final New Year's celebration ever, hosted by the lovely and incomparable -- drumroll please -- Pamela Anderson. General admission tickets start at $150 (with open bar from 9-11pm). After 14 years the Studio 54 nightclub is closing in January (Ed. note - the closing has just been delayed until February 2012), so if you have never been there, you still have a little time left to do so.
LUXOR's sexy adult revue FANTASY spices up the season with a special deal for Nevadans. With a valid photo ID, Nevadans will receive half-off the total ticket cost for shows until Sunday, Dec. 25. Additionally, Las Vegas locals will receive a complimentary 2012 "Ultimate FANTASY" calendar with their purchase. The calendar includes photos of the gorgeous showgirls dressed in lingerie to help count down the days of 2012.
SILVERTON CASINO/HOTEL offers unique environment for family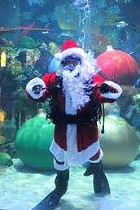 photos with Santa as they are spicing up the holiday season again by putting Santa Claus in a whole new environment…the resort's 117,000 – gallon aquarium! The underwater Santa will be posing in his new environment in December, offering guests and families a chance to get creative with their yearly Christmas photos. 10 a.m. to 1 p.m. each day Saturday Dec. 17, 24 and Sunday, Dec. Dec. 18.
And, SILVERTON Hotel/Casino has something for your Date Nite, Thursday, Dec. 22 at 6:30 p.m. in their Veil Pavilion. Cuddle up with your sweetheart during Date Nite and enjoy a free movie. Spend the evening with someone close to your heart while you enjoy watching "A Christmas Story" on Dec. 22. Drawings will be held during intermissions – the first drawn wins $1,000 in Free Slot Play, second through tenth wins $100 in Free Slot Play plus a DVD and 200 base points.
"Michael Jackson THE IMMORTAL World Tour" is a fusion of visuals, dance, music and fantasy that immerses audiences in Jackson's creative world. Aimed at lifelong fans as well as those experiencing Jackson's creative genius for the first time, the show captures the essence, soul and inspiration of the King of Pop, celebrating a legacy that continues to transcend generations. You can see this show through December 27 at MANDALAY BAY.
The V THEATRE inside the MIRACLE Mile Shops at PLANET HOLLYWOOD has a new lineup of additional shows for all. New shows are:
Santa's Magical Circus with his all-star cast of comedians and critters are putting on a special holiday show now through December 31st. Santa's Magical Circus features hilarious holiday skits, one-of-a-kind illusions, showgirls and some of the best specialty acts on the Strip including "Skippy" the talking rabbit, puppeteer Anthony Rais and comedian Max Clever. Showtime 6pm nightly.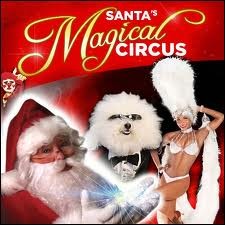 The world famous Gregory Popovich Comedy Pet Theater is back with new purr-formers, unbelievable tricks and outrageous fun for the whole family with $1 from every ticket sold supporting local animal shelters. Comedy Pet Theater features an amazing cast of housecats, dogs, even geese! Critics describe it as a unique blend of physical comedy, world-championship juggling and the extraordinary talent of performing pets, all of which have been rescued from animal shelters and transformed into Las Vegas stars. Popovich Comedy Pet Theatre has partnered with 'Those Left Behind Foundation' to fundraise and increase shelter awareness. Showtime 4pm, dark Wednesdays. .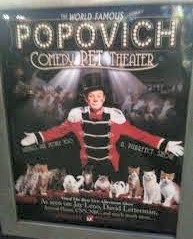 V The Ultimate Variety Show at V Theater newest daredevil duo, "The Skating Aratas," is now blowing away audiences. The roller skating stunt team performs acrobatic tricks all while spinning at dizzying speeds on a circular stage. Their performances are said to be among the most difficult and dangerous in the industry.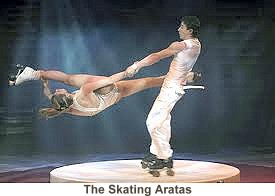 Also joining V The Ultimate Variety Show's elite entertainment roster is "Melinda – First Lady of Magic" whose daring illusions have landed her in the national spotlight, appearing on Oprah, The Tonight Show, and in her own televised Disney special broadcast on the CBS network. Showtime: 7 and 8:30 nightly.
For more information call the box office at 1.866.932.1818
TOP OF NEXT COLUMN
HARD ROCK CAFE on the Strip along with SMASH MAGAZINE presents JINGLE BELL BALL featuring Summit Grove, Red Wine Rewind, Play for Keeps, Parade of Lights, Offset Season, Article Pilot and Avalon Landing for a one-night-only benefit concert on Friday, December 23, doors open at 5 p.m.
This Holiday Rock event will be boasting some of Vegas' noteworthy, local artists with all the donations benefiting the Nevada Partnership for Homeless Youth and Ronald McDonald House Charities of Greater Las Vegas. Tickets are $5 with an unwrapped, new toy donation, or $10 at the door.
NIGHT SCHOOL 4 GIRLS at EXCALIBUR Hotel & Casino will kick off 2012 with a bang with a special ticket offer throughout December and January. For only $20.12, class participants will have the opportunity to learn sultry burlesque moves and pole-style dancing. Laura Croft, star of E! "Holly's World" and Night School 4 Girls' head party girl, invites all ladies to ring in the New Year by leaving behind their inhibitions from 2011. Ladies can kiss 2011 goodbye with a package that includes the one-of-a-kind all-girl class, an official Night School 4 Girls diploma and a signature souvenir photograph. The 70-minute class features fun and flirty burlesque moves as well as boa and pole tricks, so ladies can take their sultry moves to party the night away at the hottest clubs in Sin City.
Night School 4 Girls is located in the Thunder From Down Under Showroom at EXCALIBUR every Friday at 2 p.m., 3:30 p.m., 5 p.m. and 6:30 p.m. Class times for Saturdays are 11 a.m., 12:30 p.m., 2 p.m. and 3:30 p.m. and Sundays at 2 p.m. and 3:30 p.m. Packages regularly start at $39.95. For reservations, ladies may call 702-597-7600, or visit www.excalibur.com or www.NightSchool4girls.com.
Name That Tune Live!, the up-to-date,

fast-paced version of the iconic daytime game show, is performed Saturday through Thursday at 4 p.m. in the Human Nature Theatre at IMPERIAL PALACE. Name That Tune Live! is hosted by talented duo and Las Vegas favorites, Zowie Bowie and Marley Taylor and gives 50 participants per show the chance to win thousands of dollars in cash and prizes. With a live DJ, music ranging from country to rock n' roll to Broadway show tunes, and an amazing set by Emmy Award-winning designer Andy Walmsley, ("American Idol," "So You Think You Can Dance" and "The Sing Off," among others), Name That Tune Live! is an interactive experience unlike any other.
The DANNY WRIGHT FOUNDATION OF MUSIC presented A SOULFUL CHRISTMAS show with a myriad of wonderful performers performing their hearts out to an appreciative audience. The Danny Wright Foundation of Music's motto is "Healing the Planet One Heart at a Time Through The Power of Music." The Foundation helps children with catastrophic illnesses in hospitals, brightens the lives of seniors, re-establishes music and cultural arts programs, expands the "Youth Day" program with the Las Vegas Philharmonic and brings quality live entertainment back into the community.
Danny Wright, International recording pianist, and Friends featured Las Vegas headliners and the finest in local performers with fantastic opera classics, Christmas favorites and more. Headed by M.C. LJ Harness and the Tony Drake Band, some of the performers were: Genevieve Dew, Lisa Gay, Mark Giovi, Kaci Machacyk, Lannie Counts, Donna Lynne, Martin Mancuso, Roy Hamilton, Jr., Jack Walker, Alex Christopher, Joe Di Nunaio, Dennis Bono, Lorraine Hunt Bono and believe it or not, many more in the three hour show at BINIONS.
SAPPHIRE GENTLEMEN'S CLUB celebrated their 9th anniversary in

"Rat Pack" style with music, martinis and more. SAPPHIRE also commemorated the street name change from INDUSTRIAL ROAD to SAMMY DAVIS Jr. PARKWAY. In case you don't know or don't remember, The Rat Pack was a group of celebrity friends and buddies who whooped it up in Las Vegas in the 50's and 60's. The main members of the Rat Pack were Frank Sinatra (unofficial leader of the Pack), Dean Martin, Sammy Davis Jr., Joey Bishop, Peter Lawford, and sometimes Shirley MacLaine. They were known for not only being great entertainers but also for drinking, carousing, smoking cigarettes, and having a good old time which is what this anniversary celebration was all about!
SAPPHIRE was the sponsoring land owner on INDUSTRIAL ROAD to recommend the name change of Industrial Road between Twain and Sahara to SAMMY DAVIS Jr. PARKWAY which would create an intersection near the Strip where Davis would be united with "Rat Pack" buddies Frank Sinatra (Drive) and Dean Martin (Drive). SAPPHIRE volunteered to make a contribution toward the fees required by Clark County to facilitate the change. These fees cover new street signs and other expenses relating to the name change that effects over 90 addresses and many more businesses.
Some great happenings for Sports Fans:
ESPN Radio is proud to welcome Las Vegas local and the Dallas Cowboys' record-breaking rookie running back, DeMarco Murray, to its lineup. The DeMarco Murray Show airs Tuesdays from 4 p.m. to 5 p.m. on ESPN Radio 1100 AM and 98.9 FM. With a focus on both professional and high school sports, the hour-long show features "sports talk from an athlete's perspective."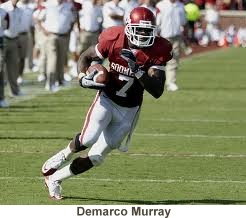 In his rookie season, Murray, a Las Vegas local and Bishop Gorman High School graduate, has already established himself as one of the National Football League's top running backs and most exciting players. Drafted in 2011 from the University of Oklahoma, Murray already owns the single-game rushing record for a Cowboys running back, as well as the second-most rushing yards in a game by a rookie in NFL history. Adding to his accolades, Murray also holds the record for the second-longest touchdown run by a Dallas Cowboy, as well as the 10th most rushing yards in a game in NFL history.
Joining Murray is Major League Baseball's 1995 American League Rookie of the Year, Marty Cordova. A Las Vegas native, Cordova played nine seasons in Major League Baseball. With 122 homeruns and a career average of .274, Cordova established himself as one of baseball's leading hitters. Throughout his career, Cordova played for the Minnesota Twins, Toronto Blue Jays, Cleveland Indians and Baltimore Orioles.
The Biggest FREE Football Party every Sunday is at the HILTON's Hilton Theater. Doors open at 9am. There is unbelievable viewing on 11 huge screens with featured games on a 15' X 20' HDTV and state-of-the-art sound system in a smoke-free environment! Convenient remote betting stations and phenomenal food and drink specials including $1 dogs and $2 Budweiser are available.
Magnificent memorabilia is displayed each week courtesy of American Memorabilia Magazine! Radio personalities will be on hand from KOMP 92.3, 97.1 The Point, ESPN 1100 & 98.9 and FOX 920 AM!
And there are an amazing amount of prizes including:
Drawing for a 1-year lease on a MYSTERY 2012 Range Rover from Land Rove
A pair of leather recliners from Walker Furniture!
A 42" 3D flat screen TV, courtesy of Bust Out Bail Bonds!
Jagermeister chilled shot machines!
Rounds of golf given away weekly courtesy of Arroyo Golf Club and Siena Golf Club! WOW!
CABO WABO CANTINA in Miracle Mile Shops at PLANET HOLLYWOOD is the place to be to catch all of the action in the battle between two of the biggest heavyweight names in the UFC, as Brock Lesnar takes on Alistair "The Reem" Overeem in the main event of UFC 141, live from Las Vegas on Friday, Dec. 30. Admission to the viewing party is $20 and includes access to CABO WABO's viewing party where UFC enthusiasts can catch the heavyweight fight on a large projector screen, as well as multiple high-definition televisions throughout the restaurant and bar. While guests cheer on their favored fighters they may also enjoy the Cantina's killer margaritas and tasty Mexican fare. Sammy Hagar's hard rockin'dining and live music venue Cabo Wabo Cantina combines the laid back beach-town vibe of Cabo San Lucas, Mexico, with the excitement of the Las Vegas Strip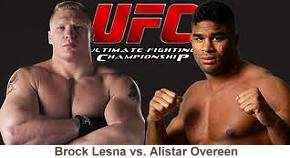 Doors open at 5 p.m. and include the showing of all matches leading up to the main event. For more information or to reserve a seat, contact Cabo Wabo Cantina at 702.385.2226 or visit www.cabowabocantina.com.
THE SMITH CENTER SURPASSES IMPORTANT FUNDRAISING MILESTONE. The $470 million initial fundraising goal has been secured with just

over seven months to go before opening. This wonderful achievement showcases the amazing support The Smith Center has throughout the community and ensures the Center's complete construction and opening operational costs are covered. The Center will now shift focus to a Capstone Campaign to enhance education programs, launch the opening week events and provide and ongoing base of operating support.
"The Keeper of the Keys" a unique self-help movie with a relatable and funny fictional story, premiered at the new PLAZA. The film stars Jack Canfield, co-creator of the "Chicken Soup for the Soul" franchise and author of "The Success Principles;" Dr. John Gray, Ph.D., author of "Men are from Mars, Women are from Venus;" Marci Shimoff, author of "Happy for No Reason," "Love for No Reason" and "Chicken Soup for the Woman's Soul." and also featured 15 personal development experts each sharing deeply personal stories of challenges, success and overcoming adversity.
A red carpet introduced author/ producer, Robin Jay, director and co-author, Scott Cervine (who were both in the film).and the stars of the film, who were all there to celebrate the Premiere. I was quite impressed with the movie that was never boring, fast moving and quite inspirational along with some laughs. Watch for KEEPER OF THE KEYS, I'll let my readers know when it is available.
Congratulations to the Gold Coast as they mark their 25th Anniversary Wednesday, December 21 at 2 p.m.
On December 21, 1986, Gold Coast Hotel & Casino opened to the public as one of the first local casinos west of the Strip. The property will celebrate its 25th anniversary with cake and a champagne toast with remarks by Boyd Gaming Executive Chairman Bill Boyd, Gold Coast Vice President and General Manager Kerrie Burke, and LVCVA Host Committee Chair Oscar B. Goodman.
HERE'S WISHING VERY HAPPY HOLIDAYS TO ALL MY READERS.
CONTINUE ON TO...:
> Entertainment Tidbits Archives
>Las Vegas News - "Heard Around Town"
>Las Vegas Leisure Guide<