CSI: The Experience, the unique attraction at MGM Grand based on the hit CBS show celebrates its five-year anniversary as a top destination for Las Vegas locals, tourists and fans of CSI alike. A challenging and fun multi-sensory attraction, CSI: The Experience places guests in the role of a crime scene investigator as they solve one of three true-to-life mysteries. Spanning 12,000 square feet and featuring thousands of hand-made props, CSI: The Experience comes to life through a captivating multimedia environment featuring dazzling special effects, meticulous crime scene recreations and two state-of-the-art crime labs. The CSI Experience has welcomed more than 700,000 guests and thanks to its national and international popularity, the numbers continue to grow. Located in The District at MGM Grand, CSI: The Experience is open daily from 9 a.m. - 9 p.m., with the last entry at 8 p.m.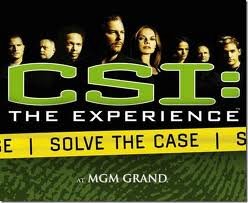 As October also is Domestic Violence Awareness Month, $3 from every full-priced ticket sold during the month will benefit S.A.F.E. House, which is committed to stopping violence and abuse in the family environment by providing safe shelter, support, advocacy, counseling and education.
---
The Huntridge Foundation hosted the 70th Anniversary Celebration of the Historic Huntridge Theatre. The swanky occasion was celebrated with a 1940s themed party at the Mesquite Club that boasts the longest running women's philanthropic club in Nevada since its inception in 1911. "The Ladies of Mesquite have shown caring and compassion for our community for over 100 years. The Anniversary Celebration was recognized by the State of Nevada Sesquicentennial Commission as an Official Nevada 150th year event.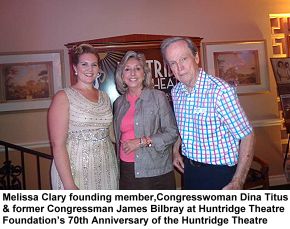 The evening featured live musical entertainment by Gentlemen of Four Outs - musicians hip to the 20s, 30s and 40s genre. Additionally, Joey Singer, a classical pianist entertained with 1940s tunes throughout the evening. Guests were transported back to the days of Casablanca, Clark Gable and Irene Dunne, paying homage to Las Vegas' historic past and a time when Christian Dior was the first to name the early evening women's frock, a "cocktail dress."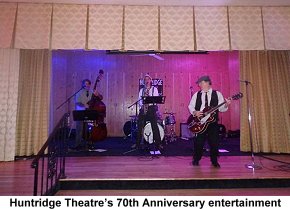 Guests viewed vintage theatre photographs from the Foundation's Memory Project and reminisced theatre memories of yesteryear. The goal of The Huntridge Foundation's Memory Project is to collect and archive memorabilia and materials related to the Huntridge Theatre.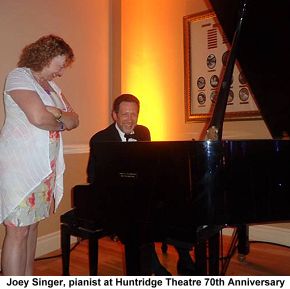 The event commemorated the October 10, 1944 opening of the Huntridge Theatre, the oldest standing theatre in Southern Nevada. The Huntridge Foundation welcomes volunteers and fellow theatre supporters to assist in the cause to preserve the theatre. Interested individuals may email the Foundation at thehuntridgefoundation@gmail.com for further information.
---
Celebrate Halloween at Gilley's Saloon, Dance Hall & Bar-B-Que at Treasure Island at the WANTED: Dead or Alive party, Friday October 31 at 7 p.m. with costume contests starting at 10 p.m. Guests are invited to attend in their most creative costume for a chance to win $1,500 in cash and prizes including: Best Costume Contest: 1st ($500), 2nd ($300) and 3rd ($100) place prizes. Costume Bull Riding Competition: 1st ($300), 2nd ($200) and 3rd ($100) place prizes. Any face masks must be removed when arriving at Gilley's, and if walking through the casino at Treasure Island. Drink specials will be offered from 7 p.m. to closing. Brian Lynn Jones will take the stage for a performance at 10 p.m.
---
Following two sold-out shows in June 2014, Jeff Bridges & The Abiders will return to Red Rock Resort for a live performance and album release party of their new record, Live on Friday, Nov. 14 at 8 p.m. Doors open at 6:30 p.m. and singer/songwriter Jessie Bridges, daughter of the Academy Award-winning actor, will open the show at 7:30 p.m. Jeff Bridges & The Abiders are Jeff Bridges (vocals, guitar, keyboards), Chris Pelonis (guitar, keyboards, vocals), Bill Flores (pedal steel, guitar), Randy Tico (upright, electric bass), and Tom Lackner (drums, percussion).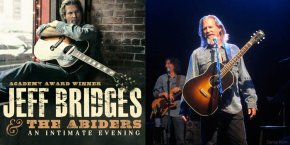 Recorded during his previous performances at Red Rock Resort, Jeff Bridges & The Abiders' new 14-track album, Live was released in September and features live recordings of songs from his debut album, Be Here Soon, as well as his self-titled follow up, original music from the critically-acclaimed film "Crazy Heart" and some of Bridges' favorite chosen covers of The Byrds, Tom Waits and Creedence Clearwater Revival. The album was produced and mixed by the band's musical director Chris Pelonis and mastered by Kim Rosen (Franz Ferdinand, Dashboard Confessional) at Knack Mastering. Live is now available for purchase in stores and online. Tickets for Jeff Bridges & The Abiders are $49 and $69 plus tax and applicable fees and go on sale Friday, Oct. 17.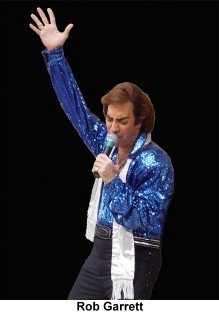 Rob Garrett, aka the "King of Diamonds,"and his band are now resident performers in the Shimmer Cabaret at the Westgate Resort & Casino. This marks the first ever casino residency for Garrett, who, in his 35-year career as a Vegas resident/entertainer, has accumulated quite a large, loyal, following.
Like his legendary counterpart, Rob was born in Brooklyn, NY. The family relocated to Las Vegas in the mid 1970s, and in 1980, Rob formed the Vegas band, Rock 'n' Roll Heaven. He began working bars, clubs, lounges, and even some showrooms, before ultimately deciding to change the direction of his career by becoming a Neil Diamond tribute artist for Legends in Concert in 1995. Garrett worked on and off for 'Legends' for about five years before going off on his own, traveling around the country (sometimes the world), becoming one of the most popular, respected, tribute acts in the industry and earning the title "King of Diamonds."
Members of Garrett's K.O.D. Band include Keith Neal (guitar/vocals), Steve Gerard (keyboards), Jeff Borree (drums), and Rosanna Telford (vocals).
Show times are from 8:30 to 9:40 p.m., Wednesdays through Sundays (dark Mondays and Tuesdays).
---
Life is Beautiful Festival Celebrates Malala Yousafzai Winning the 2014 Nobel Peace Prize. Malala Fund Cofounder and CEO Shiza Shahid is scheduled to speak on Friday, Oct. 24. Life is Beautiful Festival joins the world in celebrating the recipient of the 2014 Nobel Peace Prize, 17-year-old Malala Yousafzai, for her efforts to empower girls to reach their potential through quality education, particularly in her home country of Pakistan. The festival is honored to be able to play a small role in spreading Yousafzai's message by hosting Shiza Shahid, the CEO and co-founder of the Malala Fund, during the 2014 festival. Shahid will inspire the audience to find what they stand for, fully embrace it and influence that inspiration to change the world. Reflecting on her own life as a 25-year old CEO representing the voice of the Nobel Peace Prize's youngest laureate, Shahid will share her thoughts on what has changed with this recognition from the Nobel Prize Committee. She will also describe the legacy she and Malala hope to ignite alongside other global activists on Friday, Oct. 24 in the Learning Program.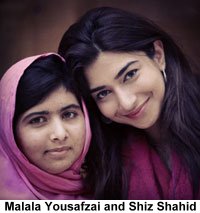 The Learning Program includes over 40 individual influencers and visionaries—including Ricki Lake; legendary Las Vegas headliners, Penn & Teller; Pussy Riot's Nadya Tolokonnikova and Masha Alekhina; renowned chef José Andrés; and Game of Thrones language creator, David J. Peterson. All Learning sessions will take place inside the Western Hotel at 899 Fremont Street. A uniquely interactive experience designed to engage the curious, Learning Program sessions will run from 2pm-7pm. Participants are encouraged to explore these 90-minute sessions and their insightful dialogs ranging from anti-bullying campaigns to tech industry disruption to finding your life's purpose.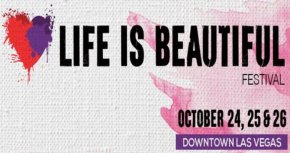 Held in the heart of Downtown Las Vegas, Life is Beautiful Festival attracted more than 60,000 patrons in its first year. For more information on the latest festival news, visit www.lifeisbeautiful.com
---
Rampart Casino executives, loyal players and guests commemorated the casino's 15-year anniversary with a champagne and cake-cutting ceremony on Friday, Oct. 10. Bubbly flowed and guests applauded as General Manager Michael Gaughan, Jr. led the group in a toast to the milestone. Following, excited guests lined up through the casino to partake in the festivities. 2014 marks the luxurious Rampart Casino's 15-year anniversary, in conjunction with JW Marriott Las Vegas Resort & Spa. The casino celebrates "15 Years of Fun" by adding hundreds of the industry's latest slots, a new state-of-the-art Bingo Room and more. The elegant 50,000 square foot casino, offers over 1,200 slot machines, two dozen gaming tables and a Race & Sports Book.
---
Sam's Town Hotel and Gambling Hall will light up the celebrated winter display at Mystic Falls Park for the 20th time on Wednesday, November 26, at 5:45 p.m. Bill Boyd will be joined by Sam's Town Vice President and General Manager John Sou to flip the switch on the season's first run of the cherished holiday show. Each year, the pioneer-themed Mystic Falls Park Light and Water Show transforms just before Thanksgiving to kick off the holiday season. This time-honored tradition has been decking the Gambling Hall since 1994. Festive lighting and decorative snowflakes lead guests through the property to Mystic Falls Park. Garland streams, wreath-adorned lampposts, and white light and snow-covered trees fill the atrium, while Cowboy Santa takes up residence in the Park's gazebo. The festive décor includes fan favorites such as lighted sculpture polar bears, indoor snow and mountains of poinsettias. Sam's Town will be hosting the 15-minute laser light spectacular hourly throughout the holiday season, from 5 p.m. to 10 p.m. through January 1. And from November 28 to December 23, Cowboy Santa will appear Thursdays and Fridays from noon to 4 p.m., and Saturdays and Sundays from noon to 8:30 p.m.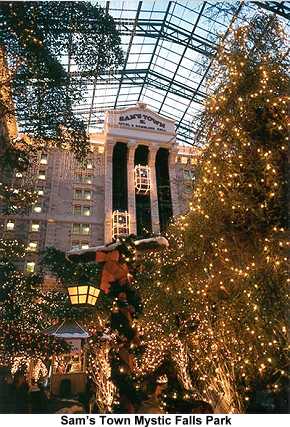 Another annual tradition is also returning as Sam's Town once again hosts a drive for the Cell Phones for Soldiers Program. From November 1-27, Sam's Town will collect used cell phones, chargers and other accessories, with each donated phone providing an hour of talk time to soldiers stationed abroad. To date, the non-profit organization has distributed more than 2.5 million prepaid calling cards to soldiers serving overseas. You can drop off used cell phones, chargers and other accessories at the B Connected Club at Sam's Town. All participants in the promotion will receive a two-for-one coupon for Sam's Town's Firelight Buffet.
TOP OF NEXT COLUMN
Wednesdays Downtown: 6 p.m. to midnight will occupy the streets in the Fremont East Entertainment District weekly at Las Vegas Boulevard and 7th Street, which will be closed for the night. The weekly event brings local businesses together to transform the area into a festive block party featuring a Food Truck Village, Painters Lounge, Downtown Dirty Bar Fight, the "World's Greatest Happy Hour by Coors," live entertainment, a silent disco and more. Participating restaurants and bars include Commonwealth, Park on Fremont, The Griffin, Beauty Bar, Triple B, Le Thai, Inspire, Wayfarer, The Beat, Insert Coins, El Cortez, Vanguard, La Comida and Vanguard.
Fremont East Entertainment District (FEED), created in 2002, is an entertainment district in the heart of downtown Las Vegas, adjacent to the popular tourist attraction the Fremont Street Experience. FEED is currently comprised of 6 blocks, from Las Vegas Boulevard East to 8th Street and from Ogden Street South to Carson. In 2007. The Las Vegas Redevelopment Agency and Fremont East property and business owners committed $5.5 million through public-private partnership for a major streetscape improvement. FEED is a pedestrian friendly community that combines diverse street-life, local businesses, eateries, side-walk cafes, bars and cocktail lounges and lively entertainment.
---
FOR THOSE WHO HAVE EVERYTHING. Artist Graham Knuttel offers ONE-OF-A-KIND MASTERPIECES FOR PET LOVERS. With the holiday season fast approaching, the question may already be lingering: What to give the obsessed animal lover who seems to have it all? The Knuttel Gallery, located in the Grand Canal Shoppes at Venetian/Palazzo, has the perfect solution to deck the halls in grandiose style: a commissioned painting of their pet by Ireland's most prolific artist, Graham Knuttel. If money is no object when it comes to the pet lover in one's life, you can memorialize the precious pup, cuddly cat or even loveable lizard in a lap of true luxury. Knuttel, often referred to as the "Irish Picasso", is known for capturing the spirit of the most discerning cats, dogs, horses, birds and even sheep, in his sculptures and paintings and now fans can commemorate their pet by the master artist. Private sittings begin at $25,000. His work has attracted an eclectic group of collectors including Sylvester Stallone, Colin Farrell and Bono, to name a few. To schedule a private sitting or for more information, contact The Knuttel Gallery at 702-228-8808.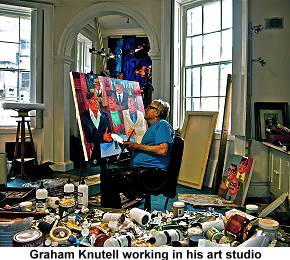 The City of Las Vegas and Sin City Opera will present "OperAntics," a comical concert of operatic favorites and mischief performed by the Sin City Opera Company, Saturday, Nov. 1, at 2 p.m. in the outdoor Sammy Davis Jr. Festival Plaza, located at 720 Twin Lakes Drive in Lorenzi Park. The public is invited to enjoy this free, 90-minute concert that presents the lighter side of opera in a family-friendly and exuberant way. Featuring operatic favorites from composers Mozart, Puccini, Rossini, Bernstein, and Gilbert & Sullivan, this concert will have you laughing and humming these tunes for days. The concert will be performed primarily in English, with a few pieces in the original languages, all by top operatic talent from the Las Vegas valley. Bring lawn chairs or blankets to be more comfortable in the outdoor amphitheatre.
---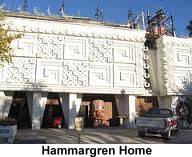 The 19th Annual Open House at the HAMMARGAREN HOME of NEVADA HISTORY will once again celebrate NEVADA DAY on Saturday and Sunday - November 1 & 2 from Noon to 5 p.m. This is an official function of Nevada's 150th Birthday - A Sesquicentennial Celebration. There will be non-stop Live Las Vegas Entertainers, tours and refreshments. Donation $15 - under 12 free. If you have never been to this awesome, unconventional and beyond description home, join the thousands who will be there to see what you will never see anywhere else at 4318 Ridgecrest Drive.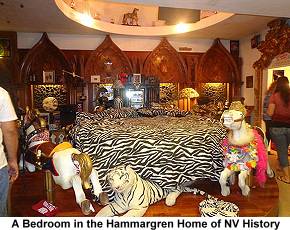 The children of some of the biggest names in entertainment will come together for a special history-making performance at the M Resort Spa Casino on Saturday, November 8. An Evening with The Next Generation will showcase the extraordinary musical talents of Ricci Martin, son of Dean Martin, Lorna Luft, daughter of Judy Garland, Lena Prima, daughter of Louis Prima, and Steve March-Torme, son of Mel Torme, as they celebrate their legendary parents. Anthony Lewis, son of comedian legend Jerry Lewis, will host the event as the Master of Ceremonies.
An Evening with The Next Generation is the first-time collaboration between the sons and daughters of the musical icons who shaped the American songbook as it is known today. Audiences will witness an incredibly special musical celebration interpreted through the hearts of those held nearest and dearest. Accompanied by a 10-piece band and spectacular never-before-seen video montages, this historical ensemble should not be missed. The concert begins at 7 p.m. Tickets can be purchased at the M Box Office, by phone at 800-745-3000 and are priced at $29.99 and $34.99 plus taxes and fees.
---
Las Vegas is considered by many to be the "ninth island" of Hawaii. The Las Vegas Philharmonic's first Pops Series concert for the 2014-15 season will celebrate the strong connection between the tropical paradise and our desert oasis by showcasing traditional and popular Hawaiian music in a program called "Aloha from Las Vegas." The concert will take place Saturday, November 15th at 7:30PM at The Smith Center for the Performing Arts. The concert will feature the full orchestra conducted by Matt Catingub, guest vocalist Amy H naiali'i, and guest drummer Steve Moretti. H naiali'i's guitarist and bassist, Jeffrey Peterson and Stephen Jones, will also take the Reynolds Hall stage for the Hawaiian-themed performance. Highlights from the program include the popular theme song Hawaii Five-O and the 1966 hit originally performed by Don Ho, Tiny Bubbles. In addition, Amy H naiali'i will perform her biggest hit, Haleiwa Hula, and other notable songs including Have You Ever Seen The Rain, written by John Fogerty, and Hukilau, a traditional Hawaiian song. Matt Catingub is the Founder & Artistic Director of Hawaii Pops and long-time Pops Conductor of the Honolulu Symphony and the Hawaii Symphony. He is the son of great jazz vocalist and "Polynesia's First Lady of Song," Mavis Rivers.

The Las Vegas Philharmonic will perform five Pops Series programs during the 2014-15 season, including its annual holiday concert on December 6th, A Gershwin Valentine on February 14th, a Symphonic Spectacular showcasing popular classics on March 28th and A Tribute to Frank Sinatra on May 16th in celebration of Sinatra's upcoming 100th birthday.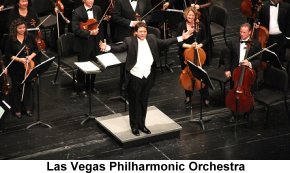 Chef Bobby Flay and staff from MESA Grill at Caesars Palace visited Three Square Food Bank for a private tour and award presentation. Chef Flay was in Las Vegas to celebrate the 10th anniversary of MESA Grill at Caesars Palace, and the tour provided an opportunity to demonstrate how MESA Grill's charitable contributions are being utilized. Matt Muldoon, Chief Development Officer of Three Square, and Diana Bennett, Board Chair of Three Square, guided the tour for Chef Flay and the MESA Grill team members, and fielded questions from the group regarding hunger in Southern Nevada and Three Square's efforts to solve the problem of hunger in the community.
Following the tour of the Three Square campus, Matt Muldoon awarded a plaque to Chef Flay and MESA Grill general manager Jean-Pierre "JP" Francois in recognition of MESA Grill as the 2014 Fall Las Vegas Restaurant Week top donor at the Gold donor level, donating $8,825 in proceeds from the week-long event. To date, MESA Grill has donated more than $64,000 to Three Square from Restaurant Week proceeds, providing more than 192,000 meals back to the community. The management and staff of MESA Grill continue their dedication to solving hunger in our community by volunteering at Three Square throughout the year.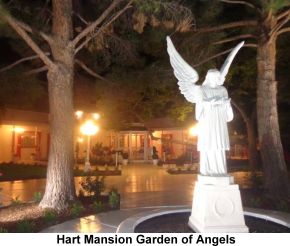 After a three-month, million-dollar renovation, the famous Hart Mansion aka Hartland Mansion celebrated the new look and dedication of the new Toni Hart "Garden of Angels" honoring the late Toni Hart. The Garden of Angels features a life-size angel statue and 100 hand-signed ceramic angels positioned at various locations throughout representing 100 individuals who touched Toni Hart's life. The garden also includes 350 Japanese Boxwood plants, dozens of rose bush plants, night-blooming jasmine, Fuchsia Hibiscus, orange trees, and acacia trees surrounding a Victorian-inspired Gazebo. Among the hundreds of details to the mansion that have been renovated and restored, a standout is a Christos and Jeanne-Claude-inspired art installation... "The Beauty of Light" featuring 36 crystal chandeliers with 8,900 crystal drops, hung under the porches of the sprawling estate, which in length is 50 feet shy of a football field. Italian wicker and Moroccan tile outdoor furniture and a gilded front door with 19,000 Swarovski Crystals placed one at a time on the head of a crayon add more glamour. Among some of the history of this great mansion: Ginger Rogers danced here. Michael Jackson moonwalked here. Willie Nelson sang here. Engelbert Humperdinck dined here. Cee Lo Green, Miss Piggy and The Muppets filmed a music video here. Robert De Niro and Sharon Stone made a movie here. Jackie Collins launched a book here. The Las Vegas Symphony gave a concert in the Grand Party Room for 400 guests.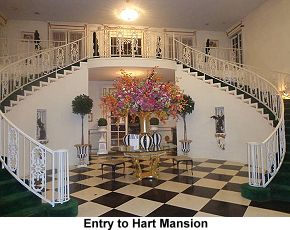 For the past 30 years, Hartland Mansion under the founding leadership of Dr. Toni Hart has been a premier event location playing host to countless weddings, Bar Mitzvahs, social and corporate events and filming. Although the sprawling historical home has undergone a design overhaul, son, Larry Hart staunchly abides by his mother's hallmark philosophy of offering handcrafted events with unwavering attention to detail and an impeccable standard of service. The venue can host up to 180 guests for Corporate events, Galas and Weddings. The glamour of old Las Vegas is alive and well at Hartland Mansion.
---
Wendy Williams, media personality will host the Soul Train Awards 2014 at the Orleans Arena on November 7. The show will feature a lineup of unforgettable performances by industry icons and today's leading musicians. The show kicks off a weekend of events at the Orleans, including Centric Comedy All Stars on Saturday, November 8 and two shows of Centric Presents: The Soul Train Review on Sunday, November 9. The 2014 Centric Soul Train Awards will be broadcast on Centric and BET November 30 at 5 p.m. PST. Tickets are now on-sale.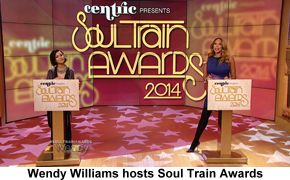 The Loft is a new posh, 5,000-square-foot private party and special event space now open on the second level of Cabo Wabo Cantina inside Miracle Mile Shops at Planet Hollywood Resort & Casino. The Loft has extremely stunning skyline views of the Las Vegas Strip and is in a central location on Las Vegas Boulevard. Reception menus are interesting and varied. The Loft is an ideal space for corporate events and private parties of all varieties and also hosts special events throughout the year, such as pay-per-view UFC viewing parties, NFL and NCAA regular viewing parties and more. The space is a hub for sports lovers, offering 16 big screen TVs, including a 15 foot projection screen, a 14 foot video wall and two 80 in HD TVs.
CONTINUE ON TO...:

> Entertainment Tidbits Archives
>Las Vegas News "Heard Around Town"
>Las Vegas Leisure Guide<