The Holiday Season is dazzling our town in so many places. Below are some venues where you can see the best.
Glittering Lights, the holiday drive-through spectacular, once again illuminates the Las Vegas Motor Speedway nightly through Sunday, Jan. 5, 2014. Featuring more than 400 animated, energy-efficient LED lights along a 2.5-mile racetrack, the attraction is back for its 13th season and its fourth at Las Vegas Motor Speedway.
A new element will debut on Friday, Nov. 29 is the Living Nativity made possible by the branches of the United Methodist Church. Another added attraction is the Princess Fairy World and back for its second year will be the Avenue of Trees, a dazzling display of Christmas trees that pays tribute to the charities Glittering Lights has supported through Speedway Children's Charity.
Glittering Lights open nightly Sunday - Thursday from 5:30 - 9 p.m. and Friday and Saturday from 5:30 - 10 p.m. $15/vehicle on weeknights and $20/vehicle Friday - Sunday and holidays. The Living Nativity runs every Thursday - Saturday through Christmas with additional dates on Sunday, Dec. 22 - Tuesday, Dec. 24. The first 15,000 vehicles will receive a gift bag filled with goodies.
A portion of Glittering Lights' proceeds will aid Speedway Children's Charities efforts in funding children's charities throughout Southern Nevada. Goodwill of Southern Nevada is also offering $2 off admission with a donation of gently used items at any of the 30 sites located in Southern Nevada or at the gates of Glittering Lights.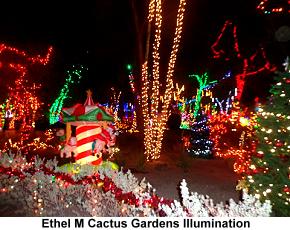 Ethel M Chocolate Factory holiday illumination is absolutely indescribable. More than half a million lights decorate their three acre Cactus Gardens. The Ethel M 20th Annual Holiday Cactus lighting event featured live entertainment with M.C. George Wallace, Mosaic and Michael Grimm and Schofield Middle School and Coronado High Schoolers singing Holiday Classics. Former Mayor Oscar Goodman was there and Santa Claus made his entrance. You must see to believe!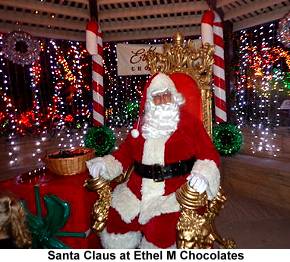 THE NEON MUSEUM will have a holiday ornament-making activity that will take place on Saturday, Dec. 14 from 3 to 5 p.m. This event will be followed by hot chocolate and caroling by Las Vegas Academy singers in the Boneyard's outdoor events area from 5 to 6 p.m., during which time families will also enjoy the dazzling atmosphere of the seasonally illuminated Boneyard. This program is part of the City of Las Vegas Cultural Corridor's "December to Remember" holiday festival. This event is free and open to the public.
And, NEON MUSEUM TO BE LIGHTED FOR THE HOLIDAYS, NOV. 30 - DEC. 31. For the first time, the Neon Museum will be illuminated with a special, holiday-inspired palette of lights. All visitors taking night tours of the Neon Boneyard will be able to experience the seasonal lighting. Night tours of the Neon Boneyard are $25 for general admission; seniors, students, active military and veterans and Nevada residents are $22.
---
Exquisite beauty was set forth in thrilling flawless performances by The Nevada Ballet Theatre's "Tribute to Tchaikovsky." at The Smith Center for the Performing Arts. The immortalized characters of Swan Lake & Sleeping Beauty came alive on stage with the two enchanting love stories set to the timeless scores of the legendary Peter Ilyich Tchaikovsky. In addition to brilliant performances, costuming and staging were excellent. If you missed this, make sure you see The Nutcracker during December.
---
Five-time Grammy® Award winner Wynonna and her band The Big Noise will perform at The Orleans Showroom December 6 and 7. Wynonna first rose to fame in alongside her mother, Naomi, as the country music duo The Judds in the 1980s. The duo released seven albums and charted 26 singles, 14 of which were No. 1 hits. In 1991, Wynonna pursued a solo career, and her first four singles, "She Is His Only Need," "I Saw the Light," "No One Else on Earth" and "My Strongest Weakness", reached No. 1 on the U.S. country singles chart. In all, Wynonna has released nine albums, a holiday collection and two compilation albums as a solo artist. At the MAGIC Fashion and Apparel Trade Show in Las Vegas earlier this year, Wynonna announced her new women's show line, Got Soul. The new collection of bedazzled sneakers, wedges and flats available at boutiques across the country.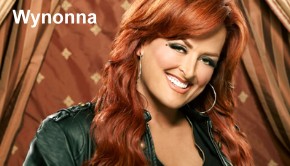 ALIANTE Casino + Hotel was honored by the City of North Las Vegas with a proclamation as 'Aliante One-Year Independence Day' followed by a ribbon-cutting ceremony to officially open the resort's new 24-hour café, FARM 24-7. Since becoming an independently-owned and operated property, ALIANTE has generated more than 200 new jobs for the local community.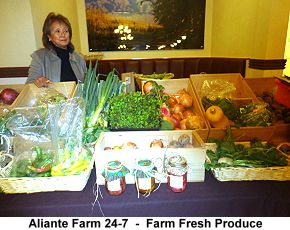 Aliante Casino's new Farm 24-7, (open 24-7) serves up farm-fresh fare from Las Vegas farms. Cowboy Trail Farms and Gilcrease Orchard are just two of the local farms providing the ingredients, along with fruits and vegetables found at local farmers' markets. Media was invited, and I was really impressed. We had samples of their delicious food and the homemade Cherry Pie was so flaky, it was to die for. We were given bags to take home some of the impressive Farm produce. The decor includes photos and pieces found at the farms providing the ingredients. Congrats to ALIANTE!
---
PANDA!, the first ever Chinese-produced show to take up a Las Vegas residency, has been met with enthusiasm in Beijing, where the mayor of the city, Wang Anshun hosted the director of the show, An Zhao, and John Caparella, president and chief operating officer, The Venetian, The Palazzo, and Sands Expo, for a ceremonious contract signing for the show's Las Vegas engagement.
Produced by a team whose impressive credits include the opening and closing ceremonies of the 2008 Summer Olympics in Beijing, PANDA! will make its world-premiere at the Palazzo Theater, Dec. 16. The visually stunning show promises to dazzle the senses by combining high-flying acrobatics, kung fu mastery, music, and dance, transporting audiences to a realm of Far Eastern folklore. PANDA! will perform Tuesday through Sunday at 7:30 p.m. Tickets are now on sale ($48 - $128) at Venetian|Palazzo Box Office, online www.venetian.com/panda or call 702.414.9000. Also back at the Venetian Palazzo is the Winter in Venice Wonderland.
---
WHOOPI GOLDBERG CELEBRATES her 58th BIRTHDAY AT DIVAS STARRING FRANK MARINO. Whoopi along with friends and family, celebrated her 58th birthday with Frank Marino and his cast of Divas at The Quad Resort & Casino. In true Divas style, Whoopi was presented with a custom cake in her likeness from Showboy BakeShop, which is owned and operated by Stephen Lowry, one of the fabulous dancers in Divas Starring Frank Marino. Marino presented the cake and sang "Happy Birthday" in front of a sold out audience.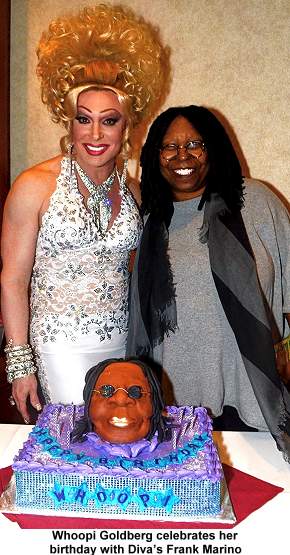 Renowned Vegas Entertainer Bob Anderson to perform at Suncoast Showroom November 22. Singing impressionist Bob Anderson brings his trademark talent to the Suncoast Showroom for one night only. Anderson's show is a tribute to composers, arranger, musicians and singers that make up "The Great American Songbook" including Dean Martin, Frank Sinatra, Tony Bennett, Nat King Cole, Mel Torme, Michael Buble and Tom Jones. Anderson spent more than two and a half decades headlining on the Las Vegas Strip, including 12 years at the Top of the Dunes - a run that ended in 1986.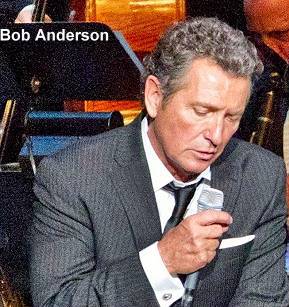 Former Lt. Governor Dr. Lonnie Hammargren's home was the setting for Nevada Day once again. This unique and very unusual home is usually open to the public annually for Nevada Day, however, some not so neighborly complaints stopped this for awhile. Now back for two days and a $10 fee, the lines were longer than ever to see this mostly impressive collection of unique items including Las Vegas memorabilia, signs, stage production props and other intriguing artifacts from around the world. Ongoing entertainment was also enjoyed and Pia Zadora and Coach Jerry Tarkanian were honorees.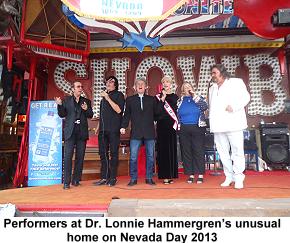 The legendary Las Vegas Treniers were a group of topnotch performers who packed each venue they appeared in. Celebrating his 92nd birthday, the great saxophonist of the group, Don Hill played his saxophone in a full set along with Prince C Spencer, Tap Dancer with the Step Brothers, who celebrated his 96th birthday. This was held at Jazzin' Jeanne Brei and The Speakeasy Swingers monthly event at the Swanky Italian American Supper Club Soiree. Videos of Don Hill and the Treniers were shown and many surprise performers made it an evening to remember for the many admirers wonderful friends who were there. Mayor, Carolyn Goodman sent a proclamation declaring the day as "Don Hill Day" and "Prince Spencer Day" because they are both Las Vegas Treasures.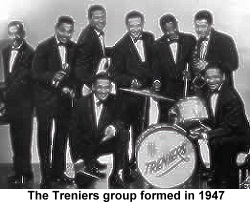 Las Vegas has a real Hero in its midst. I've known Tiger Todd socially for many years and never realized the tremendous good work that this man does. Tiger realized that the lives of thousands of homeless people were being wasted on the streets and he took it upon himself to do something about it by motivating people toward the lives they were meant to be. He founded the Hero School in 1995 and has helped to transform over 30,000 homeless men and women into responsible, motivated, contributing members of society. I found out about this when he invited me to a wonderful fundraiser to support Hero School called "Suit Up" held at the Hardwood Suite (heard it is about $35,000 per night)at the PALMS where guests were asked to bring a suit for the homeless to wear trying to get employment. Hearing testimonials from homeless people whose lives were changed by Hero School was extremely inspiring. The event also featured entertainment, good food and an afterparty at the Ghost Bar. Tiger Todd is to be saluted for all he is doing.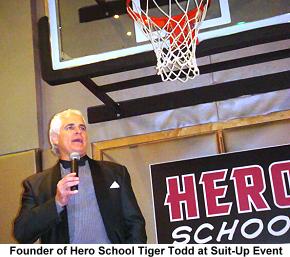 Sugar Factory will sweeten-up the shopping experience for Black Friday buyers with special offers on Friday, Nov. 29. On Black Friday, Sugar Factory will offer $25 gift cards for the price of $20, all day. For those lusting after the brand's must-have sparkly lollipops, any guest that purchases two Couture Pops at the same price-point will receive a third Couture Pop for free. These promotions will be available at Sugar Factory in Town Square Las Vegas and the Miracle Mile Shops inside Planet Hollywood Resort & Casino.
TOP OF NEXT COLUMN
Country superstar Shania Twain will serve as the Grand Marshal of Opportunity Village's Las Vegas Great Santa Run on Saturday, December 7.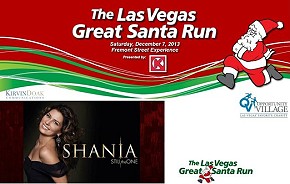 As part of her Grand Marshal duties, Shania will welcome more than 10,000 Santa lookalikes and kick off the race alongside Opportunity Village's "OVIP" clients. 2013 will see the event's return to Downtown Las Vegas, the original birthplace of the Great Santa Run. Participants can choose to run in the 5k or the one-mile Kris Kringle Jingle walk. Additionally, this year the Great Santa Run will fight to keep its reigning title of World Santa Challenge Champion. During its nine year existence, the Las Vegas Great Santa Run has won the coveted award eight times.
As in years past, the Great Santa Run will entertain with live performances, food, costume contests, celebrity appearances, and more, as local businesses join in on the fun in support of Opportunity Village. Pre-registration is open for the 2013 Great Santa Run at LasVegasSantaRun.org and costs $40 for individuals, $35 for team members (team pricing applies to groups of five or more) and $25 for children 12 and under; day-of registration is $50 for adults and $35 for children. The participation fee includes a five-piece Santa suit and gifts, with proceeds going to Opportunity Village. Opportunity Village is a not-for-profit organization that serves people in our community with significant intellectual disabilities, enriching their lives and the lives of the families who love them by providing meaningful work and life experiences.
---
Due to an overwhelming response, Strip-side favorite, ABSINTHE has signed a multi-year extension deal to stay in the spotlight in the Roman Plaza at Caesars Palace. Tickets are on sale through Oct. 5, 2014. ABSINTHE has been a breakthrough sensation, providing a unique and intimate experience that appeals to a whole new generation of Vegas-goers. A Sin City favorite since opening in April 2011, fans have agreed that ABSINTHE, the acro-cabaret variety show, should remain a permanent fixture in the 'Entertainment Capital of the World.' For a limited time, guests can take advantage of ABSINTHE's special ticket offer to receive $20 off reserved seating by using the code: 2ABS20. Tickets can be purchased online at www.Ticketmaster.com or by calling (800) 745-3000. Show times are Wednesday-Sunday at 7:30 p.m. and 9:30 p.m.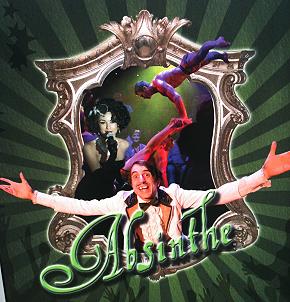 The British Guild of Travel Writers (BGTW) has selected The Mob Museum, The National Museum of Organized Crime and Law Enforcement, as one of the top three finalists for its Best Wider World Project award, which recognizes attractions outside Europe that have been open for less than three years. In selecting finalists, the BGTW looks for nominations that make a creative contribution to the experience and understanding of travelers. U.K.-based travel journalist Donna Dailey, who visited Las Vegas during the IPW travel tradeshow held here in June, nominated The Mob Museum for the prestigious award. The other finalists named for the Best Wider World Award were the Gettysburg Seminary Ridge Museum in Pennsylvania and Ecuador's Tren Crucero, which received the award.
The Mob Museum is a world-class destination in downtown Las Vegas dedicated to the thrilling story of organized crime and law enforcement. It presents an exciting and authentic view of the Mob's impact on Las Vegas history and its unique imprint on the world. Admission is $19.95 for adults ages 18 and over with special pricing for children, seniors, military, law enforcement, Nevada residents, and teachers. Museum hours are Sundays through Thursdays from 10 a.m. to 7 p.m.; Fridays and Saturdays 10 a.m. until 8 p.m
---
Runners will show off finely-groomed mustache masterpieces during the HaberDash at Commonwealth (525 E. Fremont) on Sunday, Nov. 24. Benefitting the Sapphire Prostate Foundation, the Downtown cocktail bar will partner with Heineken for the No Shave November two-mile race and mustache bash after-party. Starting at 6 p.m., participants will race through Downtown Las Vegas, free of charge, sporting styled 'staches. Facial hair enthusiasts have the option to purchase a HaberDash bag, which includes two complimentary Heineken beers, race sweatbands and other mustache swag, priced at $20. For more information or to RSVP for the event www.facebook.com/events/253622311457023.
---
When thinking of pole dancing, one of two things comes to mind. The first, being at a Gentlemen's Club and watching entertainers dance on the pole; and the second are the professionals out there that take the sport to the extreme. What doesn't come to mind however, are the groups of ladies that want to learn pole dancing in a fun and less extreme way, friends, bachelorettes and birthday girls. Pole Dancing is Sexy, Fun and Great Exercise and Sapphire Pole Dance Studio in Las Vegas makes it easy for beginners.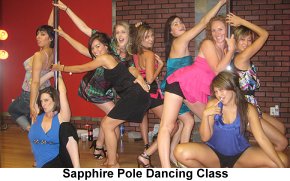 Every year thousands of women flock to Las Vegas to have fun or celebrate a birthday or bachelorette party; and many would like to include a pole dance class. Pole dancing, although it is a sport, is also a very sensual and seductive art. Many girls believe that, due to their age or size, they will never be able to learn or that it is too late to try. Well, Sapphire Pole Studio is a pole dance studio like no other. They specifically cater to women who want to learn the art, yet have had no experience. The pole dance classes are designed with all age and sizes in mind. If the girls are physically capable to walk, touch their toes, and bend then they can take this course and have a blast doing it. The instructors are trained and understand what patience and persistence can do for a woman who wants to learn. Although the class is a set routine, the routine itself has been choreographed to fit a true beginner's field and take them on a journey from not knowing anything on a pole, to learning and understanding a total of 11 moves. Sapphire Pole Dance Studio also offers ladies a Chair Dance Routine for those with a little less mobility or physical capabilities. Pictures are taken, feather boas are flying and girls are smiling as they try something new, exciting and fun as they take the Sapphire Pole Dance Studio class. Sapphire Pole Dance Studio is located at 3125 S. Industrial Road right next to Sapphire Gentlemen's Club, call 702-869-0003.
---
THE PHAT PACK opened at The Plaza in late November 2012 when Broadway singers Bruce Ewing, Ted Keegan, Randal Keith and Kevan Patriquin all met at "PHANTOM" in LV and created "THE PHAT PACK" -- a show filled with great music, laughter, and stories as the guys share their personal & career journeys. They had amazing reviews, and received standing ovations nightly, however, their show just closed at The Plaza. But, GOOD NEWS: THE PHAT PACK, in conjunction with Andrew Van Slee of Extraordinary Media Inc. is pleased to announce THE PHAT PACK! is moving to Bally's Hotel & Casino. Their first performance in the Bally's Windows Showroom will be Wednesday, December 11 and every Wednesday through Sunday at 4:30 p.m.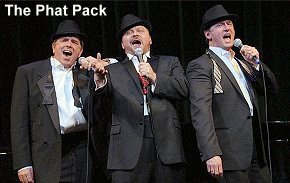 Win-Win Entertainment, a local nonprofit organization that pairs performers with charity events, will celebrate its second annual fundraiser show, "The Headliners Bash 2013," presented by the John C. Kish Foundation at The Quad Hotel/Casino on Friday, Nov. 22. The event will commence at 7:30 p.m. with a pre-reception sponsored by Miller Coors and Southern Wine & Spirits and silent auction in The Hall with the show being held inside the showroom at 9 p.m.

Hosted by Clint Holmes and Kelly Clinton, the show will feature performances by Véronic DiCaire, Taylor Hicks, Jersey Boys, Million Dollar Quartet, Mac King, Frank Marino's Divas, Recycled Percussion, Frankie Moreno, Human Nature, the Kristef Brothers from "America's Got Talent," and Jeff Civillico. The performance will also feature Lon Bronson as Musical Director, with his eight-piece band.
The event will allow local entertainers to come together to create a unique, collaborative performance that will help benefit Win-Win's fundamental work within the Las Vegas non-profit community. Founded by Jeff Civillico in July 2011, Win-Win Entertainment has arranged 25 events for nonprofits, including Spread the Word Nevada, Natural History Museum, Lili Claire Foundation, the Shade Tree and Grant a Gift Autism Foundation. Tickets range in price from $29.99 to $69.99. Call Ticketmaster and Eventbrite.
---
The seductive ladies of Luxor's adult revue FANTASY debut their 2014 "Unleash Your FANTASY" calendar. Shot by renowned photographer Oscar Picazo, "Unleash Your FANTASY" captures each FANTASY showgirl in stunning animal print body paint. Set in striking surroundings to complement the natural beauty of each animal, the calendar unveils a different performer for each month of 2014. As an added bonus, two months of 2013 are featured in the exotic calendar.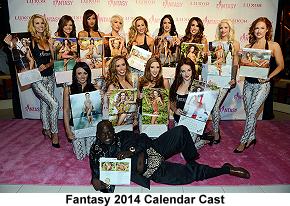 Celebrating 14 successful years on The Strip, FANTASY was named "Best Showgirls" in the Las Vegas Review-Journal 2012 "Best of Las Vegas" poll and has shaped itself into one of Las Vegas' leading topless shows. New to the cast, lead singer Jaime Lynch adds an exciting element with her amazing powerhouse vocals as she takes center-stage alongside the talented cast of beautiful dancers. Great for singles and couples alike, the sexy production showcases 15 high-energy numbers set to a variety of today's top music genres. While the gorgeous dancers lure guests into their wildest fantasies, comic relief Sean E. Cooper keeps audiences on its toes with his spot-on impressions of some of pop culture's most recognizable personalities. FANTASY performs nightly at 10:30 p.m. in the Atrium Showroom at Luxor. Tickets start at $39, plus taxes and handling fees.
---
The Las Vegas Foodie Fest celebrated another successful weekend after an estimated 35,000 foodies passed through the gates at the Silverton Casino Hotel. Foodies from near and far came throughout the weekend to try the delicious dishes from 35 food trucks and 10 gourmet food vendor. Las Vegas Foodie Fest is a bi-annual event hosted by Red Dragon, LLC. The event, which brings together gourmet food trucks from across the country, will return in 2014 with more food, fun and entertainment.
---
TREVI inside The Forum Shops at Caesars will introduce a variety of seasonal specials to celebrate Thanksgiving throughout the month of November. TREVI will be open during full normal operating hours from 11 a.m. to 11 p.m. on Thanksgiving Day, Thursday, Nov. 28. Pastry Chef Hank Sbraccia will honor the occasion by offering a specialty cranberry gelato from Monday, Nov. 25, through Sunday, Dec. 1, for $4.50 per scoop. The unique creation combines dried cranberries, vanilla gelato, a cranberry juice reduction and simple syrup.
The Forum Shops Black Friday shoppers can enjoy a moment's peace with TREVI's Bellinis, priced exclusively at $3 for the entire day on Friday, Nov. 29. Executive Chef Peter Scaturro's month-long specials include a rigatoni bolognese topped with hearty meat sauce, priced at $10. TREVI will also celebrate National Peanut Butter Month in November with specialty peanut butter and peanut butter and jelly gelato flavors offered for $4.50 per scoop. TREVI is located at the heart of The Forum Shops at Caesars next to the 'Fountain of the Gods.'
---
A new Banquet Hall called FABRIZIO in the First Friday area was really a pleasant surprise to me. I was invited to their Grand Opening and I almost didn't go as I had another event to go to. The place is really beautiful and striking in design and the owner Joe Fabrizio told me it took two years to renovate. Mayor Caroline Goodman did the official ribbon cutting and food sampling, and entertainment was great. The area at the 818 South Main location is evolving in the true spirit of Las Vegas due to the onset of First Friday.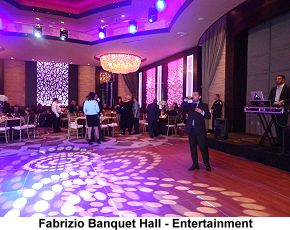 The 2014 International Consumer Electronic Show (CES) coming to Las Vegas January 7-10, 2014 focus will be on Entertainment Matters to illuminate on bridging the entertainment and technology industries. Innovative television host, journalist and author Maria Menounos will serve as the Entertainment Matters Ambassador. Sponsored by Variety, Entertainment Matters is a content-focused CES program developed for Hollywood's film, television and digital communities, which includes the Screen Actors Guild - American Federation of Television and Radio Artists (SAG-AFTRA) as the associate sponsor.
CONTINUE ON TO...:
> Entertainment Tidbits Archives
>Las Vegas News "Heard Around Town"
>Las Vegas Leisure Guide<