Fifth Annual OktoberFrightFest. Tap into fear during the ultimate street party celebrating Oktoberfest & Halloween. The Fremont Street Experience will once again transform itself for the Fifth Annual OktoberFrightFest, combining Oktoberfest and Halloween for the best street party, taking place October 7-31. The spooktacular festivities will include free performances from the popular stage production show "Frank & The Steins," Viva Vision light and sound shows themed to "Time Warp" and "Monster Mash," and the Fourth Annual Fall Beer Festival at Golden Nugget.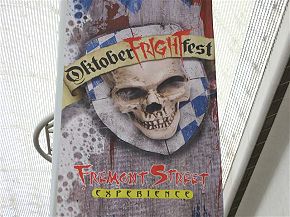 "Frank & The Steins" is a live musical revue of classic Halloween songs. The cast is comprised of hot ghouls and guys; singers, dancers and live musicians performing songs including "Psycho Killers," "Spooky," "Time Warp," and "Ghostbusters," that will make audiences dance, laugh, sing and scream. "Frank & The Steins" is produced by Face Productions and choreographed by Melden Steele. "Frank & The Steins" will perform on the 1st Street Stage Oct. 7-31 at 8:10, 9:10 and 10:10 p.m. (dark on Oct. 10, 17 and 24).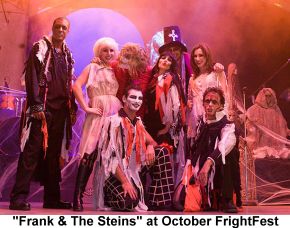 Viva Vision Shows: Fremont Street Experience's nightly Viva Vision schedule gets a little more spooktacular with two mini Halloween-themed themed sing-along/dance-along shows to "Time Warp" and "Monster Mash." The shows are 3-4 minutes long and will play after regularly scheduled shows at the top of the hour.
---
Blue Man Group celebrated their one-year anniversary at Monte Carlo Resort and Casino. Since its debut at Monte Carlo, several hundred thousand people have experienced the imaginative and interactive world that is Blue Man Group. In the first year, Blue Man Group has used 2,124 Twinkies; 18,585 marshmallows; 2,655 gallons of paint; 3,186 drum sticks; 74,340 cubic feet of helium and 272,934 feet of streamers. Blue Man Group has also made national press, appearing and performing on numerous television shows including "The Ellen DeGeneres Show," "2012 Latin GRAMMYS," "SportsCenter," "America's Got Talent," "Access Hollywood," "Celebrity Apprentice," "Cupcake Wars," "OMG! Insider," and many more. Blue Man Group is offering Nevada residents two tickets for the price of one, now through January 31, 2014.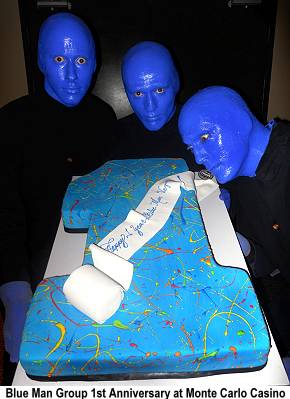 ---
Whoopi Goldberg, who has been delighting audiences since the age of eight, will return to the Treasure Island, November 15 at 9 p.m. In 2002, Whoopi became part of a very elite group of artists who have won a Grammy® ("Whoopi Goldberg"), an Academy Award® ("Ghost"), a Golden Globe® ("The Color Purple" and "Ghost"), an Emmy® (as host of AMC's "Beyond Tara: The Extraordinary Life of Hattie McDaniel") and a Tony (as producer of "Thoroughly Modern Millie").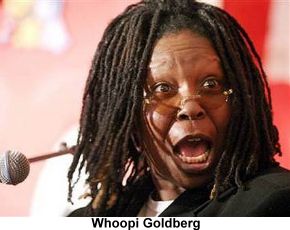 Whoopi Goldberg has appeared in a variety of television programs and hosted the Academy Awards®. She currently serves as moderator of "The View" on ABC and recently guest starred on television programs "Suburgatory," "The Middle," "666 Park Avenue" and "Glee."
A self-labeled storyteller, Whoopi Goldberg's act covers real life occurrences, and material that is often categorized as taboo. With her trademark style, no nonsense attitude and witty humor, Goldberg is a truly one of a kind stand-up entertainer.
---
In celebration of the Hard Rock International's 14th annual PINKTOBER™ campaign, both Hard Rock Cafe locations in Las Vegas will host a series of special events to raise awareness and funds for a cause that affects millions of people around the world. Hard Rock Cafe Las Vegas on the Strip kicked off this year's PINKTOBER program with a ribbon cutting featuring Bally's Headliner, Véronic. Guests can visit Hard Rock's Rock Shop throughout the month of October to customize Hard Rock's classic t-shirt and make it pink for the cause. Fans can also get into the hottest color of the season with Hard Rock's 2013 PINKTOBER products, including a collector's edition pin, T-shirt, bracelet, tote, robe, scarf, pink sheets and more! All products will be sold exclusively at Hard Rock properties worldwide, including Cafes, Hotels, Casinos and online at www.hardrock.com. In support of the cause, donation boxes will also be available at Bally's Jubilee! Theater to benefit Susan G. Komen for the Cure®. Proceeds from the sale of PINKTOBER products will benefit The Breast Cancer Research Foundation (BCRF) and local breast cancer charities with 75 percent of the retail price of each pin and 15 percent of the retail price of other products going directly to the cause. All events at Hard Rock Cafes in Las Vegas benefit Susan G. Komen for the Cure®, an organization dedicated to combating breast cancer at every front. Hard Rock's PINKTOBER program encourages guests around the world to support breast cancer awareness by attending live music performances and pink-themed events at Hard Rock locations across the globe. For event ticket information, visit www.ticketweb.com.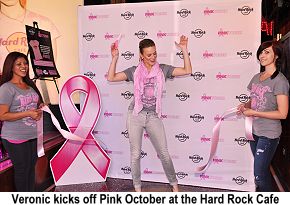 ---
It was a Wild, Crazy, Fun night that even had T&T. I'm talking about the Show Biz Roast of Frank Marino at the Stratosphere produced by Awesome Andy Walmsley. The raw and somewhat savage roasting created much laughter by an audience that knew what they were getting, so none were offended - not even those who were being roasted. The audience was given dress codes of males dressed as females and females dressed as males and there were some hilarious outfits. This was the 3rd roast produced by 'Awesome Andy' and can't wait for the next one.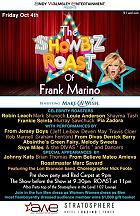 ---
If you have been planning on going to The Act Nightclub at The Palazzo, you had better make other plans. The Palazzo has closed The Act due to violation of obscenity laws.
---
Jenny McCarthy has recently made her mark on the ever popular television show "The View,"and now everyone knows her. "Dirty Sexy Funny" featuring Jenny McCarthy takes the stage at Vinyl in the Hard Rock Hotel & Casino for two unforgettable nights of comedic performances, Friday, Nov. 29 and Saturday, Nov. 30.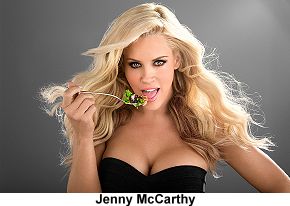 "Dirty Sexy Funny" is a scandalous comedy show that features an eclectic cast of female comedians, including Rachel Feinstein, Tiffany Haddish, Tammy Pescatelli and Lynne Koplitz, who perform some of the most titillating humor in the industry. Jenny McCarthy, known for her honesty, humility and wit, has transcended the boundaries of her roles as a comedian, actress, host, best-selling author and spokeswoman. Her mission for "Dirty Sexy Funny" is to shed light on what it's really like to be a woman by putting everything out in the open. The show leaves those who attend laughing, blushing and wanting more, making it the perfect activity for a girl's night out.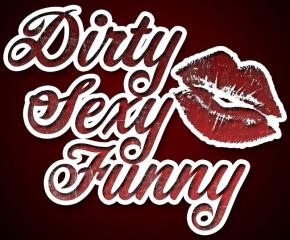 Tickets to "Dirty Sexy Funny" start at $30 and are on sale Saturday, Oct. 19 at noon at the Hard Rock Hotel Box Office, all Ticketmaster locations, or charge by phone at 800.745.3000.
---
What a shame, they really are great. THE PHAT PACK has announced the closing of their 5 p.m. show at the Plaza Hotel & Casino. Their final performance at the Plaza will be Saturday, November 16.
THE PHAT PACK opened in late November 2012 to amazing reviews, and received standing ovations nightly. Although the show is closing, THE PHAT PACK (Bruce Ewing, Ted Keegan, and Randal Keith) are not disbanding. They are open to looking at other venues, maybe for shorter periods – and they are already booked on upcoming out of town engagements!
---
The Audi Speaker Series is designed to supplement the world-class theater, dance and music offerings at The Smith Center's Reynolds Hall with topnotch discussions and lectures by this generation's best thinkers and visionaries.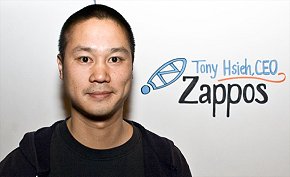 Upcoming Speaker: Tuesday, November 5 at 7:30 p.m. - TONY HSIEH - The mastermind behind Zappos and the Downtown Project opens up about how to turn ROI into ROC (return on community) both for Zappos and Downtown Las Vegas. Culture is to a company as community is to a city: it's about values, innovation, serendipity, participation, upward mobility, and attraction of smart startups & the creative class. Tony is applying Zappos' successful corporate culture model (recognized by FORTUNE as one of the top 100 best places to work) to help build the most community-focused large city in the world in the place you would least expect: Downtown Las Vegas. With his new $350 million Downtown Project, Tony is creating a unique hybrid of corporation, community, and city to drive productivity & innovation both for Zappos and the city itself. Tickets $24-$79.
TOP OF NEXT COLUMN
While it may seem early to be thinking about New Year's Eve, The Smith Center for the Performing Arts is thrilled to announce Tony® and Emmy® Award-winning sensation Kristin Chenoweth will perform a special New Year's Eve concert Tuesday, December 31 inside Reynolds Hall at 7:30 p.m.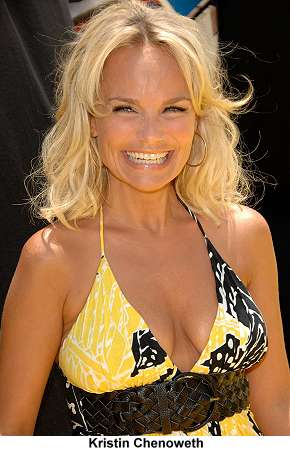 Kristin Chenoweth has had an extraordinarily diverse career and is an extremely popular performer. The evening will feature an array of her most memorable songs and Broadway show tunes, including music from "Wicked," "Promises, Promises" and "Glee." This unique night with the multitalented performer promises to take concert goers on a ride of laughter, heartbreak, thrills and great music.
This promises to be a sellout and tickets go on sale Friday, Oct. 11 at 10 a.m. at The Smith Center Box Office, located at 361 Symphony Park Avenue, by phone at 702-749-2000 or 808-326-6868 (TTY) and online at www.TheSmithCenter.com.
---
The Las Vegas Foodie Fest returns to the Silverton Casino Hotel with an array of Food trucks and Vendors, Entertainment, Carnival Rides and Games. The festival takes place on Friday, Oct. 18, through Sunday, Oct. 20, with a portion of the proceeds benefitting Epicurean Charitable Foundation of Las Vegas.
The event features more than 30 food trucks and vendors including returning headliner, White Castle, who brings triple the grills to make their signature menu items in Las Vegas. Celebrity trucks from Food Network, Cooking Channel, Travel Channel and History Channel will include The Buttermilk Truck, BACONMANia, White Rabbit, Vizzi Truck, Devilicious, Fukuburger, Jogasaki Burrito, Fist of Fusion and Fluff Ice.
---
LAS VEGAS SHELTER WINS $100,000 GRANT IN NATIONAL COMPETITION. The Animal Foundation

wins the Grand Prize award in 2013 ASPCA Rachael Ray $100K Challenge as they edged out 48 other shelters nationwide to win the Grand Prize. The competition challenged participating shelters and animal rescue organizations to increase the number of lives they saved. The winner was kept secret until ASPCA President and CEO Matthew Bershadker and his staff surprised The Animal Foundation on their campus with cake, sparkling cider, and a giant, $100,000 check at the Campus Adoption Center.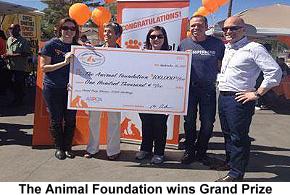 The Animal Foundation saved 1,055 more lives during the Challenge than they did during the summer of 2012. To celebrate their Grand Prize win, and continue to save lives, The Animal Foundation's Happy Barktoberfest special will take place in honor of October, which is Adopt a Shelter Dog Month. Interested adopters can take $50 off the adoption fees of any dog 3 years or older throughout the month of October at The Animal Foundation's two adoption locations. For more information on The Animal Foundation, the Happy Barktoberfest special, or hours and locations visit www.animalfoundation.com.
---

Here's something new. Soon to open is Bier Garten, an indoor/outdoor eatery offering German-inspired food, microbrews and imported beers on tap in a relaxed beer garden setting in front of the Plaza Hotel & Casino. With the tagline "Beercraft and Foodery," Bier Garten will pair a selection of artisan sausages and craft beer. Customers can dine at the bar or relax outside in the Bier Garten's backyard, designed to recreate the traditional European beer garden and be downtown Las Vegas' new backyard. This new urban oasis overlooking Fremont Street will utilize picnic tables, real grass, trellises and greenery to create its backyard, beer garden experience. The Bier Garten will also offer customers fun - with table games, like Ping-Pong, and live entertainment. Set to open in mid-November, Bier Garten will offer outdoor seating for 160 customers.
---
Las Vegas' longest running, family owned and operated Italian restaurant, Ferraro's Italian Restaurant & Wine Bar now has an offer that includes a 50 Percent Savings for all locals and visitors called Tramonto Dining. Italian for "Sunset," Tramonto guests who dine beginning at 4 p.m. and are seated by 5:30 p.m. will receive 50 percent off their food meal.
Ferraro's is located on Paradise Road., across from the Hard Rock Hotel and Casino. Tramonto dining guests can enjoy Ferraro's outdoor patio, perfect for the season's crisp, fall evenings. The delightful outdoor area comfortably seats 60 and features an inviting al fresco atmosphere with a fire pit and attractive foliage that helps diners feel far removed from the hustle and bustle of the nearby Strip.
---
Nelson Sardelli, longtime Las Vegan entertainer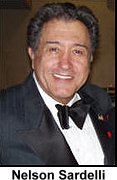 proudly says "Las Vegas should know about this local kid doing well in a tough world of theater directing" as he views the Boston Globe's article about his daughter Giovanna Sardelli's exceptional directorial talents. Nelson Sardelli, singer, actor and also a comedian (both onstage and off) and with that aptitude he founded the wildly successful non-club F.I.O.R.E. (Fun Italian's Organizing Ridiculous Events).
---
If you are on the Las Vegas Strip wanting to see Treasure Island's nightly Free Oudoor Show Sirens of TI you will be disappointed as the show will not be shown and will be closed October 21 through December 25.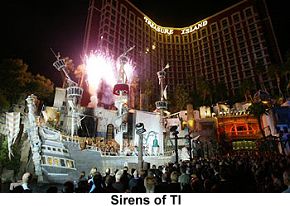 Treasure Island Las Vegas is adding to its retail space with a remodeled area along Las Vegas Boulevard and Spring Mountain Road. The space will consist of approximately 40,000 square-feet across three stories and is targeting a Fall 2014 opening. With the construction, as well as annual maintenance, pending any construction delays, The Sirens of TI show will resume on December 26 with shows at 5:30, 7, 8:30 and 10 p.m.
---
Nevada Arts Advocates (NAA), celebrates its 14th Annual Nevada Arts Advocates Gala, Friday, November 1 at Santa Fe Station Hotel/Casino. The Gala includes a Cocktail Reception, Silent Auction Dinner and Entertainment. Radio and television personality Lark Williams will emcee the event. The event will feature a special performance by Spyro Gyra, the acclaimed American jazz fusion band.
NAA will present its prestigious Arts Advocacy Award to Michael Schivo, the legendary producer and promoter of Rock and Jazz concerts.
Adam Steck, the founder and CEO of SPI Entertainment, Inc., will receive the NAA's Leadership Award for the significant role he has played in making Las Vegas one of the world's leading entertainment destinations. He has parlayed his success with the production of resident shows on the Las Vegas Strip, including "Human Nature," "The Australian Bee Gees," "American Storm" and "Thunder from Down Under
Dr. Douglas Peterson, director and conductor of the Southern Nevada Musical Arts Society (SNMAS) for the past 45 years, will receive NAA's Legend Award for his long-standing encouragement of the arts.
Tickets for the gala are $100 per person. Proceeds will fund student scholarships and NAA advocacy programs that support cultural and educational activities.
---
PBR Rock Bar & Grill inside Miracle Mile Shops at Planet Hollywood will partner with Pabst Blue Ribbon and Jack Daniel's Tennessee Whiskey to be the ultimate headquarters for the Professional Bull Riders World Finals from Wednesday, Oct. 23, through Sunday, Oct. 27. Starting at 9:30 p.m., top riders will kick-off the official after-party on Thursday, Oct. 24, with red carpet appearances followed by the official draw and a live Q-and-A session with the crowd. Former American Idol contestant, Morgan Leigh, will keep the party rocking with live performances at 9 and 11:30 p.m. PBR Rock Bar sponsored rider, Shawn Willingham, will host a night of beer and bull-riding during the official after-party on Friday, Oct. 25. The pro-rider will be at the Strip-side destination to sign autographs and judge the nightly bull-riding competition starting at 11 p.m. On Sunday, Oct. 27, rodeo-loving revelers will celebrate the retirement of professional riders, Brenden Clark and Luke Snyder. The former rodeo-riders will kick-off the celebration at the party spot with a toast to their careers at 9 p.m.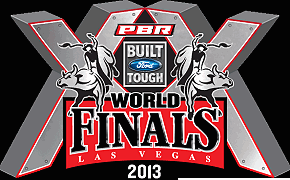 ---
VooDoo Zip Line opening in early November is an over-the-top, adrenaline-rushing, thrill ride at VooDoo Lounge at Rio Las Vegas Hotel & Casino. The one-of-a-kind attraction will feature the best views of the city, boasting a 360-degree panorama of the famed Las Vegas Strip and surrounding mountains as guests soar more than 490 feet above the ground.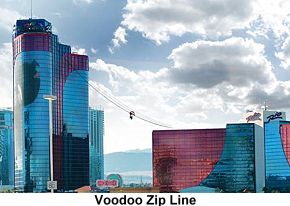 VooDoo Zip Line will launch patrons from the two towers of the Rio Las Vegas. The Las Vegas attraction will begin on the patio of VooDoo Steakhouse, located on the 50th floor of the Masquerade Tower, and will propel riders at speeds of up to 33 miles per hour to the adjoining 20-story Ipanema Tower. Guests will make a return trip back to the starting point, traveling backwards at 20 miles per hour. Not only will the ride offer the best views of the city, but it will get hearts pumping and adrenaline rushing while traveling at speeds of 33 miles per hour, 490 feet above the ground and will cover one-third of a mile in one minute and 10 seconds. VooDoo Zip Line will be open to the public from noon to midnight daily beginning early November. Only patrons 21 years of age or older will be allowed to ride after 8:30 p.m. Admission is $24.99 per person (plus service fees) from noon to 5:30 p.m. and $37 per person (plus service fees) from 5:30 p.m. to midnight. To purchase tickets or for more information, visit www.VooDooZipLine.com.
---
Aliante Casino + Hotel will open a luxurious resort-style spa, Re:lax. The 3,500-square-foot spa will feature eight massage rooms, several VIP rooms, exclusive couples' rooms, wet rooms, his and her locker rooms and more. The facility will offer a full range of services including: massages, facials, manicures and pedicures along with a first-class steam room and sauna. Re:lax spa will become the only full-service spa in the community.
---
REVIV, the new IV wellness spa at The Underground at MGM Grand, will commemorate Dia de los Muertos, or "Day of the Dead," with "Bring You Back From the Dead" specials on Friday, Nov. 1, as well as on Saturday, Nov. 2.
Halloween is one of the biggest party holidays of the year and all that drinking depletes the body of fluids and nutrients. REVIV IV therapies help restore the body and make party goers feel alive and well again. Those who are haunted by a holiday hangover can purchase an IV hydration treatment and will then receive discounts toward their next B12, B12 Slimboost or Glutathione injection treatments.
The B12 injection, originally priced at $25, will be specially priced at $15. The B12 Slimboost and Glutathione injections, both originally priced at $30, will be specially priced at $20 each.
CONTINUE ON TO...:
> Entertainment Tidbits Archives
>Las Vegas News "Heard Around Town"
>Las Vegas Leisure Guide<