I had travelled outside of Las Vegas during September and early October to celebrate my birthday.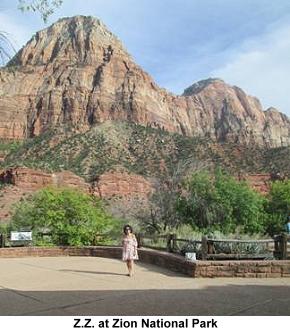 I visited 5 glorious National Parks in Utah and Nevada; Zion, Cedar Breaks, Great Basin National Park, Lehman Caves and Wheeler Peaks.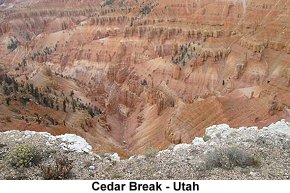 In addition to the majestic beauty of these natural formations, this time of the year (Fall) trees and plants exploded with spectacular coloring.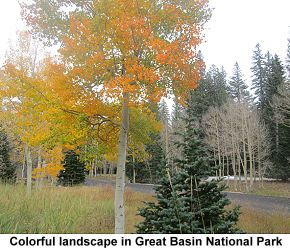 We also relaxed in Mesquite and in Cedar City, Utah where we went to the Utah Shakespeare Festival, the professional theatre at Southern Utah University.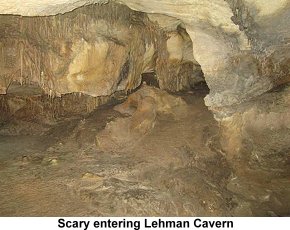 The production of Charlie's Aunt by Brandon Thomas was extremely enjoyable. A small synopsis is when a quiet luncheon turns into a corset-busting masquerade when two college chums go to great lengths to woo a pair of charming young ladies, including persuading their wacky friend to pose as an aunt from Brazil -- where the nuts come from.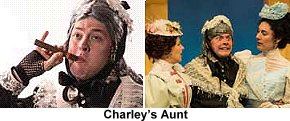 The sets and scene designs, costumes, sound, lighting, talented acting and directing were very well done, and although we were at a Wednesday evening performance the Randall L. Jones Theatre was filled to capacity. (Do some of you remember Jack Benny playing 'Charlie's Aunt' in the movie based on this comedy play?) The new fall season has now opened with The Two Gentlemen of Verona by William Shakespeare and Dracula from the novel by Bram Stoker. We also saw the construction of an amazing new theatre complex that is being built that will open in summer of 2016. Although a distance from Las Vegas, the trip to Cedar City and the Shakespeare Festival is well worth the trip.
The World Famous Stoney's Rockin' Country, where country lives in Las Vegas, is back to its old stomping grounds at Town Square. Locals and tourists alike are invited to dust off their boots and enjoy the best of country music with regular concerts featuring top country artists along with activities that include line-dancing, mechanical bull riding, beer pong, pool tables and more. Stoney's Rockin' Country has been renovated with rustic accents to bring the bar and nightclub back to its country roots with features including a porch inspired stage area, elevated VIP seating lined with various United States' license plates, semi-private booths, sawdust sprinkled on the floor and much more. One of the most prominent additions is a 13 ft tall by 21 ft long American flag made of 2,256 beer cans created by Oliver Toki, believed to be the largest of its kind, on display behind the mechanical bull arena.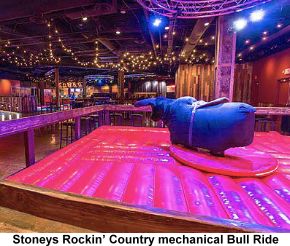 In addition, Stoney's Rockin' Country has partnered with Pot Liquor, voted "Best BBQ" to offer a delicious barbecue menu with a variety of options for patrons to enjoy.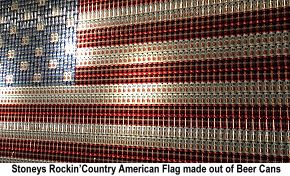 Nightly specials at Stoney's Rockin' Country include the World Famous Ladies Night every Thursday featuring $1 well, wine and draft drinks for all ladies, Fresh Country Fridays with live music from the latest and greatest in country music, and All American Saturdays where the first drink is free with a military ID. Line-dancing lessons are also available each night beginning at 7:30 p.m. Open Thursday through Saturday from 7 p.m. to 4 a.m., Stoney's Rockin' Country is located in Town Square at 6611 Las Vegas Blvd S, Ste 160 Las Vegas, NV 89119.
---
Golden Nugget celebrated longtime headliner Gordie Brown with VIP triple threat event special night. The first event was a cocktail party with Gordie at Rush Lounge with many celebrities in attendance such as: Absinthe" stars Melody Sweets and Sean and John Scott, "Jersey Boys" stars Jason Kappus and Jason Martinez, Anthony Cools, Brian Thomas, "Sexxy" star Jennifer Romas, Pia Zadora, Clint Holmes, "Rock of Ages" stars Becca Kotte and Mark Shunock, Chefs Rick Moonen and Luciano Pellegrini and many more. Guests were the first to taste the specially crafted cocktail, "Gordie Has Left the Building" - a nod to his iconic impression of The King, Mr. Elvis Presley.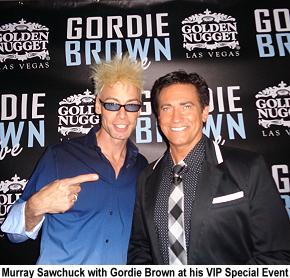 Next was Gordie Brown's show in The Gordie Brown Showroom where Gordie debut new songs and impressions. Among the new impressions he debuted were Imagine Dragons lead singer Dan Reynolds, Maroon 5 singer star of "The Voice" Adam Levine, and Robin Thicke - juxtaposed against a spot-on impression of his father, actor Alan Thicke.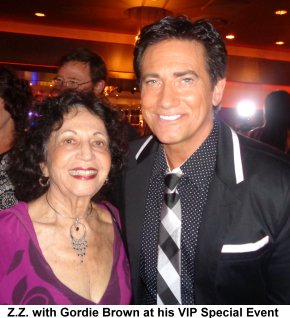 I met Gordie when he first arrived in Vegas and have seen his terrific shows many times. This show was even more terrific and seemed to be more risqué. During his high-energy show Gordie honored Chris Phillips ("Zowie Bowie") and comedy legend Marty Allen when he wished Phillips a very happy birthday and paid a heartfelt homage to Allen, who received a standing ovation from the enthusiastic audience. The third event was after Gordie's show at an Afterparty at Gold Diggers Nightclub with delicious food, drinks, amazing atmosphere overlooking the Fremont Street Experience and celebrities and guests who had a grand old time and a gift of a Gordie Brown Cupcake for all.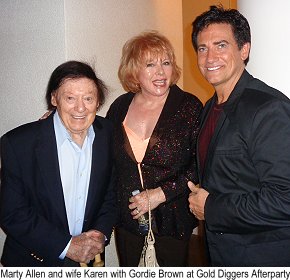 What a fabulous night for Gordie Brown, who has performed in Las Vegas for more than 27 years and started headlining at the Golden Nugget in February 2009 in the state-of-the-art theater now known as The Gordie Brown Showroom, following a North American tour with Celine Dion. A multitalented entertainer, Gordie has long brought to life performance legends including Presley, Sammy Davis Jr., and Arnold Schwarzenegger alongside a five-piece live band. Gordie Brown performs Tuesday, Wednesday, Thursday, Saturday, and Sunday in The Gordie Brown Showroom at Golden Nugget.
---
RAGTIME returns to Reynolds Hall at the Smith Center October 27 - November 1 in an all-new touring production. Directed and Choreographed by Marcia Milgrom Dodge and Produced by the team that most recently brought you THE ADDAMS FAMILY, SPAMALOT, ROCK OF AGES, and THE COLOR PURPLE. RAGTIME is the stories of an upper-class wife, a determined Jewish immigrant and a daring young Harlem musician set in turn-of-the-century New York as all three are united by their desire and belief in a brighter tomorrow. Winning Tony Awards® for Best Book and Best Musical Score, this 13 time Tony Award® nominated musical is a timeless celebration of life — what it could and should be!
---
Tony Sacca's 30th year Anniversary as producer and host of his television show "Entertainment Las Vegas Style" was celebrated at an exclusive party in Ron Decar's Event Center where he currently produces and records his Las Vegas Rocks Variety Show every month. Tony Sacca and Josette Leblond invited guests to share his accomplishments over the past thirty years. This most enjoyable party included dinner, live entertainment, surprise celebrities, honorable presentations and souvenirs, including the CD of the four songs Tony wrote about Las Vegas and 'Vinnie the Frog' musical plush frog that he created. Longtime friend Charo with whom he did a PBS Special, was a surprise. Charo charmed everyone as she sang, mingled and cuchi—cooed with Tony. A musical show was performed by Tony, Denise Clemente, Kathryn Arianoff, Gary Anderson, Lawrence T and Michael Tramontana. The evening's festivities showed some of Tony's historical television footage from his more than 500 television shows with highlights of many iconic entertainers and Las Vegas history. From the hundreds of shows Sacca produced, he is now creating an episodic series titled "Classic Vegas Entertainment" that is airing nationally. Certificates were presented to Tony Sacca by Gayle Anderson, Protocol Officer of Las Vegas from Governor Brian Sandoval to commemorate his 30 years of TV Hosting in Las Vegas and supporting the Las Vegas Entertainment Community. Ken Minster, from Congressman Joe Heck's Office presented Tony with a Certificate of Accomplishment and Susan Jeske, Ms. America 1997, presented Tony with an award from the office of the President of the United States signed by President Barack Obama for his Lifetime Achievement in Las Vegas Entertainment.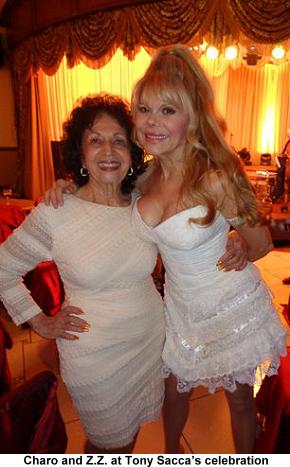 Previously Tony Sacca's Star was installed on The WALK OF STARS in front of Mon Ami Gabi. He is the 23rd recipient. Congrats to Tony Sacca, long may he reign!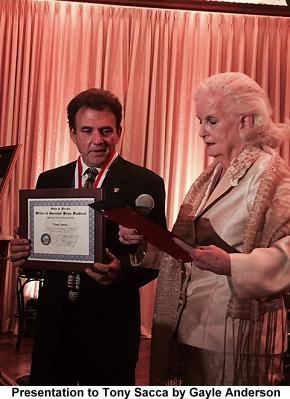 "Voices of Rudy: The Journey To The Movie"starring Rudy Ruettiger will be performed in the Showroom at the Italian American Club on Friday, Nov. 13 at 7:30 p.m. After two successful performances at The Smith Center, one of the most inspiring movies of our time, "Rudy,"one-man show starring Rudy Ruettiger will entertain and inspire as he shares his life story of how he accomplished his dream of going to Notre Dame and how he convinced Hollywood to make a movie of his life, which earned him an invitation to the White House. Tony Sacca, producer/director says the play will include a multi-media presentation with scenes from the blockbuster movie as well as personal photos of his family of 14 brothers and sisters. As Ruettiger tells his story, he will share many voices of people who influenced his life as well as naysayers that he confronted on his journey. Comic impressionist Rich Natole has created celebrity voices such as Bill Clinton when Rudy was invited to the White House and Sylvester Stallone who was among the first to see the screen play and regretted passing on the project after he saw the film and met Ruettiger.
---
A vintage Vegas-inspired evening at the Helping Hands of Vegas Valley's (HHOVV benefitting essential programs to assist senior citizens in the local community will be at the fifth annual Hearts and Hands Gala on Thursday, Oct. 22 from 6 to 9 p.m. at the Keep Memory Alive Event Center. Guests will be transported to Vegas' golden era with entertainment from Marilyn Monroe and Dean Martin impressionists, music from Harbor Lights and a lavish array of creative hors d'oeuvres from Cut & Taste. Sponsored by Humana. the event's mistress of ceremonies will be 8 News Now's weather anchor, Sherry Swensk. Auction packages including unique items from Wirtz Beverage, South Point Hotel and Casino, Papillon Grand Canyon Tours, Canyon Gate Country Club, The Smith Center, Total Wines and others will be up for bid. Serving since 2009, HHOVV Executive Director Dana Serrata has made it her mission to increase public awareness surrounding senior issues. The Hearts and Hands Gala helps our mission of bettering living conditions for senior citizens, allowing them to maintain their dignity and autonomy while improving health and daily living. Commemorating 15 years of service, Helping Hands of Vegas Valley feeds more than 500 low income seniors each month with home delivered groceries, provides more than 9,000 rides to medical appointments annually and helps more than 500 seniors remain at home with family members through the distribution of respite care vouchers. Tickets are $150. Purchase tickets online at hhovv.org, under the events page.
---
The Great American Foodie Fest found its new home in Henderson from Oct. 15 through Sunday, Oct. 18 at a new location, outside at Sunset Station Hotel & Casino. Now in its eighth event, the Great American Foodie Fest, formerly the Las Vegas Foodie Fest, has been named 'Best Recurring Event' by the Las Vegas Review-Journal's "Best of Las Vegas" each of the past three years. Great American Foodie Fest showcased 50 of some of the Nation's top food trucks and food vendors that have been featured on the Food Network, Cooking Channel and the Travel Channel, including local favorite Fukuburger; California-based Jogasaki Sushi Burrito; Cousins Maine Lobster, which was featured on Shark Tank; Fluff Ice; Q UP Barbeque from Arizona; White Rabbit; and many more. Fist of Fusion, a Los Angeles-based truck that has been featured on the Cooking Channel and was recently named one of the "15 Best Food Trucks in L.A." In addition to the innovative and unique eats, the Great American Foodie Fest also featured carnival rides, midway games, a beer garden, the Tequila Party Tent, vendor booths and other great attractions for the whole family.
TOP OF NEXT COLUMN
The gorgeous ladies of FANTASY, the tantalizing revue at Luxor Hotel and Casino debut the 2016 "FANTASY After Dark"calendar to celebrate 16 successful years. Photographed by renowned photographer Oscar Picazo, the calendar features the stunning ladies wearing sexy lingerie in different locations throughout the newly redesigned LAX Nightclub, also located within Luxor. The 2016 "FANTASY After Dark" calendar will be available for purchase for $20 at various retail locations throughout Luxor. The ladies of FANTASY will host a series of calendar signings leading up to the holiday season, making the 2016 calendar the perfect gift or stocking stuffer. With the release of the calendar, FANTASY will also be donating a portion of the proceeds to benefit the Dizzy Feet Foundation. Founded in 2009 by producer Nigel Lythgoe and director Adam Shankman, the Dizzy Feet Foundation was created to increase dance education across the United States through funding dance programs to underprivileged youth, providing scholarships for talented individuals and helping young people realize the power and benefits of dance.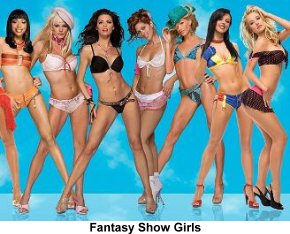 Approaching 16 successful years on The Strip, FANTASY was named "Best Showgirls" in the 2015 and 2012 Las Vegas Review-Journal's "Best of Las Vegas" poll and "Best Topless Show" in the Las Vegas Weekly "Best of Vegas 2014" awards. Lead singer Jaime Lynch adds an exciting and unforgettable element with her amazing powerhouse vocals as she takes center-stage alongside a talented cast of beautiful dancers. Great for singles and couples alike, the sexy production showcases 15 high-energy numbers set to a variety of today's top music genres. While the gorgeous dancers lure guests into their wildest fantasies, comic relief Sean E. Cooper keeps audiences on its toes with his spot-on impressions of some of pop culture's most recognizable personalities. FANTASY performs nightly at 10:30 p.m. in the Atrium Showroom at Luxor.
---
'CRAZY GIRLS' is celebrating its 28th anniversary on October 21. A day that changed Las Vegas forever, September 25, 1987 is the date of the first live performance of the now iconic "Crazy Girls" at the Riviera Hotel & Casino. Now for more than 28 years "Crazy Girls" has remained as fresh, new and controversial as the day it opened. With the demise earlier this year of the Riviera, "Crazy Girls" found itself in serious demand as big name hotels courted the world-famous show - and was finally wooed by Planet Hollywood Resort & Casino to become a member of its entertainment family and now plays nightly (except Tuesdays) at Planet Hollywood's Sin City Theatre located on The Mezz overlooking the casino. Producer-director Norbert Aleman of "Crazy Girls" is an experienced producer with decades of experience in show business says "The Sin City Theatre had a major overhaul for 'Crazy Girls' to perform there and "Planet Hollywood is the perfect combination of classic Vegas and modern edgy Las Vegas that truly represents Crazy Girls' past, present and future." The "Crazy Girls" cast of seven girls are the stars of the longest running show and for those who like comedy-magic Tony Douglas hosts the show along with a songstress.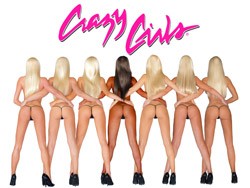 The ultra-sexy show has entertained millions of audience members from royalty to celebrity including Prince Albert, Nicolas Cage, Tom Cruise, Magic Johnson, Robert De Niro, Joe Pesci and Tom Jones, to name a few. It has been involved in tabloid stories like Magic Johnson's Wild Weekend in Las Vegas with the "Crazy Girls" and Jahna Steele's "Sexiest Showgirl on the Strip. The bronze butts statue was protested by the National Organization of Women when it was unveiled," but it later went on to win awards by NPR and other organizations. Legend has it if you rub the butts you will have good luck in the casino.
It's Las Vegas' most sizzling topless show and reinvents itself nightly, pushing the envelope with new routines that features the scintillating professionally trained "Crazy Girl"s dancers performing world renowned choreography. Thousands of dollars in dazzling costumes adorn each dancer from topless contemporary boot-stomping pole dance numbers to bawdy, burlesque classics.
---
The Plaza Hotel & Casino, which served as the backdrop for Biff Tannen's Pleasure Paradise Casino & Hotel in the 1980s blockbuster movie "Back to the Future II," travels back to the '80s on Wed., Oct 21 to host a special Back to the Future Party from 6 to 11 p.m. at Beer Garden. The party marks and celebrates the famed arrival date of Marty McFly and Doc Brown in the beginning of the movie.
As part of the celebration, guests can take their picture under the Plaza's iconic dome next to a collection of DeLoreans, including replicas of Doc Brown's truck and the Libyan Volkswagen bus. A replica DeLorean time machine will also be on display. "Marty McFly," "Biff Tannen" and "Doc Brown" will also be on hand for photos with guests.
The Back to the Future Party at Beer Garden includes drink specials such as Biff's Root Beer Beer Float and Doc's Wake Up Juice (a Basil Hayden Bloody Mary) from 6 to 11 p.m. as well as a special costume party and contest starting at 8 p.m. Guests can come dressed in their best '80s outfits, and judging for the best costume occurs at 9 p.m. The guest with the best costume wins $500. That day, much of the property will be transformed to embody the 1980s and the "Back to the Future" movies. Guests will enjoy popular '80s music all day long, and M3 Trio, a local '80s cover band will perform from 8:30 p.m. to 12:30 a.m. in the Plaza's Omaha Lounge on the casino floor. Also on the casino floor, the Plaza's Party Pit Girls will be dressed in '80s outfits, and themed $10 match play coupons will be given to the first 250 guests who purchase a drink at Beer Garden or at the bar setup under the dome by the DeLoreans on display.
---
Sin City Opera (SCO) will open their Winchester Cultural Center season with The Consul, an opera in two acts by Gian Carlo Menotti, November 13th - 21 at 7 p.m. and Nov 22 at 2 pm.. The Consul will be presented fully staged in the original English and will feature the SCO Orchestra under the direction of Maestro Jack Gaughan. The Consul is by far Menotti's most tragic and thought-provoking work. It was his most successful opera, and ran on Broadway to the delight of audiences and music critics alike. Between 1949-1950 it won two outstanding theatre awards, the New York Times Drama Critics' Circle Award, and the Pulitzer Prize for Music.
Grammy Award nominee, Matthew Kirchner, will make his Sin City Opera directorial debut with The Consul. Matthew has extensive leading tenor experience in opera for more than 20 years in the U.S. and abroad, and is excited to be working with SCO after moving to Las Vegas four years ago with his wife, international operatic soprano, Marcie Ley, who helped to spearhead this collaboration. Sin City Opera's production will be performed in English and set in the aftermath of WWII, Berlin, 1947. While the world begins to recover and rebuild from The Second World War, a new dictatorship has usurped the old. Nazi Germany has been replaced by the Red Army. In a community and a country caught between the destruction of its former life and what will ultimately become the Soviet Eastern Block... Magda will fight the ultimate cold fight for her family, her freedom, her sanity, and her very life. Tickets: $15.
---
Grammy-winning band Train and The Fray will be performing at Downtown Las Vegas Events Center on Saturday, November 7. Train, featuring Pat Monahan, Jimmy Stafford, Jerry Becker, Hector Maldonado and Drew Shoals, formed in 1993 in San Francisco. They rose to success with their debut album "Train," and received two Grammy Awards in 2002 for their follow-up album "Drops of Jupiter." In 2009, Train unveiled "Save Me San Francisco," featuring the RIAA 6x Platinum-certified "Hey Soul Sister," "If it's Love" and "Marry Me." In April 2012, Train released their sixth studio album titled "California 37," in which the first single "Drive By," reached number 10 on the Billboard Hot 100. Originating in Denver, The Fray was formed in 2002 by Isaac Slade and Joe King. Their debut album "How to Save a Life," went Certified Double Platinum by the RIAA and Platinum in Australia, Canada, New Zealand and the UK. The band achieved national and worldwide success with their first singles, "Over My Head (Cable Car)" and "How to Save a Life." The group consists of King, Slade, Dave Welsh and Ben Wysocki.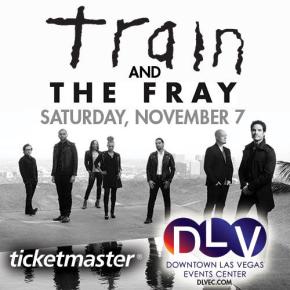 Tickets can be purchased at Ticketmaster.com, starting at $30.
---
Palms Casino Resort announces a night of amazing folk music with legendary artists Kris Kristofferson and John Prine in a special co-headlining performance in the intimate venue The Pearl inside Palms on October 30 at 8 p.m. Three time GRAMMY winner, singer-songwriter Kris Kristofferson has captivated audiences since 1970, being a key figure in the New Nashville country movement of the early '70s. Kristofferson continues to tour and release albums. Heralded as an artist's artist, Kris Kristofferson has recorded 27 albums, including three with pals Willie Nelson, Johnny Cash and Waylon Jennings as part of The Highwaymen. Kristofferson has spent more than four decades performing concerts all over the world, in most recent years in a solo acoustic setting, which puts the focus on the songs.
GRAMMY-award winning songwriter John Prine has stayed at the top of his game, both as a performer and songwriter. In recent years, he was honored at the Library of Congress by US Poet Laureate Ted Kooser, elevating Prine from the annals of songwriters into the realm of bona fide American treasures. Long considered a "songwriter's songwriter," Prine is a rare talent who writes the songs other songwriters would sell their souls for. Evidence of this is the long list of songwriters who have recorded gems from his extensive catalog, including Johnny Cash, Bonnie Raitt, the Everly Brothers, John Denver, Kris Kristofferson, Carly Simon, Ben Harper, Joan Baez and many others. Tickets start at $49.
---
Baseball icon Pete Rose hosted the grand opening of his new Pete Rose Sports Bar and Grill located in the Hawaiian Market on the Las Vegas Strip directly across from ARIA.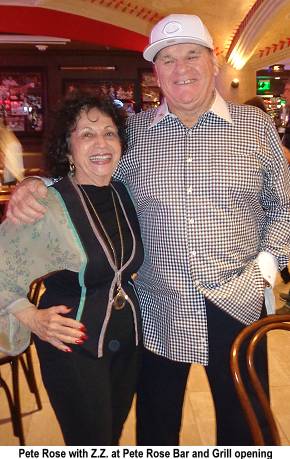 Rose attended with his family and close friends and enjoyed mingling at a media pre-opening private event, which featured an array of sampled menu items and signature drinks. Notable guests included the casts of Thunder from Down Under, Chippendales, X Burlesque, Jersey Boys, Rock of Ages, X Comedy and others. Each guest received a complimentary gift bag which included a signed Pete Rose restaurant card and a bottle of either Pete Rosé or Charlie Hustle Red, two signature wines that benefit Pete Rose's Hustle for Heroes Foundation. Co-founded by Pete Rose, and Ray Genco, the foundation seeks to leverage the power of sports and an American icon to bring about social change. Hustle for Heroes Foundation is a 501(c)(3) non-profit organization dedicated to eroding the challenges our veterans face as they transition back to civilian life and dedicated to decreasing suicide rates in military veterans through education, training and counseling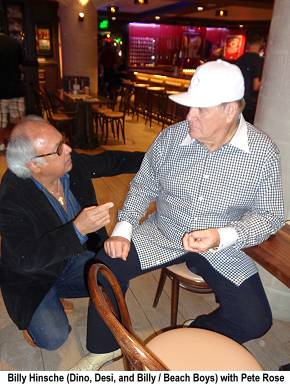 The new Pete Rose Sports Bar and Grill celebrates Rose's historic baseball career with photos and art installations throughout. Pete Rose Sports Bar and Grill is open daily for breakfast, lunch and dinner. Developed by HIG Management Corporate Executive Chef Brian Littlejohn, Pete Rose Bar and Grill's menu includes an array of appetizers, salads, sandwiches, entrees and desserts along with signature "Pete Rose Specials," a love letter to the three cities that Rose played for, including Cincinnati Chili on spaghetti for the Cincinnati Reds; a classic Philly Cheese Steak for the Philadelphia Phillies; and a spin on Poutine for the Montreal Expos, topped with brown gravy and cheese curds.
Pete Rose Sports Bar and Grill is ideal for catching the game on one of 32 high-definition televisions or taking in the views of the Las Vegas Strip. Totaling 9,000 square feet, Pete Rose Sports Bar and Grill offers a 6,700-square-foot bar seating 35 guests and dining room seating 250 guests along with a 2,000-square-foot patio seating 100 guests. Congratulations to the illustrious Pete Rose who is also a Las Vegas resident.
---
Crazy Pita Rotisserie & Grill specializes in delicious healthy Mediterranean cuisine and nutritious seasonal foods and Paint and Party Las Vegas. Crazy Pita Town Square partners with Paint and Party Las Vegas through November 10 offering guests Paint-Drink-Dine events. Guests get the option to choose from multiple portraits to paint and learn from local artists while creating a beautiful piece of artwork to keep or give as a gift. The cost is $30 per person, $20 for children 16 and under. That price includes painting materials and supplies along with one appetizer per table. Happy Hour prices for Paint Party guests 21 years old with valid ID are 50% off beer and wine. This event is all ages. No experience necessary, beginner artists welcome. Reservations required 702-778-3310.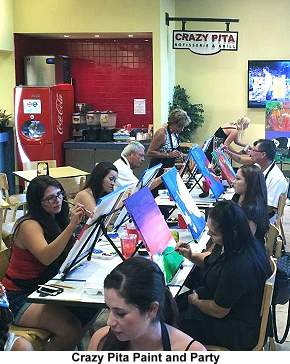 So much incredible entertainment across Station Casinos in October. Highlights include: Sunday Night Football at Texas Station; Monday Night Football at Santa Fe Station, Sunset Station and Boulder Station; Thursday Night Football at Fiesta Rancho; Sherry Gordy Presents Take the Stage - An Open Mic Experience at Fiesta Rancho on Fridays; and the Zowie Bowie Costume Contest and Party at Sunset Station on Saturday, October 31.
---
The Big ONE-OH has arrived for Solutions Recovery as this Fall marks the 10 year anniversary of the best drug and alcohol rehab in the Vegas Valley. Solutions Recovery threw a classic Vegas shindig party to celebrate with ceremony, food, beverages, dessert and entertainment. Entertainment was hosted by Jazz & Lounge Singer Nieve Malandra with comedians/hypnotists Don Barnhart and Terry Stokes and local impersonators! Musical Performances were by local hip hop artists Ekoh and Music4Life's Judith Pinkerton. David Marlon, founder was honored and appreciated by all.
---
KOMP 92.3's new morning show, BS in the Morning with Brittney & Sparks, is celebrating one year on-air in Vegas with two fun events on Friday, Oct. 23. Starting in the morning the duo will broadcast their show live from the top platform of Slotzilla at the Fremont Street Experience; making them the first show to ever broadcast from the top platform. Later that evening, they're having a listener appreciation party at Banger Brewing (450 Fremont St., #135) from 7 - 9 p.m. The evening at Banger Brewing is free and open to the public, must be 21+ with valid ID.
---
Legends in Concert, Las Vegas' longest-running live tribute show at Flamingo will honor the military this Veterans Day by offering a complimentary ticket to those with a valid military ID for the 9:30 p.m. show on Wednesday, Nov. 11. In addition to the special performance on Veterans Day, Legends in Concert also offers a buy-one, get-one free ticket special throughout the year for anyone with a valid military ID. The current cast has a range of musical legends, from contemporary pop stars to classic icons. The current cast consists of Elizabeth Scarborough, first ever tribute artist to Taylor Swift, Brian Duprey as Frank Sinatra, Coty Alexander as Madonna and Jay Dupuis as Elvis Presley. For more than three decades, Legends in Concert has proudly entertained more than 6.6 million Las Vegas visitors and residents, produced over 18,500 performances on the Las Vegas Strip and performed to more than 30 million fans worldwide.
CONTINUE ON TO...:

> Entertainment Tidbits Archives
>Las Vegas News "Heard Around Town"
>Las Vegas Leisure Guide<