During a unique disrobing ceremony The D CEO Derek Stevens introduced the newest addition to his hotel and casino: Manneken Pis, a large-scale bronze replica of the beloved 17th century statue in Brussels, Belgium. Weighing in at 500 pounds with a penchant for public nudity, the new star exposed himself to Downtown Las Vegas. The D has entered into a 100-year contract with Manneken Pis as the official greeter of the property, making him the longest entertainment residency in Las Vegas history. `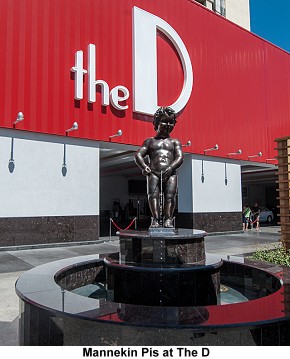 Dutch for "Little Man Pee," Manneken Pis is a bronze statue of a young boy cheerfully "relieving" himself into a fountain's basin. The piece holds a special place in the lives of brothers Derek and Greg Stevens, who are of Belgian descent and visited the statue in Brussels often throughout their childhood and early adulthood. A lifelong fan of the cheeky work-of-art, Stevens always knew he wanted to incorporate Manneken Pis into the D's playful landscape. Derek Stevens is thrilled to bring his whimsical spirit to the D, which he says will attract thousands of visitors from around the world to Downtown Las Vegas."
One the distinguishing traits that sets Manneken Pis apart from other statues is his elaborate wardrobe, consisting of more than 900 suits and costumes to match holidays and other special occasions. This tradition will carry over to Las Vegas, where Manneken Pis will be spotted in a variety outfits throughout the year to match seasons, Downtown Las Vegas events and other city-wide initiatives.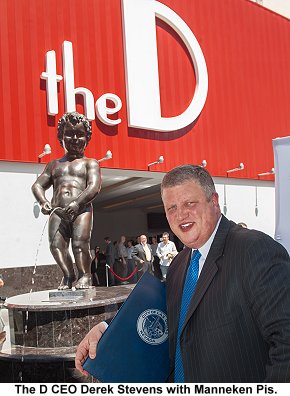 Manneken Pis can be spotted right next to the D's main valet.
Nearly 3,000 guests filled The Joint at Hard Rock Hotel & Casino at Aid for AIDS of Nevada's (AFAN) 29th Annual Black & White Party, raising more than $145,000 to benefit AFAN's client service programs. Dressed in only black and white attire ranging from balloon dresses and pasties to top hats and tuxes, the electrifying atmosphere continued to build throughout the night, resulting in one of the best Black & White parties to date.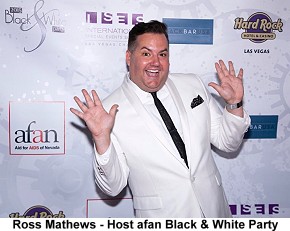 TV personality Ross Mathews hosted the event, introducing performances from Maren Wade, Pia Zadora, "Love is Love" by Legends in Concert, The Sound Collage and Boiis. Looking dapper in a white tuxedo jacket and sparkly black tie, Mathews took a picture on stage with the Legends tribute artists and selfies with guests as he walked through the crowd. Penn & Teller also made a surprise appearance and Carrot Top also was seen enjoying the party.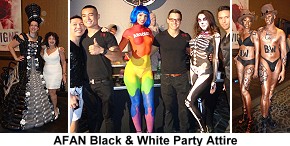 Revelers danced the night away with sets from DJs The Perry Twins, DJ Axis, Nick Ayler and Brandon Godfrey surrounded by steampunk-inspired decor from the International Special Events Society (ISES). A surprise performance from Cirque Mechanics and roaming performers donned in steampunk garb added to the exciting feel of the night. In celebration of the Supreme Court marriage equality ruling, Nevada Supreme Court Justice Michael Cherry performed weddings and vow renewals for couples in the pop up wedding chapel sponsored by Martini & Rossi. AFAN's Executive Director Antioco Carrillo and the board of directors announced Las Vegas resident and Miss Las Vegas Pride 2013 Selena D'Angelo as the "Fashion Icon" winner of a $500 Macy's gift card. Top restaurants, including Culinary Dropout, Ferraro's, FU, Pink Taco, 35 Steaks + Martinis, Hexx, Popcorn Girl, Jamba Juice and Brio, provided bites of their cuisine while Back Bar USA poured top shelf spirits all night.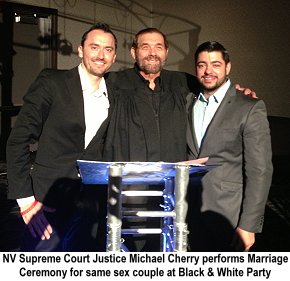 AFAN announced its next event, Solo Strips, to take place on Monday, Sept. 28 at Spiegelworld's Absinthe on the Forecourt of Caesars Palace Monday. Doors open at 11 p.m., show starts at midnight. The lights go down and the clothes come off. AFAN is teaming up with Broadway Cares/Equity Fights AIDS (BCEFA) for the first time ever to celebrate the fifth anniversary of Broadway Bares: Solo Strips. A provocative collection of solo performances from some of Las Vegas' hottest entertainers baring it all to help in the fight against HIV/AIDS. Original Le Rêve - The Dream cast member and Las Vegas local Ryan Lyons brings the Sin City edition to life once again, along with Las Vegas performers for one common goal: to fight HIV/AIDS here in Southern Nevada and across the U.S. Solo Strips pays homage to the origins of Broadway Bares, a benefit burlesque show started by Tony award-winning director and producer Jerry Mitchell in New York City at the height of the HIV/AIDS epidemic in 1992.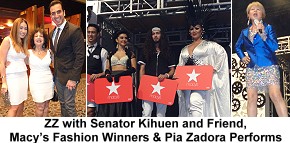 Tickets are on sale now at afanlv.org. You won't want to miss this steamy one-night-only event.
---
Did you know that Oscar's Steakhouse at the Plaza Hotel & Casino lives up to its tagline, Beef-Booze-Broads, every Thursday with its own take on Ladies Night?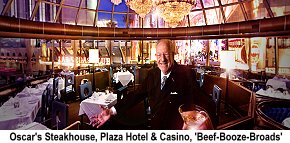 Every Thursday, ladies drink free from 4 to 7 p.m. (For the men, they can enjoy Oscar's happy hour menu offering 50 percent off all appetizers and drinks.) And just for Ladies Night, Oscar's lounge offers its popular beef slider served with caramelized onions, tomato chutney and smoked Gouda for just $5. Oscar's also has live entertainment for Ladies Night by Calvin & Jeff who specialize in timeless Rat Pack-era tunes. And as if the drinks, food and music weren't enough - all guests are entered in the Oscar's Ladies Night raffle to win either a free one-night stay at the Plaza or a complimentary bottle of wine with the purchase of an entrée at Oscar's.
---
Don King Productions & the D Las Vegas presented Outdoor boxing at the Downtown Las Vegas Events Center (DLVEC) with a "Heavyweight Extravaganza." Up-and-coming heavyweight Trevor Bryan (15-0, 11 KOs) put his unblemished record on the line and won the NABF heavyweight title when he faced his toughest opponent to date the more experienced Derric Rossy (30-9, 14 KOs). This was in the 10-round main event of a ShoBox: The New Generation tripleheader. The co-feature was two-time Dominican Republic Olympian Juan Ubaldo Cabrera (23-0, 16 KOs), who won the versatile Mike Gavronski (18-1-1, 12 KOs), of Tacoma, Wash., in a 10-round middleweight match. Years ago as a journalist I would attend all boxing events and met and knew Don King. When he was in the ring presenting Trevor Bryan with his winning belt he waved and me and then came down and we talked and took pictures. A host of celebrities and athletes attended the event such as professional boxer Zab Judah, MMA legend Randy Couture alongside girlfriend and actress, Mindy Robinson, IBA Super Bantamweight World Champion Ana Julaton and UFC heavyweight Frank Mir. Although the outdoor temperature was quite hot, the enthusiastic crowd was very energized and showed it in their voices and actions.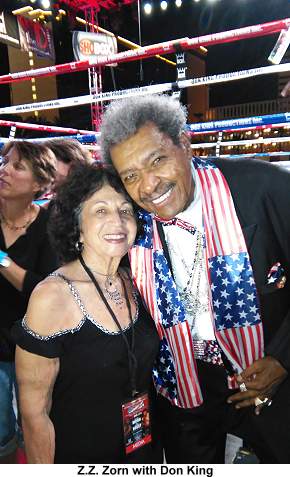 Combate Americas, the first-ever U.S. Hispanic Mixed Martial Arts (MMA) franchise will kick-off an all new live event series, "Road to Championship" on NBC Universo beginning on Thursday, September 17 at Downtown Las Vegas Events Center (DLVEC). This groundbreaking inaugural event will feature some of MMA's top fighters including the main bout with two-time UFC Veteran Ramiro "Junior Hernandez" against hard-hitting KO artist Max Ceniceros. In addition, color commentating will be given by no other than four-time WWE champion Alberto Del Rio.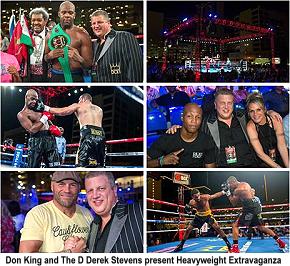 Downtown Las Vegas Event Center is also having concerts. Country singer and songwriter Justin Moore rocked the DLVC along with opener Sam Riddle, who entertained the audience with his hits.
---
The Downtown Grand Hotel & Casino and William Hill Sportsbook have teamed up to offer Sportsbook customers some extra game time fun on 3rd street.
Starting at 9 am every Saturday and Sunday, downtown Las Vegas customers can tailgate at the William Hill Sportsbook outdoor patio, with barbeque and beer specials and quarterly draw prizes. Guests can enjoy $2 draft beers, $2 hot dogs, $3 brats and $3 hamburgers until the conclusion of the daily football telecasts. Anyone who wagers $50 or more receives a drawing ticket for a Coors Light prize item as well.
---
Nevada Senior Olympics Sunday, September 27 @ 1:00 p.m.
An amazing variety of dance categories performed for competition by our own very talented seniors. Sponsored by Nevada Senior Games FREE at Flamingo Library
For tickets - call 702-878-2908 HURRY - MAKE SURE YOU GET A SEAT!
---
Uncensored Voices: Celebrating Your Freedom to Read. During Banned Books Week you can fight censorship and celebrate your freedom to read on Tuesday, September 29 at 7 p.m. at the Clark County Library. Las Vegas Review-Journal political columnist Steve Sebelius and a panel will discuss censorship in Nevada. Staged readings of challenged and banned books will be presented throughout the evening. A reception will follow the reading. Co-sponsored by the ACLU of Nevada, UNLV Libraries Curriculum Materials Library and Cockroach Theatre. Free and open to the public.
TOP OF NEXT COLUMN
---
Get ready to laugh out loud with some of America's funniest comedians at the side-splitting new comedy series Comedy Rocks at Rocks Lounge inside Red Rock Resort, beginning this fall. Hosted by comedy veteran Carla Rea, Comedy Rocks will be held the third Saturday of each month, beginning with comedy veteran and "Hangin' With Mr. Cooper" star Mark Curry Saturday, Oct. 17 at 8 p.m.
Fresh off the heels of recording her HBO stand-up special, comedian, writer, and actress Whitney Cummings returns to the stage in "LIPSHTICK - The Perfect Shade of Stand Up" at The Venetian Saturday, September 19 at 9:30 p.m. Whitney Cummings is also developing a series with HBO, which she will write and star in, based on the book "Are Men Necessary? When Sexes Collide." The hit CBS sitcom, "2 Broke Girls," which Cummings co-created, was also recently renewed for a fifth season.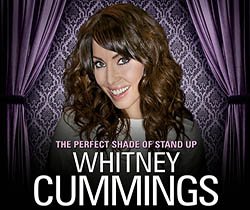 "LIPSHTICK - The Perfect Shade of Stand Up" is a resident comedy series that marks the first time in the storied entertainment history of Las Vegas that the comedy stage has been taken exclusively by female performers. The series, which brings top comedians to the Sands Showroom, debuted in 2014 to critical acclaim.
Jaime Lynch, headliner of FANTASY, Luxor's award-winning adult revue, will sing the National Anthem at the 2015 Professional Bull Riders' (PBR) Built Ford Tough World Finals opening ceremony at
6 p.m. Wednesday, Oct. 21 at the Thomas and Mack Center. For the 22nd consecutive year, the PBR World Finals returns to Las Vegas for a five-day event, showcasing the toughest bulls and the top 40 bull riders in the world, all competing for their share of $2.2 million. Known for her powerhouse vocals, Jaime Lynch will deliver the performance in front of thousands of people.
Following her performance at the PBR World Finals, the cast of FANTASY will heat up the PBR after-party at the recently redesigned LAX Nightclub, located within Luxor. While the cast performs their country moves, Lynch will wow the crowd again with a fun and flirty rendition of Miranda Lambert's "Little Red Wagon. "Approaching 16 successful years on The Strip, FANTASY was named "Best Showgirls" in the 2015 and 2012 Las Vegas Review-Journal's "Best of Las Vegas" poll and "Best Topless Show" in the Las Vegas Weekly "Best of Vegas 2014" awards. Lead singer Jaime Lynch adds an exciting and unforgettable element with her amazing powerhouse vocals as she takes center-stage alongside a talented cast of beautiful dancers. Great for singles and couples alike, the sexy production showcases 15 high-energy numbers set to a variety of today's top music genres. While the gorgeous dancers lure guests into their wildest fantasies, comic relief Sean E. Cooper keeps audiences on its toes with his spot-on impressions of some of pop culture's most recognizable personalities.
---
World-famous dance crew Jabbawockeez new show will debut inside the intimate, newly renovated Jabbawockeez Theater at MGM Grand on Monday, Nov. 2 at 7 p.m.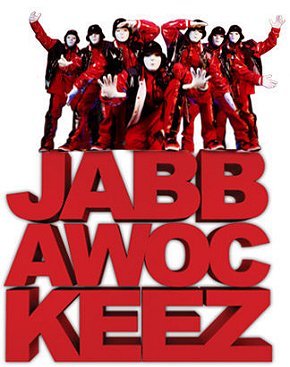 MGM Grand was Jabbawockeez original home on the Las Vegas Strip. Jabbawockeez has developed a one-of-a-kind style that has positioned the group as the most influential dance crew in the world, effectively changing the way people view dance entertainment. Known for their creativity, choreography, athleticism and intricate synchronization, each member of the dance crew brings a different technique and perspective to form the original style that makes them so distinct. Dressed in ubiquitous white masks, they guide the audience's attention away from individual identities and towards a unified group. They were crowned the original champions of "America's Best Dance Crew" on MTV and their fan base grew with their first production in Las Vegas, entitled MÜS.I.C. which opened at MGM Grand in Las Vegas in 2010. Their most recent production prior to moving to MGM Grand was entitled "PRiSM," and opened in 2013 at Luxor Las Vegas. They have appeared on numerous television shows including "Dancing with The Stars," 2009 NBA All-Star Game, "So You Think You Can Dance," "The Ellen DeGeneres Show," and most recently, "I CAN DO THAT" on NBC."
In addition to its upcoming production at MGM Grand, Jabbawockeez also has created an electrifying new show for "Halloween Horror Nights" at Universal Studios Hollywood, beginning Friday, Sept. 18.
---
Siegfried & Roy introduced the world to the newest additions to their animal family when four six-week-old tiger cubs made their first appearance at Siegfried & Roy's Secret Garden and Dolphin Habitatat The Mirage. Born on August 5 at the Secret Garden to mother Indira and father Svengali, these are the first tiger cubs to be introduced at The Mirage in five years. "Our newest 'Ambassadors of Conservation' play an important role in our never-ending quest to protect these animals," said Roy. "It is imperative to continue our conservation efforts to save these magnificent tigers for future generations to enjoy and cherish." "It is always exciting to welcome new members to our family at The Mirage," said Siegfried. "We are pleased to introduce these magical creatures to the world to relish in their beauty and are thrilled that people across the world can watch the cubs grow and learn on Instagram, Twitter and Facebook." Animal lovers from around the world will be able to watch and follow the cubs' journey using the Twitter and Instagram handle @SARMOTIcubs and on Facebook at Facebook.com/SARMOTIcubs.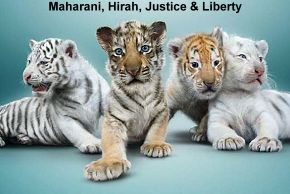 The siblings will be available for guests to see and range in color: Liberty, a pure white female; Maharani, a striped white female; Hirah, a striped golden female and Justice, a light golden boy. The new clan has been dubbed the #SARMOTIcubs after the world-renowned magicians' SARMOTI Foundation, which is dedicated to protect, conserve and preserve endangered and threatened animals globally, with particular focus on the big cats: tigers, lions, cheetahs, panthers and leopards.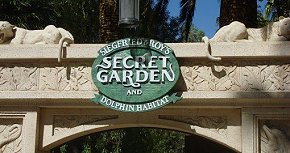 The cubs will be available to view in a specially-designed nursery starting at noon daily.
---
Las Vegas showbiz stars have big and generous hearts, and comedy juggler Jeff Civillico brings them all together for his annual Win-Win Entertainment's Headliners Bash. Prior to Win-Win's 2015 Headliners Bash, founder, Jeff Civillico had a kick-off event and brought entertainers, supporters, volunteers and others together. At this event, awards were given to those who extend themselves to make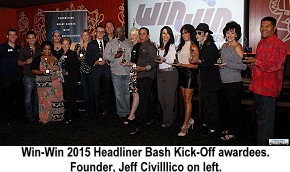 Win-Win Entertainment the wonderful organization that it is. Win-Win Entertainment is a 501 c3 non-profit organization dedicated to connecting great causes with great entertainment…one show at a time. Win-Win exists to connect good causes with good people willing to do something. Through Win -Win Entertainment, charity organizations WIN by gaining access to professional event entertainment that provides uplifting experiences and Win-Win gains with the opportunity to experience the fulfillment of giving back to the community.
---
The Magic of Seth Grabel is sponsoring a benefit performance for the UNLV Performing Arts Center Saturday, October 17th at 7PM at UNLV's Judy Bayley Theatre. Seth Grabel's achievement as a Celebrated Performer, Magician, and Illusionist is the quintessential American success story from his childhood passion for mystery and illusion to his spectacular performance on America's Got Talent. His visionary approach to magic continues to escape the confines of tradition, successfully manipulating an audience with illusion and blurring the lines of reality. Grabel performs his unique brand of magic and illusion in a benefit for the UNLV Performing Arts Center!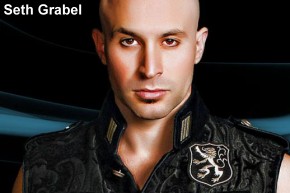 Tickets are $30 for All Seats - $15 Discounted tickets are available to all students w/valid ID & UNLV Faculty and Staff. Call: 702 895 2787 or www.unlv.edu/event/magic-seth-grabel-benefit-unlv-performing-arts-center .
---
The 39th annual Mrs. America Pageant will return to its original home at the Westgate Las Vegas Resort & Casino this fall. Hosted by actress Florence Henderson, star of classic show "The Brady Bunch," the 2015 Mrs. America Pageant will be held Sunday, Sept. 20 through Thursday, Sept. 24 inside the International Theater.
Preliminaries for the 2015 Mrs. America Pageant will be held Sunday, Sept. 20 through Wednesday, Sept. 23 from 9 a.m. to 11a.m. A winner will be crowned during the final competition on Thursday, Sept. 24 from 10 a.m. to 1 p.m. The winner of the 2015 Mrs. America Pageant will go on to represent the United States in the internationally-televised Mrs. World Pageant.
The 2015 Mrs. America Pageant, rich in history, was first held in 1938 and continued until 1968. Revived after a nine-year hiatus in 1977 at the-then Las Vegas Hilton by David Marmel, who after a career in professional athletics and as an independent television producer, helped transform the pageant into the multifaceted event it is today. The event was the first and remains the foremost competition for the married woman of the United States. For nearly four decades, Mrs. America has epitomized excellence, professionalism and the celebration of family values. Tickets start at $50 and are on sale now by phone at 310-829-9902 and in-person the day of the show.
---
Coming to the Westgate with an in-your-face stage presence and a classic funk sound, Cameo returns to the stage with a new residency show at that kicks off on Wednesday, October 7 in the Westgate Cabaret. As one of the most influential groups in funk music in the 1970s and 1980s, Cameo will perform weekly from Wednesday through Saturday at 7:00 PM. Founded by vocalist Larry Blackmon in the early 1970s, Cameo was comparable to Parliament Funkadelic early on. However, with hits such as "Word Up," the group became a trendsetter throughout the 1970s and 1980s and even influenced early R&B and hip-hop acts. Their debut album Cardiac Arrest featured the hit "Rigor Mortis," and established the group as a mainstay on the dance floor. Cameo released a string of gold-certified albums including Cameosis, which peaked at number one on the Billboard Hot R&B Albums chart. Their 1986 album Word Up! went platinum and climbed to number eight on the Billboard 200 chart, becoming the group's most successful album.
---
Craig Ranch Regional Park Amphitheater the new live entertainment venue celebrates its public grand opening October 9, 10, 23 and 24. The multi-thousand seat outdoor theater will present nationally-known acts WAR, Sammy Kershaw, Paul Rodriguez and Yesterday - The Beatles Tribute Show on its recently constructed stage, ushering in a new age of entertainment options in the North Las Vegas community. Craig Ranch Regional Park Amphitheater will kick off its live performance series with Yesterday - The Beatles Tribute Show on John Lennon's birthday, Oct. 9. The good vibes continue on Saturday, Oct. 10 with the original jazz-rock-blues band WAR, who will get the crowd going with their iconic songs. Country Artist Sammy Kershaw will ride in on Friday, Oct. 23, entertaining patrons with his soulful southern rock and Cajun-inspired vocals. Finally, the grand opening performance series closes with longtime comedian Paul Rodriguez on Saturday, Oct. 24, who will crack up audiences with his unique brand of Latin-American humor and universal appeal. The amphitheater will offer specialty curated fare and libations for purchase from local food trucks and community concessionaires while guests that wish to bring their own fare are encouraged to do so and experience the park's many amenities, gazebos and shade structures. Tickets to the grand opening performances of the Craig Ranch Amphitheater are on sale now online at craigranch.yapsody.com.
CONTINUE ON TO...:

> Entertainment Tidbits Archives
>Las Vegas News "Heard Around Town"
>Las Vegas Leisure Guide<