WICKED is back at The Smith Center for the Performing Arts. After breaking box office records and selling out in record time in 2012, WICKED, Broadway's biggest blockbuster, will return to Las Vegas from Wednesday, Oct. 8 through Sunday, Nov. 9. With music and lyrics by Stephen Schwartz (Pippin, Godspell, Academy Award® winner for Pocahontas and The Prince of Egypt) and book by Winnie Holzman ("My So Called Life," "Once And Again" and "thirtysomething"), WICKED, the untold story of the witches of Oz, is directed by two-time Tony® Award winner Joe Mantello (Take Me Out, Love! Valour! Compassion!, The Vagina Monologues) and features musical staging by Tony Award winner Wayne Cilento (Aida, The Who's Tommy, How To Succeed…).

Based on the best-selling 1995 novel by Gregory Maguire, WICKED, winner of more than 50 major awards, including a GRAMMY® and three Tony Awards, is the untold story of the witches of Oz. Long before Dorothy drops in, two other girls meet in the Land of Oz. One - born with emerald-green skin - is smart, fiery and misunderstood. The other is beautiful, ambitious and very popular. WICKED tells the story of their remarkable odyssey, and how these two unlikely friends grow to become the Wicked Witch of the West and Glinda the Good.
WICKED has been declared "A Cultural Phenomenon" by Variety and "The Best Musical of the Decade" by Entertainment Weekly.
Westgate Hotel/Casino invited the public to pay tribute to the Fallen Heroes of 9/11 on September 11. An inspirational screening of The Hornet's Nest, a documentary filmed at an actual battle in Afghanistan and the everyday sacrifices and tribulations that our troops encounter every day in battle was shown. The event featured a presentation and introductions by Willie Gault, former NFL player from the Super Bowl XX Championship Chicago Bears team and Los Angeles Raiders, and Julie McCullough, former Growing Pains actress and Playboy magazine Playmate, inside of the Westgate Theater. Trent Carlini as Elvis performed and Paul Shortino, (Rough Cutt and Quiet Riot bands and lead vocalist for the Raiding the Rock Vault show (and my neighbor) beautifully sang the National Anthem. Many VIP's including Leon Spinks, former boxer who defeated Muhammad Ali were called onstage.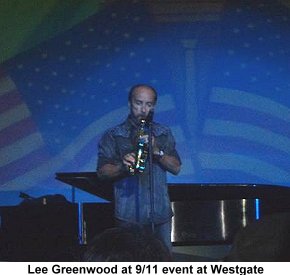 A special performance from Lee Greenwood, best known for the song "God Bless the USA" was thrilling. The event also included a red carpet. There was a silent and live auction benefitting The Green Beret Foundation, a non-profit that provides unconventional resources for our Army Special Forces wounded, ill, injured and transitioning warriors. Included in the live auction were two tickets to the 2015 Super Bowl with many amenities included that sold for $10,000. David Siegel, Founder & CEO of Westgate Resorts also donated $10,000. David Salzberg, Director/Producer of The Hornet's Nest and Scott Neil of The Green Beret Foundation spoke before and after the screening. A big thank you goes to the Westgate for this event.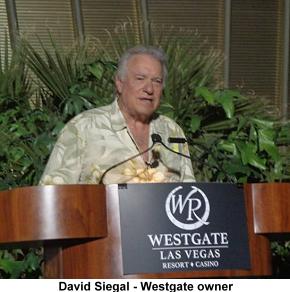 LIPSHTICK - THE PERFECT SHADE OF STAND UP at the Venetian is welcoming back to the stage TV's Queen of all Media, Wendy Williams, following her sold-out show in July. Williams returns to The Sands Showroom for two special performances, Friday, Oct. 31 and Saturday, Nov. 1. Wendy Williams made her comedic debut in July and kicked off the LIPSHTICK series with her first-ever stand-up performance. As a mother, wife, media mogul, entrepreneur, performer and best-selling author, Williams is best known for her long-running talk show The Wendy Williams Show. Named one of the "35 Most Powerful People in Media" by The Hollywood Reporter in both 2012 and 2013, her nationally-syndicated weekday program was hailed a "breakthrough in daytime" by The New York Times when it launched in 2009.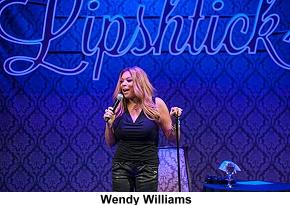 LIPSHTICK - THE PERFECT SHADE OF STAND UP is a resident comedy series that marks the first time in the entertainment history of Las Vegas that the comedy stage will be taken exclusively by female performers. Tickets are now on sale. Ticket prices range from $57.50 to $97.50 with a VIP Meet & Greet, not including tax and fees. A limited number of suite packages that include a meal at select Venetian and Palazzo restaurants, as well as VIP packages that include preferred front-row seating and a meet-and-greet with the comedienne, will be available.
---
Opportunity Village, introduces, "HallOVeen" at the Magical Forest, weekends in October and on Halloween Eve as well as Halloween from 5-9 p.m. This family friendly event will feature fun games, events and entertainment for all ages. For the second year in a row, the Magical Forest will be shrouded in Halloween finery, beckoning ghouls and goblins with rides and attractions including The Haunted Adventure by Santino and Rocco Panaro, a spooktacular Forest Express Passenger Train, Cheyenne's Enchanted Carousel and Boris the Elf's 3D Experience. There will be nightly parades, crafts, spooky movies, storytelling, "Scary-oke", the Candy Cabin, and the Haunted Castle Courtyard that will feature nightly entertainers. Scheduled dates are: October 3-5; 10-12; 17-19; 24-26 (Friday through Sunday); 30 and 31 (Thursday and Friday). Tickets can be purchased online at OpportunityVillage.org, or in person at the Magical Forest 6300 W. Oakey.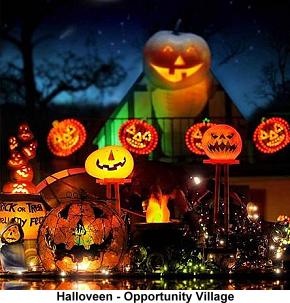 40 Is Not The New 20 at the Riviera Comedy Club stars 25-year comedy veteran Matt Kazam in a hysterically funny, 70 minute one-man stand-up comedy production, 40 Is Not The New 20 explores how much the world has changed in the past 40 plus years. If you remember the boom box, "Pac Man," the Rubik's Cube and when there were only three stations on television, this show is for you. It puts the notion that 40 is the new 20 on trial and breaks down the concept into categories such as technology, the media, politics, relationships, our priorities and even how our bodies have changed over the years. Everyday topics like marriage, parenting, work, commuting, bills and exercise, just to name a few, will be compared and contrasted though the eyes of a 40 year old.
Matt Kazam has performed in many of America's top comedy clubs, casinos and theaters. With more than 6,000 stand-up performances in 45 states under his belt, Kazam has the ability to work any crowd in any venue.
---
GEORGIA ON MY MIND: Celebrating the Music of Ray Charles will only be at the Venetian September 18 through October 29, so be sure to get your tickets ASAP. Ray Charles is an American treasure who transcended racism, cultural upheavals, and spread his gospel, blues, jazz and country sound around the world. Ray Charles won every major award: from the Georgia Hall of Fame to the Hollywood Walk of Fame, from the Kennedy Honors to a Grammy Lifetime Achievement Award, and he was inducted into the Rock N' Roll Hall of Fame. This show celebrates his music.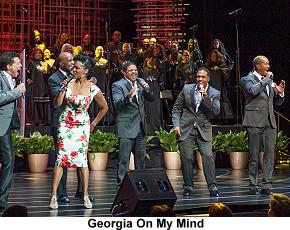 This groundbreaking new show features a host of esteemed stars including Emmy award-winner Clint Holmes, 10-time Grammy award-winning vocal group TAKE 6, six-time Grammy nominee and DownBeat Vocalist of the Year Nnenna Freelon, and Stella Gospel Award and Grammy award-winning saxophone star Kirk Whalum. The show also introduces the Las Vegas Mass Choir, under the direction of James R. Smith and Edie Aikels, and features the Las Vegas All-Star Big Band, under the direction of pianist and conductor, David Loeb. This dynamic ensemble of all-star performers celebrates the genius of American music, Mr. Ray Charles. The artists in this performance have a combined 11 Grammys, and Vegas' own Clint Holmes is making his return to the Las Vegas Strip after eight years. This celebration of the genius Ray Charles in an evening with GEORGIA ON MY MIND will be a night to remember.
---
Disney Live! Mickey's Music Festival brings beloved characters and modern beats to the Orleans Arena October 3-5 Concert goers will hear greatest hits from the Disney classics "Aladdin," "The Little Mermaid" and Disney/Pixar's "Toy Story" remixed to rock, pop, reggae, hip-hop, jazz and country, among other jams. Disney Live! Mickey's Music Festival, features an all-star line-up of more than 25 Disney characters performing in a music mash-up of mega proportions. The show will kick-off with a state-of-the-art video projection of frenzy backstage, which spills onto the stage as Mickey welcomes guests to his concert tour. Thereafter, the audience will be transported to a new world of hip hop beats, dizzying acrobatics, flying carpets and magical transformations with characters Aladdin, Jasmine and Genie. Audience members are encouraged to connect with the Disney stars and sing, dance and laugh along during the interactive show.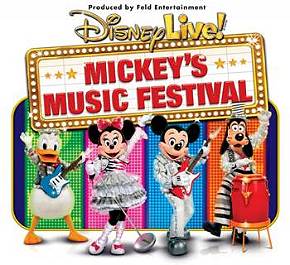 The show's father-daughter production team, Kenneth Feld and Alana Feld, hand-selected award-winning creative talents. Showtimes vary. Tickets are available from $20 plus taxes and fees, and can be purchased by calling the Orleans Arena box office at 702-284-7777.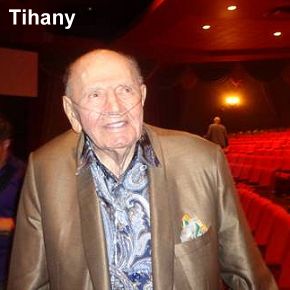 A truly amazing evening was held at The Orleans in a one night incredible show that was a tribute to 98 year old world famous Circus Legend Impresario and performer, TIHANY.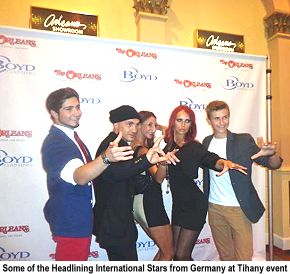 The show called Variety Live was hosted by British Singing Sensation and now Las Vegas resident, Ben Stone and included many well-known stars and international circus headliners who came to the U.S. just for this show. The packed audience also included top magicians such as Siegfried & Roy, Chris Angel, Mac King among many others. The show also supported the HEAVEN CAN WAIT ANIMAL SOCIETY.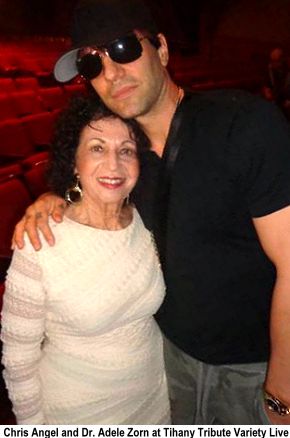 TOP OF NEXT COLUMN
Life is Beautiful Festival is expanding from a two-day to a three-day cultural event in response to the success of its first year from Friday October 24 through Sunday October 26. Life is Beautiful is about inspiring people, offering messages of hope and encouragement through a unique experience with the world's most talented and authentic set of the world's top musicians, chefs, cultural icons, artists and speakers.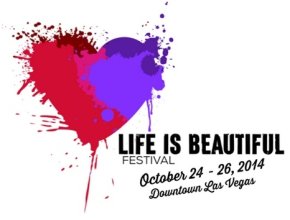 Life is Beautiful Festival in Downtown Las Vegas is expanding in both longevity and in scope; this year's festival will feature nearly 70 chart-topping acts, dozens of culinary giants, and world-renowned speakers, all on 4 massive stages in the heart of the newly revived Downtown Las Vegas, with unexpected art installations and several Culinary Villages.
Music is Beautiful - Over the course of the three days, the festival will feature: Kanye West, Foo Fighters, OutKast, Arctic Monkeys, Skrillex, Lionel Richie, The Flaming Lips, The Weeknd, Girl Talk, Alt-J, The Roots, Broken Bells, TV on the Radio , A-Trak, Kacey Musgraves, Fitz & The Tantrums, Phantogram, The Head and The Heart, Panic! At The Disco, Matt & Kim, Neon Trees, Jenny Lewis, G-Eazy, OK Go, Tycho, Mayer Hawthorne, Switchfoot, tune-yards, MS MR, RAC, Holy Ghost!, Dizzy Wright, St. Lucia, Trampled By Turtles, Galantis, St. Paul & The Broken Bones, Ryan Hemsworth, Mø, DJ Mustard, Vintage Trouble, J. Roddy Walston and The Business, The Orwells, Ásgeir, M4SONIC, Sleeper Agent, The Preatures, DJ Cassidy, MisterWives, ASTR, holychild, Night Terrors of 1927, Nostalghia, Catfish and The Bottlemen, Paper Route, Rusty Maples, Moksha, Ekoh, Sabriel, American Cream, Rabbit! and more, plus a special performance from The Beatles LOVE by Cirque du Soleil with members of the Las Vegas Philharmonic orchestra. Food is Beautiful - Led once again by an esteemed advisory board comprised of more than a dozen world-class chefs. For tickets and info visit: >www.lifeisbeautiful.com.
---
Las Vegas resident DJ Tiësto at Hakkasan nightclub at MGM Grand took over the nightlife complex for a special Gold Party edition of his "Club Life" affair as he celebrated not one, but two of his 2014 singles going Gold as certified by the RIAA. The two singles, "Wasted" featuring Matthew Koma and "Red Lights" have both reached over 500,000 digital sales making this Tiësto's first Gold plaques in the US.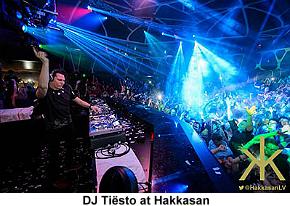 The turntable sensation transformed the fourth level of the destination into the ultimate celebration as thousands of electronic music fans and partygoers alike flocked to the hot spot. Taking the stage around 1 a.m., Tiësto began his heart-pumping set while the energy of the main room erupted with excitement. Kicking the celebration into full party mode, the DJ icon Tiësto was surrounded by Hakkasan's stunning model cocktail servers as he was presented with two commemorative gold plaques by representatives of Casablanca Records. As gold confetti burst into the air, Tiësto held his trophy high above his head for all of his fans to see and cheers took over the hot spot. Adding to the excitement, fellow DJ and Hakkasan featured artist Afrojack made a surprise appearance in the DJ booth to celebrate with his good friend. It was truly a night to remember as Tiësto spun his hits into the early hours of the morning and closed down the party around 4 a.m.
---
The Nevada Conservatory Theatre presents the critically-acclaimed production THE LAST FIVE YEARS Nov. 6-9 at the Judy Bayley Theatre on the UNLV campus. The limited engagement stars Adam Kantor and Betsy Wolfe of the record-breaking 2013 off-Broadway revival and will also feature an on-stage, live orchestra.
Jason Robert Brown's contemporary musical THE LAST FIVE YEARS tells the emotionally powerful story of two twenty-something New Yorkers who dive head first into a marriage fueled by the optimism that comes with finding "the one." But in a city where professional and personal passions collide and only the strongest relationships survive, navigating the waters of love and matrimony can sometimes prove too much. Cathy, a struggling actress and Jamie, an up and coming novelist, tell the story in a unique progression with Cathy starting the end of their marriage going backward, and Jamie telling it from the beginning of a blossoming relationship. Funny, honest and intimate, with an exuberantly romantic score, THE LAST FIVE YEARS takes a bold look at one young couple's hope that love endures the test of time. Single tickets are on sale now and are available for purchase by calling the UNLV Performing Arts Center box office at 702-895-2787.
---
From the team who brought the Westside one of the valley's hottest local restaurants, Honey Salt, comes a new tavern "handmade" for Las Vegas - Made L.V. Restaurateur Elizabeth Blau and Chef Kim Canteenwalla have opened the dining destination at Tivoli Village. The casual spot focuses on handmade American food, cold beers and great drinks, all made with the couple's distinctive touch. Just in time for the beautiful Las Vegas fall and football season - Made L.V. boasts multiple televisions for all the sports action and multiple patio areas, including a fire pit, and outdoor TV. The collection of arcade games including Golden Tee, Big Buck Hunter, Pac Man and retro board games offer plenty of ways to have fun and unwind. Happy Hour runs Monday - Friday from 4 - 6 p.m.
---
"THE NAKED MAGICIANS" opens October 17 - 31ST at TOMMY WIND THEATER (formerly The Boulevard Theatre near MGM Grand). This is a unique new show where outstanding close-up magic with ordinary objects combines with a fun game of Strip Poker. The show also features a "hot" cocktail waitress character who works the crowd and the magicians. The two-week limited run 4pm show features 3 magicians performing in an upscale night club setting for 150-200 guests. Modern high-energy music backs each routine filled with card flourishes and choreographed moves to showcase incredible skills of the star magicians. The "waitress" invites the audience to "check out" the "naked" props on shelves that will be used throughout the 75 minute program so the guests are involved in the experience. She opens the show with a musical number, introduces the performers and participates in the magic. Improv performer and comedian Emily Lauren Sanders plays the role of the cocktail waitress.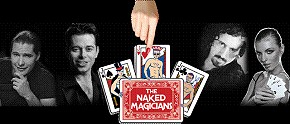 Throughout the show, the guys make playful bets with the waitress to get her to remove her clothing while they perform unbelievable & impossible close-up magic. In the end, the tables turn (she wins) and the guys lose their clothes in a fun, surprise way. Three award-winning magicians star in THE NAKED MAGICIANS:
Britain's Chris James is the only magician in history to entertain The Queen of England and the United Nations in the same year. Andrew Goldenhersh is the only magician to have been nominated for both "Close-Up Magician of the Year" and "Parlour Magician of the Year" 12 years in a row. Las Vegas resident Jason Baney starred in "Viva Las Vegas," co-starred in "The World's Greatest Show" for three years and has performed for fans of all ages throughout Europe and Asia.
Tickets are priced at $33 dollars and $42 for VIP seats (includes autographed photo and your own close-up magic trick) and can be purchased online at www.nakedmagicians.com or call 702-776-8888.
---
The Cosmopolitan brings back the bold flavors of Asian markets - from Taiwan to Thailand - with the return of LUCKYRICE Night Market at Boulevard Pool on Saturday, Oct. 4, from 8 to 11 p.m. The dynamic festivity brings the culture of the East to the heart of The Strip, celebrating its diverse and rich traditions.
Now in its third year, the outdoor marketplace will feature traditional Asian street food and modern variations alike, prepared by renowned chefs such as Pichet Ong (NYC), Cedric Vongerichten (Perry St, NYC) and Miguel Trinidad (Maharlika, NYC). Celebrated local favorites include chefs from Raku, Sweets Raku and Chada Thai. Additionally, The Cosmopolitan's own culinary teams from China Poblano, Estiatorio Milos, Rose. Rabbit. Lie. and STK will showcase their culinary expertise and unique twist on Eastern cuisine. The resort's resident mixologists will also be on hand, serving specialty-curated cocktails spiked with Asian flair. General Admission tickets for the LUCKYRICE Night Market are priced at $88 + taxes and fees and VIP tickets are also available for $150 + taxes and fees and include early entry at 7 p.m.
---
The Gay and Lesbian Community Center of Southern Nevada (The Center) presents its 20th Annual Honorarium on Saturday Oct. 18 at 5 p.m. at Drai's Beachclub + Nightclub inside The Cromwell. Hosted by TV/radio personality and celebrity interviewer Scott Nevins, this year's Honorarium will be an extravagant evening of entertainment and recognition of community heroes. Beginning at 5 p.m., guests will mingle through Drai's tropical paradise while bidding on an array of silent auction items. Perched atop the 11th floor of The Cromwell, guests will take in stunning views of The Strip while enjoying themed cocktails and light bites at Nevada's premier LGTBQ fundraiser.
At 7 p.m., the event will move inside Drai's posh, ultra-stylish interior space as The Center recognizes three community leaders and partners for their contributions to the Southern Nevada LGBTQ community and its allies - Diana Bennett, chief executive officer and co-founder of Paragon Gaming (Person of the Year); Fred Keeton, vice president of external affairs and chief diversity officer for Caesars Entertainment Corporation (Ally of the Year); and Wynn Resorts, a company that has earned a 100 percent score on the Human Rights Campaign's Corporate Equality Index for four consecutive years (Corporation of the Year). Las Vegas is fortunate to have such strong community leaders and partners who continue to make outstanding contributions to the LGBTQ and allied community in Southern Nevada.
For more information about the 20th Annual Honorarium, or to purchase tickets, visit www.TheCenterLV.org/Honorarium. Tickets start at $250 per person with VIP upgrades available including poolside cabanas atop Drai's stunning rooftop pool deck. All proceeds benefit The Center.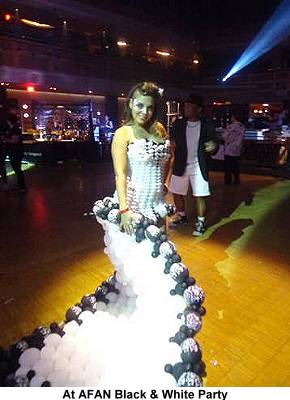 Aid for Aids of Nevada (AFAN) hosted The 28th Annual Black & White Party at The Joint at The Hard Rock Hotel/Casino that had about 3,000 guests and raised nearly $130,000 for a good cause. Guests enjoyed being part of and viewing some of the fashion Black & White Attire that was outrageous.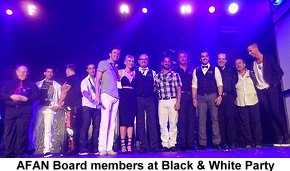 Entertainment continued throughout the night with: Melody Sweets of "Absinthe" at Caesars Palace, members of "Jubilee" at Bally's, Skye Dee Miles of Rose. Rabbit. Lie at the Cosmopolitan, Jabbawockeez at the Luxor, and Chase Brown and Lorena Peril of "Vegas! The Show" at Planet Hollywood.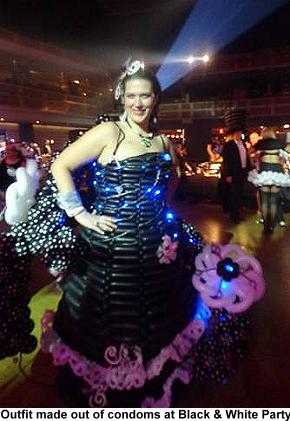 Shangela (aka D.J. Pierce) of "RuPaul's Drag Race" Guests enjoyed eating and drinking served from Las Vegas chefs and mixologists that included Culinary Dropout, Maggiano's, Pink Taco, 35 Steaks + Martinis, Jamba Juice, Popcorn Girl and Ferraro's. With 2014 being AFAN's 30th anniversary, the organization honored some of their original founders as well as the current AFAN board onstage. Antioco Carillo welcomed them and recognized their lasting contributions to the community. Quite a night! Don't fret is you missed this one as it takes place twice a year and will certainly be back again!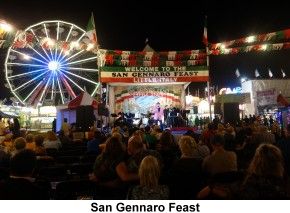 The 35th Annual San Gennaro Feast featured more than 70 restaurant food booths, 80 amusements rides including the 100-foot Vertigo, midway games, arts and crafts booths, and live music. Entertainment coordinator and host Tony Sacca introduced Las Vegas' finest entertainers and best bands and also headlined his own show. Tony Sacca has been Entertainment Host of the event for more than 30 years.
CONTINUE ON TO...:

> Entertainment Tidbits Archives
>Las Vegas News "Heard Around Town"
>Las Vegas Leisure Guide<