The Frank Marino Roast, Friday October 4 at The Stratosphere is the third roast produced by Emmy award winning AWE Andy Walmsley Entertainment. Previously Zowie Bowie and former Mayor Oscar Goodman were roasted and the Roasts were hilarious. Andy Walmsley's idea of Roasts was to bring the show business community of Las Vegas together in a social setting to experience the camaraderie rarely enjoyed since the golden era of the Rat Pack. A dozen or more Local celebrity Roasters will take to the stage to celebrate, tease and lovingly poke fun at the longest running Las Vegas headliner in history, Frank Marino and their fellow Roasters. There will be musical roasts backed by a live 11 piece band, dancers, surprise guests and full production numbers.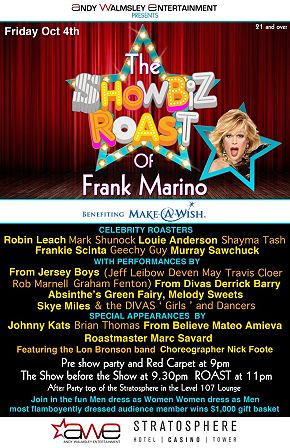 In addition there will be a PRE SHOW PARTY: What is being called "The Show before the Show" the pre Roast party will be an extravaganza of entertainment in itself with a mini variety show on an intimate stage right there in the theater Lobby hosted by Liberace himself there will be 5 additional acts performing at the Show before the Show. The Showbiz Roast of Frank Marino will be benefiting Frank's charity of choice, Make a Wish Southern Nevada. For tickets visit their twitter page at: www.twitter.com/showbizroast.
After 25 years as the star of "An Evening at La Cage" and never at a loss for words, Marino is an accomplished author, newscaster, columnist, spokesperson, and America's favorite male actress. His first book, His Majesty, the Queen, was an immediate bestseller. He was in the movie Miss Congeniality 2 co-starring alongside Sandra Bullock and an award winning guest starring role in the hit Off-Broadway play "Tony n' Tina's Wedding."
Frank Marino has a street, Frank Marino Drive, named after him, and is forever immortalized with a star that bears his name on the Las Vegas Walk of Fame.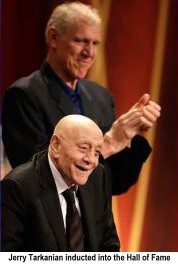 Hooray, it finally happened... Jerry Tarkanian was inducted into the Naismith Memorial Basketball Hall of Fame on Sept 8. "Tark,The Shark" as he was known, coached the UNLV Runnin' Rebels 19 years, from 1973-1992. His teams were famous for their up tempo and aggressive style, captivating fans worldwide. His overall record is 509-105, an amazing .829 winning percentage. He led 4 teams to the NCAA Final 4, and his UNLV 1990 team won the National Championship! I was here at that time and Las Vegas went wild. Congrats Jerry, Las Vegas loves you.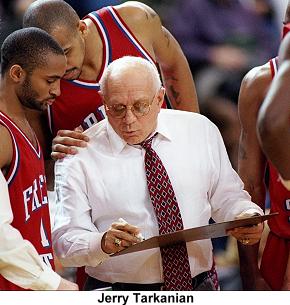 91 years of age, legendary comedian Marty Allen has no intention of retiring and still works a full year and runs two miles on a treadmill daily. On Oct. 24, 25, and 26 at 7 p.m. Marty Allen and co-star Karon Kate Blackwell will take the stage at the Showroom in the Plaza Hotel & Casino for a special three-night engagement. Allen met his co-star Blackwell in the mid-1980s, and the duo began performing together, combining his comedy with her music. They eventually married and do a great act together.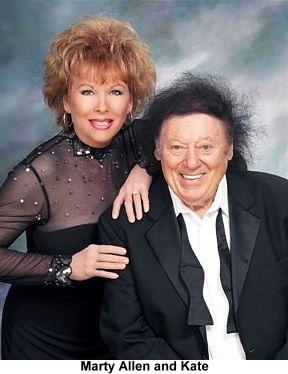 Legendary entertainer Tony Sacca celebrates 50 years in show business as Free, old-style variety shows return to Las Vegas with The Las Vegas Rocks Variety Show at The Railhead inside Boulder Station. Featuring celebrity guests and an array of talented performers, Sacca presents the Las Vegas Rocks Variety Show every Friday at 2 p.m bringing recognition to some of the city's finest entertainers. On Sept. 20 he will be introducing actor Chris Allen, Brazilian singer Patty Ascher, the Phat Pack and others. On Sept. 27, he will be joined by comic Harry Basil, former Las Vegas Mayor Oscar Goodman and Thunder From Down Under- an all-male dance revue.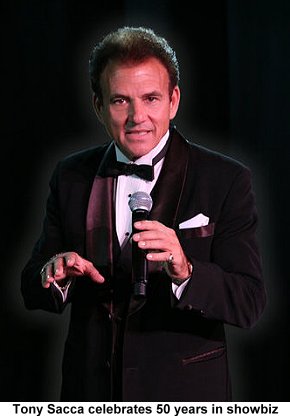 Tony Sacca, a singer and TV host has been on the Las Vegas circuit for three decades. Tony started performing at age 12 with his twin brother, Robert in Philadelphia and the Jersey coast. Before moving to Las Vegas in 1981, they toured performing in major nightclubs and hotels, which included a three-year run at the legendary El San Juan Hotel in Puerto Rico where legendary magician Siegfried of Siegfried & Roy discovered their act and invited the twins to Las Vegas. Since then, Tony Sacca has been a mainstay in Las Vegas. In addition, for many years thousands of people have enjoyed Tony's hosting the entertainment at the 2x yearly San Gennero Feast. Congrats Tony, and keep on entertaining your vast fans.
---
Great events at The Smith Center: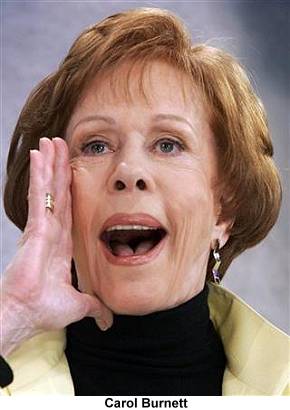 Laughter and Reflection with Carol Burnett: A Conversation with Carol Where the Audience Asks the Questions - Sunday, Sept. 29, 2013 at 8 p.m.
Reynolds Hall - Ticket prices start at $39

A unique open-ended conversation with Carol Burnett allows the audience to ask the questions. Patrons are encouraged to bring questions for a hilarious, impromptu, audience-interactive evening with the actress, comedienne and author. The six-time Emmy® Award winner says, "I love the spontaneity of these evenings. I never know what anybody is going to say or do or ask."

Below tickets starting at $24.
WORLD BLUES - Oct 10:
KRONOS QUARTET: KRONOS at 40 - Oct 21
AUDRA McDonald in Concert - Oct 22
JAZZ ROOTS: LADIES OF JAZZ Dee Dee Bridgewater, Esperanza, Spalding and the Mosaic Project - Oct 23
ZOPPE an ITALIAN FAMILY CIRCUS - Oct 31 - Nov 3 (under the Big Top at Symphony Park)
Also at The Smith Center in Reynolds Hall
Las Vegas Philharmonic presents Masterworks I - Operatic Love - Saturday, September 28 at 7:30 p.m., Pre-concert conversation 6:45 p.m.
Case Scaglione, conductor - Opening night celebration featuring arias from beloved works by opera masters such as Puccini, Verdi and Mozart alongside orchestral showpieces including Verdi's triumphal march from "Aida," Wagner's "Prelude to Act III" from "Lohengrin" and Richard Strauss's "Rosenkavalier Suite."
Opening Night Cocktail Party 6 p.m., Founders Room - Party tickets $100; Advance reservations required; Concert admission additional
---
Carlos Santana to receive 2013 Kennedy Center Honor.
On Sunday, December 8, on the Kennedy Center Opera House stage, the 2013 Honorees will be recognized for their lifetime contributions to American culture through the performing arts. Seated with the President of the United States and Mrs. Obama, the Honorees will accept the thanks of their peers through performances and tributes. Other honorees include opera singer Martina Arroyo; pianist, keyboardist, bandleader and composer Herbie Hancock; pianist, singer and songwriter Billy Joel; and actress Shirley MacLaine. The gala will be broadcast on CBS on December 29, 2013 at 9:00-11:00 p.m., ET/PT.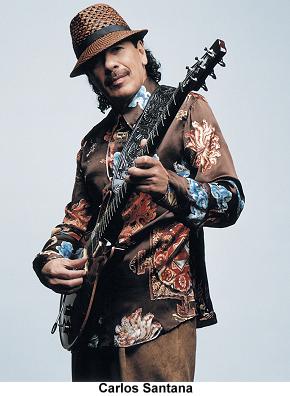 Carlos is finishing off his 2013 run at the House of Blues Mandalay Bay in Las Vegas and tickets are still available for September & November. An Intimate Evening with Santana offers you the ability to see Santana and his Greatest Hits Live in the intimate 1200 seat environment of the House of Blues Mandalay Bay. Carlos and the Band are also now recording his next record, due out in early 2014. What a marvelous and deserving honor for Carlos Santana.
---
A great time was had by all at April's Foodie Fest. Now, the popular Las Vegas Foodie Fest, featuring more than 30 food trucks and vendors, returns to the Silverton Casino Hotel Friday, Oct. 18, through Sunday, Oct. 20. Food aficionados will enjoy the food and fun of the three-day festival from 4 p.m. to midnight on Friday, noon to midnight on Saturday and noon to 10 p.m. on Sunday.
Festival goers will enjoy tasty bites from food trucks and vendors, some of which have been featured on The Food Network, History Channel, Cooking Channel and Travel Channel. The festival will feature newcomers BACONMANia and The Buttermilk Truck, both of "The Great Food Truck Race" fame. Other new additions to the lineup will be Sin City Dogs, The Phantom Food Truck, A Bite Truck and Lobsta Trap Truck. Local food trucks attending the festival include: Dragon Grille, Sin City Cupcakes, Melteez, Sauced, Wa Da Pho among several others.
Many trucks will be traveling from other parts of the country to attend the Las Vegas Foodie Fest, including Tornado Potato from Los Angeles. Local and visiting foodies alike will enjoy dozens of specialty food vendors, music, carnival, car show, a beer garden and eating competitions. Admission is $10 per person starting the week of the event and includes access to all three days with unlimited re-entry to the festival. Children under 4 feet 6 inches will receive complimentary admission. Guests may purchase pre-sale tickets starting at $5 per person, when purchased in advance through the website. For more information or to purchase tickets to the festival in advance, visit www.lasvegasfoodiefest.com.
TOP OF NEXT COLUMN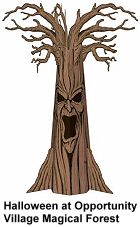 B0000000! For the first time ever, the Magical Forest - Opportunity Village will be decked out in Halloween finery, beckoning ghouls and goblins with rides and attractions including The Haunted Adventure by Santino and Rocco Panaro, a spooktacular Forest Express Passenger Train, Cheyenne's Enchanted Carousel, the Alpine Slide and Boris the Elf's 3D Experience. There will be nightly parades, crafts and movies, Spookley the Square Pumpkin Storytelling Fridays, Scary-oke Saturdays, the Candy Cabin and the Magical Midway.
"HallOVeen" will be at the Magical Forest, weekends in October (Friday-Sunday beginning October 4th) from 5-9 p.m. This family friendly event will feature lots of fun games, events and entertainment for all ages. Tickets can be purchased online at OpportunityVillage.org, or in person at The Magical Forest - Opportunity Village Oakey Campus 6300 W. Oakey Blvd. Ticket prices include: $19.99 adult Passport (includes entry and unlimited rides) $17.99 child Passport (includes entry and unlimited rides) $11.00 adult General Admission $9.00 child General Admission $12.00 wristband for unlimited rides$3.00 single ride or attraction ticket Children 2 and under are free.
---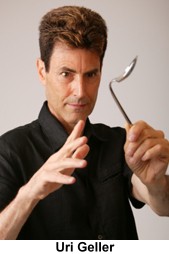 New Biography Shows Celebrity Spoon Bender, Uri Geller, secretly worked for U.S. Intelligence Agencies. Geller is best-known for his Vegas-style act where he bends spoons, describes hidden drawings, and performs other paranormal feats. The Secret Life of Uri Geller: CIA Masterspy? Will be published October 15. An authorized biography of Uri Geller tells his life story and explores recent claims about his clandestine work with the CIA and the Israeli intelligence agency, the Mossad, during and after the Cold War. Throughout his career, Uri Geller has courted controversy. He is known globally as an entertainer and friend of pop star, Michael Jackson, who was best man at the renewal of Geller's wedding vows. And yet, there are photographs from 1987 of Geller together with Al Gore, Yuli M. Vorontsov, First Deputy Foreign Minister of the Soviet Union, and several other high ranking US officials at nuclear arms limitation talks between the U.S. and the Soviet Union. There is also testimony from a living senior former CIA official and others who worked for the Agency confirming that Geller was exhaustively laboratory tested on behalf of the CIA, and was used as an intelligence asset of the CIA and Defense Intelligence Agency - and that under President Carter's presidency, using psychics in intelligence matters was known about and accepted at the White House.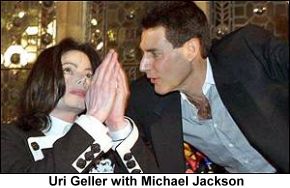 The Secret Life of Uri Geller tells the real story of his extraordinary life and his alleged continuing undercover work for the West's major spy agencies. The biography by Jonathan Margolis will be released by Watkins publishing as an eBook now and in print in October.
---
RAIDING THE ROCK VAULT is the ultimate classic rock concert experience in which the story of classic rock comes to life. The show takes audiences on a magical musical journey, traversing the genre's history from the '60s through the '80s. RAIDING THE ROCK VAULT features classic anthems from The Rolling Stones, The Who, The Doors, Led Zeppelin, Jimi Hendrix, the Eagles, Queen, Van Halen, AC/DC, Journey, Free, Bryan Adams, Supertramp, Toto, Deep Purple and more.
The show's all-star lineup includes Howard Leese [Guitar] (Heart), Tracii Guns [Guitar] (LA Guns, Guns n' Roses), Robin McAuley [Lead Vocals] (MSG, Survivor), John Payne [Lead Vocals and Bass] (Asia), Paul Shortino [Vocals] (Rough Cutt, Quiet Riot), Jay Schellen [Drums] (Badfinger, Asia), Andrew Freeman [Vocals and Guitars] (Lynch Mob, The Offspring), and Michael T. Ross [Keyboards] (Lita Ford, Hardline).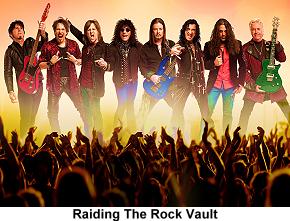 Lou Gramm, best known as the founding vocalist of the rock band Foreigner will be the next singer in its Icon Series. Gramm will perform in five shows from Oct. 18-22. One of the best-selling bands of all time, with worldwide sales of nearly 80 million albums, Foreigner has created generation-spanning hits, including "Feels Like the First Time," "Cold as Ice," "Urgent," "Hot Blooded," "Double Vision," "Juke Box Hero," and "Waiting for a Girl Like You," most of which were co-written by Gramm. Gramm's guest appearance will follow Yes's Jon Anderson, who performs Sept. 20-24 with RAIDING THE ROCK VAULT.
---
Epicurean Charitable Foundation of Las Vegas (ECF) will host its 12th annual M.E.N.U.S. (Mentoring & Educating Nevada's Upcoming Students) fundraiser with a private VIP performance by the world-famous dance crew, Jabbawockeez, and a dine-around featuring Las Vegas' top restaurants. The event will be held at Jabbawockeez Theater and poolside at Luxor Hotel and Casino Friday, Oct. 4. The gala will begin at 6 p.m. with a cocktail reception and celebrity red carpet outside the Jabbawockeez Theater. Guests will then enjoy a private performance of Jabbawockeez' all-new hip-hop dance show "PRiSM," at 7 p.m., followed by a first-class dine-around at Luxor's pool from 8:30 p.m. to midnight. The exclusive poolside dine-around will feature samplings and spirits from more than 30 of Las Vegas' top restaurants. Guests also will enjoy music provided by a DJ throughout the evening and an elegant silent auction featuring one-of-a-kind items.
Tickets to the event start at $500 per person, with sponsorship opportunities available at different levels based on contribution and available amenities. Proceeds from M.E.N.U.S. support ECF's primary charitable endeavor of providing annual scholarship awards for underprivileged high school students seeking careers in the hospitality and food and beverage industries. Scholarship recipients receive financial support of up to $48,000 to cover tuition, books and other fees at the college or university of their choice. Since their inception in 2001, ECF has donated more than $1 million in scholarships to local Clark County students and more than $1 million in charitable grants to other local Las Vegas organizations.
---
The Temptations - Otis Williams, Bruce Williamson, Terry Weeks, Ron Tyson and Joe Herndon - will bring classic Motown back to The Orleans Showroom October 5 and 6 at 8 p.m. For more than 40 years, The Temptations have shined as pioneers of popular music, with decades of smash hits and sold-out performances. An essential component of the original Motown invented by Berry Gordy, The Temptations began their musical career in Detroit in the early '60s. In 1964, Smokey Robinson wrote and produced "The Way You Do the Things You Do," the first major hit for The Temptations. An avalanche of hits followed, including "My Girl," "It's Growing," "Since I Lost My Baby," "Get Ready," "Ain't Too Proud to Beg," "Beauty Is Only Skin Deep" and "I Wish It Would Rain." Beyond their fabulous singing, The Temptations became known for smooth stepping and flawless presentations. "The Temptation Walk" became the staple of American style, flair, flash and class.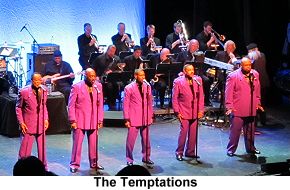 Easter Seals Nevada Hosts Third Annual "Cheers to Chocolate"

at Tivoli Village, October 19. Easter Seals Nevada, the nonprofit that serves more than 8,000 Nevadans with disabilities hosts the valley's sweetest fundraising event with its third annual "Cheers to Chocolate" presented by Total Wine & More from 7-9 p.m. at Tivoli Village. Chocolate and wine lovers will unite to savor more than 20 different wines provided by Total Wine & More and indulge in chocolate by Vosges Haut Chocolate, Pinkbox Doughnuts, CupKates and other notable vendors around Las Vegas. Tickets are now on sale at www.cheerstochocolate.com.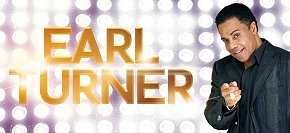 In addition to wine and chocolate tastings, guests will experience the musical stylings of entertainer Earl Turner (current opening act for Frankie Moreno LIVE at The Stratosphere), Tommy Ward, and a special appearance from Golden Globe winner and Grammy nominee, Pia Zadora. Local sculptor Dorit Schwartz will showcase her stunning collection "The Light Within" and there will be a lavish silent auction featuring fine jewelry, show tickets and more. Attendees will also have the chance to win a chocolate diamond ring by D&R House of Diamonds. Tickets are $40 in advance and $45 at the door.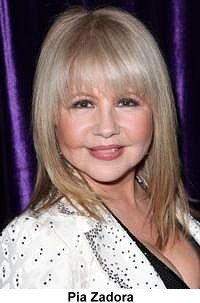 Friends of METRO SEARCH AND RESCUE LAS VEGAS will host the 2nd annual HOT AIR BALLOON FESTIVAL/CARNIVAL OCT. 25-27.
The three-day visually stunning event to benefit Volunteer Department Dedicated to Providing Technical Rescue Service is expected to attract more than 20.000 attendees. The Las Vegas Metropolitan Police Department (LVMPD) Search and Rescue unit was formed in 1986 to provide a technical rescue service to the community of Las Vegas. The unit is on call 24 hours a day, 365 days a year, and responds to more than 8,000 square miles of mountainous desert terrain.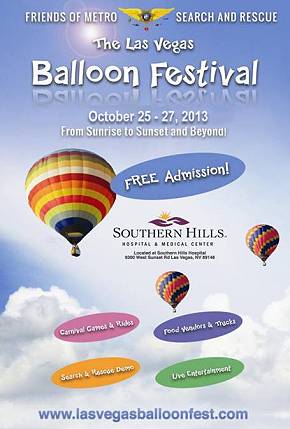 Families will be able to get up close and personal with the hot air balloons and their pilots. This is a great opportunity to see the behind-the-scenes magic of how these high flying marvels work. Balloons will be both tethered and also available for flights. New to this year's line-up will be the Reach for the Stars balloon. This special balloon has a handicap-accessible basket, ensuring every single guest of the event, including children in wheelchairs, will be able to get inside and be lifted into the sky to experience hot air balloons. In addition to the spectacular hot air balloons, there will be live entertainment, food vendors, carnival rides and games, as well as live rescue demonstrations by Las Vegas' very own Metro Search and Rescue Unit. Friday, Oct. 25 and Saturday, Oct. 26: 7 a.m. to 9 p.m. Sunday, Oct. 27: 7 a.m. to 6 p.m.
All this and entrance is free at Southern Hills Hospital 9300 W. Sunset Road
---
By popular demand, 50 Greatest Photographs of National Geographic, presented by Imagine Exhibitions at The Venetian Las Vegas®, will extend its limited engagement through January 13, 2014. This exploration of National Geographic's most celebrated photos in a 125-year-old history has captivated visitors with its gorgeous, moving and adventurous images. This will also include new weekend hours, with the gallery opening its doors from 9:30 a.m. - 9 p.m. on Fridays and Saturdays. Since opening in February, 50 Greatest Photographs of National Geographic has taken thousands of guests to all corners of the globe, including the freezing temperatures of the arctic, the hot sands of the Kalahari Desert, underneath the Amazon River and even a foam party in Ibiza.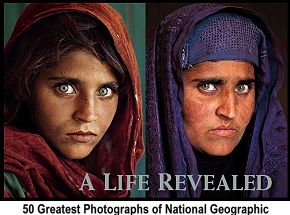 College of Southern Nevada (CSN) - Cheyenne Campus presents:
Oct 4-6: The Department of Fine Arts, on one weekend each semester, gives students the opportunity to experience the joy of acting and/or directing one-act plays. Seven 10-minute plays will be performed on Oct. 4 and 5 at 7:30 p.m. and Oct. 6 at 2 p.m. in the BackStage Theatre on the Cheyenne campus, 3200 E. Cheyenne Ave., North Las Vegas. $5 general admission. And, Oct. 8 at 7:30 p.m. in the Nicholas J. Horn Theatre, the MUSIC SCHOLARSHIP CONCERT presents a memorable evening of music and song, to raise money for the Joe Williams Music Scholarship. This scholarship, established in 1989, has assisted over 400 CSN students to achieve their music education goals. Tx: $8 adults, $5 students/seniors.
Free Admission: "BELOW THE BELT" - by Dennis Bush - Oct 11-13 (Cheyenne Campus BackStage Theatre) Oct 4-6 (Henderson Campus Room C-131) Oct. 18-20 (Charleston Campus Room D 101) Free Admission: Tragedy links 10 people, whose characters and stories, like pieces of a puzzle, form a complete picture, in this one act drama, directed by Jane C. Walsh. For reservations, call 651-LIVE (5483). More information is available at www.csn.edu/pac.
CONTINUE ON TO...:
> Entertainment Tidbits Archives
>Las Vegas News "Heard Around Town"
>Las Vegas Leisure Guide<