For the second consecutive year, Cirque du Soleil and the Estate of Michael Jackson are inviting fans to the King of Pop's official birthday party Friday, Aug. 29 at an exclusive all-day celebration at the Michael Jackson ONE Theatre at Mandalay Bay.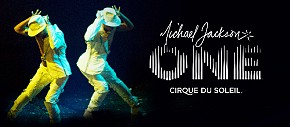 This year, the daylong birthday celebration is truly fit for a king culminating with the added birthday performances of Michael Jackson ONE at 7:00 p.m. and 9:30 p.m. Guests booking their tickets to one of the birthday performances with the special offer code www.cirquedusoleil.com/mjbday will be invited to attend a private "meet & greet" with representatives of the Estate, members of the show's creative team and other special guests from the day's activities as well as receive access to an exclusive room offer from Mandalay Bay which includes a commemorative birthday ticket and gift bag.
Guests also will be able to enjoy other special events throughout the day including:

a book-signing with Forbes senior editor and "Michael Jackson, Inc." author Zack O'Malley Greenburg, a screening of the behind-the-scenes documentary from Michael's latest album XSCAPE, and a Q&A with record producer Rodney Jerkins and "Man In The Music" author Joe Vogel who also contributed the liner notes to the album package.
Comedian Adam Carolla brings his popular live podcast, "The Adam Carolla Show," to Treasure Island Theatre for one night only on August 29 at 9 p.m. The show will feature Carolla with co-hosts Alison Rosen and Bald Bryan performing fan favorite segments including "Blah Blah Blog," "GayWalking" and "The News" featuring pictures and video of the most current news topics.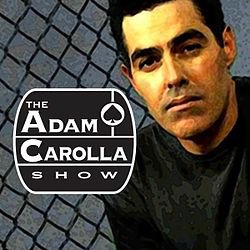 Special Guests joining Carolla, Rosen and Bryan are:
Rick Harrison, star of HISTORY's "Pawn Stars," and headlining comedian George Wallace.

Harrison is a Las Vegas-based television personality and owner of Gold & Silver Pawn, featured in the second most-watched reality show in North America "Pawn Stars."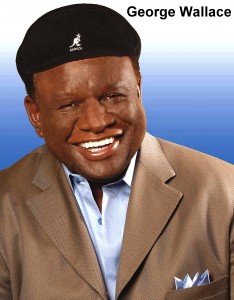 Wallace, known for his timely comedic delivery, is a famed former Las Vegas Strip performer who until recently headlined at Flamingo Las Vegas. This show is for ages 21 and older. (Ed Note: Since original publication George Wallace has withdrawn from appearing in the show)
---
BLVD.Cocktail Company, located in the heart of The LINQ

on the Las Vegas Strip, will host Cocktails for a Cause benefiting the March of Dimes on Thursday, Aug. 21 from 5 to 7:30 p.m. One dollar of every First Lady sold will benefit the March of Dimes Nevada Chapter, a non-profit organization that works to improve the health of mothers and babies.

The First Lady, a specialty cocktail by Mixologist Juyoung Kang, is priced at $14 and is made with Art of the Age Sage, lemon juice, Luxardo Maraschino liqueur, Giffard Creme de Cassis and egg whites.
During the philanthropic social event, guests will also enjoy live music by Michael Spadoni.
---
Fashion-forward guests can enjoy a fiesta at Chayo Mexican Kitchen + Tequila Bar located at Caesars Entertainment's new hotspot, The LINQ, during the MAGIC convention from Monday, Aug. 18 through Wednesday, Aug. 20.
Convention attendees will relax after fashion-filled days and receive 15 percent off Chayo's authentic Mexican dishes with a valid MAGIC convention badge. Executive Chef Ernesto Zendejas' signature dishes include the lobster tacos made with freshly beer battered lobster, red cabbage and cilantro mayo; and the de la tierra platter, a family-shared meal served with New York strip steak, pork tenderloin and Spanish chorizo, paired with sides of grilled cactus leaves, Mexican street corn, spring onions, cilantro rice, black beans and flour tortillas.
With more than 50 tequila selections, there will be no shortage of supply on refreshments and with enough liquid courage, attendees may even take a ride on the mechanical bull "Chayo."
---
FIZZ, the lavish champagne lounge and bar inside Caesars Palace, will celebrate Labor Day Weekend with shopping, live music and DJs from Thursday, Aug. 28 through Saturday, Aug. 30. FIZZ will kick off Labor Day Weekend "fizztivities" on Thursday night with live acoustic music by Peter Love from 7 to 10 p.m. The party will continue on Friday night with live music, including classic tunes and the latest hits, from 7 to 10 p.m. DJ Dbl Play will then keep the party rolling from 10 p.m. to 2 a.m. On Saturday, guests can grab a bag for the "Pop & Shop" endless champagne and shopping session from 2 to 6 p.m. For $50, shoppers will receive a signature FIZZ champagne flute complete with endless refills, along with a FIZZ gift bag containing special offers, discounts and samples from various retailers inside The Forum Shops at Caesars. On Saturday night, Shawn Eiferman will entertain FIZZ guests with live acoustic music from 7 to 10 p.m., followed by a set by DJ Jimmy Lite from 10 p.m. to 2 a.m. FIZZ is located between The Colosseum and Forum Shops at Caesars Palace and is open nightly from 5 p.m. FIZZ offers a wide selection of high-end champagnes by the glass and carefully curated spirits, along with exquisite choices of caviar, charcuterie and small plates. Designed by Las Vegas-based designer Todd-Avery Lenahan, FIZZ was recently named the winner of the "Nightclub, Bar and Lounge" category at the 10th Annual Hospitality Design Magazine Awards.
---
VIVA VERACRUZ! THE SHOW premieres at the PH Showroom inside Planet Hollywood on Friday, August 22. VIVA VERACRUZ! THE SHOW is the story of a traveler's walk through the legends and colorful history of Veracruz, Mexico. An amazing adventure is told with spectacular dance and music, traditional and modern elements, artisanal handicrafts and cutting-edge technology.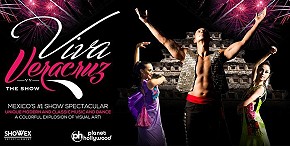 VIVA VERACRUZ! THE SHOW was commissioned by the state government of Veracruz, Mexico. Produced by renowned Mexican producer Luis De Llano-Stevens and long-time producer Alex Esqueda, VIVA VERACRUZ! THE SHOW creates a remarkable stage production as an homage to the "Son Jarocho" or folklore, songs, music and dance of Veracruz. Divided into 12 choreographed dance numbers, the show is composed of a series of vignettes, interlaced in a rich, dynamic and diverse program combining cultures and traditions. The music is a combination of original compositions and traditional songs such as the world-famous "La Bamba." Salsa, Danzon, contemporary dance and, Jarocho, the original Veracruz dance. VIVA VERACRUZ! THE SHOW performs Thursday through Tuesday at 7 p.m. Tickets are $39 and $69 plus tax and applicable fees. An exclusive VIP package is also offered for $99 plus tax and applicable fees, which includes a VIP ticket, poster and entry for the chance to win a round trip vacation to Mexico. A limited buy-one-get-one promotion is available for Las Vegas locals with a valid ID. (Ed Note: The Viva Veracruz premier has been cancelled. A new opening date is not available at this time.)
---
GEORGIA ON MY MIND: Celebrating the Music of Ray Charles opens in the Venetian Theatre September 18 through October 29, 2014. The groundbreaking new show features a host of esteemed stars including Emmy award-winner Clint Holmes, 10-time Grammy award-winning vocal group TAKE 6, six-time Grammy nominee and DownBeat Vocalist of the Year Nnenna Freelon, and Stella Gospel Award and Grammy award-winning saxophone star Kirk Whalum. The show also introduces the Las Vegas Mass Choir, under the direction of James R. Smith and Edie Aikels, and features the Las Vegas All-Star Big Band, under the direction of pianist and conductor, David Loeb. This dynamic ensemble of all-star performers celebrates the genius of American music, Ray Charles, through GEORGIA ON MY MIND. Media viewed a very small segment of the show with the performers, and that eagerly whet our appetites anxious to see the entire show.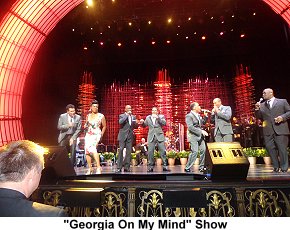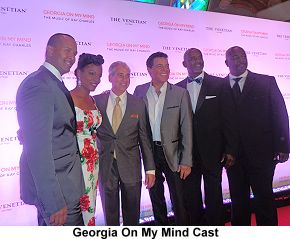 A gift from Gloria & Emilio Estefan establishes the Major José M. Fajardo patient services program at Cleveland Clinic Lou Ruvo Center For Brain Health. This generous donation establishes the First-of-its-Kind Program for Multiple Sclerosis patients. The Mellen Program for MS at the Cleveland Clinic Lou Ruvo Center for Brain Health will soon be expanding its patient services.

The Major José M. Fajardo Patient Services Program is dedicated to coordinating and facilitating the unique quality-of-life and social service needs of multiple sclerosis (MS) patients. Gloria Estefan's late father Major José M. Fajardo, suffered from a disabling neurological disease diagnosed to be MS, which stemmed from his time as a soldier in the Vietnam War. As one of her father's primary caregivers at the end of his life, Estefan uniquely understands the need for a comprehensive approach to MS treatment, one that goes beyond traditional medical care and focuses on ensuring patients and their families have the support they need to fight this battle most effectively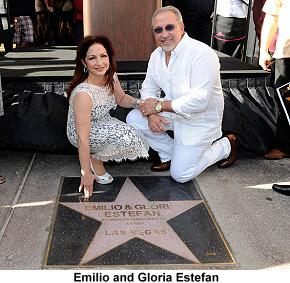 A recipient of seven Grammys™ and more than 100-million albums sold worldwide, Gloria Estefan has achieved renowned accolades including a star on the Hollywood Walk of Fame and the Las Vegas Walk of Fame, the Ellis Island Congressional Medal of Honor and the National Music Foundation's Humanitarian of the Year award.
TOP OF NEXT COLUMN
Las Vegas Philharmonic's 2014-15 concerts single tickets are now on sale. The orchestra's 2014-15 season, with newly-appointed Music Director Donato Cabrera, features five Masterworks Series concerts and five Pops Series concerts performed September 2014 through May 2015. Opening night concert on Saturday, September 27, 2014 will feature opera arias by Beethoven and Wagner plus Broadway classics performed by the orchestra with soprano Deborah Voigt. All concerts will be held in Reynolds Hall at The Smith Center at 7:30 p.m. Masterworks Series pre-concert conversations by the conductor will take place at 6:45 p.m. in the Concert Hall and are open to all ticket holders.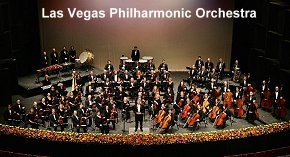 The Pub at Monte Carlo invites guests to enjoy pub-style food offerings while tasting sought-after brews at the remaining events in the 2014 Gus' Beer & Bites dinner series. During each monthly beer pairing dinner, The Pub at Monte Carlo Executive Chef Damis Irizzary and a representative from a featured brewery guide guests through a five-course menu, complete with beer pairings, creating a fun, interactive evening. Gus' Beer & Bites dinner events are held one Wednesday per month at 6:30 p.m. Tickets are priced at $64.05 per person all-inclusive and may be purchased on Monte Carlo's website or by calling Monte Carlo Concierge at 702-730-7010 or The Pub at 702-730-7421. Guests must be 21 and older to attend.
---
One of Las Vegas' most anticipated events of the year, Aid for AIDS of Nevada's (AFAN) 28th annual Black & White Party returns to The Joint at Hard Rock Hotel & Casino on Saturday, Aug. 23 from 9 p.m. to 1 a.m. Tickets are now on sale at afanlv.org for $40 general admission and $125 VIP with early entry at 8 p.m. Black and White attire is required for admission.
What started as a backyard gathering in 1986 to collect canned goods for those living with HIV/AIDS, the Black & White Party has grown into a lavish celebration, with exciting entertainment, gourmet food & beverage and eye-catching monochromatic fashion. Last year, more than 3,500 guests attended, raising more than $130,000.
---
Pin Up Starring Claire Sinclair at The Stratosphere takes you back in time to an era of wartime rations, victory rolls and the jitterbug. Pin Up is more than an homage to 1940s calendar girls -- it's a full-fledged time warp. Host Claire Sinclair, Playboy's 2011 Playmate of the Year, brings her charms that hints at what might happen if pin up girls could really come to life. True to the time it represents, the whole show is a tug-of-war between sexy suggestion and social taboo. Stratosphere headliner Frankie Moreno co-produced Pin Up and wrote and arranged the music, which includes period pieces, original tunes and a few contemporary hits refigured to match the show's vintage style. The dancers -- four Pin Up girls and one incredibly hard-working guy dancer. They all spin and swing at breakneck speed, and individual numbers show off their special talents. (One girl's incredible acrobatic pole dance and another's tap-off with the stage band's drummer had the audience cheering.) The show is backed up by a great swingin' band and sultry singer who help move the show from one month to the next.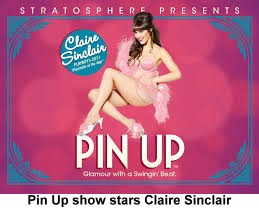 ---
Antonia Bennett, daughter of legendary singer, Tony Bennett, has been performing alongside her father since she could walk and talk.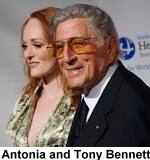 Some of her early performances were shared with legendary American icons. For the past ten years she has opened for her father performing all over the world. She can be heard in a duet with her Dad on Tony Bennett's "I've Got My Love to Keep Me Warm" from A Swingin' Christmas. She continues developing her craft while performing in a myriad of venues including Radio City Music Hall, the Hollywood Bowl, Royal Albert Hall in London and Caesars Palace. Her latest release, Embrace Me, produced by Holly Knight, is dedicated to the great American songbook. www.antoniabennett.com www.perseverancerecords.com.
---
Mayweather Promotions closes out the summer in a big way on Saturday, Aug. 30 at The Pearl at Palms Resort Casino as they present the star-studded "Desert Showdown" featuring undefeated super middleweight contender J'Leon Love taking on Rogelio Medina.

In other action, hard-hitting Badou Jack will face Jason Escalera in the evening's co-main event. The event also features Mayweather Promotions stars Chris Pearson who takes on Steve Martinez and Ronald Gavril who faces Thomas Falowo. Fights from this night of boxing, sponsored by Corona, will come to you live as part of ShoBox: The New Generation telecast live on SHOWTIME which will begin at 10 p.m. ET/7 p.m. PST. The Palms will be in for great fights from start to finish just 14 days before the biggest fight of the year between Mayweather against Maidana. Tickets priced at $25, $50, $75 and $100, plus applicable taxes, fees and service are on sale now.
---
Wow! It just happened again. In my last issue I wrote about a Slot Winner of $2.5 million. Now a lucky winner hits $1.2 Million Jackpot On Bally Technologies' Millionaire Sevens Progressive Link at Downtown Grand Las Vegas. The lucky winner, a Texas man who asked to remain anonymous, hit the life-changing jackpot while playing the one-cent denomination 1,000,000 Degrees game Triple Blazing 7s Wild Jackpot. The jackpot hit at about 9 p.m. and paid a total of $1,212,863.16.
---
The Venue Group, a premier special event and entertainment facility group, celebrated the development of its downtown Las Vegas location with a ceremonial ground-breaking event. Executives from The Venue Scottsdale including Owner and Founder Victor Perrillo and Vice President David Twigger, along with Mayor Carolyn G. Goodman, commemorated The Venue Las Vegas founded by Owner and visionary Victor Perrillo. Set to open in February 2015, The Venue will feature 36,000 square feet of event space and Bar & Lounge open to the public nightly. The Venue Las Vegas will add 200 jobs to the burgeoning downtown area, at a time when it is experiencing tremendous growth and economic upturn.
Since 2006, The Venue Scottsdale has been known as one of the most upscale and high-profile locations in the greater Phoenix, Arizona area to host special events, including music concerts, entertainment shows, charity galas, wedding ceremonies and receptions, meeting conventions and tradeshows, as well as social events such as proms, reunions, birthdays, anniversaries, and more. Expanding on its success in Scottsdale, The Venue Las Vegas will offer the same capabilities as the original location at its new property in the heart of downtown Las Vegas in the Fremont East District. Visit www.venuelasvegas.com or call 702-353-4444 for more information.
---
"GERMANICVM XL" (Germanicvm = Latin for German) a first-ever, one-of-a-kind German Music Festival celebrating the various music styles, from Classical to Pop in a traditional Las Vegas setting will hit the Las Vegas Strip, at the House of Blues inside Mandalay Bay Resort Sept. 3-7. Presentations of the works of German composers, singers and songwriters will range from unique classical compositions to colorful Pop.
The focus of the German Music Festival is to promote and foster renewed interest in German musical compositions abroad, and to show off Germany's musical and cultural diversity of past and present German musicians. This five day music festival was created to bring in guests from the across the country, Canada and Europe to celebrate some major German stars of the past and present in this celebration of German music. Tickets are on sale now at www.germanicvm.com and Ticketmaster locations.
---
And, in keeping with German activities, Hofbräuhaus Las Vegas is set to kick off its biggest Oktoberfest celebration ever Sept. 13 with special guest keg tappers Siegfried & Roy! Raise a stein and join Hofbräuhaus Las Vegas with the magicians of the century Siegfried & Roy® striking the first mallet on Saturday, Sept. 13 at 7 p.m. The Bavarian festivities run every day until Oct. 31 and feature celebrity keg tappers every Friday and Saturday along with live entertainment, traditional fare and, of course, plenty of Oktoberfestbier imported from Munich, Germany.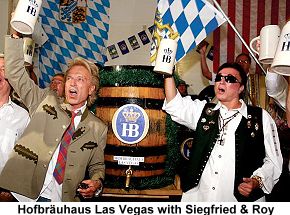 As part of the festivities, guests can show their strength when the Oktoberfest Stein-Holding Contest returns every Friday and Saturday from Sept. 19 - Oct. 31. With two competitions per night, winners will receive a six-pack of Oktoberfestbier and be entered in a drawing to win a grand prize of a dinner for ten. Hofbräuhaus Las Vegas is the first German/Bavarian beer hall and restaurant in Las Vegas. This faithful reproduction of the world's most famous beer hall, the original, centuries-old Hofbräuhaus in Munich, Germany, is an authentic and entertaining blend of tradition and fun.
---
You don't have to drive before you DRIVE!! Beginning Wednesday, Sept. 3, Richard Petty Driving Experience at the Las Vegas Motor Speedway will offer complimentary round-trip transportation from the Las Vegas Strip. Guests who purchase any Richard Petty driving experience, including the American Muscle Car Challenge, will receive transportation to and from their choice of five casino resort destinations situated on Las Vegas Boulevard. Pick up locations include the Rotunda area at Excalibur Hotel Casino Las Vegas, the North Tour Lobby at Paris Las Vegas, the Bus Loading Area at Treasure Island Hotel & Casino, the North Tour Valet at The Mirage Hotel & Casino and the Bus Depot at Harrah's Las Vegas Hotel & Casino. The only driving experience in Las Vegas that allows drivers to let loose on the 1.5 mile tri-oval at Las Vegas Motor Speedway, Richard Petty Driving Experience offers real life NASCAR racing thrills, putting drivers behind the wheel of an authentic NASCAR race car. Packages range from eight, white-knuckle laps to a heart-pounding 30-lap driving experience, with each experience providing guests the opportunity to climb behind the wheel, press their foot on the gas, and feel the power of 600 horses as they hug the corners on the same superspeedway that the NASCAR pros race on. For visitors who prefer to try their hand at street legal cars, the American Muscle Car Challenge program is designed to demonstrate the specific performance characteristics of a Chevrolet Camaro ZL1, Dodge Challenger SRT8 392 and Ford Mustang Shelby GT500. For more information: www.drivepetty.com.

The 8th Annual CLIF® Bar CrossVegas will be held Wednesday, Sept. 10 at the Desert Breeze Soccer Complex, located at 8275 Spring Mountain Road. The USA Cycling races for area and local racers begins at 4 p.m. and the Elite Women and Men racing begins at 8:20 and 9:30 p.m., respectively. Thousands of cycling enthusiasts will gather to attend the largest cyclocross race in the United States. The course combines road bike speed with mountain bike terrain, often forcing riders to jump off and carry their bikes while running over barriers and obstacles on the course at Desert Breeze. Spectator tickets are $10 each and available now at crossvegas.com.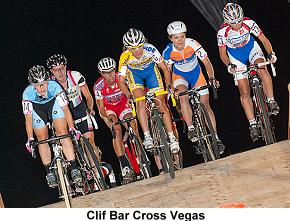 After a successful debut at the 2013 edition of CLIF® Bar CrossVegas, World Champion Sven Nys will be returning to Las Vegas to kick off his cyclocros season. Nys will defend his CrossVegas win wearing the colors of the Belgian national champion in 2014. This is sure to be an exciting race and will be Nys' only race in the U.S.
CONTINUE ON TO...:

> Entertainment Tidbits Archives
>Las Vegas News "Heard Around Town"
>Las Vegas Leisure Guide<