These tickets will go fast! Rock 'n' roll legends KISS celebrate 40 years as music icons with their first-ever residency, KISS Rocks Vegas, at The Joint inside Hard Rock Hotel & Casino starting Wednesday, Nov. 5 through Sunday, Nov. 23. "What happens in Vegas will not stay in Vegas, not if we have anything to do with it. We intend to blow the roof off the Hard Rock Hotel & Casino," said Gene Simmons, founding member of KISS.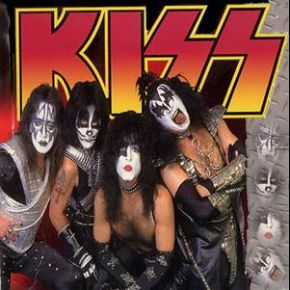 Four decades after beginning its exemplary journey as one of the leading rock 'n' roll bands in the world, KISS will continue to make waves with one of the loudest, most over-the-top, non-stop parties at The Joint. Designed exclusively for The Joint in partnership with AEG Live, the chart-topping band will unleash its signature elaborate set designs, jam-packed set list, intense pyrotechnics and much more for nine of the biggest shows in KISS performance history. With 28 U.S. gold albums as well as 40 million U.S. album sales and 100 million in world sales, Gene Simmons and Paul Stanley together with longtime members guitarist Tommy Thayer and drummer Eric Singer continue to grow their legacy, year after year. Along with an incredible recording career, KISS received a long-overdue induction into The Rock And Roll Hall of Fame in April 2014.
Ticket prices for KISS Rocks Vegas start at $49.50 (plus applicable service fees) and are now on sale. To purchase tickets or for more information, visit the Hard Rock Hotel box office, www.axs.com or charge-by-phone at 1-888-9-AXS.
---
SLS Las Vegas Hotel & Casino, the highly anticipated Las Vegas property by global hospitality leader sbe, will open its doors to the public on Saturday, August 23. Located on the iconic grounds of the Sahara Hotel & Casino, construction on The Strip's newest resort is ahead of schedule, allowing guests to experience the property earlier than its projected Labor Day Weekend debut. Now, the lights are already on and SLS Las Vegas' impressive new 10,000 square-foot, four-sided marquee will build anticipation as it counts down the number of days until the property welcomes its first guests. With its opening date set, SLS is now accepting room reservations for stays beginning August 23. Dining reservations for Bazaar Meat by José Andrés, Cleo, Katsuya, Ku Noodle and The Griddle Cafe are also available. For reservations and additional information, visit slsvegas.com.
---
LIPSHTICK - THE PERFECT SHADE OF STANDUP at The Venetian has sold out its first engagement with sassy TV personality, Wendy Williams. The following shows are: July 18 & 19: Heather McDonald and Iliza Schlesinger; July 25 & 26: Rita Rudner; August 1 & 2: Caroline Rhea and Wendy Liebman; August 8 & 9: Lisa Lampanelli; August 15 & 16: Whitney Cummings; August 22 & 23: Joy Behar; September 5 & 6: Susie Essman; September 12 & 13: Natasha Leggero and Jen Kirkman; September 19 & 20: Jennifer Coolidge with more to come. Tickets are available for purchase by calling The Venetian Box Office at 702-414-9000 or online at www.lipshtick.com or www.venetian.com. Tickets are also available through Ticketmaster.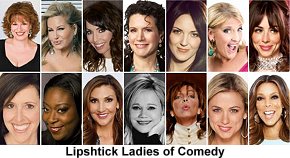 SUPER SUMMER THEATRE, a non-profit organization, offers a unique outdoor theatre experience with the "best seats under the stars." The venue is located at Spring Mountain Ranch State Park and SUPER SUMMER THEATRE has been providing the community with affordable entertainment for 39 years. t, SUPER SUMMER THEATRE welcomed its One Millionth patron in 2013. The 2014 Season opened with Monty Python's Spamalot in June and continues with A Funny Thing Happened on the Way to the Forum in July, Shrek The Musical in August, and finishes with Arsenic and Old Lace in September. The 2015 40th Anniversary Season will include the May Season Opener, Keepin' it Country, Big Fish in June, Bye Bye Birdie in July, Tarzan in August, and Lend Me a Tenor in September.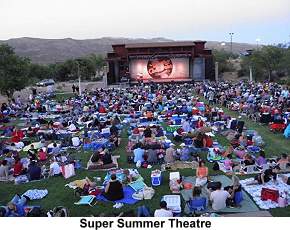 Good News: The Donald W. Reynolds Foundation has pledged to support SUPER SUMMER THEATRE through a $600,000 grant. The grant will be paid in two installments. $100,000 will be given to SUPER SUMMER THEATRE immediately, and $500,000 will be paid to SUPER SUMMER THEATRE after the Theatre raises $500,000 in matching funds. SUPER SUMMER THEATRE has grown and it has been necessary to secure a location for auditions, rehearsals, set building, and office space. This grant will help to maintain the SST Studios and the theatre grounds in Spring Mountain Ranch State Park. The grant from the Reynolds Foundation will be the largest gift that SUPER SUMMER THEATRE has ever received.
---
Comprehensive Cancer Centers of Nevada (CCCN) has teamed up with Wet'n'Wild Las Vegas for a community-focused partnership that encourages park guests to keep skin safety top-of-mind. The components of this "first of its kind" partnership include a colorful sunscreen kiosk upon entrance to Wet'n'Wild, offering complimentary SPF 30 sunscreen to visitors for the remainder of the park's operating season. Additionally, the kiosk is adorned with skin safety tips for guests to keep in mind not only during their visit to the park, but in their daily lives. Park-wide audio messages also will play periodically throughout the day, reminding guests to apply sunscreen and offering other proactive tips. Two additional kiosks, located at the entrance to Red Rock Bay wave pool and Splash Island, will be installed in the coming weeks.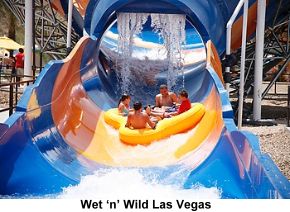 There is no show anywhere that can compete with Golden Rainbow's annual "Ribbon of Life" show. I've seen and have been thrilled by this spectacular show since its inception 28 years ago. Hundreds of performers from Las Vegas' top shows performed at this year's circus themed "Under the Big Top" show during its 28th annual "Ribbon of Life" fundraising production at The Penn & Teller Theater at Rio. The one-of-a-kind event helped raise awareness and funds for those living with or affected by HIV/AIDS in the Southern Nevada Community.
Returning emcees TV personality Chris Saldaña and Edie of Cirque Du Soleil's Zumanity served as ringmasters. I was disappointed to hear that Chris Saldana was leaving Las Vegas for good the next day, however, pleased that this great guy has a new gig as a TV news anchor in Texas. Chris and Edie announced the extravaganza's diverse lineup that featured mesmerizing acrobatics, goofy clown antics, powerful vocals, remarkable dance numbers, eye-popping illusions and more. Notable performers included Clint Holmes, Josh Strickland and Reva Rice; cast members from Dancing Queen, Frank Marino's Divas Las Vegas, JERSEY BOYS, Jubilee, MILLION DOLLAR QUARTET, RagTag Entertainment, ROCK OF AGES, Zombie Burlesque, Cirque du Soleil's The Beatles LOVE, Michael Jackson ONE, Mystère, Zumanity; Sin City Opera, The Sound Collage; and many more.
In addition Golden Rainbow hosted a silent auction with exclusive prizes including tickets to some of Las Vegas' top shows, dinner at the city's best restaurants and trips to premier destinations. Bidders were entertained by jugglers, clowns and acrobats as they browsed the items in the lobby of the theater. All proceeds from "Ribbon of Life" benefit the nonprofit's efforts in providing housing and direct financial assistance to the Southern Nevada HIV/AIDS community. As a result of last year's fundraising efforts, Golden Rainbow provided its clients with 15,720 nights of shelter; money for medications, transportation and food; among other everyday necessities.
---
Showman Tony Sacca is making a return engagement at Cabaret Jazz in The Smith Center presenting "Tony Sacca: A Celebration of Songs" on Saturday, July 19 at 7 p.m. His first appearance at Cabaret Jazz in March drew outstanding reviews. Recently his biography written by Arlene Krieger describes his life's journey from being born an identical twin and first performing at age 12 with his brother, to his solo career today. His show is based on the music and songs that have been a part of his life and takes the audience on a musical odyssey.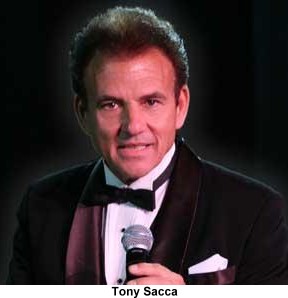 "A Celebration Of Songs" will feature the Michael T. Orchestra, a 10-piece ensemble with rhythm section and horns along with The Saccettes. His riveting personal song exploration will be sprinkled with his hometown sounds of Philly, tributes to Barry Manilow and Four Seasons, Doo Wop, his original Vegas songs and a touch of Broadway. This is truly a compelling opportunity to see Sacca like you've never seen him before presenting laughter, song and dance. It's a chance to know him personally.
---
And, Vegas's hottest tribute act, ROB GARRETT aka the 'King of Diamonds', is ready to make August even hotter. No local entertainer has been on fire more recently than Garrett who, along with his K.O.D. Band, recently performed to an SRO/SOLD OUT crowd of over 2000 paid attendees in the Dallas Events Center at the Texas Station Casino on May 31st. Now the group takes to the road less than 100 miles south of Vegas. For 2 weeks, beginning July 30 - August 10, the "King of Diamonds" and Band will make their debut performances at the Riverside Resort and Casino in the 750-seat 'Don's Celebrity Theater' in Laughlin, NV. Then it's back home to perform their 5th annual "Hot August Night" show to (always) SRO crowds on Saturday, August 16th at the Cannery Casino & Hotel on E. Craig Rd. in N. Las Vegas.
Media was invited to celebrate MJ Live at the Rio, but prior to the show we were invited to the new El Dorado Cantina, Bar. The concept of the El Dorado Cantina and Bar presents authentic Mexican cuisine representing the regions of Mexico and its vast culinary traditions with exclusive products from carefully-selected U.S. farms that are free of antibiotics, pesticides and steroids. Created with a passion for good Mexican food, owners Darin Feinstein and Brett Talla are entrepreneurs with diverse business interests. Feinstein is a venture capitalist who created and co-owns Fat Bar on the Las Vegas Strip, the highest grossing Fatburger franchise in the world, Red Mercury Entertainment and several other businesses. Talla is also CEO of www.VegasGoodBuys.com, a popular concierge service for Vegas visitors.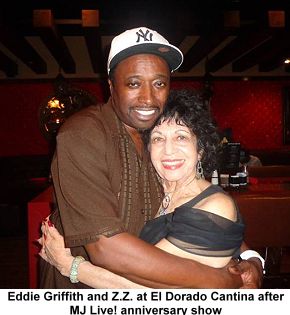 Sampling many of the menu highlights was tastefully delicious and so was the ambiance. The El Dorado is located just left of the entrance to the Sapphire Gentleman's Club on Industrial. El Dorado plans to plans to be open 24 hours and host numerous nightly events to showcase talented musicians with live music and deejays ranging from industry, ladies and ethnic-themed nights.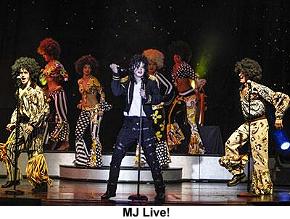 A Sapphire Shuttle drove us to the Rio where we enjoyed the two year anniversary of MJ Live, and what an exceptional show that is. Besides the extremely talented Michael Jackson tribute artist we saw (there are 4 MJ's as the show runs 7 days a week), great male and female dancers in ever changing costumes and a live band this show is an all encompassing great musical feast. Dick Feeney Producer of MJ Live dedicated this two year anniversary show and proceeds to the police officers and the Walmart patron who were killed in that horrific episode. Great comedian Eddie Griffith was also called onstage. Kudos to producer, Dick Feeney for MJ Live; long may it run.
TOP OF NEXT COLUMN
Rick Michel along with a 24 piece orchestra at The M Resort put on a wonderful tribute to Frank Sinatra in a show that had the audience swaying, singing and reminiscing along. I've known Rick Michel for many years as we were both in the Society of Singers Las Vegas chapter long ago. I must say after seeing this show, Ricks' performance and personality are now even better than ever. And, the 24 piece orchestra was amazing. Make sure to see future Rick Michel's shows.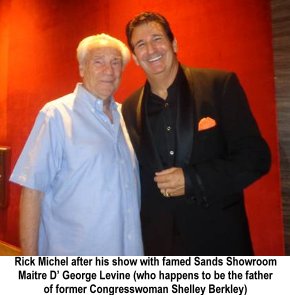 Miss Nevada Teen USA Alexa Taylor is set to compete for the title and crown of Miss Teen USA at the Atlantis Paradise Island Resort in the Bahamas on Saturday, Aug. 2. The Miss Teen USA competition comes on the heels of the Miss USA pageant, in which her "sister queen," Miss Nevada USA Nia Sanchez, won. Since Sanchez is the first Nevada queen to ever bring home the Miss USA crown, Alexa Taylor is now gearing up to be the first Miss Nevada Teen USA to take home the national crown.
Nia Sanchez, the newly crowned Miss USA 2014, will host National Lollipop Day benefiting The Shade Tree at Sugar Factory Town Square on Sunday, July 20. Sanchez will sign autographs and take photographs with fans from 11 a.m. to 1 p.m. The event will be part of Sanchez's official Las Vegas homecoming celebration. Miss Nevada Teen USA 2014 Alexa Taylor will also make an appearance to support Sanchez.
Sugar Factory will donate 50 percent of all Couture Pops sold both in-store and online on National Lollipop Day to The Shade Tree Las Vegas, the only 24-hour accessible shelter specifically to meet the needs of women, children, and their pets in Southern Nevada. Sanchez, who once lived in a woman's shelter with her mother, is an advocate for the organization. Sugar Factory's signature Couture Pops, priced at $25 each, are a hit with celebrities and fans alike. Iconic superstars including Britney Spears, Drake, Katy Perry, Nicki Minaj, Rihanna, Sting, Mario Lopez, Nicole Scherzinger, Kim Kardashian, Eva Longoria, and Carmen Electra are just a few of the celebrities who have either endorsed or have been spotted with the sparkly lollipops.
---
Las Vegas ladies will celebrate Strip headliner Olivia Newton-John and three outstanding businesswomen at "Tea, Thyme, Women & Wine," the 2nd Annual Women's Tea for Easter Seals Nevada, on Monday, August 18 from 3:30 - 5:30 p.m. at the Four Seasons Hotel Acacia Ballroom. This annual tea shines light on the women in the community who exemplify the extraordinary through unwavering commitments to business, family and community.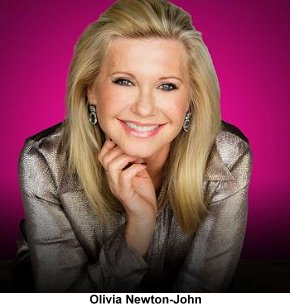 Recognizing female heroes in the Las Vegas community, Las Vegas Businesswomen Terri Peck, Christie Garness and Tonia Chaftez the 2nd Annual Women's Tea is adding a new honor for the 2014 event. Olivia Newton-John, four-time Grammy award-winning singer and Strip headliner in "Olivia Newton John - Summer Nights" at the Flamingo will be the first recipient of Easter Seals Nevada's "Four Star Award" for an outstanding commitment to community service and non-profit organizations throughout the world. After nearly 10 years of fundraising, Olivia is thrilled that the Olivia Newton-John Cancer and Wellness Centre (ONJCWC) opened in her hometown of Melbourne, Australia in 2012. A portion of every ticket sold to her Flamingo concerts will benefit the ONJCWC. Her Flamingo residency will run through January 2015.
Women are invited to don their best party dress, break out the pearls and mix and mingle over afternoon tea and wine while supporting Easter Seals Nevada and their mission to help Nevadans of all ages, infants to seniors, with disabilities and other challenges. Tickets are $55 per person in advance and available online at www.eastersealsnevada.org through Friday, August 15. Tickets may also be purchased at the door for $60 pending availability. All ticket holders must commit to a minimum pledge of $150 to Easter Seals Nevada that is payable over the course of one year. Easter Seals Nevada and the Las Vegas Review Journal now have a new partnership in which Stephens Media Group, parent company of the Las Vegas Review Journal, will provide the local non-profit with advertising through the remainder of 2014.
---
Gotta Dance: A Tribute To... Life! a spectacular, new stage extravaganza celebrating dance through the years thrilled an audience at a World Premiere showcase at The Smith Center for the Performing Arts in the Troesh Studio Theatre. Presented by The HAND Company, directed and choreographed by Giulio Scatola, produced by Steve Hand, with production design by Las Vegas' own Emmy Award winner, Andy Walmsley with music by Josh Connolly.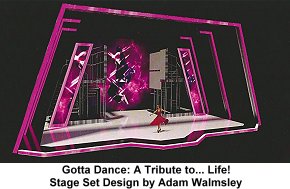 This was a magnificent showcase with 14 dancers, a small band and fabulous settings. However, when Gotta Dance: A Tribute to... Life is in full production the show will have 24 dancers, a full band and even more of the fantastic stage designs experienced at this showcase.
'Gotta Dance: A Tribute To... Life!' is about the uncontrollable urge to move and freely express yourself as you find rhythm and music in everything that surrounds you. The showcase consisted of a variety of dance styles and music taking the audience on a journey through some iconic and historical dance moments and figures from Hollywood to Broadway, to concerts and classic music videos. Styles performed by a cast of some of the most in-demand, dancers from Las Vegas and around the world ranged from Jazz/Fosse to Tap, Modern, Hip Hop, Ballet, Latin, Ballroom, Acrobatics, Pole and Hand-To-Hand numbers.
Each dance story depicts various types of desires and urges; from sensual awareness to pure rhythm exploration; from old Hollywood dream sequences to modern dance poetic expression; from pure fun entertainment to spiritual and universal connection. The stage, the sights and the sounds move as these desires unfold and that in itself was amazing. Can't wait to see this in full production.
---
In September 2014, Delano Las Vegas, a stand-alone all-suite "Boutique" Hotel, will come to life in place of THEhotel at Mandalay Bay. Although the installation of the DELANO sign is one of the first major visible milestones in the transformation at Mandalay Bay, it is only a small part of everything happening on the ground and behind the scenes in preparation for opening Sept. 1. Public spaces are taking shape as construction walls have come down to reveal glimpses of what's ahead: The Lobby is sleek and sophisticated and will be highlighted by social spaces that will blend personalized service, effortless luxury and high-concept design to create a unique immersive experience. 3940 Coffee + Tea will provide guests with a space to meet and mingle from day to night, 3940 Coffee + Tea will serve gourmet coffees and teas, pastries and fresh juices in the morning and craft cocktails, wine and beer alongside signature small plates in the evening.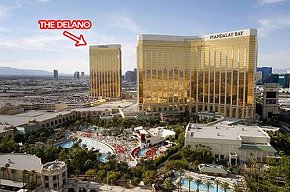 Residents can enjoy the fun of the popular Summerlin hangout, Distill in their very own neighborhood when it opens its second location on Saturday, July 19 in Southern Highlands. Guests of Distill will be treated to the same fun atmosphere, house-made cocktails, handcrafted food and VIP gaming club that makes Distill a popular local hangout, and the perfect place to get together with old friends or meet new ones. A "Home Away from Home," the new Distill location will be located at 4830 W. Pyle Ave. in the popular Southern Highlands area, off of Decatur Blvd., just south of Silverado Ranch Blvd.
With two Happy Hour food and drink specials a day from 3 p.m. - 6 p.m. and 3 a.m. - 6 a.m., Distill will hit the spot with prices designed for total enjoyment. For the gaming aficionados, Distill will be home to 15 brand-new 20" LCD gaming machines. By joining the VIP Gaming Club, players will enjoy slot promotions, exclusive parties, scratch cards and $10,000 lotto bucks every hour. If catching all the action of the most popular sports teams while sitting in a cozy king-size chair is a necessity, Distill will be the "front-row" destination with 18 high-definition televisions. If chalking up the cues and racking up for a game of nine-ball, striking down some pins or "hitting the links" are top priorities Distill will feature two pool tables, Silver Strike Bowling and Golden Tee Golf.
---
The Congressional Award is in every state and has been fostering leadership and growth in our nation's youth for since 1979. It has now come to Nevada under the leadership and direction of National Congressional Board member and local Vice President of Nevada State Bank, Rita Vaswani. The award is presented for four areas of development with a Bronze, Silver and Gold Medal given for accomplishments in the areas of Voluntary Public Service, Personal Development, Physical Fitness, and Expedition and Exploration. Each young person who accepts the challenge of the award has a mentor and monitor, who answers questions and provides direction. The award provides an opportunity to recognize the dedication and work of America's youth who have made the commitment to bettering themselves and their communities. The award is not a competition; non-partisan award is earned for work accomplished. The National Ambassador of the program is a former recipient of the Gold Medal, nationally known actor, entertainer, TV personality, Nick Cannon.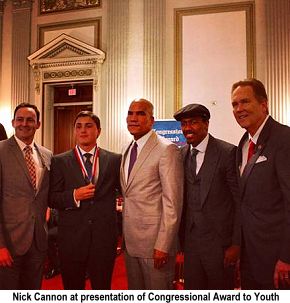 The Nevada Congressional Award Kickoff will be held July 18th at the Springs Preserve. Numerous elected officials and community leaders will attend to lend support for this national award program targeting Nevada youth from ages 13 to 23. Bob Fisher, CEO of Nevada Broadcasters Association, will M.C., Magician, Seth Grabel, winner of "America, So You Think You've Got Talent", will perform and speak. Dr. Jeffrey Giehs, Assistant Chief Academic Officer of the Clark County School District Turn Around Zone, will speak. Miss Nevada, Ellie Smith, and Miss Teen Nevada, Amy Smith, will speak and entertain. David Osman of Amerigroup Community Care will explain the award and its benefits for our state's youth and future business leadership.
---
Winner of $2.6 million jackpot at The Palazzo. After winning $1,500 on Bally's Hot Shot Progressive video slot on Friday night, the wins kept on coming and coming for Susan Cupit. On early Sunday morning, the lucky Californian hit a $2.6 million jackpot on the same machine. Cupit, a 57-year-old homemaker from Palm Desert, Calif., hit the $2,690,428.99 jackpot while playing Bally's one-cent denomination Hot Shot Progressive video slot at The Palazzo on the Las Vegas Strip at about 12:30 a.m. on Sunday, July 13.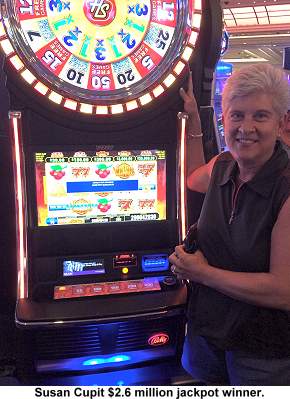 Children's Heart Foundation, a nonprofit organization dedicated to improving the quality of life for Nevada children with heart problems,

hosts their 10th Annual Camp Mend-a-Heart Thursday, August 14 through Sunday, August 17 at Torino Ranch in Southern Nevada. The camp offers children who are born with or have developed heart problems the opportunity to forge relationships, attain hope and build memories. Camp Mend-a-Heart is a cost-free, medically supervised camp for children ages 7-18 living in Nevada who are born with or have developed a heart condition. Camp Mend-a-Heart gives children a traditional summer camp experience with sports, arts & crafts, water games and many other recreational activities and programs. Camp Mend-a-Heart is staffed by volunteer counselors, nurses and physicians who give from their hearts to help these extraordinary children.
Camp Mend-a-Heart was founded by Lyn Acebo, a concerned heart parent and board member of Children's Heart Foundation. She wanted to send her daughter to heart camp, but was concerned about sending her to a location outside of Nevada due to the fragile state of her heart condition. Acebo saw the importance of having her child bond with other heart kids located within their community, allowing them to establish a network of support and understanding. After bringing other concerned parents and doctors together, Camp Mend-a-Heart was born.
CONTINUE ON TO...:

> Entertainment Tidbits Archives
>Las Vegas News "Heard Around Town"
>Las Vegas Leisure Guide<