She did it again. Jeanie Linders, who brought hilarious recognition to the stage world about "Menopause" has now enlightened the world about women being ditched, dumped, divorced and dating.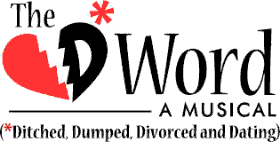 Her new show THE D*WORD---A MUSICAL, now playing in the Shimmer Cabaret at LVH does just that, with a most talented cast. Ladies will love it and guys will too, and they might finally find out what a women is thinking, rather than what she is saying.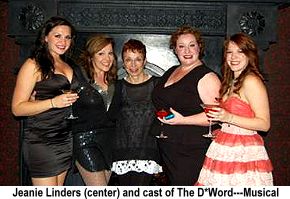 Well it may not be the Powerball Lottery, but it was a really big win at the Riviera Casino & Hotel when the Progressive Wheel of Fortune Jackpot was hit. Rehoboth Beach, Delaware resident Mozelle Wallace was playing a 25 cent machine on her 69th birthday, and in only her second pull on that machine, with a max bet of 75 cents, three Wheel of Fortunes appeared for a total payout of $937,608.36. Wow!
---
With Lorena Peril leaving Fantasy at the Luxor, a void will be eliminated with FANTASY's new lead singer Jaime Lynch who brings sex appeal and a sultry voice to the FANTASY stage. Jaime Lynch has established a name for herself in Las Vegas by headlining and performing in numerous shows on the Las Vegas Strip including "Peepshow," "VEGAS! the Show," "iCandy Burlesque: the Show" and "Sirens of TI." She also has performed as the lead vocalist and emcee in the "Pussycat Dolls Burlesque Revue and has appeared on numerous television shows. FANTASY performs nightly at 10:30 p.m. in the Luxor's Atrium Showroom. Tickets start at $39, plus taxes and handling fees.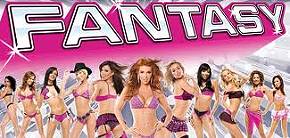 This Labor Day weekend, entertainment icon Snoop Dogg aka Snoop Lion transforms Hard Rock Hotel & Casino into the ultimate hip-hop and reggae hot spot, Saturday, Aug. 31 and Sunday, Sept. 1. Snoop Lion kicks off the full weekend of revelry Saturday night at SOUNDWAVES poolside stage and continues Sunday afternoon at the 10th anniversary of REHAB, Las Vegas' original dayclub.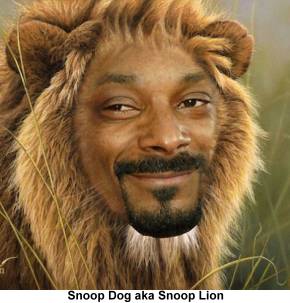 Snoop Lion is a veteran performer at Hard Rock Hotel with more than five shows under his belt. The legendary musician has sold over 30 million albums with his debut, Doggystyle, topping the Billboard charts at No. 1. Since, Snoop has released 11 additional studio albums; won numerous awards from MTV, BET, Billboard, Rolling Stone, as well as many more notable entertainment organizations; starred in several movies and television shows; and has collaborated with artists such as Dr. Dre, Wiz Khalifa, Pharrell, Katy Perry and more.
Aug. 31, SOUNDWAVES sets the ultimate party scene with a performance by "Tha Doggfather" at 9:30 p.m. Tickets start at $45.
---
REHAB's 10th anniversary season continues and delivers top talent as Snoop takes the stage at 4 p.m. on Sunday, Sep. 1. Tickets start at $50 for females and $70 for males. REHAB was featured on Travel Channel's "21 Sexiest Beach Bars" calling it "The must-see place on a Sunday afternoon."
---
Rob Garrett, long time Las Vegas entertainer, has been performing his Neil Diamond tribute to audiences around the world since 1995. He has become the most popular and most requested Neil Diamond tribute act in the business and known worldwide as the "King of Diamonds". Like his iconic counterpart, Rob was born and raised in New York City. His physical and vocal resemblance to the legendary singer/songwriter is uncanny. Recently, Rob was awarded the "Male Music Tribute Act of the Year" in Las Vegas, the first time a Neil Diamond tribute act has won such an honor.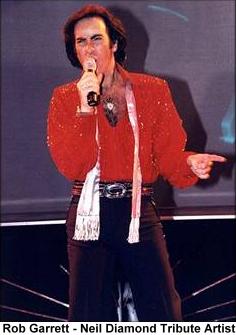 Rob's upcoming shows: August 17th at the Cannery.
August 24th at the Sunset Station (Madrid Room) shows at 4 PM & 6 PM.
AMERICAN TRILOGY Sept. 7 & 8th Starbright Theater, Sun City Summerlin.
---
Nevada Broadcasters Association (NBA) 18th annual Gala honors 40 broadcasters, both radio and TV, as well as the Southern Nevada community at large, who will be inducted into the NBA Hall of Fame at Red Rock Casino's Summerlin Ballroom. Among the night's themes is the honoring of "The Renaissance of Downtown Las Vegas." Celebrating First Friday will feature live artists and a silent auction utilizing GiveSmart technology (people bidding by using their smart phones or tablets). All money raised through the auction will go to the Tony & Linda Bonnici Broadcast/Communications Scholarship, which aids in the higher education of promising broadcast students and includes a guaranteed internship opportunity.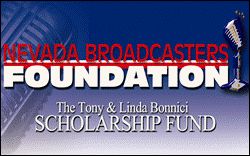 NBA CEO Bob Fisher, will feature a Salute to America and the presentation of the NBA Community Achievement Award as well as the Induction of the Class of 2013, recognition of special honorees and the invocation. The NBA Community Achievement Award will be presented to the KLAS-TV I-TEAM. Steve Schorr, Cox Communications; Colin Cowherd, ESPN Sports; Ed Henry, Fox News Channel; and KOLO-TV, Channel 8 in Reno also will be honored. Tom Humm, vice president and market manager for the Beasley Group and Mayor Carolyn Goodman and former Mayor Oscar Goodman will receive the NBA Pinnacle Award for their vision and leading the revitalization of Downtown Las Vegas. The evening will include a performance by Frankie Moreno and his band.
Established in 1961, the Nevada Broadcasters Association is dedicated to protecting, promoting, enhancing and strengthening Nevada's broadcast industry to more effectively serve the public.
---
Aid for AIDS of Nevada (AFAN) 27th annual Black & White Party will be held at The Joint at Hard Rock Hotel & Casino on Saturday, Aug. 24 from 8 p.m. to 1 a.m. General admission tickets are $35 . Tickets can be purchased at www.afanlv.org. Black and White attire is required for admission.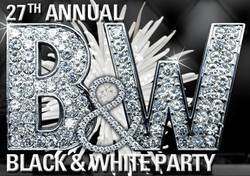 Hosted by Chris Saldaña, television anchor/host, Lauren Michaels from 98.5 KLUC's "Chet Buchanan and The Morning Zoo,"and Jaymes and James,"Team Chippendales," from CBS' "The Amazing Race," Black & White Party will feature DJ Axis, MICS and electro pop duo Mr.J & M.A.U aka J&M spinning. This year's festivities will include a headline performance from vocal impressionist Véronic, currently headlining at Bally's. Other performers include the cast of "The D*Word--A Musical;" Diva's impersonator Derrick Barry; the ladies of FANTASY; singer Maren Wade from "America's Got Talent"; Mark Shunock, star of "Rock of Ages;"Recycled Percussion; The Skating Aratas; Tony n' Tina's Wedding; "VEGAS! and Zodiac Dragon, a multi-genre multimedia immersion. In addition, guests will enjoy eye-catching atmospheric entertainers including live art painting, roaming characters, sword swallowers, hand magicians and impromptu performances by Nevada Ballet Theatre among others.
Celebrating its 27th anniversary in 2013, the Black & White Party began as a humble gathering of community members in 1986 to collect canned foods for those living with HIV/AIDS in Nevada.
---
Awesome Andy Walmsley presented his second Showbiz Roast at the Stratosphere with former Las Vegas Mayor Oscar Goodman being the Roastee. Quite different this time as the Roast was more organized with time elements and controls. However, that caused a lack of much of the spontaneity that had previously existed as many Roasters read what they had to say rather than to really 'give it' to His Honor. Most of the Roasters roasted each other rather than Oscar Goodman who sat in the ShowBiz Throne. Even Oscar complained about the lack of abuse to him, because he was ready to 'give it back', but he wasn't vilified that much. Still it was an extremely enjoyable and fun night with some very funny belly laughs and great entertainment. Diva's, Frank Marino is heralded as the being the next Roastee in October. That should really be something!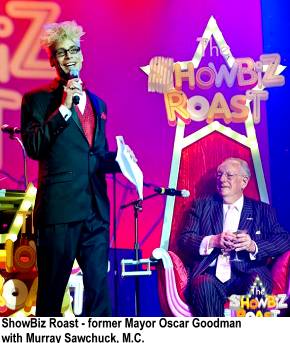 Clint Holmes is a Las Vegas gem and an internationally celebrated performer. His shows feature a constantly evolving kaleidoscope of music ranging from contemporary to jazz to Broadway. Showcasing the greatest songwriters from around the world, he creates a spellbinding evening of music that's both live and alive. For the first time, Clint Holmes is giving his fans a chance to choose the songs that he will perform during his upcoming shows inside Cabaret Jazz at The Smith Center on Sept. 6 and 7 at 8:30 p.m. and Sept. 8 at 2 p.m.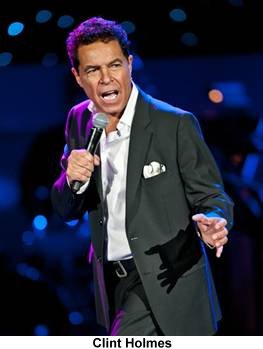 Clint, the resident artist inside Cabaret Jazz, The Smith Center's intimate performance venue that seats 250 people, has been headlining inside the room since the opening and is known for performing a different show each month. Now, fans can Tweet Holmes at @ClintHolmesLV with their song request between now and Aug. 30 for a chance to hear the esteemed vocalist perform their song as part of his show's repertoire.
Also featured at the Smith Center in September:
ARTURO SANDOVAL Friday, 9/13 - 7:00pm Saturday, 9/14 - 3:00 & 7:00pm. Memorable for his dazzling trumpet solo that kicked off The Smith Center's Opening Night, Arturo Sandoval, nine-time Grammy® Award winner and one of the most dynamic live performers of our time, brings a show that will sizzle with his original compositions, as well as a tribute to the late, great Dizzy Gillespie.
TOMMY TUNE Saturday, 9/21 - 3:00pm & 7:00pm Sunday, 9/22 - 3:00pm
---
Taps, tunes and tall tales, Broadway's tallest tapper takes to the world's smallest stage, dancing, singing and tale-telling through 50 years of big time showmanship - all on only 4 square feet!
---
Gorgeous and talented Las Vegas entertainer Kat Ray is in the running with 9 other spectacular women for MS. SENIOR NEVADA! The Pageant is being presented over a 2 day period at the South Point Hotel Casino. August 20 - Talent Showcase - $10 per person - Show starts at 1:00 pm. August 21 - Pageant and winner announced - $20 per person - Show starts at 1:00 pm. If you buy both tickets at the same time the cost is $25. Tickets: charlieclasvegas@aol.com or call 702-809-5881.
---
Wet 'n' Wild is open and the crowds are coming. I was there for the first night of 'Dive In Movies' where you can float in the wave pool while watching a movie or lounge on the surrounding deck. Wet 'n' Wild has many various slides and attractions, a lazy river and more.

Even though Wet 'n' Wild is expensive, the place was packed with families, singles, couples and everyone else, and all were having a great time.
---
Additional dates have been added to The Venetian's Sands Showroom performance lineup for Human Nature, and Rita Rudner. Additional show dates are now on sale at www.venetian.com: Human Nature: Wednesday, October 2nd and 9th: Rita Rudner: Monday, October 28th.
Human Nature, Australia's top-selling pop vocal group, and a Las Vegas favorite, have reimagined the sounds of Motown to bring a show that's as unexpected as it is amazing. The critically acclaimed quartet puts a modern twist on classic Motown hits, featuring songs by Four Tops, The Supremes, The Temptations, Stevie Wonder and more in Smokey Robinson presents Human Nature: The Motown Show. Performances Thursday through Monday, 7 p.m.
TOP OF NEXT COLUMN
Rita Rudner, the multi-award-winning comedienne, holds the distinguished honor of having the longest-running, most successful one person comedy show in the history of Las Vegas. An internationally renowned entertainer and best-selling author, Rudner has starred in seven HBO comedy specials, her own PBS special, and has written several movie scripts. One of the most legendary performers in the business, Rudner has headlined in Las Vegas since 2000.
---
Katie Morgan, Adult actress and HBO Sexpert will host a sexy bash at Crazy Horse III and Best Bangin' Booty contest at Posh Boutique Nightclub on Saturday, August 24. With a double dose at the adult nightlife complex, Morgan will start the party with a Best Bangin' Booty contest inside Posh. Sponsored by AdultSearch.com, the booty shaking contest will provide participants with the chance to show a panel of guest judges their sexiest dance routines. Movers and shakers will vie for the chance to win $3,000 in cash and prizes.
Partygoers will join Katie Morgan at Crazy Horse III to be a part of her new party television series as she films at the award-winning Gentleman's Club. Crazy Horse III's complimentary limo service will be available for the special event, pending availability, by calling 702-673-1700.
---
Dennis Hof, owner of The Bunny Ranch Brothel has this to say. "We are happy to announce that Scott Thorson is settling in nicely here at The Bunny Ranch." Scott is famous for being Liberace's ex-lover (Lee, as Scott fondly remembers him), as well as writing the book Behind The Candelabra, the inspiration for HBO's smash-hit movie, starring Michael Douglas as Liberace and Matt Damon as Scott.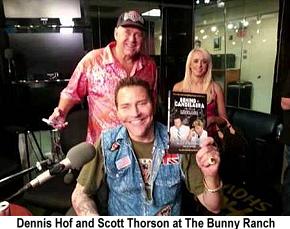 Long story short, The Bunny Ranch Ladies heard that Scott was in a local Reno jail and wanted to help. So, Dennis arranged bail and legal aid for Scott, and he's staying at The Bunny Ranch. A few weeks ago, Scott, Dennis and Krissy Summers had a very successful promotion trip to New York City finding themselves on The Today Show, The View, Howard Stern, Artie Lange, Opie and Anthony and Joy Behar, as well as dozens of major radio shows across the USA.
"Scott is a great guy" says Dennis, "We were glad we could help him get on his feet and back into the media. There are even rumors of a second follow up book from Scott, which we will be happy to announce once we know more. Believe us, Scott has plenty of stories to tell!"
---
Fall Restaurant Week kicks off Friday, Aug. 23 and runs through Friday, Aug. 30. Guests are invited to experience an epicurean adventure at select MGM Resorts International restaurants. For the seventh consecutive year, the city's finest restaurants, celebrity chefs and Master Sommeliers will come together to support Three Square, a non-profit organization working to end hunger in Southern Nevada. The week-long event offers unparalleled dining options for guests to enjoy at participating restaurants at Bellagio, ARIA, The Shops at Crystals, MGM Grand, Mandalay Bay, Monte Carlo, Luxor and Excalibur. Each restaurant will present delectable cuisine with special prix fixe menus priced at $20.13, $30.13, $40.13 and $50.13.
---
PURE Nightclub inside Caesars Palace will host the ultimate Labor Day Weekend bash as Hip-hop legends Rev Run & Ruckus take over the main stage for a live performance, Saturday, Aug. 31. The lively DJ and MC duo will have clubgoers flocking to the hot spot as they perform their classic hits and more, keeping their fans on their feet into the early hours of the morning.
---
The D HOTEL/CASINO. Can't believe it's been a year. In celebration of the downtown property's first year in Las Vegas, The D will host three major concert events on the 3rd Street Stage of the Fremont Street Experience. The epic lineup will include Uncle Kracker Thursday, Sept. 26 and Stone Temple Pilots with Chester Bennington Friday, Sept. 27. To cap off the festivities, Kid Rock will deliver an unforgettable performance Saturday, Sept. 28 (my birthday).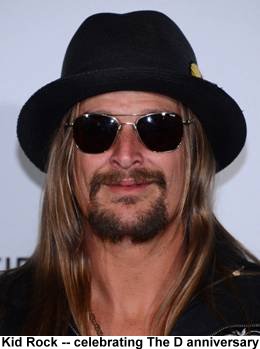 Another anniversary - In honor of its one year anniversary, Vinyl at Hard Rock Hotel & Casino is hosting a weekend of entertainment headlined by rock 'n' roll songstress Courtney Love, Thursday, Aug. 22 - Sunday, Aug. 25. Courtney Love helps celebrate Vinyl's one year anniversary as part of her solo tour with a two-night performance at 8:30 p.m. on Thursday, Aug. 22 and 9:30 p.m. on Friday, Aug. 23. This will mark Love's first time on the road since 2010, when she performed with her alternative rock band, 'Hole.' Recently, Love collaborated with Fall Out Boy, modeled for a Saint Laurent ad and recorded a pirate-themed duet with Michael Stipe.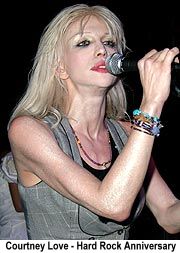 The weekend of entertainment will continue with a performance by Street Drum Corps and special guests at 9 p.m. on Saturday, Aug. 24, and the VEGAS ROCKS! Awards after-party with Sin City Sinners at 10 p.m. on Sunday, Aug. 25.
---
Carly Rae Jepson, breakout pop sensation, hits the road this summer with a stop at The Pearl inside Palms Casino on Sept. 14 at 8 p.m. with special guests Hot Chelle. Carly Rae Jepsen, Canadian singer/songwriter has taken America by storm after bursting onto the scene in the U.S. with her hit single "Call Me Maybe." Unforgettably catchy, the hit song which she co-wrote quickly rose to the No. 1 spot on the Billboard Hot 100 chart where it remained for nine consecutive weeks. Certified quintuple-platinum in Jepsen's native Canada, the track is also an international sensation, climbing to No. 1 on the iTunes Singles charts in more than 47 countries while the official video has more than 400 million YouTube views and the song has sold more than 10 million singles worldwide to date.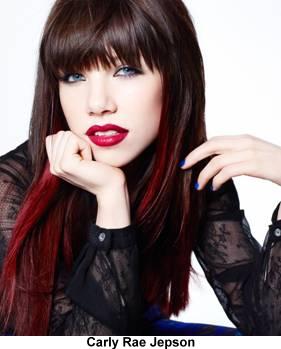 Billboard named Jepsen its "Rising Star" at the 2012 Billboard Women In Music Awards, and she won the 2012 American Music Award for Best New Artist. Tickets start at $33.50.
---
A Special Day for 5 Couples 11/12/13: This November, five couples can capitalize on what will be the last of auspicious dates in this lifetime by getting married at The Mob Museum, The National Museum of Organized Crime and Law Enforcement in Las Vegas, the wedding capital of the world. Only FIVE couples will be allowed to book on this date, expected to be one of the busiest wedding dates of the year.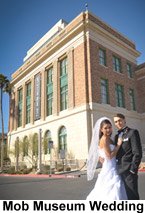 Considered the city's most arresting venue, brides and grooms looking to have the unique wedding date of Nov. 12, 2013, can get married inside the courtroom - once the site of some of America's most notorious trials and hearings involving members of organized crime. For those who book this date, $1,112.13 will include a marriage, commitment or vow renewal ceremony inside the historic, restored Federal courtroom or on the Museum's front steps with its monumental facade as a backdrop. A single layer cake and champagne will be included for up to 20 guests.
And, if this is not enough, couples will also have the option to buy out the entire Museum, allowing the wedding party and guests to enjoy full access to the exhibitions. The Museum offers all-inclusive packages with catering, photography, officiant, floral, décor, musicians, lighting, photo booth – anything and everything to make the event memorable.
Located in the heart of downtown Las Vegas, The Mob Museum is inside the historic former federal courthouse and U.S. Post Office originally built in 1933. The building is one of the few remaining historically significant buildings in Las Vegas and is included on both the Nevada and National Registers of Historic Places. The courtroom has been meticulously restored to its original grandeur, a true entry to a time when the Mob "ran the town." The building, in and of itself, is a unique location for a wedding. Couples can also share their good news with everyone at the Museum that day. The Mob Museum will congratulate the couple on their special day with a personalized message on the first floor dot wall. The wall is also available for once-in-a-lifetime proposals. To book: Call Maria Sawyer at (702) 724-2713 or email msawyer@themobmuseum.org. To have a full understanding of what the "family" expects couples to book, the wedding brochure can be downloaded: http://themobmuseum.org/wp-content/uploads/2013/04/WeddingBrochure.pdf.
---
Blue Man Group, the world-wide entertainment phenomenon, unveils the world premiere of an all new, never-seen-before orchestral concert featuring wild collaborations with the Hollywood Bowl Orchestra, Special guests, Virtuoso musical pieces and Mayhem on the grandest scale at the Hollywood Bowl in Los Angeles, on Friday, Sept. 6 and Saturday, Sept. 7 at 8 p.m.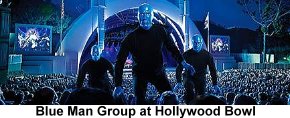 Create a Change Now will host its first fundraiser Circus Garden Party on Saturday, Sept. 7 from 3 - 6 p.m. at the Historic Fifth Street School. The circus-themed event will have activities for all ages including stilt walkers, jugglers, face painting, balloon art, live music as well as educational components such as how to plant vegetables and healthy cooking demonstrations. Guests can also sample cuisine from local restaurants including Bradley Ogden's Hops & Harvest, Poppy Den by Chef Angelo Sosa and Rachel's Kitchen. fresh52 Farmers & Artisan Market will also be on hand with fresh produce. The goal of Create a Change is to fight childhood obesity which has become a national epidemic in this country. The event is open to the public and will support nutritional education, chef demonstrations as well as planting more edible gardens in schools. To purchase tickets visit https://ticketcake.com/event/first-annual-circus-garden-party/las-vegas/2013-09-07. For more information call (702) 300-7399. The Fifth Street School is located at 401 S. Fourth St. Las Vegas, NV 89101.
---
Something to think about. How many times does a visitor to Las Vegas bite off more than they can chew in the form of all-night parties and high-energy lifestyles. Not only visitors, but Las Vegas residents have a tendency to dehydrate themselves and lose important nutrients the body needs to feel energized. People often become dehydrated without even realizing it. Developed by a group of experienced emergency room physicians, REVIV, located at The Underground at MGM Grand, opened its doors to rejuvenate guests with a variety of hydration therapies in a spa-like atmosphere with the comfort of knowing a skilled team of Doctors, Paramedics and Nurses are standing by to monitor their well-being.
REVIV features a wide range of intravenous and vitamin therapies to combat dehydration, whether it's from time in the sun, a late night out or a strenuous workout. The IV therapies include three options, each priced at $99. These include the HydraMax Hydration Infusion with one liter of saline and electrolytes; the MegaBoost Wellness Infusion, including multivitamins, antioxidants and immunity support; and the UltraVive Recovery Infusion, which includes vitamin B12 as well as anti-nausea and anti-inflammatory medications. For those who are especially dehydrated, an additional liter of fluid may be purchased for $20, ensuring added energy and well-being. A Nevada Board Certified physician will be on site at all times, overseeing a team of registered nurses and paramedics trained to administer IVs and vitamin treatments.
Guests who prefer not to undergo intravenous therapy may opt for the QuickFix, offering the same medications as the UltraVive IV treatment in an oral form. Although an IV is the recommended method, those with time constraints or needle phobias can receive the same recovery medications in oral form along with REVIV water, oxygen therapy and a REVIV energy shot. REVIV's therapies are administered in an intimate 1,270-square-foot setting; either in one of four full body massage chair rooms or in a group 'living room' furnished with a large, comfortable couch and a high-definition television. The 'living room' is ideal for bachelor and bachelorette parties, business travelers or other groups visiting Las Vegas. As part of the ultimate hydration experience, each guest receives an iPad upon check-in to use while relaxing during their treatment. REVIV is open daily from 9 a.m. to midnight. For more information, visit RevivMe.com or call 702-644-4466.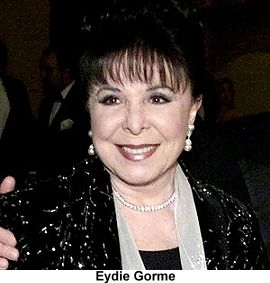 I hate to write about this, but the world has lost one of the greatest vocalists of all time, Eydie Gorme. Although her career was at first solo, Eydie and husband Steve Lawrence captivated audiences with their great stage act as just "Steve and Eydie." Thank you Eydie for giving the world your great talent. Rest in Peace, dear Eydie!
CONTINUE ON TO...:
> Entertainment Tidbits Archives
>Las Vegas News "Heard Around Town"
>Las Vegas Leisure Guide<