What a pleasant surprise I had seeing VÉRONIC Voices at Bally's. Veronic Discaire had toured with Celine Dion as Celine's opening act and now this show is co-produced by Celine Dion and her husband Rene. The show features the amazing talents of Véronic, the only female tribute artist of her kind who pays homage to 50 of the most popular female recording artists in the world.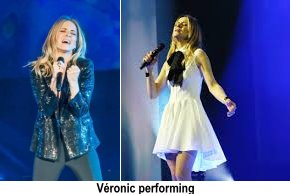 Whether she's singing Lady Gaga or Madonna, Whitney or Adele, Pink or Celine, Véronic's incredible repertoire of voices, backed by fabulous six dancers and five state-of-the-art video screens, takes audiences on a jaw-dropping, captivating entertainment journey. Even without changing her original appearance Veronic takes on the characterization, appearance, and in her own voice unbelievably becomes the tribute artist right before your eyes. Her stage presence, comic relief and interaction with the audience is extremely enjoyable. Media was invited opening night and Celine Dion and her husband Rene were there at her debut that night along with many Las Vegas celebrities. Veronic is Canadian and has appeared all over the world; however, this night was her first appearance in the United States. I highly recommend this highly entertaining Veronic Voices show.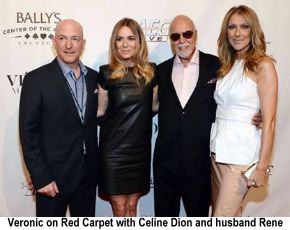 Everybody wins: 99 players in poker rooms across Las Vegas celebrated as Daniel from London activated the Mega Beat Progressive Poker jackpot when his six high straight flush fell short to Edgar from Mexico's eight high straight flush inside Planet Hollywood's poker room. This is the third time the jackpot has hit since its January launch and all three times the winner was playing at Planet Hollywood.The Mega Beat Progressive Poker Jackpot awards not only the losing hand and winning hand but all players actively playing in any of the participating Caesars Entertainment poker rooms. Daniel's exceptional hand being beat by Edgar's even better hand entitled all 99 players in Harrah's Las Vegas, The Quad Resort & Casino, Flamingo Las Vegas, Bally's Las Vegas, Planet Hollywood Resort & Casino, Caesars Palace and Rio All-Suite Hotel & Casino poker rooms to share the $538,771 progressive jackpot. Daniel, having the losing hand, won $111,646 and winner Edgar took home $57,765 while all other players received $3,888 for simply playing in the right room at the right time.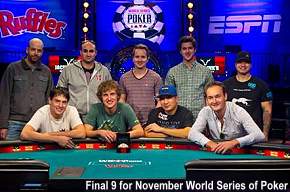 As of my deadline for this article, 9 players are vying for the main event in November. The 44th annual World Series of Poker (WSOP) $10,000 No-Limit Hold'em Championship - commonly referred to as the Main Event - is down to its final nine players. The "November Nine" - a diverse and international group - is all that remains of the massive field of 6,352 players from 83 different nations who entered the iconic tournament seeking poker's most coveted title and a top prize of more than $8.3 million. The final nine players represent five countries: Canada, France, Israel, Netherlands and the United States. The players will return to the Rio on Monday, Nov. 4 to vie for poker's ultimate trophy - a WSOP gold bracelet - and the lion's share of the Main Event's $59,708,800 total prize pool. The winner will receive a first-place prize of $8,359,531, with the other eight players sharing another $18,302,535.
---
Blue Man Group, the world-renowned entertainment phenomenon at the Monte Carlo has turbo charged its newest production. The mega-enhanced show is a thrilling, energy infused performance that is incredibly engaging and ridiculously funny. And now, Blue Man Group offers a free Procession Parade daily at 6:15 p.m. on the Casino floor prior to the show. The Procession features custom made instruments including the Percussipede, a musical centipede of percussion instruments, and a puppet co-created by world-renowned 3-D designer Michael Curry as well as a humanoid robot designed by Show Creators Inc. Each day, a Blue Man Group weaves and shakes its way through the Casino; a musical celebration that will lure and entice unsuspecting visitors into the magical, imaginative world of Blue Man Group.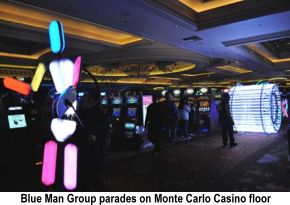 Louie Anderson headlines at the Plaza. He's back! Comedy legend and Emmy Award-winning comedian Louie Anderson has taken up comedic residency fresh off his success on the ABC celebrity diving series "Splash." Louie Anderson is glad to be back on dry land and is diving back onto the comedy stage at the Plaza with an open-ended run entertaining audiences Wednesday through Saturday nights at 7 p.m. Louie Anderson is one of the most versatile and successful comedians working today.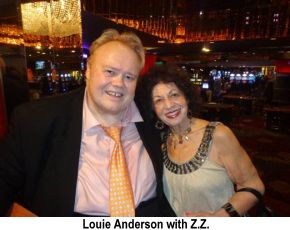 Sharing the ups and downs of his childhood experiences as one of 11 children in Minnesota and his health and obesity problems, Louie has crafted comedy routines that ring true for audiences while reducing them to helpless fits of laughter. Opening for Louie are a youthful six piece band and singer and two female comics. But it is the indefatigable Louie, onstage for quite some time who keeps the audience even wanting more. Louie looks great and has a meet and greet after the show. Tickets start at $59.95 general admission and $101.95 for VIP seating. What a guy!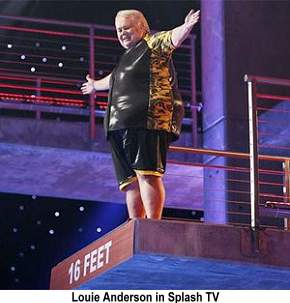 SILVERTON HOTEL/CASINO celebrates its 16th Birthday in July with 16th Birthday drawings. Silverton Rewards Club members will receive a Pull Tab by earning 500 points throughout the day and points must be earned on each day and will not roll over to the following day. Sunday and Friday are ˝ Point Earning Days, and players will receive a Pull Tab for earning 250 points. Players that earn a Sweet 16 & Win Pull Tab could win a 2014 Ford Mustang, up to $1,000 cash, Free Slot Play, Dining credits and much more! A drawing at 8 p.m. every Wednesday in July will be held for qualifying Silverton Rewards Club members at the Silverton Main Pit. Winners must be present and present the matching half of the ticket to collect their winnings. Each drawing will have 10 winners. Players can earn Double Drawings entries every Wednesday from 3 p.m. - 8 p.m.
Lorena Peril, leading lady of the alluring adult revue FANTASY at LUXOR will step down from her role as the show's singer this fall. Peril will be leaving the FANTASY stage to perform as "Sandy" in a global tour of "Grease." Her husband Ray Jon will accompany her, playing the role of "Vince Fontaine." Congratulations on her new role, but Las Vegas will miss her amazing talent.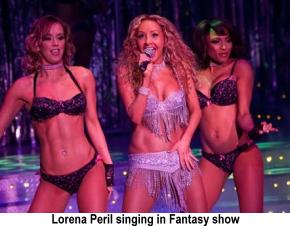 Celebrating more than 13 successful years on The Strip, FANTASY was named "Best Showgirls" in the Las Vegas Review-Journal 2012 "Best of Las Vegas" poll and has shaped itself into one of Las Vegas' leading topless shows. Great for singles and couples alike, the sexy production showcases 15 high-energy numbers set to a variety of today's top music genres. While the gorgeous dancers lure guests into their wildest fantasies, comic relief Sean E. Cooper keeps audiences on its toes with his spot-on impressions of some of pop culture's most recognizable personalities.
---
Priscilla Queen of the Desert The Musical opened on Broadway to critical acclaim and was playing at The Venetian in Las Vegas.It is a dazzling spectacle with over the top set decorations, 500 costume changes, fabulous music and dancing talents, somewhat rauncy, but tastefully done, with a storyline that is fun along with some tearful messages. If you didn't see it, you are out of luck, because I am dismayed to report that it will end is run July 21 instead of originally planned the end of August. BooHoo!
Golden Rainbow's 27th annual "Ribbon of Life"fundraising production at The Smith Center for the Performing Arts, one of the largest HIV/AIDS fundraisers in the state of Nevada and Golden Rainbow's main source of revenue was spectacular and raised more than $152.000. This fundraising is unlike any other production in the city and features some of the best performers from the Las Vegas Strip in original acts showcasing new numbers each year. The audience always surprised, thrilled and inspired was astonished this year with unforgettable tribute themed performances.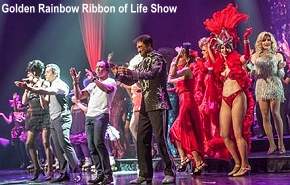 TV personality Chris Saldaña and Edie of Cirque du Soleil's Zumanity returned for this one-of-a-kind show and introduced an amazing lineup of entertainment. Included were world-renowned, two-time Grammy winning singer Jon Secada and NBC's "America's Got Talent" star Michael Grimm. Many of Las Vegas' top acts also graced the stage including performers: Clint Holmes, Josh Strickland, Frankie Moreno and Reva Rice, vocal groups Mo5aic, The Las Vegas Tenors, Celebrity City Chorus and Human Nature, members from Jubilee and VEGAS! the Show, and more. Golden Rainbow, a nonprofit organization founded by members of the entertainment industry in 1987, provides housing and direct financial assistance to men, women and children living with HIV/AIDS.
---
Las Vegas' longest-running headliner, Frank Marino was surprised during his performance at The Quad with a marriage proposal from his longtime partner, associate producer Alex Schechter. Riding the wave of the historic Supreme Court rulings in favor of marriage equality, Schechter surprised Marino by popping the question during his stage show, while the cast of Divas cheered on in support. The couple, who celebrated their 20th anniversary together has yet to announce wedding plans, but one thing is certain: marriage most certainly won't be a drag for these two.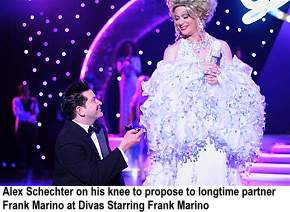 On July 28, 1995, punk band Circle Jerks were scheduled to perform at The Huntridge Theatre, but when they showed up to the venue they found the roof collapsed. They had nowhere else to be, so they set up their equipment in the parking lot and played for the fans in attendance. The spirit of The Huntridge and the bands that have performed, even in the parking lot, lives on as the Save the Huntridge movement invited the community to engage that same heart and soul and they came out for a fundraiser in the parking lot of The Huntridge Theatre. The hope was that the beginning movement to Save the Huntridge would raise $150,00 and it did with a contribution from the group "The Killers" who performed there. A good start and Save the Huntridge continues... I'll keep my readers posted.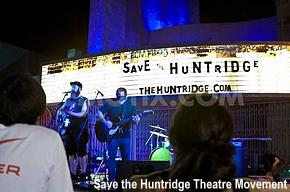 Bally's plans to renovate and rename its existing South tower to the all-new Jubilee Tower, named after the resort's iconic show, Jubilee!, which celebrates its 32nd anniversary this summer, making it the longest-running show in Las Vegas. Renovations will include 756 remodeled hotel rooms and suites, that are now on sale for first guest arrivals late summer 2013.
---
The U.S. Conference of Mayors was held in Las Vegas and concluded at the home of Mayor Carolyn Goodman with an in-house performance by the cast of Las Vegas' hit show, THE PHAT PACK surprised the Mayors with an acoustic performance around the piano in the atrium of the Mayor's home, singing a few of their show favorites, as well as leading the Mayors in an impromptu chorus of "God Bless America."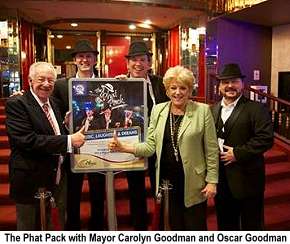 THE PHAT PACK has been performing at the Plaza receiving rave reviews and standing ovations. The show stars former Phantom cast-mates, Bruce Ewing, Ted Keegan & Randal Keith in a show that celebrates Broadway and American Standards music, while tipping its hat to the excellence & fun of former Las Vegas stars known as The Rat Pack. If you love Broadway, you will love THE PHAT PACK! In addition to singing the great songs of Broadway, American Standards, THE PHAT PACK entertains with some hilarious new original songs -- and shares some stories of their lives & careers!
TOP OF NEXT COLUMN
The notorious Mobster's Trial in Boston has fueled interest in The Mob Museum's Bulger Artifacts. When planning began for an exhibit featuring alleged crime figures on the lam for The Mob Museum, among those originally slated for inclusion was notorious gangster-turned-FBI-informant James "Whitey" Bulger. By the time the Museum opened its doors on Valentine's Day 2012, exhibits featuring Bulger had to be altered to account for his 2011 arrest. With Bulger's trial under way in Boston, guests of the Mob Museum are flocking to these exhibits seeking to understand the man's role in organized crime, which allegedly includes 19 murders in the 70s and 80s. Bulger is featured in several places throughout the Museum. Bulger is one of the more notorious mobsters alive today.
Journalist and author Beverly Ford along with co-author Stephanie Schorow, will appear at the Mob Museum Aug. 16-17 to discuss their book, "The Boston Mob Guide: Hit Men, Hoodlums and Hideouts.
---
The Fat Bar would like to help you celebrate your birthday. Bring in a valid ID to The Fat Bar on your birthday with the coupon on Facebook or fatbarlasvegas.com and you will receive a free meal - medium hamburger, fries and a medium drink. BOOM Magazine said, "For the best burger in town visit the Fat Bar & Grill on the Strip across the street from the Monte Carlo Resort. Relax, enjoy the food, and watch the parade of people passing by. On Thursday nights from 10 p.m.-2 a.m. a deejay plays '80's music. Fridays and Saturdays the deejay plays rock 'n' roll from 10 p.m.-2 a.m. With approximately 50,000 people strolling by on weekdays and 80,000 on weekends it's the epicenter of people watching places in Las Vegas directly across from where the Monte Carlo meets City Center.
---
Opening night's entertainment at Sapphire Comedy Hour inside Sapphire Gentlemen's Club, the "World's Largest Gentleman's Club" had headliner and 25 year veteran comedian, Michael "Wheels" Parise along with Sean Carlin – Host, Chris Scandal Randall – Sleight of Hand Magician, Angie Krum, Kalani Kokonuts – 'The Showgirl of Burlesque', Miss Exotic World 2009, Mon Dre – Magician, and Steven Briggs performing. Gorgeous Sapphire gals brought each performer onstage. Many local celebrities joined the crowd to experience this special show.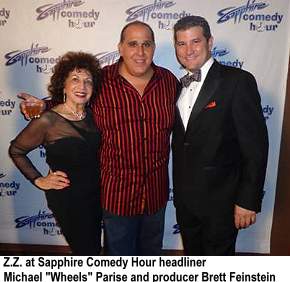 This was opening night, but you can get your laughs off each and every Friday and Saturday evening at 8 p.m. in the Sapphire Showroom, a plush 300 seat, state-of-the-art venue that is separate from the main club. The room has a great stage, sound system and a catwalk from the stage that brings the entertainers right into the audience. The show is very couple-friendly and offers something for everyone, including dinner menu items that are available and served at your table from the club's very own Sapphire Grill and just about any cocktail you can think of. But, remember, this is an adult show, so if you like some entertainment that might be a bit bawdy or raunchy, this is the best you can get. The line-up each week is new, featuring four comedians interspersed with a variety of talent including burlesque acts and incredible magicians along with sexy female and male dancers that add a bit of spice to the show. So laugh, eat, and drink. The Sapphire Comedy Hour has it all.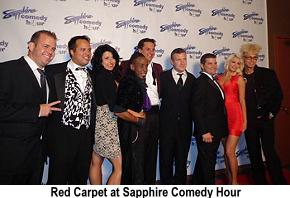 Do You Have That "Burning Love" for Elvis?
Nearly 60 years ago, on July 30, 1954, Elvis Presley, at the age of 19, performed his first concert, and it didn't take long for him to become an international sensation. Although Elvis passed away in 1977, it is apparent that he has not "left the building" in Las Vegas. There are three shows on the Strip that feature award-winning Elvis tribute artists. These entertainers have been performing on the Strip for over a decade and have cumulatively performed over 10,000 shows. They are:
Legends in Concert: Flamingo
Big Elvis: Harrah's: Inside the Piano Bar with Pete Vallee performing as Big Elvis
and
Million Dollar Quartet: Harrah's
---
The legendary Drai's has been a staple in Las Vegas nightlife for more than 15 years. Drai's After Hours recently celebrated the opening of its new location at Bally's. Drai's After Hours is owned and operated by Victor Drai, who is regarded by many as the "father of the Las Vegas after hours scene," having created and founded Las Vegas mega-clubs Tryst and XS.
Another amazing lineup of Las Vegas Entertainers and Celebrities performed at THE VEGAS UNDERGROUND event in the exclusive House of Blues Foundation Room at the top of Mandalay Bay. The Vegas Underground has become known as 'The Rat Pack of the Next Generation', where you never know who will be there. It's all done in an atmosphere where the audience can rub elbows with the stars…not just see them on a monitor. This fun, exciting, and off the cuff style has always been the real magic that made Las Vegas 'The Entertainment Capital of the World!' Best of all, the event is open to the public with complimentary admission in the art filled Foundation Room with fantastic views of the Vegas Strip.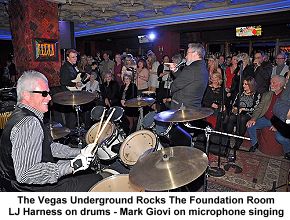 All these awesome performers entertained that night: Frankie Scinta, Sam Riddle, Paul Shortino, Lydia Ansel, Chris Phillips - AKA Zowie Bowie, Rob Garrett, Elisa Furr, Ben Stone, Jasmine Trias, David Perrico, Sandy Anderson. Ricco Diamante, Sherri Klein, Marc Love, Roseanna Telford, and Kent Foote. Of course, The Vegas Underground Band is just the best with: James D'Arrigo - sax, LJ Harness - a driving force on the drums, Ned Mills - master of the keys, even playing the trumpet at the same time, Mark Giovi - his amazing voice can do it all and Keith Neal - long time guitar guy that can play them all…even with his teeth! What a night and it will come again soon. Check out The Vegas Underground.com.
---
Singer, Songwriter, Musician Bud Mickle launched his CD release at Tommy Rocker's Mojave Beach Bar and Grill and enthralled the crowd singing his CD compositions at a live concert. Bud Mickle's talented voice ranges from melodic soft whispers to loud wails. His CD takes in many human stories and as Bud Mickle sings, his passionate emotions ring true. He sang with no backup, only two different guitars and appeared in a cowboy looking outfit. His CD is titled: Bud Mickle - My Cross To Bear.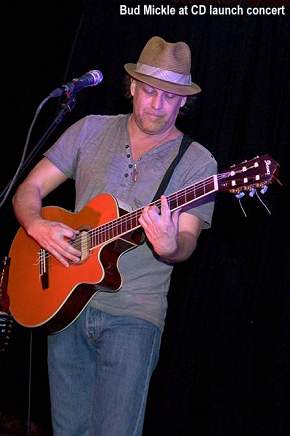 Vegas loves Zowie Bowie and now Zowie Bowie (Chris Phillips)is producing a brand new show at Bally's starting Thursday July 25th that will run for 4 weeks including celebrity guests and the Zowie Bowie Band along with the Lon Bronson Horn Section. It will be called "ZOWIE BOWIE... LATE NIGHT / LAS VEGAS". The show will perform a wide range of music from Vintage Vegas standards to DJ Dubstep remixes. Guests will include Celebrity Singers, Comedians, Magicians, Dancers and Chefs... and even some naughty late night Vegas Style routines performed by the sexiest ladies on the Strip. The social "party atmosphere" show begins at 10:30 with a red carpet at 9:30 and will offer a full bar and even hors d'oeuvres. Tickets will be available at the Bally's box office and other ticket agencies.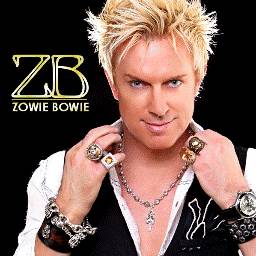 Michael Mina's PUB 1842 at MGM Grand boasts an extensive selection of beers and cocktails for guests to enjoy while they play favorites such as darts and ping pang pong in the energetic bar area. A lively soundtrack introduces a casual tavern-style eatery that playfully encourages socializing and spirited fun. The restaurant is open daily for lunch, dinner and late night.
---
An amazing new restaurant Carmine's located at the site of the former Planet Hollywood restaurant in the Forum Shops at Caesars just had its Grand Opening - and what a place it is. Completely redone with very interesting décor, surrounded with thousands of pictures, a 40 foot high bar, numerous different serving levels with more to come, and so much more. The food, served family style is deliciously and unusually astounding. The unbelievable generous portions served family style are meant to serve 4-6 people and I would venture to say, even more. And, while the prices may seem a little high, when you divide the number by the amount of people served, it is very affordable. No menus are given as the menus are in many places on the walls, and what a great varied menu it is. Service is great, and so is the ambiance meant for social enjoyment. The original Carmine's opened in New York City and has become a legendary family style Italian restaurant also in Atlantic City, Washington, D.C, Bahamas and now Las Vegas.
---
SHe by Morton's, located just steps away from the main entrance of ARIA at The Shops at Crystals, introduces Ladies Night, a weekly night for women where dinner and drinks become something more. Ladies can indulge in a small bites menu and specialty cocktails all night long. The perfect pairing to a glass of wine, Ladies Night will satisfy every craving with menu selections crafted by Executive Chef Erick Stecher. With a menu offering prime steaks, an array of signature selections and plenty of dishes made for sharing, SHe by Morton's is the Strip's stylish boutique steakhouse.
---
Due to overwhelming demand, four-time GRAMMY Award-winning R&B vocal group Boyz II Men have added four shows at The Mirage: Wednesday, Aug. 28 – Thursday, Aug. 29 and Wednesday, Nov. 27 – Thursday, Nov. 28. The trio, featuring baritone Nathan Morris alongside tenors Wanya Morris and Shawn Stockman, perform in the Terry Fator Theatre on select weekend dates through December 29, 2013.
---
The Utah Shakespeare Festival in Cedar City, UT at The Randall L. Jones Theatre, known for its stunning architecture, celebrates its twenty-fifth anniversary this year. Completed in 1989, the building has become one of the symbols of the Utah Shakespeare Festival, having housed over 100 various musicals, classic dramas and hilarious comedies. As a special event this season in the Randall Theatre, an actor to audience talkback will follow each showing of Twelve Angry Men. Along with Twelve Angry Men, the Randall will host Peter and the Starcatcher, Anything Goes, Richard II, and The Marvelous Wonderettes. Shows run June 24 to October 19. For ticket information visit www.bard.org or call 800-PLAYTIX.
---
Las Vegas Rocks Variety Show hosted by entertainer Tony Sacca every Friday, features well-known performers and the Michael T Band. The hour-long weekly show at 2 p.m. in Marilyn's at the Eastside Cannery on Boulder Highways is taped before a live audience. The show airs the following day locally at 3 p.m. on Vegas TV Cable 14 as well as regionally on KLBC TV Cable 2 airing in Laughlin, Bullhead and Kingman, and will be broadcast via the Internet at www.radioactivebroadcasting.com. The show is free for the audience. For guaranteed seating and reservations, call 702-364-8669. Doors open at 1:30 p.m.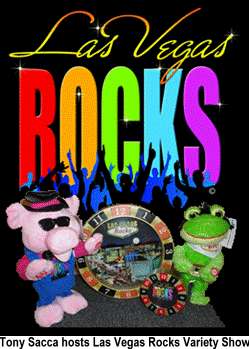 The highly anticipated Nobu Hotel suites at Caesars Palace are now available for guests to unwind or entertain with three spectacular designs and a mouthwatering in-suite hospitality menu. Whether seeking a serene weekend retreat or planning an over-the-top celebration, the 18 distinctive suites, paired with Chef Nobu Matsuhisa's unrivaled cuisine, will deliver a Las Vegas suite experience that, until now, Nobu lovers could only dream about. Nobu suites can be reserved online at www.nobucaesarspalace.com or by phone at (800) 727-4923.
---
TREVI inside The Forum Shops at Caesars offers a 20 percent discount off their total food order for Nevadans who present a valid Nevada ID and dine through Saturday, Aug. 31. The discount does not apply on alcohol purchases and cannot be combined with any other offers. TREVI is located at the heart of The Forum Shops at Caesars next to the 'Fountain of the Gods.' TREVI has been voted "Best of Las Vegas" for Italian cuisine by the Review-Journal. The restaurant offers classic and contemporary Italian fare, a gelato bar featuring fresh gelato made daily and a dynamic atmosphere.
---
Pat Sajak, Vanna White and the whole Wheel of Fortune crew will tape six weeks of shows at The Venetian and The Palazzo in July and August.
---
Steve Martorano is partnering with Paris Las Vegas to bring his restaurant to the Las Vegas Strip. The popular cook, DJ and cookbook author will bring his brand of Italian American fare to a second Las Vegas location in early 2014. In addition to his popular restaurant at The Rio, Martorano's will join the dining roster at Paris which is fast becoming Las Vegas' next culinary destination
---
Team Las Vegas Heads to the Orange County Games! In a little over a month from now, the JCC of Southern Nevada will be sendng 35 athletes and artists to the annual JCC Maccabi Games in Orange County, California. These teens will be representing Las Vegas and Henderson and will be competing against 2500 other teens from all over the world.
CONTINUE ON TO...:
> Entertainment Tidbits Archives
>Las Vegas News "Heard Around Town"
>Las Vegas Leisure Guide<