The LINQ is an open-air retail, dining and entertainment district, anchored by the world's tallest observation wheel, known as the High Roller. The LINQ features more than 30 unique shopping, dining and entertainment venues and will host special events, festivals and more. Topping out at 550 feet, the Las Vegas High Roller observation wheel is the focal point of Las Vegas' unique urban entertainment district.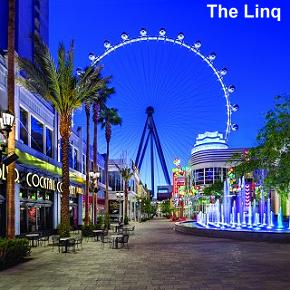 And now, The LINQ has introduced a new concept:
FAME - Food Art Music Entertainment blending a high-energy Chinatown Food Market serving authentic street fare combined with live entertainment such as tiger and dragon dances and Taiko drum performances, along with Gangnam-style beats to keep the market festive. The Market recreates a culinary bazaar, combining the great street foods of Japan, Taiwan, Thailand, Korea, and China. A vast selection of microbrews from an array of Asian countries are available on tap. A stationary "food truck" offers Japanese fusion burgers with the first featured food truck, the popular local Las Vegas favorite, Fukuburger. A retail area offers novelty items inspired by Asian culture, such as miniature drums and other souvenirs. The Asian market seats up to 200 guests inside, with seating for 50 or more on the outdoor patio. The Asian market is open daily from 11 a.m. until late.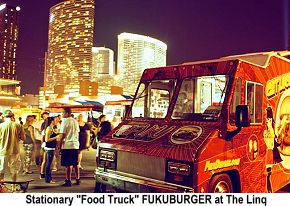 VooDoo Zip Line is now open and boasts a 360-degree panorama of the Strip and scenic views of the surrounding mountain ranges. The heart-pumping adventure covers one-third of a mile in one minute and 10 seconds. VooDoo Zip Line accommodates two riders at once and connects the two towers of the Rio more than 490 feet above the ground. The feet-dangling, adrenaline rush attraction begins on the patio of VooDoo Steakhouse, located on the 50th floor of the Masquerade Tower, and propels riders at speeds up to 33 miles per hour to the adjoining 20-story Ipanema Tower. Guests make a return trip to the starting point traveling backwards at 20 miles per hour. Wow!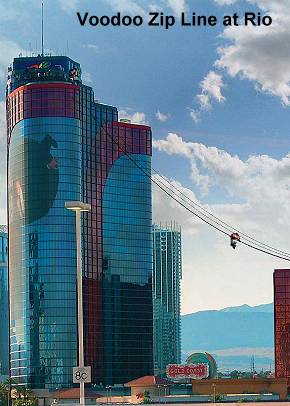 Purple Reign is going down... to Fremont Street! The Prince Tribute Show returns to The D, Thursday, June 26 with a fresh new residency, Thursdays - Sundays at 10:30 p.m. To celebrate the hit show's return to the downtown property, guests can purchase advance tickets for the appropriate price of just $19.99. The special offer is valid on tickets purchased before June 26. To take advantage of the special offer, guests may book online using code:
Party1999. Special advance ticket price does not include tax or service fee. Offer limited to 100 tickets per night. Purple Reign takes fans back to Prince at his prime, delivering all of the star's greatest hits with sizzling performances. Regular price: General admission - $47.50 per ticket VIP - $68.50 per ticket; includes priority seating in a booth or front three rows Purple Velvet VIP - $85.50 per ticket; includes priority seating (booths or front row cocktail seating), a meet and greet with Jason Tenner and the rest of the cast, souvenir photo and one complimentary cocktail.
During a press conference, First Friday Las Vegas, the largest arts and culture festival in the Western United States, announced changes to the organization and festival, promising stronger and better events for the future of the Arts community and Downtown Las Vegas. The pre-eminent example of artistic and cultural enrichment in the Las Vegas community begins implementing these changes that will begin on Friday, August 1 and continue throughout the second-half of 2014.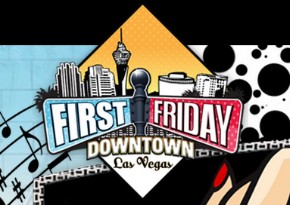 Acclaimed illusionist Jan Rouven, star of ILLUSIONS at the Riviera was presented the Merlin Award, proclaiming him the 2014 "Illusionist of the Year." Presented by the International Magicians Society, the world's largest magic organization with more than 37,000 members worldwide, the Merlin Award is the most prestigious award given in the world of magic. ILLUSIONS Starring Jan Rouven features some of the most dangerous and thrilling acts and gives the audience a front-row seat into the imagination of a master illusionist. ILLUSIONS brings heart-thumping music and five dancers to help Rouven cross many boundaries.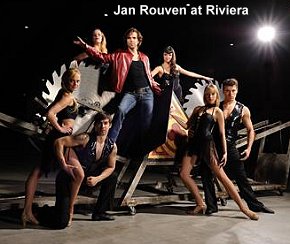 In Las Vegas' ever-changing culinary landscape, THE Steak House at Circus Circus is one restaurant that has remained a crowd favorite and is celebrating 32 years. Since its opening in 1982, THE Steak House has continued to be a destination for locals and visitors alike due to its reputation for serving premium cut steaks and fresh seafood at reasonable prices as well as its friendly and knowledgeable staff. In fact, four team members have each worked at THE Steak House for more than 30 years. The award-winning restaurant celebrating 32 years marks the occasion where guests can indulge in a $32 Petite Filet dinner special through the month of June. In true Steak House fashion, the Petite Filet is served with freshly baked breads, a choice of black bean soup or house salad, chef's selection of fresh vegetables and a choice of garlic mashed potatoes, baked potato or wild rice blend.
---
Country music fans will be singing, "Sweet Home, Aliante," all summer long with Aliante's resort's new Summer Country Series lineup June through August inside Access Showroom.
Up-and-coming musician Jana Kramer will perform an evening of country songs at 8 p.m. on American country group, Gloriana, will sparkle on stage as part of Aliante's Independence Day weekend celebrations beginning at 8 p.m. on Thursday, July 3. The group burst into the scene in 2009 with the debut single, "Wild at Heart," which became the highest-selling country music debut single that year. Since then, the Nashville, Tenn., trio has earned two top-10 albums on Billboard's Top-200 list, along with the Platinum-certified single, "(Kissed You) Good Night," and is currently touring nationwide with notable artists such as Rascal Flatts and Sheryl Crow. Tickets will start at $22.50
Southern rock and country band, Blackberry Smoke, will bring the heat with a Labor Day weekend concert set for 9 p.m. on Friday, Aug. 29.
Up-and-coming country star, Sam Riddle, will keep the beat alive all summer with weekly Saturday performances from 8 p.m. to 1 a.m., priced at $5.
---
In honor of their fifth anniversary at Station Casinos, Nashville Unplugged: The Story Behind the Song will welcome a collection of Las Vegas' most talented artists, in addition to nationally-acclaimed songwriters, to the Nashville Unplugged stage throughout the month of June. Nashville Unplugged performs every Friday at Sunset Station, beginning at 8 p.m. Continuing the show's anniversary celebration, Sunset Station will offer guests unbeatable drink specials inside Club Madrid, throughout the month of June. Specials include $3 Budweiser and $3 Fireball shots.
---
Celebrate Fourth of July underneath the Viva Vision canopy with UFC International Fight Week and Fremont Street Experience's Rock of Vegas summer concert series featuring rockers Papa Roach, P.O.D. and Lit. Downtown Las Vegas gets in on the UFC International Fight Week action as several events including an Ulti-man, 5k run, meet-and-greets and autograph signings with UFC® fighters and Octagon Girls® and a special concert take over Fremont Street Experience.
The third annual UFC International Fight Week returns to Las Vegas from July 1-6 with something for everyone and unprecedented access to the largest gathering of UFC fighters ever. The weeklong celebration culminates with two HUGE fight cards that weekend in Las Vegas - UFC 175, presented by Bud Light® on Sat., July 5 and The Ultimate Fighter® Finale: TEAM EDGAR vs. TEAM PENN on Sun., July 6 both at Mandalay Bay Events Center.
---
Sami Ladeki best known for his popular Sammy's Woodfired Pizza was named "Restaurateur of the Year" for 2014 by the California Restaurant Association's (CRA) San Diego chapter at the 30th annual Gold Medallion Awards. The restaurateur also celebrates the 25th anniversary of his first restaurant opening this summer. Sami Ladeki has opened more than 35 restaurants and fine-dining concepts around the world since 1983. He opened Sammy's Woodfired Pizza at a small storefront in La Jolla, Calif., in 1989, and has since expanded the Sammy's family to 19 locations throughout California and Nevada. Also at the event was San Diego Mayor Kevin Faulconer, who surprised the enterprising restaurant owner with a proclamation declaring the day Sami Ladeki Day.
---
Westside favorite Honey Salt is giving guests yet another reason to dine out this summer. The restaurant opens its doors to the world and introduces the Summer of Love. Running through August 22, the community focused program will raise funds for a variety of valley charities throughout the summer. Each week Honey Salt and its chefs will partner with a different local charity on a special three course Taste of Honey menu highlighting the best seasonal and local ingredients. $5 of each menu purchased will be donated to that week's cause. Additionally, enjoying a delicious signature Summer of Love Sangria at the bar will mean another $1 for that week's charity.
The lineup of charities includes: The Torino Foundation, United Way of Southern Nevada, Three Square, Desert Reign, Opportunity Village, Green Our Planet, Keep Memory Alive, Agassi Foundation, Nevada Partnership for Homeless Youth, Create a Change Now and Girls on the Run. Honey Salt is located on the Westside of Las Vegas at 1031 S. Rampart Blvd.
---
Celebrated comedian Russell Peters returns to The Pearl inside Palms on Aug. 2. This year has been big for Peters who signed on to be a judge for this season's "Last Comic Standing" on NBC. He joins the likes of Roseanne Barr, Keenan Ivory Wayans and JB Smoove as they searched for the funniest talent in America. Show time is 8 p.m. and tickets start at $49.
TOP OF NEXT COLUMN
Jeff Civillico: Comedy In Action just celebrated his two year anniversary show.

I've known Jeff, but never saw his show until his anniversary show. Jeff Civillico is amazing! He is a world-class mind-boggling juggler, as what he does with juggling and balance is far removed from any other juggler I have ever seen. Did you ever see juggling with bizarre objects on a 12 foot high ladder while riding on a unicycle? Jeff uses physical humor and has an incredible amount of energy and wit. His participation with audience members onstage, both adults and kids as young as five, along with his interaction and comments with the audience is hilarious. Jeff Civillico:Comedy In Action performs at 4 p.m. at THE QUAD.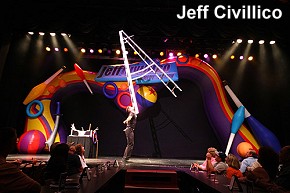 Chubby Checker, commonly referred to as an icon of an era, will hit the stage at Sam's Town on June 28. Displaying talent at a young age, Checker often entertained customers by singing and cracking jokes while working at a local poultry shop.

His workplace antics helped win an audition with a local record label, which signed the fledgling singer in 1959. Checker, whose given name is Ernest Evans, became an icon in the 1960s, releasing his smash hit, #1 song "The Twist," which introduced the concept of "dancing apart to the beat." During the next few years, endless songs incorporated "The Twist" into their titles, such as "Peppermint Twist," "Twist and Shout" and "Twistin' the Night Away"and in 1961, he won a Grammy for "Let's Twist Again." Showtime is 7:30 p.m. Tickets are available from $34.95, plus tax and fees. B Connected members can get a $5 discount. Call 702.636.7075, or www.samstownlv.com.
---
The world-famous dance crew Jabbawockeez is celebrating its first anniversary of "PRiSM," the hit show at Luxor with a limited

time "Buy One, Get One Free" ticket offer for locals. Through June 30, locals may purchase tickets at any MGM box office by calling 800-557-7428 or 702-262-4400. Guests must present a valid Nevada ID for discounted tickets at the time of pick up.
"PRiSM" is a celebration of imagination that takes audiences on a journey of dance, music and inspiration. The show is a dynamic mix of awe-inspiring choreography, captivating storylines and stunning special effects, forming a production that challenges audiences to embrace the unexpected.
---
LVH announces the return of its annual pro football handicapping contest, the SuperContest, as well as the SuperContest Weekend, August 22 - 23. The SuperContest is the ultimate pro football handicapping contest in the world's largest Race & Sports book, the SuperBook. Contestants can win their share of nearly $1,500,000 (based on number of entrants) by paying a $1,500 entry fee prior to the start of the regular professional football season and then picking five games each week against the point spread. The SuperBook will begin accepting entries July 1. Early bird entries for the contest will end at 4 p.m. on September 1. Final sign-up deadline is 11 a.m. on September 6. The prize pool is structured so that contestants receive 100% of the prize money paid in. Complete rules and details are online at the SuperBook or online at www.thelvh.com/supercontest.
Also back by popular demand for a third year is the SuperContest Weekend, August 22 - 23. This event includes a handicapping seminar, a golf event at the Las Vegas Country Club, where a free SuperContest entry will be given away, as well as a chance to win a new Audi, and a reception where four free SuperContest entries will be given away.
---
Reynold Alexander GREATEST LATINO MAGICIAN is headlining at The Clarion for eight weeks thru July 20 at 7 p.m. He is the first Latino illusionist to make his mark on Las Vegas in the show that is being billed as Reynold Alexander Magia - The Greatest Latino Illusionist of Modern Times.
When Roberto Sebelen, an amateur magician and father of Reynold Alexander, played with his young son by pulling coins out of his ears,

little did he know the big impression it would leave on Reynold. At barely 8 years old, his father taught him his first magic acts, which grew into a lifelong passion. Reynold became a member of the Society of Young Magicians at age 13. He became president of the Puerto Rican chapter, but not before being the two-time first place winner for "Stage Magic," the most prestigious award from this society.
Outside his beloved island of Puerto Rico, audiences from the Dominican Republic, El Salvador, the United States, Sweden and Holland to name a few, have enjoyed his energetic and charismatic performance. Among his professional accomplishments, he is responsible for The Vanishing of Puerto Rico's Capitol Building. This event was broadcast on national TV in 2005. He successfully re-created Houdini's Chinese Water Torture Cell escape act. Reynold holds the Guinness World Record for fastest straight jacket escape. He has been a featured performer at The Magic Castle. Tickets call:702 990 1524.
---
Congratulations to Anthony Cools, Comedy Hypnotist who celebrates 20 years in show business. A longtime performing Hypnotist, Canadian-born Anthony Cools pushes the limits of the mind and body in his R-Rated Adult show. He has had rave reviews throughout his many years performing in Las Vegas and his show is the longest running Hypnotist show in Vegas.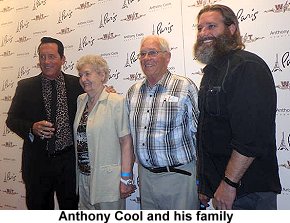 To mark this auspicious occasion at PARIS, Anthony had a special show and party that included many entertainers and VIP personalities. Anthony Cool's parents were even there to celebrate with him. If audiences are open-minded and know they will be seeing a somewhat unique, risqué, uncensored hypnotist show, they are in for a hilarious, entertaining evening at PARIS in an intimate setting.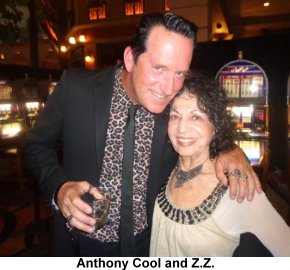 Rick Michel will present his "Sinatra Forever" show focusing totally on the music of Frank Sinatra.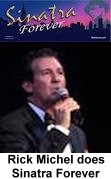 Michel will salute and interpret "Ol' Blue Eyes" standards with his 24-piece orchestra on Saturday, July 12 in the M Pavilion (indoors) at the M Resort Spa Casino at 7:00 p.m. Michel, who has performed and headlined in Las Vegas since 1981 and been a master impressionist for more than 40 years, has been touring his "Sinatra Forever" show around the country as well as internationally with performances in Canada, Mexico and Chile. More than half the members of his orchestra at the M Pavilion are musicians who played with Frank Sinatra. They will back Michel in his 23-song set that will cover everything from Sinatra classics to even lesser known hits. Rick Michel has been called "the closest thing to Sinatra we have ever heard" by "Variety." Tickets are now on sale: $19.99 / $24.99 / $29.99 plus LET and Fees.
---
One of Las Vegas' most anticipated events of the year, Aid for AIDS of Nevada's (AFAN) 28th annual Black & White Party returns to The Joint at Hard Rock on Saturday, Aug. 23 from 9 p.m. to 1 a.m. Tickets are now on sale at afanlv.org. $40 general admission and $125 VIP with early entry at 8 p.m. Black and white attire is required for admission.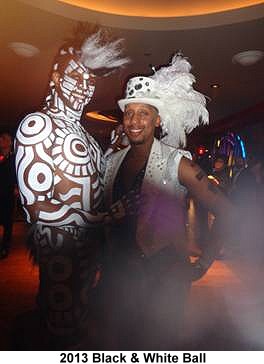 What started as a backyard gathering in 1986 to collect canned goods for those living with HIV/AIDS, the Black & White Party has grown into a lavish celebration, with exciting entertainment, gourmet food & beverage and eye-catching monochromatic fashion. Last year, more than 3,500 guests attended, raising more than $130,000.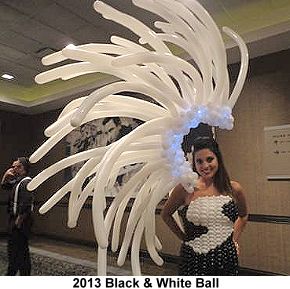 Gay and Lesbian Community Center of Southern Nevada (The Center) names Diana Bennett, Wynn Resorts, Fred Keeton, HRC Las Vegas Steering Committee and David "Bootsy Carmichael" Heckman and Rob Haggard as The Center Honors recipients for 2014. Each year, The Center selects several outstanding community members and organizations to receive this recognition. All recipients share a common drive to make a positive impact in the LGBTQ community.
---
Park on Fremont, located at the heart of the Fremont East District of Downtown Las Vegas, will host a down-home barbecue, complete with all of the essential fixings for a summertime bash, from 11 a.m. to close on Friday, July 4. Priced at $8 per person, guests may choose from hickory smoked bites from the grill, including succulent wings, ribs, pulled pork or a juicy rib-eye dip, all basted in Park's signature smoky chipotle barbecue sauce. Each main dish will come with the choice of a side, including corn on the cob, savory baked beans, creamy potato salad or juicy watermelon. The barbecue will also feature the Watermelon Cooler, a summer cocktail created by Mixologist Juyoung Kang. The refreshing concoction blends Veev Acai Berry Liqueur with fresh lime and watermelon.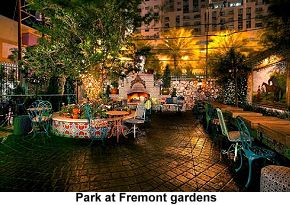 Independence Day revelers will enjoy the barbecue favorites on Park's outdoor patio, which boasts a beautiful floral-filled garden.
---
Jersey Boys at Paris Las Vegas is based on the true story of FrankieValli and The Four Seasons. The smash Broadway musical Jersey Boys combines comedy, drama, dancing and live music and now Jersey Boys, the movie has come out. But, there is nothing better than to see and hear about Jersey Boys in a live production at PARIS, Las Vegas.
CONTINUE ON TO...:

> Entertainment Tidbits Archives
>Las Vegas News "Heard Around Town"
>Las Vegas Leisure Guide<