This is a real biggie: SEAL WITH SPECIAL GUEST MACY GRAY. Soul singer Seal will perform songs from his latest album Soul 2 at the Pearl inside PALMS Casino Resort on Saturday, August 4 at 8 p.m. His special guest is the inimitable Macy Gray who has combined an unusual voice and extreme style sense into an R&B career that appeals to a diverse audience.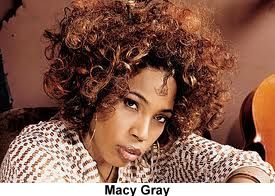 On the heels of sold out European and Australian tours, multi-Grammy-winning singer and songwriter Seal embarked on a North American tour this summer. Fresh off of touring in Australia, Seal is bringing his talents back to North America to perform fan favorites and songs from his eighth studio album, Soul 2, which debuted in the Top 10 on the Billboard charts. This time Seal brings his silky, inimitable voice to a lush collection of romantic soul classics primarily from the '70s, including those by Marvin Gaye, Bill Withers, Al Green, and Teddy Pendergrass, among others.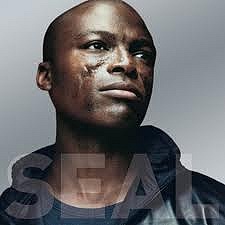 Sitcom star and comedian BILLY GARDELL, performs at THE ORLEANS Showroom July 27 and 28 at 8 p.m. Starring in the CBS sitcom "Mike & Molly," Gardell plays police officer Mike Biggs who meets Molly Flynn at an Overeaters Anonymous meeting where they begin a romantic relationship.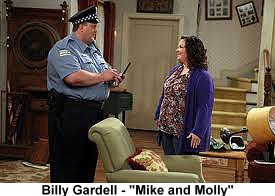 From 2007 to 2009, Gardell had a reoccurring role on the NBC television series, "My Name is Earl." Gardell took the long road to Hollywood, stopping at every small town lounge, military base and comedy club along the way. Stories about his rough childhood, wild adolescence and new family life are part of his stand-up routine. Gardell has opened for well-known comedians such as George Carlin and Dennis Miller. Tickets Start from $39.95.
Wherever Dueling Piano's are playing, patron's have enjoyed fun like never before. Now at BB King's Blues Club located in the MIRAGE Hotel/Casino where live music blends with Southern flavors, Lucille's Dueling Pianos are tearing the house down. Dueling pianos offer more than double the fun. You can eat, drink, dance and now sing along while the piano virtuosos 'shake, rattle and roll' over 176 keys through their vast repertoire of songs, spanning decades of hits. From Billy Joel to Bon Jovi and beyond, there is sure to be something for everyone to enjoy. Audience participation is welcomed and guests will never see the same show twice while they enjoy singing along to their favorite tunes. Come out and have a ball with Lucille's Dueling Piano's. Lucille's Dueling Pianos perform Thursdays, Fridays and Saturdays from 10 p.m. to 2 a.m. with a cover charge of $5 on Thursdays and $10 on Fridays and Saturdays. 21 and over.
I LOVE THESE GUY'S AND GAL! Renowned Las Vegas entertainers The Scintas return to the SUNCOAST SHOWROOM, July 21 and 22. The Scintas have endeared themselves to Las Vegas, not only by their fantastic shows, but they have been there to help in the Las Vegas community in every way they can.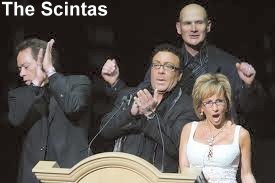 The Scintas -- brothers Joey and Frankie, sister Chrissi and "Irish Scinta" Peter O'Donnell -- entertain, surprise and provide an anything-but-typical performance filled with music, comedy and impersonations. Their act includes "guest appearances" by Dean Martin, Jerry Lewis, Johnny Mathis, Frank Sinatra, Ray Charles and others, singing songs that audiences love.
Collectively, they've dazzled sell-out crowds for decades in Las Vegas showrooms and on the road. Frankie, recognized as a musical prodigy, appeared on "The Merv Griffin Show" at age 11. He plays the keyboard on the show and is also a master guitar, mandolin, banjo, drum and bass player. Joey, who originally intended to become a music teacher, developed and mastered his talent for comedy and impressions. The baby of the family, Chrissi, is known for her stunning renditions of big ballads. Although not related, Peter O'Donnell has been a member of the close-knit clan since joining The Scintas in 1988. He has played gigs with more than 700 bands. And, everyone knows Mama Scintas too, who is always there in the audience to cheer them on. Showtime is 7:30 p.m. Tickets from $29.95.
THE FLYING KARAMAZOV BROTHERS
The internationally acclaimed quartet, The Flying Karamazov Brothers, bring their vaudevillian comedy and juggling spectacle show, "4 Play," as part of The VENETIAN and THE PALAZZO's Italian summer festival, CARNEVALE. Performances take place in the 742-seat VENETIAN SHOWROOM starting at 9 p.m. on Thursday, July 19 through Saturday, July 21 and Thursday, July 26 through Saturday, July 28.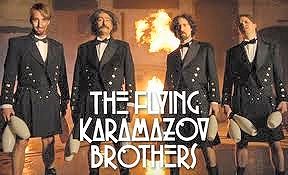 Expect the unexpected with The Flying Karamazov Brothers' zany show filled with astonishing juggling feats, laugh-out-loud comedy and wild theatrics that have taken them to Broadway, television and the big screen. Highlights of their vast theatre credits include appearances on "The Late Show with David Letterman," "Seinfeld," "Ellen," "The Tonight Show," "Good Morning America" and shared stage and screen collaborations with Frank Sinatra, Placido Domingo, The Grateful Dead, The Who, Dolly Parton, Robin Williams, Patrick Dempsey, Danny DeVito, Ken Kesey, Allen Ginsberg, Click and Clack the Tappet Brothers, Joyce Brothers and many more.
The self-proclaimed eccentric lunatics are faced with a new challenge at each of their shows as guests are invited and encouraged to bring any object less than ten pounds to put these juggling experts to the test. The Flying Karamazov Brothers began on April 23, 1973 at a renaissance fair in northern California. Their wild and physically demanding antics won the "Award of Excellence" from the International Jugglers' Association in 2004 and the Obie Award for "Outstanding Achievement in the Off-Broadway and Off-Off Broadway Theatre" in 1981.
Tickets: $44.50, $59.50, $74.50 inclusive of tax and handling fees.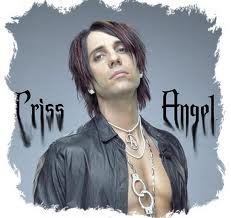 The LUXOR Hotel/Casino is now offering dinner and show packages for TENDER Steak & Seafood, along with tickets to attend one of its top shows; the hilarious prop comic, Carrot Top, or the spellbinding production, CRISS ANGEL Believe by Cirque du Soleil. Packages start at $99 per person and include a special three-course prix fixe menu created by TENDER's Executive Chef K.C. Fazel. The elegant 12,000-square-foot restaurant features warm cherry wood walls and soft mood lighting for an upscale dining experience.
The meal begins with a choice between Wild Mushroom Soup or Garden Greens Salad with cucumber, sun-dried tomatoes and fennel, tossed with a radish black currant balsamic vinaigrette.
The main course selections include Pan Roasted Canadian Skuna Bay Salmon with organic farro pilaf, heirloom tomato and cucumber pico de gallo; Organic Free-Range Jidori Half Chicken with potato dumplings and marsala wine sauce; or a six-ounce Beef Filet Tournedo with organic mushrooms and caramelized onion ragout.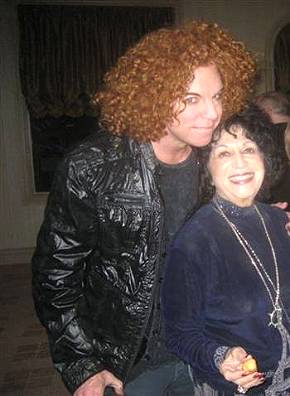 Dessert selections include Vanilla Bean Gelato; Crème Brûlée made with tasty Tahitian vanilla bean custard and shortbread sugar crisp; or a Warm Chocolate Brownie made with graham cracker cake, dark chocolate sauce and whipped cream.
Sounds like a great dinner/show deal!
Well, Las Vegas' own Rich Little has really made a long overdue comeback. In my previous article I included his closing date at LVH. However, I am pleased to say that due to overwhelming response, legendary comedian and impersonator Rich Little's "Jimmy Stewart & Friends" has been extended through the summer at LVH – Las Vegas Hotel & Casino. The one-man show will run through August 22.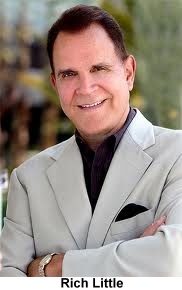 Rich's amazing talent coupled with a unique show presentation has led to great reviews and to standing ovations every night. Featuring more than 25 celebrity icon voices, including Cary Grant, George Burns, Ronald Reagan, Katharine Hepburn and John Wayne, among others, "Jimmy Stewart & Friends" will take you on an adventure through the life of the famed Jimmy Stewart.
Although he was born in Canada, Rich Little was discovered in his early 20's while working in the United States. His friend, singer Mel Torme, then on the musical team of CBS network's "The Judy Garland Show," asked him to make a tape. Instead of the usual impressions, Little did voices nobody did, including Alfred Hitchcock, Orson Welles and Dennis Weaver. Garland thought it was great, particularly his James Mason, and Little was signed to the show.
Jimmy Stewart & Friends" is performed Saturday – Wednesday at the Shimmer Cabaret inside LVH. All performances begin at 8:30 p.m. Tickets are $53.90 and $63.90 plus tax and applicable fees.
And speaking of CANADA, THE CANADIAN TENORS ARE BACK
The Tenors (The Canadian Tenors) will perform songs from their new album and film a new PBS special at THE SMITH CENTER.
After a sold out concert at The Smith Center in March, The Tenors are returning to Las Vegas with a brand new show Sunday, August 5 at 2:00pm The concert will be recorded in the Reynolds Hall for an upcoming PBS special and live concert DVD.

The Tenors have traveled the world for the past four years. From Johannesburg to Shanghai, London to Los Angeles, they have inspired millions of music lovers with their rich harmonies, addictive charm and powerful songs. They have performed for world leaders and many celebrities including an appearance on The Oprah Winfrey Show with Celine Dion. Most recently, The Tenors performed in London, England, for Queen Elizabeth II.
The Tenors will perform all new music from their yet to be released sophomore album 'Lead With Your Heart.' The foursome will invite some of their friends as special guests to share the stage for this unforgettable performance. Tickets: $29 - $69
TOP OF NEXT COLUMN
And, more about CANADA. PBR Rock Bar inside Miracle Mile Shops at PLANET HOLLYWOOD will host viewing parties for the Canadian Football League games on its 105 wall-to-wall high-definition televisions. PBR Rock Bar & Grill provides sports enthusiasts with the perfect game-day retreat from now through the championship in November.
PBR Rock Bar & Grill is the hottest spot in Las Vegas offering beers, bulls and plenty of babes in its sprawling, 16,800-square-foot venue. Located at the center of the world-famous Las Vegas Strip, PBR Rock Bar & Grill's expansive 3,000-square-foot patio gives patrons a front-row seat to all of the action. Open daily from 8 a.m. until the early morning hours, PBR Rock Bar & Grill offers guests hearty, American comfort food and barbeque around the clock. Beautiful babes and bad ass bull riders are dared to attempt to defy gravity on PBR Rock Bar & Grill's daunting, hydraulic mechanical bull.
Awesome 80's Prom, Las Vegas' newest interactive show at the V Theater inside Miracle Mile Shops at PLANET HOLLYWOOD is taking audiences back to the days of shoulder pads, big hair, preppies and jocks! The show is a "blast-from-the-past" interactive party set at Wanaget High's Senior Prom in 1989! Called "totally rad" by The New York Times, Awesome 80s Prom gives audiences a chance to mingle with characters from their favorite 80s movies like "The Breakfast Club" and "Pretty in Pink." Guests get footloose with the captain of the football team, flirt with the "bad boy," and Wang Chung with the foreign exchange student, all to the "gnarliest" hits of the 80's like "Wake Me Up Before You Go-Go!," "Jessie's Girl" and more! You'll even vote for Prom King & Queen, just like in high school.
As soon as guests arrive, they will feel as if they've been transported back to their high school proms with the costumes and decorations, to the music and hair styles that exemplify the true spirit and culture of the decade. The showroom has been transformed into a prom dance floor with a stage, disco lights, and classic 80s décor. Audience members can kick back and watch it all unfold or they can take part in the fun."
The interactive experience is also the perfect opportunity for bridesmaids to throw the ultimate bachelorette party. Dress up the bride-to-be in 80's from head to toe complete with pale pink lipstick, crimped hair and over-sized bows and your party can top off the evening posing for an "awkward 80s prom photo."
Awesome 80s Prom at 8pm, dark Wednesday.
CYCLISTS can register now to have a once in a lifetime opportunity to ride with world champion cyclist and 1996 Olympic Time Trial winner "Big Mig" and a police escort under the bright lights of the world-famous Las Vegas Strip to the vistas of the Red Rock Canyon National Conservation Area and the scenic trails near Lake Mead National Park. Century, 75-mile and 122-mile Gran Fondo riders will have the additional opportunity to ride over the historic Hoover Dam. Five-time Tour de France champion and two-time Giro d'Italia winner Miguel Indurain has also committed to riding in this year's event.
The Regional Transportation Commission of Southern Nevada (RTC) has announced that the RTC 2012 Viva Bike Vegas Gran Fondo Pinarello presented by Vector Media being held on Saturday, Sept. 22, will now include a 102-mile century ride in addition to a 17-mile ride, 75-mile ride and the 122-mile Gran Fondo.
The RTC 2012 Viva Bike Vegas Gran Fondo Pinarello presented by Vector Media attracts cyclists from across the country and around the world. The event's three official hotel sponsors, Mandalay Bay Resort and Casino, Monte Carlo Resort and Casino, and Staybridge Suites Las Vegas, offer cyclists traveling to Las Vegas for the fifth annual event discounted room rates. Cyclists should register today and can book their room online at vivabikevegas.com saving time and money on their Las Vegas trip. Registration is $105 for the RTC 2012 Viva Bike Vegas Gran Fondo Pinarello presented by Vector Media and you can register online at vivabikevegas.com
PINARELLO, the world-renowned bicycle manufacturer, has also been announced as the official sponsor of this year's event which is presented by Vector Media and being held in partnership with Interbike (interbike.com), the largest bicycle trade event in North America. Viva Bike Vegas will occur at the conclusion of Interbike which gathers more than 1,100 cycling-related brands and close to 24,000 total attendees annually.
Proceeds from Viva Bike Vegas will again benefit local charities: UC San Diego Nevada Cancer Institute, After-School All-Stars Las Vegas and Communities in Schools of Nevada.
Las Vegas has a new professional sports team as The Legends join the Professional Arena Soccer League (PASL) as the league's 15th team. The Las Vegas Legends General Manager and President is Meir Cohen; Team's Coach, iconic indoor soccer player, Greg Howes and Commissioner of the PASL is Kevin Milliken.
SHINE ALTERNATIVE FITNESS, Las Vegas' first Cirque-inspired fitness studio, will commemorate NATIONAL DAY DANCE on Saturday, July 28, with an exclusive package featuring five fun-filled dance classes. The calorie-burning package is priced at $50 and can be purchased from Sunday, July 22, to Saturday, July 28.
Under the instruction of past and present Cirque performers and top industry champions, students can engage in a variety of mix-and-match high-energy dance classes including hip-hop, contemporary, ballet, leaps and turns, modern, salsa and zumba. The flexible special can be used over a period of three months. Call 420-2358.
Longtime Las Vegas comedy icon, Cork Proctor is celebrating his 80th birthday with a Comedy Roast, Sunday afternoon, July 22, at 2 p.m. in the SOUTH POINT Hotel/Casino's Showroom. Minimum suggested donation is $40 per person and includes two drinks. The proceeds from admission will benefit scholarships for persons challenged with severe intellectual and related disabilities at Opportunity Village. Opportunity Village serves more than 3,000 people annually through vocational training, community job placement, art & life skill enrichment, advocacy, and social recreation programs.
I've know Cork Proctor forever and a day, both socially and entertainment-wise and I always thought he should have become more of a headliner. One has to be able to take his humor which is always cleverly right-on, though attacking ala Don Rickles. We'll see if he can take it too as he is roasted at his birthday roast.
I'm sure Cork Proctor/s Comedy Roast is sure to be a once-in-a-lifetime fun event as so many personalities are scheduled to roast Cork Proctor during the celebration of his 80 years on earth. BOB ZANY WILL BE THE ROAST MASTER for:
Tom Dreesen, Sammy Shore, Jeff "Big Daddy"Wayne, Kenny Bob Davis, Mundane the Grate/Jac Hayden, Carme, Kim Richards, Kathleen Dunbar, John L. Smith R-J columnist,Jerry Bednob, Kelly McDonald ,Pete Barbutti, Peter Anthony, and a few surprise guest roasters. Hmmm! Shecky?
The Epicurean Charitable Foundation (ECF) Board of Directors and Avero, LLC have announced Ciro Fodera as the winner of the 2012 Avero New York City Restaurant Education Experience, which will take place from July 30 to Aug. 3. Fodera is the third ECF student to be awarded the once-in-a-lifetime educational journey. In addition to the financial support from ECF, the annual Avero experience is an added program to broaden the mentorship foundation ECF has already established with current students. The program sends one deserving recipient to New York City to experience a four-day educational immersion in the food and beverage industry. The student will meet and learn from leading chefs, managers and restaurateurs while experiencing some of the city's most prominent dining trends.
Epicurean Charitable Foundation Las Vegas is comprised of more than 25 of Las Vegas' top food and beverage executives. The Epicurean Charitable Foundation not only awards students with scholarship funds to attend any four-year accredited university of their choice, it also provides mentorship throughout each student's college career and helps to place the students in internships and jobs. 2012 marked the eleventh year of the Epicurean Charitable Foundation and in its tenure the foundation has provided more than one million dollars to local scholars and also more than one million in charitable community grants to such organizations as Make-A-Wish Foundation, Lied Discovery Children's Museum, UNLV Rebel Athletic Foundation, Nevada Blind Children's Foundation, Cleveland Clinic Lou Ruvo Center for Brain Health and the Latin Chamber of Commerce.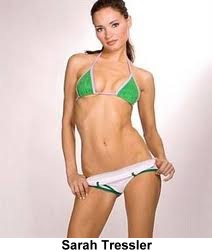 Sarah Tressler, the reporter who was previously employed at the Houston Chronicle, will perform at Crazy Horse III, the world-renowned gentlemen's club, on Friday, July 20, and Saturday, July 21. Tressler, a 2008 graduate of the prestigious Arthur L. Carter School of Journalism at New York University, launched her adult industry career at the age of 22 as a way to pay for college. The gorgeous girl-next-door previously worked as a society columnist for the Chronicle and a freelance reporter for Us Weekly before a rival newspaper exposed her double life. The bubbly brunette recently released her e-book, "Diary of an Angry Stripper" in June and has remained an instructor at the University of Houston throughout the scandal.
WinderFarms is extending its wildly popular giveaway of a free bottle of its award winning milk through July 28 in honor of National Chocolate Milk Day. To get your complimentary bottle, simply log on to www.atasteofwinderfarms.com, click on "request a free sample" and choose from all natural white or chocolate milk. In just a few days, Winder Farms will hand deliver the milk in a glass bottle. Winder Farms' milk reaches the customer's front door roughly 36 hours after it leaves the farm and comes from cows not treated with artificial growth hormones or antibiotics. Winder Farms also has an array of flavored milks that both kids and adults love. Winder Farms is a premier home delivery grocery company now celebrating their 6th Anniversary in Las Vegas.
Las Vegas Legends professional arena soccer team is auditioning talented, outgoing, well-spoken women for its dance team on July 22 at 10 a.m. This spirited team will entertain fans and help cheer on the newest professional team in Las Vegas. Open auditions will be held at The Beat Dance Academy, located at 1400 N. Rampart Blvd. in Las Vegas. Candidates for this all-female team must be over 18 years of age and previously trained in hip-hop, contemporary, jazz and ballet styles of dance.
Although the Columbus Day Weekend in October may seem far away, participants for the

GLOWRUN 7K 4.3 mile Race and Block Party may register now through August 1 for an early registration fee of $45 per person at www. GlowRun.com, and $55 thereafter. Businesses and groups of friends are encouraged to sign up as teams in which GlowRun will match each group member and donate to AFAN (Aid for AIDS of Nevada). More than 10,000 runners dressed in illuminated costumes are expected to hit the streets, and even more for AfterGlow, the multi-block street party held during and after the race.
Whether you want to walk, skip or run the race, GlowRun will guarantee a highly artistic and musical experience. The race will begin on Las Vegas Boulevard in front of the new Las Vegas City Hall and end on 8th Street in the heart of Fremont Street in downtown's buzzing bar scene. The lights from the costumed runners will complement the neon lights of the casinos and the Fremont Street Experience. As runners zigzag through Downtown Las Vegas they will be energized by the cheers of onlookers, over-the-top art installations and live music throughout the course.
The final stretch of the race will be a runway for runners to show off their elaborate costumes and place them in the heart of the full-blown block party. Live music will fill the corridor and several food trucks will provide tasty post-race nourishment. Ample beverage, cocktail and beer stops will be placed throughout every block of AfterGlow. When most of the runners have crossed the finish line, a headlining act will hit the stage to keep the party going. The competition will not end with the race as all participants will be eligible to win prizes for their costumes in such categories as "most creative-individual" and "most creative-group costumes."
Teams with a minimum of six people or more will receive a discount for $5 off each entry. Once six team members have been registered, GlowRun teams are encouraged to get as many people on their team as possible. Teams will be able to add new members up until a few weeks before the race at the online registration or by sending an email to info@glowrun.com. Each team will also be announced on GlowRun's Facebook page. Special room rates are available for GlowRun participants at El Cortez Hotel & Casino, The Plaza Hotel & Casino and The Golden Nugget.
CONTINUE ON TO...:
> Entertainment Tidbits Archives
>Las Vegas News "Heard Around Town"
>Las Vegas Leisure Guide<