The Venetian and The Palazzo celebrate the magic and fantasy of Carnevale this summer, featuring three months of classic Italian festivities, including new experiences, entertainment, art, music and wine beginning June 2.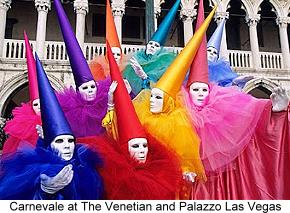 A celebration of discovery, taste and fun, Carnevale is themed on the myriad of summer festivals that grace the small villages and towns of Italy throughout summer. Wonderment and revelry surround guests from the moment they enter the resorts through an elaborate, oversized masquerade mask and see the colorful banners and streamers. Carnevale will mark the debut of THE VENETIAN's spectacular outdoor light show on the iconic clock tower. A colorful parade, the core of all Italian festivals, will wind its way through the property each night. From these visual spectacles, to the themed characters and the unexpected surprises around every corner, guests will be wrapped up in the pageantry and magic that is Carnevale.
Legendary CARLOS SANTANA has kicked off a two-year run of unique performances – "An Intimate Evening with Santana: Greatest Hits Live – Yesterday, Today & Tomorrow" – at the House of Blues inside MANDALAY BAY. Through June 3, fans will receive the ultimate souvenir when attending any of the live Santana performances. Every concert-goer who purchases a Santana ticket for the May and June performance dates will receive a collectable download card with a unique code enabling them to download Santana's new album, 'Shape Shifter' .
Also at The House of Blues at MANDALAY BAY on Sundays you can enjoy a GOSPEL BRUNCH menu showcasing new items, an updated lineup of entertainment and guest hosts. GOSPEL BRUNCH takes place each Sunday with seating times at 10 a.m. and 1 p.m. The award-winning brunch is a one-of-a-kind live music show and dining experience. While enjoying an all-you-can-eat Southern style buffet, diners are entertained by various high-energy GOSPEL groups. Guests can't help joyfully jumping up and down and shouting "hallelujah" as they enjoy the GOSPEL group performance. But, this will help to keep down the pounds put on with the delicious sumptuous GOSPEL BRUNCH.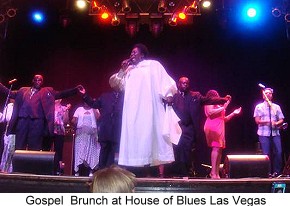 'Rock of Vegas' Summer Concert Series at Fremont Street Experience kicks off Memorial Day Weekend with 100 Days of Free entertainment and runs through Labor Day weekend. 'Rock of Vegas' Summer Concert Series has an entertainment lineup of legendary rock 'n' rollers from the 1980s. The free concert series starts Memorial Day Weekend with Vince Neil, legendary singer of Mötley Crüe, and runs through Labor Day Weekend with a performance by the ultimate glam metal rocker, Dee Snider, legendary singer of Twisted Sister.
This is the fourth Summer concert series at Fremont Street Experience and this year 'Rock of Vegas' will bring the classic rock hits of the '80s to life with plenty of power ballads and guitar shredding. All the concerts and stage shows are free, plus downtown hotel-casinos offer many food and drink specials.
(All concerts are Saturday nights with the exception of June 22, which is a Friday night.) So if you're looking for a good time and wanna rock, come to Fremont Street Experience this summer.
Comme Ça at The Cosmopolitan launched Riviera Nights, an unparalleled dining and lounge party experience on the Restaurant's stunning patio, The weekly soiree has a selection of French small plates and a signature sangria. Available from 8 to 11 p.m. every Thursday night, patrons will enjoy the striking views of the Las Vegas Strip showcased from Comme Ça's breathtaking patio. A French house DJ will be on-hand to spin the hottest tunes under a canopy of neon red lights glimmering from the ceiling.
GRANDMA LEE OF `AMERICA'S GOT TALENT' FAME will be doing her standup comedy at The King's Room at the RIO for a two-month engagement Thursdays through Sundays at 7 p.m. She gained her fame on "America's Got Talent" and has been the hottest senior citizen comic in America since then.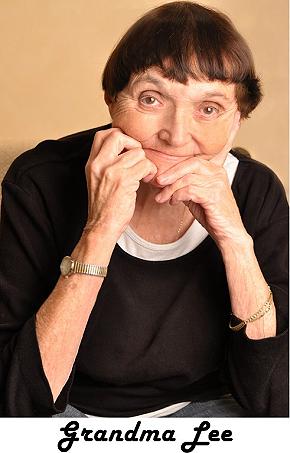 She was born Lee Strong on May 29, 1934 making her 77 years old. She was married to a U.S. Marine, named Ben Strong and reared four children. She was a newspaper reporter and a phone operator before she tried her hand at comedy. It was 2009, at age 75, when she appeared on "America's Got Talent" and made it to the Top 10. Her sassy and quick-witted sense of humor has gained her notoriety. Grandma Lee will perform on Eddie Griffin's days off at The King's Room in their Comedy Club For show tickets call (702) 777-7776. By the way, Eddie Griffin has been packing the King's Room the room full.
"2 Kings" A Tribute to Elvis Presley and Michael Jackson has moved from the King's Room to the 900-seat Crown Theater at The RIO.
Charlie Franks performs as the "King of Rock" and Ice impersonates the "King of Pop." The show now has a large stage and has added dancers and live singers to enhance the experience. There are now more props and better sound. Ice impersonates Michael Jackson in concert with hits and dance moves from "Smooth Criminal," "Billie Jean" and many more. Ice has mastered the dance moves and voice that solidified Michael Jackson's four decade career. He truly does justice for the late superstar. Show times are 5:30 p.m. every night.
Popular New Zealand singer Sarah Frances Johnston performs for a limited engagement in May at Oscar's steakhouse inside the dome of the new PLAZA Hotel & Casino Saturdays from 8 to 11 p.m. Johnston is a perfect fit for the nostalgic steakhouse as she performs the best classic and contemporary standards in a jazzy chanteuse style. The beautiful New Zealand songstress is the first singer to be signed as a resident performer at Oscar's.
Metro McDonald's at the Harmon Retail Corner next to Planet Hollywood 's Miracle Mile Shoppes and across the street from City Center and The Cosmopolitan is a modern twist on the classic American eatery recognized worldwide. Metro McDonald's boasts bright, vibrant décor, sleek furniture and comfortable seating, unique lighting levels and graffiti-like murals to create a dynamic, pleasant dining environment. Metro McDonald's features 24-hour service, digital menu boards and Wifi access in a 6,734 square-foot two-story location with an impressive yet inviting entry. This is a one-of-a-kind restaurant that complements the current metropolitan landscape and character of Las Vegas.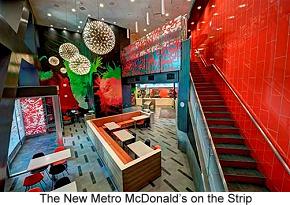 After six years on the Las Vegas Strip, the men of "American Storm" are now performing in the PLAZA's showroom. The 70-minute, fully costumed and choreographed production show plays every Thursday through Sunday at 10:30 p.m. The men of "American Storm" reveal their sexy side and represent every woman's fantasy, from a lonely cowboy to the proud men in uniform.
"American Storm" is produced by SPI Entertainment, which also produces the hit shows "Thunder From Down Under," "Human Nature - The Ultimate Celebration of Motown," "Frank Marino's Divas Las Vegas," "Night School 4 Girls" and "The Australian Bee Gees Show - A Tribute to the Bee Gees." Female show goers can have a fun girl's night out." Ticket prices start at $29.95 for general admission. .
I had previously written about legendary comedian and impressionist RICH LITTLE performing his "Jimmy Stewart & Friends" one-man show at LVH. If you haven't seen it as yet, the scheduled run will be closing at LVH on May 23. It is a really worthwhile theatrical experience to see RICH LITTLE becoming Jimmy Stewart realistically, both physically and emotionally. In the story-line journey of Jimmy Stewart's life, Rich also becomes the many important characters that were part of Jimmy Stewart's life, male, female and others. Although RICH LITTLE is a master mimic of more than 200 voices, in this showpiece he features more than 25 celebrity icon voices and other characters important in Jimmy's life. I'm sure this show will be coming back to LVH or other venues as RICH LITTLE performing "Jimmy Stewart and Friends" continues on the road to BROADWAY. I will keep my readers posted.

Also at LVH is Friday Nights Live! every Friday at LVH from 7-10 p.m. Enjoy a FREE fun-filled evening of poolside entertainment at the FREE "Old School by the Pool" Parties! This is on the 3rd floor pool deck and there is fabulous food, drink specials and live bands. Additionally, you can book a cabana starting at $50 for Old School by the Pool and enjoy a private area, Call (702)732-5648
Other LVH entertainment scheduled:
May 26 – 27 Amazing Led Zeppelin Tribute 8 p.m. $10 - $19
June 1-2 GLEN CAMPBELL GOODBYE TOUR 8 p.m. $49 - $79
TOP OF NEXT COLUMN
THE LOUNGE inside Palms Casino presents The Lalas Burlesque Show Friday, June 8 & Saturday, June 9 at 10 p.m. Described as combining beauty, brains, bustiers and classic rock music, The Lalas Burlesque Show flirts into Vegas for two special performances. The brainchild of the hottest burlesque dance group in Los Angles is celebrity choreographer Erin Lamont. With credits ranging from Lady Gaga to People's Choice Awards, each "Lala" is handpicked and is the best of the best in the industry. The 75 minute show promises shenanigans, comedy and a whole lot of burlesque. $20 General Admission
Let your imagination run wild when Tivoli Village at 440 South Rampart kicks off this years series of Imagination Celebration Jazz For Peace starting in May. The series will feature some of Vegas' best internationally and nationally acclaimed Jazz musicians on Wednesdays May 23 & June 13 & 27 from 6pm-8pm. The musical groups have come together for a cause to foster the message of local and global peace. The series is also a part of a prelude that will lead up to NV Youth Alliance's Imagination Celebration in Town Square Park on Saturday, October 13, 2012 which celebrates diversity through the arts. For more information visit www.nevadayouthalliance.org
Las Vegas' hot adult revue FANTASY at the LUXOR has revealed a scorching offer for locals, perfect for the coming summer months. The alluring show will offer Nevadans half-off tickets to The Strip's biggest tease with a valid Nevada ID. Tickets are available for purchase at the Luxor box office, online at www.fantasyluxor.com or by calling (702) 262-4400. This offer will be available from now until the end of August with a maximum of four tickets with each purchase.
Celebrating more than 12 successful years on The Strip, FANTASY has shaped itself into one of Las Vegas' leading topless shows. Dynamic lead singer Lorena Peril adds an exciting and unforgettable element with her amazing powerhouse vocals as she takes center-stage alongside a talented cast of beautiful dancers. Great for singles and couples alike, the sexy production showcases 15 high-energy numbers set to a variety of today's top music genres. While the gorgeous dancers lure guests into their wildest fantasies, comic relief Sean E. Cooper keeps audiences on its toes with his spot-on impressions of some of pop culture's most recognizable personalities.
FANTASY performs nightly at 10:30 p.m. in the Atrium Showroom at LUXOR. Tickets start at $39, plus taxes and handling fees. Guests must be 18 years of age or older.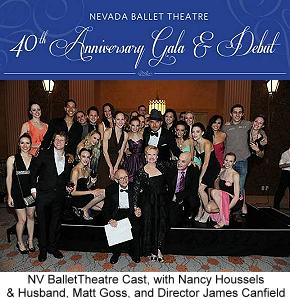 A NIGHT TO REMEMBER! Nevada Ballet Theatre celebrated their 40th anniversary and the start of their residency at THE SMITH CENTER FOR THE PERFORMING ARTS with an evening of amazing performances, style and glamour. The enthusiastic audience hailed each performance with bravos and standing ovations. The program was enjoyed by all, however, George Balanchine's classic Serenade, performed by the dancers of NBT with live music by the Las Vegas Philharmonic Orchestra was exceptional. As was, the exquisite dancing of American Ballet Theatre (ABT) Principal Dancer Herman Cornejo - described as "the most technically accomplished male ballet dancer in the United States, who absolutely thrilled the audience. Matt Goss (Caesars Palace entertainer) and his band with the ballet dancers performing alongside him were great. They brought a different impression of dance, and a more current vibe to the diverse program.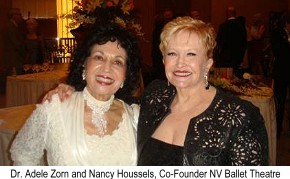 A private reception afterwards that hosted a Spanish flavor with food and wonderful guitarist RJ, gave attendees an opportunity to mingle with the performers. Nancy Houssels co-founder of NBT and others who have been involved with the brilliant accomplishments of the NBT were acknowledged.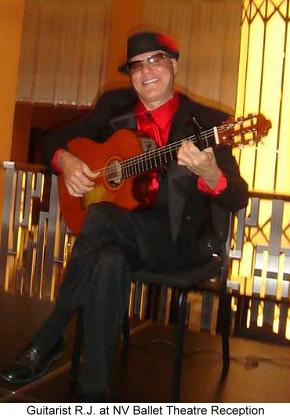 Nevada Ballet Theatre (NBT) and Cirque du Soleil will present their fifth annual collaboration, A Choreographers' Showcase: A Project Designed to Stimulate and Encourage Artistic Growth, on June 9 and 10 at 1 pm at the ELVIS Theater, ARIA Resort & Casino, CityCenter.
A Choreographers' Showcase began as a premiere collaboration between NBT and Cirque du Soleil on December 2, 2007 at Treasure Island Hotel. This collaboration creates an avenue of growth for local performers while providing the Las Vegas cultural community with a dynamic and completely organic dance experience. Now in its fifth year, this critically-acclaimed production will include encore performances from previous years as well as original choreographed pieces. Performers and staff from all seven Cirque du Soleil shows will participate in creating this year's event.
The Third Annual Las Vegas Ultimate Elvis Tribute Artist Contest was presented On Friday, May 11 and Saturday, May 12 at the FREMONT STREET EXPERIENCE for a chance to proceed to the semifinals during Elvis Week 2012 to be held August 10-18, the 35th anniversary celebration in Memphis. Elvis Presley Enterprises, Inc. (EPE) Fremont Street Experience and "Legends in Concert," hosted the only Las Vegas EPE-sanctioned preliminary round of the Ultimate Elvis Tribute Artist Contest. Other 'Kingly' festivities during the Fremont Street Experience weekend included special presentations on the Viva Vision canopy and a parade of Elvi at the beginning of each night's competition.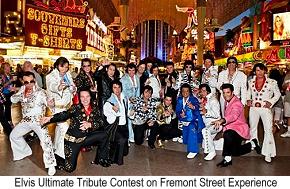 The 21 competitors from around the world participated in the Las Vegas Ultimate Elvis Tribute Artist Contest with guest judges on Friday determining the 'best representation of the Elvis legacy' based on vocals, style, stage wear, and stage presence. On Saturday, the top 10 competed and Victor Trevino Jr. a Las Vegas resident was crowned 'King.' Victor won $2,500 cash, a Graceland Getaway prize package, and most importantly, qualifies to compete in the 2012 Ultimate Elvis Tribute Artist Contest presented in Memphis, Tenn. during Elvis Week 2012.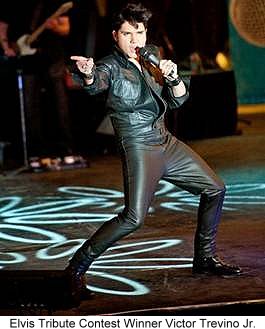 The Ultimate Elvis Tribute Artist Finals in Memphis is one of the highlights of Elvis Week. The event attracts more than 70,000 fans from all over the world. The winner of the contest will be offered the opportunity to sign a performance contract with "Legends in Concert," $20,000 cash, recognition as the Ultimate Elvis Tribute Artist of 2012 and a selection of other valuable prizes.
'VOICES' starring Grant Griffin, brought an evening of vocal artistry and dance performance to the SOUTH POINT Hotel on May 20. A cast of 14 performed a really terrific show in a beautifully diverse program of music and dance.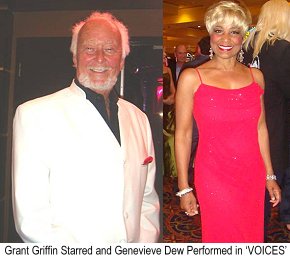 Grant Griffin, a nationally-known lyric baritone and frequent Las Vegas performer wowed an appreciative audience along with featured singers: Jeneane Marie, Patricia Welch, Gabriella Versace, Genevieve Dew, Marc Love and Randy Williams. Each performer was exceptionally outstanding. The show also featured the exciting Enrique Lugo Dancers and live musicians with Ned Mills (keyboard, musical director), Steve Myer (trombone), Bill King (trumpet), David Strambaugh (sax) Richard "Dick" Jones (bass) and Adam Shendal (drums). Kudos to longtime Producer/Director, Las Vegas favorite Mistinguett, who used a fresh approach and creativity with 'VOICES.' Many surprises, visual elements and performances within the audience were greatly applauded. I think Grant Griffith puts on a show like this only once a year with a one night performance. However, it is much too good a show to be seen for only one night as was attested by the audience reaction. Perhaps he will do it again this year. If not, we will certainly look forward to next year's performance..
The 33rd Annual San Gennaro Feast at the RIO was so well attended that it was wall to wall crowded with fun-loving people and children. The gastronomic festival and love affair with Italy featured more than 70 restaurant food booths, 60 amusement rides and midway games including a petting zoo, pony rides and the 250-foot Slingshot Ride. Excellent complimentary headliner entertainment was coordinated and hosted by Tony Sacca, who has been part of the event for more than 25 years. The San Gennaro Feast now comes to Las Vegas twice a year. Can't wait for the next one.
Winder Farms, Las Vegas' "Farmers Market on Wheels is showing support for Susan G. Komen for the Cure® by raising money and awareness for breast cancer screening, treatment programs and research. Winder Farms will make a donation to the local affiliate of Susan G. Komen for the Cure® for every Winder Farms Strawberry Milk sold now through October 31, 2012 (Breast Cancer Awareness Month). To remind customers of the charitable initiative, labels on 16 oz. and half-gallon bottles have been changed and will now feature the iconic Susan G. Komen for the Cure® pink ribbon.
CONTINUE ON TO...:
> Entertainment Tidbits Archives
>Las Vegas News "Heard Around Town"
>Las Vegas Leisure Guide<