The World Series of Beer Pong celebrates 11th year in Las Vegas. Annual tournament to be held Wednesday, July 6 through Sunday, July 10 at Westgate Las Vegas Resort & Casino. Contestants from around the world will compete for $50,000 grand prize and title of World Beer Pong Champion. Featuring thousands of beer pong enthusiasts from across the globe, more than $65,000 in prize money and the ultimate bragging rights of "World Beer Pong Champion" are up for grabs. It's a competition unlike any other in the world. Thousands of competitors from different walks of life, ranging from doctors to teachers to college students, will come together for four days of thrilling competition. Tournament play at the 11th Annual World Series of Beer Pong follows the official WSOBP rules, but the game is one of skillful hand-eye coordination. During play, two-person teams stand at opposite ends of an eight-foot-long table, where ten 16-ounce cups, filled with water, are placed in bowling pin formation. Each team takes turns tossing beer pong balls (similar to table tennis balls) at their opponent's cup formation. If the ball goes in a cup, that cup is removed from the game. The first team to eliminate all of its opponent's cups wins.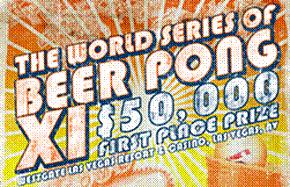 The World Series of Beer Pong (WSOBP) was founded in the name of beer pong players across the world for the purpose of establishing the finest competitions, issuing the largest prizes and determining, conclusively, the Beer Pong World Champion. Players interested in participating in the 11th Annual World Series of Beer Pong can register now at BPONG.COM/WSOBP.
Avengers S.T.A.T.I.O.N. (Scientific Training and Tactical Intelligence Operative Network) - is now open to the public at Treasure Island Hotel and Casino on the world-famous Las Vegas Strip. The Las Vegas opening comes shortly after Marvel's movie smash "Captain America: Civil War" took the world by storm and grossing more than $1 billion worldwide to date. Avengers S.T.A.T.I.O.N. is something that any Marvel fan from any generation will find to be a truly unique and incredible experience.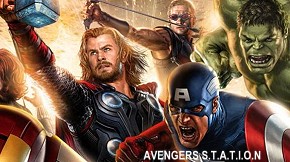 Media was invited to a sneak preview prior to the public opening and WOW!

The Las Vegas attraction includes an interactive journey through the Marvel Cinematic Universe, allowing guests to engage with the Hulk, Captain America, Thor, Iron Man and additional Avengers icons. The experience also includes original props and costumes from legendary Marvel films, including a ten-foot Hulkbuster, Bruce Banner's laboratory, Captain America's motorcycle and so much more. This marks the first time Avengers S.T.A.T.I.O.N. has landed in the Western U.S., with prior premiers at Esplanade De La Defense in Paris (April. 2016), in New York City's Times Square and The War Memorial of Korea in Seoul.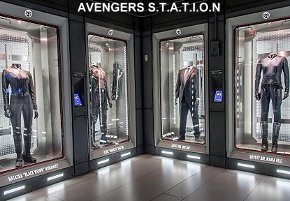 Avengers S.T.A.T.I.O.N. Las Vegas is open from 10 a.m. to 10 p.m. daily.
---
Fremont Street Experience, known for its nightly music scene, is expanding its lineup to include Saturday and Sunday afternoons this summer through Sept. 4. Locals and tourists alike can now beat the heat and cool down Downtown while enjoying hot live entertainment beginning at 2 p.m. for some afternoon fun. The Viva Vision Canopy provides four blocks of shade, plus the street is only 90 ft. wide, so guests can feel the air conditioning coming from the hotel-casinos as they enjoy live entertainment; making Fremont Street Experience literally the 'coolest street' in Las Vegas. In addition to the new afternoon entertainment, guests can chill down with cold drinks from Fremont Street Experience's outdoor bars and enjoy flights on the SlotZilla Zipline and Zoomline. At night the Viva Vision canopy lights up with free shows on the hour beginning at dusk, and nighttime entertainment, including performances from local artists as well as headliner concerts in the Rock of Vegas summer concert series, continues on all three stages well into the night.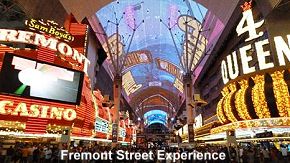 For more info or to view a complete entertainment schedule visit www.vegasexperience.com.
---
The Huntridge Foundation exhibit, "Huntridge Through the Decades: A Close-up of the Iconic People's Theatre." funded in part by Nevada Humanities, now through August 31 is at Nevada State Museum at Springs Preserve located at 309 S. Valley View Blvd. Huntridge Theatre's role in Las Vegas history will allow people to recognize and appreciate its important legacy and future potential. Attendees will discover decades of theater memorabilia, including former furnishings from the Huntridge Theatre, such as original 1944 theater seats and concert fliers from the heavy alternative rock era of the 90s.The exhibit will also feature a series of intriguing memories from longtime Las Vegans such as Senator Richard Bryan to former stage hand Jenn O. Cide, who frequented the theater in its varying forms throughout the years.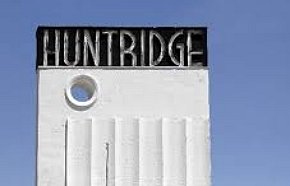 ---
Shirley Alston Reeves, Original Lead Singer of the Shirelles, and The Chiffons bring nostalgic doo wop classics of the 50's and 60's to the Suncoast Showroom June 25 and 26. New Jersey native Reeves made her debut in 1958 with the Shirelles, the first female pop/rock 'n' roll group credited with the girl group sound. During the height of their fame in the 60's, the Shirelles became best-known for their huge hits, including "I Met Him on a Sunday," "Will You Still Love Me Tomorrow," "Mama Said" and "Soldier Boy." Reeves left the group in 1975 to work on a solo career where she started performing under the name "Lady Rose." That same year, she recorded the album "With a Little Help From My Friends," which featured members of The Flamingos, The Drifters, Shep & the Limelites, and other notable groups. Reeves was inducted into the Rock and Roll Hall of Fame as a member of The Shirelles in 1996 and the New Jersey Hall of Fame in 2014.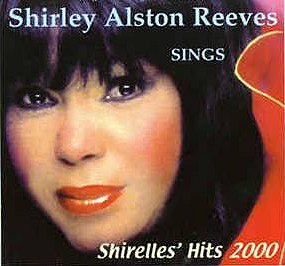 The Chiffons, with then-original members Judy Craig, Patricia Bennett, Barbara Lee, and Sylvia Peterson, exploded onto the music scene in the early 60's. The group released its first hit single, "He's So Fine," in 1963. The song quickly rose to #1 on the Billboard Hot 100 chart and sold more than 1 million copies. The Chiffons' current lineup includes original member Judy Craig, her daughter, Dawn Craig, and niece, Jubilee Clark. The show begins at 7:30 p.m. Tickets are available from $22 plus taxes and fees.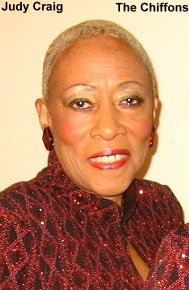 M&M presents DANCIN' FOOLS on Saturday, July 9 at 7 p.m. M&M (Michael Kessler & Melinda Jackson) are a spectacular song and dance team well-known to Las Vegas and around the world.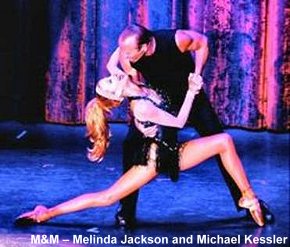 M&M, DANCIN' FOOLS will also feature dazzling artists from Broadway and the Las Vegas Strip. DANCIN' FOOLS will be performed at the Starbright Theatre 2215 Thomas-Ryan Blvd in Sun City Summerlin. Tickets are $20 and on sale online at www.scscai.com. Get ready for a fabulous evening!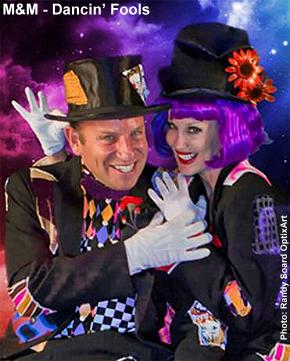 ---
The Plaza Hotel & Casino is creating a rooftop pool experience unlike any other in downtown Las Vegas, the Pool at the Plaza is a "retro Palm Springs-meets classic downtown Las Vegas" inspired outdoor space. After a multimillion dollar renovation adding brand new resort-style furnishings, a wet deck, hot tub, refurbished outdoor recreation space and its own food truck, the rooftop Pool at the Plaza will celebrate its grand opening with festivities for hotel guests and the general public on Saturday, July 2 at the renovated pool deck that encompasses approximately 70,000 sq. ft., making it one of the largest in downtown Las Vegas.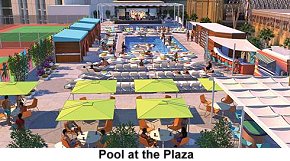 The Plaza also added a 12-person hot tub, new chaise lounge chairs, greenery, gaming, and multiple dining areas with a new bar and several food options, including the pool's own food truck. Six brand new cabana suites available for rental provide guests with a private poolside retreat, complete with televisions, fans, refrigerators and safes as well as a complimentary fruit plate and cheese and cracker tray. The renovations also refurbished adjacent tennis and basketball courts and added dedicated Pickleball courts, making the Plaza the only hotel/casino in Las Vegas with dedicated courts for this fast growing sport. With space for a stage, the Plaza plans to offer a lineup of live entertainment to include weekend DJs, concerts and special events. Guests can relax with a refreshing cocktail poolside or at the walk up bar. And no one will go hungry as the Pool at the Plaza offer food service from Pop Up Pizza and Zaba's Mexican Grill located onsite or from the pool's own food truck.
The Plaza will celebrate the Pool's official grand opening with festivities throughout the July Fourth holiday weekend, starting with a weekend-long BBQ beginning at 11 a.m. each day featuring entertainment from a local DJ. In the evening, on Saturday, July 2, the Plaza will hold a grand opening celebration with doors opening at 7:30 p.m. for a special performance of the Johnny Cash tribute band, Cash'd Out at 8:30 p.m. The night will culminate with a fireworks show off the roofs of the Plaza's two towers by Advanced Entertainment Services at 9:30 p.m. On Sunday, July 3 and Monday, July 4, the Plaza will also host a Pickleball exhibition and round robin in conjunction with players from the USA Pickleball Association (USAPA).
Admission to the pool is free for hotel guests and residents (with local identification), of all ages. Reservations of the tennis, basketball and Pickleball courts and all necessary equipment is available for a nominal charge per person. The Pool at the Plaza will be open 8 a.m. to 8 p.m. during the summer, with extended hours for special events. Cabanas can be rented in advance by emailing plazapool@playlv.com. The Pool at the Plaza is available for private parties.
---
Life is Beautiful Music and Art Festival has released the soundtrack that will fill the stages of Downtown Las Vegas with a powerful and diverse lineup that crosses generations during the multi-day festival, September 23 - 25. Festival goers will be introduced to more than three-dozen of the world's most celebrated music artists set to perform over the three-day weekend. This year's artists include GRAMMY® winner Mumford & Sons, award-winning hip-hop star J. Cole, legendary rock-band Jane's Addiction, Platinum recording artists and folk rock-band The Lumineers, American dance music artists Major Lazer and more.
TOP OF NEXT COLUMN
The Smith Center for the Performing Arts announces its debut of IDAHO! THE COMEDY MUSICAL at Reynolds Hall this July. Written by Buddy Sheffield with music by Sheffield and Keith Thompson, preview performances will be held July 6 - 8, followed by the official opening night on July 9 and additional performances July 10 - 17. IDAHO! THE COMEDY MUSICAL brings a hilarious new love story to life as Cassie Purdy, a mail-order bride from Ohio, arrives to Idaho to marry the notorious Jed Strunk, a real toad with enough money to buy every last spud in town. Upon her arrival, Cassie encounters the handsome Whip Masters, falling in love to Strunk's dismay, and setting in motion a whirlwind of events that end in three couples either discovering or re-discovering the loves of their lives.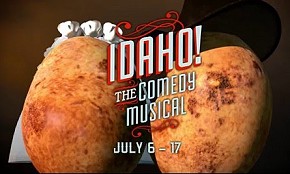 ---
I wrote about the forthcoming Ribbon of Life show in my last column and if you missed going you really missed something special. This year was a celebration for Golden Rainbow's Ribbon of Life for 30 years of shows and the theme Throwback 30 show was amazing. I moved to Las Vegas in 1986 and have always attended their annual shows that started in 1987.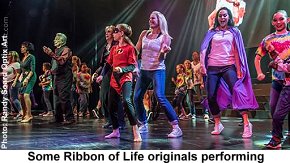 The initial show was spectacular and continued to be so, and casts and productions increased year after year until now there are 300 people involved from most of the Las Vegas productions.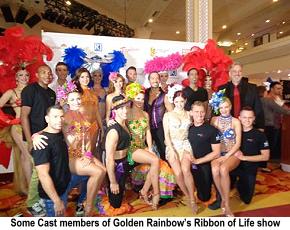 This year's theme was Throwback 30 and the production Throwback Broadway Dusting off the Divas! featured some original alumni performers and presented great excerpts from 1990, 1991, 1992, 1993. 2001, 2007 shows. The entire show was incredible especially the Finale that was dedicated to the late Flufff Le Coque and Donn Arden's Jubilee. Looking forward to the best show in Las Vegas for Ribbon of Life year 31.
---
"Chris Collins & Boulder Canyon: A Tribute to John Denver" will bring the iconic songs of the legendary singer-songwriter to the Suncoast Showroom July 9 and 10. The show celebrates one of country music's most influential musicians, performing the hit that brought John Denver to the forefront of country music with smash hit "Take Me Home, Country Roads." Denver had enormous success recording the #1 hits "Annie's Song," "Sunshine On My Shoulders," "Thank God I'm a Country Boy," "Back Home Again," "I'm Sorry," and many more. "Chris Collins & Boulder Canyon: A Tribute to John Denver" personifies the late Denver from his sounds to his look. With his signature circular frames and shaggy strawberry-blond hair, Collins delivers an authentic performance while he and the band replicate Denver's famous melodies. Chris Collins & Boulder Canyon consists of Collins on lead vocals, guitar and banjo; Kevin Delmolino on vocals and bass guitar; Paul Swanton on lead guitar and vocals; Mark Nelson on drums, percussion, synthesizer and vocals; Alexander Mitchell on fiddle, mandolin and vocals; Bill Powell on piano and keyboard; and guest band member Jack Saunders on bass, guitar, sliding dobro, mandolin and fiddle. The show begins at 7:30 p.m. Tickets are from $19.50.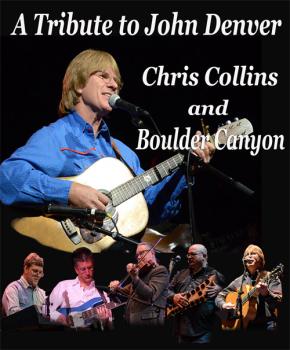 ---
Opportunity Village has partnered with the premiere shopping and dining center Downtown Summerlin to showcase unique artwork created by Opportunity Village clients (OVIPs). Opportunity Village is a highly regarded nonprofit that gives meaningful work and life purpose to many in the community with intellectual disabilities. Opportunity Village's Fine Art Program encourages artists to reach for their dreams, and when OVIPs see their artwork on display at such a prominent location in Las Vegas, they truly light up," said Linda Smith, senior executive vice president of Opportunity Village.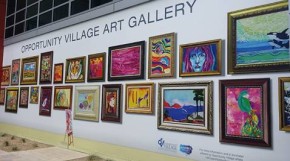 Located outside of Dillard's, shoppers can admire an Opportunity Village Art Gallery wall that contains more than 20 custom pieces of art and a window display across from Crazy Pita exhibiting custom pieces of framed art which adds a touch of colorful fun and vibrancy to the area in which it is displayed. The response from shoppers and visitors is overwhelmingly positive and enthusiastic.
Throughout the year, Opportunity Village will partner with Downtown Summerlin for additional activities including participating in the Summer Screen Movie Series at Downtown Summerlin.
---
After performing to packed houses at the Cannery Casino in February and the Suncoast in late April, the 12 member cast of AMERICAN TRILOGY returns to the South Point Casino that helped propel it to a whole new level of respect.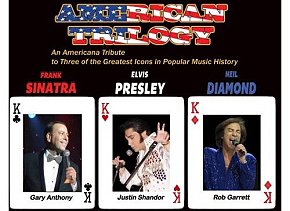 Last year this original, one of a kind, show sold out all 3 nights at the South Point during the July 4th weekend and this year history will repeat itself at the South Point Casino on July 1, 2 & 3 at 7:30 p.m.
AMERICAN TRILOGY is a Las Vegas produced show that brings together three of the greatest and most beloved entertainers of all time - "FRANK SINATRA" (Gary Anthony), "ELVIS PRESLEY" (Justin Shandor), and "NEIL DIAMOND" (Rob Garrett). The show is a scripted "What If" production that all 3 had actually connected and/or collaborated with each other. They personified the American Dream, becoming three of the biggest megastars of our time. In addition to performing solo segments backed by a live band, the stars unite for a moving, upbeat, patriotic finale to help bring in America's 240th birthday.
Musicians include: Steve Gerard (MD/Keys), Jay Boyer (Synth/Keys), Daryl Slade (Bass), Billy Carmody (Drums), LJ Harness (Percussion), Steve Henley (Guitar/Vocals), Joe Quinlan (Guitar/Vocals), Russine Zellner (Backup Vocals), and Rosanna Telford (Backup Vocals)
AMERICAN TRILOGY will also perform:
August 3 - 7: Riverside Resort and Casino, Laughlin Nevada 8:00 PM Saturday, August 20: "Hot August Night" Cannery Casino, N. Las Vegas 8:00 PM Friday, September 9: Sun City Anthem (Freedom Hall), Henderson, NV 7:00 PM
---
Rich Rizzo's Las Vegas Follies was presented at Ron DeCar's Event Center to a very appreciative audience. The stylized choreography of Rich Rizzo and a cast of talented senior performers was a production of pure entertainment - a fusion of music, singing, comedy and dancing. Las Vegas Follies is the brainchild of Rich Rizzo, who has gathered an impressive group of senior showgirls and dancers who light up the stage with the glitz and glamour of a true show biz experience! A highlight of the show was the exhilarating performance of internationally acclaimed impersonators Frankie Kein and Manuel Arte and their special amazing tribute of Marilyn Monroe, and Cabaret with Liza and Joel.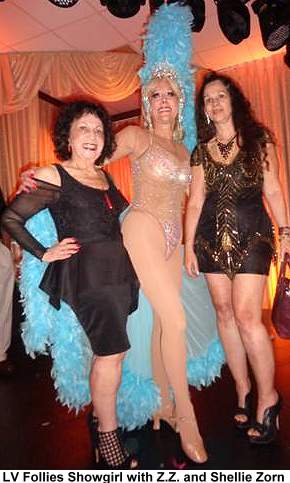 Cast Members and Dancers Include: Suzanne Jipson, Teri Thorndike, Shirley Cina. Judy Daines, Reese Richman, Jody Walker, Jackie McDaniel, Rich Rizzo and Ron DeCar. Acts: Frankie Kein, Manuel Arte, Bambi Jones and Michael Leonetti.
---
For those who planned their own space travels while watching Star Trek®: The Original Series, http://www.gozerog.com/Zero Gravity Corporation (ZERO-G®) and Roddenberry Adventures have teamed up to present a one-of-a-kind ZERO-G Experience® with George Takei to commemorate the 50th anniversary of the franchise. Twenty seats are available for this chance to go weightless with the man who portrayed Hikaru Sulu and tickets are now on sale.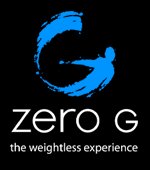 Takei and others will board G-FORCE ONE®, ZERO-G's specially modified Boeing 727 that uses parabolic arcs to make achieving weightlessness easier than accelerating to warp one. At the top of each arc anything is possible, such as perfecting the moonwalk, flying effortlessly through the air or flipping like an Olympic gymnast. After a brief encounter with Martian and Lunar gravities, Flyers will experience true weightlessness and an exhilarating freedom from Earth's pull.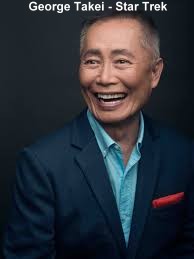 This fitting anniversary celebration will take place in Las Vegas on August 4, almost 50 years after the airing of Star Trek's pilot episode. Terese Brewster, President and COO of ZERO-G said, "Weightless flights with ZERO-G are already spectacular on their own, but having George Takei on board makes it a truly special experience. This will be an extraordinary opportunity for people to feel like they are in space while sharing that experience with someone who helped ignite our fascination for space exploration."
Each ticket is $6,500 plus a 5% tax and will include a ZERO-G flight suit, Regravitation Celebration, certificate of weightless completion and photos and video of the unique experience shared with George Takei. Ticket holders also will have the chance to mingle with the actor, cultural icon and humanitarian in standard gravity during a meet and greet prior to launch. To secure a spot on this exclusive mission, visit "www.gozerog.com.
---
Here's something NEW! Thank You, Happy Birthday, Happy Anniversary, I'm Sorry, Congratulations or Treat Yo Self - all are occasions worthy of celebrating with donuts! Now you can up your gift-giving game, be the champion of the office meeting or share with family and friends by having everyone's favorite treat delivered straight to your door. With the launch of Las Vegas' own, Modern Donut, sending donut favorites, savory cronuts or alcohol-infused signature delicacies directly to that co-worker, friend, family member, special someone or yourself is now a mere click or call away. Modern Donut recipes reinvent donuts with delicious twists and unique flavor combinations featuring seasonal fruit, fresh herbs, spices and other delightful ingredients. Modern Donuts the First Donut Concierge offers gourmet, made-to-order donuts delivered fresh to anywhere in Las Vegas and Henderson. A full list of available donuts and cronuts is available online.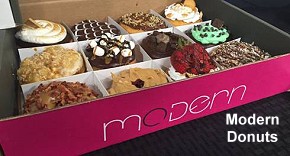 Ordering is simple through visiting www.moderndonut.com or call 702-220-3030.
CONTINUE ON TO...:

> Entertainment Tidbits Archives
>Las Vegas News "Heard Around Town"
>Las Vegas Leisure Guide<