Topgolf is ready to take the entertainment game to a new level as it opens its doors to locals, tourists, golfers and non-golfers alike by bringing Las Vegas a one-of-a-kind entertainment experience. I was at a sneak preview and I was totally amazed, you've got to see it to believe it. Sitting on eight acres just behind MGM, Topgolf is the only entertainment venue of its kind, boasting 108 climate-controlled hitting bays, two pools, cabanas, a concert venue, VIP suites, five bars, special event spaces, a comfort food-inspired menu with creative beverage offerings, a Callaway Fitting Studio, a Topgolf retail shop, and more. Spanning four levels and 105,000 square feet, the Topgolf flagship location in Las Vegas stands as the biggest Topgolf venue to date. At the heart of Topgolf, guests will find interactive golf games in the hitting bays that can host up to six players at one time, featuring lounge-style seating and HDTVs. Golf games can be enjoyed by all ages and skill levels, tracking the accuracy and distance of players' shots through Topgolf's microchipped golf balls. Players hit golf balls containing computer microchips that track each shot's accuracy and distance while awarding points for hitting targets on the outfield.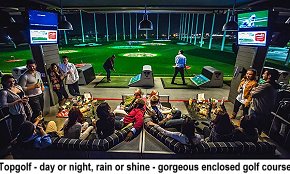 A mobile Sports Book located in The Yard, the main hub of Topgolf Las Vegas, allows sports fans to place a bet while taking in all the action on one of the venue's numerous oversized screens. The Yard also serves as home to Topgolf's main entertainment venue showcasing both national acts and local. The Birdie Bar provides a more intimate live entertainment experience with a small stage perfect for acoustic performances, standup comedy and more. Topgolf operates Sunday to Thursday from 8 a.m. to 2 a.m. and Friday and Saturday from 8 a.m. to 4 a.m. Bay pricing starts at $30 per hour for up to six players and varies depending on bay location and time of day. General admittance into Topgolf is free of charge. An additional benefit is that over 900 Las Vegan's now have jobs because of Topgolf.
Paul Zerdin, comedy ventriloquist and season 10 winner of America's Got Talent, celebrated the opening night performance of his first-ever headlining production on The Las Vegas Strip, Paul Zerdin: MOUTHING OFF at the PH Showroom at Planet Hollywood and his band of sharp-tongued characters bring their comedy and hilarious actions to an all-new, headlining production. Zerdin and his trio of comical misfits received tremendous applause and a standing ovation at the conclusion of the 7 p.m. performance. With Paul's winning combination of technical skill, hilarious ventriloquism, charm and impeccable comic timing, he brings to life several very different characters. Called the "ventriloquist for the South Park generation," the master ventriloquist brings the whole gang - including Sam, Baby, and everyone's favorite belligerent old man, Albert - to Las Vegas in this live, fully-fledged stage production that has audiences bursting with laughter and astonished by his remarkable, unfathomable skill. Zerdin also involves the audience both on and off stage in antics that are hilarious. His beautiful assistant and talented featured performer Robyn Mellor adds to the show both visually and vocally.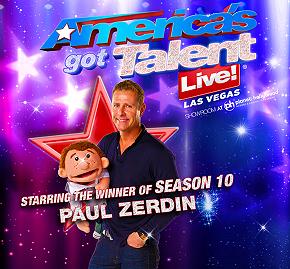 Following the opening night show, the festivities continued late into the night at Gallery Nightclub. Friends and invited guests shared laughs with Zerdin and Robyn Mellor congratulating them on the new production while enjoying light bites and sipping libations. Notable names in attendance at the opening night red carpet and performance included Ace of Cakes star Duff Goldman, America's Got Talent winner and Las Vegas headliner Mat Franco, UNDER THE INFLUENCE star Frankie Moreno and Dancing With the Stars' Lacey Schwimmer, ABSINTHE's Joy Jenkins, cast members from MILLION DOLLAR QUARTET, cast members from JERSEY BOYS and others.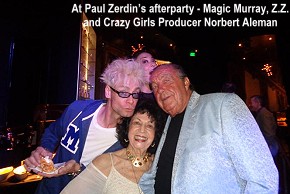 PAUL ZERDIN: MOUTHING OFF is now entertaining audiences nightly inside the PH Showroom at Planet Hollywood Tuesday-Sunday at 7 p.m. TX:PaulZerdin.com or 800-745-3000.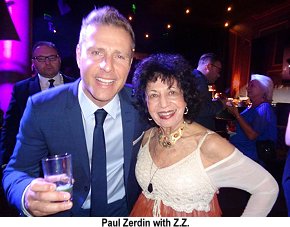 ---
Hope you get to read this before it is over! Grammy-Award winning recording artists FANTASIA and ANTHONY HAMILTON headlining tour will make a stop at The Joint at Hard Rock Hotel & Casino on Sunday, May 22. Fans can expect to hear all of their hits plus new music as each is set to release new albums. Hamilton released his fifth studio album, What I'm Feelin' via RCA Records, which includes the hit single, "Amen." Fantasia will release her fifth studio album on 19 Entertainment/RCA Records which will include her empowering first single "No Time For It." In 2004, the High Point, North Carolina native Fantasia became the season three winner of Fox's "American Idol." Anthony Hamilton a Grammy-Award winning musician has collaborated with a bevy of artists including Nas, Rick Ross, Carlos Santana, Jill Scott, Tupac and Al Green to name a few.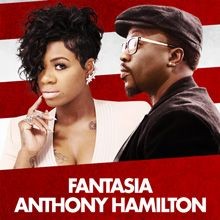 Foxtail Nightclub at SLS Las Vegas has an A-list musical lineup featuring today's hottest artists including hip-hop legends Lil Wayne, Flo Rida, Yo Gotti, Ty Dolla $ign and more.
Foxtail Nightclub Memorial Day Weekend lineup includes: Friday, May 27 DJ Drama Saturday, May 28 Flo Rida and Borgore
Foxtail Pool Memorial Day Weekend lineup: Saturday, May 28 Flo Rida, Yo Gotti and DJ Drama Sunday, May 29 Lil Wayne, Ty Dolla $ign and Yo Gotti
Monday, May 30 Memorial Day Industry Backyard BBQ featuring Ja Rule and Blackout Artists
Tickets, on sale now, start at $35 for females and $45 for males, with VIP table pricing available. Doors open at 10 p.m. For reservations please visit FoxtailNightclub.com.
---
X Burlesque celebrates 14 years with its hottest topless revue, with the addition of sensual new dance numbers at Flamingo. X Burlesque showcases a variety of performances by six gorgeous dancers set to music by today's hottest artists, including Muse, Beyonce, Rihanna, Metallica, Led Zeppelin and Christina Aguilera, to name a few. For 75 minutes, the burlesque beauties bare their assets all while teasing, seducing and playfully interacting with the audience. X Burlesque combines high-energy performance with the use of outrageous props such as bathtubs and feather boas to fulfill the audience's every fantasy. Created and produced by husband and wife team, Matt and Angela Stabile, X Burlesque is performed nightly at 10 p.m. inside the X Showroom at Flamingo Las Vegas.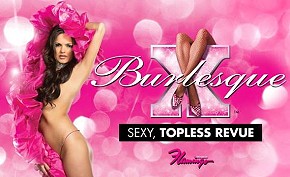 Derek and Greg Stevens - owners of the D Las Vegas Casino Hotel, Golden Gate Hotel and Casino and the Downtown Las Vegas Events Center are continuing to invest in the development of Downtown Las Vegas with the purchase of the land adjacent to the recently acquired Las Vegas Club. The transaction will enable the Stevens brothers to reshape the block on the world-famous Fremont Street Experience as they work to develop a third hotel-casino property. The land currently houses three Granite Gaming Group properties including Mermaids and La Bayou casinos, as well as adult entertainment mainstay, Topless Girls of Glitter Gulch. Granite Gaming Group will continue operations of each venue until their anticipated closing date toward the end of June. Current employees of Mermaids and La Bayou will be offered priority interview opportunities for new positions at the D and Golden Gate. Steve Burnstine, CEO of Granite Gaming Group, purchased the downtown businesses from his father, Herb Pastor, in 2006. Over the years, Burnstine and Derek Stevens forged a good working relationship and Burnstine looks forward to the development and is excited about its prospects. The Stevens brothers co-own three hotel-casinos as well as the Downtown Las Vegas Events Center, a special event, concert and festival venue that opened in 2014. On March 15, they were awarded the winning bid for Clark County's Bridger Building, located on 3rd St. and Bridger Ave., which was purchased for the internal growth of their Downtown Las Vegas Company.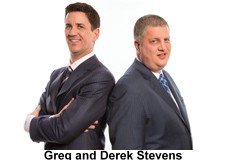 ---
FANTASY, the award-winning adult revue at Luxor celebrates the return of dynamic vocalist and performer Lorena Peril to its cast. Peril replaces current headliner, Jaime Lynch, due to Jaime's robust performance schedule. Lynch will continue to make special appearances in the show as headliner, along with Anne Martinez. Since first joining the cast in 2010, Lorena Peril has appeared in the debut season of "The Voice," and recently performed the lead role of "Sandy" in a global tour of "Grease." The self-taught performer has also starred in "Sin City Bad Girls" at the Las Vegas Hilton and performed as Christina Aguilera in "American Superstars" at Stratosphere. Peril also toured as an opening act for Barry Manilow in 2007 during his multi-city "Music and Passion Arena Tour." A dynamic lead singer adds an exciting and unforgettable element with amazing powerhouse vocals, taking center-stage alongside a talented cast of beautiful dancers. Popular among singles and couples alike, the sexy production showcases 15 high-energy numbers set to a variety of today's top music genres. While the gorgeous dancers lure guests into their wildest fantasies, comic relief Sean E. Cooper keeps audiences on its toes with his spot-on impressions of some of pop culture's most recognizable personalities. FANTASY performs nightly at 10:30 p.m. in the Atrium Showroom at Luxor.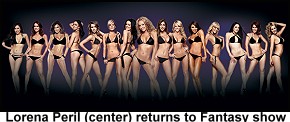 Wayne Newton Las Vegas actor, singer, entertainer legend, Mr. Las Vegas makes his return to the stage after more than five years with his all-new original production, "Wayne Newton: Up Close and Personal," at the Windows Showroom at Bally's. After working since he was just four years old, Newton took some time off to spend with his family and to get his iconic estate "Casa de Shenandoah" open for tours. Now, Newton is back with "Wayne Newton: Up Close and Personal," a show unlike any he has ever done before, boasting a compilation of all of Newton's extraordinary talents. Newton sings crowd favorites including hit, "Danke Schoen," as well as engaging with the audience by answering questions. His vast musical talents will be on display as he plays some of the many instruments he has perfected. (13 to be exact). Having performed over 30,000 shows in Las Vegas, Wayne Newton shares fantastic stories and videos that were influential on his legendary 50+ year career. Ticket prices start at $75. All shows are scheduled for 7:30 p.m.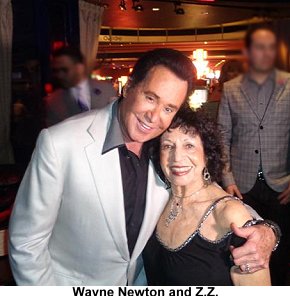 House of Blues headliner Carlos Santana and the team from House of Blues visited the Las Vegas Rescue Mission to serve the residents a soulful meal straight from the culinary team at House of Blues. Santana and team also held a water drive and provided 8,400 bottles of water for the homeless community that Las Vegas Rescue Mission provides for each day. Additionally, the group donated more than 500 refillable pouches that the homeless can use to refill with water throughout the Vegas summer. Director of Program Services, John Fogal, took Santana on a tour through the Mission's onsite dorms where they house around 120-150 residents that are working hard to get back to normal lives by getting help with addiction, education and job placement. Santana made the visit before getting back to the stage at House of Blues where his shows continue throughout May, September and November.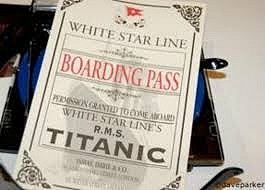 Artifacts recovered from RMS Titanic will be retired July 18. Seven priceless artifacts recovered from the wreck site of RMS Titanic will be retired from public view and returned to its conservation facility after a 3-month special engagement at Titanic: The Artifact Exhibition at Luxor. 104 years after Titanic hit an iceberg in the Atlantic and sank, taking the lives of 1,523 passengers and crew, and nearly 30 years after the Company first brought artifacts from its wreck site to the surface, these priceless treasures will be displayed for a final time. The artifacts, which include textiles, personal goods and paper documents, have previously been on display around the world as part of Premier's Titanic: The Artifact Exhibition. They will be shown for a limited engagement at the largest permanent exhibition of Titanic artifacts at Luxor through July 18. Titanic: The Artifact Exhibition at Luxor is open daily from 10 a.m. - 10 p.m. with the last admission at 9 p.m.
TOP OF NEXT COLUMN
The Scintas, music and comedy Las Vegas show, due to popular demand have extended their limited show run at the Plaza through November. The Scintas, brothers Frankie and Joe, "honorary Scinta" Peter O'Donnell and newest addition, Janien Valentine, bring wit, great music and endless talent to the highly regarded show. Having performed for hundreds of thousands of people over the years, the Scintas have become a fixture in Las Vegas for the past 16 years with their signature comedy, musical prowess, and knack for spot-on impressions. Valentine adds to the group with her powerful vocals and her ability to match wits with the boys. The show spans several generations, blending classic music of all styles from musical icons such as Dean Martin, Ray Charles, Michael Jackson, Whitney Houston and Bruno Mars with relatable humor that leaves the audience feeling like they're hanging out with family. The Scintas perform at 7:30 p.m., two Friday and Saturday nights monthly on the following dates: June 3, 4, 24, 25 July 8, 9, 15, 16 August 19, 20, 26, 27 September 16, 17, 23, 24 October 7, 8, 14, 15 November 4, 5, 11, 12. Locals and visitors alike, have the opportunity to have an unforgettable night downtown - starting with dinner at Oscar's, then the Scintas' classic Las Vegas show, and ending with a nightcap at Oscar's lounge with Frankie. Ticket show prices start at $29 and a special "dinner and a show" package also is available for $99 per ticket and includes a three-course prix fix dinner at Oscar's steakhouse.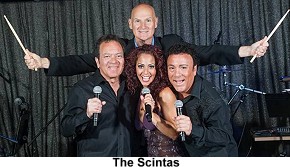 ---
Momenti Spirited Ice Creams, Super-premium ice cream pioneer, has opened in Las Vegas. Momenti is the first specialty manufacturing plant in the U.S. for creating and developing spirit-infused super premium ice creams and sorbets. Family-owned and operated, Momenti specializes in the science of ice cream using quality ingredients and top-shelf liquors. What started as a fun concept by local entrepreneur, Leif Pearson, quickly expanded into countless hours of education and developmental collaboration that has transformed Momenti Spirited Ice Creams into a trend-setting brand and regional, soon to be national, business. A Las Vegas native, Pearson is a graduate of The Meadows School in Summerlin and graduated from Colby College in Maine with a degree in Science, Technology and Society.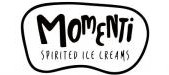 ---
30th annual "Ribbon of Life" fundraiser for Golden Rainbow is returning to Tropicana on Sunday, June 12 at 1 p.m. This is a spectacular production, featuring original performances with a cast of over 200 performers from nearly every show in Las Vegas and this year's theme celebrating the 30th anniversary is "Throwback 30" - retrospect of the last 30 years of shows. This promises to be awe-inspiring with over 1200 patrons attending and tickets are sure to sell-out to one of the most largest and unique shows of its kind in Nevada. Golden Rainbow was established by the Las Vegas Entertainment Community in 1987 and has been committed to providing housing and direct financial assistance to Southern Nevadans living with HIV/Aids for over 30 years. With advances in medical treatments and the changing face of the disease, Golden Rainbow now focuses on new commitment to education, emergency independence and planning for a more hopeful future. This popular fundraiser is the primary source of funding for many of these vital programs.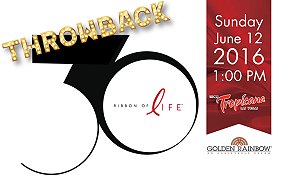 The Las Vegas Philharmonic performs its final concert of the season, Dream of Now, Dream of Then: Lisa Vroman brings Broadway to Las Vegas on Saturday, June 4 at 7:30 p.m. in Reynolds Hall at The Smith Center. The performance will feature sixteen Broadway selections with arrangements sung by esteemed vocalist, Lisa Vroman.
Lisa Vroman starred for several years on Broadway as Christine Daaé in The Phantom of the Opera. She received Theatre Critics' awards for her role in a record breaking run in San Francisco and did a return engagement at the Ahmanson Theatre in Los Angeles. Her Broadway debut was in Aspects of Love, and she was the first to play both Fantine and Cosette in Les Misérables. Other roles include Rosabella in The Most Happy Fella, Charlotte in A Little Night Music and Lili Vanessi in Kiss Me Kate, to name a few
---
Gordie Brown, longtime Las Vegas entertainer, will celebrate the work of the Las Vegas Metropolitan Police Department with a very special offer for its employees. Now through June 30 LVMPD employees who present an employee ID at the Golden Nugget Box Office are eligible to receive a buy one, get one ticket offer for any Gordie Brown performance through the end of June. Officers who present a badge at the Box Office will receive a complimentary pair of tickets for shows May 15-21 in honor of National Police Week.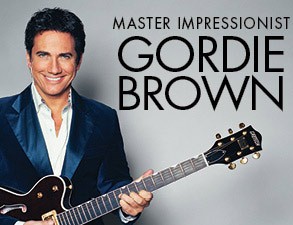 One of the nation's top Frankie Valli Tribute Shows will bring the choreography and sounds of the Four Seasons to the Suncoast Showroom June 11 and 12. "Let's Hang On!" is a full-stage production complete with a live band and 'The Four Seasons' biggest hits, including "Big Girls Don't Cry," "Working My Way Back to You," "Walk Like a Man," "Can't Take My Eyes Off You," "Let's Hang On," "December, 1963 (Oh What a Night)," "Rag Doll," "Bye, Bye, Baby" and "Big Man in Town." The cast of "Let's Hang On!" includes Richard Bresenhan, Josh Eleazer, Chris Barletta, Jared Slater, Samantha Fousek, Heather Krueger, Bill Norman and Bob Schubert.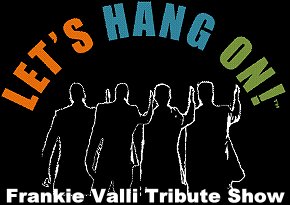 The Four Seasons, with Valli as the lead vocalist, achieved international success in the 60's starting with their 1962 hit "Sherry." The band charted five #1 singles and was inducted into the Rock and Roll Hall of Fame in 1990. Showtime each evening is 7:30 p.m. Tickets are available from $22.00 plus tax and fees by calling Boyd Gaming box office,702-284-7777
---
Celebrating the 10th anniversary of Las Vegas Restaurant Week, the highly anticipated annual culinary event will return June 6-17. Restaurants joining in Las Vegas Restaurant Week will create their own prix-fixe menu offered at price points ranging from $20 to $80, with a fixed portion of the proceeds benefitting Three Square and the fight against hunger in Southern Nevada. Offered for the first time, the new $80 dinner option will allow the valley's top high-end restaurants to participate while giving back at unprecedented levels. Beginning May 23, a website devoted to Las Vegas Restaurant Week - www.helpoutdineoutlv.org - will launch, providing the list of participating restaurants and menu details. The easy-to-navigate, mobile-friendly site allows diners to search by type of cuisine and offers the option to book a reservation through opentable.com or yelp.com. Restaurants already confirmed to participate include: Alize, Blue Ribbon, China Poblano, Culinary Dropout, Del Frisco's Steakhouse, Fogo de Chao, Hakkasan, Holstein's Shakes and Buns, Honey Salt, Itsy Bitsy: Ramen and Whisky, Gilley's Bar-B-Que, MOzen Bistro, Searsucker, Sushi Roku and Wolfgang Puck Bar & Grill, among many others. In its first ten years, Las Vegas Restaurant Week has raised more than $1 million for Three Square. 100 percent of the proceeds collected from participating restaurants benefits Three Square and its mission to provide meals to more than 305,000 hungry residents in Southern Nevada.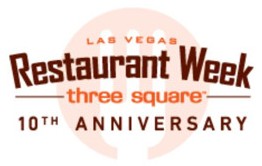 Fathom Events and Cirque du Soleil are partnering to bring the 2016 'One Night for ONE DROP' event to select U.S. cinemas, featuring a collaboration of performers from each of the eight Cirque du Soleil shows in Las Vegas. In its fourth year, 'One Night for ONE DROP' returned for an electrifying performance in front of a VIP sold-out audience in Las Vegas, featuring GRAMMY-nominated singer-songwriter Leona Lewis and Miles "Baby Boogaloo" Brown from the hit TV sitcom Blackish. The show is an annual celebration around World Water Day to raise funds and awareness for critical water issues worldwide. Audiences across the U.S. can enjoy this special one-night event in cinemas on Tuesday, June 7 at 7 p.m. local time. I was at the event and can't say enough about how incredible it was, and this is an extraordinary opportunity for all to see this dazzling event. Captured on March 18, 2016, at The Smith Center for the Performing Arts in Las Vegas, 'One Night for ONE DROP' is a completely original production featuring renowned guest performers alongside artists from all eight Cirque du Soleil shows on the Las Vegas Strip. To show their continued support for the cause, each show goes dark for one evening to shine the spotlight on this special performance. The central theme of 'One Night for ONE DROP' ties to the mission of ONE DROP, an international non-profit dedicated to providing safe water access in developing countries. To extend this one-night of charity, all Cirque du Soleil funds from this cinema presentation will also support ONE DROP and its efforts.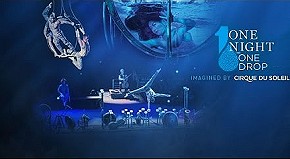 Tickets for 'One Night for ONE DROP' are now on sale and can be purchased online by visiting www.FathomEvents.com or at participating theater box offices. Fans throughout the U.S. will be able to enjoy the event in more than 300 movie theaters through Fathom's Digital Broadcast Network. For a complete list of theater locations visit the Fathom Events website.
---
UTAH SHAKEPEARE FESTIVAL in Cedar City has announced their 2016 program as THE GREATER ESCAPE. An elaborate theatrical lineup of comedy, drama, history, musical, family and Shakespeare at three different venues is enough to satisfy everyone's tastes. You can learn more at BARD.ORG or 1800-playtix.
---
Summer is heating up at Aquarius Casino Resort in Laughlin with a sizzlin' Brad Paisley room package available June 17 - 19. Fans that book with special code BRAD161 will receive a two-night stay, a pair of concert tickets, two-for-one Bud or Bud Light at all casino bars and two-for-one drink specials at The Cove Bar & Lounge and Duet Coffee & Wine starting at just $309 (plus tax). While parking is unavailable at the Laughlin Event Center, guests staying at Aquarius can enjoy complimentary transportation to and from the concert venue.
---
The+Source medical marijuana dispensary, located at 2550 S. Rainbow Blvd., will offer an informational orientation and seminar about the various uses of medical cannabis for patients at 6 p.m. on Thursday, June 2. The+Source will provide patients with information about the use of medical marijuana for treating the effects of qualifying conditions including pain management, epilepsy, glaucoma and seizures, among others. The orientation will be led by Director of Medical Education, Dr. William Troutt, The+Source's in-house doctor that exclusively consults with the dispensary in efforts to educate the public and Las Vegas Valley about the uses of medical cannabis. The+Source invites everyone, including new medical marijuana cardholders and non-cardholders, to learn more about the medical aspects of marijuana and ask questions in a safe, welcoming environment. More information about the upcoming orientation can be found online at www.thesourcenv.com.
---
The 37th Annual San Gennaro Feast was back in a different location, this time at Craig Ranch Regional Park. The Las Vegas food, music and entertainment festival celebrated the spirit of San Gennaro and featured more than 70 restaurant food booths, 60 Amusements rides, first time in Las Vegas flume ride, 80-foot petting zoo, pony rides and piglets, midway games, arts and crafts booths, and continuous live music. Of course, once more and again and again, fabulous entertainment coordinator and singer Tony Sacca hosted/headlined and featured some of Las Vegas' finest entertainers and bands. If you missed this one, they will be back again soon.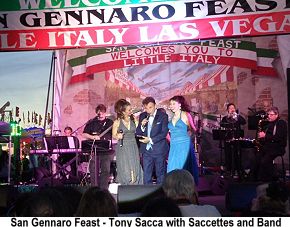 Tony Sacca is really keeping busy as he will make a return engagement to the CasaBlanca Resort in Mesquite, with a patriotic show "All-American Music: From Sea to Shining Sea" on Saturday, June 4, at 7:30 p.m. His special guests are: Denise Clemente, The Sexy Saccettes and live orchestra conducted by Grammy Award winner Gary Anderson.
---
Crazy Pita at Town Square has partnered with Pinot's Palette from June 2 through September 8 from 6-8 p.m. by offering guests the Paint-Drink-Dine summer painting series events. Guests will learn from local artists while creating a beautiful piece of artwork to keep or give as a gift. The cost is $39 per person with 25 percent of the proceeds donated to the Josh Stevens Foundation. That price includes painting materials and supplies, along with one appetizer per table. Happy Hour prices will be offered to Paint Party guests at 50 percent off beer and wine. Reservations required: www.PinotsPalette.com/Henderson/Classes.

The Josh Stevens Foundation was created in memory of Josh Stevens, a Henderson, NV young man who tragically lost his life at the age of 12 years old. The foundation is built on Josh's trademark position to simply "Be Kind". With the belief that genuine kindness born in the heart of a child deserves celebration, the foundation's mission is to recognize and celebrate heartfelt acts of kindness. More information is available online at joshstevensfoundation.org.
CONTINUE ON TO...:

> Entertainment Tidbits Archives
>Las Vegas News "Heard Around Town"
>Las Vegas Leisure Guide<