What an incredible event was held by The Nevada Opera Theatre Guild at their 2nd annual "Vintage Vegas" event. The luncheon, reception and program was held at The Italian American Club. Denny Weddle (President of NV Opera Theatre Association (NOTA)) and Tony Sacca served as M.C.'s. Tony performed and showed some videos of his interviews with many well-known Las Vegas performers (e.g.: David Brenner). Founder of NOTA Eileen Hayes was the event Co-coordinator and Karen Scherer was the Chairwoman of an exceptional Silent Auction.

Joe Darro and Friends and Bill Fayne provided great music and accompaniment for performers.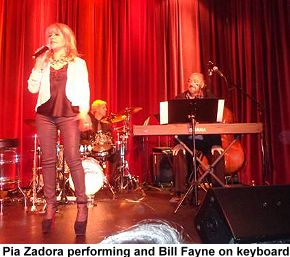 Honoree of the 2014 "Vintage Vegas" was Cindy Doumani, Showgirl, Dancer, Cowgirl, Las Vegas Humanitarian and Community Leader. Cindy told about her early days prior to becoming a Showgirl. She grew up on a ranch as a cowgirl who rode horses and also took dance classes. Cindy loved both, but being a dancer won out. However, she is now still very much an animal rights advocate.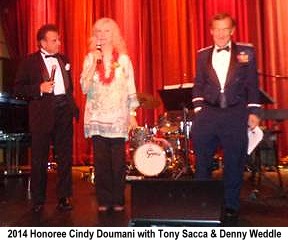 Cindy's experience as a dancer included being in Gypsy Rose Lee's show and headlining as a Showgirl in Las Vegas at the Thunderbird. She told some fascinating stories of her experiences with many famous celebrities when she was a showgirl.
Other awardees were: Beverly and Mike Mykisen - devoted opera patrons of NOTA since 1986 and Karen Fallon, Virginia Schlipp for 10 years of service to NOTA.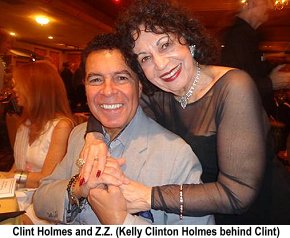 NOTA Soloists performed: Sheronda McKee, Dr. Morton Hyson and Elaine Casale.
TOP OF NEXT COLUMN
An amazing number of vintage and current Las Vegas performers and showgirls were in attendance and were recognized. Some even performed such as: Pete Barbutti, Pia Zadora, Magnificent Mafalda and Carmine Mandi as well as tribute artists: Elvis (Brad Collins), Dean Martin (Robert Ensler), Frank Sinatra (Doug Starks), Louis Armstrong (Anthony Brady) and others.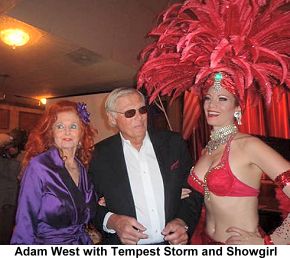 Special guests who attended were: Adam West (original Batman), Tempest Storm (Burlesque Queen), and Clint Holmes and Kelly Clinton Holmes. Many public figures such as Senators Mark Manendo, David Parks, Ruben Kihuen, Ray Ralston and Nevada Arts Advocates Angie Wallin and Randy Soard were there too. Peggy King (the late Sonny King's wife) was Entertainment Director and responsible for many of the performers attending. Peggy donated and conducted a live auction of an important limited edition Giclée art work of a self portrait by Frank Sinatra.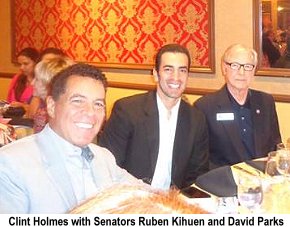 Two of Las Vegas' earliest residents were acknowledged. Don Hill (great saxophonist with The Treniers,) who is still playing at age 92. Don Hill moved to LV in 1947 and Bernie Sindler moved to LV in 1946.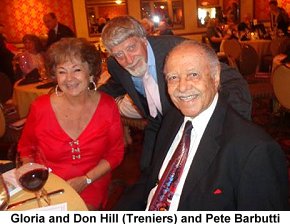 Angelo Cassaro, President of the Italian American Club, spoke onstage. He and wife Nancy were multiple winners of the many raffles that were drawn. Will and Terri Berberich also won a Starbucks Coffee package.
The "Vintage Vegas" program was quite long, but guests stayed on even after the program ended. Many had not seen each other for so long and were delighted that they had this opportunity to mingle and take pictures.
CONTINUE ON TO...:

> Entertainment Tidbits Archives
>Las Vegas News "Heard Around Town"
>Las Vegas Leisure Guide<