MAMMA MIA!, the smash hit musical, makes its triumphant return to the Las Vegas Strip at the Tropicana. MAMMA MIA! continues its success around the world having been seen by more than 54 million people in 38 productions in 14 languages in over 400 cities.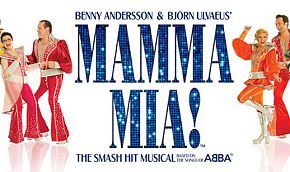 Now celebrating 13 years on Broadway and over 5,000 performances, it is one of only five musicals to have run for more than 10 years on Broadway.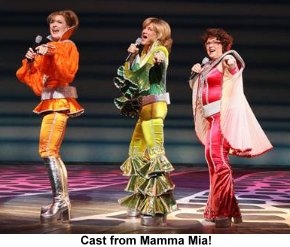 Inspired by the storytelling magic of ABBA's timeless songs, MAMMA MIA! is a funny tale of family and friendship unfolding on a tiny Greek island. On the eve of her wedding, a daughter's quest to discover the identity of her father brings three men from her mother's past back to the island they had last visited 20 years ago.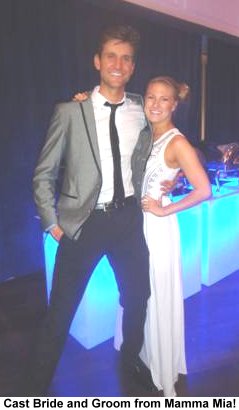 Songs including "Dancing Queen," "The Winner Takes It All," "Money, Money, Money" and "Take a Chance on Me" are all featured in this new production of fun and laughter. MAMMA MIA! performs in the recently transformed, state-of-the-art Tropicana Theater Sunday through Thursday at 7:30 p.m. and Saturday at 5:30 p.m. and 9 p.m.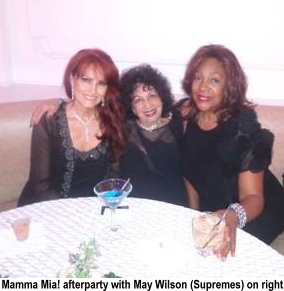 This gal is absolutely amazing! Vocal impressionist Véronic DiCaire headlines at Bally's Jubilee Theater in her hit show VÉRONIC Voices, co-produced by Celine Dion. Véronic has an extraordinary ability to transform her voice and characterization into those of the world's biggest superstars as she recreates the voices of Christina Aguilera, Britney Spears, Celine Dion, Cher, Madonna, Sheryl Crow, Billie Holiday, Norah Jones, Alicia Keys, Pink, Whitney Houston, Barbra Streisand, Liza Minnelli, Katy Perry, Dolly Parton, Shania Twain, Taylor Swift, Carrie Underwood, Whitney Houston and many, many more. The singing sensation's unique talent keeps the show rolling along with humor, emotion and energy that also includes her playing musical instruments and dancing along with some very talented backup dancers. Véronic Voices was named by USA Today as one of "Las Vegas' don't miss shows." I totally agree!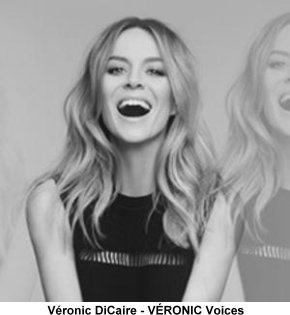 In addition, the beautiful Véronic, inside and out, decided that this is her chance as a Las Vegan, to use her voice to raise awareness to benefit many of the wonderful organizations that support the community. She launched the "Lend your Voice" campaign in May with Opportunity Village as the first beneficiary and encourages audience donations by providing information during her performances. Each month, a new charity will be announced.
Cabo Wabo Cantina inside Miracle Mile Shops at Planet Hollywood will offer a 20 percent discount for active duty military members and veterans in honor of National Military Appreciation Month in May. Military men and women will receive a 20 percent discount on all food and drinks when they present their current military ID.
---
The Palazzo, invites revelers to party for a cause this Memorial Day weekend at the Rockhouse. The ultra-dive bar will donate five-percent of total sales on Sunday, May 25 to the Wounded Warriors (WWP). Rockhouse will present a check to Wounded Warriors on Monday, May 26 at 1 p.m. WWP is a national organization with the mission to raise awareness; to enlist the public's aid for the needs of injured service members; to help injured servicemen and women aid and assist each other and to provide unique, direct programs and services to meet their needs.
The Rockhouse is open daily from 11 a.m. on weekdays and 8:30 a.m. on weekends, closing late into the night. Set up like an adult playroom, the hot spot comes complete with birdcages for dancing, pool tables, old-school arcade games, beer pong tables, a mechanical bull and more than 80 high-definition televisions, offering full audio for all sporting games. With a kitchen open at all hours, guests can enjoy a full food menu as well as a special breakfast menu served on Saturdays and Sundays, starting at 8:30 a.m. Rockhouse, Las Vegas' only ultra-dive bar, is known for its world-famous 88-ounce drink guitars filled with ice cold beer or delicious daiquiris.
---
Wow! What a hunk of shirtless masculine eye candy can be seen in the 75-minute male revue of Men The Experience at the Riviera. These handsome, sexy, muscled, guys with the greatest abs perform great choreography in a variety of costumes and themes such as secret agents, cowboys, soldiers, gangsters, firefighters, and more. Not only are they handsome and sexy, but they are very talented, athletic, hot dancers. Their audience interactions tantalize the ladies who love participating with them. Video backdrops and music add to this very entertaining show that performs at 7p.m. After the show, a meet and greet and picture taking with these hunks are included.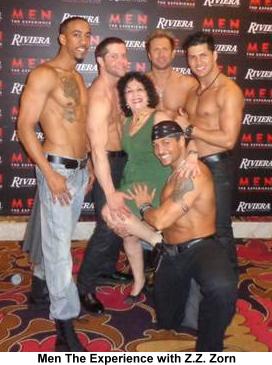 Congrats to Matt and Angela Stabile for their X Burlesque show that has been titillating audiences for 12 years. X Burlesque at the FLAMINGO puts on a production show with gorgeous topless dancers and creative witty vignettes. Wide and wild music including today's top hits" accentuate each scene. Dancers in many different costumes and themes perform energetic choreography as they do their burlesque themes to interesting backdrops and settings. Solo performances include some very sexual vignettes as well as some very classy scenes. Of course, there is a stripper pole and audience participation. A very good comedian keeps the crowd laughing. With so much to see, hear and enjoy, no wonder X Burlesque has been able to celebrate their 12 year anniversary.
---
SMOKEY ROBINSON PRESENTS HUMAN NATURE: THE MOTOWN SHOW celebrated its 1,000th Las Vegas performance at The Venetian with a special appearance by Motown legend Smokey Robinson. Smokey joined the four members of Human Nature on stage during the show and performed "Tracks of My Tears" with the group, a song originally co-written by Smokey Robinson. John Caparella, president and chief operating officer of The Venetian, The Palazzo & Sands Expo joined Human Nature and Smokey Robinson on stage and said, "Tonight we are celebrating the 1,000th show for Human Nature in Las Vegas, and I am here to encourage them to stay for another 1,000 shows."
Adding to the celebration of the milestone, Carlo's Bakery, the Cake Boss' bakery that recently opened at Grand Canal Shoppes at The Venetian and The Palazzo, created a special cake depicting Human Nature on stage with Smokey Robinson.
---
Irish artist Graham Knuttel and students from the Las Vegas Academy of the Arts have begun painting a huge mural to be placed on the Neonopolis building in downtown Las Vegas. The mural is a collaboration between Graham Knuttel and the art students at the Las Vegas Academy of the Arts. Graham Knuttel has a gallery at the Venetian-Palazzo and some of his works were displayed the day the mural was started along with Las Vegas Mayor Carolyn G. Goodman naming that day as "Graham Knuttel Day" in Las Vegas to honor Knuttel's contribution to downtown.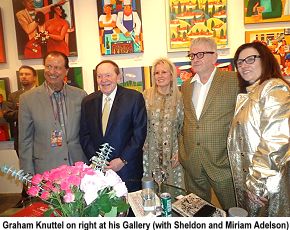 Golden Rainbow will present the 28th annual "Ribbon of Life" spectacular inside The Penn & Teller Theater at the Rio on Sunday, June 22. This year's theme "Big Top" will be full of circus-inspired acts hosted by "Ringmasters" and returning emcees TV personality Chris Saldaña and Edie of Cirque Du Soleil's Zumanity. Each year, famous performers from the Las Vegas Strip and beyond come together for the cause and offer the most eclectic and entertaining production in Las Vegas. Showcasing new numbers and talent, audiences are always surprised, thrilled and inspired by the performances at this exclusive event. The event is one of the largest HIV/AIDS fundraisers in Nevada and is Golden Rainbow's main source of revenue.
---
Five-time GRAMMY-nominated and multi-platinum selling blues/rock guitarist, Kenny Wayne Shepherd, along with GRAMMY-award winning trio Los Lonely Boys, are set to co-headline at The Pearl inside Palms Casino Resort on August 1 at 8 p.m. Two decades into a recording career that began when he was 16, Kenny Wayne Shepherd has built an enviable resume as an accomplished recording artist, a riveting live performer and one of the most talented and distinctive guitarists of his generation. Shepherd's much-anticipated 2014 release Goin' Home is due out May 19. Armed with an encyclopedic knowledge of American Blues, Shepherd and his band cut 22 songs, with no studio trickery and minimal overdubbing.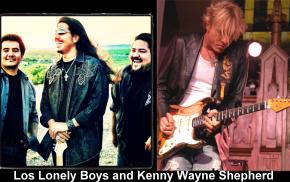 GRAMMY-award winning sibling trio Los Lonely Boys co-headline this amazing night of live music. The boys recorded their debut album, 2003's Los Lonely Boys, at Willie Nelson's Pedernales studio in Austin with Nelson sitting in. During their career, Los Lonely Boys have been GRAMMY-nominated six times and sold more than 3.3 million albums to date. Tickets are now on sale.
OTHER UPCOMING EVENTS AT THE PEARL: May 24 - Chris Tucker; May 25 - Maxwell; June 7 - Staind; June 21 - Gregg Allman with special guests Jaimoe's Jasssz Band; July 5 - Bob Weir with RatDog.
---
PANDA! the first-ever Chinese produced show to take up a Las Vegas residency, celebrated its 100th show at the PALAZZO. Hailed as "one of Las Vegas' best new productions" and a "jaw-dropping spectacle" PANDA! is produced by a team whose impressive credits include the opening and closing ceremonies of the 2008 Summer Olympics in Beijing. Combining high-flying acrobatics, mystifying martial arts, music, and dance, PANDA! features a talented cast of world-class performers from China National Acrobatics Troupe, Shaolin Monastery Kung Fu Monks Troupe, and China Star Dance Troupe.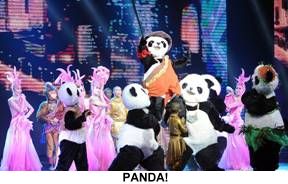 E! REALITY STAR HOLLY MADISON UNVEILS 1923 BOURBON & BURLESQUE AT MANDALAY BAY. The Prohibition Era of live jazz, bootleg liquor and seductive cabaret comes to life with a modern twist. The new social lounge will transport guests to an exclusive speakeasy featuring Bourbon Burlesque by Holly Madison, along with 1923's custom scratch cocktails, barrel-aged bourbon and premium cigars. 1923 provides the atmosphere for classic burlesque performed by alluring dancers and captures the decadence and spontaneity of the Jazz Age. The gorgeous women entertain the audience with song, dance and dynamic striptease vignettes throughout the evening.
---
You've got to give kudos to all involved with The Tempest that played throughout April in an overblown tent at Symphony Park at The Smith Center. Teller from Penn & Teller directed Shakepeare's last play The Tempest along with co-director Aaron Posner. The Tempest had its world premiere here for just one month and was presented to an appreciative Las Vegas audience. The Tempest storyline included: illusions, dazzling magic, music and song, interesting settings and costuming, great choreography and direction, and well-played performances (outstanding monsters who are two seemingly as one are exceptional dancers). All emotions are covered such as: passion, revenge, love, forgiveness et.al. Too bad The Tempest was only here for one month, but as it was a world premiere, the world will have its chance to see it too. However some changes will have to be made if the tent at Symphony Park will be used for future shows because of distractions with outside railroad car noise and sirens and some helicopters flying overhead.
---
The Broadway-style 90-minute comedy Pawn Shop Live! is now uptown at the Riviera on the Las Vegas Strip. Pawn Shop Live! is a comedic parody behind HISTORY'S television reality smash hit, "Pawn Stars," and is based on the story of the world's most famous and beloved pawn shop, Gold & Silver Pawn. The production, which has been fully endorsed by the stars of the hit television show, includes story contributions from Rick Harrison and the Harrison family. Produced by Emmy award-winning producer Derek Stonebarger and co-written and directed by Troy Heard, Pawn Shop Live! features seven live actors and dancers, as well as a puppet, celebrity guests and surprises (even Las Vegas Showgirls). Even the real "Pawn Stars" will appear on stage as often as their filming schedule permits. The on-stage characters are lampooned versions of Rick Harrison, Austin "Chumlee" Russell, Corey "Big Hoss" Harrison and Richard "The Old Man" Harrison - better known as Slick, Chump, Lil Boss and Old Fart. If you watch TV's "Pawn Stars" you will absolutely love Pawn Shop Live! that plays daily at 4:30 p.m.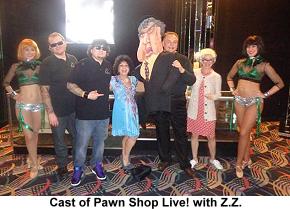 Treasure Island and 105.7 FM is celebrating summer with 'Old School by the Pool' Friday nights from 7 to 10 p.m. at the Treasure Island Pool and Cabanas. Guests age 21 and over can enjoy old school favorites performed by the area's hottest live bands poolside while indulging in tropical drinks from the Kahunaville bar. Cover charge is $5 and entrance is complimentary for hotel guests with a valid room key.
The lively lineup for the remainder of the summer features Block Party (May 16 and June 27), Treasure & Dream Stone (May 23), Jill Rock Jones (May 30 and July 25), MOCCA (June 6 and August 1), N-A-Fect (June 20 and July 11), Next Movement (July 4) and Rhythm Nation (July 17).
TOP OF NEXT COLUMN
The Riviera is pulling out all the stops with new entertainment. The Le Bistro Lounge Lounge has two great shows at 7 and 9 p.m.
FOREVER DOO WOP at 7 p.m. takes audiences on a 90-minute unforgettable journey through the exciting history of Doo Wop music. Starring an all-star, eight-person ensemble of lead singers from some of America's most influential musical groups including: Early Clover, Grammy Award-winning singer Jerome Jackson, Tonja Foster and Terrence Forsythe, Forever Doo Wop is comprised of a series of vignettes and mini concerts, spanning all genres of Doo Wop.
FOREVER MOTOR CITY at 9 p.m. features brilliant entertainers and former members of legendary Motown musical groups, including The Jones, Main Ingredient and The Spinners in a 90-minute non-stop, high-energy trip down memory lane. Sing, dance and celebrate songs by such American icons as Marvin Gaye, Smokey Robinson, The Temptations, The Supremes, Stevie Wonder, Lionel Richie and more from the renowned Motown roster.
---
MGM Resorts International has unveiled expanded plans and the first look at programming for its dynamic park, dining and entertainment district taking shape on the west side of The Strip. Creating an interactive neighborhood environment, The Park will connect New York-New York and Monte Carlo resorts and the new 20,000-seat world-class Las Vegas arena currently in development by MGM and AEG. New York-New York and Monte Carlo both are undergoing significant transformations of their Strip-facing experiences into robust plaza environments featuring casual eateries, bars, restaurants and retail destinations that will ultimately lead to The Park. Sambalatte specialty coffee lounge and espresso bar is now open at Monte Carlo. You can enjoy the interior sensory atmosphere or outside on the tree filled patio called 'The Boulevard' that graces the front of the Monte Carlo.
---
Super Summer Theatre 39th Season is now open! Super Summer Theatre is more than a show, it is an experience. This outdoor venue, just 10 miles out of Las Vegas, is 10 degrees cooler than the city. Bring a light jacket, pack a picnic dinner and experience the outdoors in the meadow prior to the performance. Guests are encouraged to throw down a blanket, or bring/rent a chair in general-admission grass seating. As the sun goes down, the curtain goes up and patrons can settle in for some great theatre under the stars. Super Summer Theatre schedule: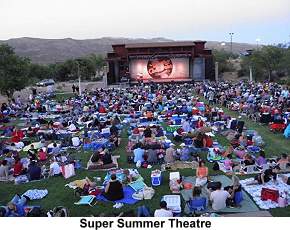 Monty Python's Spamalot: A Funny Thing Happened on the Way to the Forum; Shrek the Musical and Arsenic and Old Lace. Info: supersummertheatre.org.
---
Although the first night of the Las Vegas Foodie Fest had to be closed down due to extremely high winds, the event, celebrated a successful weekend. The event was presented by MGM Resorts International and PepsiCo and more than 45,000 attendees passed through the gates over the weekend to enjoy an excess of 50 food trucks and specialty vendors from across the country.
---
Delano, the original boutique hotel that changed South Beach forever, is coming to Mandalay Bay this fall.

With its sophisticated style, luxury and impeccable service, Delano Las Vegas will transform current THEhotel tower into an all-suite boutique hotel tailored to the desires of the most discerning traveler. Delano suites, with their crisp modern design and stylish simplicity, will provide a seductive oasis. Each 725-square foot suite will feature a private bedroom with a spacious spa-style bath and separate living room with its own powder room. The living room will be a plush retreat that embodies luxury.
---
Fremont Street Experience invites the public to Zip Now, Zoom Soon on the world's most unique zipline - SlotZilla™. The new attraction, built over the past 14 months at a cost of $12 million, is opening in two phases with the lower Zipline now open and the upper Zoomline opening later. The 12-story slot-machine-themed takeoff tower, which glows in neon at night, is a new must-see icon.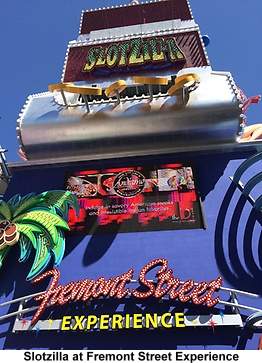 ---
Station Casinos has great entertainment scheduled in May. Green Valley Ranch Resort : DJ Greg Lopez at on Saturdays, DJ Eric Forbes at on Sundays, DJ Roger Gangi on Mondays, Poolside Sessions on Thursdays. Red Rock Resort: Grey Street May 25 and DJ L1 on May 24 and 25. Fiesta Henderson: DJ G Squared Monday, May 26, Bonkerz Comedy on Thursday, May 29. Santa Fe Station: Doublewide on Fridays. Palace Station: Peter Love Trio on Fridays, WILLplay on Saturdays. Boulder Station: Reflection on Friday, May 30.
UFC 173 viewing parties at Red Rock Resort, Santa Fe Station and Sunset Station on Saturday, May 24.
---
Tony Sacca is celebrating 50 years in show business and now there is a book written about his 50 year journey in entertainment. Tony Sacca who has been called "Las Vegas Ambassador of Entertainment" started performing at age 12 and has been a mainstay in Las Vegas for over 30 years as an entertainer. As part of his numerous endeavors, Tony has produced and hosted live and television variety shows and each year is the host of San Gennaro Feast shows. The book written by Arlene Krieger called"Tony Sacca, Las Vegas Ambassador of Entertainment! will be launched nationally May 31. Congratulations Tony!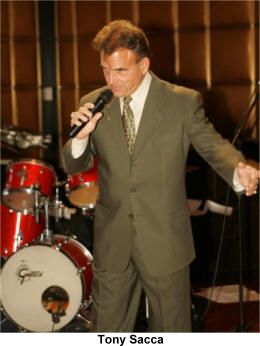 MURRAY 'CELEBRITY MAGICIAN' celebrates 2 years headlining in Las Vegas. Murray and cast members Chloe Crawford and "Lefty" new comedic video for the TSA was unveiled at McCarran International Airport in Las Vegas for passengers highlighting what they must scan through security. The new security videos address changes to TSA procedures for liquids, gels and aerosols; metals and electronics; carry-ons; strollers; weapons and more.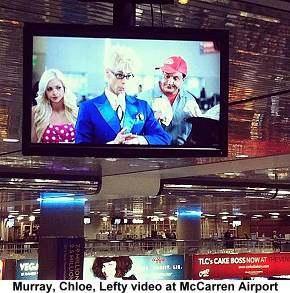 Elixir is set to become the 'Home away from Home' for residents living in Green Valley looking to have some fun, with comfortably priced, house-made cocktails and handcrafted food, a VIP Gaming Club, a relaxed environment to hang with friends or make new ones, Happy Hour twice daily and much more. Elixir is open 24 hours a day, seven days a week and is located at 2920 N. Green Valley Parkway just north of Sunset Road and is Green Valley's hidden gem making it a perfect spot whether it's for lunch, Happy Hour or late night. Guests can also enjoy live music on Thursday, Friday, and Saturday nights or unwind and escape to Elixir's Patio – an outdoor space, complete with dining tables and comfy couches. The perfect place to relax under the stars and enjoy an amazing view of the Vegas lights.
---
SPRINGS PRESERVE is a remarkable place to explore and enjoy. With 180 acres of scenery, wildlife, exhibits and attractions you could probably spend an entire day there. One of the Preserve's most popular exhibits recreates a desert ravine, emulating the beauty and tranquility of the desert, until a thundering storm erupts. Suddenly, more than 5,000 gallons of water rushes through a simulated canyon, crashing around and below your feet. (you don't get wet) Both exhilarating and educational, the Flash Flood exhibit will leave you with an appreciation for the awesome power of desert flash floods and their impact. Even if you have been there, go again as there are always new things to see and do. I know, as I've been there many times and love it.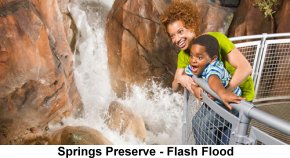 If you are one of those millions of radio listeners who follow the "comedy channels on, Sirius/XM, Slacker, Pandora's Box, or any of the other myriad of outlets broadcasting stand-up comedy, you have heard of Jeff "Big Daddy" Wayne. And, surprise, surprise, you can see him live, beginning Monday through Sunday (5/26-6/1, 2014), at the Comedy Club inside the Riviera. Jeff "Big Daddy" Wayne will be sharing the Riviera stage with the legendary Jimmie (JJ) Walker. (who happens to be my neighbor), The show will be more than, "Dynomite! TNT plus Dynomite, equals a huge comedy blast!" Showtime nightly is 8:30 pm, with tickets priced at $29.99.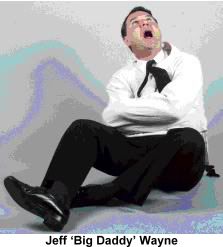 Jeff "Big Daddy" Wayne will be sharing the Riviera stage with the legendary Jimmie (JJ) Walker. (who happens to be my neighbor), The show will be more than, "Dynomite! TNT plus Dynomite, equals a huge comedy blast!" Showtime nightly is 8:30 pm, with tickets priced at $29.99.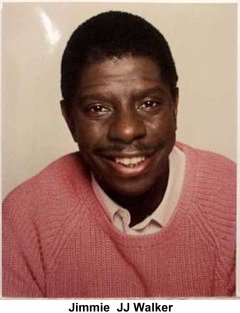 On Thursday, May 22, Shaggy Chic, the luxury, natural and eco-friendly pet salon and treat boutique, will sponsor a Mutt Mixer from 5 to 8 p.m. at Tivoli Village offering guests, with two and four-legs, a night of live music and doggie entertainment. Mutt Mixer will be a festive outdoor fair for leashed pooches and their owners. Shaggy Chic has joined with Tivoli Village to host the special doggie themed evening featuring various vendors, including dog fashions, pet obedience training, caricatures, a pet psychic, pet CPR demos, and even "doga" (doggie yoga).
Refreshments will include craft beer and wine tastings for the humans, and Shaggy Chic jerky samples for the pooches. There will also be raffle prizes and a doggie kissing booth to raise money for local rescue organizations, including A Home 4 Spot, The Animal Foundation and Las Vegas Hot-Diggity Dachshund Club and Rescue. These organizations will also have pets available for adoption.
---
Stephen Sorrentino, musical comedian performs "A Single Man in Concert" Saturday, June 14 at 7 p.m. in Santa Fe Station Casino Chrome Showroom.

His live stage show,"Voices in My Head" is the perfect "tour de force" for his comedic, musical, and improvisational showmanship. Performing on guitar as Jose Feliciano, piano as Elton John, flute as Ian Anderson or just solo on sax, Stephen's extensive musical background wows audiences around the world.
Stephen Sorrentino is presented by The Wright Entertainment and the Gateway Arts Foundation that promotes the arts and scholarships in Las Vegas. The cover charge for the show is $15 (cash only) at the door.
---
An extraordinary theatrical production honoring the life and music of the legendary Frank Sinatra, FRANK The Man The Music was performed by Bob Anderson inside the Venetian Theatre. I've known Bob Anderson for years but only saw Frank Sinatra onstage as his makeup artist unbelievably transformed him into Frank Sinatra. Bob Andersons' great voice and characterization as Sinatra was backed by Sinatra's own Vincent Falcone who conducted an impressive 32-piece live orchestra. What a great show this was. This was a showcase to book a more permanent Las Vegas showroom. I hope it happens.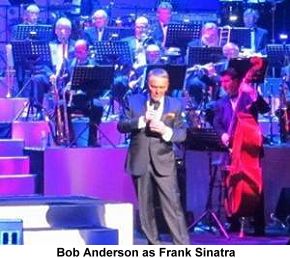 Andy Walmsley who brought the hilarious roasts of Zowie Bowie and former Mayor Oscar Goodman to Las Vegas has now launched VegasHungover.com. This is a unique and fun site where tourists can post funny photos of themselves or their friends being silly, drunk, wacky, or all of the above, while they were enjoying themselves in Vegas.
---
PALM SPRINGS FOLLIES CLOSES FOREVER MAY 18. The celebrated show ends its run after nearly 4 million patrons and 5,000 performances. One of America's longest running theatrical attractions, The Fabulous Palm Springs Follies, closes its doors forever thus ending a celebrated 23-year run. Follies Impresario Riff Markowitz, 75, says, "We have dramatically shown the world a new way of looking at 'old.'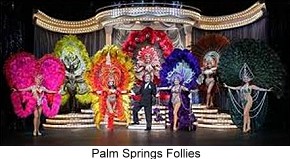 Looking back over these many seasons, I would say I'm most proud of that. Our cast has proven - beyond any shadow of a doubt - that there really is life after 50, 60, 70, 80 and beyond—that life can have extraordinary value regardless of age."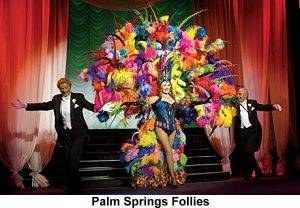 MaxVegas puts the party on wheels, taking revelers on the ultimate VIP party tour to the hottest spots in Las Vegas. From 9 p.m. to 3 a.m. every Thursday through Sunday, the party bus starts the night at PBR Rock Bar & Grill, continues the fun at Rockhouse, and then heads down Strip to two popular Las Vegas nightlife destinations, which could include LAVO, TAO, 1 Oak, The Bank, PURE, HAZE, Chateau, Fizz and LAX. MaxVegas tours are priced at $49.99 per person and vary each night, giving partiers a different VIP experience with every tour. MaxVegas also offers customizable group options that allow revelers to select their party destinations. For information visit: www.maxvegas.com.
---
CONTINUE ON TO...:

> Entertainment Tidbits Archives
>Las Vegas News "Heard Around Town"
>Las Vegas Leisure Guide<