The 20th Power of Love Gala continues to grow as musical icons join the celebration of legendary performer and 18-time GRAMMY winner Tony Bennett's 90th birthday on Saturday, May 21, at the MGM Grand Garden Arena in Las Vegas. In honor of Bennett's milestone birthday celebration, musical stars from an diverse mix of genres will take the stage to perform some of the timeless hits Bennett has recorded in his 70-year career.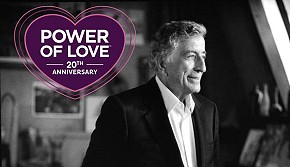 Joining the line up are: contemporary jazz trumpeter and GRAMMY winner Chris Botti; actor, writer, producer and host of THE LATE LATE SHOW on CBS James Corden; American soul and R&B singer/songwriter and GRAMMY nominee Andra Day; 14-time GRAMMY winner and American musical icon Herbie Hancock; music legend and celebrated producer Quincy Jones; multi-platinum jazz star and 5-time GRAMMY winner Diana Krall; piano prodigy and budding pop sensation Dan Orlando; country music artist Darius Rucker; and global superstar Steven Tyler. One of the most celebrated singers and entertainers in the world, Bennett has delighted sold-out audiences the world over for decades, selling more than ten million recordings in the last ten years alone. Known for such timeless hits as "The Way You Look Tonight," and "It Don't Mean a Thing If You Ain't Got That Swing," the annual Power of Love gala will bring together musical artists to pay tribute to Tony's musical genius in a celebration of song and philanthropy. For the first time ever, Keep Memory Alive's 20th annual Power of Love Gala will highlight artists from multiple mediums as an extensive array of painters, sculptors, and more join honoree and fellow artist, Tony Bennett in celebration of his 90th birthday. To support "Bendetto" on his milestone birthday, artists from multiple genres will attend the philanthropic event to raise funds and awareness for the Cleveland Clinic Lou Ruvo Center for Brain Health. The artists will be recognized during a special presentation at the event narrated by Academy Award, Golden Globe, and Emmy nominee Minnie Driver. Artists attending include: President and Founder of Cultural Counsel Adam Abdalla; Golden Lion Award-winning artist Marina Abramović; American artist and glass sculptor Dale Chihuly; President and CEO of Chihuly Studio and Chihuly Workshop Leslie Jackson Chihuly; American pop and conceptualism artist Jonathan Horowitz; Governor's Award-winning artist and sculptor Jeff Koons; American post-conceptual artist Rob Pruitt; legendary New York artist Peter Tunney; and curator, creative director, and writer Neville Wakefield.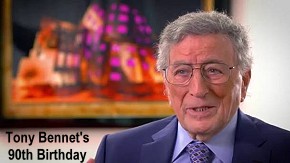 The Power of Love gala, began in 1996 as an evening dedicated to fighting the ravages of Alzheimer's disease with the founding of Keep Memory Alive by Larry Ruvo in honor of his father, Lou. Since then, it has blossomed into a celebration partnering with some of the most celebrated chefs and entertainers in the industry for an evening of philanthropy, while raising awareness and funds for Keep Memory Alive in support of the Cleveland Clinic Lou Ruvo Center for Brain Health. Tickets: keepmemoryalive.org/pol or call 702.263.9797.
Las Vegas headliners HUMAN NATURE now has a three-year residency with the brand new show "JUKEBOX," specially crafted for its home at the Sands Showroom in The Venetian. Australia's HUMAN NATURE, one of the world's greatest vocal groups and a true Las Vegas success story, has kept sold-out audiences dazzled and dancing during their internationally celebrated "MOTOWN Show," which premiered at The Venetian in 2013. "JUKEBOX" will see HUMAN NATURE'S foursome, Toby Allen, Phil Burton and brothers Andrew and Mike Tierney, backed by a dynamic seven-piece band and world-class dancers, as they celebrate a mix of pop classics with doo-wop, boy band with Bandstand, soul standards with Motown… and even some "Uptown Funk."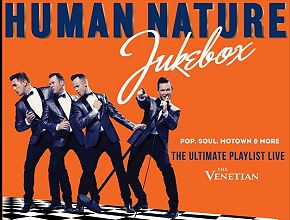 "JUKEBOX" is not only a playlist of the group's influences, but some of the most-loved hit songs from the best vocal artists and groups of all time, including "Will You Love Me Tomorrow," "Stand By Me," "Unchained Melody," "Dance To The Music" and "Under The Boardwalk." The "JUKEBOX" residency is another high for a group that has been together since school days and are now celebrating their 26th year together. HUMAN NATURE has previously hit the top of the charts in Australia and the UK and have a staggering 25 platinum awards to their credit Career highlights include playing to a global audience at the Sydney 2000 Olympics. HUMAN NATURE was handpicked to travel the world opening for Michael Jackson and Celine Dion and have collaborated frequently with the likes of American icon Smokey Robinson.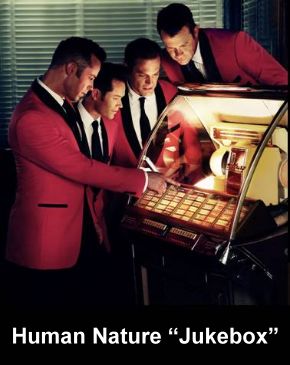 SPI Entertainment produced the new show that performs Tuesday through Saturday nights at 7:00 p.m. tickets start at $49.50 + taxes and fees by calling 702-414-9000 or 866-641-7469.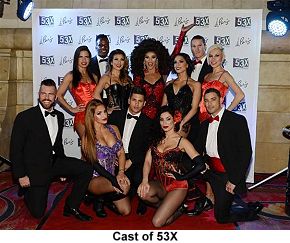 The grand opening of the Strip's newest show, 53X, at the Chateau Showroom at Paris Las Vegas is sexy fun and also the unexpected. The provocative cast of men and women dance, tease and stimulate all your senses. Audience interaction and comedy from world famous host Shangela of Rupaul's DragRace, 53X is something to experience. Onlookers at the red carpet were star stuck as the newest guest star of Chippendales, Antonio Sabato Jr., along with the cast of Chippendales, PIN UP star Claire Sinclair, magician Murray SawChuck and the gorgeous cast of 53X and host star Shangela and Alex Newell, the singing/dancing character, Unique Adams, on "GLEE," all posed. Afterwards, guests were escorted up to the Chateau's Rooftop by sexy French maids for a cocktail reception and enjoyed beats by DJ ShadowRed prior to showtime.
53X show gets you turned up and turned on! Created by the producers of Chippendales, 53X boasts the same energetic sex appeal that made their male performers legendary but with the addition of powerful and gorgeous female entertainers both the guys and the girls bring serious heat to the stage alongside their host, Shangela making 53X fiercely fun, funny, and cutting edge. During the 75-minute production, the provocative dancers, four men and four women, tease, satisfy, please and play through a dynamic mix of musical numbers ranging from pop hits to world beats. As opportunities for audience participation arise, the sensuously choreographed show surprises viewers with an unexpected mixture of spontaneity and humor. Finally, here is a show for everyone where feeling sexy and vibrant is not boxed in by a demographic, orientation, gender, or social strata. Audience members feel the high and pleasure of losing their inhibitions as these talented performers show them exactly what liberation looks, sounds and feels like.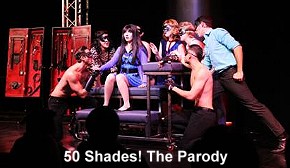 The Las Vegas Strip hit show, "50 Shades! The Parody" celebrated its first anniversary at the Windows Showroom at Bally's. The filthy and funny musical "50 Shades! The Parody" is also moving to a brand new naughty time slot of 9:30pm. Over the past year, the 69-minute "50 Shades! The Parody" has been performed nearly 350 times for over 50,000 audience members in Las Vegas. Based on the best-selling "Fifty Shades of Grey" trilogy, the show is a hilariously naughty satire created for audiences 18 and over that explores the steamy relationship between Christian Grey and Anastasia Steele, as seen through the eyes of a trio of girlfriends reading the novel at a book club meeting. As the women devour the novel, the character's tasteless affair comes to life before their eyes.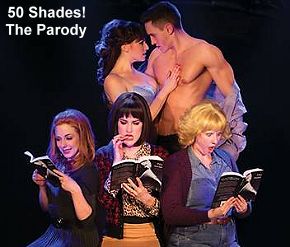 The boisterously talented cast is accomplished and experienced and has performed in numerous theatre, Broadway and off-Broadway productions and includes singer, actress/ entertainer Maren Wade, Sabrina Sia, Adriana Lomysh, Christine Hudman, Philip Drennen, Matt Donnelly, Paul Mattingly, Mark Romain, Marlana Dunn, Chris Hodgson and James Simpson. People come to the show not knowing what exactly to expect, but walk out with the biggest smiles. "50 Shades! The Parody" features a shameless original score, including "Open Your Book," "I Don't Make Love," and "There is a Hole Inside of Me." "50 Shades! The Parody" is performed Tuesday through Sundays at 7:30 p.m. and will be changing to 9:30 p.m. as of April 19.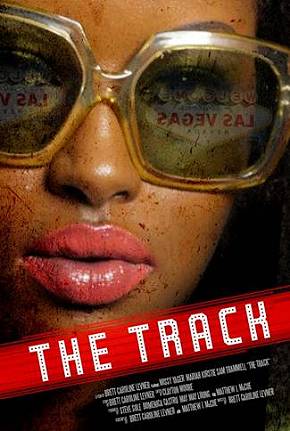 Exposing the Dangers of Sexual Exploitation in Las Vegas. The first screening of 'The Track' an independent feature film produced by the UNLV Film Department about sex trafficking in Las Vegas was held at the Brenden Theatre. Organized by Lena and Ken Walthers, the $30 admission benefitted Awareness Is Prevention, a nonprofit organization fighting sex trafficking in Las Vegas. Filmed in Las Vegas, 'The Track' stars Missy Yager (Mad Men), Sam Trammell (True Blood, The Fault in Our Stars), Michael Muhney (Veronica Mars, The Young and the Restless), Clarence Gilyard (Die Hard, Walker, Texas Ranger) and introduces Mariah Kirstie. UNLV Film Department Professor Brett Caroline Levner directed the film. Levner is a graduate of Columbia University's Graduate Film Program and has taught at UNLV for five years The Track incorporated the talents of multiple departments and schools at UNLV and was shot exclusively in Las Vegas. The Track tells the story a woman from the suburbs, who crosses paths with a sexually exploited teenage girl working the streets of Las Vegas. The two strike up a friendship which blossoms into a mother-daughter relationship that saves both their lives. After the film a Q&A with a panel of those associated with The Track was very interesting. The film is aimed at educating the public about the very real dangers of underage sex trafficking in Las Vegas. According to Las Vegas Metro police, over two thousand underage prostitutes were picked up from 1994-2012. The hope is that the film will open the doors of communication about this issue and help to finding solutions to this very real epidemic. 'The Track' is currently being submitted to film festivals across the world and has secured distribution with Mar Vista Entertainment.
---
Honey Salt and Andiron Steak & Sea Restaurants will be celebrating the Jewish holiday of Passover April 22 - 30. At Honey Salt 1031 S. Rampart Blvd traditional Passover menu items are available a la carte only. All guests enjoying the holiday will receive Passover popovers. Favorites include Matzo Ball Soup ($8); Honey Glazed Chicken with cauliflower hash browns and thyme jus ($24); Red Wine Braised Brisket with maple glazed root vegetables, prunes and roasted potatoes ($30); and Flourless Valrhona Chocolate Cake with vanilla bean ice cream ($9). At Andiron Steak & Sea 1720 Festival Plaza Drive at Downtown Summerlin menu items are available a la carte or $45 for the entire meal with choice of entrée. Starting with Chopped Chicken Liver Matzo Crackers, guests can then enjoy Matzo Ball Soup with chicken broth and braised vegetables ($10); Grandma Rose's Braised Short Rib with roasted fingerling potatoes, meyer lemon gremolata ($31); Mary's Organic Chicken Breast with broccolini and onion jus ($27); and Flourless Chocolate Cake with vanilla bean ice cream ($8). Happy Passover!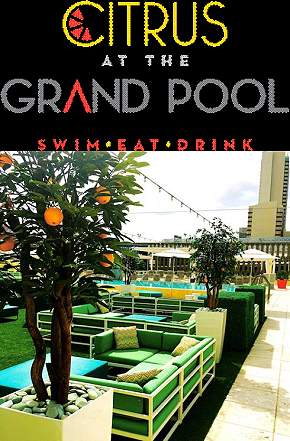 Downtown Grand Las Vegas Hotel & Casino is kicking off the summer season with a grand opening celebration for its new pool experience, Citrus at the Grand Pool Deck on Saturday, April 30 beginning at 8:30 p.m. Open to the public a FREE poolside concert will include favorite local indie pop duo Goldboot along with other special musical guests. Drink specials from the all-new specialty menu are offered. Featuring skyline views of downtown Las Vegas, Citrus at the Grand Pool Deck features fresh new décor, entertainment, and a new menu with weekday specials from 4-7 p.m. Welcoming the downtown community and all locals, Citrus at the Grand Pool Deck is open to the public and free to hotel guests and Las Vegas residents age 21+. Boasting 35,000 square feet, Citrus at the Grand Pool Deck is a unique urban rooftop pool retreat featuring an infinity pool, private cabanas, full bar, dining, a fire pit, and grass seating area where guests can lounge or enjoy a variety of activities including foosball, corn hole, table tennis and more. An all-new lineup of live entertainment will include weekend DJs, concerts and special events. Locals and Guests can celebrate a special occasion or beat the heat with a private cabana rental, which can be reserved through Concierge Services by calling (702) 719-5170. Citrus at the Grand Pool Deck is open daily from 9 a.m. to 7 p.m., with extended hours during special events and featured programming. Hotel guests and local residents receive free admission.
TOP OF NEXT COLUMN
Internationally renowned Kabuki Masters will take the stage in the David Copperfield Theater at MGM Grand May 3 - 7 in "KABUKI LION Shi-Shi-O: The Adventures of the Mythical Lion," for six special performances. The visual spectacular, produced by Japan's leading entertainment company Shochiku, stars Ichikawa Somegoro, the world's most celebrated Kabuki artist. "KABUKI LION Shi-Shi-O: The Adventures of the Mythical Lion" will perform in Las Vegas during Japan's Golden Week, which commemorates several national holidays including Shōwa Day, Constitution Memorial Day, Greenery Day, and Children's Day. Due to the holidays, Golden Week is one of the busiest times of the year for Japanese nationals to travel. Tickets start at $65 and are now on sale at mgmgrand.com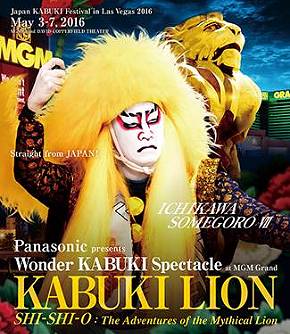 Originating in the early 17th century, Kabuki combines three Japanese words, "ka" - signifying song, "bu" - dance and "ki" - skill. The art form originated in the early 17th century and is known for its spectacular presentation, dynamic fight scenes, masterful choreography and the unique "onnagata" - male actors who impersonate women in Kabuki theatre. The coming-of-age tale tells the story of Shi-Shi-O, a devout Buddhist who sends his children on a mission to defeat a mythical creature and retrieve a sacred sword that has been stolen from Monju, the deity of spiritual wisdom. To do so, the brothers must descend from a stone bridge and into the netherworld, where they face trials and tribulations that also serve as rites of passage.
In August 2015, Shochiku, debuted another epic performance also starring Ichikawa Somegoro at The Fountains of Bellagio integrating the ancient art form with water choreography, projections and music. I was invited to that performance and it was amazing. To celebrate Golden Week, dynamically designed hologram samurai shows will return to The Fountains of Bellagio from April 29-May 7. The water shows can be seen daily at 8 p.m., 9 p.m., 10 p.m., and 11 p.m.
---
The legendary Chippendales at Rio will have a hot new celebrity guest from May 5 through June 5. The world-renowned actor and model, Antonio Sabàto, Jr. will grace the acclaimed production with his stunning good looks, physique, sex appeal and his unmistakable charm. If you've seen him on Dancing With the Stars, then you know Sabàto Jr. has the moves to heat up the Chippendales atmosphere like never before. Imagine him surrounded by the hottest men in show business in an exciting live production!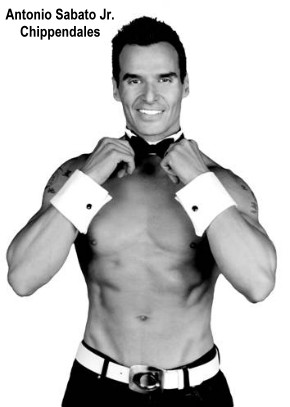 Chippendales revamped the show last year and the already sexy production is now amped to hot and heavy heights. The show's new music features top artists from Bruno Mars to Chris Brown. The lighting and musical staging and the signature strip style, combined with edgy dance moves makes the Chippendales show an audience and critic's pick! Every naughty fantasy imagined comes to life eliciting waves of screams from the excited audience. Chippendales is perfect for any Girls Night Out occasion, bachelorette party, birthday bash or just a wild night out…Chippendales shows are the ultimate way to let loose and have fun. Chippendales performs nightly at 8:30 p.m., with additional shows on Thursday, Friday and Saturday at 10:30 p.m. Antonio Sabàto, Jr.'s, limited engagement May 5 through June 5 is on Thursday through Sunday night performances only. Tickets range from $54.95 to $80.30 + tax and fees.

Nevada Ballet Theatre's season finale at The Smith Center for the Performing Arts on Saturday May 14 at 7:30 p.m. and Sunday May 15 at 2: p.m. brings one of Shakespeare's most beloved tales Romeo and Juliet to life, set to Sergei Prokofiev's eternal score. Artistic Director James Canfield's critically acclaimed production of star-crossed lovers engages the minds, senses and emotions of the viewers. William Shakespeare's most famous tale of feuding families is a journey from innocent love to fateful destiny, and makes for a heart-wrenching and lyrical finale to the NBT season. An Insights pre-performance presentation on Romeo & Juliet--open to ticket holders, features Michael Bahr, Education Director, Utah Shakespeare Festival for in-depth commentary on the history and music of this time-honored storied ballet This program begins 45 minutes prior to curtain and takes place in the Troesh Studio Theatre next door to Reynolds Hall.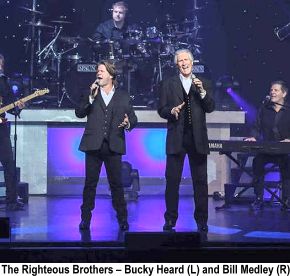 The Righteous Brothers are back in a new show with Bill Medley and Bucky Heard at Harrah's. Bill Medley and Bobby Hatfield, who died in 2003, got together to sing when they were 22 years old and were together for 40 years. Now, Bucky is a great singer and does very well with Bill as The Righteous Brothers and they are in Las Vegas with a three-month residency at Harrah's. Bill said "We always did our show like it was the last show we would ever do, so we gave it everything we had." That is what is happening every night they perform with a fabulous eight-piece band and a trio of wonderful female backup singers that include Bill's daughter McKenna. Bill and McKenna join together to sing "I've Had The Time of My Life" from "Dirty Dancing." Both Bill and Bucky had solo performances that brought about standing ovations. Videos and recalling memories brought many tears and also tears of joy.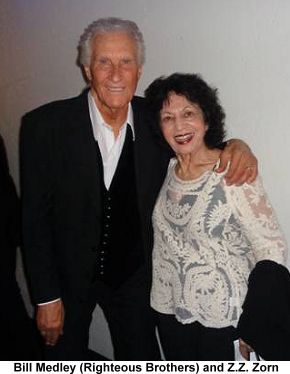 Bill Medley and I knew each other many years ago and it was so great to see and hear him perform again. The enthusiastic audience enjoyed the many remembered songs such as "You've Lost That Lovin' Feeling" and "Unchained Melody"as if they were new again. Treat yourself, as it really is a 'must see' show.
Dog Haus Las Vegas is now at the Paradise Esplanade (formerly Johnny Rocket location across from the Hard Rock Hotel). Since debuting in Pasadena, Calif. June 2010, they are located in Utah, Colorado, Arizona and Texas and eleven sites in California. Dog Haus' is famous for 7 signature Haus Dogs, Haus Sausages, HausBurgers, all on grilled King's Hawaiian Rolls, plus sliders, tater tots, onion rings, Haus Slaw, Chili, Shakes, Drinks that include Craft Beer, Wines, Cocktails, Fountain drinks and more. I was invited and ordered the Ava Maria Haus Burger, onion rings and a Salty Carmel Shake. (I don't know why they call the Shake Salty, as it is really sweet). All was delicious and I was so stuffed, I could hardly finish it all.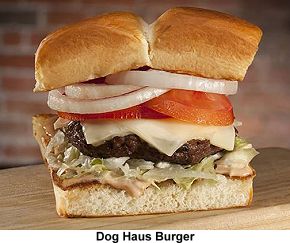 The new Dog Haus Vegas, will celebrate the end of the school year this May with exclusive specials for University of Nevada, Las Vegas, graduates and staff. Diplomas'Special offers new graduates a free Haus Dog when they present their diploma from Saturday, May 14, through Sunday, May 15.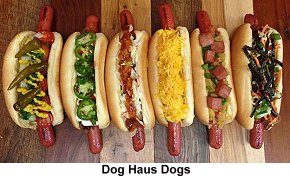 And, in honor of Teacher Appreciation Week, UNLV faculty and staff may also enjoy 20 percent off the total food and drink bill with a valid UNLV ID from Sunday, May 1, to Saturday, May 7. Dog Haus Vegas. Dog Haus Vegas is eager to play an active role in the community through fundraisers and other charitable partnerships and will celebrate 'National Eat What You Want Day' with a special happy hour to benefit After-School All-Stars Las Vegas (ASAS) from 5 to 7 p.m. on Wednesday, May 11. Dog Haus will donate proceeds of food sales during the timeslot to ASAS, a local non-profit organization that provides free enrichment, cultural and academic opportunities each day after school to more than 6,000 students from 14 at-risk elementary and middle schools located throughout the Clark County School District. The ASAS programs are designed to help students achieve in school and in life.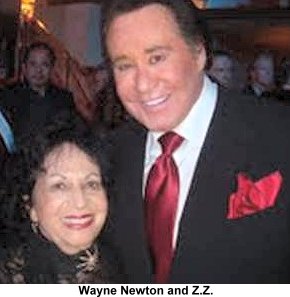 Las Vegas actor, singer, entertainer legend, Mr. Las Vegas, Wayne Newton makes his return to the stage after more than five years with his all-new and original production, "Wayne Newton: Up Close and Personal," at the Windows Showroom at Bally's beginning April 21. After working since he was just four years old, Newton took some time off to spend with his family and to get his iconic estate "Casa de Shenandoah" open for tours. Now, Newton is back with "Wayne Newton: Up Close and Personal," a show unlike any he has ever done before, boasting a compilation of all of Newton's extraordinary talents. Newton will sing crowd favorites including hit, "Danke Schoen," as well as engage with the audience by answering questions, making for a truly extraordinary experience. His vast musical talents will be on display as he plays an assortment of the many instruments he has perfected. Having performed over 30,000 shows in Las Vegas, Wayne Newton will share the fantastic stories and videos that were influential on his legendary 50+ year career.
Ticket prices start at $75. A VIP package is available for $150 and includes VIP seating and a meet and greet. All shows are scheduled for 7:30 p.m.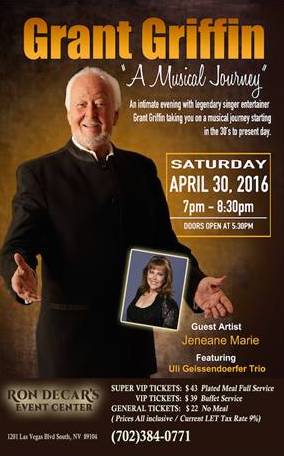 Grant Griffin "A Musical Journey"on April 30 at Ron DeCar's Event Center will be an intimate evening with legendary singer entertainer Grant Griffin taking you on a musical journey starting in the 30's to the present day. Guest starring Jeneane Marie and featuring the Uli Geissendoerfer Trio. Super VIP Tickets: $43, includes a full service plated meal VIP Tickets: $39, includes buffet dinner General Admission Tickets: $22, show only. Doors open at 5:30 pm, show begins at 7:00 pm. For reservations: call (702) 384-0771
---
Baseball legends Steve Garvey and Pete Rose will team up to "Talk Baseball Rivalries... Past and Present" at the Suncoast Showroom on April 30 at 7 p.m. Steve Garvey played Major League Baseball (MLB) as a first baseman, most notably for the Los Angeles Dodgers. Nicknamed "Iron Man" for setting the National League record for 1,207 consecutive games played, Garvey was the 1974 National League Most Valuable Player and a 10-time All-Star. Pete Rose, also known by his nickname "Charlie Hustle," is a former baseball player and manager. Rose played in the majors from 1963-86, during which he became the all-time Major League leader in hits, games played, at-bats, singles and outs. Rose was also named Rookie of the Year and won three World Series rings, three batting titles, two Gold Gloves, one MVP award and made 17 All-Star appearances at five different positions. He managed from 1984-89.
---
Life Time Athletic Green Valley's "Hot Havana Nights" themed party will be from 6 p.m. to midnight on Saturday, April 23. The poolside event will feature dancing, live entertainment and Cuban appetizers, as well as Life Time Athletic's signature poolside cocktails, available for purchase. As they enter, guests will receive a complimentary signature cocktail from Life Time Athletic's Poolside Bar. A DJ will set the mood with sultry Latin music from 6 to 7 p.m., and fire dancers will turn up the heat with their flame-juggling skills from
7 to 9 p.m. The event will be complimentary for Life Time Athletic members and their guests. More information is available by calling Life Time Athletic Green Valley at 702.802.7300.
---
BEER PARK's "Sundays at the Park" at Paris bring the ballpark atmosphere to the Las Vegas Strip with an authentic game day-style tailgate. Every Sunday from noon to 4 p.m., guests may enjoy music from a resident DJ and tailgate-style tournaments including corn hole and shuffleboard. Between competitive bean bag toss bouts, traditional stadium favorites such as hot dogs, ice cream, crackerjacks, peanuts and more will be sold from roaming concessions.
---
CRAZY Pita does it again! In my last month's article I told about the delicious food and generous donations by Crazy Pita. Now, Crazy Pita Rotisserie & Grill donated $1,685.40 to St. Jude Children's Research Hospital. The money was raised through a donation drive they hosted during the month of March at all three Crazy Pita locations.
---
Cinco de Mayo party time at Tacos & Tequila (T&T) inside Luxor will be from 6 to 9 p.m. on Thursday May 5. Social media personality and international model Jessa Hinton will host T&T's "Sexy de Mayo Très" Fiesta. Hinton is best known for roles in Comedy Central's "Tosh.0" as well as the popular drama series "Baywatch." While at T&T, Hinton will walk the red carpet before mingling with fans and will bring the heat to T&T's Cinco de Mayo Celebration with a variety of food and drink specials, interactive games and more throughout the evening.
CONTINUE ON TO...:

> Entertainment Tidbits Archives
>Las Vegas News "Heard Around Town"
>Las Vegas Leisure Guide<