Acclaimed television personality and Las Vegas native, Jimmy Kimmel, will host the third annual 'An Evening with Dave Rice' fundraiser to benefit the Dave Rice Foundation beginning at 6:00 p.m. on Saturday, May 17, inside the MGM Grand. The Dave Rice Foundation was founded by

Coach Rice and his wife, Mindy, in an effort to raise support and awareness for several Autism-related organizations throughout Southern Nevada. Kimmel, the host and executive producer of ABC's "Jimmy Kimmel Live!," is a lifelong UNLV hoops fan and serves on the board of directors for the Foundation.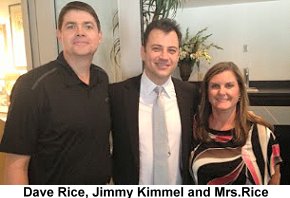 'An Evening with Dave Rice' hosted by Jimmy Kimmel' will begin with a VIP cocktail reception and silent auction followed by a gourmet sit-down dinner with a live auction and entertainment. Coach Rice will also present the Kenny Guinn Award for Commitment to Community to the 2014 recipient, which will be announced prior to May 17. Individual tickets and donation information may be found by visiting www.davericefoundation.org or calling 702-586-4180.
The restaurants of Downtown Grand Las Vegas Hotel & Casino will offer Smith Center Sundays giving attendees of performances at The Smith Center for the Performing Arts the opportunity to save 50 percent off their meals on Sundays in April. Conveniently located on Downtown 3rd, just minutes from The Smith Center, the restaurants of Downtown Grand Las Vegas are the perfect option for people looking to pair dinner and a show. Every Sunday in the month of April, Triple George Grill, Stewart + Ogden, Red Mansion and The Commissary will offer customers dining before or after a Smith Center performance, 50 percent off their meal (excluding alcohol). To take advantage of the dining savings, customers only need to show their ticket stub or proof of ticket purchase. Downtown Grand also offers customers complimentary shuttle service to and from The Smith Center. The shuttle service is offered on a first come, first serve basis and can be coordinated with the Guest Services team at the hotel lobby of the Downtown Grand.
Downtown Grand's Smith Center Sundays coincide with The Smith Center's first world premiere of William Shakespeare's The Tempest, an adaptation of Shakespeare's final play adapted and directed by Teller, of Penn and Teller, and award-winning playwright and director Aaron Posner. The Smith Center's first co-production presented in association with Harvard University's Tony-winning American Repertory Theater will run until April 27 in a 500-seat, climate-controlled tent in Symphony Park.
And, The Mob Bar at the Downtown Grand adds to its live entertainment line-up with headliner comedy acts on Friday and Saturday nights. Every Friday night, Mob Bar will be home to a 90-minute comedy show produced by Bonkerz Comedy Productions, one of the nation's oldest and most successful comedy production companies. Saturday nights will offer an abbreviated 30-minute act followed by Mob Bar's longstanding dueling piano entertainment. There is no cover charge to attend the comedy shows, but there is a two drink minimum.
---
More in Downtown Las Vegas: Spending the night in Downtown Las Vegas is about to get a whole lot better! Vegas' First Family of Entertainment, The Scintas will introduce a brand new take on their beloved original act with "Frankie Scinta" in the D's showroom. The revamped show has an expanded schedule as Frankie Scinta takes the stage each week alongside brother Joe Scinta, Peter O'Donnell and Janien Valentine, Saturday - Wednesday, at 8:30 p.m. Voted one of the top five shows in Las Vegas, The Scintas made headlines last year with the addition of former PEEPSHOW star, Janien Valentine and their new permanent residency at the D.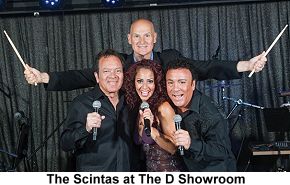 Frankie Scinta spotlights the signature characteristics that have made the show's star one of Las Vegas' most iconic performers - the voice, the music and the laughs - without compromising The Scintas' undeniable group chemistry, comedic antics and dynamic musical performances that have earned the ensemble a place in audience's hearts throughout the years. Taking center stage in the new production, Frankie invites guests to an evening of ultimate entertainment at the D as he unveils never-before-seen acts including contemporary songs from the likes of Bruno Mars, Coldplay and more.
---
Nevada Ballet Theatre's (NBT) 42nd season will culminate with Coppélia, rounding out the company's 2013-2014 season and second year as Resident Ballet Company of The Smith Center for the Performing Arts. Perfect for the whole family, Coppélia, with music provided by members of the Las Vegas Philharmonic is a charming story of a young couple in love, a toymaker, and his doll that comes to life. A wild mix of abracadabra and comic chaos is unleashed in this classical story ballet, with choreography by James Canfield and a full orchestra performing the exuberant score of Léo Delibes. Coppélia will be presented on Friday, May 9 at 7:30 pm and Saturday, May 10 at 7:30 pm. A free, pre-performance experience with in-depth commentary & multimedia content is presented 45 minutes before curtain in the Troesh Studio Theater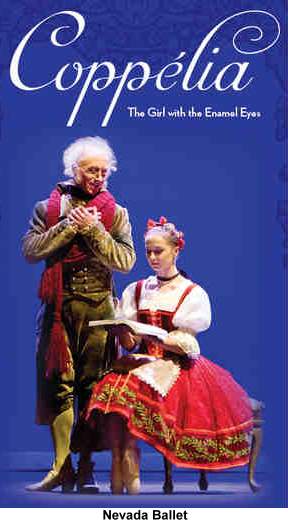 On Friday, May 9, at 11 a.m. over 1,000 local Clark County School District students will receive the opportunity to see Act II of Coppélia come to life on the Reynolds Hall stage at The Smith Center. Students are provided with a study guide prior to attending the performance and a special question and answer period will follow the show led by Director of Education and Outreach, Terané Comito.
---
Las Vegas Mayor Carolyn Goodman and former Mayor Oscar Goodman were on hand to welcome Las Vegas' first outdoor Bier Garten that doubles as downtown's backyard getaway. This backyard oasis at the PLAZA delivers downtown style to an indoor/outdoor eatery offering German-inspired food, two-dozen craft beers and various bottled microbrews. Bier Garten's unique outdoor dining area in front of the Plaza features nearly 3,000 sq. ft. of real grass and specially designed wooden trellises with winding vines to create a relaxed Bavarian beer garden setting.

Did you know how the Sandwich started? In 1762, John Montagu, the 4th Earl of Sandwich came up with the invention of serving roast beef placed between two slices of bread with other compliments, so that a complete meal could be eaten with his hands. Now over 250 years later, Earl of Sandwich, The World's Greatest Hot Sandwich at Planet Hollywood

and The Palms mission is to serve unique high-quality food that exceeds guest expectations. Hot Sandwiches are freshly made to order on the Earl's freshly baked Artisan Loaf with great new flavorful offerings. In addition hand-crafted wraps, salads, soups, cookies, brownies are all freshly made. Healthy and delicious, visit Earl of Sandwich and enjoy. I did!
---
HIP HOP HOORAY, EASTER's ON THE WAY! Castle Walk Food Court inside Excalibur Hotel & Casino will launch a week-long social media Easter egg scavenger hunt from Monday, April 14, to Sunday, April 20. Each day, one egg will be hidden at a major location within Excalibur. Holiday revelers can hop on to Castle Walk's Twitter and Instagram accounts, @ExcaliburCourt, and Facebook page, Facebook.com/ExcaliburCourt, to obtain a daily riddle providing clues to uncover the egg's hiding spot. After decoding the riddle, guests must be the first person to find the egg to be the winner. Each egg will contain instructions for winners to claim a variety of prizes, which will increase in value every day. On Easter Sunday, one lucky winner will score the grand prize of a two-night stay at Excalibur and a $50 gift certificate to Castle Walk Food Court. During the week-long scavenger hunt, Castle Walk guests spending a minimum of $7 on any food court purchase will receive one free spin on the prize wheel for a chance to win an assortment of complimentary items and discounts including a Krispy Kreme doughnut, lemonade from Auntie Anne's Pretzels and a brownie from Pick Up Stix.
---
MURRAY 'Celebrity Magician' is back at the Tropicana's Laugh Factory for his Spring / Summer run and is now into his 2nd year at the Laugh Factory. Murray SawChuck who dazzled the judges and 22 million people as a finalist on "America's Got Talent" currently appears as a Magic Expert on the History Channel's #1 rated series "Pawn Stars". Murray took the last 12 weeks off performing at the Tropicana to play dates out of town in Palm Springs and Ohio and film 3 new TV shows along with doing various charity shows in Las Vegas. Also returning to the Tropicana show is Chloe Crawford, Murray's wife and Fantasy Dancer.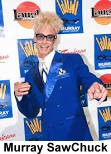 Chloe became Playboy's Cyber Girl of the Month for February. Doug 'Lefty' Leferovich, Murray's Sidekick' and Guest Act is one of Las Vegas' best 'details' consultant for many shows in town. He just finished working on The Jackson's at PH and before that Boys to Men at the Mirage.
As part of Viva Las Vegas Rockabilly Weekend at The Orleans and with a commitment to support the armed forces and veterans, Sailor Jerry Spiced Rum will be raising money for Honorable Recharge on Saturday, April 19 from 1 p.m. - 4 p.m. Viva Las Vegas attendees will be able to step up to a dunk tank and test their aim attempting to dunk Sailor Jerry Pin-up models. Balls will be three (3) for $5 and all monies raised will benefit Honorable Recharge, an organization aimed to assist combat veterans who suffer from PTSD, Traumatic Brain Injury, and other military wounds through education and support. Attendees may also make donations at their leisure via cash and credit card at the Sailor Jerry airstream located adjacent to the Honorable Recharge Dunk Tank.
In addition to raising money for Honorable Recharge, attendees will be able to marvel at the collection of custom cars which include the Sailor Jerry Rat Rod and Roadster, purchase the brand new Spring 2014 line of Sailor Jerry apparel as well as sample the spiced rum out of a converted 1950s Sinclair gas pump. Fans interested in attending must have Viva Las Vegas Rockabilly Weekend tickets. Ticketing information can be found at www.vivalasvegas.net/tickets.
---
Guns N' Roses, the world's most iconic rock band, marks their triumphant return to Sin City for a second residency, No Trickery! An Evening of Destruction, at The Joint inside Hard Rock Hotel & Casino. Mounting a second run due to overwhelming demand, the group is set to perform nine unparalleled raw and gritty rock shows starting May 21 through June 7. Tickets are now on sale. Guns N' Roses wowed fans and critics in 2012 with its first residency, Appetite for Democracy, at The Joint. The exclusive run featured a jam-packed set list, explosive pyrotechnics, eye-popping stage display and much more. This year's engagement is bound to bring even more surprise elements as the group takes over for a once-in-a-lifetime rock 'n' roll experience.
TOP OF NEXT COLUMN
Bobby Rydell, All-American boy of the Baby Boom era, performs his rock n' roll hits at the Suncoast Showroom April 25, 26 and 27 at 7:30 p.m. With good looks, fame and talent, Robert Ridarelli -- better known as Bobby Rydell -- is considered an original American idol. After a teenage gig as drummer for Rocco and the Saints, where he played with trumpet player Frankie Avalon, Rydell launched his successful solo act in 1959 and the hits followed. Rydell recorded 34 Top 40 hits, and is recognized by Billboard as one of the Top Five Artists of the early '60s.
Beyond selling millions of records, Rydell enjoyed fame as a regular on 1960s television, appearing on "American Bandstand," "The Red Skelton Show" and "The Milton Berle Show." In 1963, Rydell was also featured in the classic film "Bye Bye Birdie" as Ann-Margret's boyfriend, Hugo Peabody.
---
The Las Vegas Philharmonic will bid 'au revoir' to its 2013-14 season with a musical journey with a concert called "Paris, Je T'aime" on Saturday, May 17th at 7:30 p.m. at The Smith Center for the Performing Arts. The Minnesota Orchestra's Principal Conductor, Pops & Presentations, Sarah Hicks, will conduct the concert, the last of the love-themed season in Reynolds Hall. Debussy's Claire de Lune, Gershwin's An American in Paris, Bizet's Farandole from L'Arlesienne, selections from Les Misérables and The Phantom of the Opera and music from classic French films The Umbrella of Cherbourg and The Windmills of Your Mind are among the works to be performed. Accordionist Patrick Harison will add Gallic flair joining the orchestra for works including Indifference and Passion by Joseph Colombo and Tony Muréna. Providing a musical "last tango in Paris," Las Vegas Philharmonic concertmaster De Ann Letourneau will be the featured soloist in John Williams' arrangement of Por una cabeza.
---
The Southern Nevada Musical Arts Society will be appearing at Carnegie Hall in June! This is the Las Vegas Choir who sang with Andrea Bochelli on December 14 at the MGM Grand. And, don't miss this! The Southern Nevada Musical Arts Society will present Masterworks 11 with a 34 piece musical arts orchestra conducted by Dr. Doug Peterson and a 60 voice musical arts chorus with guest soloists. All this on Sunday May 4 at UNLV Artmus Ham Hall at 3 p.m. Dr. Doug Peterson, conductor, won the Nevada Arts Council Award for his 50 year service to Music in Las Vegas!!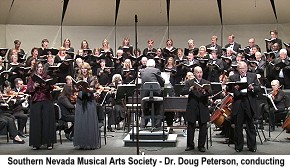 ---
Las Vegas Foodie Fest, a Red Dragon event returns for the fifth time in three years on Thursday, April 24 - Sunday, April 27 at The Lot across from Luxor Hotel and Casino. Foodies will enjoy the fun from 4 p.m. to midnight Thursday and Friday, noon to midnight on Saturday and noon to 10 p.m. on Sunday.
Las Vegas Foodie Fest will feature more than 50 of the nation's top food trucks and vendors highlighted by East Coast and Midwest favorite, White Castle, along with a number of celebrity trucks from The Food Network, History Channel, Cooking Channel and Travel Channel. MGM Resorts also will feature some of its top chefs and restaurants. PepsiCo, maker of iconic brands such as Pepsi, Mountain Dew, Lay's and Doritos, will offer samples of a variety of its popular food and beverage products. General admission to Las Vegas Foodie Fest is $10 per person starting the week of the event or $8 if purchased in advance online at www.lasvegasfoodiefest.com. Active military personnel and veterans, seniors 59 and older and Clark County first responders may purchase tickets at the gate for $8 with a valid ID. All tickets include unlimited re-entry for the four-day event. Individual food and drink items are priced per purchase. Pre-sale tickets for the Red Dragon VIP Tent are priced at $50 per day, or $100 for four days, and include access to the VIP area complete with open bar, sponsored cocktails, exclusive beer, wine and liquor tastings and gourmet appetizers from some of the finest chefs in the city. Guests also may purchase passes to the Red Dragon VIP Tent at the gate for $60 per day or $120 for the entire event. All payments made at the ticket gate must be cash only.
---
Faith Lutheran Theatre Company will welcome Shrek the Musical to its state-of-the-art stage for six special performances, May 2-11. Tickets to the show, based on the 2001 blockbuster DreamWorks film, "Shrek," and William Steig's 1990 story, Shrek!, are now on sale. The plot revolves around Shrek, a grouchy and solitary ogre, who awakens to find his beloved swamp has been overrun by fairytale creatures who have been banished there by the fairytale-hating Lord Farquaad. When Shrek confronts Lord Farquaad and demands his land back, the two strike a deal: Lord Farquaad will return Shrek's land, if Shrek accepts his mission to rescue Princess Fiona, who is being held against her will as she waits for her one true love.

As Shrek embarks on his quest with a very chatty donkey by his side, the two bond as they encounter grave dangers and colorful characters. Upon rescuing Princess Fiona, Shrek learns that she may not be who he thought she was, and that perhaps the real fairytale has just begun.
The limited-engagement will kick off Friday, May 2 with a special "Green Carpet" Opening Night, which includes a post-show reception. Performances of Shrek the Musical can be seen at 7 p.m. on Friday and Saturday evenings, along with 4 p.m. matinee performances on Sundays, from May 2-11. Tickets start at $10 and can be purchased online at www.FaithTheatreCompany.com or www.ShowTix4u.com. Faith Lutheran Performing Arts Center is located at 2015 S. Hualapai Way.
---
The Osmonds - brothers Merrill, Jay and Jimmy - will perform at The Orleans Showroom May 2, 3 and 4. The legendary brothers have mastered a range of musical styles, including barbershop, pop, rock, country and jazz. More than five decades ago, the young Osmond boys made their first national TV appearance on "The Andy Williams Show" in what was meant to be a one-time shot at the big time. That single appearance led the Osmond's to seven seasons as regulars on the show. In 2003, the Osmond family was honored for their achievements in the entertainment industry with a star on the Hollywood Walk of Fame.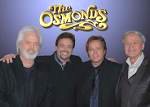 ---
Multi-talented entertainer and showman Earl Turner returns to the Suncoast Showroom performing "Earl Turner - Encore" May 3 and 4. Aaron Turner, a finalist on season 10 of the hit television show "So You Think You Can Dance," will make a special appearance, performing alongside his father.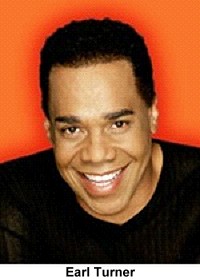 ---
"Grant Griffin and The Las Vegas Divas" will headline a production show at the SouthPoint with a 7-piece band, May 8 at 8 p.m. "Grant Griffin (fabulous baritone), The Divas" Jeneane Marie (who has opened for Frank Sinatra and Don Rickles); Gabriella Versace (from "Showgirls" and "Erocktica);" Elisa Furr (who appeared in "Jubilee!" and does her renowned "Tribute to Celine" show); and Naomi Mauro (who was at the Stratosphere in "Superstars" for seven years) will once again bring the audience to their feet.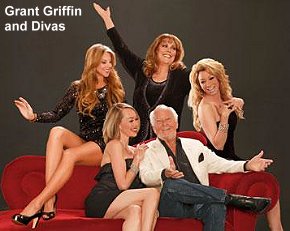 Grant Griffin is producer of the show and co-producer and director is international choreographer and artist Mistinguett. Rounding out the production show with a seven-piece band is musical director Bill Fayne. Also featured are singer Michael Delano, the Enrique Lugo Dancers, Enrique Lugo from "Imagine," "Fashionistas" and "Charo," and The Mistinguett Showgirls. Tx: $35, $40 & $45.
---
Miley has nothing on Vegas Night School 4 Girls

that now offers twerking lessons during its sexy Vegas burlesque class. The hottest burlesque and pole dancing class in Vegas, Night School 4 Girls, is upping the ante by adding even more sexy maneuvers to the class' risqué repertoire. Ladies can now learn to move like Miley or shimmy like Shakira during the 70-minute lesson including the pop culture sensation, twerking.

The Night School 4 Girls instructors, who are authentic Vegas showgirls from sexy productions such as FANTASY and Jubilee, will teach women a variety of twerking techniques including the now infamous Miley to the more traditional version of the popular dance move.
Located inside the Hard Rock Cafe on the Strip, the fun and frisky class continues to allow women to unleash their inner bombshell by teaching students sexy moves, pole dancing tricks and a burlesque routine, complete with chairs and feather boas. Night School 4 Girls offers classes Fridays at 3:30 p.m. and Saturdays at 12:30, 2:00 and 3:30 p.m.
---
Las Vegas entertainer, Peter Pavone's love of show business and talents recently earned him to be named "The World's Best Sinatra Impersonator" by the Vegas News. Peter was also listed as fourth "Best Impersonator" in the

R-J's Best of Las Vegas Poll for 2014. You can catch Peter Pavone at The Parlour Bar & Lounge in the El Cortez for Swingin' Good Times with music, comedy and impressions Wednesdays, 8-midnight, Thursdays 6-10 p.m. free admission, 21 and older.
---
The EnduroCross Series kicks off at the Orleans Arena on Friday, May 2. The off-road motorcycle race is held entirely indoors, taking riders across a track filled with obstacles including rocks, boulders, logs, sand, mud, giant tires and a water hole. "The toughest racing on two wheels" blends the elements of extreme off road racing into an exciting Supercross-style course.
EnduroCross Founder Eric Peronnard will be in attendance, along with local riders competing against some of the best riders in the world. Top riders include Series Champion Taddy Blazusiak, X-Games Gold Medalist Mike Brown and female Series Champion and X-Games Medalist Chantelle Bykerk. Tarah Gieger, an athlete featured on the cover of ESPN Magazine's "Body Issue," will also participate. Spectator admission ranges from $37 to $47, based on seating level. Advance tickets may be purchased online at www.orleansarena.com.
---
Mantecore, the white tiger who appeared in thousands of performances with Siegfried & Roy during the duo's record-setting run at The Mirage, passed away after a short illness. He was 17. Known as the tiger who bit Roy, Roy Horn said: "The world has lost one of its most majestic creatures and I have lost a brother."I will forever believe it was his concern for my safety and well-being that caused him to act as he did on that night long ago. We spent many hours together and he never failed to bring me great joy and wonderment. It was my great honor to be beside him at the end. He is now playing with his siblings in White Tiger heaven." Roy added: "His contribution to the avalanche of awareness for conservation and preservation has made him unforgettable. His spirit will live forever with Siegfried & Roy and his multitude of fans."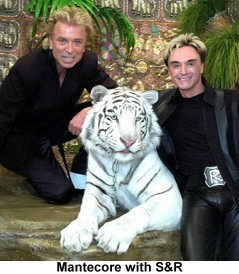 ---
CONTINUE ON TO...:

> Entertainment Tidbits Archives
>Las Vegas News "Heard Around Town"
>Las Vegas Leisure Guide<