Vegas Uncork'd by Bon Appétit is where food and culture meet. The award-winning No. 1 food lifestyle brand covers food through the lens of cooking, fashion, travel, technology, design, and home. Vegas Uncork'd by Bon Appétit Celebrates its 10th Anniversary with a Las Vegas spectacular - Dinner on the Strip with seating for hundreds of guests. All will enjoy a family-style, multi-course feast, paired with wines and spirits, under the bright lights and against the iconic backdrop of Las Vegas Boulevard and the city skyline at The Venetian's Doge's Palace Piazza. Prepared by Emeril Lagasse and Daniel Boulud, additional chefs participating in the event include Kim Canteenwalla and Olivier Dubreuil from The Venetian and Mandarin Oriental Executive Chef David Werly. Purchase tickets at VegasUncorked.com.
Terry Fator celebrated his 7th year Terry Fator: The VOICE of Entertainment at The Mirage with a special pre-show reception where President and C.O.O. of The Mirage, Trevor Scherrer announced Terry's contract has been extended 5 years through 2021. Congratulations to Terry Fator, "America's Got Talent" winner who brings to life by ventriloquism a hilarious range of characters including Winston, the impersonating turtle, Emma Taylor, the little girl with the big voice, Duggie Walker, the annoying neighbor and many others.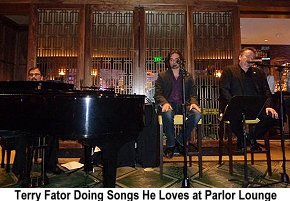 Terry's comedic banter and amazing singing voice and vocal impressions of musical superstars such as Garth Brooks, Dean Martin, Aretha Franklin, Lady Gaga and more are remarkable. During the show celebrating his 7th anniversary, Terry Fator introduced his newest character, Fernando V Francisco – a lover of beautiful women and beautiful songs, but mostly beautiful women. Fernando's Latin roots prove irresistible when he sings romantic serenades to seduce beautiful women everywhere with his rendition of "Livin' La Vida Loca," "Hero" and "To All the Girls I've Loved Before."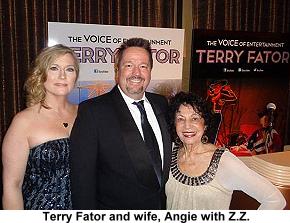 At the great and happy Pre-Show reception Terry introduced and thanked all involved in his show including his lovely wife, Angie. Beautiful music was played by 2 violinists along with food and drink. The celebration continued during and after Terry's show at the Parlor Lounge, an intimate piano lounge. Terry said he loves to sing songs he loves in his own voice without puppets, and he did this along with his piano player and singer. This was so enjoyable for both him and the audience that this is going to continue.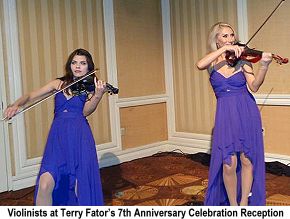 The Smith Center for the Performing Arts announces the highly anticipated lineup of performances for the 2016-2017 Broadway Las Vegas Series. From August 2016 to June 2017, the upcoming season sponsored by Southern Nevada Ford Stores, will feature Tony Award®-winning productions, Broadway smashes and first-ever national tours.
The nine-part series features timeless Broadway classics as well as some of today's newest, critically acclaimed and Tony Award®-winning productions including BEAUTIFUL - THE CAROLE KING MUSICAL, FUN HOME, MATILDA THE MUSICAL, THE SOUND OF MUSIC, IRVING BERLIN'S WHITE CHRISTMAS, MOTOWN THE MUSICAL, FINDING NEVERLAND, AN AMERICAN IN PARIS and THE PHANTOM OF THE OPERA. Combined, the celebrated roster of productions represents more than 22 Tony Award® wins.
---
"Star Trek: The Ultimate Voyage" will bring 50 years of "Star Trek" to the Orleans Arena on April 4. The production consists of a live symphony orchestra and international solo instruments bringing the music of "Star Trek" to life while the most iconic film and television footage is broadcast simultaneously on a 40-foot wide screen in high-definition.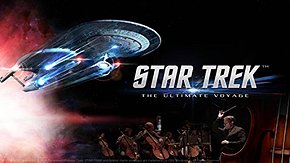 The show will feature the most popular music from the franchise, including "Star Trek: The Original Series," "Star Trek: The Motion Picture," "Star Trek II: The Wrath of Khan," "Star Trek IV: The Voyage Home," "Star Trek: Insurrection," "Star Trek: The Next Generation," "Star Trek: Deep Space Nine" and "Star Trek: Voyager." "Star Trek: The Ultimate Voyage" will be conducted by Justin Freer. He is known for his work bringing music from legendary films and television to life by combining a live symphony orchestra and solo instruments with footage from iconic movies such as "The Lord of the Rings Trilogy," "The Godfather" and "Gladiator." He has appeared with some of the world's leading orchestras including the Chicago Symphony, Philadelphia Orchestra, Philharmonia Orchestra, San Francisco Symphony and Sydney Symphony. Doors open at 7:30 p.m. Tickets are available for $50 plus taxes and fees in celebration of Star Trek's 50th anniversary.
---
Las Vegas' favorite homegrown headliner Frankie Moreno returns to the Strip in "UNDER THE INFLUENCE" at Planet Hollywood. Named "Las Vegas Headliner of the Year" two times running, beloved entertainer Frankie Moreno will make a highly-anticipated return to The Strip in his new headlining show, "UNDER THE INFLUENCE."

Singer, Showman, Songwriter, Musician…Frankie Moreno is all of these things and more. Moreno, long known to locals for his remarkable talent, tremendous versatility and nonstop energy, will take center-Strip stage for the first time in this new production that marks him as the heir apparent to Las Vegas' legacy of iconic musical entertainers. Frankie Moreno - UNDER THE INFLUENCE will make its debut at the PH Showroom at Planet Hollywood on Wednesday, April 20. His show pays homage to pop culture's major musical influences from Elvis Presley to Frank Sinatra, Ray Charles to The Beatles, all presented through Moreno's unmatched style, fully choreographed band, and stunning visual technology. Each performance will feature Moreno's hit-inspired original music and reimagined takes on chart-topping songs, as well as signature choreography and performances by professional dancer Lacey Schwimmer of Dancing With the Stars fame. The show will perform in the PH Showroom Tuesday through Sunday at 9 p.m. Tickets range from $33 to $88 and are now available at TicketMaster.com, by phone at (800) 745-3000, or the PH Showroom box office.
---
Twisted Vegas is a live show at the Westgate that is upbeat, funny, and a bit twisted. Poking fun at all that Las Vegas is known for - the good, the wacky, and the outrageous, French superstar Alex Goude and a cast of talented jugglers, dancers, jaw-dropping acrobats, magicians, and more shine in a spoof spotlight on Las Vegas. Everything from Cirque du Soleil, Blue Man Group and the Bellagio Fountains, to performers like Celine Dion and Britney Spears, as well as zip lines, spas, buffets and even the Grand Canyon is hilarious and entertaining in Twisted Vegas. With plenty of audience participation, it's a show that's great fun for all ages. (Families rejoice! Finally, a fun, live show the whole family can enjoy – and not break the bank doing it. Twisted Vegas is offering free tickets for kids 12 and under with the purchase of a full price adult ticket.) There's a lot of audience participation, so if you love going onto the stage jump up and wave your hand enthusiastically when they ask for volunteers. Twisted Vegas performs one show nightly every Tuesday through Sunday at 7 p.m. in the International Theater at the Westgate. Visit www.twisted.vegas for tickets and more information.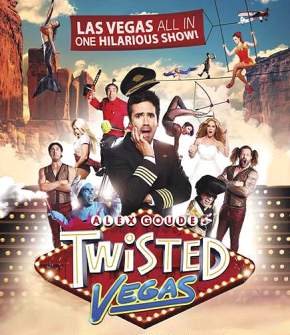 Jeff Civillico in addition to his great show Comedy In Action at the Flamingo is hosting a live weekly entertainment / news TV show that is taped in front of a live audience at The LINQ Promenade Fountain Stage on Thursday nights from 5-8 pm. Since Jeff Civillico launched this show on Thursday nights at the Linq Promenade only a month ago, things are REALLY moving along quickly! Vegas as a city seems to be rallying around this show and what Jeff is trying to build for this community. There have been some BIG wins since the launching a month ago including getting interviews with Mike Tyson, Dennis Rodman, and Matisyahu. Many interviews are lined up such as with Third Eye Blind and tech giant / evite CEO Victor Cho.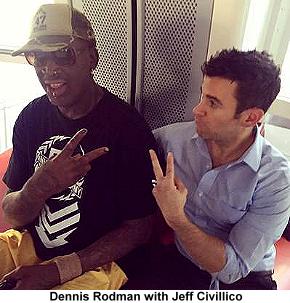 People walking the LINQ become spectators at the live tapings and love the performances from acts like the UNLV Rebel Girls, Turf, Jay R Beatbox and the Band as they become part of the show too. Everyone watching has the chance to get discounts, grab swag, win prizes, and a chance to get their 15 minutes of fame. Host Jeff Civillico and his team of recurring co-hosts serve up the latest Las Vegas happenings and engage the live audience in antics from Game Show sketches to One-Minute Weddings. Plus, the hottest bands and acts perform live on top of the container/stage making this a "must see" event.
TOP OF NEXT COLUMN
Wynn Las Vegas' renowned daylife and nightlife venues announce exclusive 2016 residency dates for multi-Grammy nominated American recording artist, DJ, songwriter and producer Kaskade at Encore Beach Club and XS Nightclub. Known as one of the most revolutionary producers in the world, Kaskade has created a career of unprecedented milestones. He became the first American electronic dance artist to secure a Las Vegas residency when he signed as a Wynn Las Vegas headliner in 2010. His 2016 Wynn Las Vegas residency will be an epic display of his raw talent and will feature remixes from albums such as Atmosphere, Fire & Ice, Dynasty and Automatic, which was released in fall of 2015 and has been streamed more than 44.4 million times on Spotify since its release. Tickets to Kaskade's residency at Encore Beach Club and XS Nightclub are on sale now for dates through August. Table reservations are highly recommended (Encore Beach Club: 702-770-7300; XS: 702-770-0097).
---
Stratosphere Casino, Hotel & Tower is taking Vegas back by offering a wealth of fun at a great value. Instead of waiting in line to buy privileges, everyone at Stratosphere can have an incredible time as soon as they step through the door. With unbeatable happy hours at bars and lounges throughout the property, live music without cover charge and free parking, affordable entertainment is available to all. Additionally, those who sign up to "Take Vegas Back" will receive more deals including the best room rates, unbelievable happy hours and so much more. It is free to sign up. While Take Vegas Back members receive special offers, Stratosphere is constantly taking Vegas back by offering all guests great values. As a testimony, year after year Stratosphere wins various Best of Las Vegas Awards in dining and nightlife as well as the observation deck experience. The 1,149-foot Stratosphere Tower is the tallest freestanding observation tower in the United States, featuring the Top of the World restaurant and highest view of the Las Vegas Strip from the Observation Deck as well as SkyJump Las Vegas and thrill rides Big Shot, X-Scream and Insanity. Stratosphere will also surprise its guests with Random Acts of RewardsTM, an extension of its Take Vegas Back campaign. Throughout March, Random Acts of RewardsTM will be bestowed on visitors throughout the property at employees' random discretion, ranging from room upgrades to complimentary meals and drinks, casino play and more. This fun promotion is a demonstration of the commitment Stratosphere has undertaken to lead the way in "Taking Vegas Back" and that we "Keep Vegas Fun".
---
Crazy Pita Rotisserie & Grill is happy to announce that it will celebrate 10 years this summer. The locally owned Mediterranean restaurant chain has spread across the valley with three locations, opening their most recent restaurant in Downtown Summerlin. Over the past 10 years, Crazy Pita has become a Las Vegas favorite for fresh, delicious and healthy Mediterranean food. Owner Mehdi Zarhloul immigrated to the United States from Morocco at a young age to pursue his culinary dreams which led him to Las Vegas in 2006, where he opened Crazy Pita in Henderson.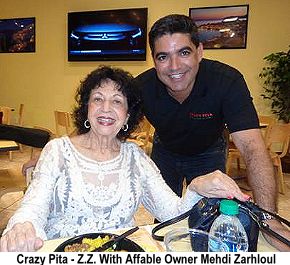 The restaurant was named as a result of Zarhloul unexpectedly quitting his job as the assistant food and beverage director at the Four Seasons Hotels and Resorts in Los Angeles to open a pita place. His friends and colleagues called him crazy, so he kept the name. Zarhloul is passionate about the Southern Nevada community and regularly donates food, gift cards and services to many nonprofit organizations. In 2015 alone, Crazy Pita received award recognition from the Henderson Chamber of Commerce outstanding community service award; and won the Las Vegas Metro Chamber of Commerce Groundbreakers category for the 2015 Business Excellence Awards. Media was invited to sample the fabulous menu at the Town Square Crazy Pita venue and it was amazing. The Mediterranean cuisine of signature dishes featured seasoned steak, lamb, chicken, shrimp, salmon, falafel, vegetables, kefta beef and salads, in addition to their famous hummus and pita. At this event, Drew Stevens gave a moving and inspiring speech about the Josh Stevens Foundation that that recognizes and celebrates being kind. Pinot's Palette was also there to have attendees sign and paint a Crazy Palette Board. Owner, Mehdi is a very amiable host. Congratulations on his long Crazy Pita success.
---
Can't keep a great comedian down! Don Rickles, internationally distinguished comedian, actor and entertainer is returning for his 57th consecutive year as a Las Vegas headliner and will perform at The Orleans Showroom on April 9 and 10. Frequently known by the nicknames "The Merchant of Venom" and "Mr. Warmth," Rickles' style of comedy is never mean-spirited and all part of his act. It has been said that being "zinged" by Rickles is like "wearing a badge of honor."

One of Entertainment Weekly's "25 Funniest People in America," Wanda Sykes brings her wry, intelligent stand up comedy to the Treasure Island Theatre, April 15 at 9 p.m. Already one of the busiest women in comedy, Wanda Sykes is only gaining steam. In addition to her recurring role as "Daphne Lido" on ABC's hit comedy "Black-ish," Sykes has signed on to guest star on the fifth season of Showtime's "House of Lies," co-star on the recently announced ABC soccer comedy "Dream Team" opposite Justin Long and return as the voice of "Granny" in Ice Age: Collision Course.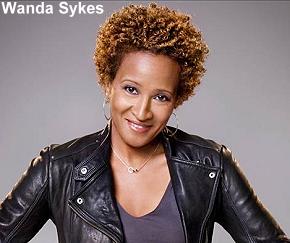 Sykes spent five years as a performer and writer for HBO's critically acclaimed "Chris Rock Show" where she won an Emmy® Award in 1999. Other television appearances include "Curb Your Enthusiasm," "Crank Yankers," "The New Adventures of Old Christine" and as the star of Fox's "Wanda at Large," which Sykes also wrote and produced.
---
The 8th annual Easter Walk & Roll to benefit Easter Seals Nevada strolls into Las Vegas this Spring with a new location and a new look. This awareness walk will kick off a day of family fun and fundraising on Saturday, March 26 at Lorenzi Park (3343 W. Washington Ave. Las Vegas). The Easter Walk & Roll directly funds critical programs for Nevada residents living with disabilities. Beginning at 9 a.m., Easter Walk & Roll participants, including community leaders, honorary ambassadors and celebrities, will participate in a half-mile walk to raise awareness of Easter Seals Nevada's programs, which help the 8,000 Nevada residents living with disabilities lead more independent and fulfilling lives. Registration begins at 8 a.m. and is $35 for adults and $20 for kids, seniors, military and virtual walkers.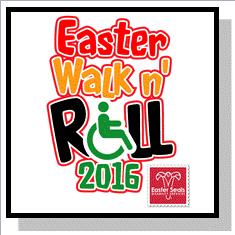 The finale of the Easter Walk & Roll will lead into an Easter Carnival extravaganza beginning at 10 a.m., where all funds raised will go to further assisting Nevada residents with disabilities. The Easter Carnival will feature games, entertainment, concessions, a petting zoo, pony rides and face painting, creating an unforgettable afternoon with family and friends while also helping others. Easter egg hunts will be held for kids, along with pictures with the Easter Bunny and other family-friendly activities. Adults can also join the fun with a special Easter egg hunt with fun prizes including show tickets, restaurant certificates and more. The event will also feature an array of food trucks, vendors and live performances by some of Las Vegas' best in rock and R&B.
---
The Animal Foundation's Best In Show family-friendly dog show benefiting lost, unwanted or abandoned shelter pets returns to the Orleans Arena on Sunday, April 10. Join local celebrities including singer Frankie Moreno, FOX Broadcasting Company NASCAR reporter Jamie Little and professional auctioneer Christian Kolberg for this one-of-a-kind event featuring more than 50 shelter dogs competing for the title of Best In Show. All dogs will be available for adoption after the show. The Animal Foundation receives 100 percent of the proceeds from this event. Pet vendor fair starts at noon; competition starts at 1 p.m. General admission tickets are $12 for adults and $5 for children and seniors.

---
There will be no strike outs this season with Crazy Horse III's Major League Baseball opening day viewing parties. The award-winning gentlemen's club will throw parties all day starting Sunday, April 3 through Wednesday, April 6, in honor of the first games of baseball season. (College students will receive complimentary entry with school I.D. during all March Mayhem games.) Baseball aficionados may enjoy buckets of four Bud Light bottles, priced at $20, and day time bottle specials. Partygoers looking to score after the final run may also enjoy late night dining options including premium sushi and pizza, a variety of hookah flavors and more alongside the venue's stunning entertainers. Guests can plan out their night in advance with the new Crazy Horse III app where users can book table reservations, pre-pay for bottle service and view dancer profiles. Complimentary limo transportation to Major League Baseball opening day viewing parties is available through Crazy Horse III's limo service, pending availability, by calling 702-673-1700 or booking through the app. Crazy Horse III is located on Russell Road, just a few blocks west of the Las Vegas Strip.
---
REHAB Beach Club's unforgettable spring break celebration returns to Hard Rock Hotel & Casino with action-packed pool parties and explosive performances every Friday, Saturday and Sunday through Sunday, April 10. The legendary beach club will be party headquarters for the 2016 spring break season with performances by DJ Loczi, DJ Pauly D, Keys N Krates and Wooden Wisdom: Elijah Wood and Zach Cowie in partnership with Meltdown Comics. Reality stars Lala Kent and James Kennedy of "Vanderpump Rules" will also take over Las Vegas' original dayclub. Spring breakers will enjoy endless sun, sandy beaches, handcrafted cocktails and swim-up blackjack as they dance the day away. Tickets to REHAB Spring Break start at $10 for females and $20 for males. The beach club is open from 11 a.m. to 7 p.m. Guests must be 21 years of age or older.
---
One of Las Vegas' most iconic steakhouses, N9NE Steakhouse at Palms Casino Resort offers a brand new happy hour menu, available exclusively in the bar and lounge from 5:30 until 7:30 p.m. Monday through Friday. N9NE's bar and lounge has always been a popular destination for guests looking to grab a casual bite and drink during everybody's favorite time of day. N9NE's new happy hour caters to early evening diners who want to enjoy a handful of N9NE's most renowned appetizers and cocktails with special pricing. Guests can enjoy small plates of popular N9NE appetizers including lobster potstickers, sashimi, calamari and more. Happy hour isn't complete without cocktails and guests can now indulge in a variety of craft beers, whiskey flights and specialty drinks including The Cartel, La Chicana and the Ciroctail.
---
Vegas Indoor Skydiving celebrated its 35th anniversary in Las Vegas, and the 35th anniversary of indoor skydiving in America as a whole, with Tunnel Jam 2016, its inaugural flight competition in benefit of Three Square Food Bank. The competition, which featured two divisions, 11 competitors and more than $5,000 in prizes, helped raise more than 1,136 pounds of food, which equates to 947 meals for families in need.
CONTINUE ON TO...:

> Entertainment Tidbits Archives
>Las Vegas News "Heard Around Town"
>Las Vegas Leisure Guide<