Da Vinci The Exhibition is the newest exhibition at The Venetian. The exhibition follows the Renaissance master, Leonardo da Vinci, on a journey of innovation, creativity, science and wonder amid beautiful scenes of the Italian countryside. Developed by Aurea Exhibitions and produced by Imagine Exhibitions, Inc., Da Vinci The Exhibition is a hands-on examination of da Vinci's life, research and art. Featuring more than 65 fully built, life-size inventions, more than 20 fine art studies and dozens of stunning displays, guests will learn the complex beginnings and lifetime achievements of da Vinci through his discoveries in art, engineering, flight, hydraulics, music, light and more. "Da Vinci The Exhibition provides an unsurpassed opportunity to experience the life and accomplishments of one of the greatest artists and scientists the world has ever known."
Throughout the exhibition's themed galleries, visitors will discover the breadth and scope of da Vinci's incredibly advanced understanding of science, mathematics, nature, and the relationship between the three. The artist's intricate designs and extraordinary early concepts are spotlighted, including his design for the helicopter, tank, SCUBA, crane, clock, submarine and his plan for a modern city. Additionally, various multimedia experiences and documentary presentations provide a multitude of supplementary information on da Vinci's discoveries and creative process.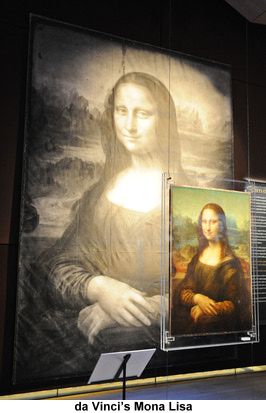 In addition to da Vinci's role as an inventor, the exhibition investigates a collection of da Vinci's most renowned paintings, including some controversial works traditionally attributed to him, but not yet authenticated. Guests will have the opportunity to thoroughly study the artistic mastery behind such works as "Mona Lisa," "The Last Supper," "Portrait of a Young Man," "Virgin of the Rocks," "St. John the Baptist" and more.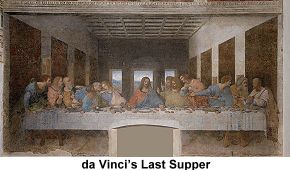 Throughout his lifelong devotion to the sciences and fascination with nature, da Vinci also extensively explored the world of anatomy. Da Vinci The Exhibition's in-depth and enlightening explanations of his famous studies on subjects such as the golden ratio and "Vitruvian Man" are complemented by enlarged examples of the artist's sketches and notes made during his controversial research on the human body. Da Vinci The Exhibition will be open for a limited engagement. Tickets Prices are: adult ($27.50), senior/military/Nevada residents/students ($22.50) and children 12 and under are free with one paying adult, with additional children being $20.50.
Da Vinci The Exhibition's hours: Sunday through Thursday 9:30 a.m. - 7 p.m., last ticket sold at 6 p.m.; and Friday and Saturday 9:30 a.m. - 9 p.m., last ticket sold at 8 p.m.
Divorce Party Las Vegas, inside the Windows Showroom at Bally's offers audiences a hilarious romp around relationships. An 80-minute comedic musical event, Divorce Party Las Vegas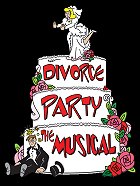 centers around Linda, still reeling from her divorce, as her friends turn her despair into a weekend of hilarity. Sort of as a blend of "Sex and the City with Dr. Phil, Oprah and SNL," the show uses laughs, songs and the occasional shock factor to explore the realities of divorce, long term relationships and moving on. This hilarious show spins the "trauma drama" of a break-up into a hysterically lively production.
The storyline is really relatable, which makes it easy for the audience to connect with the cast and have fun along the way. With the help of a pizza boy, a groping massage therapist, a fabulous makeover guru and others they sing and dance their way through the wildest divorce party ever. Using popular songs with clever new lyrics, a good dose of comic mayhem and a touch of naughty, this heart-felt musical delivers an evening of fun and laughs as the ladies drag their newly divorced friend up by her self-esteem and force her to face the world again. By the end of the show, women and men alike, no matter what relationship status, will be dancing in the aisles at the hilariously inappropriate show content.
---
The 13th Annual Michael Jordan Celebrity Invitational (MJCI), hosted by ARIA Resort & Casino at Shadow Creek, returns to Las Vegas for the fourth consecutive year, April 3 - 6. Tickets are now on sale for one of celebrity golf's most popular events, giving spectators access to the acclaimed Shadow Creek Golf Course as the biggest names in sports and entertainment gather for four days of competitive golf and special events, while raising money for several worthy charitable organizations. Since its inception in 2001, MJCI has raised nearly $7 million for charities including this year's beneficiaries Make-A-Wish Foundation, James R. Jordan Foundation, Keep Memory Alive, Opportunity Village and Cats Care, the NBA's Charlotte Bobcats' charity arm.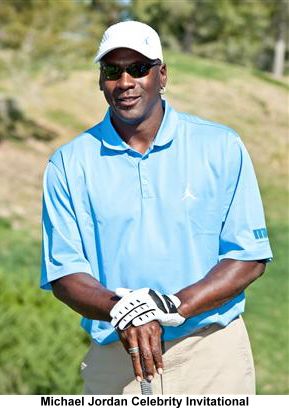 The four-day tournament and celebration boasts incredible parties, A-list entertainment and competitive golf. Each year, MJCI attracts an all-star lineup of athletes and celebrities. Sports stars Wayne Gretzky, Ken Griffey, Jr., Dara Torres and Brian Urlacher, along with actors Anthony Anderson, Brian Baumgartner and Jesse Metcalfe are scheduled to participate in this year's event. Past attendees include Cedric "The Entertainer," Chevy Chase, Brandi Chastain, Don Cheadle, Roger Clemens, Michael Phelps, Jerry Rice, Aaron Rodgers and Stuart Scott, among dozens of other notable figures.
Tickets are on sale and available at all 10 MGM Resorts' box offices and concierge desks in Las Vegas, and online at aria.com, mjcigolf.com and shadowcreek.com. All ticketholders can enjoy complimentary shuttle service between ARIA and Shadow Creek. For more information about MJCI, visit aria.com, MJCIgolf.com or call (877) 253-5847.
---
The Smith Center for the Performing Arts has added an additional week of performances for the world premiere of a reimagined version of "THE TEMPEST" due

to popular ticket demand, and will now play April 6-20. (Ed Note: at the time of this posting a THIRD week has now been added extending performances thru April 27.) The Smith Center's first ever co-production, "THE TEMPEST" is produced by the American Repertory Theater (A.R.T.), adapted and directed by Aaron Posner and Teller (of the legendary duo Penn & Teller) from the play by William Shakespeare. With magic by Teller, music by Tom Waits and Kathleen Brennan and movement by Matt Kent of Pilobolus "The Tempest" will take place at The Smith Center's Donald W. Reynolds Symphony Park in a tiered 500-seat climate-controlled tent, where no seat is more than 60 feet from the stage.
Wizardry will be experienced in "THE TEMPEST" featuring magic by illusionist Teller. When shipwrecked aristocrats wash up on the shores of Prospero's strange island, they find themselves immersed in a world of trickery and amazement, where music by Tom Waits and Kathleen Brennan and Pilobolus' athletic movement animate the spirits and monsters. But the revels come to an end when the master magician realizes he has neglected his life in service of his art, and must now relinquish his conjuring in order to reclaim his life and provide for the future of his only child.
"The Tempest" at The Smith Center will serve as the production's world premiere. Following the world premiere in Las Vegas, the show will move to Cambridge, MA to begin performances at A.R.T. and then Washington D.C. and New York City. Performances are Tuesday-Sunday at 8 p.m. with additional matinees at 2:30 p.m. on Saturdays and Sundays. Tickets for all performances begin at $35 and are on sale now at The Smith Center box office, online at www.TheSmithCenter.com or by phone at (702) 749-2000. Land Rover Las Vegas is the official sponsor of the Las Vegas run of "The Tempest" and will have a hospitality tent complete with refreshments for sale pre-show as well as rare vintage vehicles on display.
---
The Smith Center for the Performing Arts offers Free, guided walking tours of the world-class campus on Wednesdays and Saturdays at 10:30 a.m. highlighting its architectural accomplishments, artwork and historic overview. Tours last approximately 60 minutes and are limited to 20 patrons per tour. To register for a tour visit www.TheSmithCenter.com.
---
Fleur by Hubert Keller at Mandalay Bay will host an intimate Belgian-inspired beer pairing dinner Monday, March 24 at 7:30 p.m. Mandalay Bay's Director of Food & Beverage and Nevada's first female cicerone Sarah Johnson, along with renowned beer expert Stephen Beaumont, will host the event and guide guests through the dinner, explaining the inspiration behind each pairing.
A five-course prix fixe menu will be presented by the talented culinary team at Fleur by Hubert Keller. The memorable meal is priced at $100 per person, plus tax and gratuity, and includes an autographed copy of Beaumont's book, The World Atlas of Beer. To make a reservation, contact Fleur by Hubert Keller directly at 702-632-9400.
---
Less than a year since its opening in April 2013, Hakkasan Las Vegas Nightclub at MGM Grand has received continued praise as one of the world's most elite nightlife venues. Now, it has earned its most recent recognition by Nightclub & Bar Media Group as the Las Vegas "Nightclub of the Year." The illustrious accolade recognizes Hakkasan Nightclub as one of the industry's most distinguished venues, proving the nightlife mecca's excellence in professionalism, concept, development and more. To celebrate this year's eminent award, Hakkasan Nightclub will host an exclusive celebration with resident DJ Calvin Harris as the complex opens its doors for a Nightclub & Bar Platinum Party Tuesday, March 25.
---
Caesars Entertainment and Monster have partnered by introducing the newly-named theater, The AXIS Powered by Monster at Planet Hollywood. This was also the launch of the strategic partnership that joined Caesars Entertainment, Planet Hollywood Resort & Casino and Monster, the world leader in high-performance audio consumer electronics whose founder is Noel Lee. The partnership will further enhance The AXIS, the newly transformed 7,000-seat live entertainment venue with state-of-the-art acoustics Powered by Monster. Founder of Monster, Noel Lee has a passion for the very best in entertainment and surely he will bring top-notch entertainment to The AXIS and Caesars Entertainment.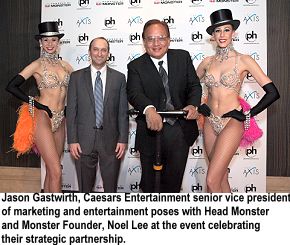 What a happy surprise I had when I was invited to Planet Hollywood's newly renamed AXIS Theater launch party. For more years than I can remember, I have attended the CES (Consumers Electronic Show) and got to know Noel Lee. I am always invited to his great Monster Cable shows that have top-named performers such as Stevie Wonder, Chicago and Rod Stewart. Just in my last month's column I wrote about being invited to Monster's Fleetwood Mac with Stevie Nicks show and after-party. At the party, I enjoyed seeing Noel Lee and his mom Sara Lee. What a surprise to see him at Planet Hollywood's Axis party and congratulate him at his newly launched partnership with Caesars Entertainment.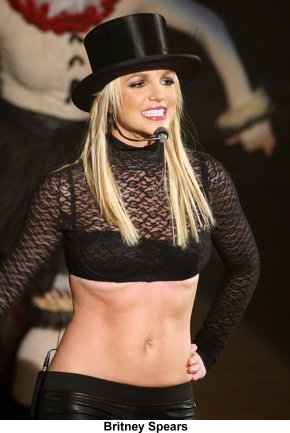 The same night of the launch party, I was invited to the Britney Spears show at The AXIS Theater. Regardless of what seat you have, be prepared to stand throughout the show. Her concert is like a mosh pit as everyone was told to stand up at the beginning of her show and they never sat down. So, in order to see what is going on, you also have to stand. But, she puts on quite a show along with dancers and fantastic special effects. Enjoy!
TOP OF NEXT COLUMN
I had never seen the world-famous dance

crew Jabbawockeez headlining show "PRiSM" and it is quite an experience. Jabbawockeez celebration of imagination, "PRiSM" takes audiences on a journey of dance, music and inspiration. The show is a dynamic mix of awe-inspiring choreography, enchanting storylines and stunning special effects in a production that challenges audiences to embrace the unexpected.
I also experienced Jabbawockeez latest project

as they debut their new short film "Regenerate" that tells the story of a world without art and culture. In order to restore its freedom, a rebellion comprised of a new breed of soldiers known as the Jabbawockeez fights in hopes of re-awakening the human spirit through movement and inspiration. Interesting concept!
---
For guests who are interested in fine dining and enjoy the variety of buffets, an exclusive Chef's Table at the Bellagio now affords that experience. This unique V.I.P. table experience includes a skilled chef team that pampers guests from beginning to end, preparing the finest culinary dishes tableside. Upon arrival to Bellagio Buffet, guests will bypass the main line and go to the front entrance of the restaurant where they are greeted and escorted to the Chef's Table. Bellagio Buffet chefs welcome the group as they are seated and describe the assorted seasonal fruits, varieties of fresh house-baked breads and selections of canapés displayed on the luxurious table.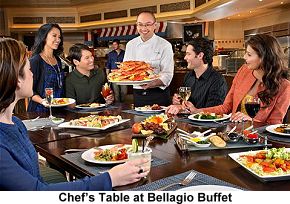 The Chef's Table is available seven nights a week during dinner and gourmet dinner service, priced at $53.99. Reservations are accepted for parties of eight or more and can be made through email at buffetchefstable@bellagioresort.com.
---
If you are looking for the Onda Ristorante and Wine Lounge at The Mirage, look no further as it has changed its name. It is now Portofino and along with the new name, Portofino has added a selection of new menu items inspired by land and sea as well as varieties of fresh pasta made in-house daily. Named in honor of the quaint Italian fishing village, Portofino's dishes boast the flavors of Italian coastal cuisine with an emphasis on using the highest-quality ingredients.
---
The Las Vegas Philharmonic will have the world on a string on Saturday, April 5th at 7:30 p.m. when it performs "Love Vintage Las Vegas Style," an evening of Rat Pack-era favorites, conducted by Matt Catingub. In addition to leading the 65-piece orchestra, Matt Catingub will also sing and play piano and saxophone. He will be joined on stage by his regular collaborators, vocalist Anita Hall and drummer >Steven Moretti, to create a swinging big band performing songs made famous by much-loved Las Vegas headliners.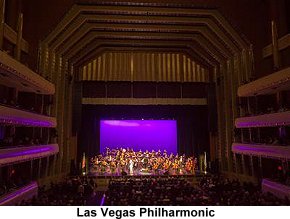 Las Vegas-based, Matt Catingub is the Artistic Director and conductor of the Glendale Pops Orchestra, the Founder and Artistic Director of Hawaii Pops and Artistic Director and Co-Founder of Macon Pops. The son of the great jazz vocalist and "Polynesia's First Lady of Song," Mavis Rivers, Mr. Catingub regularly performed with his mother and has a life-long love for jazz and big band music, including songs associated with Las Vegas.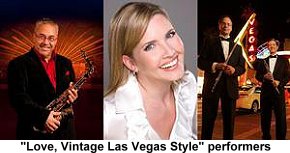 If you can remember seeing Frank, Dean and Sammy in the Copa Room at The Sands or Louis Prima and Keely Smith in The Sahara's Casbah Lounge - or if you just wished you had! - then this concert is for you.
---
The best amateur mixed martial arts fighters from the Las Vegas region will face off On Sunday, March 23 at Golden Gate Hotel & Casino

in the "Downtown Beatdown" - World Fighting Championships' WFC 19 competition. Sharp kicks, harsh punches, ruthless grappling and strong ground games will be on display as Golden Gate transforms its valet lot into a 1,500-guest arena. After scouring the region for the top amateur MMA fighters, WFC has pitted 30 of the best men and women against each other in 15 exciting matchups that are sure to stoke serious competition among the sport's rising stars. Downtown Beatdown's headlining fight will feature a welterweight title bout between undefeated Las Vegas native Justin Driggers and current 170-pound champion Anthony Browder out of Bullhead City, AZ. Not to be outshined by the men is Las Vegas local Kari Lichtenwalner - a driven single mother who works two jobs and trains fulltime out of UFC legend Randy Couture's gym, Xtreme Couture.
Fights start at 7 p.m., with doors opening at 6 p.m. to give fans time to get in position for the action. Tickets are: VIP: $45, Premium: $30 General Admission: $25 in advance; $30 at the door. Tickets may be purchased online or at Golden Gate's hotel front desk and at the D Las Vegas' box office. Online sales end at midnight the night before the event, but tickets may be purchased at the door the night of. The fight card is subject to change. Updates will be posted to www.worldfightingchampionships.com prior to the event.
---
Rockhouse inside the Grand Canal Shoppes at The Venetian/Palazzo is set up like an adult playroom. The hot spot comes complete with birdcages for dancing, pool tables, old-school arcade games, beer pong tables, a mechanical bull and 83 high-definition televisions, offering full audio for all sporting games. With a kitchen open at all hours, guests can enjoy a full food menu of delicious items, as well as a special breakfast menu served on Saturdays and Sundays, starting at 8:30 a.m. Rockhouse, is known for its world-famous 88-ounce drink guitars filled with ice cold beer or daiquiris and was awarded "Best Small Nightclub in Las Vegas" in 2013 by Nightclub & Bar.
Rockhouse just celebrated its "first birthday" with a one-year anniversary bash. The ultra-dive bar celebrated with a packed line-up of talented guests including UFC Heavyweight Champ Frank Mir, former 98 degrees singer and current Las Vegas entertainer Jeff Timmons, along with the Men of the Strip, reigning Miss Nevada USA Nia Sanchez, UNLV mascot Hey Reb, the sexy cast of FANTASY, the Rock of Ages cast, Robin Leach and more. While the local Las Vegas personalities signed the hot spot's pop-art inspired celeb wall, anniversary party guests sipped on booze-filled baby bottles, rode the mechanical bull and enjoyed an array of appetizers, including Rockhouse's signature tacos and sliders. Rockhouse founder Las Vegas entrepreneur Jonathan Fine also owns PBR Rock Bar & Grill, the rockin' Strip-side eatery located at the Miracle Mile Shops inside Planet Hollywood.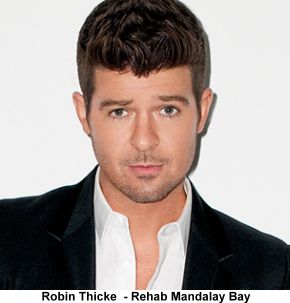 After an unparalleled 10th anniversary season, Hard Rock Hotel & Casino invites revelers to indulge in a double-dose of REHAB by extending the debauchery to two days, adding Saturdays to its signature Sunday events. Partygoers can check in for a weekend of revelry beginning Saturday, April 12 with music sensation Robin Thicke (Blurred Lines) and Sunday, April 13 with award-winning artist Flo Rida. Since opening in 2004, REHAB has welcomed more than 725,000 patrons, sold more than 2 million beers and cocktails, and popped more than 45,000 bottles of champagne, vodka, etc. Tickets to REHAB start at $30 for females and $50 for males.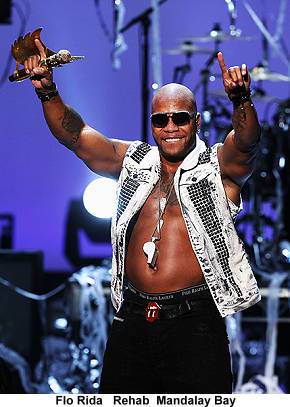 Comedian, actor, writer and radio personality D.L.Hughley will bring his popular standup act to The Orleans Showroom, April 4 and 5. Hughley, well-known for his role in the film "The Original Kings of Comedy," has entertained millions over the course of his career, with appearances on daytime, prime-time and late-night television, as well as film and radio. He also appeared on season 16 of the ABC hit "Dancing with the Stars" alongside dancing partner Cheryl Burke.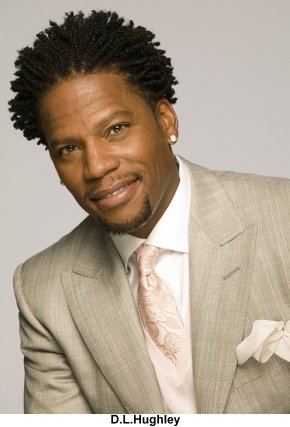 On television, Hughley was the producer and star of "The Hughleys," which ran on ABC and UPN from 1998 through 2002. He was also a series regular on NBC's "Studio 60 on the Sunset Strip" and has filmed several comedy specials.
---
Grant Griffin and "The Las Vegas Divas" will headline a first class production show at the South Point Hotel/Casino with a seven-piece band with musical director Bill Fayne on Thursday, May 8 at 8 p.m. This will be the third year that Griffin has produced a show at the South Point featuring the finest female singers in Las Vegas, and his 10th production at a Michael Gaughan property. The show's co-producer is international choreographer and artist Mistinguett, who will be directing.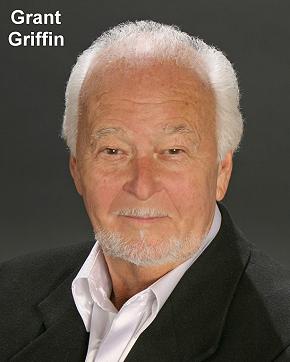 Griffin's career spans 40 Years in show business with his amazing vocal ability to sing from opera to Broadway to pop. He has performed more than 300 concerts worldwide and has also produced more than 80 musical revues.
Mistinguett began her career as a dancer and performer. She is the producer and choreographer for "Showgirl Follies" and was the former co-producer and choreographer of Greg Thompson Productions for 26 years, which included more than 400 productions.
Tickets for Grant Griffin and "The Las Vegas Divas" are $35, $40 and $45, call 702-797-8055.
---
A new era has begun in the Night Club business. House Show Club on Desert Inn just east of Valley View at 3355 Procyn Street has a new format not usually seen in the Adult Night Club Industry. House Show Club presents a strip quality show titled "Dream Girls Topless Review." Just like Strip Properties, there will be nightly shows: Wednesday through Sunday at 10pm and the club will add a second show at Midnight Thursday through Saturday. House Show Club is a two story 30,000sq. foot building, beautifully appointed and lavishly styled, the perfect atmosphere to launch this new addition to adult entertainment in Las Vegas.
When asked why the change was needed, House Show Club spokesman said "We wanted to expand our business to a wider market. In our opinion most adults, both couples and singles will want to visit House Show Club to see a really good production, talented dancers, good music and lots of fun for everyone. And of course we have all the other amenities Adult Night Clubs are known for."House Show Club 367-4000 opens evenings at 9:00pm.
---
New York-New York Hotel & Casino and Nine Fine Irishmen raised more than $112,000 for the St. Baldrick's Foundation tripling last year's amount. Each year, the St. Baldrick's Day event helps raise awareness in the fight against childhood cancer. The event is vital to raise needed funds, enabling the St. Baldrick's Foundation to fund the best research projects focused on finding better treatments and cures for all childhood cancers.
This year's event received support from throughout the Las Vegas community and made a tremendous impact for a good cause. Throughout the day, celebrities and notable personalities came out to show their support by shaving heads, hosting or performing. Guests came out to show their support and cheer on fellow head-shavers in barber chairs at the property's new outdoor plaza on the Brooklyn Bridge. All of the proceeds raised benefit the St. Baldrick's Foundation and will go toward childhood cancer research
CONTINUE ON TO...:
> Entertainment Tidbits Archives
>Las Vegas News "Heard Around Town"
>Las Vegas Leisure Guide<