This year's Las Vegas Philharmonic annual Gala on February 19 has the theme Singing In The Rain with special guest, Patricia Ward Kelly, wife of the late Gene Kelly. The evening will begin with cocktails, hors d'oeuvres, and a silent auction in The Smith Center lobby, followed by dinner, entertainment and a live auction on Reynolds Hall stage starting at 8:00 p.m. Chet Buchanan, host and creator of 98.5 KLUC's Chet Buchanan and the Morning Zoo radio show, will serve as emcee and auctioneer for the Gala.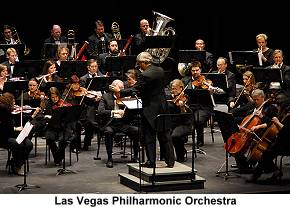 The event will feature special guest, Patricia Ward Kelly, who will present a multi-media presentation about the life and work of her late husband. The Hollywood actor, dancer and choreographer is best known for his films including An American in Paris(1951), Anchors Aweigh (1945), and Singin' in the Rain (1952). In addition, the winner of the 2015 Cox Communication's Young Artists' Concerto Competition, Kelsea Au, will perform during the event. Proceeds generated from the gala will benefit the Las Vegas Philharmonic and its educational initiatives. Call 702.258.5438.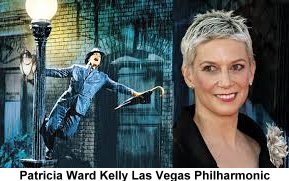 ---
BILLY IDOL will take the stage of the intimate House of Blues at Mandalay Bay Resort and Casino for his first-ever multi-date residency, Billy Idol: Forever.
Billy Idol: Forever will feature Idol, his longtime guitarist Steve Stevens, and the rest of Idol's band at the top of their game, performing songs from throughout Idol's extensive catalog. The show will feature material from throughout Idol's career, from his days fronting the seminal British punk band Generation X to his hits the world has come to know and love, including "Rebel Yell," "White Wedding," "Dancing With Myself," and many more.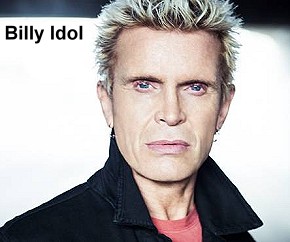 From punk pioneer to global superstar, Billy Idol has created an unparalleled niche in popular music and has remained a household name for more than three decades. Idol's latest career renaissance has come on the heels of his self-written, New York Times bestselling autobiography "Dancing With Myself" and his recent studio album Kings & Queens Of The Underground. Billy Idol: Forever will perform in Las Vegas on the following dates in 2016: March – 16, 18, 19, 23, 25, 26 and May - 4, 6, 7, 11, 13, 14.
Global superstar Jennifer Lopez lit up The AXIS Theater with her first ever headlining residency "JENNIFER LOPEZ: ALL I HAVE" at Planet Hollywood. The live concert experience featured Jennifer Lopez who showed off her fierce talents and megawatt star power. From explosive dance numbers to raw, personal moments, Lopez kept fans on the edge of their seats with her combination of Hollywood glamour, rock star persona and Latin American heritage. Tickets were hard to get, and now she won't be back with her show until May, June, July and August, and many tickets have already been sold out.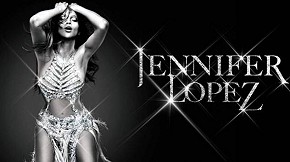 Sheena Easton, the Scottish-born pop diva who rose to prominence in the 1980s, will perform at the Suncoast Showroom March 5-6. Following her success on the Billboard charts, Easton took home the 1981 Grammy Award for Best New Artist. To date, Easton has been nominated for six Grammy Awards. She also has one Platinum and five Gold albums. Since her explosion onto the music scene in the '80s, Easton has recorded 16 studio albums and has released 45 singles worldwide, with 19 singles including "What Comes Naturally," "The Lover in Me," "We've Got Tonight" and James Bond theme song "For Your Eyes Only," which landed on the Billboard Hot 100 chart. In addition to her success on the charts, Easton has toured all around the world, including Canada, China, Thailand, Singapore and Japan. Showtime is 7:30 p.m. Tickets start at $24 plus tax and fees.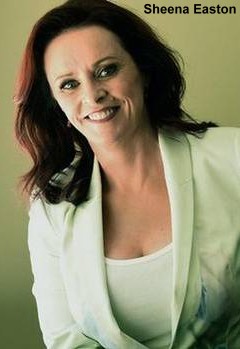 The Plaza Hotel & Casino is proud to announce that Las Vegas' first family of entertainment, the Scintas, will bring their legendary and critically acclaimed music and comedy show to the property's iconic showroom for a limited engagement beginning Friday, Feb. 19. The Scintas will perform at the Plaza at 7:30 p.m. on Feb. 19, 20, 26 and 27, Mar. 11, 12, 25 and 26, Apr. 8, 9, 15 and 16, and May 6, 7, 13 and 14. The Scintas, brothers Frankie and Joe, "honorary Scinta" Peter O'Donnell and newest addition, Janien Valentine, bring refreshing wit, great music and endless talent to the highly regarded show.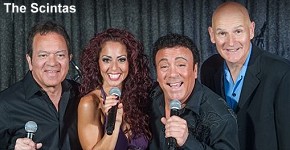 Having performed for hundreds of thousands of people over the years, the Scintas have become a fixture in Las Vegas for the past 16 years with their signature comedy, musical prowess, and knack for spot-on impressions. Valentine adds to the dynamic of this talented group with her powerful vocals and her ability to match wits with the boys. Ticket prices start at $29 for general admission and $49 for VIP tickets offering guests preferred seating, a free cocktail and an autographed photo (prices do not include taxes and fees). A special "dinner and a show" package will also be available for $99 per ticket and includes a three-course prix fix dinner at Oscar's steakhouse in addition to a VIP show ticket. Tickets are available online at www.plazahotelcasino.com or by calling 702-386-2507.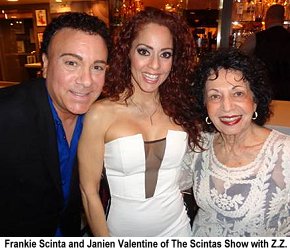 ---
Stratosphere Casino, Hotel & Tower will offer sports fanatics the ultimate Men's College Basketball Tournament viewing experience inside the Stratosphere Theater March 17 - 20. The Stratosphere Theater will once again transform into March BBall Tournament Headquarters, offering fans free admission, food and drink specials as well as nine gigantic, wall-to-wall screens to catch all the madness. True sports enthusiasts should be certain to book their stay at Stratosphere as hotel guests will receive priority entrance to the Theater, ensuring they get the best seats in the house. Doors to the March BBall Tournament Headquarters will open daily at 8 a.m. where fans can enjoy live betting stations, blackjack tables, $3 and $6 food specials, $15 Bud or Bud Light pitchers, a cash bar and free Wi-Fi. Food specials can be ordered directly from seats.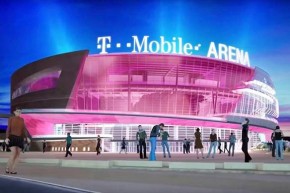 T-Mobile Arena, set to debut April 6, will set the bar for the Las Vegas entertainment experience even higher when it unveils a robust portfolio of exclusive seating sections and VIP lounges. Housing a variety of distinct high-end seats, suites and clubs, the $375-million venue will deliver unique luxury and hospitality amenities. Owners of premium seating products at T-Mobile Arena will enjoy unforgettable experiences as they witness 2016's biggest events in Las Vegas' newest entertainment venue. Events announced to date include The Killers (April 6), Guns N' Roses (April 8 - 9), Harlem Globetrotters (April 19), George Strait (April 22 - 23; September 9 - 10; December 2 - 3), Janet Jackson (May 10), Garth Brooks (June 24 - 25, July 2 - 4), UFC 200 (July 9), Dixie Chicks (July 16) and the Professional Bull Riders Built Ford Tough World Finals (November 2 - 6). As a pathway to the new T-Mobile Arena, nestled between Monte Carlo Resort and Casino and New York-New York Hotel & Casino will be The Park, an oasis designed to feel like a microcosm of the surrounding desert landscape. The Park will provide a respite from the hustle and bustle of The Strip, allowing guests to relax and unwind in the beauty of modern design while socializing with friends, enjoying delicious food and beverage from charming culinary destinations or strolling through the space to take in the sights of The Strip's newest architectural marvel.
---
Aids for AIDS of Nevada (AFAN) and House of Blues Las Vegas join forces to host a charity alternative rock concert on Saturday, Feb. 20 at Mandalay Bay at 7:30 p.m.
Rock the night away with live performances by 90s grunge tribute band Wicked Garden, eclectic alt-rock from Roxy Gunn Project and additional performances by Hope's Edge and My Fair Rosalie. A portion of all proceeds will go to benefit AFAN. As Nevada's largest HIV/AIDS service organization, AFAN continues to benefit the men, women and children affected by HIV/AIDS and provides support to the community through client services, prevention education, transportation to healthcare providers, rent and utility assistance, nutritional counseling, food vouchers and kids' programs. Doors open at 7 p.m. for the 18+ show and general admission tickets are available on the House of Blues website for $10 each plus tax and fees.
---
This February in honor of American Heart Month, Affinity Gaming's Silver Sevens Hotel & Casino will raise awareness and funds to help prevent cardiovascular disease, kicking off with a $5,000 donation to the American Heart Association. Cardiovascular disease, including heart disease, stroke and high blood pressure, is the number one cause of death among American men and women, responsible for one out of every three deaths.
---
TREVI Italian Restaurant will celebrate St. Patrick's Day with green food and drink specials available on Thursday, March 17. Executive Chef Jose Navarro will serve the fettuccine al pesto con gamberi for $24.95. The delectable dish features fettuccine tossed with sautéed shrimp, sun-dried tomatoes, pine nuts and basil in a green pesto cream sauce. Guests will also go green with a creamy pistachio gelato accompanied by a Pirouette cookie, priced at $4.50 per scoop. The 'Kiss Me, I'm Italian' sour apple cocktail will be offered as a holiday special for $9. TREVI is located at the heart of The Forum Shops at Caesars next to the 'Fountain of the Gods.'
TOP OF NEXT COLUMN
Bellagio's Conservatory & Botanical Gardens celebrates the Chinese Year of the Monkey with a spirited display through March 12. The display's vibrant centerpiece features a garden representative of monkeys and their natural habitat. A family of 12 Macaque monkeys can be seen atop a 14-foot mountain working together and using their intelligence and creativity to reach the peaches descending from the sky. Monkeys can be found in the pond and on the mountain gathering the fallen peaches as the water cascades down a picturesque waterfall.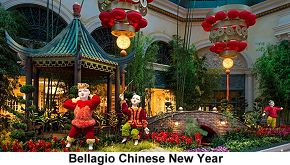 Four traditional ding pots adorn the four corners of the West Garden. At the Conservatory's entrance, six colorful Chinese children topiaries play on each side of the moon gate bridge above a tranquil pond filled with Koi fish. The children are each made up of 5,000 flower stems including red, purple and yellow carnations and green and yellow spider mums. Custom lantern chandeliers illuminate the display overhead with beautiful flowers below.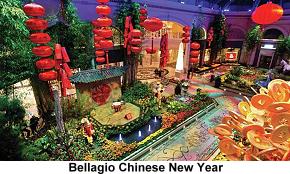 The North Garden features a stunning 18-foot tall Chinese money tree made of 384 sparkling gold coins, weighing a total of 3,000 pounds. The base of the tree is surrounded by four-foot-tall Ingot fountains and I-Ching coins. Surging water from the fountains descends on the money tree to keep it strong and vibrant. The South Garden features a 12-foot lantern at its center accompanied by two illuminated, wooden lanterns and at the base of each lantern are stunning I-Ching coins and Ingot fountains. The Conservatory is complimentary and open to the public 24 hours a day, seven days a week.
---
Live On Stage, starring the legendary Mike Tyson, is returning for round two at MGM Grand. Following a knockout premiere in 2012, which included a string of sold-out shows at MGM Grand, a record-breaking run on Broadway, a worldwide tour and hit HBO special, Tyson's captivating one-man show returns for a limited run at Brad Garrett's Comedy Club inside MGM Grand, with riveting new, never-heard-before stories from the champ's tumultuous life and career. Mike Tyson UNDISPUTED TRUTH - Live On Stage steps back into the ring beginning Thursday, March 3 at 10 p.m. and is a no holds barred, one-man show featuring the world's most illustrious heavyweight boxing champion Mike Tyson.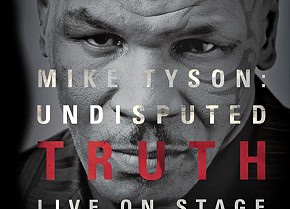 The sports icon thrills audiences with real life untold stories, peeling back layers of tragedy and public turmoil while unfolding his tale of triumph and survival. In an up-close-and-personal setting featuring images and videos, Tyson delivers captivating vignettes from his life, experiences as a professional athlete and controversies in between. Truly raw and exciting theater, in its purest form.

HEXX chocolatekitchen+bar at Paris Las Vegas will sweeten up National Chocolate Lovers' Month with complimentary dessert tastings and tours of its on-site chocolate kitchen. The dessert tastings will be offered in HEXX's state-of-the-art chocolate kitchen every Saturday from 1 to 5 p.m. throughout February. Selections will include an array of petit fours, made with HEXX's signature chocolate and newly introduced milk chocolate. Each of HEXX's different bean-to-bar chocolates present flavor profiles representative of Madagascar, Tanzania, Ecuador, Peru and Venezuela, the five countries from which the cacao beans are harvested, making the dessert tasting experience truly unique. Behind-the-scenes tours of HEXX's chocolate kitchen are daily throughout the month of February and reservations can be made using Eventbrite.
---
Craig Morgan will headline NASCAR Weekend in Las Vegas with the 13th Annual RaceJam concert at Fremont Street Experience on Saturday, March 5 at 9 p.m. on the 3rd Street Stage. The legendary performer will rev up crowds for a free concert with iconic songs. Craig Morgan has made a name for himself as a country music icon and received one of country music's highest honors when he was inducted as a member of the Grand Ole Opry in 2008. In addition to a prolific country music career, he hosts the award-winning TV show "Craig Morgan: All Access Outdoors," currently in its sixth season on Outdoor Channel. The concert is part of the 13th Annual RaceJam 2016, a four-day event celebrating NASCAR Weekend with free nightly entertainment plus NASCAR merchandise booths taking place Thursday, March 3 - Sunday, March 6. All concerts are free and open to the public and parking is available at the Fremont Street Experience parking garage located at Carson and 4th Street.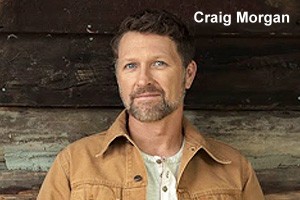 The annual downtown Las Vegas street festival and concert is held in conjunction with NASCAR Weekend, which features the Kobalt 400 NASCAR Sprint Cup Series race on Sunday, March 6 and the Boyd Gaming 300 NASCAR Xfinity Series race on Saturday, March 5, both at Las Vegas Motor Speedway.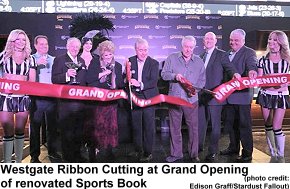 The world's largest Race and Sports SuperBook® just got bigger at Westgate Las Vegas Resort & Casino. With the completion of its renovation, the 25,000 square foot SuperBook® at Westgate Las Vegas Resort & Casino has established itself as the world's most renowned and technologically-advanced sports book. With 4,488 square foot HD video screens - measuring in at 240 feet wide and 20 feet tall, it is the world's largest indoor LED video wall and the highest resolution screens in Las Vegas for the ultimate viewing experience. There are more than 400 comfortable seats and 19 wagering windows and so much more.
---
It's fight night at Crazy Horse III! The award-winning gentlemen's club will host a viewing party for the highly anticipated UFC 197 title fight: Rafael dos Anjos vs. Conor "The Notorious" McGregor on Saturday, March 5, starting at 5 p.m. UFC 197 will be headlined by the Lightweight Championship title fight between defending Lightweight champion, dos Anjos, and current Featherweight champion, McGregor, at the MGM Grand Garden Arena. A Bantamweight bout between defending champion, Holly "The Preacher's Daughter" Holm, and Miesha "Cupcake" Tate will precede the main event. UFC aficionados will view the action on the club's massive 70-inch and 100-inch flat-screen televisions. Guests of this viewing party may watch alongside the venue's gorgeous entertainers and enjoy beer bucket specials, free pizza and more. Locals can also enjoy half-off bottles. To book exclusive VIP packages for the event, call 702-673-1700. Complimentary limo transportation to the viewing party is available through Crazy Horse III's limo service, pending availability, by calling 702-673-1700. Crazy Horse III is located on Russell Road, just a few blocks west of the Las Vegas Strip.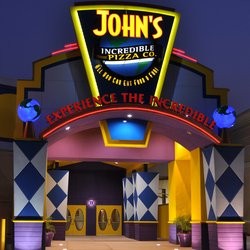 I was invited to experience the incredible at John's Incredible Pizza Co. opening. Before going, I thought what could be incredible about a Pizza Company. Was I in for a surprise! John's Incredible Pizza Co. located by the Boulevard Mall at 3700 South Maryland Parkway fills an entire area over 60,000 square feet that previously was Dillards.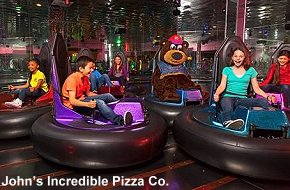 This amazing indoor fun-filled experience has a multitude of rides, games, attractions, themed dining rooms, food and 20 different pizzas made from scratch that you can see being made. A Buffet with recipes created especially for John's along with 40 freshly prepared items on a salad bar are part of the entry fee. Car rides, bowling, theatre and so much more that can't be described, so families, couples, individuals, of all ages - go and see for yourself and enjoy!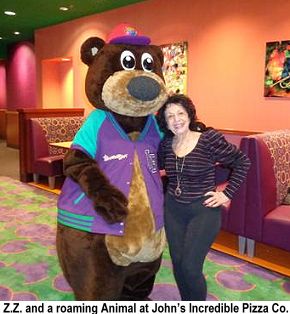 Golden Nugget Las Vegas remains the downtown destination for top-notch entertainment with 52 Fridays. The acclaimed concert series, which debuted in 2015, brings a diverse lineup of headlining artists to the Gordie Brown Showroom, from GRAMMY Award Winners and Country Music Hall of Famers to classic rock bands and contemporary favorites. Among the headliners to be welcomed to the stage are Christopher Cross, Gin Blossoms, America, Eddie Money, and many, many more
---
This February, Distill's 2nd Anniversary Party takes place at the Summerlin location at 10820 W. Charleston Blvd. and guests from all over Las Vegas are invited to the Summerlin area hot-spot to celebrate - Hawaiian style. On Saturday, Feb. 27, party-goers can heat up the winter with festive, island-inspired gear like grass skirts, Hawaiian shirts, surf wear and stroll in the sand to celebrate the occasion. Beginning at 7 p.m., guests can enjoy a variety of Hawaiian food and drinks while enjoying live music and dancing. Distill will also host a variety of drawings for fun prizes and themed activities throughout what is sure to be Distill's party of the year. There is no cover for the party, however all guests at Distill must be over 21 years-old with valid ID.
---
Wizard World, Inc. (OTCBB: WIZD) second trip to the Las Vegas Convention Center at Wizard World Comic Con Las Vegas is March 18-20. Scheduled to headline the roster of celebrity guests to the pop culture extravaganza are:"Doctor Who" stars Matt Smith ("The Crown") and Karen Gillan (Guardians of the Galaxy), Jewel Staite ("Firefly," "Stargate: Atlantis"), Eliza Dushku ("Buffy the Vampire Slayer, "Angel"), Mark Pellegrino ("Supernatural," "Lost"), Elizabeth Henstridge and Brett Dalton ("Agents of S.H.I.E.L.D."), Sean Maguire ("Once Upon a Time") and Michael Rooker (Guardians of the Galaxy, "The Walking Dead"). Other well-known Wizard World Comic Con Las Vegas guests include Barry Bostwick (The Rocky Horror Picture Show, "Spin City"), Tara Reid (American Pie, Sharknado), Patricia Quinn (The Rocky Horror Picture), Jason David Frank ("Mighty Morphin' Power Rangers"), and Chris 51 ("Epic Ink").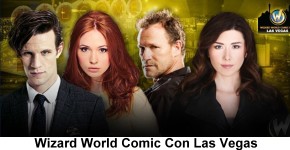 Wizard World is also the home of the most creative comics artists and writers on the planet. Wizard World Comic Con events bring together thousands of fans of all ages to celebrate the best in pop-fi, pop culture, movies, graphic novels, cosplay, comics, television, sci-fi, toys, video gaming, gaming, original art, collectibles, contests and more. Wizard World Comic Con Las Vegas show hours are Friday, March 18, 3-8 p.m.; Saturday, March 19, 10 a.m.-7 p.m., Sunday, March 20, 10 a.m.-4 p.m. Wizard World Comic Con is also the place for cosplay, with fans young and old showing off their best costumes throughout the event. Fans dressed as every imaginable character - and some never before dreamed - will roam the convention floor. The famed Wizard World Comic Con Las Vegas Costume Contest will take place on Saturday night.
CONTINUE ON TO...:

> Entertainment Tidbits Archives
>Las Vegas News "Heard Around Town"
>Las Vegas Leisure Guide<