The incredible Terry Fator: The VOICE of Entertainment just celebrated his 6th year at The Mirage in The Terry Fator Showroom. In celebration of this landmark he added a new character to his amazing cast of characters. Rusty The Robot now joins the loveable cast of characters including Winston the Impersonating Turtle, Vikki "The Cougar," country legend Walter T. Airdale, Duggie Scott Walker, Julius, Emma Taylor, the world's greatest Elvis impersonator Maynard Tompkins and Wrex the Crash Test Dummy.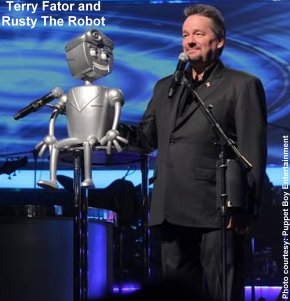 Rusty The Robot is designed to do the jobs of all and he's able to sing virtually any song in any voice from Elvis to Bruno Mars and Garth Brooks and has an intellect second to none. In addition, Terry and his puppets do impressions of Lady Gaga, Taylor Swift, Tony Bennett, LMFAO, Toby Keith, Roy Orbison and others. Terry even throws in a few solo performances with songs from his new CD It Starts Tonight including "Live" and "Heroes." Terry Fator's voice and ventriloquism is mind-boggling in that it is soooo good that even on the large screen you can't see his mouth or throat move. It is such an enjoyable, fun show along with an excellent band. There is no one in the world better and, of course, that is why he won the grand prize on America's Got Talent Show and became a Las Vegas headliner. Tickets can be purchased at the Terry Fator Theatre box office, by phone at 702-792-7777 or 800-963-9634 or online at mirage.com.
With its doors closing to the public at noon on Monday, May 4, 2015, the renowned Riviera Hotel & Casino is counting down the final weeks with a look back at some of the highlights, fun facts, celebrity sightings and rarely-seen photos that have helped build the iconic stature of the Las Vegas Strip's first high-rise hotel and casino.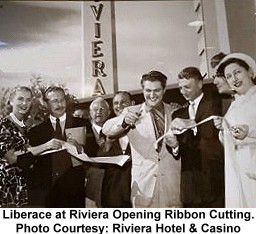 Photo of legendary singer Liberace, who cut the ribbon at the property's grand opening and became the Las Vegas Strip's highest-paid entertainer, at $50,000 per week.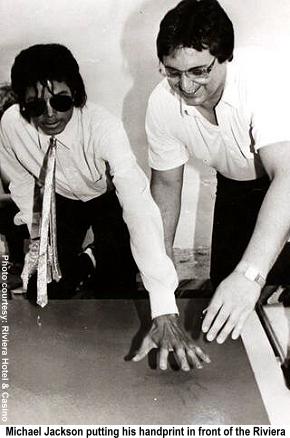 Photo of Michael Jackson the "King of Pop," who, in 1984, cast and signed his handprints in cement for a Las Vegas "Walk of Fame" project in front of the Riviera Hotel & Casino. The "Walk of Fame" existed for many years and featured handprints from some of the world's biggest celebrities, including Dolly Parton, Smothers Brothers, Robert Goulet, Sugar Ray Leonard, Don King, among others.
With 60 years on the Las Vegas Strip celebrations will take place throughout the month of April, with more than $500,000 in cash prizes that will be given away in the Classic Cash Giveaway. A grand prize of $10,000 in cash will be given away every Sunday through Friday at 7:00 p.m. throughout the month of April, with the 2nd through 9th place winners each receiving $1,000 in cash. The month will conclude with a grand prize of a Harley Davidson Motorcycle, which will be awarded to one lucky winner on Saturday, April 25 at 7:00 p.m.,
---
Break out your best leather jacket and an extra-large bottle of hair spray to see Rock of Ages at the Venetian. Set in L.A.'s infamous Sunset Strip in 1987, Rock of Ages takes the show to another level with the addition of the first-ever celebrity guest, Joey Fatone, celebrated actor and singer most noted for being a part of 'N Sync. Fatone stars as Dennis Dupree, the legendary Bourbon Room owner, from Feb. 20 through April 2015. Rock of Ages has 28 of the greatest rock 'n roll songs from the 1980s. This production has plenty of comedy to go along with the great music... especially when it comes to Dennis, the owner of the Bourbon Room and Lonny, his club manager as they try to get the legendary Stacee Jaxx to play his final show at their bar in a last-ditch effort to avoid demolition. Rock of Ages frequently breaks the "fourth wall," directly addressing the audience and forgetting at times that they're just actors in a musical. This is one terrific show. Great music, lighthearted fun and fantastic production values and a hilarious, feel-good love story that everyone will enjoy.
---
Happy Birthday to Comedy Legend Marty Allen on his 93rd Birthday March 23. Marty along with his wife, singer Karon Kate Blackwell will be doing two shows during this celebration at the Downtown Grand on March 22 and 23. Marty is still going strong and funny as ever. Call Downtown Grand for tickets.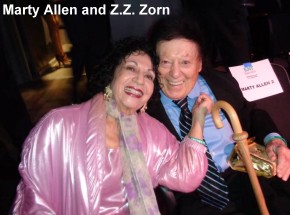 And, at the other end of the birthday spectrum, Justin Bieber celebrated his highly anticipated 21st birthday within OMNIA Nightclub during the premier hot spot's debut weekend.
Still another high profile birthday is Jerry Lewis who took in "FRANK - The Man. The Music."at The Palazzo Las Vegas. The legendary actor and comedian attended the show with a large group to celebrate his 89th birthday. Star of "FRANK - The Man. The Music." Bob Anderson welcomed Lewis to the show: saying "We are among royalty tonight. A gentleman that is with us here is an iconic legend and is a very, very close friend of mine. And I say that in a loving way. The whole world knows who he is and we have him right here tonight: Mr. Jerry Lewis." Lewis was welcomed by the audience with a standing ovation. After the show, Anderson and Lewis had the chance to sit down together.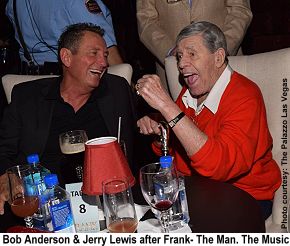 "FRANK - The Man. The Music." performs Tuesdays, Wednesdays, Thursdays, and Saturdays at 8 p.m., and Fridays at 9 p.m. at The Palazzo Theatre.
And another very important birthday. St. Patrick Day, March 17 is my son Scott Zorn's Birthday.
---
The Nevada Ballet Theatre (NBT) held a Gala performance at the Smith Center to honor NBT Co-Founder and Board Co-chair Nancy Houssels on her 80th Birthday. And what a performance it was! The program included special guest artists and the one-and only Frankie Moreno who did 3 of his own songs as the Ballet danced to them.
---
MJ LIVE the Michael Jackson tribute show opens at its new home in the Stratosphere Theater on March 30 performing seven nights a week at 7 p.m. The Michael Jackson tribute artist's spot-on breathtaking impersonations and many of Jackson's biggest hits are all presented on one stage This theatrical stage production with its powerful sound, spectacular lighting, visual effects, splendid team of dancers and live band on stage takes audiences back to when the King of Pop ruled the charts.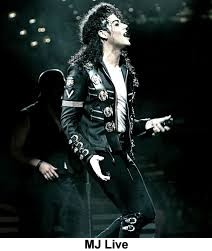 Utah resident Trinidad T. struck it rich at Westgate Las Vegas Resort & Casino on Saturday, March 14 when she hit the $10,744,293.40 progressive jackpot on an IGT Megabucks® $1 slot machine. Trinidad was in town with a friend who was playing in Westgate's blackjack tournament. This was her first time visiting and staying at Westgate Las Vegas. With this jackpot, Trinidad plans to visit her family in the Philippines that she has not seen in many years. She has always envisioned buying a yellow Mustang and will make that dream a reality. Trinidad is also a huge Elvis fan and plans to return to Westgate Las Vegas next month for the grand opening of the newly announced "Graceland Presents ELVIS: The Exhibition - The Show - The Experience".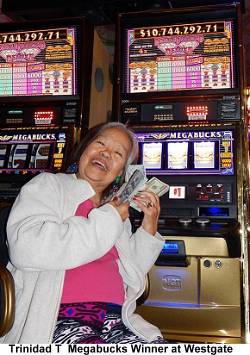 ---
Elvis Presley's Graceland and Westgate Las Vegas will bring the authentic Elvis Presley back to Las Vegas for the first time in 40 years. "Graceland Presents ELVIS: The Exhibition - The Show - The Experience" will include an expansive, new permanent exhibition featuring hundreds of artifacts never before displayed outside of Graceland, and live entertainment shows that celebrate the life and legacy of Elvis Presley. Elvis will be back in the building scheduled to debut April 23, 2015.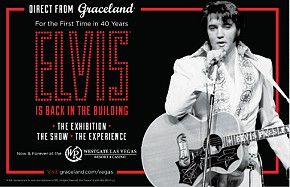 The first-ever permanent Graceland exhibition outside of Memphis will encompass over 28,000 square feet and include hundreds of artifacts from the Presley family's treasured Graceland Archives, showcasing the man, the performer and the music that revolutionized popular culture around the world. Presley performed for millions of guests at the Westgate property, originally the International Hotel, later the Las Vegas Hilton, when the property first opened in 1969. Throughout his epic seven-year stint, Presley performed 837 consecutive sold-out shows. More people saw Presley perform at the property than anywhere else in the world.
TOP OF NEXT COLUMN
Blue Man Group at Monte Carlo Resort/Casino offers families a fun and affordable escape this spring break with its Family 4-Pack ticket offer, available for performances beginning Monday, March 23 through Sunday, April 12. The special is $199 (plus applicable service fees) and includes four Category C: Mezzanine tickets as well as a free small popcorn for each guest to munch on while they enjoy the award-winning production. This package has a retail value of $384 (before service fees), so families will save $185 through this limited-time deal. To receive the Family 4-Pack ticket offer, patrons must call the Blue Man Group Box Office at 702.730.7010 and mention "Family 4-Pack." Blue Man Group Las Vegas allows children of all ages but recommends ages three and older due to loud percussion and courtesy to other guests. Deemed as one of "The Best Shows in Las Vegas for Kids" Blue Man Group is perfect for adults and children alike. The production sparks guests' imaginations with its electrifying display of music, art, science and pure entertainment. The wildly outrageous experience features world-renowned musicians performing incredible, custom Blue Man Group songs that can't be heard anywhere else. Engaging all the senses, this is a foot-tapping, eye-popping and heart-pumping theatrical masterpiece.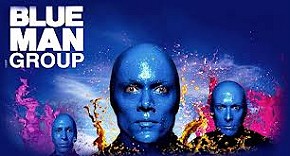 The Nevada Congressional Awards Inaugural Reception and Congressional Presentation thanked the Nevada Congressional Delegation Senators Harry Reid and Dean Heller, Congressmen Mark Amodei, Crescent Hardy, Joe Heck and Congresswoman Dina Titus for their support of this newly formed Nevada Congressional Award Council (NCAC).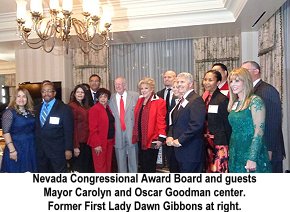 The Award offers young people the opportunity to set personally challenging goals and achieve them. There are six levels of Award - Bronze, Silver, Gold Certificates and Bronze, Silver and Gold Medals. The minimum age to earn an Award is 14 and must be completed by their 24th Birthday.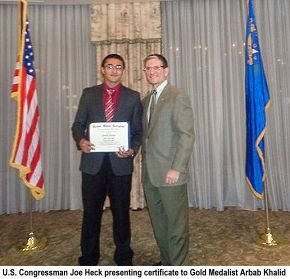 The invite-only VIP guests enjoyed a program that started with a Color Guard for the Presentation of Colors and Pledge of Allegiance. Many of the Distinguished guests were introduced as well as the Congressional Award directors and Advisory Board. Judge Janiece Marshal installed the Officers of the NCAC. The 2015 Gold Medalist from Southern Nevada was Arbab Khalid from Las Vegas who was introduced and given presentation certificates from many of Nevada's members of Congress or their Representatives. Arbab Khalid will received his Gold Medal in Washington D.C on June 17.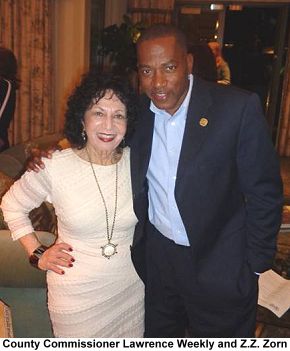 The Las Vegas Philharmonic performs its Pops Series IV concert titled 'Symphonic Spectacular' on Saturday, March 28 at 7:30 p.m. in Reynolds Hall at The Smith Center. Featuring Newman's Fanfare and popular classics including Rossini's Overture to The Barber of Seville, Tchaikovsky's Capriccio italien, Bernstein's Three Dance Episodes from On the Town, Rimsky-Korsakov's Capriccio espagnol,Sibelius's Valse triste, and Copland's Four Dance Episodes from Rodeo. Tickets $26, $46, $66 & $96 available from The Smith Center Box Office 702.749.2000 or lvphil.org.
---
BLVD. Cocktail Company, located in the heart of The LINQ on the Las Vegas Strip, will jazz up Tuesday nights with "Jazz Night," every Tuesday from 8 p.m. to midnight. The stylish cocktail lounge will offer an evening of live jazz featuring the talents of local favorite Modern Jazz Assembly (MGA). Happy hour specials from the lounge's signature cocktail menu will be offered from 5 to 7 p.m., along with buy-one-get-one homemade fireball shots, featuring an infusion of American Whiskey with nine spices, including cinnamon, star anise, black peppercorn, cardamom, nutmeg and clove, priced at $10.
---
Versatile entertainer Ben Vereen will bring his one-man show to the Suncoast Showroom April 18 and 19. Accomplished actor, dancer, and singer Ben Vereen is no stranger to the entertainment scene. On Broadway, his role in "Pippin" garnered him both the prestigious Tony Award and Drama Desk Award for "Best Actor in a Musical." For more than 35 years, Vereen has performed countless one-man shows around the world. While performing on stages worldwide, Vereen also was in high-profile film roles, including Chicken George in "Roots" and Louis Armstrong in "Louis Armstrong - Chicago Style." Showtime each evening is 7:30 p.m. Tickets are available from $15.95.
---
The Animal Foundation's 12th annual "Best In Show," is returning to the Orleans Arena Sunday, April 26 at 1 p.m. The one-of-a-kind event will feature unique and incredible shelter dogs competing in several categories (small, medium, large, variety pack, puppy parade and special needs) as they strut their stuff and vie for the audience's hearts and homes. The pups in each group who receive the most crowd applause will advance to compete for the coveted title of Best In Show. Even though only one will take home the crown, audience members will have the opportunity to adopt each four-legged contestant, giving them each the most coveted prize of all: a forever home.
---
"Menopause The Musical." This enjoyable show is now at HARRAHS in a more intimate room that allows more audience interaction. The talented cast of four women who go shopping for lingerie at a department store sing 25 songs about chocolate cravings, hot flashes, loss of memory, nocturnal sweats, and sexual predicaments. The lyrics parody popular music from the 60's, 70's and 80's with clever tongue-in-cheek comedy lyrics and entertaining dance routines. Humorous new lyrics coupled to old favorites provide a good laugh such as: "'My Guy' becomes 'My Thighs,' 'I'm Sorry' transforms into 'I'm Flashing,' 'The Great Pretender' laments brain collapse, and of course, "Change, Change, Change." It's hilarious, good fun and guys love it too.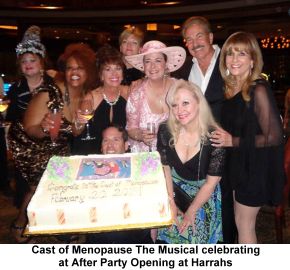 The Four Freshmen bring their unique brand of harmony to the Suncoast Showroom April 4-5. Carrying on a 67 year legacy, the Four Freshmen group tradition began in 1948, established by four students at Butler University in Indianapolis, Ind. Hal Kratzsch, brothers Ross and Don Barbour, and their cousin Bob Flanigan created a brand new vocal sound. Working without written music and choosing notes by ear, they spread their jazz voicing over a wider range than other groups, while imitating the phrasing and aggressive feel of a big band brass section.
To date, the Freshmen Four have produced more than 70 singles and albums, won numerous DownBeat and JazzTimes readers' polls, and have been honored with the Satchmo Award for unique and enduring contribution to the living history of jazz. Bob Flanigan retired from performing in 1992, but he continues as the group's mentor and personal manager.
---
In celebration of Shakespeare's 451st birthday, the Utah Shakespeare Festival will have their Annual Las Vegas Fundraiser on April 23 at Lawry's The Prime Rib at 6:15 p.m. The evening promises to be one of fine food, fun, and games! Plus, get a sneak peek of the upcoming season with Festival company members. Proceeds from the evening support the Utah Shakespeare Festival's acclaimed plays and the entire Festival Experience. Tickets are $175 per person.
For more information or to reserve your seats, call 435-586-7880.
---
Chateau Nightclub & Rooftop at Paris Las Vegas will be the site of over-the-top costumes and a celebration of popular television shows for the official Wizard World Comic Con official party on Saturday, April 25. RJ Mitte, star of AMC's hit show, "Breaking Bad," will host the post-convention bash with a DJ performance on the club's spectacular rooftop. Mitte, who plays Walter "Flynn" White Jr. on AMC's Emmy and Golden Globe Award-winning thriller, "Breaking Bad," has mild cerebral palsy, like his character on the show. He is a fan favorite and well-known as a champion for people with disabilities, dedicating his career to raising awareness.
The Wizard World Comic Con Convention, held at the Las Vegas Convention Center, will bring science fiction and pop culture characters together in one large festival. Fans of popular shows like "Orange is the New Black," "The Walking Dead" and "Breaking Bad" will have the opportunity to meet and mingle with some of their favorite actors.
---
My good friend and very talented singer/comedienne Barbara Brighton will be starring in a Tribute to Barbra Streisand and a Tribute to Joan Rivers on March 28 at 7 pm. This will be at Sun City McDonald Ranch. Tickets are: $12.00 Residents $15.00 Non residents.
---
Where was Winter as now we are talking about Summer! The Deck at Aliante Casino + Hotel + Spa will become a hot spot for guests and locals alike this summer with drink specials, luxury cabanas and monthly Poolside Jazz Under the Stars concerts. The Deck will officially open for the season on Monday, March 23, with the jazz series launching on Thursday, April 30. Poolside Jazz Under the Stars will take the stage as day turns into night with monthly concerts beginning at 7 p.m. Tickets will be priced at $15 per person.
The Deck will be open daily from 11 a.m. to 6 p.m. from March 23 through May 24 and 11 a.m. to 9 p.m. through the remainder of the season. The pool is free for hotel guests and day-passes are available for non-guests $10 on weekdays and $20 on Saturdays, Sundays and holidays. Active military and veterans with valid ID, along with Sun City residents, will receive a 10 percent discount for day-passes.
---
LIMITED TICKETS REMAIN FOR WORLD-CLASS CULINARY FESTIVAL IN LAS VEGAS, APRIL 23-26. Tickets to the ninth annual Vegas Uncork'd by Bon Appétit are selling quickly with more than half of total tickets already gone and 14 events completely sold out. With just under two months remaining until the world's hottest culinary festival hits the Las Vegas Strip, guests still have a chance to purchase select tickets to events at ARIA, Bellagio, Caesars Palace and MGM Grand. A mix of both intimate experiences and large-scale extravaganzas, each event will allow ticket holders the opportunity to mix and mingle with the world's greatest chefs, sommeliers and mixologists including Emeril Lagasse, Gordon Ramsay, Julian Serrano, Shawn McClain, Brian Malarkey, Jean-Georges Vongerichten, Guy Savoy, Michael Mina, François Payard, Masa Takayama, Mary Sue Milliken and Susan Feniger. Book Now at VegasUncorked.com.
---
Chocolate the Exhibition is now exclusively at Springs Preserve until June 1. Chocolate and its national tour were developed by The Field Museum, Chicago.
This exhibition was supported in part, by the National Science Foundation and locally sponsored in part by Ethel M. Chocolates.
CONTINUE ON TO...:

> Entertainment Tidbits Archives
>Las Vegas News "Heard Around Town"
>Las Vegas Leisure Guide<