The Broadway-style comedy PAWN SHOP LIVE!, a parody of the story behind HISTORY CHANNEL's reality smash hit "Pawn Stars," is now playing at the Gordie Brown Showroom at the Golden Nugget. Created by Emmy award-winning producer Derek Stonebarger, the production is based on the story of the world's most famous pawn shop, Gold & Silver Pawn. The show PAWN SHOP LIVE! includes story contributions from owners Rick Harrison and the Harrison family from their TV show. They have fully endorsed the production and also will appear on stage as often as their filming schedule permits.

With seven talented live actors and dancers, including Showgirls, as well as a puppet, PAWN SHOP LIVE! features celebrity guests and surprises. The on-stage characters lampoon versions of Rick Harrison, Austin "Chumlee" Russell, Corey "Big Hoss" Harrison and Richard "The Old Man" Harrison - better known as Slick, Chump, Lil Boss and Old Fart.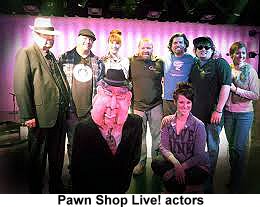 Directed and co-written by Troy Heard, the show tells the story of how it all began. It begins with a young Slick Garrison struggling with a debilitating illness which forces him out of school and into a world of home schooling. Slick grows into a book-and street-smart genius using his experiences and life lessons, often taught from his father - a puppet named Old Fart - to eventually influence the world with his knowledge and art of the deal. Working the family business, Slick is joined by his son, Lil Boss, and his son's dim-witted friend, Chump, who become international superstars in the process. PAWN SHOP LIVE! runs Tuesday through Saturday at 4 p.m. Tickets start at $24.95.
The Las Vegas Philharmonic Diamonds Are Forever Gala will honor Siegfried & Roy on March 1 at the Aria Resort & Casino. The Diamonds Are Forever Gala is the Las Vegas Philharmonic Orchestra's main fundraising event for the year with proceeds going towards its concert costs and community and education outreach work. A special musical tribute to entertainers Siegfried & Roy will be performed by members of the orchestra. A special brass fanfare has been commissioned from composer Anthony Newman to be performed upon the arrival of Siegfried Fischbacher & Roy Horn to the gala. In addition, Taras Krysa will perform a special violin solo, The Méditation from the opera Thaïs by Jules Massenet for the honorees. This piece of music has special meaning to Siegfried & Roy. It was part of their Mirage show, heralding the arrival of the white tiger to the stage. Ten years ago, when Roy Horn lay unconscious in a hospital bed following surgery, Siegfried played him a recording of this piece. Siegfried said that when he played it, he saw a tear run down Roy's cheek and knew then Roy could hear this piece; that he understood it, and everything would be okay.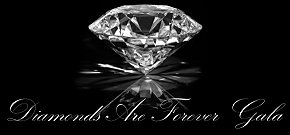 In addition to these special musical performances, the gala will include a performance by one of the Las Vegas Philharmonic's Young Artists' Concerto Competition winners, cellist Devon Zubka, and performances by ensembles featuring orchestra musicians.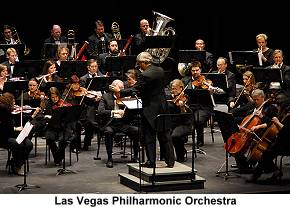 The evening begins at 6:30 p.m. with a silent auction and cocktails and continues with dinner, a presentation to the honorees, live auction and a "Raise the Paddle" to raise money for the orchestra's Youth Concert Series that brought close to 15,000 local schoolchildren into Reynolds Hall at The Smith Center for a free Las Vegas Philharmonic concert in January. Tickets: 702-258-5438 or lvphil.org.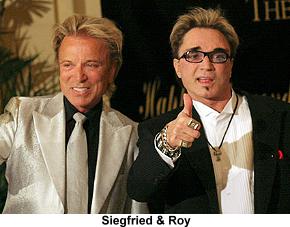 In honor of Black History Month, the Neon Museum will spotlight notable aspects of African-American history on tours of the Neon Boneyard throughout February. In addition, the museum is presenting two special programs in February related to Paul Revere Williams, the African-American architect of the iconic La Concha Motel lobby which today is the Museum's visitor's center.
Among the notable points of African-American history:
Paul Revere Williams was involved in pivotal events of World War II that brought thousands of African-Americans to Las Vegas. He was hired to design the housing for workers at Basic Industries - many of whom were African-Americans recruited from Fordyce, Ark., and Tallulah, La., and Los Angeles - which manufactured titanium for war-time uses.
Sarann Knight-Preddy owned the Moulin Rouge Casino for many years and was the first African-American to receive a Nevada gaming license.
In the days of discrimination, Foxy's Casino at Sahara Avenue and Las Vegas Boulevard was one of the few places to serve black patrons.
---
REO Speedwagon will take the stage at Fremont Street Experience for a free performance on Saturday, March 8 at 9 p.m. on the 3rd Street Stage. The iconic rock band will rev up crowds during the 11th Annual RaceJam with iconic songs including: "Can't Fight This Feeling," "Take It On the Run," "Keep on Loving You," "Roll with the Changes" and more. The concert is part of the 11th Annual RaceJam 2014; a three-day event celebrating all the NASCAR action taking place with NASCAR merchandise booths and free nightly entertainment Thursday, March 6 - Sunday, March 9.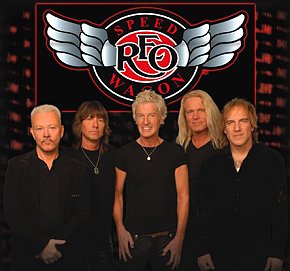 Las Vegas is proud to have a multi-talented stunning young woman who balances performing in two shows on The Vegas Strip simultaneously. Chloe Louise Crawford has been selected as Playboy's "Cyber Girl of the month" for February. Chloe is the gorgeous wife of Vegas headliner Murray Sawchuck and she performs with him as the lead assistant and choreographer at the Tropicana in Murray's 'Celebrity Magician' show Chloe also highlights her dancing and variety talents in Fantasy at the Luxor.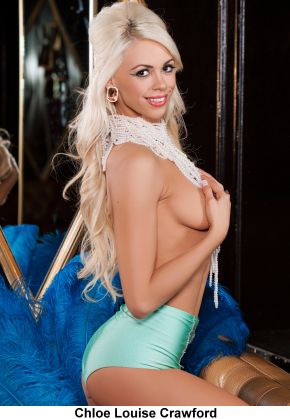 British born Chloe is a trained dancer, magician's assistant, choreographer, and her variety skills include: aerial silks and pole choreography. In early 2000 Chloe performed for several years in Europe and moved to Las Vegas in 2012 to join Murray's show. In 2013, Chloe appeared in Sports Illustrated Swimsuit Edition, on the cover of Strip LV Magazine and Tradeshow Lifestyles. She has guest-starred on History Channel's TOP GEAR USA, Hallmark's HOME AND FAMILY, THE MARIE SHOW and MASTERS OF ILLUSION. Congrats Chloe.
---
"Dancing With the Stars" Finalist Bill Engvall brings his trademark Blue Collar Comedy Routine to Treasure Island March 7 at 9 p.m. following four successful engagements in 2013. Last year, Engvall was one of the finalists on "Dancing With the Stars," with partner Emma Slater. Earlier in the year, he began providing the voice to one of the four main characters on CMT's first-ever animated project, "Bounty Hunters," a show about four friends tracking down fugitives for their bounty hunting business. Engvall currently hosts "Country Fried Home Videos," one of the top-rated shows on CMT, and "Lingo" on the Game Show Network.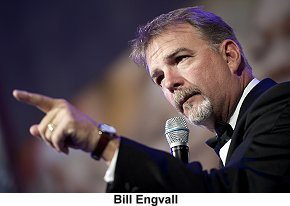 Irish artist Graham Knuttel's Las Vegas gallery - The Knuttel Gallery celebrated its Grand Opening at the Venetian-Palazzo with a ribbon cutting by Dr. Miriam and Sheldon G. Adelson and an unveiling of Graham Knuttel's latest masterpiece. The gallery exclusively features the work of Irish artist Graham Knuttel, one of Europe's most famous living figurative artists.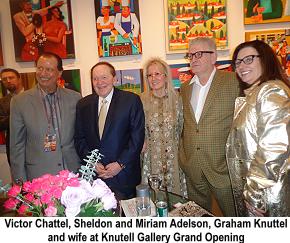 Knuttel's paintings and sculptures have been acquired by an array of celebrities and several prestigious institutions such as Goldman Sachs and the William Morris Agency. Knuttel's art is quite unique. His bold colors and distinct characters depict ferocity, attitude and a vicious playfulness.
---
Frankie Moreno is one of my favorite performers anywhere, anytime! Frankie did a live DVD taping with his fabulous band at the Stratosphere Showroom that was A-1 perfection. He invited his longtime fans to come for free and the room was jammed-packed with his audience jumping and rock'n and rollin' in a standing-room-only background that created a concert setting. What an amazing show it was that also included Lacy Schwimmer from "Dancing With The Stars."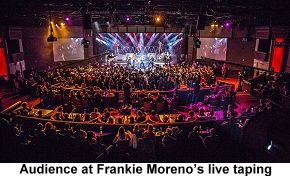 I've known Frankie Moreno since he came to Vegas and although I had a foot injury; could hardly walk and had to use a cane, I knew I had to be there to support and cheer him on. I told this to Frankie and fortunately I was seated in a booth and it sure was worth being there. Everyone was invited to a Champagne afterparty at John Knoft's Gallery. While there. I asked Frankie where the taping would be seen and he said at PBS sometime in April. Wow! what a night!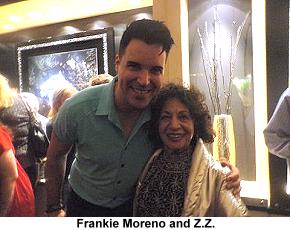 TOP OF NEXT COLUMN
Another of my favorite Las Vegas entertainers Skye is now performing in Tropicana Nights a Free Las Vegas Live Show at the Tropicana. When was the last time that you went to an exceptional live show on the Las Vegas Strip? It's not often that "exceptional" and "free" fall in the same sentence - until now. This is your opportunity to come and experience just such a show with Tropicana Nights hosted by Miss Skye Diva Thursday through Saturday in the Tropicana Lounge starting at 9:30 p.m.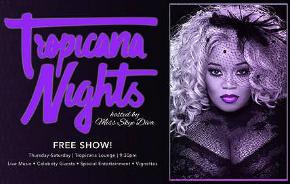 Miss Skye Diva, who was named 2010 Las Vegas Entertainer of the Year and awarded Best R&B Female Performance in 2011 and 2012, will dazzle you with her stunning live music that features songs from the '40s all the way to current pop rock. She also welcomes a variety of talented guest celebrities to the stage of our Las Vegas lounge to perform special entertainment acts and vignettes that will get you up out of your seat and dancing - because it just wouldn't be a night out on the town in Vegas without dancing.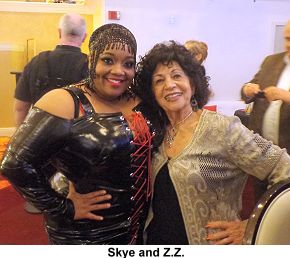 The Winter 2014 Las Vegas Market at World Market Center Las Vegas) hosted its biggest and best attended market in its nine-year history. Record-breaking gains in both attendance - with 21% more buyers and 850,000 more square feet of resources than last winter - firmly cemented the Market's position as the leading furniture, home décor and gift market in western United States. The summer Market will run July 27-31, 2014, at World Market Center Las Vegas.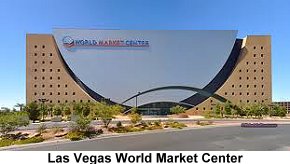 SHINE ALTERNATIVE FITNESS celebrates two successful years of business anniversary with complimentary classes on Saturday, March 1. Shine Alternative Fitness is a unique gym that offers dynamic alternative fitness classes and anniversary classes will include AntiGravity Yoga level 1, Beginner Aerial Silks, Ballet Barre Burn, Stretch & Tone, AntiGravity Yoga Restorative and Pole Skills levels 1 and 2. All classes will be open to the public.
---
MGM Grand unveils TAP, a high-energy restaurant and sports bar where guests enjoy the latest sporting events while surrounded by sports history. Every seat in the 220-seat restaurant offers a prime view of the biggest games broadcast live on TAP's 60 HD flat-screen televisions. The menu features American sports bar favorites as well as the option for guests to create a personalized burger. Meal choices can be complemented with a cold beer from TAP's extensive selection of bottles and draughts including local and seasonal craft brews.
TAP serves as MGM Grand's official headquarters for viewing televised sporting events. One-of-a-kind items collected from events held in Las Vegas, known for hosting many of the world's biggest sporting events, are displayed throughout the space. If the items within the memorabilia collection hanging throughout TAP could talk, they'd have amazing stories to tell. Each was a part of an iconic sporting event that took place in Las Vegas, making each piece a source of local pride. TAP is open daily for lunch and dinner.
---
Genevieve Dew, a Las Vegas favorite is known as the "Lady with the Golden Pipes." Genevieve will perform a "Tribute to Billy Holiday" at Santa Fe Station Casino Chrome Showroom on Saturday, March 1 at 7 p.m. Genevieve has been featured with different headliners on the Las Vegas Strip and has headlined at The Orleans, Sam's Town, Sun Coast, Rio, Harrah's, Sahara, Hilton, Bellagio and Monte Carlo. She has been featured at high-end restaurants and has performed in summer outdoor concerts at Lake Las Vegas and Anthem.
Genevieve started singing with the St. Louis Symphony at age 17. She worked with artists such as Stevie Wonder,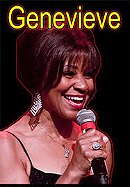 Nancy Wilson and Johnny Hammond who were her mentors in learning a jazz vocal technique that she has perfected. Although a Las Vegan, Genevieve has traveled extensively performing in different countries from Europe to Australia and from the Middle East to Asia. She has performed with the electric jazz violinist Michael Ward, several big bands, Grammy nominee Larry White and the great Andre Bocelli. The highlight of her career was when she performed with the world renowned Michele LeGrand.
Genevieve's community involvement includes being the musical director for "Life Long Dreams," a special needs children's organization. She is also the promotion and entertainment director for "For Kids Now," a charity dedicated to assisting autistic children, and Genevieve volunteers for the Las Vegas Humane Society.
---
Hakkasan at MGM brings the music from its talented roster of resident DJs and featured artists to fans worldwide with the launch of its weekly, one-hour Hakkasan Nightclub Radio Show. The distinguished venue will bring the latest and greatest in electronic music directly to its fans via iTunes and Soundcloud. Hosted by Hakkasanfeatured artist Mark Eteson, the fan-favorite DJ will curate music news, host artist interviews and preview the weekly lineup for eager fans, friends and guests of the nightclub
---
Aliante Casino/Hotel will feature a special three-course prix fixe menu at MRKT Sea & Land to benefit Three Square Food Bank during the 3rd annual Spring Las Vegas Restaurant Week from Friday, March 7, through Friday, March 14, priced at $50.14 per person. Aliante will donate $5 of each Restaurant Week menu sold, directly to Three Square.
---
Southern Nevada Public Television hosted its 25th Annual "Splendor in the Glass" Wine & Beer Tasting event at LVH. Nathan Tannenbaum served as Master of Ceremonies for this event, which benefits programming and community outreach initiatives for Vegas PBS. The event featured renowned chef, Charlie Palmer, who presented a cooking demonstration with some of his favorite featured dishes. Chef Palmer is the owner of Aureole at Mandalay Bay Resort and Charlie Palmer Steak at the Four Seasons Hotel Las Vegas. Guests were treated to offerings from 60 wineries and breweries courtesy of Southern Wine and Spirits of Nevada, and featured hot and cold hors d'oeuvres, a live wine auction, silent auction and the musical sounds of Woody Woods popular jazz ensemble.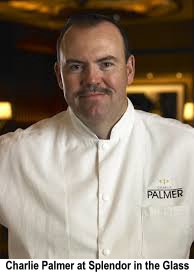 The country's leading culinary festival, Vegas Uncork'd by Bon Appétit, features an extraordinary lineup of star-studded chefs, sommeliers and mixologists from ARIA, Bellagio, Caesars Palace, MGM Grand and The Venetian, May 8-11. The four-day celebration offers rare access for food lovers to interact and rub shoulders with their favorite big-named chefs. This year's program will be hosted by celebrity chefs Bobby Flay, Buddy Valastro, Daniel Boulud, Giada De Laurentiis, Joël Robuchon, Julian Serrano, Guy Savoy, Mario Batali, Pierre Gagnaire, Masayoshi Takayama, Michael Mina, Nobu Matsuhisa, Royden Ellamar, Shawn McClain, Thomas Keller and more.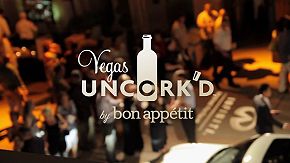 Vegas Uncork'd by Bon Appétit is off to a hot start with tickets selling at a record pace - seven events are already sold out within the first five days of tickets going sale. This year's tickets are going 250% faster than last year's with nearly 1,000 tickets already gone for the exciting weekend May 8-11. Sold-out events include Joël Robuchon Cooking & Wine Demo, which sold out in 90 minutes; Pastry Savvy with François Payard; Sip, Slurp, Roll: Sushi Making, Sake Tasting & Ramen with Chef Nobu Matsuhisa; Experience Hakkasan: A Progressive Evening From Restaurant to Club; Master Series Dinner: Dinnertime Decadence with Guy Savoy and Master Series Dinner: The Great American Steakhouse at Old Homestead. Better not wait to get tickets and info at VegasUncorked.com.
---
One of Tchaikovsky's most beloved concertos and Sibelius's Second Symphony, two masterworks that have not been performed by the Las Vegas Philharmonic in 10 years, will be featured on the orchestra's "Rising Star" concert program on Saturday, March 8th at 7:30 p.m. at The Smith Center conducted by David Lockington. Tchaikovsky's Piano Concerto No. 1 in B-flat Minor, Op. 23 is one of the most beloved and performed piano works in the classical repertoire. Award-winning German pianist Alexander Schimpf will perform with the Las Vegas Philharmonic as the concert's "Rising Star." Each season the orchestra showcases an up-and-coming star of the international classical music scene. Mr. Schimpf, 33 has risen to prominence by winning a series of prestigious international piano competitions. David Lockington is currently the orchestra's Principal Guest Conductor. He will give a pre-concert talk ahead of the "Rising Star" concert at 6:45 p.m. that is free and open to all ticket-holders to attend. The Las Vegas Philharmonic offers $25 tickets for balcony seating at all 2014 season concerts.
---
The Southern Nevada Musical Arts Society

will perform Carol Barnett's "The World Beloved: A Bluegrass Mass" on Saturday, March 1st at 7:30 p.m. and on March 2nd at 3:00 p.m., in the Horn Theatre on the CSN campus. A five-member group of bluegrass instrumentalists will accompany the 60-voice Musical Arts Chorus in this unusual work. The program will also highlight selections from the musical, "Oklahoma!" and "Carousel" by Rodgers & Hammerstein. (Years ago, when I was performing, I played the part of the owner of the Carousel in "Carousel.")
---
Well-known Las Vegas Showman Tony Sacca, who recently celebrated 50 years in show business, will present "Tony Sacca: Listen To My Heart" at The Smith Center's Cabaret Jazz on Sunday, March 2 at 2 p.m. "Listen To My Heart" will be a captivating musical journey featuring the Michael T. Orchestra, a 10-piece ensemble with strings, rhythm section and horns along with The Saccettes. Tony's riveting personal song exploration will be sprinkled with his hometown sounds of Philly, tributes to Barry Manilow and Four Seasons, Doo Wop, his original Vegas songs and a touch of Broadway. This is a compelling opportunity to see Sacca like you've never seen him before presenting laughter, song and dance. It's a chance to know him personally.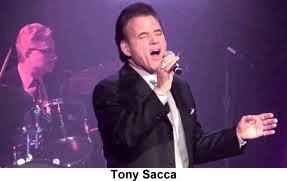 Tony Sacca started performing in show business at age 12 with his identical twin brother Robert in Philadelphia and the Jersey coast. Before moving to Las Vegas in 1981, the twins toured the world, performing in major nightclubs and hotels that inluded a three-year run at the legendary El San Juan Hotel in Puerto Rico in which Siegfried of Siegfried and Roy discovered the act and invited the twins to Las Vegas. Since then, Sacca has been a mainstay in Las Vegas for nearly 30 years. His fascinating journey has been nonstop with his own radio and television shows and specials; philanthropic productions, production company and soon a book about his life.
---
48th and Crepe at New York-New York is now open. The perfect stop for a quick bite, the eatery serves up delicious crepes with fillings suitable for any time of day. Sweet and savory options include fresh fruit, roasted chicken, ham and cheese as well as bacon and egg. Fruit-topped waffles and Krispy Kreme Doughnuts are also served. 48th & Crepe is located on the casino level at the Village Streets.
CONTINUE ON TO...:
> Entertainment Tidbits Archives
>Las Vegas News "Heard Around Town"
>Las Vegas Leisure Guide<