What could be better on Valentine's Day than to see Nevada Ballet Theatre's Cinderella at the Smith Center for the Performing Arts. It's the perfect story for your perfect Valentine. Featuring a sweeping, melodious score by Sergei Prokofiev, Cinderella's rags-to-riches fairy tale will enchant and enthrall with graceful choreography and lush costumes. Don't miss your chance to live happily ever after. Get your tickets before the clock strikes midnight and they're gone. CINDERELLA performs Saturday, February 13 at 7:30pm and Sunday, February 14 at 2:00pm.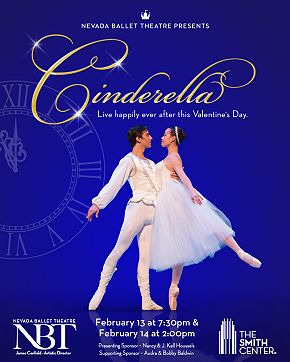 Aliante Casino + Hotel + Spa, will labor in love this Valentine's Day with specialty spa treatments at re:lax spa available exclusively on Saturday, Feb. 13, and Sunday, Feb. 14.
All services will be paired with complimentary champagne and chocolate-covered strawberries. Starting at $125, re:lax spa's limited-time sweetheart packages will include:
Love: A classic 50-minute Swedish massage and 25-minute express facial, priced at $125.
Amour: A 50-minute Swedish massage, 50-minute signature facial and a 50-minute deluxe pedicure for $210.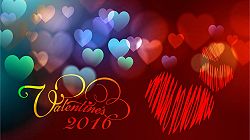 Better Together: Priced at $225, couples may choose between 50-minute massages in re:lax's VIP couples room.
All services require advance reservations. For making appointments, please call 702.692.7378 or visit http://www.aliantegaming.com/spa-services/.
"Raiding the Rock Vault" can't fight this feeling! The hit show at Tropicana Las Vegas welcomes to the stage REO Speedwagon lead guitarist Dave Amato for shows, Feb. 3-22. The legendary guitarist first attended "Raiding the Rock Vault" in December 2014, when he memorably joined the band on stage for surprise renditions of "Jukebox Hero, "Highway to Hell," and "Jump." Amato joined the iconic arena rock band REO Speedwagon as lead guitarist in 1989 and has remained a member ever since. Previously, Amato performed and toured with Ted Nugent, with whom he recorded 1988's "If You Can't Lick 'Em...Lick 'Em" and 1986's "Little Miss Dangerous." A sought-after guitarist, Amato has also performed with Vince Neil, Michael Schenker, Gregg Rollie, Richie Sambora, and Cher, with whom he recorded "Extravaganza: Live at the Mirage."Raiding the Rock Vault" features a rotating lineup of the world's greatest guitarists, including Howard Leese (Heart), Rowan Robertson (Dio), Doug Aldrich (Whitesnake, Glenn Hughes Band), and Tracii Guns (LA Guns, GUNZO).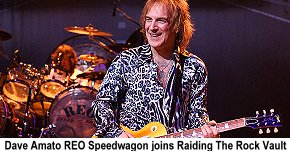 The show's all-star lineup also includes Robin McAuley [Lead Vocals] (MSG, Survivor), Paul Shortino [Lead Vocals] (Rough Cutt, Quiet Riot), Jay Schellen [Drums] (Badfinger, Asia), Andrew Freeman [Lead Vocals and Guitars] (Lynch Mob, The Offspring), Michael T. Ross [Keyboards] (Lita Ford, Hardline), Hugh McDonald [Bass] (Bon Jovi), Mark Boals [Lead Vocals] (Dokken, Ted Nugent), and vocalists Stephanie Calvert (Starship) and Cian Coey (Meat Loaf).
---
Musical superstars Marilyn McCoo and Billy Davis, Jr. both former members of The 5th Dimension will debut their new musical fable "Up, Up & Away! a musical fable" at The Orleans Showroom Feb. 13-14. "Up, Up & Away! a musical fable" is the tale of two aspiring stars who met, fell in love and endured a lifetime of challenges together. Starring Grammy Award-winners McCoo and Davis and the new musical group, The Next Dimension, the story is told through pop classics including "Up, Up and Away," "Aquarius/Let The Sunshine In," "Worst That Could Happen," "You Don't Have to be a Star (To be in My Show)," "MacArthur Park," "Help!," "Blackbird," "Midnight Hour," "One Less Bell (to Answer)" and "The Man That Got Away." It also pays tribute to fellow music legends, including the original The 5th Dimension and The Beatles. The couple has won seven Grammy Awards and earned 15 gold and three platinum records. In 2004, the couple wrote a book celebrating more than 45 years of marriage and shared their secrets of staying happy and committed to each other in Hollywood. On television, the couple found success with their show, "The Marilyn McCoo & Billy Davis, Jr. Show," the first variety series starring an African-American musical couple. Showtime is 8 p.m. both nights. Tickets start at $29.95 at any Boyd Gaming box office by calling 702.284.7777.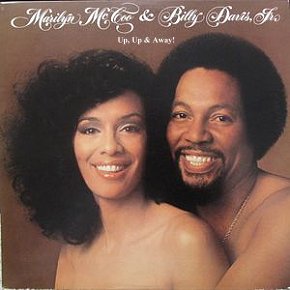 Superstar vocal group Rascal Flatts announced today that season nine finalist of NBC's "The Voice" Barrett Baber will join the trio on their Rascal Flatts Rhythm & Roots residency at The Joint at Hard Rock Hotel & Casino Las Vegas.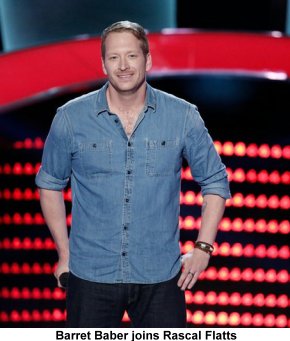 The nine-show run takes place at the award-winning music venue from Wednesday, February 17 to Saturday, March 5. Tickets are on sale now and start at $39.95.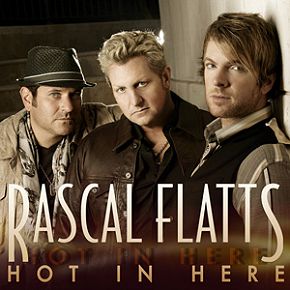 SEXXY, the award-winning sensual topless revue is proud to celebrate its first anniversary at Westgate Las Vegas Resort & Casino on Tuesday, January 26. Leave your inhibitions at the door as you enter this erotic, forbidden, tantalizing world of everything SEXXY. Created, choreographed and directed by gorgeous Jennifer Romas, SEXXY takes audiences on a journey through their favorite fantasies, alongside Las Vegas' SEXXY-est dancers and new state-of-the-art lighting and sound. Named "Best Burlesque Choreography" in Vegas SEVEN's 2015 Best of City Awards and Travel Weekly's "Best Adult Revue" in 2015, SEXXY features a collection of sensual, sexual, fun and enticing vignettes that will arouse a standing ovation in one way…or another. The show has grown so much over the past year.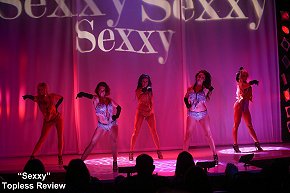 Congratulations to Jennifer Romas and her team of performers on the first anniversary of the show. SEXXY is performed Tuesday through Saturday at 7 p.m. inside the Westgate Cabaret. Tickets are $39.95 for general admission and $59.95 for VIP, plus taxes and fees.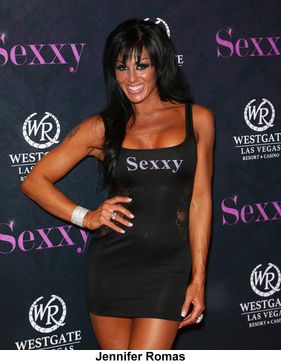 Miss Behavin' Ladies Night Fantasy Party at Sapphire, The World's Largest Gentlemen's Club, announces that the acclaimed Men of Sapphire male revue, your "Bachelorette Party Headquarters" in sin city, is throwing a Miss Behavin' Ladies Night Fantasy Party every Friday night from 9pm to midnight and every Saturday from 10pm to 1am in the morning. For the past 12 years the
Men of Sapphire have performed their brand of hot, action-packed entertainment every Friday and Saturday night and these chiseled men will continue enchanting hundreds of enthusiastic women each and every weekend. Ladies need a special night just for themselves, away from the job, the kids and all the responsibilities. A night where they can cut loose, party and drink with their closest friends and just have a good time while feeling beautiful and appreciated in a room full of hot buff men. Miss Behavin' Ladies Night Fantasy Party (emphasis on FANTASY!) will raffle off a bottle of champagne each evening around midnight for all of those that are misbehavin', but be sure to get to the show early to enter the drawing. A Sapphire gift bag of goodies is also included. Ladies will enjoy the male eye candy as each performer takes his turn on stage and expect a lot of crowd interaction because ladies are encouraged to not only see the show, but to be the show as they get called up on stage for an impromptu up-close-and-personal performance.
---
Carly Rae Jepsen, multi-platinum GRAMMY®-nominated singer and songwriter kicked off her New Year's performances at The Venetian on opening night of her three-concert series in the stunning Venetian Theatre. The commercially and critically acclaimed singer-songwriter performed fan favorites including "Run Away With Me" and "This Kiss," while ending the show with audiences on their feet dancing to chart-toppers "Call Me Maybe" and "I Really Like You." Jepsen's album "E·MO·TION" earned universal praise as one of the top pop albums of 2015. Media was invited to meet Carly Rae at a reception prior to her opening night show. Carly Rae was delightfully charming and so she was at her show too.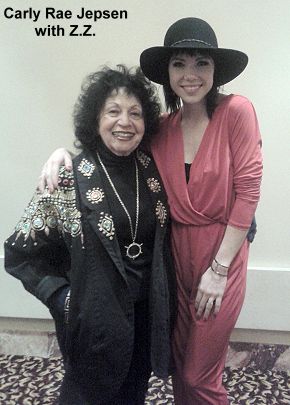 It's fight night at Crazy Horse III! The award-winning Gentlemen's Club will host a viewing party for the highly anticipated UFC 196 title fight: Fabricio "Vai Cavalo" Werdum vs. Cain Velasquez on Saturday, Feb. 6, starting at 5 p.m. UFC 196 will be headlined by the Heavyweight title fight and rematch between Werdum and former champion, Velasquez at the MGM Grand Garden Arena. A Welterweight bout between Johny "Bigg Rigg" Hendricks and Stephen "Wonderboy" Thompson will precede the main event. UFC aficionados will view the action on the club's massive 70-inch and 100-inch flat-screen televisions. Guests of this viewing party may watch alongside the venue's gorgeous entertainers and enjoy, beer bucket specials, free pizza and more. Locals can also enjoy half-off bottles.
And, Ooh la la! Celebrate Valentine's Day, Sunday, Feb. 14, the sexiest day of the year with love, lingerie and the beautiful ladies in Sin City at Crazy Horse III. The Gentlemen's Club will offer $99 champagne bottle specials for couples throughout the night. Sexy singles and couples alike may also enjoy the venue's late night menu items such as sushi and pizza, a variety of hookah flavors, and the company of hundreds of Vegas' most breathtaking entertainers. Complimentary limo transportation is available through Crazy Horse III's limo service, pending availability, by calling 702-673-1700. Crazy Horse III is located on Russell Road, just a few blocks west of the Las Vegas Strip.
---
Hunter Hopewell UNLV Film Student Wins First Place. Hunter Hopewell, a forty-time award winning filmmaker and Junior studying Film at the UNLV Honors College, has been awarded First Place in the 14-18 year old category at the Peace in the Streets Global Film Festival produced annually by the Peacemaker Corps Association at the United Nations for the past 18 years for his anti-bullying film "Numbskull." Based on his personal experience being cyber bullied in high school, "Numbskull" promotes a message that "bullying hurts and kindness heals more than most people realize. Hunter Hopewell hopes that this film encourages peace in the streets through kindness. Now, at 19 years old, Hunter has just released his debut album NobodyLike(s) Him available on iTunes and Amazon, is currently working on his first feature film with aspirations to be a feature director at Walt Disney Studios. As part of his first place win, Hunter was invited to the United Nations to receive his prizes.
TOP OF NEXT COLUMN
Nashville Unplugged, the up-close-and-personal showcase of country music's finest writers, is proud to announce the new Nashville Unplugged Hall Of Fame Series at Sunset Station. Held the second Thursday of each month at Club Madrid inside Sunset Station, the Nashville Unplugged Hall Of Fame Series will feature performances and stories from some of the most accomplished and prolific songwriters in the music industry. Hosted by Aaron Benward, who has written numerous ACM and CMA-nominated songs, including the hit "Who I Am," and Travis Howard, whose credits include Miranda Lambert's "Famous In a Small Town," "Bring Me Down" and "Heart Like Mine," the Nashville Unplugged Hall Of Fame Series will premiere Thursday, January 14 at 8 p.m. with Grammy Award-nominated songwriter Tony Arata. All performances begin at 8 p.m. and cover is $10 at the door. Boarding Pass card members receive a $5 entry discount. Guests must be 21 years or older.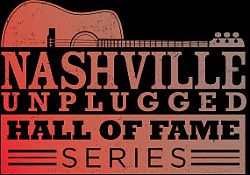 Society of Seven Brings the Aloha Spirit to the Suncoast Showroom Feb. 13-14 Society of Seven will heat up the Suncoast Showroom with its entertaining variety show Feb. 13-14. The famed Hawaiian-bred group offers an energetic variety show that combines comedy sketches, celebrity impersonations and dance, as well as live musical performances that include classic favorites, top-40 hits and theatrical showstoppers. Society of Seven has been entertaining fans for more than 40 years with an entertainment experience that rolls a classic Hollywood movie, Broadway show and a Las Vegas spectacular all into one. The group formed in the 1960s as The Fabulous Echoes and found initial success in Asia. While performing in Hawaii in 1968, the group was renamed Society of Seven and was later named the Best Show in Waikiki by readers of "Honolulu Magazine." In 2007, the group received a Lifetime Achievement Award from the Hawaii Academy of Recording Arts.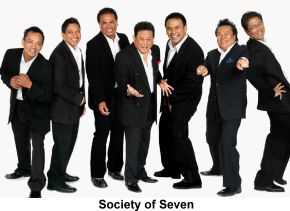 Society of Seven formerly held a residency at Gold Coast Hotel and Casino from 2010-12 and has played multiple showrooms in Las Vegas since. Showtime is 7:30 p.m.
---
FANTASY, the award-winning adult revue at Luxor Hotel and Casino, has welcomed multi-talented entertainer Seth Grabel to its cast Tuesday nights. Acclaimed "America's Got Talent" finalist, Grabel's unique combination of acrobatics, illusions, audience interaction and comedic relief make him one of the stand-out stars on the Las Vegas Strip. Praised for his "spectacular" act by judges on "America's Got Talent," and for his athletic energy by the Las Vegas Review-Journal, Grabel will have FANTASY audiences captivated with his over-the-top performance and irresistible charm.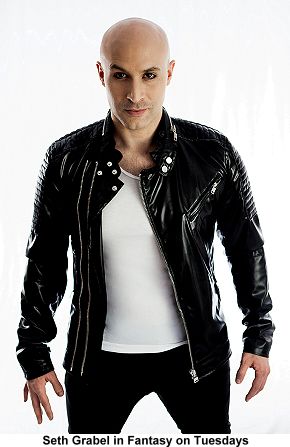 Grabel joins the FANTASY cast alongside fan favorite Sean E. Cooper, who will continue his hilarious routine six nights a week. Celebrating 16 successful years on The Strip, FANTASY was named "Best Showgirls" in 2015 and 2012. Lead singer Jaime Lynch adds an exciting and unforgettable element with her amazing powerhouse vocals as she takes center-stage alongside a talented cast of beautiful dancers. Great for singles and couples alike, the sexy production showcases 15 high-energy numbers set to a variety of today's top music genres. FANTASY performs nightly at 10:30 p.m. in the Atrium Showroom. Tx. start at $39.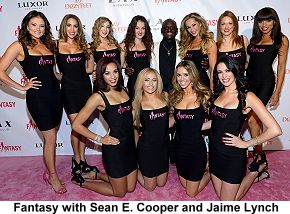 Sin City Opera presents Wolfgang Amadeus Mozart's beloved opera buffa, Così Fan Tutte at the Winchester Cultural Center February 12th - 21s. This turn of the century, steampunk-influenced adaptation is produced by the local and cutting-edge Sin City Opera, whose objective it is to "push the boundaries of opera and how it relates to us as a community. We did not want to present a standard version of the opera in which the two female leads are easily duped by mistaken identity. Instead we wanted to present strong female characters that are more interested in science and invention than just swooning over sweet words." International Director & Choreographer, Tammy Pessagno, will make her Sin City Opera directorial debut with Così Fan Tutte. Tammy started her career as a Broadway dancer with multiple U.S. and International tours under her belt. She moved to Las Vegas in 1994 and became an Artist in Residence at UNLV and created curriculum for the Las Vegas Academy. Dean Balan will take his first turn as Maestro of the SCO Orchestra with this thoughtful and bold production. Dean is currently the Sin City Opera Chorus Master and rehearsal pianist as well as a much sought-after collaborative pianist throughout the Las Vegas valley. MAC Cosmetics will be creating signature looks for the wiley characters, as well as sponsoring the make-up needs for the show.
Così Fan Tutte, Mozart Dates: February 12th, 13th, 19th, 20th, at 7:00 PM and 14th, 21st at 2:00 PM Tickets: $15 - Also at The Winchester Cultural Center: Offenbach's La Périchole: May 6th – 15th
---
CES Las Vegas 2016 was the most expansive CES, breaking records across the board and providing unparalleled opportunies for companies big and mall to launch innovation into the world market.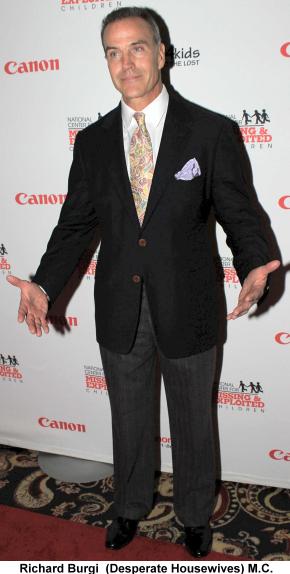 More than 3,800 exhibitors unveiled their latest technologies across more than 2.47 million net sq. ft. of exhibit space. CES 2016 touched every major global industry and showcased the latest wave of products and technologies that are connecting the world, enhancing lives and solving global challenges. More than 170,000 industry professionals, including more than 50,000 from outside the U.S., were drawn to this high- level business event driving the ever-changing global technology industry. In addition to the technologic innovations, conventioneers enjoyed parties, shows and more.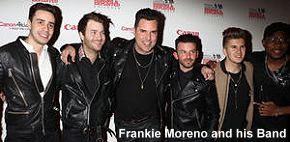 Two highlight events I was invited to were the 17th Annual Canon Customer Appreciation Red Carpet Reception/National Center for Missing & Exploited Children (NCMEC) Benefit Fundraiser at Bellagio Ballroom and NCMEC Celebrity Golf Tournament. Actor Richard Burgi (Desperate Housewives) emceed the reception and more than 50 celebrities, elected officials and patrons of NCMEC attended, including special guest John Walsh of "The Hunt with John Walsh," a weekly investigative/documentary TV series aired on CNN. I was seated with Tommy John, major lead pitcher and actor Adrian Zmed and their wives. A silent and live auction brought in much needed funds that benefitted NCMEC. After a delicious dinner the fabulous Frankie Moreno and his band entertained.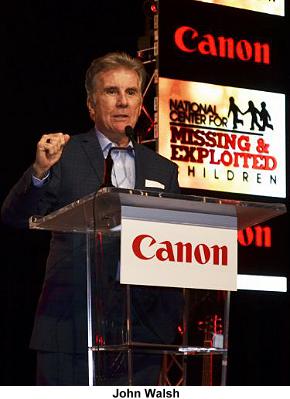 The other great event I attended was Monsters 2016 retailer awards and HEALING THE WORLD SHOW at The Axis Theater in Planet Hollywood. This show was a tribute to Michael Jackson and was hosted by Magic Johnson and included live performances by The Jackson, NE-Yo, Aerosmith, George Benson, Christina Milian, Luis Coronel, Rick Ross and dancers. The large orchestra was conducted by Grammy Award winner Vassal Benford. Quite a show!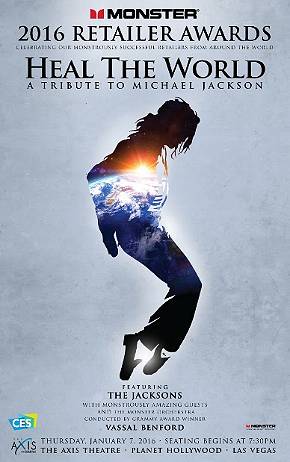 The Plaza Hotel & Casino will be the place to be downtown for the big game on Sunday, Feb. 7, offering several fun options for football fans to watch the most anticipated football game of the year.
The Plaza's Big Game 50 Viewing Party offers a fun filled day of football, food and spirits. Football fans will enjoy a stadium food buffet, open bar and raffles, all for just $100 per person inclusive of tax and gratuity. Sports memorabilia will also be on display and available for purchase. Viewing party will take place in Sierra Ballroom, and doors open at 2:30 pm for general admission. (Parties that wish to sit together will need to be in line together when doors open to be seated.)
William Hill Race & Sports Book at the Plaza, Downtown Las Vegas' largest sports book, will also offer an action-packed atmosphere to watch the big game. Seating is first come first serve for participating guests only. More information at http://www.williamhill.us/.
And just steps away on the Plaza's casino floor, the Race & Sports Book Bar will offer open seating (first come, first serve) for bar patrons to play slots, enjoy spirits and watch the game.
---
Late last year, the Plaza Hotel & Casino opened a special gallery featuring numerous sports themed items that once decorated the iconic Las Vegas Club Hotel & Casino. Hundreds of sports related items were available to the public to view and purchase. Now, that many of the items have been purchased, the Plaza is excited to welcome two new displays inside the Las Vegas Club Gallery. Famed local artist,
Jerry Misko opened an exhibit of his edition prints and one-of-a-kind paintings of nostalgic Las Vegas neon signs in the Las Vegas Club Gallery. On Thursday, Feb. 4, the Museum of Gaming History (MOGH), will open its " Union Plaza Then and Now" exhibit. The exhibit will be free to the public and will contain artifacts from when the hotel/casino first opened through the last five decades.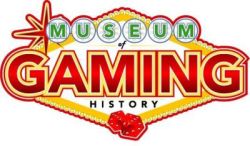 The exhibit will have about 150-200 items including chips, tokens, dice, ashtrays, post cards and numerous other branded artifacts, as well as a light box display of a rare slot glass collection. The exhibition will also include a wall of photographs spanning the Plaza's history from its groundbreaking to current day prominence and a 30-minute video about the Plaza's place in the historic development of downtown LV.
---
Traveling Utah Shakespeare Company at Charleston Heights Arts Center on Jan. 30. Each year, the Utah Shakespeare Company hits the road with an educational outreach program for schools and communities. The event in Las Vegas is on Saturday, January 30th at 2 p.m. at the Charleston Heights Arts Center, 800 S. Brush Street. Experience a 75-minute version of the William Shakespeare tragedy "Hamlet" with complete costumes, sets, and theatrical lighting. Tickets are free, but required for entry. For more information, call 702-229-3514 or visitwww.artslasveg.
---
Local charity is teaching at-risk students to plant, grow and cook fresh, healthy meals in order to prevent childhood obesity. Create A Change Now, announces its partnership with The Reset Project to bring continuous awareness and health education to families and the community. The pair will host its first educational dinner, Inspire.Challenge.Engage, at 5:45 p.m. on Thursday, March 10 at Kermit Booker Elementary to inspire, challenge and engage participants into learning healthy eating habits. The family-style dinner will feature celebrity chef Johnny Church and his specially designed prix fixe menu highlighting local farms and food artisans. Tickets to Inspire.Challenge.Engage Dinner start at $40 and are available at createachangenow. brownpapertickets. com.
CONTINUE ON TO...:

> Entertainment Tidbits Archives
>Las Vegas News "Heard Around Town"
>Las Vegas Leisure Guide<