East meets West as PANDA! celebrated its world premiere show and Las Vegas residency at The Palazzo Showroom. PANDA! hosted a red carpet event in honor of its opening in true Las Vegas style with glitz and glam, featuring world-renowned celebrities, athletes, and beauty queens. PANDA! direct from Beijing is an ultimate live theater experience. If you were awestruck by watching the opening and closing ceremonies of the Beijing Olympics; PANDA! is an equally stunning spectacle. PANDA! is directed by the creative genius of An Zhao who was responsible for the opening and closing Beijing Olympics ceremonies.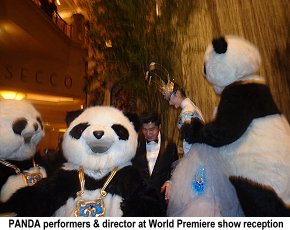 Prior to the start of the show, Olympic gymnast, Cathy Rigby was introduced and in turn she introduced PANDA! director, An Zhao. The show has high-flying acrobatics, mesmerizing martial arts, music and dance that includes a talented cast of award-winning performers from the China National Acrobatic Troupe and Shaolin Monastery Kung Fu Monks Troupe. Unlike anything seen before, are the theatre curtains, settings, stunning backdrops, characters and costuming. All are extremely colorful, unusual and beautiful which makes PANDA! quite different to being compared as being another Cirque du Soleil show.
George Gee is considered the world's only Chinese-American swing big bandleader, offering a unique cross-cultural perspective. The Orchestra played at Ozzy Osbourne's 50th birthday party in Beverly Hills and was the first modern-era swing band welcomed from the West to perform at a swing dance event in Japan. Quincy Jones also arranged for the band to perform for the Royal Family of Jordan.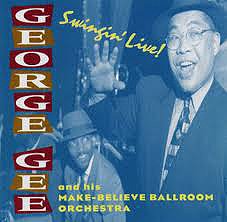 So, bring your dancing shoes down to the Suncoast Showroom for the swingin' sounds of the George Gee Orchestra, featuring vocalist John Dokes, for a one-night-only big band dance event on Saturday, February 1. Music by the George Gee Orchestra elegantly balances genuine traditions with exhilarating modernism. This versatile ensemble performs everything from a sweet foxtrot ballad to rock and soul party favorites and all-out rollickin' roadhouse boogie. Featured Vocalist for the George Gee Orchestra, John Dokes first came to prominence as a championship lindy hopper in New York. Dokes is an accomplished baritone, singing a mixture of blues, ballads, popular songs and jazz standards.
For this one special night only, the Suncoast Showroom will feature dance floor space from 7 p.m. to 10 p.m. Tickets are $15.95, plus tax and convenience fees and the event is general admission. Tickets can be purchased at any Boyd Gaming Box Office, by calling 702.636.7075, or visiting www.suncoastcasino.com.

---
With the Chinese New Year coming up, Gold Coast will celebrate Chinese New Year with a flourish on February 5, hosting the annual Dragon Dance celebration at 7:30 p.m. and 10 p.m. on the casino floor. The Gold Coast has presented the Dragon Dance for Chinese New Year more than ten years. All ages are invited to welcome the Year of the Horse by experiencing this authentic cultural celebration performed by the Lohan School of Shaolin. The Dragon Dance Parade will include several dragons, a percussion procession and characters that will make several stops throughout the parade to pull ceremonial lettuce from the ceiling and toss the leaves to spectators. Being hit by a piece of lettuce during a Dragon Dance Parade is considered particularly lucky. In accordance with Chinese traditions, there will be tangerine trees lining the table games pit, candy hanging from trees throughout the casino and banners displaying the Year of the Horse. Gold Coast kicks off the Chinese New Year beginning January 31 with decorations in traditional Chinese-themed favors.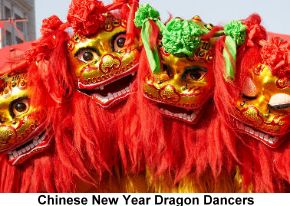 The celebration continues into the weekend for guests 21 years of age and older, as the Lucky Money Hot Seat promotion runs from February 7-9, twenty-four hours a day. This hot seat-style drawing allows over 88 winners per day to select a traditional red envelope containing anything from $25-$1000 approximately every fifteen minutes. $8,800 will be given away each day. Guests can further their Chinese New Year experience with authentic Chinese cuisine at Ping Pang Pong and the Noodle Exchange, voted the "Best Asian Restaurant in Las Vegas," six times.

---
Fremont Street Experience, the Las Vegas Convention and Visitors Authority (LVCVA) and Golden Catalyst invite the public to celebrate the Year of the Horse during the third annual Chinese New Year in the Desert festival. Ring in the Chinese New Year with a three-day festival taking place in Downtown Las Vegas Feb. 7 - 9, 2014. Chinese New Year is the most important of the traditional Chinese holidays and is known as "Spring Festival" in China, "Tet New Year" in Vietnamese and "Seol-lal" in Korea.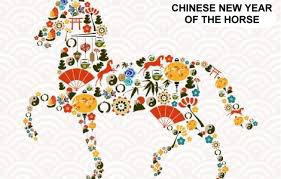 Las Vegas Mayor Carolyn G. Goodman will kick-off the festivities during the opening ceremonies which will feature The Desert Winds, a premiere contemporary wind ensemble of more than fifty professional woodwind, brass, and percussionists and a live authentic dragon dance by the Las Vegas Lohan School of Shaolin. Throughout the weekend guests will also experience live International Cultural Performances; taste authentic dishes from around the world in the International Vendor Village; enjoy live concerts by Victoria Zhong Wei, Henry Chuc, Kevin Khoa, Gloria Papin, and the Society of Seven during the DragonFest concert series; join Dr. Teddy Sim, Jaqueline Andrea, and the Las Vegas Zumba® Crew as they attempt to make history by breaking the Guinness World Record for the Largest Zumba® Class; view stunning parade floats in the McDonald's Las Vegas Spring Festival Parade; and along with students from Clark County School District, guests are also invited to create their own lantern to display on Fremont Street Experience to commemorate the Lunar Lantern Festival. All events take place on the 3rd Street Stage.

---
Rice & Company, Luxor's contemporary Asian bistro celebrates Australia Day Sunday, Jan. 26, by offering the Thunder Roll, a sushi roll created in honor of the handsome blokes of Australia's Thunder From Down Under, the male revue show performed at Excalibur. The Thunder Roll, priced at $18, is made with a blend of soft shell crab, tuna, avocado and cucumber, wrapped in seaweed and topped with spicy mayo and kabayaki sauce. The specialty roll will be available throughout January and in celebration of Australia Day, will be half price Sunday, Jan. 26.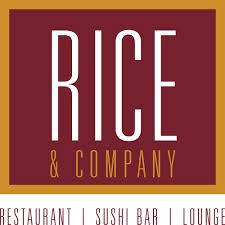 In addition, Rice & Companyand FANTASY, The Strip's hot adult revue, will spice up the month of February by offering guests the opportunity to indulge in a three-course dinner and show package starting at $95 per person. The dinner and show package will be available throughout the month of February. To purchase a package, visit Luxor's box office or call 702.262.4400.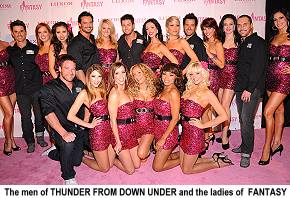 The 2014 International Consumer Electronics Show (CES) was the largest in show history with a record two million net square feet of exhibit space, housing more than 3,200 exhibitors. CES was the global gathering place for anyone involved in the business of consumer technologies with more than 150,000 industry professionals in attendance, including more than 35,000 from outside the United States. With amazing tech breakthroughs and thousands of new product introductions, innovation blossomed as new technologies came to life, redefining the future. From curved and flexible Ultra HD TVs and next generation smart phones; to drones, robots, sensors, the Internet of Everything, Hi-Res audio, connected cars and 3D printers. It seems as if the only thing missing from 2014 CES was a time-travel machine.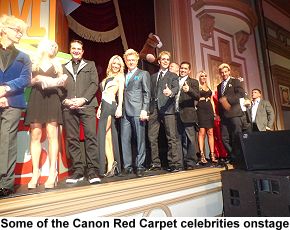 During CES, once again Canon presented their 15th Annual Customer Appreciation Reception at the BELLAGIO's Grand Ballroom. Elegantly dressed guests at the event enjoyed fine cuisine, live and silent auctions, musical entertainment, dancing and scores of celebrities. This event benefited the National Center for Missing and Exploited Children (NCMEC). NCMEC is a private non-profit 501 (c) (3) organization that provides services nationwide for families and professionals in the prevention of abducted, endangered or sexually exploited children. John and Reve' Walsh, whose son Adam was abducted and murdered, helped pass the Missing Children's Assistance Act of 1984 which created the National Center for Missing and Exploited Children. Special Guest, John Walsh (America's Most Wanted) and John W. Arnos and Richard Burgi (actor, Desperate Housewives etc.) spoke about missing and exploited children and the organization's work and successes.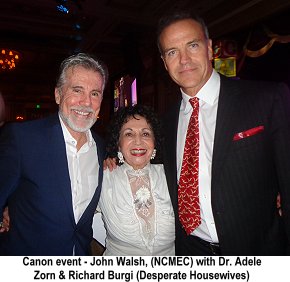 Since 1998, Canon and NCMEC have collaborated to educate the public about the growing issue of child abduction. The Canon4Kids program, a partnership between Canon U.S.A. and NCMEC helps law enforcement quickly disseminate photos and information about missing children, produces PSAs with missing children photos, and educates parents about tips for taking and maintaining updated photos of their children. To help raise awareness of issues related to locating missing children, Canon U.S.A. also held a Celebrity Golf Tournament the following day to benefit NCMEC.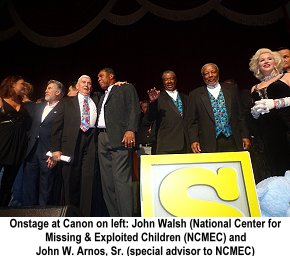 That same night, I left the CANON event and continued on to PARIS to see the Monster Cable event of Fleetwood Mac with Stevie Nicks and an afterparty with them. What a night, I'm still exhausted!
---
Only in our great State of Nevada can the average person come in contact with higher elected echelons in a one-on-one setting. What a treat it was for about 450 Nevadans to see and hear 5 former Nevada First Ladies open and honestly tell stories about their time as wives of Nevada Governors. KLAS-TV Anchor, Paula Francis was a great M.C. as she facilitated questions to Bonnie Bryan, Sandy Miller, Dawn Gibbons, Kathryn List and Dema Guinn. Their stories were funny, serious, interesting and amazing as they talked about controversies, causes and projects they achieved, relationships, what they would want their legacy to be and so much more. The 5 First Ladies gave each attendee a gift of a beautiful book '100 years in the Nevada Governor's Mansion' and each personally autographed the book to the attendee. Kudos to Women of Diversity Productions who arranged this two hour event at Caesars Augustus Ballroom.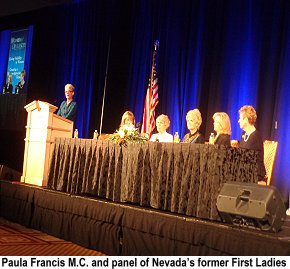 Well, construction has started for a brand new Bingo Room at JW Marriott Las Vegas Resort and Rampart Casino. This is in response to the resort's goal of meeting players' demands and Bingo is known to be a big hit among local and visiting players. The 300-capacity attraction, located adjacent to Rampart Casino's Buffet, will offer top-of-the-line technology with the FortuNet, Inc. BingoStar® system and a non-smoking section. The new Bingo Room is set to open in Spring 2014.
TOP OF NEXT COLUMN
The LVH - Las Vegas Hotel & Casino spectacular show,"Raiding the Rock Vault,"has signed a long term agreement to continue through 2014. The show promises to only get bigger and better with new cast members, songs and guest stars. This amazing concert experience brings the history of rock 'n' roll to life with an all-star super group of musicians. The legendary classic rock songs of the `60s, `70s and `80s that everyone immediately recognizes are played with stunning accuracy by Rock and Roll Hall of Fame member Howard Leese [Guitar] (Heart), sensational guitar player Doug Aldrich (Whitesnake), phenomenal vocalists John Payne [Lead Vocals and Bass] (Asia), Robin McAuley [Lead Vocals] (MSG, Survivor), Paul Shortino [Lead Vocals] (Rough Cutt, Quite Riot), Andrew Freeman [Lead Vocals and Guitars] (Lynch Mob, The Offspring), extraordinary drummer Jay Schellen (Badfinger, Asia), and keyboard whiz Michael T. Ross (Lita Ford Band). In addition to this fantastic roster of rock musicianship, rotating special guests will continue to be a part of the show. Previous special guests included Lou Gramm, original lead singer of Foreigner, Bobby Kimball, original lead singer of Toto, founding member and lead singer of Yes, Jon Anderson, and Mickey Thomas of Starship.

The show itself revolves around the"Rock Vault,"a giant capsule found in the distant future and opened to reveal the history of classic rock. Entertaining vignettes by actors, narration by acclaimed actor Richard Malmos, and historical videos on giant screens help move the story through time. The show is, of course, highlighted by electrfying performances of rock classics. "Raiding the Rock Vault" performs Friday through Tuesday nights weekly (schedule subject to change) at 8 p.m. in the LVH Theater. Ticket prices for "Raiding the Rock Vault" range from $49 to $70 plus taxes and fees. A special Rock Star Package is available for $140 (which includes tickets in the first five rows, t-shirt, concert program, CD, meet and greet and VIP pass). A special 2-for-1 locals discount will be available for a short time (must present valid Nevada ID) and there are dinner/show packages with the world-famous Benihana and Vince Neil's Tatuado Restaurant & Cantina. Tickets can be purchased by visiting the LVH box office or by logging onto thelvh.com, vegas.com, or ticketmaster.com. Tickets can also be purchased by calling 702-732-5755 or 1-800-222-5361.
---
The original Urban Cowboy Mickey Gilley will bring his country hits to the establishment bearing his name - Gilley's Saloon, Dance Hall & Bar-b-Que at TREASURE ISLAND - January 29 through February 1 at 7:30 p.m. each evening.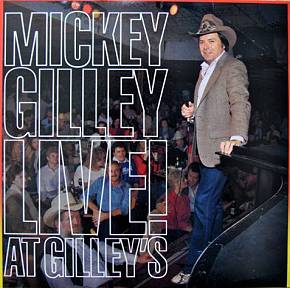 Gilley's Saloon, Dance Hall & Bar-B-Que, pays homage to the very successful Gilley's Club in Pasadena, Texas which was known as the "world's largest honky-tonk." Gilley's Club was a launching pad for some of country music's biggest stars and the dominating force behind the cowboy craze that swept the country in the early '80s, following the release of John Travolta's hit movie, "Urban Cowboy," which was filmed in the nightclub. Mickey Gilley appeared in and performed numerous songs on the soundtrack for "Urban Cowboy." Prior to his role in the movie, he had a string of consecutive No. 1 hits in the mid 70's.
With a career spanning more than four decades, Gilley has achieved 39 top-ten country hits and numerous awards including Academy of Country Music's "Entertainer of the Year," "Top Male Vocalist," "Song of the Year," "Single of the Year" and "Album of the Year." He is among a small group of country singers who have been recognized with a star on the Hollywood Walk of Fame.
The concerts will be general admission and there is no reserved seating.
---
I am a fan of television's THE VIEW and I hated to see Joy Behar leave after 14 years on the show. But this gal has been busy and Joy Behar is set to bring her stand up act to The Orleans Showroom January 24 and 25. Whether Behar is performing standup or interviewing celebrities and politicians, she has been recognized as an innovative comedic talent and a leading woman both on television, stage and the big screen. In the 1980's, Behar set out to pursue comedy professionally and instantaneously received bookings from famous New York clubs and she went on to win three MAC Awards and a CableACE Award later in her career.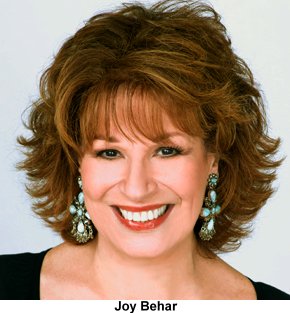 The Orleans has another great upcoming show. Following a 10 year absence from live performing, and an additional 10 years since appearing in Las Vegas, Helen Reddy will perform in concert at The Orleans Showroom February 15 and 16. Best known as a recording artist, Helen Reddy had more than fifteen singles on the Top 40 Billboard Hot 100 - six if which hit the Top 10, with three reaching No. 1 - including "I Am Woman." In addition to Billboard chart success, Reddy was the first recording artist to win a "Favorite Pop/Rock Female" American Music Award, the first Australian to win a Grammy Award and to have three No. 1 hits in the same year.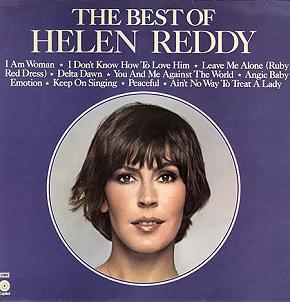 On television, Helen Reddy was the first Australian to host her own hour-long weekly primetime variety show on an American network, along with several specials that were seen in more than forty countries. She has also acted on the large and small screens. In theater, Helen starred in the musical "Blood Brothers" on London's West End and on Broadway. As a solo concert artist, she has played at Carnegie Hall and Lincoln Center in New York, as well as the Royal Albert Hall and the Palladium in London.
Showtime for Joy Behar and Helen Reddy is at 8.p.m. Tickets start at $39.95 - Call 702.365.7075, or visit www.orleanscasino.com.
---
Las Vegas' hometown rockers and GRAMMY-nominated Imagine Dagons commemorated their breakout year by unveiling their first-ever memorabilia case inside Hard Rock Hotel & Casino Las Vegas. Before addressing a crowd of adoring fans, Imagine Dragons band members Dan Reynolds, Ben McKee, Daniel Platzman and Wayne Sermon ripped off the covered case to reveal a full display of signature memorabilia from the band's career. The special display features iconic items from the band's music video "On Top of the World" including all four custom-made astronaut suits, an American flag, an Earth decorated beach ball, a small satellite dish and more. In addition, the case is home to the rope that lead singer Dan Reynolds used to fly over the audience during Imagine Dragons' sold-out February 2013 show at The Joint as well as an autographed copy of the property's in-room Hard Rock Hotel Magazine, featuring the band on the cover.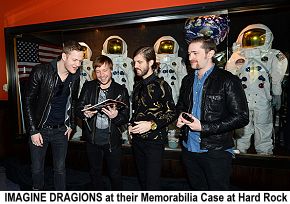 Harrah's Headliner and Comedy-Magician Mac King invites the public to jump on board Mac King's Magical Literacy Tour: Nevada Reading Week 2014, benefiting Clark County READS, the literacy initiative of The Public Education Foundation. Throughout the month of February, King is partnering with the Las Vegas Wranglers, Sky Zone Las Vegas, Grimaldi's Pizzeria and Galaxy Theatres locations in Las Vegas to collect books for elementary school children in local at-risk schools. Donate three or more new or gently used children's books at partnering locations to receive a pair of tickets to The Mac King Comedy Magic Show in addition to other exclusive rewards from the host venue.
For four days beginning March 4-7, during Nevada Reading Week 2014, King will make appearances at four select local elementary schools to teach the importance of reading and personally deliver the books collected from the book drive. During the tour's scheduled stops, King will perform tricks from his show, read a few short stories and deliver a book to each student to keep.
---
Every Wednesday, art and alcohol will fuse together during Ladies and Gents Night at Commonwealth. Located in Downtown Las Vegas, the cocktail bar will join forces with The ISI Group to kick-off the new weekly promotion on Wednesday, Jan. 15. Starting at 8 p.m., art enthusiasts will watch as 10 local artists set-up shop to live paint at the hot spot. Throughout the night, five female and five male artists will paint portraits of either a lady or a gentleman for patrons to bid on via a silent auction.
Every week, partygoers will also enjoy half-priced cocktails when they present their "Birds of a Feather" card. Guests can sign-up for the VIP card to receive half-off drinks every Sunday and Wednesday, as well as entrance into exclusive events at Commonwealth. Located at 525 E. Fremont St., Commonwealth is open Wednesday through Friday from 6 p.m. to close and 8 p.m. to close on Saturday and Sunday.
---
103 Hot Pilates & Yoga, a trendy hot-studio located in Summerlin South, is encouraging couples to get hot and sweaty together this Valentine's Day - in the yoga studio, of course. At 7 p.m. on Friday, Feb. 14, the newly opened studio will offer a romantic candlelight yoga class to honor the day of love.
The special Valentine's Day yoga class will be slow-paced and sensual, designed to bring couples to a heightened awareness of their bodies and minds. The 60-minute class will be priced at a drop-in rate of $15 per couple (a $40 value), but 103 members and class-pack holders are also welcome. 103 offers an array of classes, top-rated instructors and an upscale, state-of-the-art facility located at 4245 S Grand Canyon Drive, Suite 118. The stylish hot-studio is open daily from 6 a.m. - 8 p.m. and offers a wide array of classes to satisfy Yoga and Pilates practitioners of all levels.
---
Justin Bieber lately has been getting negative flack lately, but he just came to Las Vegas after a long road trip from San Francisco, with his Dad. Justin Bieber checked into Hard Rock Hotel & Casino for two nights joined by his father Jeremy Bieber, manager John Shahidi and rapper Xavier "Lil Za" Smith. During his stay, Justin uploaded a photo of his view of the Las Vegas Strip from his suite to his Instagram and Twitter accounts.
---
Chayo Mexican Kitchen + Tequila Bar has opened as one of the first venues at the much-anticipated Caesars Entertainment development, The LINQ. The high-energy retail, dining and entertainment district introduces a new concept in Mexican dining, combining a DJ, mechanical bull, a vast tequila and cocktail selection and a blend of authentic and innovative Mexican fare by Executive Chef Ernesto Zendejas.
Located just steps away from the Las Vegas Strip with direct access from The Quad Resort & Casino, Chayo is situated near the beginning of The LINQ corridor, which leads to the Las Vegas High Roller Observation Wheel, offering unobstructed views of the world's largest observation wheel. The expansive ground-level patio is framed by lush trees and leads to the main dining room with floor-to-ceiling glass doors that open up to create an indoor-outdoor space. Once inside, a custom-made, highly-stylized mechanical bull stands as Chayo's mascot and the centerpiece to the 12,000-square-foot room. Nicknamed "Chayo," the bull tempts guests to take tequila-fueled rides set to music by a DJ playing an eclectic party mix.
---
The Fabulous Palm Springs Follies 23rd and final edition is (aptly) tilted "The Last Hurrah!" Since 1992, the Follies has been seen by over three million patrons, and celebrates the music and dance of Mid-Century America with a cast ranging in age from 55 to 84 years "young." Maureen McGovern has been called the singer with "The Stradivarius Voice," so tremendous is her talent. Her 40-year career has encompassed recording, song writing, concerts, radio, television, film and Broadway, and Maureen is about to begin her second show-stopping stint with The Fabulous Palm Springs Follies, appearing January 7 through March 8, 2014. Better get to Palm Springs by March 8 as unbelievably, after that date, the Fabulous Palm Spring Follies will be no more.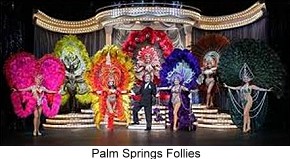 The Dr. Miriam & Sheldon G. Adelson Educational Campus will honor Chemistry Nobel Laureate, Israeli biochemist, Dr. Aaron Ciechanover at the 9th Annual In Pursuit of Excellence Gala on Saturday, Feb. 8 from 6:30 to 11 p.m. at The Venetian Resort-Hotel-Casino. There will be live and silent auctions, a dinner, dancing and more.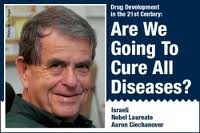 Dr. Aaron Ciechanover will be awarded the Pursuit of Excellence Award for promoting education as the key to understanding how science and research can benefit humanity. In 2004, Ciechanover was awarded the Nobel Prize in Chemistry along with Dr. Avram Hershko and Dr. Irwin Rose, for discovering the process of ubiquitin-mediated protein degradation. This process expanded the medical field's comprehension on how a cell operates. When the degradation does not work correctly, diseases such as cervical cancer and cystic fibrosis can develop. This paved the way for the development of drugs against these ailments. Tickets start at $250 per person. All proceeds from this event will benefit the school's scholarship program to provide funds for students in need. To purchase tickets contact Davida Sims, director of development at (702) 515-8203.
CONTINUE ON TO...:
> Entertainment Tidbits Archives
>Las Vegas News "Heard Around Town"
>Las Vegas Leisure Guide<