WOW! Impresario David Saxe does it and does it again and again. His Ultimate Variety Show at the V Theatre in the Miracle Mile Shoppes at PLANET HOLLYWOOD is a top notch show with some of the best specialty acts you will ever see.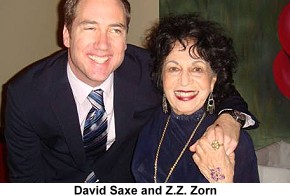 Wally Eastwood, the comedic M.C. and the fastest juggler in the world, comes in and out of the show with new routines and comedy; Joe Trammel creates characters with props, costumes and music that are outrageously hilarious; Ukrainians Youri & Nikolai are incredible acrobats; The Crazy Gauchos fantastic comedy drummers/bolos/dancers (formerly The Argentine Gauchos who have played in all the major extravagant production Vegas shows since 1977); Melinda, The First Lady of Magic (and sister of David Saxe) is back after a 10 year hiatus becoming a mother to her two daughters. She looks and performs as if she never left the stage; Tamara, rhythmic gymnast does an amazing act with Hula Hoops; Russ Merlin, uses 4 audience volunteers to create characters using masks, gestures and comedy that makes your stomach hurt from laughing.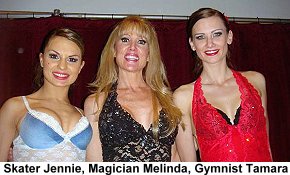 While all these talented acts create a spectacular variety show, the best is yet to come. The ARATA SKATERS, husband and wife Victor and Jennie, perform the most spectacular, dangerous skating feats that are beyond description on a small round stage very close to the audience. Putting all this talent together in one show, one can't help but give it a rave review and I recommend it is a must see.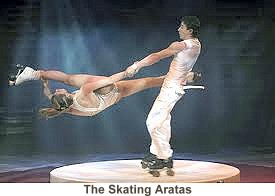 FIRST FRIDAY LAS VEGAS has been a mainstay of arts and culture in downtown Las Vegas for nine years. In 2011, just shy of the October nine year anniversary, the arts and culture festival welcomed a new ownership group, First Friday Las Vegas, LLC, comprised of Zappos.com executives Tony Hsieh, Fred Mossier and Steve Hill, as well as downtown developer Andrew Donner and marketing executive Joey Vanes. The outdoor event features several areas throughout Downtown Las Vegas that showcase artists of all calibers and genres, supplementing with live music, food and other festive events.
NOW, FIRST FRIDAY LAS VEGAS Arts festival in downtown Las Vegas, is pairing up with the Lucky Lady Lucy team and the city of Las Vegas to hold the city's first public burn, inspired by the annual Burning Man Festival, on Friday, March 2. FIRST VEGAS BURN! the FLAMES of CHANGE will feature "Lucky Lady Lucy," a 20-foot tall wooden showgirl sculpture, which will be ceremoniously blazed in the first public burn in Las Vegas history at 8 p.m.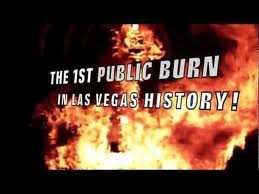 Mirroring the spectacle featured at the Burning Man Festival, FIRST FRIDAY will wow the downtown crowd and give a taste of the energy and community-building that Burning Man is known for. Fire art performances by Flame logy, Nytronix and The Brotherhood of the Flame will bring the energy of the public burn to crowds throughout the festival. Cast members from the Los Angeles-based production "The Burning Opera: How to Survive the Apocalypse" will perform during this high-energy event. The theatrical performance combines rock opera and vaudeville. An Art Car Extravaganza will be headlined by The Dancetronauts, a performance group that provides top-of-the-line sound system technology, world-renowned DJs, cutting-edge stage lighting and visual effects and an array of professional dancers, fire performers, artists and the infamous Dancetrohotties who will add to the evening's festivities.
After the March 2 First Friday event, the new PLAZA HOTEL will host an Art Car party with the Dancetronauts as well as the world's most unique and artfully designed vehicles. Following the Art Car event the after-party will move into the Plaza Theatre where guests can dance into the wee hours of the morning.
The festivities will extend beyond FIRST FRIDAY and over the weekend with Art Car parades, after parties and programmed events throughout Downtown.
On Saturday, March 3 in El Cortez' Jackie Gaughan Parkway, the Dancetronauts and other art cars will be at it again with performances from 10 p.m. until 2 a.m. before party-goers make their way to the bars and clubs of Fremont East. Hotel packages are available; visit www.firstfridaylasvegas.com for package details.
A fundraising event to help build "Lucky Lady Lucy" will be held at InsertCoin(s) on Thursday, Feb. 23 from 9 p.m. until 11 p.m. Donations can also be made online at www.Indiegogo.com/LuckyLadyLucy.
Renowned funnyman Norm Crosby returns to the SUNCOAST Showroom, March 3 and 4. With a knack for intelligent word play, Norm Crosby is known as "The Master ofthe Malaprop" for his ability to substitute words for similar sounding words to create an amusing phrase that ultimately makes little sense. His use of malapropisms and quick wit became lucrative as he began a stand-up career in the '50s as part of a comedy act with Ethan Eichrodt. Following a smash run with Eichrodt in Las Vegas, Crosby found success going solo, then went on to become a staple on the talk, variety and game show circuit in every decade since the '60s.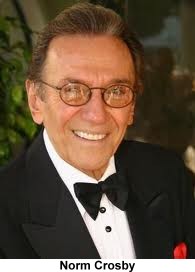 Opening for Crosby is legendary comedian Sammy Shore, founder of the Comedy Store on Los Angeles' Sunset Strip. A fixture on the standup comedy circuit for decades, Shore is renowned as "The Man Who Made Elvis Laugh," a title earned after Colonel Parker hand-picked him to open for the King during his 1969-72 Comeback Tour in Las Vegas.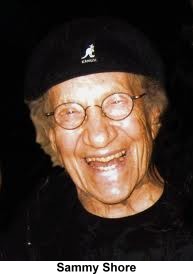 And speaking about Sammy Shore, he will hit a funny bone for animals with his third annual Funny Bones comedy at 3 p.m. Sunday, Feb. 19 inside the PALMS Key West Ballroom.The Funny Bones comedy jam boasts an all-star cast emceed by the impressive talents of Sammy Shore, with Louie Anderson, George Wallace, Vinnie Favorito, Zowie Bowie, Marty Allen, Doug Starks, Reggie Griffin, James P. Connolly, Geechy Guy, comedy rock band, The Thunder Nuggets and additional surprise guests.
The funds raised from the comedy jam will go to the Funny Bones Foundation whose purpose is to provide financial support to abandoned animals in need of advanced medical and surgical assistance that are under the care of established non-profit animal rescue organizations in Clark County.
Funny Bones is made possible due to the dedicated people who believe in helping the local animal community: Dr. Matthew Brooks, Sammy and Suzanne Shore, show producer and director James D'Arrigo, Jean McCusker, Catherine Luce, Jocelyn Arter, Samantha Ratcliffe-D'Arrigo and many volunteers. Tickets for Funny Bones are $29.95 plus additional fees and can be purchased at the PALMS Pearl Box Office.
Country legend Mickey Gilley and renowned comedians Bill Engvall and Carlos Mencia open a year of entertainment at TREASURE ISLAND, beginning in February.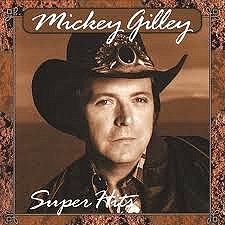 February 18 - Mickey Gilley The original Urban Cowboy began performing in Houston nightclubs before scoring a string of No. 1 hits during the mid-70's. TREASURE ISLAND is home to his namesake, Gilley's Saloon, Dance Hall & BBQ, paying homage to the very successful Gilley's Club in Pasadena, Texas, which was known as the "world's largest honky-tonk."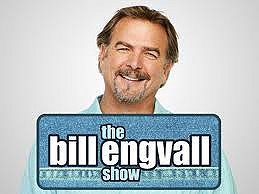 March 9 - Bill Engvall Stars and serves as executive producer for "The Bill Engvall Show" on TBS and currently hosts one of the top-rated shows on CMT, "Country Fried Home Videos."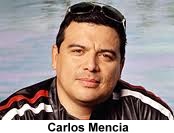 March 23 - Carlos Mencia Mencia began his stand-up career performing at The Laugh Factory during amateur night and quickly rose to superstar status. Mencia's latest comedy special, "New Territory," premiered on Comedy Central in December 2011.
Tickets for each show can be purchased at 1-866-712-9308 or 702-894-7722.
The new KING'S ROOM at the RIO has great performers doing their thing at hours to please all audiences. BETHANY OWEN, the`Woman of 1,001 Voices and Faces' performs her celebrity impressionist show, ONE VOICE.' Bethany performs her one-of-a-kind high-energy 90 minute show doing 50 characters blending music, comedy and voice impressions along with audience interaction at 2:30 p.m.
Then, "2 Kings" pays tribute to Elvis Presley and Michael Jackson with Charlie Franks playing the "King of Rock" and Chris Gardner who impersonates the "King of Pop."
CHRIS GARDNER has mastered the dance moves and voice that solidified Michael Jackson's four decade career. He truly does justice to the late superstar.
CHARLIE FRANKS impersonates Elvis aka "The King of Rock 'n' Roll, Elvis Presley. The talented impersonator, with his deep soulful voice and lip-curling swagger makes you think the King may not be dead after all. Showtime at 5:30 p.m.
Comedy takes over at 7 p.m. with YOUNG GUNS of COMEDY and others, and at 8:30 Michael "Wheels" Parise (opening act for Andrew Dice Clay for 20 years) headlines KING's COMEDY CLUB.
TOP OF NEXT COLUMN
LAS VEGAS RESTAURANT WEEK RETURNS – February 27 through March4 – the first ever spring edition of the popular culinary event. Locals and tourists have the unique opportunity to dine at many of the city's best restaurants at affordable prix fixe prices while helping to support THREE SQUARE FOOD BANK, Southern Nevada's only food bank.
Taking part in LAS VEGAS RESTAURANT WEEK is simple. Diners can visit any participating restaurant during the specified dates and enjoy a multi-course, prix fixe menu specially created for LAS VEGAS RESTAURANT WEEK. Each restaurant will create their own menu offering at one of the following price points: $20.12, $30.12 or $50.12, with a fixed portion of the proceeds benefiting THREE SQUARE and the fight against hunger in Southern Nevada.
Diners have the unique opportunity to make their dollar count twice. The Conrad N. Hilton Foundation pledged $5 million towards THREE SQUARE FOOD BANK's 2011-2012 annual budgets. Three million dollars of the pledge is specifically designated as matching funds, meaning each dollar will be matched one-to-one by the grant, through April 30, 2012.
There are more than 70 participating restaurants and a complete list of Las Vegas Restaurant Week participants and menu details can be found at www.helpoutdineoutlv.org. The easy-to-navigate site allows diners to search by type of cuisine, restaurant location or donation amount.
THE SPRING PRESERVE joins forces with Comedy-Magician MAC KING, THE PUBLIC EDUCATION FOUNDATION and the LAS VEGAS WRANGLERS HOCKEY TEAM to host an additional book drive during Mac King's Magical Literacy Tour: Nevada Reading Week 2012. Las Vegans can make a donation of three new or gently used elementary-school aged books at The Springs Preserve now through Mar. 2 to receive a pair of complementary tickets to The Mac King Comedy Magic Show at HARRAH's.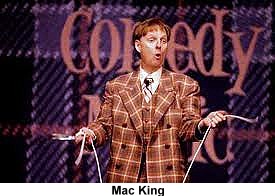 CABARET JAZZ at THE SMITH CENTER is an intimate 258-seat venue where an urban jazz club meets an elegant cabaret in a room made for live music. A little bit of Dizzy's, a little bit of Feinstein's and a lot of sophistication will make this the club for grown-ups in Las Vegas, and a place where artists will want to perform.
CABARET JAZZ showcases the biggest names and the most hidden gems in cabaret and jazz from around the country, including our sensational resident artist, CLINT HOLMES. Ten amazing acts are already scheduled and tickets are now on sale. Because CABARET JAZZ only seats 258 be sure to purchase your seats now, before they are gone.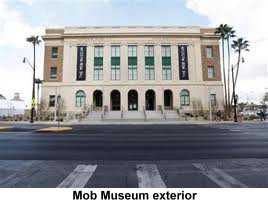 And, our town is getting more culture with the opening of THE SMITH CENTER and, I guess this is in the realm for more culture for Las Vegas with the opening of THE MOB MUSEUM. THE MOB MUSEUM's mission is to preserve, not only the history of organized crime and law enforcement in America, but to preserve a part of Las Vegas' physical history through rehabilitation of the Post Office and Courthouse that was first listed in the National Register of Historic Places in 1983. The building is significant not only for its neo-classical architecture reminiscent of the period in which it was built, but also for the historic events that unfolded inside the building. In addition to the Kefauver hearings, high profile mobsters were tried there, including Tony Spilotro, Moe Sedway and Frank "Lefty" Rosenthal. And, who knows more about that period than our esteemed former Las Vegas Mayor Oscar Goodman, who played an integral role as a Mob lawyer at the time the Mob was flourishing in Las Vegas. Let's hope it fares better than the Mob Experience did at the TROPICANA.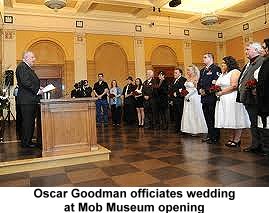 People, items and all sorts of special accolades have their special day acknowledged. Now there is NATIONAL MARGARITA DAY on February 22 and TACOS & TEQUILA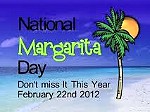 inside LUXOR will celebrate "NATIONAL MARGARITA DAY" as guests are invited to grab their sombreros and serapes for a margarita fiesta as they salute NATIONAL MARGARITA DAY. Party-goers will feel as if they're south of the border at T&T's all-day happy hour with two-for-one house margaritas on Wednesday, Feb. 22 from 11 a.m. to 11 p.m. T&T's signature house margarita is poured with Jose Cuervo Traditional, organic agave nectar, Grand Marnier and house-made margarita mix, made from scratch daily with fresh squeezed limes.
Named one of the best tequila bars of 2011 in America by USA Today, Tacos & Tequila embodies the modernism of Mexico City while incorporating traditional elements of Mexican style and Las Vegas flair. Tacos & Tequila, 8,000 square foot venue, a highly-stylized Mexican restaurant and bar with a fun, high-energy vibe and flavorful menu is open daily from 11 a.m. until 11 p.m. for lunch and dinner, as well as for a Mariachi Brunch every Saturday and Sunday from 11 a.m. until 3 p.m.
Emmy Award-winning comedian LOUIE ANDERSON gives back to United States military members with an invitation to attend his show for free during the month of February. All active military members with a valid military ID card will receive up to four free tickets to Louie LOL at PALACE STATION, as well as a voucher for the "Beach Party" appetizer platter at Cabo Mexican Restaurant also at PALACE STATION.
My friend and colleague from our Society of Singers days, performer Rick Michel has been touring nationally with his popular show, "Drinkin'-Singin'-Swingin' – a Salute to Frank Sinatra-Sammy Davis, Jr and Dean Martin. His Rat Pack-themed production starring Michel as Dean Martin, Peter Pavone as Sinatra, and Bryan Clark as Sammy Davis, Jr. returns to the RAMPART CASINO in Addison's Lounge Feb. 17-19. Shows are at 8 p.m. on Friday and Saturday, and 4 p.m. on Sunday. Admission is $15 at the cage or $20 at the door.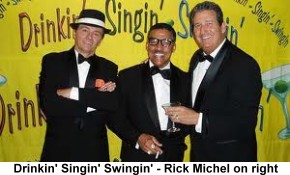 SUMITA BEAUTY LV in the Fashion Show Mall, the leader in The Art of Mehndi® and The Art of Threading just celebrated its one-year anniversary. SUMITA BEAUTY is the respected leader in ancient Eastern beauty techniques. Since 1986, SUMITA BEAUTY has mastered the Art of Threading, a non-invasive hair removal process used primarily for brow shaping with the use of cotton thread and The Art of Mehndi, a traditional art form using natural henna to give the body a temporary tattoo effect. VIP's and media were treated to the wonderful experiences that are offered at SUMITA BEAUTY. In addition to the threading, I was able to show off my hand with The Art of Mehndi with glitter for a week after the event. SUMITA BEAUTY also stocks its studio with dozens of eye pencils, brow pencils, eye shadow pencils, eye cream, moisturizer, make-up remover and more. I've enjoyed using their great products that were given to guests in a gift bag at the anniversary event.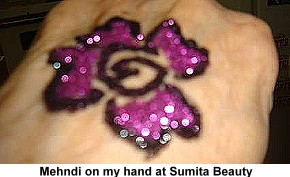 Continuing its philosophy of getting involved and giving back, SUMITA BEAUTY has partnered with many local charities such as Opportunity Village, The Shade Tree, Girl Scouts of Southern Nevada and Nevada Cancer as well as national charities including City of Hope Medical Center, American India Foundation (AIF), Red Cross, Oprah Winfrey Leadership Academy and more. SUMITA BEAUTY also encouraged its customers to give with the introduction of Shukar bead bracelets. Any customer that purchased a Shukar, which means gratitude in Hindu, are able to direct 100 percent of the sale price to their charity of choice.
The stars will shine bright on Sunday, February 26, when the Nevada Princess Pageant and the Mrs. Nevada-America Pageant will be held at the SUNCOAST Showroom.
The Nevada Princess Pageant, starting at 2 p.m., includes divisions of Little Miss, ages 4 to 6; Young Miss, ages 7 to 9; Pre-Teen, ages 10 to 12; and Teen, ages 13 to 16. In each division, entrants will compete in the categories of evening gown, on-stage introduction and interview with the judges. The winning Princesses will receive a prize package including a sterling silver princess tiara necklace, a photo shoot with Michelle Faithful and a rhinestone princess sash pin.
Later in the evening, 10 of Nevada's most accomplished and lovely married women will vie for the 2012 Mrs. Nevada-America crown, starting at 7 p.m. Contestants will be judged in the categories of evening gown, swimsuit, overall beauty and a four-minute interview with the judges. All of the contestants, from homemakers to business owners, represent the brightest and best of Nevada's married women. The newly crowned Mrs. Nevada-America 2012 will receive a prize package valued at more than $30,000 and the official crown of the Mrs. Nevada-America Pageant, presented by the reigning Mrs. Nevada-America 2011, Amanda Kouretas. The winning lady will go on to compete in this year's Mrs. America Pageant, the only nationally televised pageant for married women in America.
Project Teddy, a local nonprofit dedicated to bringing Build-A-Bear workshops to pediatric cancer patients to hospitals and chemotherapy centers throughout Las Vegas will benefit from the Nevada Princess Pageant and the Mrs. Nevada-America Pageant.
Tickets for the Nevada Princess Pageant start at $19.95, plus tax and convenience fees, while tickets for the Mrs. Nevada-America Pageant start at $29.95, plus tax and convenience fees. Tickets can be purchased at any Coast Casinos box office, by calling 702.636.7075 or visiting www.suncoastcasino.com.
World-famous landscape photographer PETER LIK has announced the opening of his new gallery inside The Shoppes at Mandalay Place. Lik will make a very rare public appearance, his first since 2009, at the grand opening of Lik Mandalay on Saturday, Feb. 25. A total sensory experience, Lik Mandalay is 3,266 square feet and features 55 of Lik's world-famous photographs, including "Pele's Whisper," which is Lik's most-awarded shot, "Sacred Sunrise" and "Eternal Beauty."
PETER LIK, a Master Photographer from both the Australian Institute of Professional Photography (AIPP) and the Professional Photographers of America (PPA), Lik has been awarded fellowships by the British Institute of Professional Photographers (BIPP) and The Royal Photographic Society (RPS). Based in Las Vegas, LIK USA has sold in excess of $300 million of fine art photography, has 13 galleries and counts Presidents and celebrities among his many collectors. Lik sold his photograph "One," taken on the banks of the Androscoggin River in New Hampshire, for $1 million, and had his classic image "Ghost" included in an exhibition of Nature's Best Photography in the SMITHSONIAN NATIONAL MUSEUM of NATURAL HISTORY in Washington D.C. In 2012, Lik's photograph "Inner Piece" was included in the SMITHSONIAN, as well.
PETER LIK's work will be featured on the final episode of the highly-rated ABC television series, "Desperate Housewives." The final episode is scheduled to air in May. More than 12 pieces of LIK's work that will be featured were purchased from CASESARS PALACE gallery.
Race fans will be converging on Las Vegas and the RIVIERA is hosting a series of events as part of NASCAR March Race Weekend, Mar. 8 – 11. The weekend officially begins on Thursday, Mar. 8, with a slot tournament benefiting the Kyle Busch Foundation. A group of drivers are signing autographs for fans on Friday, Mar. 9. NASCAR fans can also get an up close and personal look at Casey Mears' GEICO Sprint Cup Car, on display on the Casino floor during race weekend.
Las Vegas has lost one of its own great Showman, Producer/Manager from way back. Bill Moore produced many of the big production shows including the very popular NUDES ON ICE years ago and was manager for Charo for quite some time. Everyone who knew Bill Moore loved him and he loved everyone. Bye my dear friend.
CONTINUE ON TO...:
> Entertainment Tidbits Archives
>Las Vegas News "Heard Around Town"
>Las Vegas Leisure Guide<