The new Vegas Magic Theatre at the GOLD COAST blends the exceptional abilities of three to four acts into a fast-paced 70-minute showcase of skill, guaranteed to amuse and confuse. Paul Stone has put together a cast of magicians, masters of illusion, comedy, mind reading and outstanding variety and specialty acts from around the world. Every week, Vegas Magic Theatre presents a completely new line-up of creative, trend-setting acts from across the globe, creating an original experience each time audiences visit.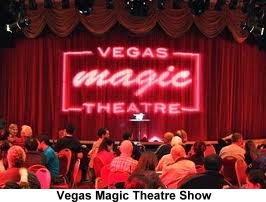 Vegas Magic Theatre is hosted by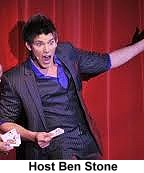 Paul's son, Ben Stone, an affable, talented, singer, magician and all-around performer. A special entertainment treat one hour prior to show time, audiences are invited into the Magic Lounge in the front of the Theatre to enjoy close-up magic performed by sleight-of-hand artists. Vegas Magic Theatre show times are Thursday, Friday and Sunday at 7 p.m., and Saturday at 5 and 7:30 p.m. Tickets are only $14.95.
Nevada Ballet Theatre (NBT) is honoring Eva Longoria as its 'Woman of the Year' on Saturday, January 28. An actress, producer, philanthropist and activist, Eva Longoria began her career acting on several soap operas including the long-running "The Young & The Restless," but it wasn't until she landed the role as the saucy and sexy 'Gabrielle Solis' on ABC's Desperate Housewives that she achieved worldwide prominence.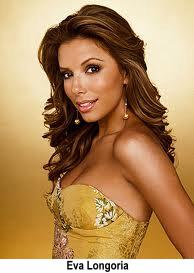 Eva maintains a giving spirit and her charitable work is impressive, specifically her work with 'Eva's Heroes' which she founded. NBT will celebrate her many accomplishments and shed light on her philanthropic endeavors - a side not often seen by the public – as she is honored at NBT's annual Black & White Ball.
The Black & White Ball is one of the most highly attended events of the social season, hosting an array of local celebrities, dignitaries,VIPs and arts supporters. Since 1985, this star-studded gala has enabled NBT to present professional company dance productions, quality dance instruction within its affiliated Academy and expose students in at-risk communities to the art form of dance through its outreach program, Future Dance.
Past honorees of the Black & White Ball include luminaries of the stage and screen such as Debbie Reynolds, Chita Rivera, Celine Dion, Bette Midler, Marie Osmond and Priscilla Presley. Nevada Ballet Theatre honored these legendary women for their dedication to the world of arts and entertainment and many of them have enjoyed a special connection to Las Vegas. RSVP to (702) 243-2623 x 222 or by email specialevents@nevadaballet.org
This CHINESE NEW YEAR, January 23 to February 5. the YEAR OF THE DRAGON is an exceptionally powerful and lucky symbol and Las Vegas will abound with a variety of CHINESE NEW YEAR events.
THE PALAZZO in the Waterfall & Atrium Gardens brings an oriental sanctuary to Chinese New Year 2012, The signature attraction dragon is suspended 19 feet in the air and measures a staggering 128-feet and 8,000 pounds. The feng shui-designed zodiac dragon took more than a year to create with 50 designers, welders and painters from across the globe.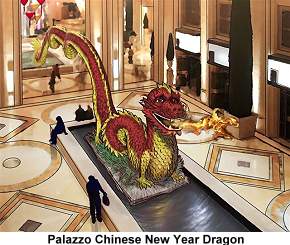 According to feng shui practices, it is good luck and will remove obstacles in the New Year when you visit the dragon and walk around it three times in a clockwise motion. The red and gold water dragon ceremonial dragon dance is at 1 p.m. on Jan. 23 and will breathe fire and smoke at select times the first week of Chinese New Year.
M Resort is more of a local resort, but they are inviting locals and tourists alike to celebrate the Chinese New Year on Monday, Jan. 23.as they host a traditional Chinese lion and dragon dance performed by the Lohan School of Shaolin. The dance will include a 30-person assembly with a 63-foot dragon including adult and baby lion dancers, Buddhas, musicians and festive flags. The dance will begin in the lobby to chase away evil spirits. The M will also recognize the New Year with festive décor including tangerine trees, welcome banners and lanterns.
THE GOLD COAST is the place where the Chinese New Year will be celebrated by The Lohan School of Shaolin who will perform a traditional Lion Dance parade February 1 at 7:30 and 10 p.m. The parade includes several dragons, a percussion procession and characters that will make several stops in the Casino to pull ceremonial lettuce from the ceiling and toss the leaves to spectators. Being hit by a piece of lettuce during a Lion Dance parade is considered particularly lucky, and is an auspicious way to begin the New Year.
Chinese New Year decorations and lucky citrus trees will adorn the GOLD COAST and popular restaurants Ping Pang Pong and Noodle Exchange will serve authentic Chinese dishes. There will be multiple gaming promotions and drawings for $16,800 in promotional chips on January 23 and 30, and a $5,000 Slot Hot Seat contest on January 28. Complete details are available at www.goldcoastcasino.com.
George Wallace, FLAMINGO headliner in the "I Be Thinkin" show welcomes all active United States military members with a valid military ID to come see his show for free throughout 2012. Military members will each receive one free ticket to see "The new Mr. Vegas" in return for the support and dedication they have given the country.
Kid Rock returns with two special, intimate shows at House of Blues located inside MANDALAY BAY on Jan. 27 and Jan. 28 at 9 p.m.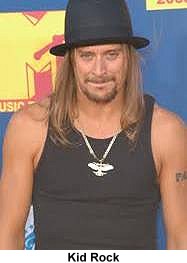 Kid Rock has hosted the CMT Awards and has performed at events ranging from the Grammy awards,VMAs and EMAs to Hip Hop Honors and the CMAs.
He has performed for and visited troops overseas numerous times, and remains one of entertainment's most vocal supporters of our soldiers abroad. At the same time he has been expanding his philanthropic efforts through his own Kid Rock Foundation. Tickets start at $104.
Sammy Hagar's CABO WABO CANTINA inside Miracle Mile Shops at PLANET HOLLYWOOD will celebrate its 2 year birthday with a week-long extravaganza starting Monday, Jan. 23 through Sunday, Jan. 29. The popular Mexican restaurant and bar will offer guests food and drink specials, live entertainment and plenty of prizes, including an autographed guitar from Sammy Hagar himself.
Those feeling extra brave will have the chance to take Sammy Hagar's personal stage to sing their hearts out at Red Rocker Karaoke for a chance to win $500 both Tuesday and Wednesday night. Guests will rock out to their favorite Sammy songs as Hagar tribute band OU182 takes the stage Friday night at 11 p.m. Plus, Friday night guests will also have a chance to win a Sammy Hagar autographed guitar.
Every Sunday, Tuesday and Wednesday from 9 p.m. - midnight, WABO CANTINA plays host to Jimmy Z's "Star Search Celebrity Karaoke." Locals and tourists alike are encouraged to come in and release their inner rock-star by singing along to thousands of songs.
On Sunday nights, Jimmy Z from the hit show, "Name That Tune Live" at IMPERIAL PALACE, teams up with M.C. Brandy Beavers to create the ultimate karaoke experience. Guests are invited to let loose and sing their hearts out on Sammy Hagar's personal stage.
Las Vegas headliner and Broadway veteran, Rick Faugno performs a self-titled show in The Lounge at the PALMS on Tuesdays, beginning Jan. 17 at 9 p.m. Faugno has performed for packed houses in Las Vegas for the past four years. His lead role as Frankie Valli in "Jersey Boys," his one-man show, "Songs My Idols Sang (and Danced)" and his latest show, "Body & Soul" at Las Vegas Hilton earned him numerous accolades.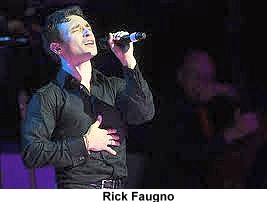 In Faugno's new one-man show, audiences will experience a combination of the upbeat New Classic Vegas styles of Blues, Jazz, Soul, Pop, Rock, and Latin variety. His journey of self-expression includes music by innovative performers such as James Brown, Sammy Davis, Jr., Michael Jackson, and Frank Sinatra, as well as original tracks Faugno wrote himself. Tickets are $15 (including tax and service charge).
On Jan. 6, Faugno took a hiatus – duration to be announced - from his show, "Body & Soul," in Shimmer Cabaret at LAS VEGAS HILTON.
WHAT A BARGAIN! The Riviera Hotel & Casino adds Confessions of a Rock Star to its Dinner & Show package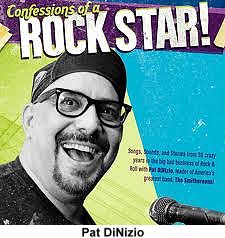 Confessions of a Rock Star is an in-depth look into Pat DiNizio's journey from garbage man to platinum selling artist. The show covers DiNizio's 32-year career in rock and roll and pays homage to his musical heroes, including Buddy Holly and The Beatles. A live band performs the hits that shaped DiNizio's childhood and all of the chart-topping songs that he sang with The Smithereens. Video screens showcasing rare film footage and photos accompany the musical journey from small town life in New Jersey to rock and roll stardom.
Bob Saget will appear at THE ORLEANS Showroom for a two-night engagement, January 27 and 28 at 8 p.m. With more than 30 years of performing his trademark stand-up act in theaters and showrooms,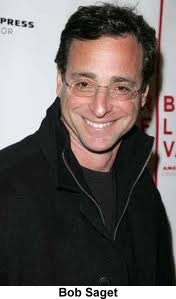 Bob Saget is known nationally from his two long-running series on ABC -- "Full House" and "America's Funniest Home Videos." Saget's calling card today is his adult-themed brand of comedy, dealing with life as a single dad, dating, divorce and any questions you had about "Full House." In 2007, Saget filmed the HBO comedy special "Bob Saget: That Ain't Right." Later in the year, he wrote, directed, produced and voiced-over the film "Farce of the Penguins," which also starred the voices of Samuel L. Jackson, Christina Applegate, Lewis Black, Tracy Morgan, Mo'Nique and fifty of comedy's biggest names. Tickets from $39.95, plus tax.
TOP OF NEXT COLUMN
Adult Film Star and Las Vegas Vixen, SUNSET THOMAS is something of a footnote on the menu at Oscar's Steak House at the PLAZA CASINO in Downtown Las Vegas. The Steakhouse (billed as providing Beef—Booze—Broads) won't let you down (a promise Sunset is fond of making herself!) "Hizzoner is the hippest," howls Sunset.

"The girls he has working the room are far more than eye candy — they're engaging and so hot— the bar is classy and the view from the dining room is as hip as any in town. Now when I hear Petula Clark's song Downtown, I can't help but think she's singing about Downtown Vegas!"
Sunset, of course, has a simple little stake in the menu offering. You see, about a year ago she interviewed the Mayor for doghouseboxing.com. At the time she signed an 8x10 photo of herself with the words, "I wish I had an Oscar Mayor Wiener." "I guess it stuck," cooed the curvy courtesan, "because that line has made its way onto the menu in the form of Veal Shank (pun intended, I'm sure) called "Oscar's Mayor Weiner Schnitzel."
Crazy Horse III, located inside PLAYGROUND adult nightlife complex,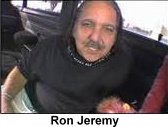 will host the sexiest celebration in Sin City during the Adult Entertainment Expo, including meet–and-greets with top adult starlet Sunny Leone and an AVN after party hosted by the legend himself, Ron Jeremy, from Wednesday, Jan. 18, until Saturday, Jan. 21.
Crazy Horse III features hundreds of gorgeous female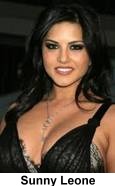 entertainers, three tantalizing stages, oversized chairs, a main room framing an enormous dance platform and an opulent VIP room. Crazy Horse III is part of PLAYGROUND, a lavish destination that offers nightlife and dancing as well as some of the best sushi in the city. Guests may take advantage of the hot spot's complimentary transportation, pending availability, by calling 702-673-1700.
Gallery Nightclub at PLANET HOLLYWOOD has been known for its ability to divulge revelers' deepest desires, and on Thursday, Jan. 19, it will be time to celebrate those carnal cravings with the Fantasy Masquerade Ball, hosted by Bluebird Films adult star, Dylan Ryder.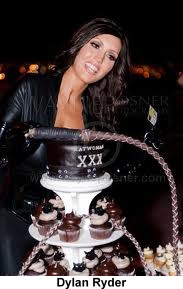 This tempting and lavish bash will promise to tap into every club-goers' most daring fantasy, especially for those in town for the Adult Entertainment Expo, Sin City's sexiest annual convention. Gallery is open from 10 p.m. until 4 a.m. Wednesday, Thursday, Friday and Saturday. Call 702-818-5700 for reservations.
HARRAH's headliner Comedy-Magician Mac King will perform a special benefit show Friday, Jan. 27 in Rochester, Minn. at "Mending Minds: A Magical Gala for Autism." King joins a masterful lineup of entertainers including his childhood friend, Master Magician Lance Burton, Comedian Bob Zany and the comedy & juggling of Michael Goudeau.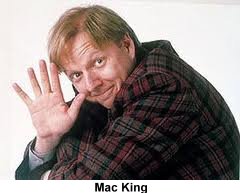 SILVERTON CASINO presents Friday Night Live from 7 to 10 p.m. Get ready to party for free every Friday night inside Veil Pavilion by enjoying a variety of old school bands. The night will be hosted by 105.7 The Oasis as they take guests back to their favorite songs from the past. The lineup will include performances by Block Party Jan. 20 and Phil Flowers Jan. 27. No cover and drink specials throughout the night.
There is also a Party Pit with food and drink specials during the evening along with Model Dealers and other exciting entertainment Thursday – Saturday 6 p.m. to close at the Shady Grove Lounge
Actor, Peter Facinelli from "The Twilight Saga" series will celebrate the overwhelming success of The Twilight Saga: Breaking Dawn at PARIS' Chateau Nightclub & Gardens on Saturday, Jan. 28. Aside from his successful role as Carlisle Cullen in The Twilight movies, the Queens, N.Y. native is a regular on "Nurse Jackie," the hit Showtime series, as Dr. Fitch 'Coop' Cooper. The favorite vampire father plays the role as "dad," in real life, to three children with his wife, Jennie Garth.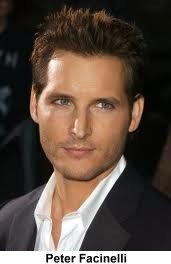 STUDIO 54, the iconic nightclub at the MGM Grand, was originally scheduled to close on January 8. However, the closing date has now been extended to Saturday, February 4. Studio 54, a reincarnation of the New York City namesake, has been at the MGM for the past 14 years. So, if you have never been to the Las Vegas Studio 54, you now have some additional time to do so. A "closing bash" is being planned. Studio 54's closure will make way for a new, yet-to-be announced nightlife venue.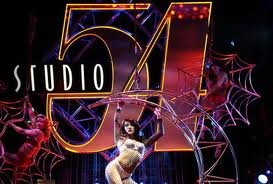 MAGICIAN NATHAN BURTON IS ON THE ROAD FOR`CHINA'S GOT TALENT.' FLAMINGO Las Vegas' Magician headliner will be seen by a live audience and 80 million viewers. Nathan Burton will be taking a five-day hiatus January 18-22 from his 4 p.m. comedy and magic show at the Flamingo to appear on "China's Got Talent" to be filmed live in Shanghai, China. Burton is the only American invited to be a special guest performer on Season 3 live finale of "China's Got Talent." Season 2's finale special guest performer was Susan Boyle.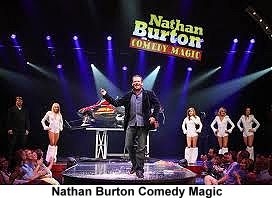 This is Burton's first time performing in China although he performed in South Korea for a year before making his home in Las Vegas. He opened at the Flamingo's main showroom on April 21, 2008. He will be performing eight minutes of comedy magic during the 4-hour live finale of "China's Got Talent" in Shanghai.
On July 1, 1962, Sam and Bill Boyd opened the ELDORADO CASINO in Henderson, marking the first joint venture of the legendary father-son team, and the beginning of what would become BOYD GAMING, one of the most respected companies in the gaming industry.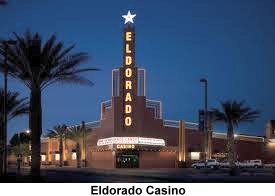 To celebrate its 50th year in operation, the downtown Henderson landmark will offer specials and promotions throughout 2012. The ELDORADO will create a set of 2,000 commemorative, limited-edition $5 gaming chips in recognition of the anniversary. The property will distribute 1,000 of the chips into general circulation starting in January. In the Bingo Parlor, any customer winning a game on "G-50" will receive a $200 cash bonus throughout 2012.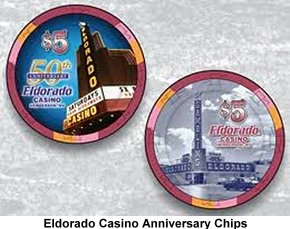 In a throwback to the prices of 1962, the snack bars at both the ELDORADO and JOKERS WILD will offer a variety of 50-cent specials throughout the year, including shrimp cocktails, hot dogs, soft drinks, draft beer and coffee. On Sunday, July 1, the ELDORADO will host a 50th anniversary celebration for the public, featuring cake and a champagne toast.
MGM Grand's long running Lion Habitat has closed and STUDIO 54, the legendary Night Club that launched the Night Club trend in Las Vegas 14 years ago will close on Saturday, February 4. Originally scheduled to close in January, the closing date has been extended, so you still have time to experience STUDIO 54.
During the month of January, the Epicurean Charitable Foundation of Las Vegas (ECF) will launch its search for the scholarship recipients of its 2012 class. Up to 10 high school seniors interested in pursuing a career in the culinary or hospitality industry will be selected this spring.
ECF currently has more than 20 scholarship recipients in the program attending the schools of their dreams, from the Culinary Institute of America in New York to the world renowned William F. Harrah College of Hotel Administration at University of Nevada, Las Vegas (UNLV). More than a million dollars in scholarship funds have been awarded to deserving students since its inception. To be eligible, students must be high school seniors at a Clark County school with plans to attend an accredited post-secondary institution as a full-time student during the academic year following their graduation. Applicants must also pursue a bachelor's degree and major in hotel management, food and beverage, culinary or other related programs. Additional scholarship qualifications include a cumulative GPA of 2.75 or higher and demonstrate need for financial support.
ECF isn't just a scholarship; it is a foundation that ensures the students' success throughout their educational and post-graduation professional endeavors. Applications must be postmarked by Mar. 2 and mailed to the ECF office at 6765 S. Eastern Avenue, Suite 1, Las Vegas NV 89123. Potential candidates may call 702.932.5098 for more information.

THE CONSUMER ELECTRONICS SHOW (CES) brought much needed revenue to Las Vegas, but they also did something special for the Las Vegas community. The Consumer Electronics Association (CEA), owner and producer of the International CES gave a total of $75,000 in donations to Green Chips and Repurpose AMERICA, a local Las Vegas nonprofit organization advancing clean energy and minimizing waste. CES is committed to sustainability and these donations will help the environment and the Las Vegas community.
Green Chips, a local charity supporting sustainable initiatives including solar panel installations, plans to use its $50,000 donation to help retrofit the LAS VEGAS RESCUE MISSION for solar panels. With more than 300 days of sunshine per year in Las Vegas, the Rescue Mission's solar panels will significantly reduce its energy bills while using clean energy. Last year, with the assistance of a CEA donation, Green Chips helped with a solar panel installation at a local Salvation Army, leading to $7,000 in projected annual energy savings.
CEA will be working again with Repurpose AMERICA and GES this year to maximize the reuse of show materials. As part of that effort, CEA has granted Repurpose AMERICA $25,000 to take signs and other materials from CES to build shade structures at two local community centers.
CONTINUE ON TO...:
> Entertainment Tidbits Archives
>Las Vegas News "Heard Around Town"
>Las Vegas Leisure Guide<