The legendary Vaudeville-inspired spectacle, Beacher's Madhouse, who Rolling Stone magazine declared Jeff Beacher, "Best Showman on the Strip, " will make its triumphant return to Las Vegas this New Year's Eve weekend at MGM Grand. Global superstar Miley Cyrus will unveil the highly anticipated Las Vegas return of Beacher's Madhouse on Friday, December 27. Its Vegas homecoming will reach new heights of madness as two experiences, Beacher's Madhouse The Nightclub and Beacher's Madhouse The Show, both under one roof, will be unveiled to guests with never-before-seen acts and non-stop entertainment five nights a week.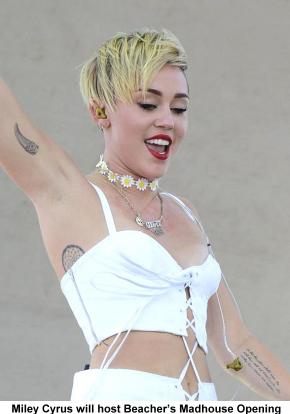 Beacher's Madhouse The Nightclub with its circus like energy and over-the-top Vaudeville-inspired show and A-list Hollywood atmosphere, will bring an outrageously sexy over-the-top nightlife experience boasting limitless entertainment and renowned open-format artists. The highly anticipated venue will welcome partygoers to an unrivaled experience as Beacher's Madhouse The Nightclub opens its doors Friday, Dec. 27 and will be open Wednesday through Saturday from 10:30 p.m. until late.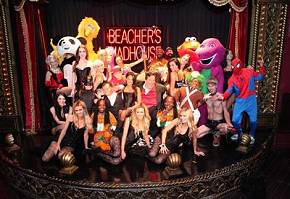 Beacher's Madhouse The Show will take guests on a journey into an unconventional world from the moment they first enter the 8,500-square-foot performance theater. Pushing the boundaries of entertainment and fantasy, the legendary variety show will take the madness to new levels as thrill seekers are pulled from their ordinary existence into a fantasy-filled realm known for stretching the limits of imagination. The world-renowned spectacles takes place five nights a week - Tuesday through Saturday at 8 p.m.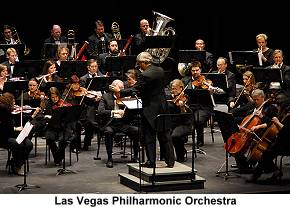 "The music is there waiting for you; all you have to do is listen." So says Roy Horn, one half of the iconic entertainment duo, Siegfried & Roy. In recognition of their pioneering and inspiring role in Las Vegas' entertainment history, their commitment to the city of Las Vegas, and in acknowledgement of their SARMOTI Foundation, the Las Vegas Philharmonic will honor Siegfried Fischbacher and Roy Horn at its 2014 Diamonds Are Forever Gala to be held Saturday, March 1st at the Aria.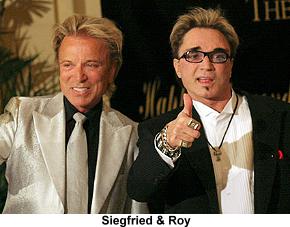 Hypnosis Unleashed starring Kevin Lepine celebrated his one-year anniversary at Night Owl Showroom inside Hooters Casino Hotel. Recognized by Mayor Carolyn Goodman as "Kevin Lepine Day. " The one-year anniversary event featured a red carpet and a performance showcasing Lepine's hilarious and astonishing hypnosis.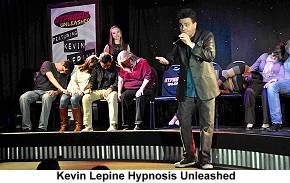 Hypnosis Unleashed starring Kevin Lepine invites volunteers to be the stars of the show, pushing boundaries by taking hypnosis out of the box and almost over the limit. Kevin Lepine will honor World Hypnosis Day with a complimentary group session on Sunday, Jan. 5 at 3 p.m. Kevin will guide guests through group hypnosis to help focus on their New Year's resolutions, from quitting smoking or other vices to staying happy and losing weight. The event is free and open to the public, but is limited to 100 guests. Participants can register by calling (702) 221-0323 or emailing: hypnosisunleashed@preferredpublicrelations.com.
---
NEW YEAR'S EVE EVENTS
With New Years Eve and Christmas on the way, listing the many offerings would be impossible, so here are a few that are free, almost free and somewhat affordable.
Boyd Gaming's Las Vegas properties are offering a variety of free and almost free food and beverage, entertainment and gaming specials for Christmas and New Year's Eve.
"12 Days of Giveaways began on December 13 at The Orleans, Gold Coast, Suncoast, Sam's Town, Fremont, Main Street Station and The California.
Participants earning 200 base slot points are eligible to receive one Pepsi stuffed animal toy, up to two plush toys per day per account. The promotion concludes on December 25.
The Orleans will be hosting a variety of events to ring in the New Year on Tuesday, December 31. Events include:
Latin Vida will host a dance party at Bourbon Street Lounge on New Year's Eve, starting at 9 p.m. Admission is free.
Third House will host a dance party at Brendan's Irish Pub on New Year's Eve starting at 9 p.m. Admission is free.
SAM'S TOWN HOTEL & GAMBLING HALL
Two free acts at Roxy's Lounge will kick off the New Year right. Starting at 4:30 p.m. on December 31, State of the Art will take the stage. Later, starting at 10:30 p.m., In-A-Fect takes over to rock on through to 2014. Admission is free to both events.
JOKERS WILD CASINO Troubadour Lounge
Celebrate the New Year at Jokers Wild with the Chris Zemba Band, who will be playing a free show beginning at 8 p.m. on December 31. Admission is free.
Almost Free:
GOLD COAST
HNLV will host a dance party at the Gold Coast Lounge starting at 9:30 p.m. on New Year's Eve. Admission is $10 (cash only) at the door.
SUNCOAST
The Suncoast Showroom has two ways to celebrate New Year's Eve for the early risers and the party-all-nighters. Start the day with Kelly Clinton's New Year's at Noon, starting at 12 p.m. on December 31. The multi-talented Clinton show mixes songs, stories and impressions throughout her show. Tickets start at $15.95 plus tax and convenience fees. This show is open to all ages.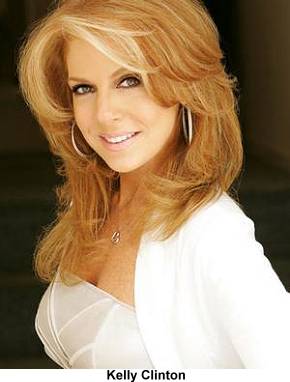 End the day with Vegas Super Band (also known as VSB), the only dance band in Vegas with a full horn section, Latin percussion, a rotating rhythm section and special lead guest vocalists. Admission is $29.95 and includes party favors, dancing, and a champagne toast/balloon drop at midnight. The show begins at 10 p.m.
Tickets to either show can be purchased by calling 702.636.7075, or by visiting the Suncoast Box Office.
A little more expensive, but affordable for New Years Eve:
At ORLEANS Mardi Gras Ballroom you can dance away 2013 and ring in 2014 with Disco Inferno from 10 p.m. to 1 a.m. on New Year's Eve. Enjoy hors d'oeuvres, open bar, champagne toast and party favors. All-inclusive tickets are $75.
Prime Rib Loft: DJ Dave will provide the soundtrack for an intimate New Year's Eve celebration from 9 p.m. to 2:45 a.m. All-inclusive tickets are $100 per person, and include a gourmet dinner, open bar and a midnight champagne toast.
Tickets for events at Mardi Gras Ballroom and Prime Rib Loft can be purchased by calling 702.284.7777 or by visiting The Orleans Box Office.
More free and open to the public.
Revelers can kick off their New Year's Eve celebration early at Rí Rá Las Vegas located inside The Shoppes at Mandalay Place by toasting to the arrival of the Irish New Year at 4 p.m. Tuesday, Dec. 31.
The festivities will kick off at 3:30 p.m. with live Irish music from The Paul Cray Experience. At 4 p.m. Rí Rá will lead a pub-wide toast as Ireland enters 2014. The Paul Cray Experience will keep the party going with live music until 5:30 p.m. before taking a quick break and returning to the stage from 9:30 p.m. to 2:30 a.m. In addition to ringing in the Irish New Year, the pub will commemorate the Las Vegas New Year at midnight.
During the party, Rí Rá will feature special menu items and specialty drinks throughout the evening. Raffle prizes will also be featured, including a $50 gift card to Rí Rá. The pub's New Year's Eve party admission is free and open to the public.
NEW YEAR'S EVE EXTRAVAGANZA at LVH
December 31 Free Admission
4 Parties - Live classic rock band, Big Chrysler, in the Shimmer Cabaret; two island-style bands, Bona Fide and Baba B in The NightClub (formerly SpaceQuest); Hot Top 40 music in Tempo Lounge with DJ EZ E; and New Year's Across America in the LVH SuperBook®
THIS HAS BECOME LEGENDARY ($30 - $40)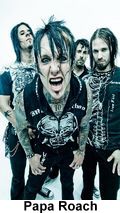 Rock 'n' Roll into the new year during the Downtown Countdown New Year's Eve celebration taking place Tuesday, Dec. 31 from 6 p.m. to 3 a.m. at Fremont Street Experience. This year the ultimate New Year's Eve street party will feature headliners Papa Roach, Blues Traveler, Loverboy, Vince Neil and Adelitas Way in addition to special performances from local bands including Arena, The Blackjacks, Clockwork, Kid Hollywood and Monroy.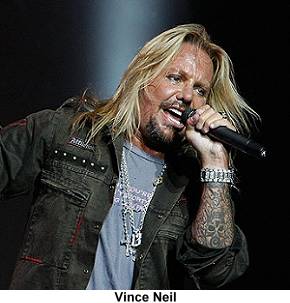 Just before midnight, revelers will say goodbye to 2013 with a year-in-review retrospective on the Viva Vision screen, a midnight countdown led by Las Vegas Mayor Carolyn G. Goodman and an epic Fireworks by Grucci produced show synchronized with virtual fireworks on Viva Vision as part of the citywide celebration, "America's Party: Las Vegas New Year's 2014."
Admission to Downtown Countdown is $30 per person when purchased online by Dec. 26. Beginning Dec. 27 tickets will be $40 per person and can be purchased online, in-person at any of the Fremont Street Experience member hotel-casinos, or at the event gates. To purchase tickets in advance: www.vegasexperience.com/newyearseve.
TOP OF NEXT COLUMN
El Loco Gets Ready to Roll in Las Vegas. El Loco is coming! Las Vegas' newest roller coaster, only the second of its kind in the U.S., will offer screams and thrills at The Adventuredome at Circus Circus beginning in late January. As construction continues, the coaster cars that will soon speed around 1,300 feet of electric yellow track have started to arrive. The final piece of the track is being laid and one coaster car is now on display at the indoor theme park. This is providing a sneak peek to those anxiously awaiting their turn to experience the coaster's negative G drops, gravity-defying turns and over-the-edge twists. The open-carriage cars, each accommodating only four passengers, are smaller than average, allowing the vehicle to make tighter, faster turns. The coaster's unusual turns that tilt outward combined with the open cars will create an exhilarating sensation.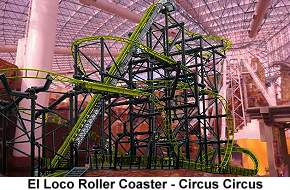 Accompanied by a customized soundtrack, El Loco's unique elements will provide guests with a 72-second, adrenaline-pumping adventure, including: 90-foot ascent followed by a greater-than-straight-down diving drop producing a negative 1.5 "vertical G " and a 45-degree outwardly banked curve 180-degree turn that races over the edge into a barrel roll. Wow!
---
I can't rave enough about VERONIC VOICES - One Singer-Fifty Voices at Bally's. A gift for the Holidays is: Buy One - get one free. Offer Code Holiday. You will absolutely love her show.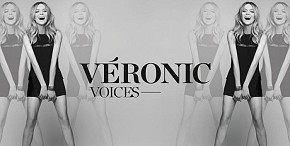 Multi-talented show woman Vicki Lawrence - perhaps best known for her beloved character, "Mama " - will perform a two-act show at the Suncoast Showroom, January 25 and 26. During her senior year of high school, Lawrence sent Carol Burnett a letter inviting Burnett to come see her performance in the local fire department's "Miss Fireball Contest " and included a newspaper article mentioning their resemblance. Burnett, looking for an actress to play her sister in a new variety series, attended the event. The rest is television history. "The Carol Burnett Show" premiered in the fall of 1967 and Lawrence starred in the show for 11 years thereafter, earning one Emmy® Award and five Emmy® nominations. Showtime each evening is 7:30 p.m. Tickets are available from $15.95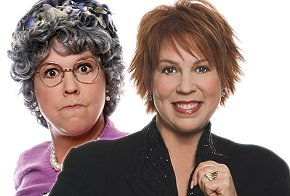 My good friend and Vintage Vegas icon performer Carme Pitrello who is now living in Florida came to Las Vegas for one night only to celebrate his 80th birthday in "Yes, I Still Can," at the Very Vintage Vegas Italian American Club, 2333 E. Sahara. For nearly 30 years Carme worked non-stop in Las Vegas casinos. Mayor Carolyn Goodman declared the day as "Carme Pitrello Day. "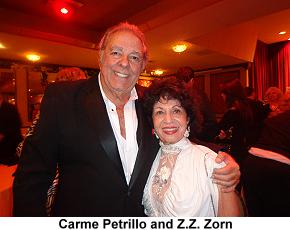 Carme's show featured a swingin' 10-piece band made up of top Las Vegas musicians and led by fellow Entertainment Hall of Famer Charlie Shaffer. What a show he put on. Happy Birthday Carme, we love you and come visit Las Vegas often and keep on doing what you do best.
---
I love this group! Big Bad Voodoo Daddy will bring their trademark big band sound to The Orleans Showroom with "Rattle Them Bones - 20th Anniversary Tour " on December 29 and 30. Big Bad Voodoo Daddy arrived on the music scene in 1993 with their legendary residency at the Brown Derby Nightclub in Los Angeles. In 1996, the band rocketed to fame after performing "You & Me and the Bottle Makes Three (Tonight) " and "Go Daddy-O " in the hit movie "Swingers. " Since then, Big Bad Voodoo Daddy's music has been featured in countless films and television shows, including "Despicable Me " and "Family Guy, " and has even been used for Olympic gymnastic and figure skating routines, including Carly Patterson's 2004 gold medal win. To date, Big Bad Voodoo Daddy has released nine studio albums, most recently "Rattle Them Bones " in September 2012.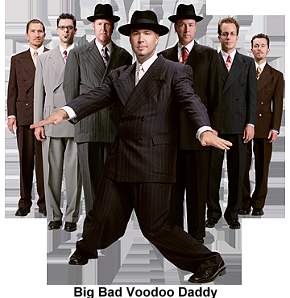 The seven-man group is comprised of Scotty Morris, lead vocals and guitar; Kurt Sodergren, percussion; Dirk Shumaker, double bass and vocals; Andy Rowley, baritone saxophone and vocals; Glen Marhevka, trumpet; Karl Hunter, saxophones and clarinet; and Joshua Levy, piano and arranger. Showtime is 8 p.m. Tickets are available starting from $19.95, plus tax and convenience fees, and can be purchased at any Boyd Gaming Box Office, by calling 702.365.7075 or www.orleanscasino.com.
---
Win-Win Entertainment, a local nonprofit organization that pairs performers with charity events, celebrated its second annual fundraiser show, "Headliners Bash, " presented by the John C. Kish Foundation at The Quad. . Hosted by Clint Holmes and Kelly Clinton, the event featured performances by Strip headliners Taylor Hicks, Véronic DiCaire, Jersey Boys, Million Dollar Quartet, Frank Marino's Divas, Recycled Percussion, Human Nature, Frankie Moreno, Clint Holmes, Kelly Clinton, Mac King, Kristef Brothers and Win-Win's founder Jeff Civillico. With more than 500 supporters in attendance, the "Headliners Bash " raised more than $40,000 from ticket sales and silent auction items. The monies raised will help Win-Win's fundamental work within the Las Vegas nonprofit community and fund other nonprofits with their fundraising events through 2014. Founded by Civillico in July 2011, Win-Win Entertainment has arranged 25 events for nonprofits, including Spread the Word Nevada, Natural History Museum.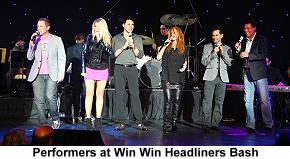 MGM Resorts International is reinforcing the company's commitment to healthy living with the addition of Smart Plate, a new program providing guests and visitors delicious and healthy menu items at 700 calories or less per dish. The exclusive calorie-conscious items are available on select in-room dining menus and at participating cafes. Smart Plate selections, designated on menus with a specialized logo, will be updated frequently, offering guests new choices throughout the year.
---
Tony Sacca's 28th annual "Merry Christmas Las Vegas " fundraising live show took place at Boulder Station and was taped for television in front of a live audience. The holiday-themed program hosted by the show's creator Las Vegas entertainer/TV host - Tony Sacca, featured a stellar lineup of Las Vegas' finest entertainers. The performance was open to the public for a $25 donation to benefit The Youth Foundation For The Performing Arts. Sacca and the Las Vegas Youth Foundation Entertainers were invited four times to perform at the White House, in the U.S. Capitol Building and outdoors by the Washington Christmas Tree during the holiday season.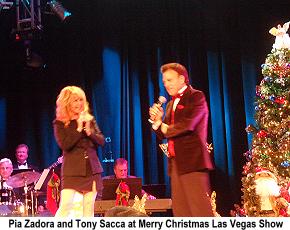 "Merry Christmas Las Vegas " entertainers this year were: Tony Sacca and The Sexy Saccettes; Pia Zadora; Denise Clemente; Genevieve Dew; marionette artist Anthony Rais and "Malachi; " "America's Got Talent " finalist Anna Christine; comic impressionist Rich Natole, violinists Bella Electric Strings; the fabulous - Las Vegas Young Entertainers; musical conductor and Grammy winner - Gary Anderson; and musical accompaniment by the Michael T Orchestra. The television show will air locally and nationally on NBC Channel 3 late night Christmas Eve and will be airing in Pahrump, Lake Havasu and on Retro TV across the country in 75 markets.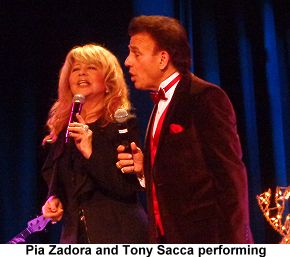 Galaxy Theatres announces the completion of the final phase of upgrades to become a full Luxury+ branded theater at the location inside Cannery Casino & Hotel in North Las Vegas. The newly named Galaxy Cannery Luxury+ Theatre will now have all the same amenities as Galaxy Theatres in Henderson. The first film to premiere and be shown in the fully upgraded theatre will be The Hobbit: Desolation of Smaug. The film will be shown in a high frame rate (HFR), RealD 3D and utilizing Dolby Atmos sound technology in Galaxy Theatres' exclusive DFX auditorium.
The newly transformed 14-auditorium theater now features Luxury+ signature amenities at no extra cost including: Cushioned leatherette reclining seats with powered footrests and attached snack tables; Extra wide rows allowing patrons to pass in front without having to put the footrest down; All reserved seating; All stadium seating; All digital sound and projection; Beer and wine on tap;Gourmet sausage bar. I was at the Henderson Galaxy Theaters Luxury+ opening and was very impressed. If this really is the same as in Henderson, you have Cannery Casino/Hotel to thank for this type of special top notch movie enjoyment.
---
Sugar Factory at Town Square had a sweet grand opening event with "Extra" and "X-Factor" correspondent Mario Lopez and E! Entertainment Television's "Total Divas," The Bella Twins. Mario and his beautiful wife, Courtney, enjoyed a variety of delicious menu items and picked out two Aquamarine Couture Pops. The wrestling beauties, Bella Twins, Nicole and Bri picked out two Lilac Swirl Couture Pops. To purchase Couture Pops like Mario and The Bella Twins visit www.sugarfactory.com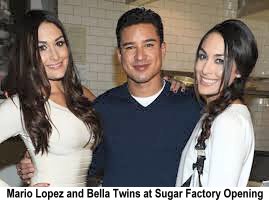 In honor of African-American History Month, on Thurs., Feb. 6, at 7 p.m. Neon Museum Scholar in Residence, Dr. Leslie Luebbers will deliver a lecture on Paul Revere Williams at the Marjorie Barrick Museum at UNLV. Williams, the first documented African-American fellow of the American Institute of Architects (AIA), designed the La Concha Motel lobby. Today, that structure is hailed as a masterpiece of "Googie " roadside architectural design and serves as the Neon Museum's visitor's center.
---
REVIV, the IV wellness spa at The Underground at MGM Grand, will offer a special treatment package for attendees of the 2014 International Consumer Electronics Show from Tuesday, Jan. 7 - Friday, Jan. 10.
During one of the most innovative technology conventions in the world, REVIV will offer "The Tech Treatment " package including the Royal Flush IV treatment, 10 minutes at the oxygen bar and REVIV's signature eye gel. A valid CES badge must be presented to receive the package at the special rate of $225.
---
Forever Resorts' Callville Bay Resort and Marina, the National Park Service, Nevada Beverage, Outside Las Vegas Foundation, Get Outdoors Nevada, REI and Anheuser-Busch partnered to host the annual beach clean-up day. More than 200 volunteers participated and more than 50 cubic yards of debris were collected. A barbecue lunch was provided for all volunteers by Smokin' Sam's Catering and raffle prizes were donated by Callville Bay, REI, Springs Preserve, Lowe's, Snap-on Tools, Green Valley Grocers, Marine Wholesale, Johnson Marine, Photo Facials, Diversified and Southwest Diner in Boulder City, Nev.
More than 21,000 pounds of debris have been collected over the last five annual clean-up events at Callville Bay-that's more than 10 tons of trash.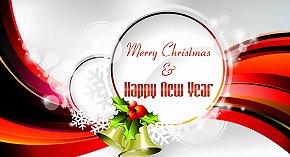 Wishing all my readers a very Merry Christmas and a very happy and joyous New Year 2014.
CONTINUE ON TO...:
> Entertainment Tidbits Archives
>Las Vegas News "Heard Around Town"
>Las Vegas Leisure Guide<