As many of you readers know, I've been covering entertainment and sports in Southern Nevada for nearly 44 years. Over that span of time, this writer must have reviewed (I'm guessing) more than 4,000 shows, single acts, comics, etc. I've seen the best, from Frank Sinatra to Robert Goulet to Ray Romano (believe me I've seen the best). Why am I leading off my column this way? It's simple, I've seen another act that can, very possibly, become one of the best in our little village.
"Vocal Soup," a name coined by Kelly Clinton, the wife of Clint Holmes, really nails the group I'm discussing. The group consists of four individual stars, who on their own, have filled showrooms from coast-to-coast: Susan Anton, Domenick Allen, Martin Nievera and Holmes.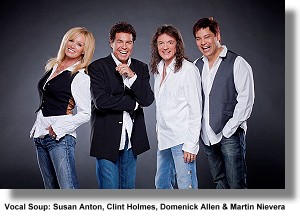 "Vocal Soup," made its debut last Friday (June 19th) in the showroom at the Suncoast Hotel/Casino and closed out Sunday evening. There was not an empty seat for the three performances that ran about 110 minutes. We were there Sunday, and didn't see a single person leave the room, because they were bored. Just the opposite, they stayed and gave each performer a standing ovation throughout the show.
There were many highlights, but two of them were tributes to two of my very favorites: Francis Albert (The Man) Sinatra and Sammy Davis, Jr. The "conductor to the stars," who also conducted for Sinatra for 10 years, Vince Falcone, was asked to be a "Special Guest." Of course he accepted, and immediately went to work arranging a medley of 18 Sinatra hits. It was a work of love, believe me! And the audience was wowed as each singer would take charge of a particular song. Vinnie (I know him well enough to call him Vinnie) opened the guest spot with a beautiful piano solo of "Angel Eyes."
From the moment the five-piece band hit its first note to the final number, it was music all the way. "I Am Singing," was the opener (done from off stage), followed by all four (one at a time) appearing on stage singing, "If Not Now, When?" Next came the original title song, "Vocal Soup." Let me tell you right now: The group should record the title song-it could be a hit! Nievera was the first soloist and he slammed a homerun with, "Once in a Lifetime" and "This is the Moment," along with a couple of Filipino songs (Martin is from the Philippines, where he is a major star).
The Sinatra portion of the show was next, with each singer taking a turn at one or two of the 18 songs, which included such hits as: "Luck Be a Lady," "Fly Me to the Moon," "Nice and Easy," "All of Me," "Night and Day," "Summer Wind" and concluding with "I've Got You Under My Skin." It was truly wonderful to watch five pros lovingly pay tribute to a real, honest to God, legend.
Anton's turn came next, assisted by Domenick Allen on the tenor sax. "It's a Man's World" and "Note to God," were just two of the fabulous. songs performed by this dynamite lady. All four participated singing "Celebration" and "Fields of Gold," as a film rolled with a salute to a once-in-a-lifetime event that took place in upper New York in 1969-The Woodstock Festival, where 500,000 people swayed to the music for three days and nights.

Allen, who plays just about every instrument ever created, came out strong with "Cold As Ice," and two more Foreigner hits, including "Urgent," Domenick was a member of the British rock group for a couple of years, before branching off on his own. He ended his solo time with a wonderful Billy Joel song, "The Entertainer."

Holmes' turn came next. Before he got started, Clint introduced his conductor and buddy, Bill Fayne, who would accompany him as he paid tribute to his hero, Sammy Davis, Jr. One of my all time favorites, "Mr. Bojangles," was the lead song, followed by a fantastic vocal (scat) tap routine, with Clint then singing "Colorful" from Golden Boy and closing with "Who Can I Turn To."

As the capacity crowd stood and applauded the five special entertainers (including Falcone), they concluded the evening with, "Conviction of the Heart."

It was truly an experience this writer will not forget for a long time. The next day I mentioned the show to a local producer, who hadn't been told about the act, what had taken place. The producer said, "How could anyone afford to pay for the show_it had to cost a fortune to have those four stars perform as a team." I told him they were all very close friends and it was something "They wanted to do, not that they had to!"

So, gang, to wrap up the column, all I can say is that when Vocal Soup returns (and they will) it should be moved to The Orleans, where they have more capacity. And, folks, the very day it's announced, get your tickets right then. There were actually people scalping tickets before every show at the Suncoast.

Well, that's it for yet another week.
I'm outa here!




CONTINUE ON TO...:


>It's The Norm Article Archives
>Las Vegas News - "Heard Around Town"
>Las Vegas Leisure Guide<