As discussed last week, we ventured over to the fabulous La Scala Italian Ristorante, 1020 E. Desert Inn, to not only savor a fine dinner by chef Roberto Perotti, but to listen to our buddy, Teddy Davey, sing some great songs.
Davey, one of the original Las Vegas Tenors, was on his own this evening and was absolutely at the top of his game. Accompanying him on the magic keyboards was another good friend, Tommy Deering. The two excellent musicians (Davey's voice and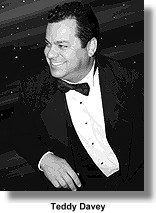 Tommy's artistry on the ivories), put together a wonderful hour of music, ranging from Opera to Sinatra, to Oldies but Goodies.
The first song was a wonderful rendition of "Almost Like Being in Love," followed by an original song by Deering, "Another Vintage Year," referring to the fine wine discovered by Tommy and his wife, Ginny, as they drove through the wine country of California a few years back. Of course with his tenor background, Davey next sang a beautiful "Forget Domani" and "AL Di La."
The Frank Sinatra years were covered nicely with "You Make Me Feel So Young" and "Young at Heart." What is nice is that Teddy explains a little bit about each song, much like "The Man" used to do when performing a particular song. It helps a lot, especially for those who do not speak Italian (like this writer).

Another highlight (believe me there were a number of them) was the presentation of a Nat King Cole hit, "Mona Lisa," and the theme from the film Godfather, "Speak Softly Love."
A funny thing happened during Teddy's singing of "Route 66," which can only happen in a situation like the set up at La Scala. There were about 50 diners sitting at tables for two and four, with one group of six in the back of the room (believe me when I say you are not more than 10 yards from the stage, no matter where you are sitting). As Davey got going on the song and the audience began to get into the music, two of the girls from the group of six, stood up and began dancing. Teddy, being a smart entertainer, asked them to come on up to the stage and they did! They continued to dance, on the stage, as Davey continued to sing. Teddy and the "Route 66 Dancers" (as he named them), all received a rousing ovation at the conclusion of the music.
The next to last song was another Deering original, from the wine trip, titled "A Votre Sante (Here's to Your Health in French).
Jeanne Bavaro, who set up the entire program and produced the evening for La Scala, as part of her annual summer series, has titled this endeavor "To Italy With Love." Davey will return again on June 28, with dinner served at 7 p.m. followed by the show. For $50 you get a fine dinner, specially prepared for that evening, some complimentary wine and great entertainment. One of this writers favorite entertainers (I have a bunch of them) will be holding forth in July, Ms. Denis Clemente. I suggest strongly that you call for reservation.
This is the weekend that Clint Holmes, Susan Anton, Domenick Allen and Martin Nievera combine their talents onstage for the first time in Vocal Soup at the Suncoast Showroom, beginning tonight, (June 19) and ending Sunday. Their special guest will be, Vince Falcone, who has put together a 12-minute medley of songs from the Frank Sinatra songbook. Falcone was "The Mans" conductor for 10 years.
The 90-minute showcase of solo performances, duets and group numbers will leave fans wanting more as the stars of Vocal Soup fulfill a shared dream of rekindling the Las Vegas tradition of entertainers coming together in an "anything can happen" atmosphere. Each is an accomplished performer, with Holmes, Anton, Allen and Nievera bringing their individual vocal ranges and standout showmanship skills together for a rare group performance.
Holmes and Anton, whose bond of friendship has spanned two decades, will perform alongside their friends Domenick Allen and Martin Nievera. Rock 'n' roll legend Allen is a former member of the multi-platinum rock group Foreigner. Recording and television star, Martin Nievera, who has 15 gold hits in Asia and is regarded as "The Concert King" and a heartthrob in his native Philippines, has performed at the Golden Nugget and other Las Vegas venues.
Tickets are now available starting from $29.95, plus tax. Showtime is 8 p.m. Tickets can be purchased by calling the Box Office at 702.636.7075 or visiting www.suncoastcasino.com.
Well, gang, that's about it for this week. Oh, yeah, Nancy Barr is on vacation this week, and is hanging out with the Elks in Yellowstone Park. She called in and said that the Elks didn't seem to like her and Dorothy's tent and were sorta chewing on the edges. That's enough news for now.
I'm outa here!


CONTINUE ON TO...:



>It's The Norm Article Archives
>Las Vegas News - "Heard Around Town"
>Las Vegas Leisure Guide<