When I was a youngster growing up in San Diego, California, my best buddy, Don Wise, and I would travel downtown by trolley, to where his father worked. He was the stage manager for a burlesque house, and, every Saturday afternoon, he would allow us to watch the ladies do their thing from the wings. We felt like we were really something special. The ladies and guys (comics) would sorta fuss over us and one lady in particular was super nice.
Her name was Sally Rand. I remember her assistant would always stand near us with those beautiful ivory fans that were part of Sally's burlesque act. She was beautiful too. I had a huge crush on her (remember I was in my mid-teens at the time). Then I fell in love with a lady named Tempest Storm and that was followed by another first love, Lili St. Cyr. Geeze it seemed every weekend Don and I would go ga-ga over the star of the week. It's funny, but I never remembered the names of the first, second or third bananas (vaudeville comics that worked the circuit). But they were terrific and funny. I know that many of the top comics of yesterday got their start on the burlesque circuit: Jackie Gleason, Pinky Lee, Red Buttons, Joey Faye, Bert Lahr and Tommy Moe Raft, who I got to know when he was the second banana to the great one, Hank Henry, at the old Hacienda Hotel, and later at the Silver Slipper. Henry, who Frank Sinatra called the best top banana in the business, was one of the best, believe me, as was Raft. In my opinion, they were the last of the great burlesque stage comics.
Later on, during my casino days here in the village, I had the pleasure of meeting and working with Harold Minsky at the old Thunderbird Hotel. The name Minsky and burlesque go together like candy and a kid.
Now you may wonder why I have wandered back to those wonderful teenage years in the late '40s? Simple! I just watched the latest burlesque show to come to our little village, and it was absolutely one of the best shows I've seen (of its type) since those early memories.

"Peepshow," at Planet Hollywood, is the show. It's not often that this scribe can report that this is a show everyone from say, 18 to 98, will want to and should see. "Peepshow" has everything from two fabulous looking and talented stars as host, ex-Spice Girl Mel B (better known as Scary Spice) and Dancing With The Stars first year winner, Kelly Monaco. Ms. B is definitely an entertainer with a voice that can belt any song in the book. Monaco, is very exotic and small in stature and cute to watch. The two ladies switch back and forth as host, or as part of a scene, during the 75-minute performance.
Jerry Mitchell, a Tony Award-winning choreographer, not only directs the show and, of course, choreographed much of the dances, but was responsible for the idea and was the man who ultimately sold it to Planet Hollywood. Andrew Lippa, an award-winning composer, is responsible for many of the original songs. There is even an all-girl live band. Nick Kenkel assisted Mitchell as co-choreographer. And, should anyone want to know how to actually use video in a production, look no further than "Peepshow" and stage designer, David Rockwell.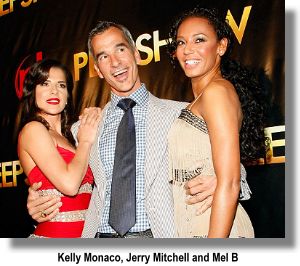 Now as to the show. There are 14 fantastic and beautiful dancers that help tell the various "fairy tales," such as "Little Bo Peep" (played by Ms. Monaco), "Peter Peter Pumpkin Eater" (a huge pumpkin appears), and other famous Mother Goose stories, that have been re-written in such a manner, that the 18th century author (actually more than one) wouldn't recognize her rhymes.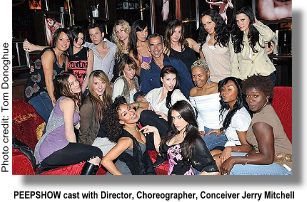 There are also those wonderful specialty dancers (we called them strippers in the old days) who create a beautiful illusion for the mind-the ladies dance on a leather saddle that magically turns into a swing. There is the obligatory pole dancers and star pole dancer (exceptional number by the way) and there is even an aquarium filled with milk, with three bare-chested beauties rubbing against the glass. Sorta reminded me of a former Burlesque Queen (I can't remember her name, darn it) who used a white tub on stage and had milk poured over her as she stripped. Quite a sight for a teenager to watch.
For the rest of the 75-minutes, and its various performers, you'll just have to go and see it for yourself. Needless to say, I think you get the idea. This is a beautiful production with exceptional talent, and this writer honestly believes it'll be here for a long, long time!
I think that's about it for this week. My mind keeps wandering back to those wonderful, elegant ladies who pranced and gyrated on that stage in San Diego. Wow, those were the days!
I'm outa here!


CONTINUE ON TO...:

>It's The Norm Article Archives
>Las Vegas News - "Heard Around Town"
>Las Vegas Leisure Guide<