The Las Vegas entertainment scene is about to change forever, starting with the opening of the new Joint Concert venue at the Hard Rock Hotel & Casino this weekend. Despite the economic downturn, the Hard Rock plans to bring in summer in true rock fashion with a wild, wet, and unbelievable lineup of past and present greats beginning Friday (April 17) through Sunday.

Headlining the giant weekend will be Sir Paul McCartney. McCartney will open the new $60 million concert venue The Joint at Hard Rock.
"We've had some of the biggest names in entertainment industry perform at our hotel over the past decade, including The Rolling Stones, Metallica and Foo Fighters," said Randy Kwasniewski, President and COO of Morgans Hotel Group Las Vegas. "The new Joint allows us to take the live music scene in Vegas to the next level by giving artists and bands the opportunity to perform in front of sold out crowds inside one of the most sophisticated and authentic concert venues in the country."
The weekend lineup includes the much anticipated grand opening of motocross superstar Carey Hart's Hart & Huntington Tattoo Company; Las Vegas' own rock group, The Killers; Avenged Sevenfold; Snoop Dog and Sir McCartney.

---
"Don't Tell Mama" is a new Cabaret/piano Bar in downtown Las Vegas. Minh Pham owned and operated the same establishment in Manhattan for 19 years. Many of his patrons were Broadway and nightclub performers, who would stop by for a wee bit of food and beverage, and then entertain. Minh and his family moved to our little village to open and run the new cabaret, and it officially opened on Feb. 9, and has been featuring primarily Broadway show tunes, pop standards, and everything between. Thus far there is no food being served, but a full bar is in operation with bartenders doing double duty-serving drinks and performing from 8 p.m. nightly.

---
As previously mentioned, one of the funniest guys I've ever had the pleasure of watching (dating back to the late '60s), Shecky Greene, will be at the Suncoast Hotel showroom for three performances beginning Friday, May 15 through Sunday, May 17.
Considered by most as the ultimate nightclub performer and original Las Vegas comedian, Greene is known for delivering sidesplitting laughter and being a master of voices. His celebrity impressions and spot-on-foreign accents have made him a crowd favorite for five decades. But, what many fail to remember, not only is he a comedian, but he is a fine singer. At the old Riviera, where he began his Las Vegas Lounge career (in those days, folks, the lounges were as important and as plush as a big showroom), Shecky would do his comic routine and never failed to do a Broadway song or two, including numbers from "Fiddler on the Roof," which was always a show-stopper.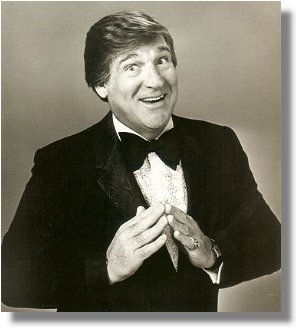 In addition to his career as a legendary nightclub performer, Greene has also appeared on the big screen, including roles in, Ron Howard's "Splash" and Mel Brooks' "History of the World Part One" He has also appeared on many television shows and was often a substitute host for Johnny Carson on The Tonight Show.
Shecky Greene is a fighter of the first caliber, having overcome cancer and a variety of other medical challenges. He is honored as a member of the Casino Legends Hall of Fame. Tickets are now available (but going fast) starting at $19.95, plus tax. Call (702) 636-7075 for reservations or other information.
THIS AND THAT QUICKLY
In partnership with the Las Vegas-Clark County Library District, the Las Vegas News Bureau has launched "From the Vault," a photographic retrospective of classic, rare and new images of our village at the Whitney Library (through May 19). The exhibition, which will move to four other libraries, ending on January 12, 2010, at the West Charleston facility, includes 21 images from the archives, including the very first photograph shot in 1947. Some of the greatest photographers in the country, at one time or another, worked for the News Bureau...
The Golden Nugget Hotel and Casino will host the inaugural Suzie and Howard Lederer Celebrity Charity Poker Tournament, benefiting the Boys and Girls Club, July 1. First place will win an unprecedented seat on NBC's hit program, Poker After Dark. For more information or to register to play in the tournament call 1-800-777-4658m, ext. 8164, or stop by the Golden Nugget Poker Room... Watch for some major news to be coming from downtown soon.
Well, gang, that's about it for this week.
I'm Outa here!

CONTINUE ON TO...:
>It's The Norm Article Archives
>Las Vegas News - "Heard Around Town"
>Las Vegas Leisure Guide<