The AAA Five Diamond Four Seasons and FAO Schwarz have joined forces again to create the fifth annual holiday Teddy Bear Fantasy Suite that is open free to the pubic through Dec. 23 from 11 a.m. - 7 p.m. The hotel's 3,400-square-foot Presidential Suite is transformed into a one-of-a-kind holiday spectacle featuring more than 1,000 teddy bears and an array of other stuffed animals.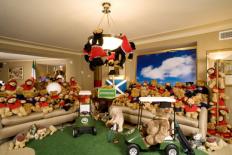 This year's display takes visitors on a road trip across America. Entering the suite's foyer, guests get a peak at the new teddy bear couple's Las Vegas home as the bears pack bags for their first family holiday since their wedding at last year's Teddy Bear Suite and the birth of their baby bear. The group sets forth for the San Diego Zoo. Other places the family visits include the Great Plains region, a farm, and New York City.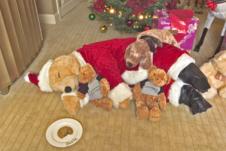 Column Continues Below Advertisement
The resort's Holiday Village continues through the New Year, and the highlight created by eight pastry chefs features 20 gingerbread real estate properties "for sale" and a giant working carousel in the lobby. Viewing is free and guests may purchase a lot for $250 to $450 depending on the size. Once purchased, a family or company name is displayed in white and dark chocolate on the Holiday Village lot. All proceeds are donated to the UNLV Cancer Research Center.
Holiday shopping at Four Seasons offers a selection of homemade seasonal specialties that are on display and available for sale at the Verandah restaurant. Throughout the holiday season, Afternoon Tea in the Verandah is featured Monday through Thursday from 3 - 5 p.m. For information, call 702-632-5000.
World-renowned artist Peter Max unveiled a one-of-a-kind Baldwin Baby 5'2" Grand piano during Thanksgiving weekend at The Art of Peter Max Gallery in the Forum Shops at Caesars Palace as part of a charity campaign to raise funds for The Gibson Foundation and Max's Global Works Foundation. The exclusive Baldwin piano was painted by Max in his New York studio and features a magical mixing of colors, his famous signature and some personal touches. For a limited time, the piano is for sale and interested parties should call the gallery at 702-644-7070. The piano is on display from 10 a.m. to 11 p.m.
Championship Bull Riding, Inc. (CBR), the fastest growing bull riding series in America, will hold the Findlay Toyota CBR World Championship presented by B&W Trailer Hitches at the South Point Equestrian Arena on Jan. 5 and 6. This event will conclude a year of bull riding events across the United States and a 2006 World Champion will be announced. Tickets are $35, $50 and $75, call 702-797-8055 or 866-796-7111.
More than $200,000 and a world title are on the line for 45 top qualifiers in bull riding. As of Oct. 31, 10 of the PRCA's top 15 are CBR riders, with Matt Austin leading both standings.
The Cannery in North Las Vegas will feature The Comets on Saturday, Feb. 10 inside The Club. Original Comets Marshall Lytle, Dick Richards, and Joey D'Ambrosio will be joined by David Byrd and Jackson Haney to perform the group's hit singles. Bill Haley & The Comets was founded in 1952 and is considered to be one of the earliest rock and roll music groups. Tickets are $14.95, call 617-5585 or 866-287-4643.
Throughout Haley's lengthy career more than 150 musicians performed in the band; however, The Comets is made up of musicians who performed with Haley from 1954 - 1955. These original members actually worked with Haley on the Essex and Decca albums, some of the band's greatest recordings. Since their reunion in 1987, The Comets have been touring the world and recorded six albums for small labels in Europe and the United States.
The Hard Rock is presenting a seasonal outdoor ice skating rink called "The Hard Rockafella Center." The tradition of the Christmas tree and ice skating rink began in the early 1930s in New York and has been a symbol of the arrival of the holidays ever since. The rink is operating through Dec. 25 and cost, which includes ice skate rentals, is $12 for adults and $8 for kids 12 and under. Hours of operation are Monday - Friday 4 p.m. - 10 p.m. and Saturday, Sunday and Christmas Day 11 a.m. - 10 p.m.
The Beatles Revolution Lounge created by Cirque du Soleil will open Friday, Dec. 22 at The Mirage. The lounge will be open from 5 p.m. to 5 a.m. nightly.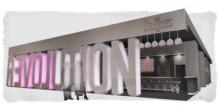 The fabulous horse show "Cavalia" has been held over under the White Big Top in the parking lot at the Rio. By popular demand, it will run through Dec. 22. The show is absolute magic.
"Fashionistas" and "The Soprano's Last Supper" interactive dinner show will be leaving the Krave / Harmon Theater and moving to the Empire Ballroom on the Strip early next year.
Club Azucar is the newest live nightlife entertainment at 3121 inside the Rio. Formerly Latin Libido Night, Club Azucar features the sounds of Grupo Fantasma and the 3121 Salsa Dancers every Thursday night. The 11-man Latin music Juggernaut known as Grupo Fantasma is considered by many to be the most exciting group to emerge from the Austin, Texas, music scene in the last few years.
The Fremont Street is hosting the Holiday Festival through Dec. 23 with pictures being taken with Santa under the 50-foot tree from 6:30 to 8 p.m. and with free entertainment featuring Holiday Fever, Tuesday through Saturday, on the 3rd Street stage at 7:30, 8:30 and 9:30 p.m.
CineVegas Film Festival has made the official call for entries for the 2007 festival, with submissions being accepted through March 15. In addition, CineVegas will be awarding cash prizes to three films: $10,000 for the Grand Jury Award for Feature Film, $1,000 for the Grand Jury Award for Best Short and $500 for the Best Nevada Filmmaking Short. The 9th Annual CineVegas Film Festival will be held June 8 -16, 2007 at the Palms and Brenden Theatres. For information, call 702-992-7979. In addition, Dennis Hopper will continue to serve as Chairman of the Creative Advisory Board in 2007.
The Las Vegas Bowl Pep Rally will be held on Dec. 19 at 7 p.m. with marching bands, cheerleaders, players and coaches from BYU and Oregon gathering at the Fremont Street Experience to get fired up for the Pioneer Pure Vision Las Vegas Bowl.
Ventriloquist Ronn Lucas made a guest appearance on an episode of "nip/tuck" that aired on Dec. 5. He played a ventriloquist whose puppet believes a full facelift for Lucas was crucial to their success as a performing team. "The Ronn Lucas Show" is set for a long afternoon run at the Steve Wyrick Entertainment Complex, a $35 million dollar, 500-seat, state- of-the-art theater and ultra-lounge at the Aladdin Hotel set to open soon.
Local musician and band director Lon Bronson has taped the pilot of Fox's late-night talk show hosted by Steve Schirripa, the former Riviera entertainment director who has been a regular on "The Sopranos." Bronson would serve as band leader.
Sylvester Stallone will be premiering his sixth "Rocky" film Dec. 19 at the Brenden Theatres at the Palms.
Victor Drai's subterranean after-hours haven and restaurant Drai's at the Barbary Coast will remain open for at least two more years after Harrah's takes over ownership at the beginning of 2007.
Again this year, fireworks will light up the sky over the Strip as a New Year's Eve, and lots of shows and first-class celebrations will be taking place.
Celebs will be hosting New Year's Eve parties around town. Pamela Anderson is expected to be a possible host at the Tao countdown party at The Venetian. Her soon-to-be ex-hubby Kid Rock will be the big name at Jet Nightclub's party at The Mirage. Britney Spears has already declared that she'll be hosting at PURE nightclub inside Caesars Palace. Light Nightclub at Bellagio will feature Cirque du Soleil performers from "O," LOVE, KA, Zumanity and Mystére providing live dance performances.
Hootie & the Blowfish, the popular easy rock supergroup of the '90s, will perform a New Year's Eve concert at the Silverton inside Bass Pro at 10 p.m. Tickets are $75, which grants admission to an after-party at Mi Casa Grill Cantina and one free specialty beverage, and $125, which allows access to a VIP after-party at Shady Grove Lounge with Hootie and the Blowfish.
The Luxor is holding a special public party in the Egyptian Ballroom with a DJ, food stations, numerous bars and a balloon drop. Tickets in advance are $199 and $250 at the door, call 702-262-4400.
Ivan Kane's Forty Deuce at Mandalay Bay will present New Year's TEASE. For the first time, all five of Kane's sexy dancers will perform on stage at the same time for a special Burlesque Blitz. Tickets are $125 before midnight and $75 after midnight.
If a top-story Strip view is important, Mix in THEhotel offers an exclusive summit floor. Tickets are $250 inclusive. There is a one-bottle minimum for every two people.
The Fontana Bar at Bellagio will offer a view of the Las Vegas Strip fireworks show, music by Dian Diaz and her band, and a light   la carte menu from 6 p.m. to 2 a.m. A $350 bottle minimum is required.
The Stratosphere will be holding five tower parties. The outdoor pool deck party from 9 p.m. to 12:30 a.m. will offer a view of the fireworks, champagne toast and DJ for $20. The other celebrations will be in the Romance Lounge on Level 107, the Twilight Social on Level 104, the Observation Deck and the Top of the World Restaurant with early and late seatings for dining. Prices range from $100 to $350, call 800-99-TOWER.
The Suncoast in the valley's northwest area will feature Susan Anton headlining 7:30 p.m. shows Dec. 29-31 with a $39.95 ticket price. For early birds, the resort is offering New Year's Eve at Noon with Tom Stevens. Ticket price is $22. In the Suncoast Grand Ballroom, the night time party will feature Guy Lombardo's Royal Canadians with Ty Lemley and Keaton Douglas.
New Year's Eve performances for David Copperfield are scheduled for 1:30 p.m., 4 p.m., 7 p.m. and 10:30 p.m. The 10:30 p.m. performance will include a special midnight balloon drop and count down by Copperfield. Tickets are priced at $97, call 702-891-7777.
"Legends in Concert" at the Imperial Palace is usually dark on Sunday; however, the celebrity impersonators will do 7:30 and 10 p.m. shows on New Year's Eve for the regular prices $49.95 and $59.95, which includes one drink, and offer a dinner and buffet package as well.
The Beach Boys will welcome 2007 with a special performance on New Year's Eve beginning at 9:30 p.m. at the Luxor. Tickets are priced at $100, $80 and $60, call 702-262-4400.
The Monte Carlo Brew Pub will embrace an ice-cold brew and a red-hot 9:30 p.m. performance from local Prince-tribute band Purple Reign. There is a $25 cover charge.
The Sirens of TI will hold a special New Year's Eve performance at 11:42 p.m. in Sirens' Cove at the front of Treasure Island.
This holiday season Toys "R" Us has named ToyQuest's Blue Man Group Percussion Tubes one of its "Fabulous 15" best new toys of 2006 and "Nick Jr. Family Magazine" has announced it was one of the "Best Toys and Gifts for 2006." The magazine's recognition comes from months of research and testing involving hundreds of toys and the input of child-development experts, editors, teachers, parents and children. The Percussion Tubes is one of two Blue Man Group musical instruments launched nationwide this summer. Both instruments, the Keyboard Experience and Percussion Tubes feature proximity sensor technology, which allow kids to mix and layer music with a simple wave of their hands, pre-programmed songs, interchangeable instrument sounds, and iPod or MP3 compatibility.
Prices vary from $69.99 to $89.99 and target children ages eight and older.
Grand Canyon West, a destination owned and operated by the Hualapai Tribe at the Grand Canyon's western rim approximately 120 miles east of Las Vegas, has announced that The Skywalk will open to the public on March 28 next year. The Skywalk will be the first-ever cantilever shaped glass walkway to suspend more than 4,000 feet above the canyon's floor and extend 70 feet from the rim.
Access to The Skywalk, which will be able to hold 128 people, will run from dawn to dusk and cost $25 in addition to the cost of a Grand Canyon West entrance package. Guests will enter and exit the walkway via temporary buildings while the adjacent visitor's center is being completed. Shoe covers will be given to each visitor who enters the walkway in order to avoid scratches and slipping.
CONTINUE ON TO...:
>THIS WEEK'S LAUGHLIN SEGMENT
>LAST WEEK'S LAS VEGAS SEGMENT
>VEGAS VIEWS FULL ARCHIVES
>Return to "Heard Around Town"
>Return to Las Vegas Leisure Guide