"PANDA!" OPENS AT PALAZZO IN DECEMBER!

Theatrical spectacular "PANDA!" will make its world premiere at The Palazzo this December. The first Chinese-produced show to take up a Las Vegas residency, "PANDA!" will combine high-flying acrobatics, kung fu mastery, music, and dance to transport audiences to a realm of Far Eastern folklore and to illuminate two of China's national treasures, pandas and kung fu.

"PANDA!" follows the heroic quest of Long Long, a warm and caring panda on a quest to rescue his beloved Peacock Princess from the malicious Demon Vulture, who has kidnapped her on their wedding day. In the face of desperation, Long Long seeks counsel from Immortal Old Kung Fu Man.
The show is produced by a team whose impressive credits include the opening and closing ceremonies of the 2008 Summer Olympics in Beijing and features award-winning performers from China National Acrobatic Troupe, Shaolin Monastery Kung Fu Monks Troupe and China Star Dance Troupe. Tickets are $48-$128, call 702-414-9000.
Column Continues Below Advertisement
COSMOPOLITAN'S ROSE.RABBIT.LIE. WILL OPEN IN DECEMBER
The Cosmopolitan has taken Spiegelworld, producer of "Absinthe" at Caesars Palace, as the creative partner behind the nightly theatrics at its new social club Rose.Rabbit.Lie., a grand social experiment blurring the lines between restaurant, bar, club and show. The anchor entertainment, "Vegas Nocturne," will begin previews on Dec. 30. "Vegas Nocturne" will be woven through the guest's entire experience. It won't start and end with the rise and fall of a curtain or live on stage.
Guests can begin booking Nov. 5 at www.roserabbitlie.com. "Vegas Nocturne" will arrive in three distinct cantos (8 p.m., 10 p.m. and Late Night) as unique high points in a story whose plot coyly unfolds, twisting and turning throughout the evening. Tickets for reserved-seating are $125 and $30 for Late Night. Rose.Rabbit.Lie. will open for cocktails and dinner service beginning at 6 p.m., Thursday through Sunday.
CORRECT PHOTO OF PHOENIX PERFORMING AT EASTSIDE CANNERY
It was brought to my attention that two weeks ago the wrong photo of Phoenix was posted. The band will begin on Nov. 6 performing their free shows every Wednesday from 9 p.m. to midnight in Marilyn's Lounge at the Eastside Cannery. The band is comprised of five world-class musicians whose individual résumés include extensive work with major recording artists, national and international performances, radio and television appearances, songwriting, and countless studio recordings.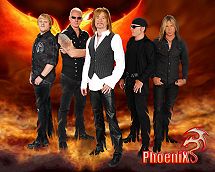 TRIKKE DEBUTS THE 'TRIKKE TRAKK' IN LAS VEGAS
Trikke Las Vegas debuted the Trikke Trakk electric carving vehicles at First Friday. The new business, which will be located at the new Container Park when it opens, has the primary mission to build awareness about urban mobility via the use of personal transportation. The company will offer "Urban Mobility Experiences." For information, call 702-428-2288 or visit www.trikkelv.com.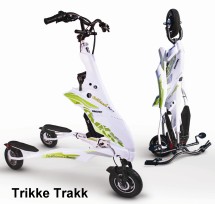 CASUARINA CASINO IS NOW MAX CASINO AT THE WESTIN
On Nov. 1, the casino at The Westin Las Vegas just off the Strip on Flamingo Road got a new name. The Casuarina Casino is now MAX Casino at The Westin Las Vegas. As part of the transition, MAX Casino's sports book, operated by William Hill, will be moved and expanded to include comfortable club seating and big screen TVs. Casuarina Club members can transfer their membership and unredeemed points and comps to the new MAX REWARDS players club and receive a commemorative $5 Grand Opening Chip.
ART ENCOUNTER™ opens NEW art galleryat forum shops
BearNDesert, LLC., DBA Art encounter™ has opened an exclusive and unique 1,250-square-foot art gallery at The Forum Shops at Caesars. Brett Maly, Art encounter's president and appraiser/authenticator for the History Channel's show "Pawn Stars," announced that the gallery will be a worldwide showplace for Leonardo da Vinci's sculpture dubbed 'Horse and Rider,' a bronze casting derived from a wax model by the hand of Leonardo da Vinci himself .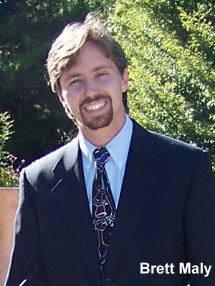 Art encounter has been serving Las Vegas since 1992 and until 2009 maintained the largest art gallery in Las Vegas. Their reentry into the retail fine art market is highlighted by high-end, museum quality art works from private art collections around the world. Masters on display for purchase during the opening weeks include: Spanish painter Pablo Picasso; American painter and printmaker Thomas Moran; American Pop Artist Andy Warhol; Swiss sculptor-painter Alberto Giacometti; and Dutch American Abstract Expressionist Willem de Kooning.
THIRTY SECONDS TO MARS VISITS THE JOINT AT HARD ROCK
In support of Boys & Girls Clubs of Las Vegas, radio X107.5 is offering an exclusive VIP experience to "Holiday Havoc 2013" featuring Thirty Seconds to Mars" with special guests Panic! at the Disco, Pepper and Parade of Lights at The Joint inside the Hard Rock on Saturday, Nov. 30 for $150, which includes a private meet-and-greet party. Regular tickets start at $39.50.
BILL FAYNE BRINGS BROADWAY TO THE BOOTLEGGER
Bill Fayne, renowned music director who worked 30 years with Clint Holmes and is a member of Las Vegas trio - The Three Tenors, is bringing Broadway to The Bootlegger Copa Ballroom at 7700 Las Vegas Boulevard "South Strip" every Wednesday at 7 p.m. "Bill Fayne & Friends Celebrate" will present a completely different show each week with different friends, all revolving around musical theater and composers and will follow with a Broadway open mic. The door charge is $10 and a coupon for a free bottle of wine with a future meal at the "Bootlegger" is included. For information, call 702-736-4939.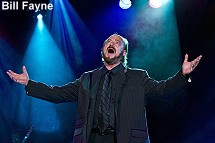 Some of the upcoming shows are: Nov. 13 "Broadway Opera" with Ayler Evan, Amanda Kaiser, Tim Molyneaux and Gret Menzes; Nov. 16 "Broadway Classics" starring Ron and Lisa Smith, George DeMott and Zipporah Peddle; and future productions of "Kander and Ebb," "Redheads" with Kelly Clinton and Tara Palsha, and "The American Songbook on Broadway" featuring the music of Gershwin, Berlin, Porter, Kern, etc.
BEST SILVER STATE RESTAURANTS AND LOUNGES HONORED
On Friday, Dec. 13, top restaurants, lounges and chefs will be honored at the Best of Silver State Restaurants & Lounges Awards at the Sands Showroom inside The Venetian. The event hosted by Dayna Roselli, Nina Radetich and Robin Leach will recognize industry stars and celebrity chef Emeril Lagasse will be a special guest presenter. Tickets to the fundraising awards ceremony are $40 and include admission to the champagne cocktail reception at 5:30 p.m.
Nominees in 17 categories were selected by a distinguished nominating committee and winners will be decided by a public vote online at www.Facebook.com/silverawards. Voting is free through Dec. 2.
FERRARO'S HOLDS WINE PAIRING DINNER DEC. 15
Ferraro's Italian Restaurant & Wine Bar will hold a special wine pairing five-course dinner on Sunday, Dec. 15 featuring Italian white truffles with fine wines from Batasiolo made from the legendary Nebbiolo grape. Tickets for the Tartufi e Nebbiolo dinner are $250, call 702-364-5300.
SHOWBIZ SOCIETY HOLDS FUNDRAISER FOR DENISE CLEMENTE
The Showbiz Society, a nonprofit show business organization, is holding a fundraiser for the recovering and very popular local Las Vegas singer Denise Clemente on Sunday, Dec. 1 in the Railhead showroom at Boulder Station at 2 p.m. On the program already are: singers Dondino, Roni Rose, Tony Sacca, Shades of Sinatra; tribute artists Gary Anthony - Frank Sinatra, Rob Garrett - Neil Diamond, Donny Ray Evins - Nat King Cole; and impressionists Tom Stevens and Gordie Brown. To attend, call 702-877-2278. Tickets are $25.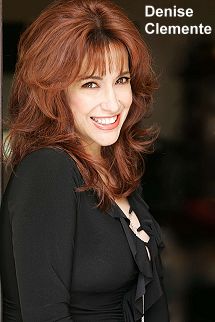 'IMPULSE AND LEGENDS CONCERT' IS A FUNDRAISER AT LVH
Trey Noran will present the "Impulse and Legends Concert" on Thursday, Nov. 7 at the LVH in the SpaceQuest Lounge. This charity event will raise funds for "His Love Street," serving homeless communities since 1989. Entertainers performing will include "Impulse" - Brooke Allyson and Jim Shank, Tierney Allen as Lady Gaga, Alex Sherpa as Cher and Travis Allen and Tyler James both performing as Elvis. Tickets are $25 or $100 for a VIP Booth Package, call 702-732-5755 or 800-222-5361.
TOP OF NEXT COLUMN
CABARET JAZZ HAS BRUBECK BROTHERS AND LON BRONSON BAND
Daniel and Chris Brubeck, sons of early jazz legend Dave Brubeck, carry on the musical family's way of life with Mike DeMicco and Chuck Lamb to create The Brubeck Brothers Quartet. During their national tour, the abundantly talented Quartet will make their debut at The Smith Center with a "funkafied" version of the classic, "Take Five." Three performances are on Nov. 22 and 23 with tickets starting at $35.

After performing a sold out show in September, the 14-piece Lon Bronson Band is returning to The Smith Center's Cabaret Jazz with special guest, Bella Electric Strings, on Tuesday, Nov. 19. Tickets start at $25.
PSYCHIC LISALEE VISITS SUNSET STATION AND FIESTA RANCHO
Lisalee is a lifelong psychic who has been in professional practice and lived in Las Vegas for more than 25 years. Her clientele includes more than 1,500 people such as celebrities and politicians. She'll appear at Club Madrid at Sunset Station on Nov. 6 and Club Tequila at Fiesta Rancho on Nov. 20. Admission is $20 at the door.
VDARA'S SILK ROAD OFFERS INTIMATE MEETING SPACE
Silk Road at Vdara, a luxury Las Vegas resort hotel and spa, has been redesigned and reimagined into a 6,500-square-foot contemporary and flexible meeting space ideal for intimate gatherings hosting up to 300 guests. With floor-to-ceiling windows, Silk Road allows for captivating views of Nancy Rubins' "Big Edge," a colorful composition of rowboats, canoes and other small vessels finessed into a gravity-defying form just in front of the resort. The space offers a foyer, pre-function area as well as a breakout room.
CLIPS AND TIPS
Monte Lago Casino at Lake Las Vegas has again suspended operation and P.J. Clarke's restaurant at the Forum Shops at Caesars closed suddenly in the middle of the night last week.
Aliante Casino + Hotel, a AAA Four Diamond resort is celebrating its one-year anniversary as an independently-owned and operated property with the grand opening of FARM 24-7 and a month of special promotions and giveaways in November.
The gay nightclub Krave is moving back to the Strip and opening in the recently remodeled 20,000-square-foot multi-level TW Theater & Nightclub formerly the Empire Ballroom. Krave was a mainstay at Miracle Mile Shops for eight years before attempting a derailed move to Neonopolis downtown.
Top Neil Diamond tribute artist Rob Garrett will appearing locally at the following places: Nov. 8 South Point showroom; Nov. 22 Freedom Hall at Sun City Anthem in Henderson; Nov. 30 and Dec. 31 Italian American Club; and Dec. 14 LVH "Toys for Tots" celebrity holiday show.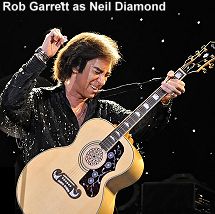 TripAdvisor, the world's largest travel site, has announced the winners of its 2013 Travelers' Choice™ Restaurants awards recognizing 171 restaurants, covering 13 countries and seven regions around the globe. One Las Vegas restaurant made the Top 10 list in the United States: L'Atelier de Joel Robuchon at the MGM Grand.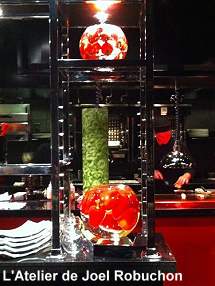 For the sixth consecutive year, South Point Arena and Equestrian Center hosts the Indian National Finals Rodeo (INFR) Nov. 5-9. Tickets start at $20. The Rocky Mountain Gun Show Friday follows Nov. 9 and 10. Tickets start at $15.
As part of its Caring, Giving, Changing community campaign, Miracle Mile Shops at Planet Hollywood has turned its fountain blue during November and will donate all change tossed into it this month into the Nevada Chapter of JDRF, the world's largest nonprofit supporter of type 1 diabetes (T1D) research.
The Improv at Harrah's continues to showcase young comedians. The comedians performing Nov. 5 - 10 are Rocky Laporte and Ron Morey.
THOR MARVEL MARATHON CRASHES INTO GALAXY THEATRES
Galaxy Theatres will host a Thor Marvel Marathon crashing into the Cannery and Green Valley locations just in time for the anticipated premiere of "Thor: The Dark World." The 3D, action-packed marathon will take place on Thursday, Nov. 7 starting at 2:30 p.m. at both locations. The colossal event kicks off with a showing of "Thor," followed by "Avengers," and ending with the premiere of "Thor: The Dark World." Tickets are $30 and include: admission to all three movies, medium popcorn and drink, and a pair of souvenir Thor 3D glasses.
POPPY DEN ASIAN BISTRO INTRODUCES THE DEN
The Den, located on the second level of Poppy Den Asian Bistro by Chef Angelo Sosa inside Tivoli Village, is now offering a new social scene with craft cocktails and DJ Steve and DJ Tatiana spinning an eclectic party mix and from 10 p.m. to 2 a.m. every Friday and Saturday night. Sosa has also created a late-night menu that includes ramen and dim sum selections.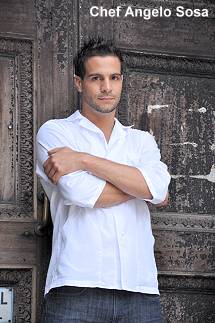 RESIDENTS COLLECT GIFTS FOR SHOE BOX CHRISTMAS PROJECT
Las Vegas families and volunteers will be working together to collect more than 15,000 gift-filled shoe boxes that will be hand-delivered through Operation Christmas Child in more than 130 countries worldwide to children in extreme poverty. From Nov. 18 - 25, National Collection Week, packed gifts will be dropped off at local collection sites in the Las Vegas area.
Operation Christmas Child, a project of international Christian relief and evangelism organization Samaritan's Purse, headed by Franklin Graham, is the world's largest Christmas project of its kind. By using special tracking technology, participants can "follow" their shoe box and discover the country where it goes. Also, volunteers are needed year-round. For information, call 702-524-0604 or visit www.SamaritansPurse.org/OCC.
EXPERTS COVER 'UPS AND DOWNS OF MUSEUMS ON TELEVISION'
The National Atomic Testing Museum is presenting a special lecture on Friday, Nov. 15 at 6 p.m. by two of Las Vegas' most visible museum directors: Mark Hall-Patton with Clark County Museum and Allan Palmer with National Atomic Testing Museum. The topic is "The Ups And Downs of Museums on Television." Cost is $30 and $20 for museum members.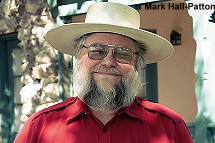 Mark Hall-Patton, a member of the National Atomic Testing Museum Board of Trustees, has also served as past president of the Nevada Museums Association and is seen regularly as the go-to history expert on the History Channel's hit show "Pawn Stars."
Allan Palmer has directed and built major aviation, space and history museums in the Western United States. He has also been seen frequently on television shows such as "Mysteries at the Museum," "Brad Metzler's Decoded," "American Restoration," and most recently on "Pawn Stars."
SOUTHERN NEVADA MUSICAL ARTS SOCIETY OPENS 51ST SEASON
The Southern Nevada Musical Arts Society plans a varied season for its fifty-first year, which opens with their Masterworks Concert I on Sunday, Nov. 10, at UNLV's Ham Hall. The concert will feature illustrious choral-orchestra music by three great composers and close with "A Salute to the Armed Forces." Admission is $18 adults, $12 seniors, disabled and military, and $8 for students. Another season highlight will be the fifth consecutive guest appearance of the Musical Arts Chorus with Andrea Bocelli at the MGM Arena on Dec. 7. For information, visit www.snmas.com.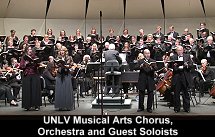 VETERANS DAY APPRECIATION DISCOUNTS AND EVENT
Comedy magician Mac King is offering two free tickets to "The Mac King Comedy Magic Show" at Harrah's for all veterans and active military Nov. 12-23.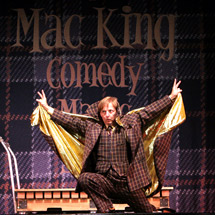 Caesars Entertainment's Las Vegas resorts have several entertainment and restaurant offerings free of charge or at discounted prices. A couple Nov. 11 offers include: 50 percent off "VÉRONIC Voices" starring renowned vocal impressionist, Véronic DiCaire; four free tickets for comedian-juggler Jeff Civillico at The Quad; and ongoing free admission for comedian George Wallace at the Flamingo.
The Las Vegas Brass Band celebrating its 20th Anniversary this year will perform a "Veterans Day Honored" show in the Chrome Showroom at Santa Fe Station on Saturday, Nov. 9 at 7 p.m. Admission is $15 at the door.
Sky Combat Ace (SCA) will offer a 2-for-1 flight package in its historical Waco YMF- 5C open cockpit biplane on Veterans Day. Two guests can enjoy the historical Hoover Dam Tour for $399, experience Sin City sky-high with the Las Vegas Area Tour or 50 Shades of Vegas night flight tour for $599. See: www.skycombatace.com/SCA-Packages for details.
Column Continues Below Advertisement
CONTINUE ON TO...:
THIS WEEK'S >LAUGHLIN NEWS
LAST WEEK'S >LAS VEGAS NEWS
>VEGAS VIEW FULL NEWS ARCHIVES
Return to >"Heard Around Town"
Return to >Las Vegas Leisure Guide