Reunion tours seem to be the big buzz in the music industry lately and after reuniting in late 2007, another beloved band is hitting the road once more. Backstreet Boys will make a stop at The Pearl inside the Palms on Saturday, Nov. 22, at 8 p.m. Tickets are $48, $58 and $78, call 702-474-4000.
It's been 15 years since Backstreet Boys launched a new generation of teen idols for millions of youth. In all, the group has sold more than 75 million albums worldwide. Their sixth studio release, "Unbreakable," in 2007 on Jive Records, marked the group's triumphant return.

Column Continues Below Advertisement


LAVO at The Palazzo is offering a pre-theater dinner or a post-theatre nightclub experience. Chef Ludo Lefebvre has created a $30 per person, three-course menu that's served daily from 5 - 8 p.m. and is available to anyone with a show ticket at The Palazzo or The Venetian for that evening.
When the curtain drops, LAVO nightclub offers entertainment as top Strip performers celebrate upstairs after their shows. Each Tuesday, the "Jersey Boys" cast hosts LAVO Tuesdays, an industry night with DJ Five. On Thursdays, comedian Wayne Brady takes his turn at the helm following his show for residence night with DJ Chris Garcia. Cover charge for the nightclub is waived with a ticket stub from any entertainment show from The Palazzo or The Venetian.
Keeping with the entertainment theme, each Thursday, Friday and Saturday the pokers pros from The Venetian's interactive poker-themed stage show "The Real Deal!" host a meet and greet for the show's VIP ticket holders in the lounge at LAVO following the 5:30 p.m. show.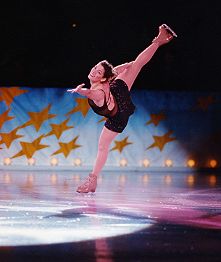 The Orleans Arena will present "Holiday Celebration On Ice" on Nov. 11 at 7:30 p.m. Singers and songwriters Amy Grant and Michael W. Smith will provide holiday music while national, world and Olympic figure skaters perform. The cast will be highlighted by Olympic Silver medalist and U.S. National champion Nancy Kerrigan and six-time U.S. champion Todd Eldredge. Tickets range from $29 to $89, call 702-284-7777.
Other skaters will be Olympic champion Ilia Kulik, World champion Yuka Sato, six-time Canadian national champion Jennifer Robinson, and World ice dancing champion and nine-time Canadian national champion Shae-Lynn Bourne. Two-time World Silver medalist ice dancing champions Marie-France Dubreuil and Patrice Lauzon, plus three-time World Silver medalist Surya Bonaly and three-time U.S. champion and World bronze medalist (with partner Kyoko Ina) John Zimmerman, will round out the lineup.
Primm, Nev., on the Californian / Nevada I-15 state line is an easy 25-minute trip from Las Vegas or a stop on the way from Los Angeles. Three Terrible's resorts are there and Whiskey Pete's Showroom is now offering a spirited, fun- loving topless burlesque cabaret show called "Sin City Kitties." Show times are Thursday at 8 p.m., Friday and Saturday at 8 and 10 p.m. and Sunday at 2 p.m. Tickets are $24.95, call 1-800-FUN-STOP.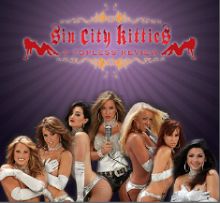 The show's action and playful scenes has queen of the Kitty Play-Parlor, Mistress Lily singing and divulging the fantasies and secrets of each of her kitty counterparts. The beautiful and seductive Kitties include Mistress Lily, Champagne, Dazee, Siren, Summer, Gigi and Roxy. Each sexy lady has an extensive dance and performance background and many have previously performed in shows on the Strip.
Serving as play toys for the Kitties are the TomKats, two chiseled male strip artists and dancers. The show is as wonderful as any production show you can see in Las Vegas and the showroom is very comfortable and roomy.
Las Vegas producer Dick Feeney became the 31st recipient of a Las Vegas Walk of Stars honor with his star located in front of New York New York. Visit www.lasvegaswalkofstars.com for more information.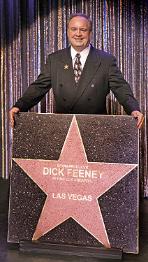 Feeney began his career touring with the Boston-based band the Lewis & Clark Expedition and then formed his own group Gemini. In 1981, he produced his first show "Lullaby of Swing" in Honolulu.
In 1985, Feeney came to Las Vegas as associate producer of "An Evening at La Cage" at the Riviera and went on to produce "Crazy Girls" in 1987. In 1991 at the Sands, Feeney opened "Viva Las Vegas," which now plays at the Plaza downtown and remains the longest running and most successful afternoon show in Las Vegas history.
In 1992, Feeney organized the skydivers appearing in the hit movie "Honeymoon in Vegas" to form the now famous "Flying Elvi" skydiving team. Based in Las Vegas, the Flying Elvi is the only such team officially licensed by the Elvis Presley estate. In doing so, he actually invented the word 'Elvi,' which has now become the accepted plural of Elvis.
Feeney went on to produce the classic-Vegas dinner show "The Rat Pack is Back," the tribute to Frank, Sammy, Joey & Dean, that currently plays at the Plaza.
The grand opening of T&T (Tacos & Tequila), a highly bold stylized 8,000-square-foot, lunch and dinner Mexican restaurant on the mezzanine level at the Luxor, had rock 'n' roll music, celebs such as Carrot Top and magicians Criss Angel and Nathan Burton, and the sexy signature Tequila Temptresses in branded apparel.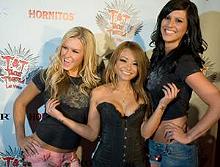 Donny and Marie Osmond are doing such great business at the Flamingo that they are extending their six-month contract into 2010.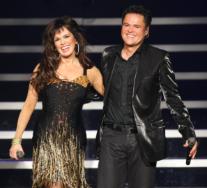 Caesars Palace headliner Cher is supposed to make an appearance on the "Ellen DeGeneres Show" on Nov. 3.
The Titanic Artifact Exhibition will be closed at the Tropicana as of Nov. 20 at 6 p.m. because it is moving to the Luxor.
Neil Sedaka for more than four decades has had countless hit singles, and platinum and gold records. He is recognized as one of rock and pop music's legendary pioneers and remains as vital a force today as he was in the 1950s. Sedaka will headline at The Orleans Showroom Nov. 13-16. Tickets are priced from $39.95, call 702-365-7075.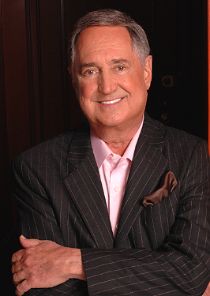 In 1958, at age 18, Sedaka was catapulted into stardom after Connie Francis recorded his song "Stupid Cupid." She then sang the theme song Sedaka co-wrote for the 1960 MGM spring break movie classic, "Where The Boys Are," which became her biggest hit.
Sedaka's single "Breaking Up Is Hard To Do" was released as a ballad in 1975 and made music history when it reached No. 1 on the charts, becoming the first song recorded in two different versions by the same artist to reach the Top Ten. During this time, Sedaka also helped launch the career of The Captain and Tennille with their version of "Love Will Keep Us Together."
Recently Sedaka returned to his early classical roots with original romantic lyrics set to the music of Beethoven, Chopin, Rachmaninoff, and Tchaikovsky on "Classically Sedaka," which earned a gold record in Europe. He also released "Turnweaver," and made another departure with the release of "Tales of Love and Other Passions," recording both old standards and original Sedaka songs with a jazz trio.
Hypnomagician, Keith Barry, a European star, recently made his second appearance on "The Ellen DeGeneres Show." He is performing through Nov. 27 at 9:30 p.m. in the Planet Hollywood Showroom. Tickets are $55, call 702-474-4000.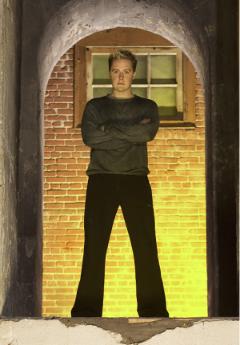 Comedian George Wallace will host the private 15th annual Holiday Cactus Lighting at Ethel's Cactus Garden on Nov. 18, which will kick off the holiday season. Beginning Nov. 19, the Chocolate Wonderland Cactus Garden in Henderson will be open to the pubic through Jan. 1 and feature half a million lights decorating the three-acre area.
Artist Peter Max will return to The Art of Peter Max Gallery inside the Forum Shops for a two-day free public artist exhibition, Nov. 28 from 7-9 p.m. and Nov. 29 from 1-4 p.m. During the exhibit, Max will debut the "Sage with Umbrella" painting, created exclusively for his in-gallery appearance. "Sage with Umbrella" measures 60 x 48", plus frame and matte. Max will sign and dedicate art purchased throughout the month of November.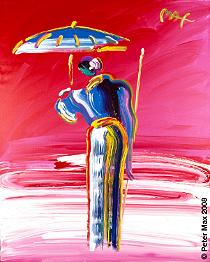 The Canyon Club inside the Four Queens will present The English Beat on Saturday, Nov. 8 with doors opening at 7 p.m. The English Beat is a well-known ska revival bands that has been touring and performing since the late 1970s. The band's hit singles include: "Mirror in the Bathroom," "Too Nice To Talk To" and "Can't Get Used To Losing You." Tickets are $30, call 702-387-5175.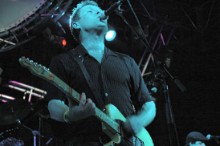 The Miracle Mile Shops now offers co-branded Miracle Mile Shops / Planet Hollywood Resort & Casino and Miracle Mile Shops exclusive gift cards. The universal gift card can be used at any of Miracle Mile Shops' 15 restaurants, 170 specialty stores and three theaters, and the dining, entertainment and nightlife options at Planet Hollywood. A second gift card is exclusive to the Miracle Mile Shops and three theaters. To purchase the new cards, visit a Miracle Mile Shops management office, Monday - Friday from 8 a.m. - 5 p.m.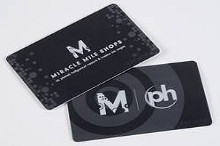 Opportunity Village has launched a new Web site for participants registering for the 2008 Las Vegas Great Santa Run: www.LasVegasSantaRun.org. Registration is $35 prior to the race and $45 on race day 8 a.m. Saturday, Dec. 6 at the Fremont Street Experience.
On the first Saturday of every month, VOX Wine Lounge, located at 2630 W. Horizon Ridge in Henderson, offers guests the opportunity to learn how to prepare one of its Executive Chef's special creations. Each Saturday School runs from noon to 2 p.m. and includes instruction and a complimentary lunch for $40. For reservations, call 702-407-7780.
SoulAviv, a four-person vocal group from Santa Barbara, Calif., will stop in Las Vegas for one performance on Sunday, Nov. 9 at 4 p.m. at Temple Beth Sholom located at 10700 Havenwood Lane. Formed last year, the group released their first CD this year. Tickets are $36 and $9 for kids 12 and under, call 702-804-1333 x101.
The Silverton is hosting daily public parties, live entertainment and meet-and-greets with famed bull riding competitors Justin McBride, Brendon Clark and Sean Willingham to celebrate the 2008 Professional Bull Riders World Finals through Nov. 8.
At the Shady Grove Lounge, there's daily bull riding pre-parties (3-5 p.m.) and live coverage (6-9 p.m.). Bull riding competitors are hosting after-parties at 10 p.m. inside the Silverton Casino Lodge's newly constructed 13,000-square-foot entertainment pavilion. Each party includes DJ spun music and live entertainment including performances by Brian Lumley and Red Dirt Underground, Sterns County 17 and more.
Bull rider Justin McBride, who is a two-time world champion and the first bull riding professional to earn more than $5 million in winnings, is celebrating his retirement at the Silverton's entertainment pavilion with a special performance by modern country musical group Sterns County 17 on Sunday, Nov. 2 at 7 p.m. inside the Silverton's entertainment pavilion. Admission is $10 at the door, which includes two drinks.
The Sahara, which is an official sponsor, is offering the "Ultimate Cowboy Dinner" for $42 in the House of Lords Steak House through Nov. 9.
In the Sahara's Casbar Lounge, the country rock band Wolfcreek is holding free concerts at 9 p.m. nightly. Another lounge activity will the Bikini Bull Riding Contests with six ladies from Ba-Da-Bing Gentlemen's Club competing for cash prizes when they ride a mechanical bull on Nov. 7 at 10 p.m. Each entertainer will also pick out a cowboy in the crowd to compete with them in a "Frozen T-shirt Contest." The first three cowboys to complete the frozen T-shirt contest will escort the Ba-Da-Bing girls back to their club via Hummer stretch limo. In addition, two PBR riders will be making surprise guest appearances.
The Sahara will be hosting the "Official PBR 3rd and 7th Round Drafts," which will be followed by the "Official PBR After Parties" in the NASCAR Caf' on Saturdays, Nov. 1 and 8 at approximately 9 p.m. All riders participating in the Finals will be attending the parties and a line up of well-known riders will be available for autographs and photos.
CONTINUE ON TO...:
>THIS WEEK'S LAUGHLIN SEGMENT
>LAST WEEK'S LAS VEGAS SEGMENT
>VEGAS VIEW FULL ARCHIVES
>Return to "Heard Around Town"
>Return to Las Vegas Leisure Guide